From savory grilled mains to indulgent desserts, these vegan picnic recipes are perfect for your next outdoor gathering. Grab your picnic basket and enjoy nature, bask in the sunshine, and breathe in fresh air while taking a break from the confines of indoor spaces.
And what do you need for that? Easy vegan recipes that don't need to be reheated, easy to pack, and can be eaten without utensils.
Jump to:
No-Cook Handheld Meals
Avocado Spring Rolls
Try our avocado spring rolls for a delicious and easy-to-prepare summer snack or appetizer. They are freshly prepared with a mix of flavorful avocado mango salsa and vermicelli noodles to create a delightful combination of texture and flavor. So refreshing!
Recipe: avocado spring rolls
Smoked Tofu Sushi Rolls
This tofu sushi recipe combines smoked tofu, veggies, and a sriracha mayo to make delicious maki sushi rolls the entire family will love. You do not need to be a professional sushi chef to whip up this recipe.
Recipe: tofu sushi rolls
Sushi Spring Rolls
Whether you are preparing for an office potluck or hosting friends and family at home, these delicious sushi spring rolls are sure to impress. You can create mouthwatering rolls featuring aromatic, teriyaki tofu, creamy avocado, and crunchy cucumber.
Recipe: sushi spring rolls
Vietnamese Spring Rolls
These vegan Vietnamese spring rolls are the perfect light and refreshing appetizer or meal, filled with fresh herbs, crunchy fresh veggies, and savory mushroom shreds wrapped in delicate rice paper. The combination of textures and flavors is truly satisfying and healthy.
Recipe: vegan Vietnamese spring rolls
Cream Cheese Veggie Pinwheels
These Veggie Pinwheels with Cream Cheese are a quick and tasty appetizer that are always a hit at parties. The colorful vegetables, creamy cheese, and soft tortilla make for a satisfying and delicious bite.
Recipe: Veggie Pinwheels
Rice Paper Egg Rolls
These vegan egg rolls are a perfect appetizer or snack, with a savory and crispy texture that will satisfy your cravings. Made with a flavorful mix of vegetables, they are a healthier alternative to traditional egg rolls and can be easily baked, fried or air-fried in just a few minutes.
Recipe: vegan egg rolls
Vegan Egg Salad
This vegan egg salad sandwich is a delicious and healthy alternative to traditional egg salad, made with tofu and cashews for a creamy and protein-packed filling. The recipe is made with whole foods, without any processed ingredients or high-fat mayo, making it a nutritious and satisfying brunch option.
Recipe: vegan egg salad
Burgers
Chipotle Black Bean Burger
This chipotle black bean burger recipe is a delicious and flavorful alternative to traditional burgers. Made with black beans, adobo sauce, and spices such as cumin and smoked paprika, these patties are perfect for grilling or frying and are sure to be a hit with vegans and meat-lovers alike!
Recipe: chipotle black bean burger
Vegan Meaty Whopper Style Burger
Ready in just 35 minutes, this juicy tofu burger is full of smoky flavors that taste just like something you would find in a Whopper, but without the meat!
Recipe: tofu burger
Meaty Big Mac Style Meatless Burger
Why is it the meatiest vegan beef burger? Because it has a chewy, ground beef-like texture (thank you TVP), and it does not taste like veggies at all.
Recipe: vegan tvp burger
Vegan Beet Burger
With just 7 simple and easy-to-find ingredients, this vegan beet burger recipe is perfect for those who want to experience the juicy, flavorful, and downright irresistible taste of this crowd-pleaser. Get your hands on some beets, cannellini beans, and oats, and trust us, this vegan burger will leave you feeling happy, satisfied, and wanting more!
Recipe: vegan beet burger
Portobello Mushroom Burger
This vegan portobello mushroom burger is piquant and scrumptious at the same time. Grilled portobello mushroom caps are seasoned with a fajita spice mix, then layered among guacamole, salsa, vegan nacho cheese sauce, and spicy fajita veggies.
Recipe: vegan portobello mushroom burger
BBQ Vegan Pulled Pork Burger
Shredded king oyster mushrooms make the best vegan pulled pork. Their meaty texture is way better to roast, grill, or fry than jackfruit. In 40 minutes, you can have this BBQ pulled mushroom burger with a vegan coleslaw.
Recipe: vegan pulled pork burger
Meatballs Subs
BBQ Vegan Chickpea Meatballs
These vegan chickpea meatballs are a must-try for any food lover! Packed with flavorful spices, they are crispy on the outside, soft and tender on the inside, and perfect for serving as an appetizer or main dish.
Recipe: vegan chickpea meatballs
Eggplant Meatballs
Looking for a vegan twist on traditional meatballs? Look no further than these delicious eggplant meatballs! Made using only eggplant and perfectly seasoned for a delicious flavor, they pair perfectly with your favorite marinara sauce and a plate of spaghetti.
Recipe: vegan eggplant meatballs
Vegan Mushroom Meatballs
These vegan mushroom meatballs are bursting with flavor and easy to make. Spices and cooked rice keep the mushrooms moist, resulting in a delicious and unforgettable vegetarian meal.
Recipe: vegan mushroom meatballs
Tofu Meatballs
These vegan tofu meatballs are a tasty and healthy alternative to traditional meatballs. Using minced frozen tofu and Italian-style seasoning, they're easy to make, versatile, and ready to serve in just 40 minutes.
Recipe: tofu meatballs
TVP Meatballs
These TVP meatballs are the perfect plant-based substitute for traditional meatballs, with a satisfying meaty texture and full of savory flavors. Paired with a rich marinara sauce and spaghetti, they make a delicious and comforting meal.
Recipe: TVP meatballs
Copycat IKEA Veggie Balls
If you don't have an Ikea nearby, try our copycat Ikea veggie balls recipe. We added eight different vegetables, the same as in the original, with a tasty mix of spices and herbs to get the flavors just right.
Recipe: ikea veggie balls
Skewers and Kabobs
Grilled Buffalo Tofu Skewers
Indulge in the bold and spicy flavors of buffalo tofu with a crispy caramelized crust that is sure to satisfy your cravings. Try pan-frying or grilling marinated tofu on skewers for an easy but flavorful dish that will leave you wanting more.
Recipe: buffalo tofu skewers
Grilled Vegetable Kabobs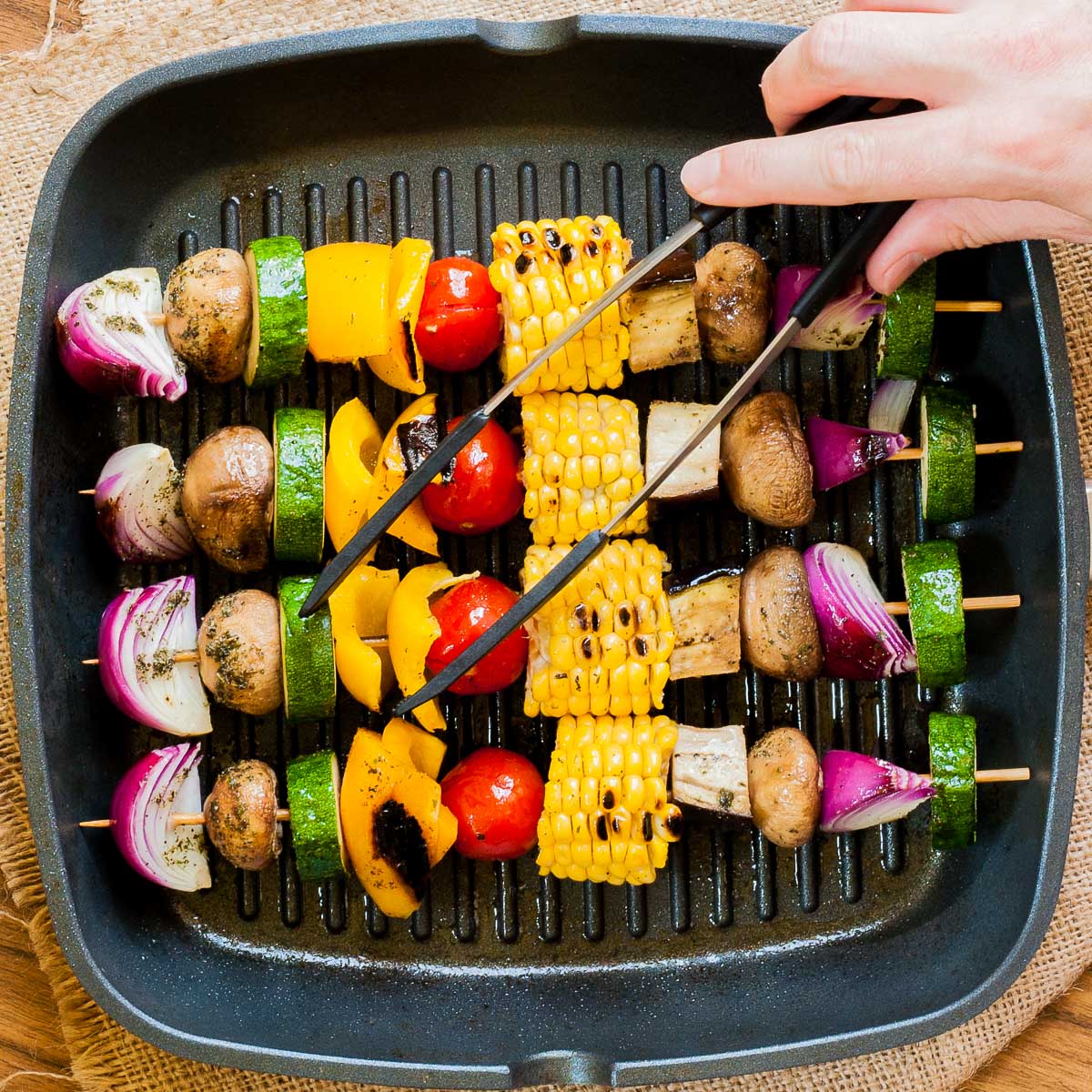 These vegetable kabobs are not only colorful but also incredibly flavorful. They are perfect for grilling and make a great side dish for any BBQ or party. With 3 different ways to make them and 5 delicious marinades to choose from, they are sure to please everyone's taste buds.
Recipe: grilled vegetable kabobs
Portable mains as finger food
Buffalo Vegan Chicken Wings
Are you looking for the tastiest, and easiest Vegan Buffalo Wings? The chicken itself is only ONE ingredient! No vital wheat gluten or seitan or any other soy product is needed. It is hot and sticky on the outside, meaty on the inside.
Recipe: vegan buffalo chicken wings
Buffalo Cauliflower
Tender on the inside and crispy on the outside, this vegan buffalo cauliflower is a mouthwatering addition to your game-day appetizer or dinner table. We use cauliflower florets to mimic the texture of traditional buffalo wings and then toss them in a finger-licking, sweet, spicy buffalo sauce. Whether you use it as a starter or your main course, you will crave more after the first bite!
Recipe: buffalo cauliflower
Crispy Vegan Chicken Patties
These vegan chicken patties are a perfect plant-based alternative to traditional chicken patties. The combination of crispy outer crust and flavorful texture inside makes them an excellent addition to any meal.
Recipe: vegan chicken patties
Vegan Sausage
This delicious and flavorful vegan sausage recipe uses minced frozen tofu and a powerful blend of seasonings to create "meaty" sausages that your taste buds will not forget. Try these versatile sausages with veggies, on a sandwich, or over pasta with your favorite sauce for the perfect lunch or dinnertime meal with friends or family!
Recipe: vegan sausage
Sandwiches and Wraps
Juicy Vegan Chicken Sandwich
Vegan chicken strips made of marinated oyster mushrooms smothered in a creamy, rich tikka masala sauce are the perfect filling to make a juicy vegan chicken sandwich. Grab a bun and a handful of fresh salad greens and indulge in a flavorful and satisfying vegan take on a classic dish.
Recipe: vegan chicken sandwich
The Best Falafel Sandwich
Fresh lettuce leaves, sweet and tangy tahini sauce, and crispy falafel in pita bread are how to make the best falafel sandwich. We show you how easy it is to make this popular Middle Eastern vegetarian street food from scratch and from the comfort of your home.
Recipe: falafel sandwich
Falafel Gyros with Tzatziki
Make a delicious Greek-style falafel gyro with crispy homemade falafel balls, paired with chilled, tangy tzatziki salad, as well as some sweet tomatoes and piquant purple onion. Served it with pita bread for a perfect and easy lunch or dinner.
Recipe: falafel gyros
Vegan Gyros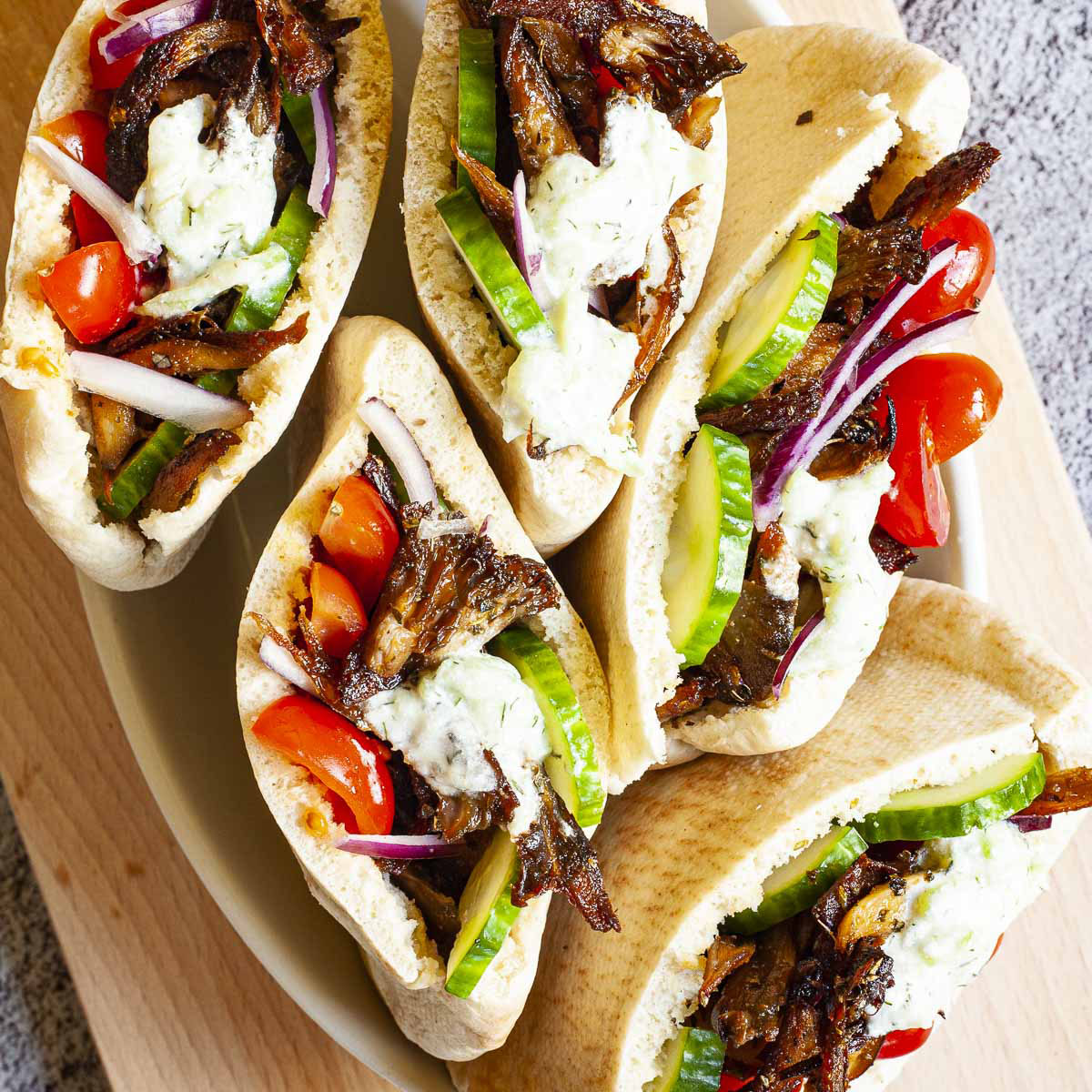 These vegan gyros made with shredded oyster mushrooms have the perfect texture and taste, making them the best option for a filling meal. The crispy vegan gyro meat pairs well with fresh vegetables and homemade tzatziki sauce, all wrapped up in a pita pocket.
Recipe: vegan gyros
Chipotle Veggie Burrito
This veggie burrito recipe is a Chipotle lover's dream, with nine different ingredients including cilantro lime rice, fajita veggies, and the famous Sofritas tofu crumbles. Easy to make at home, this burrito is sure to satisfy your cravings for a flavorful and filling meal.
Recipe: chipotle veggie burrito
Crispy Oyster Mushroom Tacos
Looking for a delicious vegan taco? Look no further than this Oyster Mushroom Tacos recipe. These mushrooms have a meat-like texture and are packed with flavor, making them the perfect vegan substitute for meat strips.
Recipe: vegan mushroom tacos
Hummus Quesadillas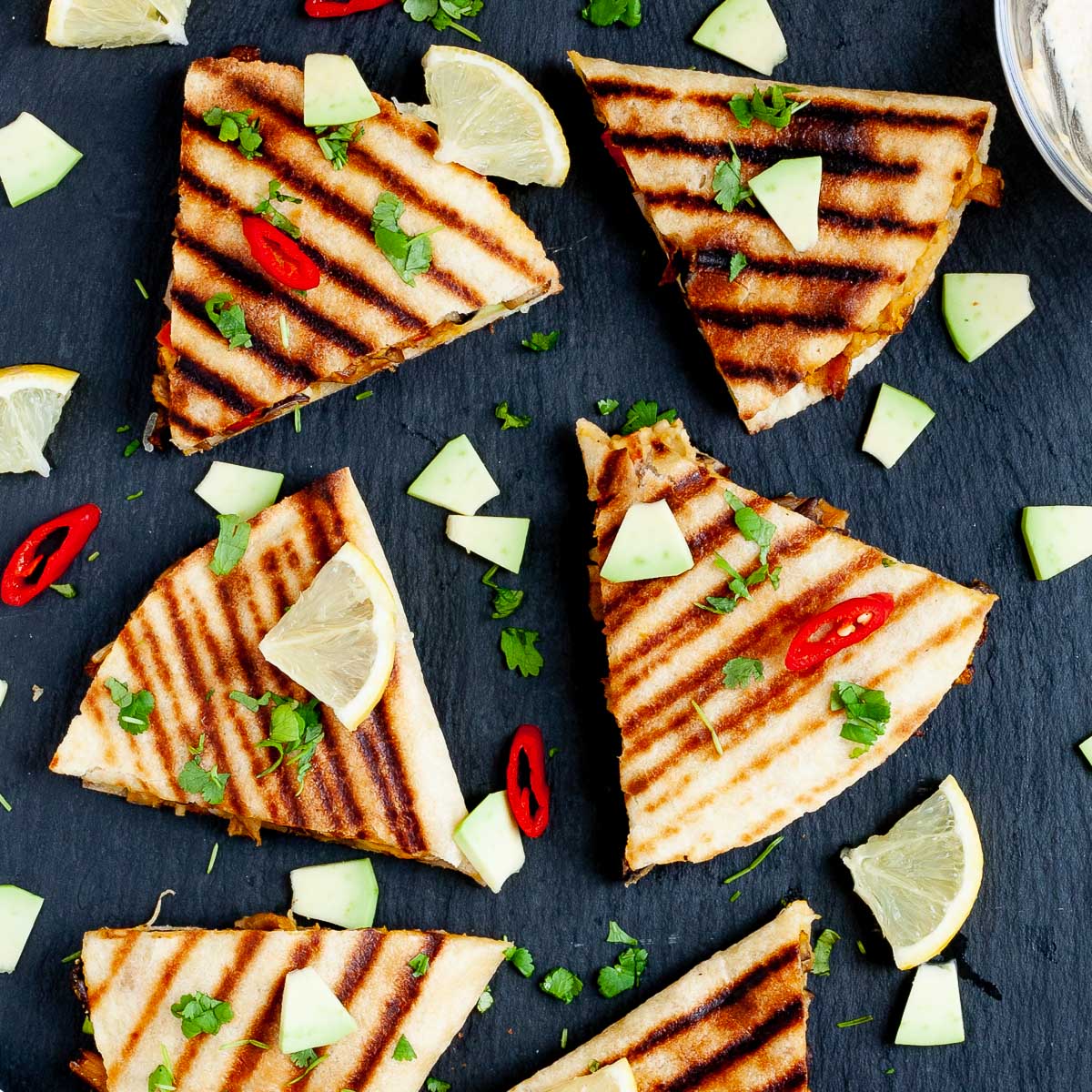 These hummus quesadillas are a delicious and healthy twist on a classic Mexican dish. Packed with flavorful veggies and beans, and bound together with creamy hummus instead of cheese, these quesadillas are a satisfying meal that will leave you feeling satisfied and nourished.
Recipe: hummus quesadillas
Vegan Philly Cheesesteak
To make the best vegan Philly cheesesteak you should pan-fry shredded oyster mushrooms (not cut, but torn apart). They will have the perfect beefy texture and taste. Fill your hoagie roll with a generous amount of mushroom cheesesteak and vegan cheese.
Recipe: vegan Philly cheesesteak
Sweet Treats
Apple Pie Spring Rolls
Try our amazing apple pie spring rolls! Filled with grated apples and cinnamon, these crispy finger foods are easy to make any day of the week. They're sure to become a favorite Friday tradition in no time!
Recipe: apple pie spring rolls
Banana Peanut Butter Oatmeal Cookies
These are easy and delicious 3-ingredient peanut butter banana oatmeal cookies. No refined sugar. No flour. No baking soda. I even included many variations like dark chocolate chips, raisins, and cocoa powder.
Recipe: banana peanut butter oatmeal cookies
Vegan Blueberry Muffins
These moist, fluffy, and easy-to-make vegan blueberry muffins are packed with fresh, juicy blueberries and a hint of vanilla, then topped with cane sugar for an extra sweet crunch. Inspired by the popular Jordan Marsh blueberry muffin recipe, this sweet treat will surely put a smile on your face, whether you have them for breakfast, a snack, or a post-meal dessert!
Recipe: vegan blueberry muffins
Vegan Chocolate Chip Muffins
These moist, chocolatey vegan chocolate chip muffins are perfect for brunch, an after-dinner dessert, or an afternoon snack. Using the famous Jordan Marsh muffins as a base, these muffins are packed with flavor and a tender texture that both kids and adults will love!
Recipe: vegan chocolate chip muffins
Pop Tarts (with 3 Flavors!)
Try this delicious homemade vegan pop tarts recipe! Choose among 3 different flavors: frosted strawberry, brown sugar cinnamon, and cinnamon apple pie, or make your own favorite. You'll love it either way. They are flaky and crispy.
Recipe: vegan pop tarts
18 Vegan 4th of July Recipes
19 No-Cook Recipes