Whether you are preparing for an office potluck or hosting friends and family at home, these delicious sushi spring rolls are sure to impress. You can create mouthwatering rolls featuring aromatic, teriyaki tofu, creamy avocado, and crunchy cucumber.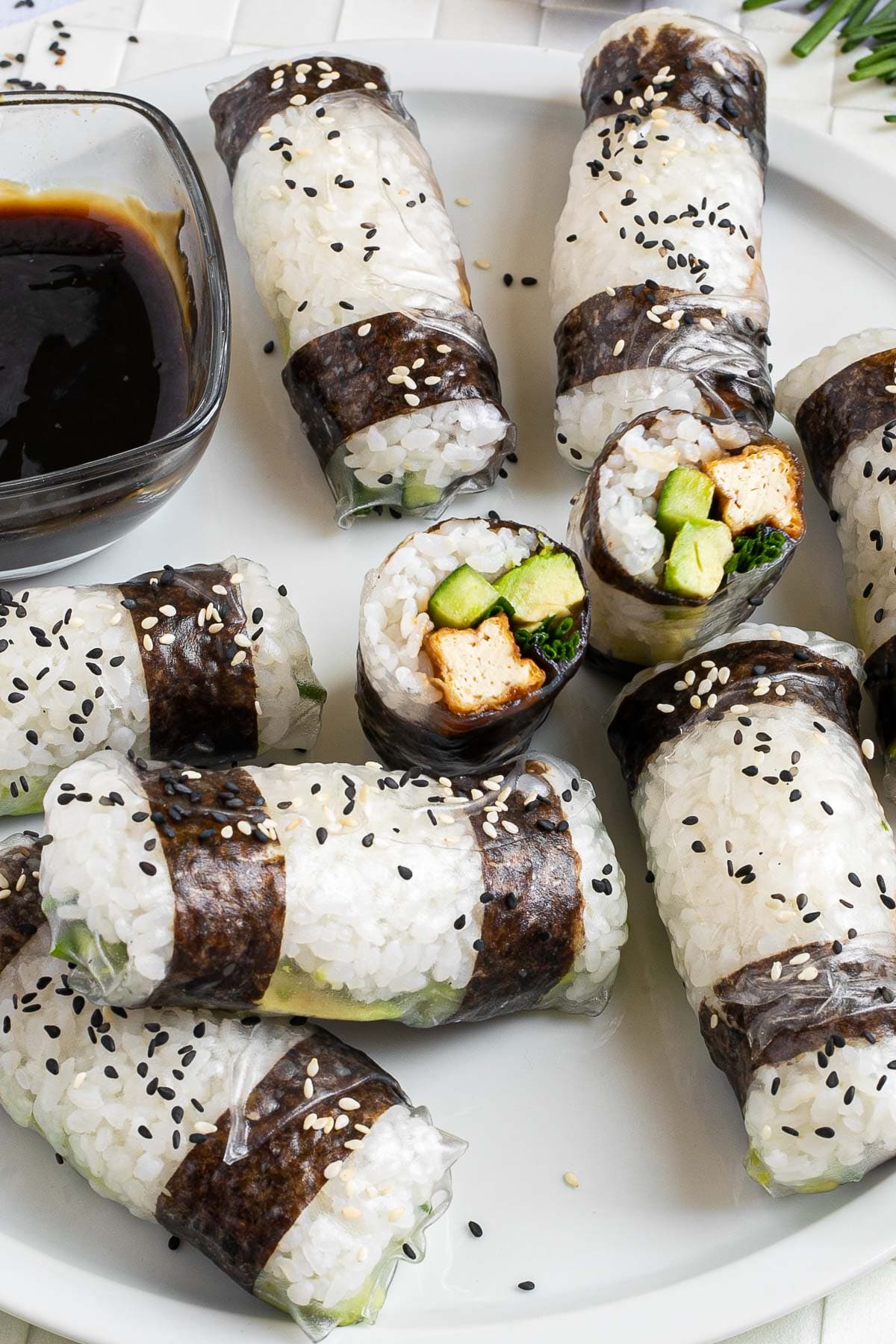 Check out our other spring rolls recipes, like Vietnamese spring rolls, rice paper spring rolls, avocado spring rolls, and ramen spring rolls, for more inspiration! We have so many, delicious rice paper recipes.
Jump to:
What to expect?
Turning sushi into spring rolls? Why not? Our inspiration comes from our rice paper sushi recipe, where rice paper wrappers are used instead of seaweed. Now, we brought sushi to the world of spring rolls.
Sushi spring rolls are the perfect appetizers for those who love crispy, filling, and tasty pan-Asian delicacies. The spiced tofu is pressed and fried in an aromatic teriyaki sauce to bring out a savory umami flavor that is characteristic of Japanese cuisine. Flavorful fresh veggies like creamy avocados, cucumbers, and chives are also tucked into the blanket of nori and rice wrappers to add crunch and variety.
These rolls are sure to appeal to most if not all, palates, and you can even customize them with different other fillings to suit your taste. With just a few simple ingredients, you can easily create this dish as an appetizer or an entire meal. Grab a spring roll dipping sauce to go with it.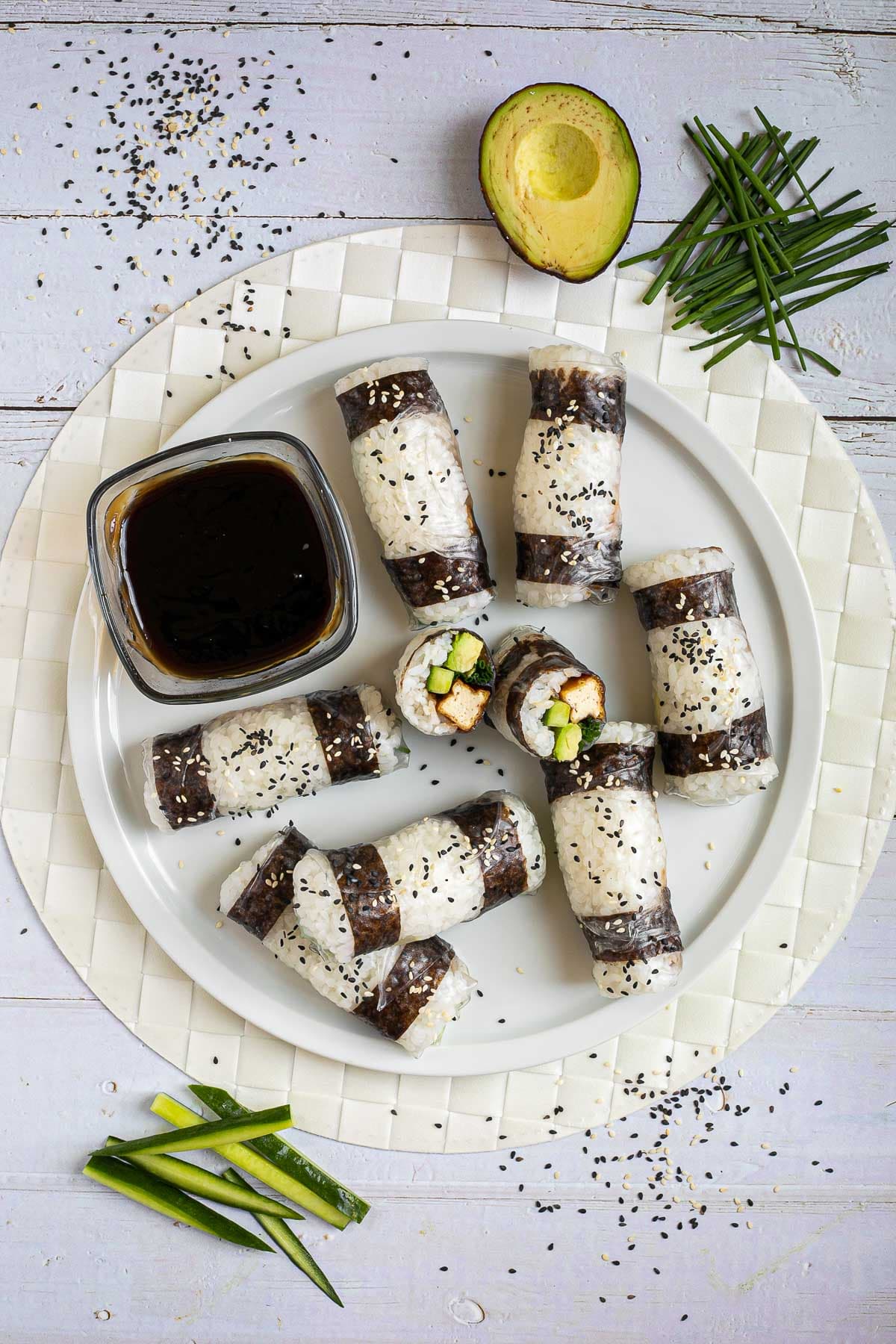 Ingredients
This sushi spring rolls recipe uses primarily a mix of veggies and fruits like cucumbers and avocado. Fresh ingredients can truly bring out the flavor of the rolls, but even prepped and chopped veggies can do the job well. Here are the ingredients you will need:
Rice paper wrappers → It is easier to work with rice paper sheets that are 100% made of rice flour. You must be more careful during rolling if yours contains tapioca or any other starch. Since they are thinner, it is easier to tear them.
Nori sheets → We used 2 sheets to make 8 spring rolls.
Tofu → We recommend using firm tofu. It can hold spices and marinade well due to being denser. It also yields great results when pan-fried.
Teriyaki sauce
Sushi rice (and rice vinegar, sugar, salt, and water)
Avocado
Cucumber
Chives
Cornstarch
🛒 You can find detailed measurements for all ingredients in the printable version of the recipe card at the bottom of this post.
Instructions
Preparing the ingredients
Press the tofu first. There are at least 10 ways to prepare tofu, but cutting it into ½ inch slabs is the best way to make sushi spring rolls.
Wash and cut cucumbers into bars that are roughly ¼ inch in width.
Peel the avocados, and cut them into bars of the same width.
Cut nori sheets into 1-inch wide strips. If you love the seaweed flavor, add thicker strips. Even 3-4 inches wide.
Making sushi rice
To prepare sushi rice, take 5 ounces (0.19 kg) of rice in a container and rinse it in cold water. Keep changing out the water until it runs clear.
Let the cleaned rice soak for 15 minutes, then drain the water and allow it to remain for another 10 minutes.
After this, heat the rice in a pot with water on a high flame. Once the water begins to boil, lower the heat and allow it to simmer for 10–15 minutes.
Take it off the heat and let it cool for another 15 minutes.
Mix rice vinegar, salt, and sugar in a small pan. Gently heat the mixture and then let it cool to room temperature.
Transfer the cooked rice to a large pan and add the rice and vinegar mixture. Gently stir with a wooden spoon to avoid breaking the rice.
Use a fan to cool the rice and allow the vinegar to evaporate. Finally, cover the pot with a damp cloth and let it stand.
Making teriyaki tofu
Heat coconut oil over a medium flame in a frying pan. Fry tofu bars on each side for 2-3 minutes, or until they get a nice crispy texture. Once done, set aside.
Next, pour teriyaki sauce into the same pan. Once it comes to a boil, add a mixture of water and cornstarch to help it thicken. Stir the sauce continuously for a few minutes till it reaches your desired consistency.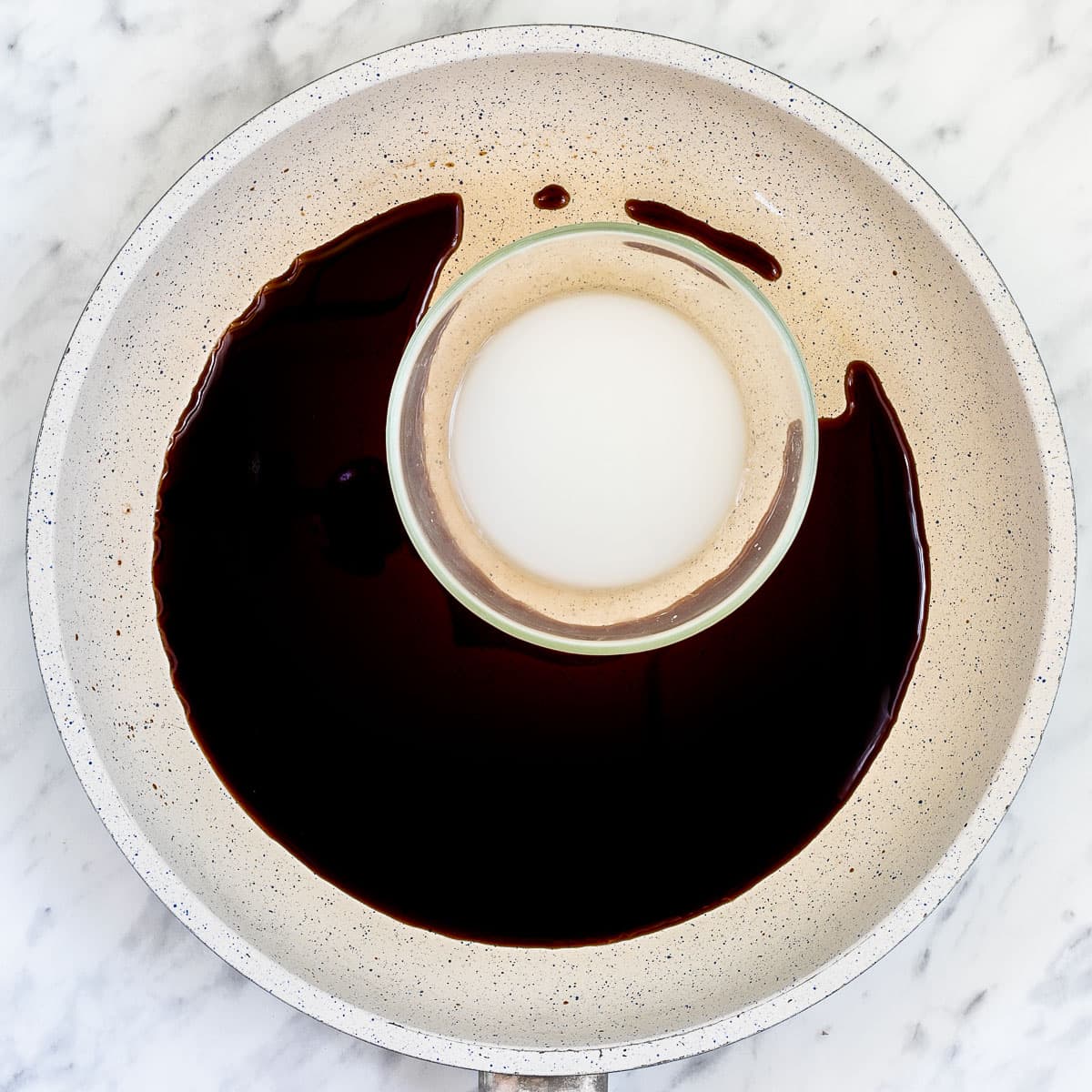 Gently place the fried tofu bars back in the pan and evenly cover them with the sauce. After a few minutes, turn down the heat and remove the pan from the flame.
Making sushi spring rolls
Gently dip your rice paper into lukewarm water. Once fully submerged, remove and place separately on a smooth and dry surface. Read the "Cooking tips" for more info on timing.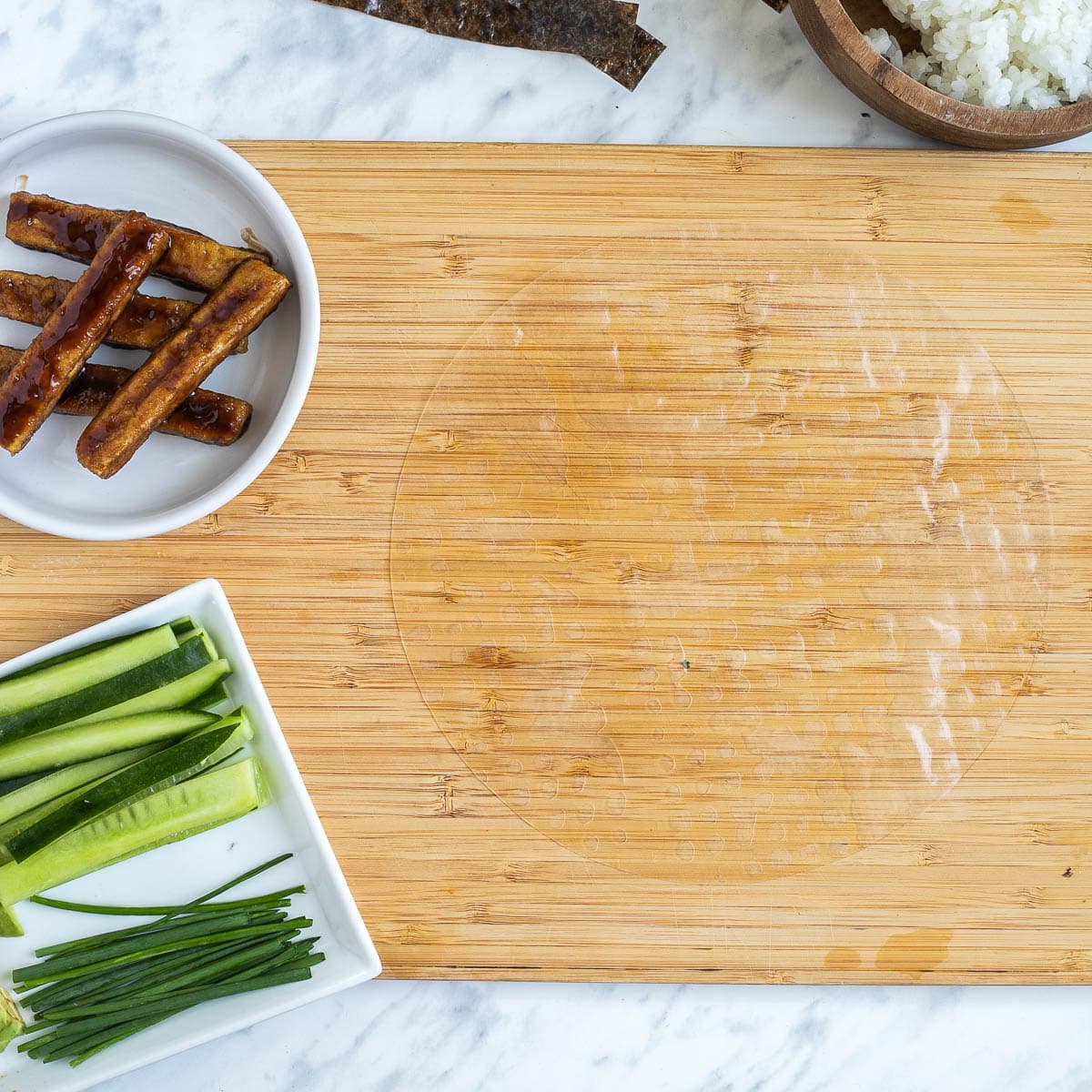 Place two strips of nori sheet in the middle of the rice paper. Add a portion of the sushi rice in the middle. If you are using standard-sized rice paper, you should be able to easily place 2-3 tbsp of filling in it. This will yield one 10-cm (or 4-inch) long sushi spring roll.
Neatly lay out the tofu, chives, avocado, and cucumbers over a helping of sushi rice.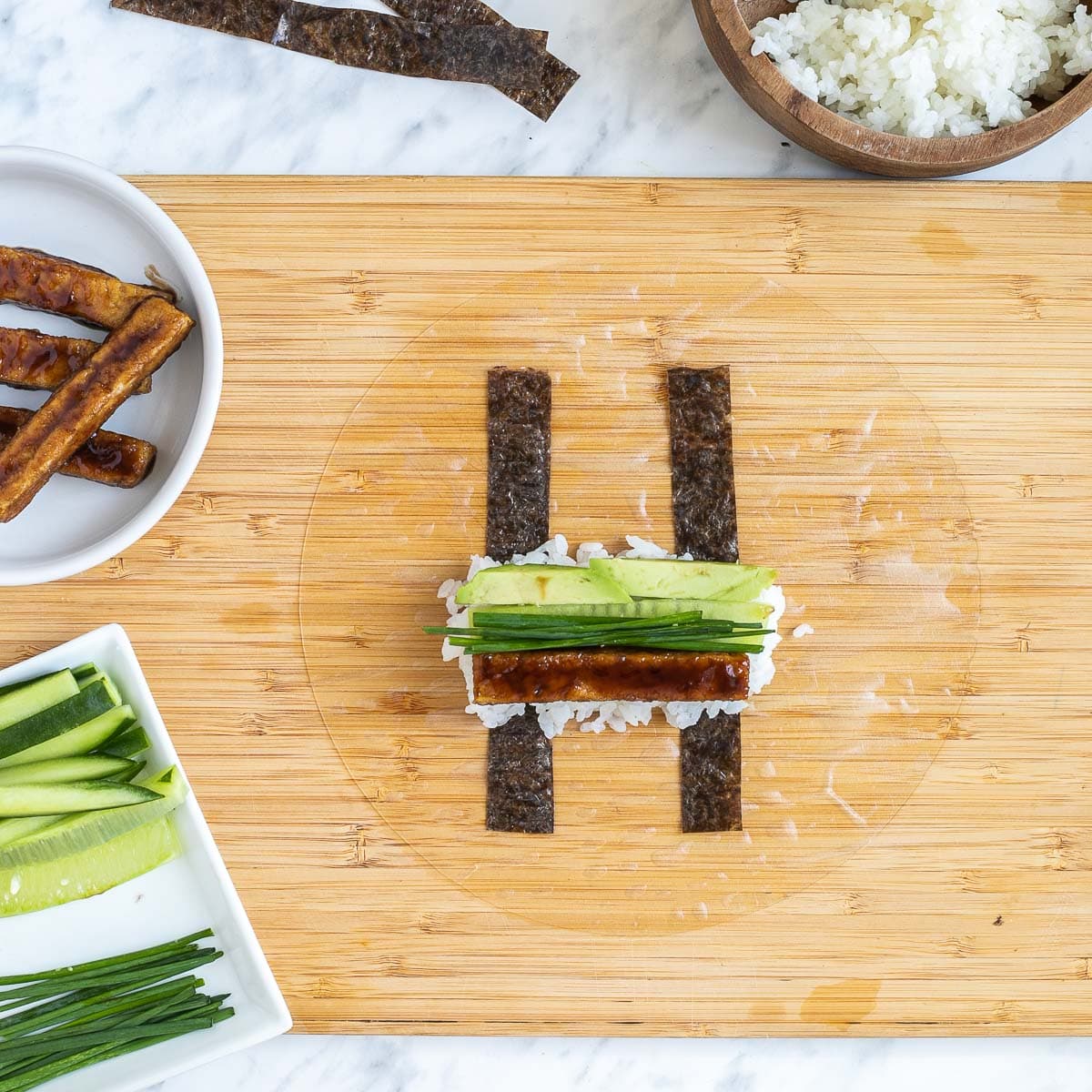 It's time to roll! Carefully and tightly fold the sides towards the center, but remember to be gentle.
Repeat the same with the bottom seam and pull it upwards tightly and gently. Roll it all the way up while using your fingers to tuck the filling tightly within the rice paper, keeping it in place. After you are done rolling, place the roll on a piece of parchment paper with the closing seam at the bottom.
Cooking tips
Roll them on a dry surface – The key to rolling rice paper wrappers is to do it on a completely dry surface. Otherwise, it is too sticky to handle.
Determine the levels of tapioca in the rice paper – Check the ingredients list to see how much tapioca is present in your rice paper. If it is 100% tapioca starch, only dampen it with a towel for a few seconds. If it is 100% rice flour, submerge it in water till soft. If your rice wrappers are a mix of both, go according to whichever component is higher. If you are new to this, read our rice paper wrapper guide.
Variations
Wrappers – Running short on rice paper wrappers? Try switching them out for a different kind of wrap for spring rolls. This article covers everything from tortillas and soy skin to seaweed (nori sheets).
Fillings – Go through your fridge and see if you have any spare vegetables you could use in the recipe. You can add carrots or bell peppers. Anything you fancy.
Get creative – For more sushi spring roll filling inspiration, check out our tofu sushi, sushi without fish, or sweet potato sushi roll recipes. Here is a whole list of accidentally vegan sushi as well.
Bring the heat – Chili flakes, crushed pepper, or a dab of hot sauce can add a fiery kick of Asian spice to your rolls.
Tip: black sesame seeds heated in oil can enhance the flavor of your rolls
Serving ideas
The standard condiments to the summer roll sushi are a dab of wasabi, for those who like a pungent taste with some heat, and soy sauce or tamari for a milder experience.
If you want to take dinner to the next level, swap out the soy sauce for one of these spring roll dipping sauces like sweet chili sauce.
Equipment
Rice paper tray – It is a helpful accessory to prevent sticking and allow excess liquid to drain through its holes. If a rice paper tray is unavailable, any cutting board can be used as an alternative, but it's important to wipe it dry between rolls to prevent sticking.
Storing tips
Sushi spring rolls taste best when fresh, but can also be enjoyed within 24 hours of preparation. If you want to store them, use aluminum foil or plastic wrap to prevent them from drying out. You can also use an airtight container or a dry Ziplock bag to prevent other odors in the fridge from seeping in. We don't recommend freezing fresh sushi spring rolls.
FAQs
How to make sushi spring rolls?
Our recipe for sushi spring rolls is made from the simplest of ingredients that can be found at your local store. All you need is some rice paper sheets, tofu, teriyaki sauce, avocados, chives, cucumbers, cornstarch, and sushi rice. Then, prep the rice and the filling, and roll out the best sushi spring rolls for your next culinary fiesta.
What is a sushi spring roll rolled in?
While traditional spring rolls are made using wrappers made of flour and water, our sushi spring rolls use thin rice paper wrappers to achieve a lighter and fresher bite. While the first one has to be fried, rolls with rice paper can be served uncooked.
Are sushi spring rolls sweet or spicy?
In this recipe, the spice levels are fairly low, as the rolls are filled with refreshing and mild ingredients like avocado and cucumber, and flavored with a mildly sweet teriyaki sauce.
More spring roll recipes
Try one of these delicious rice paper recipes, or choose one from below:
THANK YOU so much for visiting our website. Please comment below if you have tried this recipe. We LOVE hearing from you! If you loved the recipe, please don't forget to give us a ⭐⭐⭐⭐⭐ RATING. We appreciate all of our readers.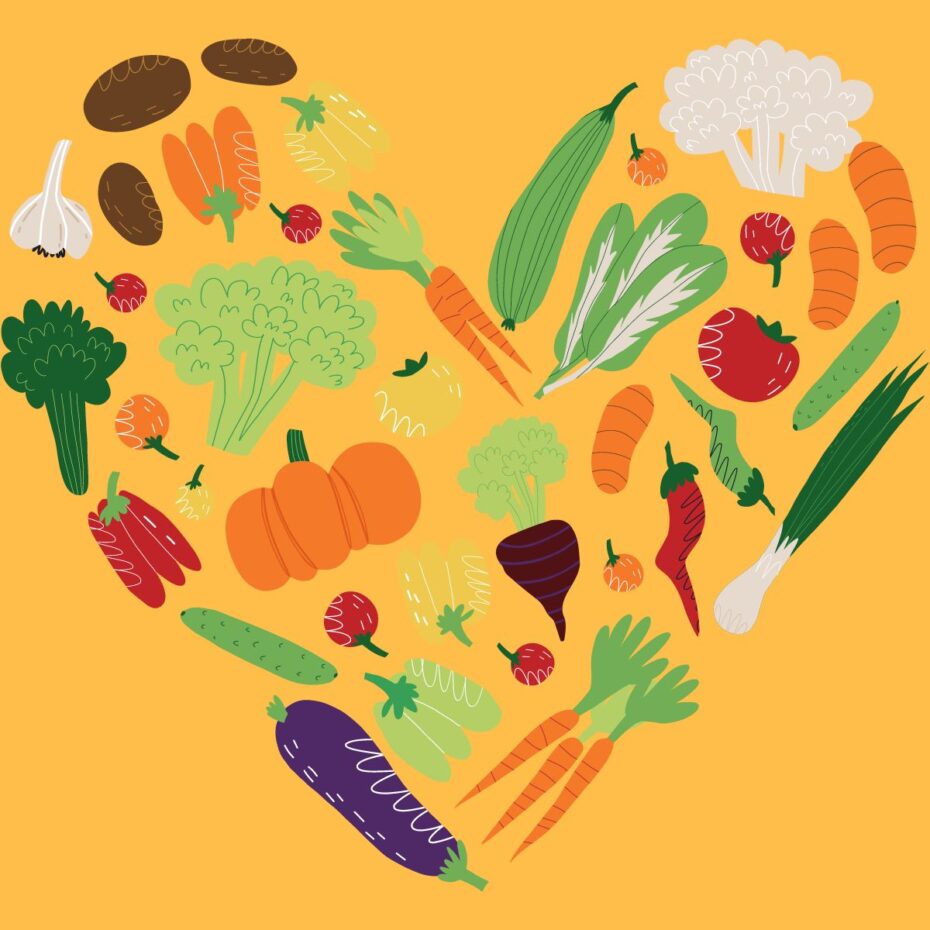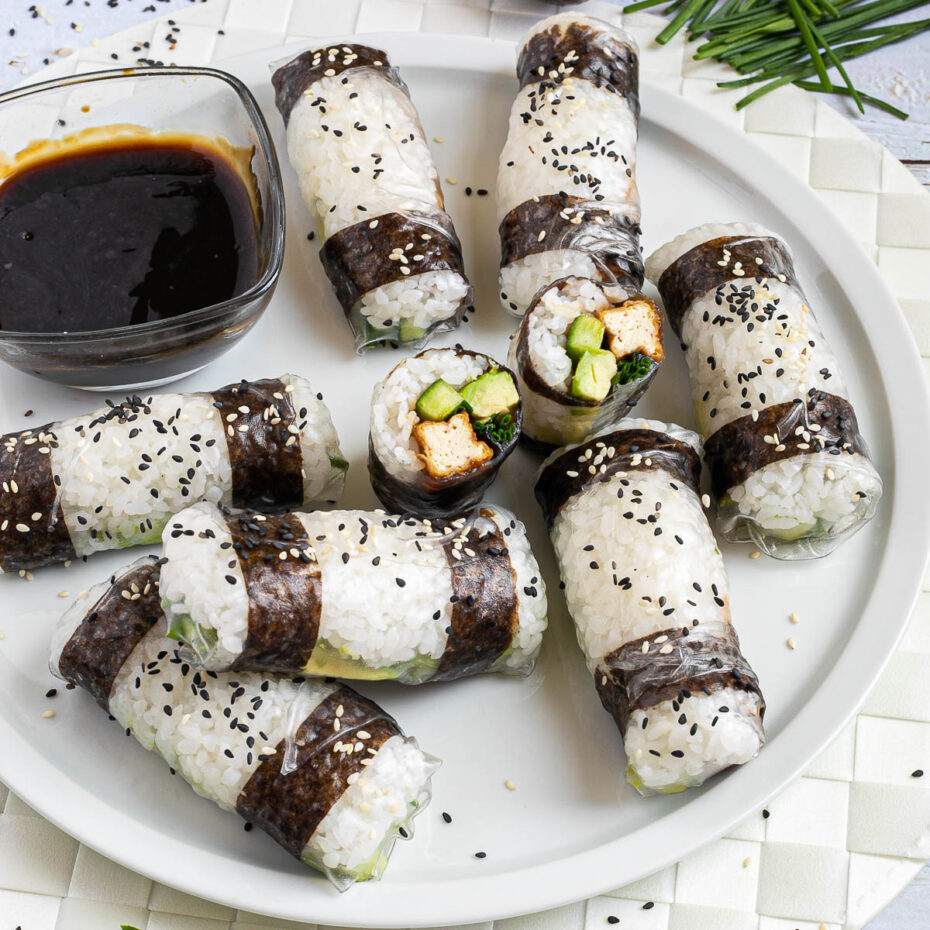 Sushi Spring Rolls
Whether preparing for an office potluck or hosting friends and family at home, these delicious sushi spring rolls will surely impress anyone. You can create mouthwatering rolls featuring aromatic, teriyaki tofu, creamy avocado, and crunchy cucumber.
Ingredients
EXCLUSIVE 5-ingredient recipes for busy home cooks that are ready in 15 minutes!
Check out our Express Vegan Cookbook!
Instructions
Cooking sushi rice
Wash the rice in cold water. Change the water until it becomes clear. Leave it to soak for 15 minutes. Drain and leave to stand for 10 minutes.

In the meantime, mix rice vinegar, sugar, and salt. Heat them in a small pan and leave it to cool.

Put rice into a pot with water and cook at full heat until water boils, then lower the heat and simmer for 10-15 minutes. Take it off the heat and leave to stand for another 15 minutes.

Pour the rice into a large bowl. Add the vinegar mix and stir with a wooden spoon. Be careful not to break the rice. Cool the rice with a fan to allow the vinegar to evaporate. Lastly, cover with a damp cloth and leave to cool.
Preparing the filling
Wash and cut the cucumber into ¼-inch thick bars.

Peel and cut avocado into ½-inch thick bars.

Cut nori sheet into 1-inch wide strips.

Press the tofu, then cut it into ½-inch thick bars.

Heat coconut oil in a frying pan over medium heat and add the tofu bars. Fry them each side for 2-3 minutes until they get crispy. Set aside.

Use the same pan, and add teriyaki sauce. Bring it to a boil. Add the mixture of cornstarch and water. Stir constantly for 2-3 minutes until the sauce thickens.

Add back the tofu bars and cover them with the sauce. Remove the pan from the stove.
Rolling sushi spring rolls
Gently submerge the rice paper. (See NOTES on how to know the duration.)

Once submerged, transfer it to a dry and smooth surface.

Place two nori stripes in the middle and add one portion of sushi rice in the middle. If you have a standard-size rice paper (approx. 20-22 cm /8-9 inches), you can fit 2-3 Tbsp of filling, which would make an approx. 10 cm (4-inch) long spring roll.

Add tofu, cucumber, avocado, and chives to the top of the sushi rice.

First, fold the sides gently but tight towards the middle.

Take the bottom seam and fold it upwards gently, but tight.

Use your fingers to tuck the filling tight within the rice paper before rolling it all the way up.

Roll it all the way up, but use your fingers to keep the filling tucked tightly.

Place your finished spring roll on a parchment paper with the closing seam on the bottom.
Notes
Use dry hands → Dry your hand before grabbing another wrapper for the package. If you reach inside with wet hands, they will soften and be hard to separate.
Damp towel or submerging in water? → If you see tapioca starch as the only or first ingredient, you should know it is the delicate type. A damp towel is enough to get them soft. If you see rice flour only or as a first ingredient, then you need to submerge it in water to get them soft.
How to test how much time you need to submerge the rice papers? → The rice paper in the video is made of 100% rice flour. I submerge this type for 7-8 seconds. If unsure about yours, start with 3-4 seconds and place it on a dry surface. If it softens after 2-3 seconds, you are good to go.
Nutrition
Nutrition Facts
Sushi Spring Rolls
Amount Per Serving (1 sushi spring roll without topping)
Calories 206
Calories from Fat 63
% Daily Value*
Fat 7g11%
Cholesterol 2mg1%
Sodium 261mg11%
Potassium 184mg5%
Carbohydrates 30g10%
Protein 6g12%
Vitamin A 162IU3%
Vitamin C 4mg5%
Calcium 51mg5%
Iron 1mg6%
* Percent Daily Values are based on a 2000 calorie diet.