Prepare to be pleasantly surprised by the versatility of chickpeas! In this collection of 25 vegan chickpea recipes, we've curated a selection that goes beyond the ordinary. From creative salads to flavorful main dishes, these recipes will introduce you to a new world of chickpea culinary delights.
Falafel Gyros with Tzatziki
Make a delicious Greek-style falafel gyro with crispy homemade falafel balls, paired with chilled, tangy tzatziki salad, as well as some sweet tomatoes and piquant purple onion. Served it with pita bread for a perfect and easy lunch or dinner.
Recipe: falafel gyros
Chickpea Korma
This 25-minute chickpea korma recipe is a perfect option for those who crave a quick and flavorful dinner. It's loaded with protein and bursting with flavor, thanks to the combination of chickpeas, coconut cream, and spices, and its creamy and aromatic sauce can be customized to suit your tastes.
Recipe: chickpea korma
Creamy Hummus
It is the smoothest and creamiest hummus that you can imagine. Ditch the olive oil for aquafaba. You will not regret it. Once, you taste this hummus, you will make it over and over again.
Recipe: hummus
Chickpea Tofu Curry
If you are a fan of curry dishes and want to try something new, give this chickpea tofu curry a shot! It's plant-based, flavorful, and packs a lot of protein. Seriously, don't sleep on this mouthwatering recipe!
Recipe: chickpea tofu curry
Hummus Pasta
Hummus pasta salad from our cookbook is a quick and flavorful vegan pasta dish that can be prepared in just 15 minutes. The combination of creamy hummus with tangy sun-dried tomatoes and olives creates a unique taste. Different flavored hummus, such as roasted red pepper or spinach, allow for endless variations.
Recipe: hummus pasta
Copycat IKEA Veggie Balls
If you don't have an Ikea nearby, try our copycat Ikea veggie balls recipe. We added eight different vegetables, the same as in the original, with a tasty mix of spices and herbs to get the flavors just right.
Recipe: ikea veggie balls
Hummus Quesadillas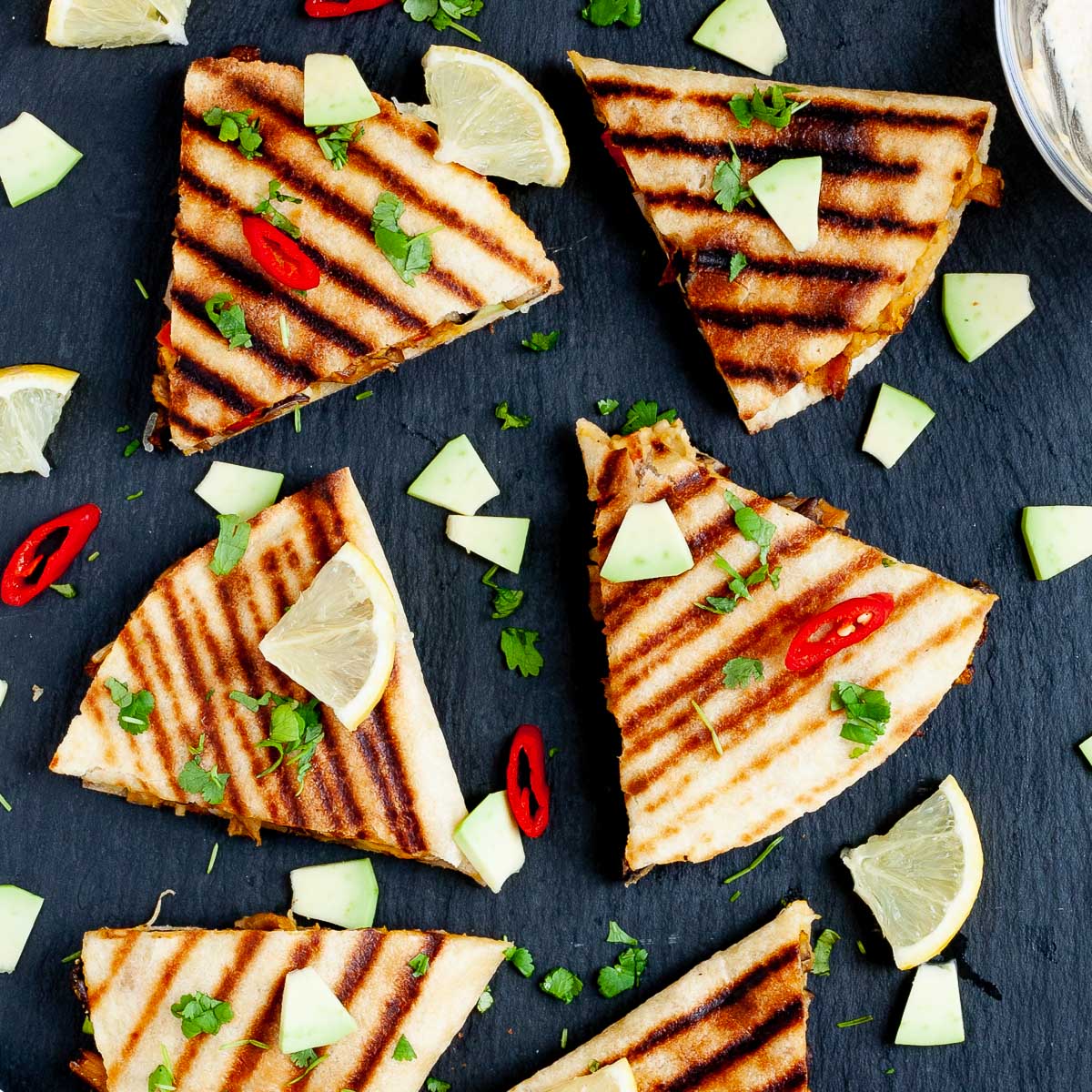 These hummus quesadillas are a delicious and healthy twist on a classic Mexican dish. Packed with flavorful veggies and beans, and bound together with creamy hummus instead of cheese, these quesadillas are a satisfying meal that will leave you feeling satisfied and nourished.
Recipe: hummus quesadillas
Kung Pao Cauliflower
Kung Pao Cauliflower is a mouthwatering vegan twist on the classic Chinese dish, featuring crispy cauliflower florets tossed in a spicy and tangy sauce. The cauliflower absorbs the flavors of the sauce beautifully, resulting in a deliciously balanced combination of heat, sweetness, and savory notes, making it a delightful choice for those seeking a plant-based and flavorful meal.
Recipe: kung pao cauliflower
Lentil Chickpea Curry
Lentil chickpea curry is a popular vegetarian dish that is as nutritious as it is delicious. Hearty and flavorful, this dish is easy to make. It combines lentils and chickpeas with a blend of aromatic spices to create a filling and satisfying meal that will leave you feeling nourished and satisfied.
Recipe: lentil chickpea curry
Mediterranean Hummus Pizza
This Mediterranean-inspired hummus pizza is a unique and delicious twist on traditional pizza. Topped with olives, feta cheese, cherry tomatoes, and fresh basil, this pizza is sure to become a new favorite.
Recipe: hummus pizza
Shawarma Buddha Bowl
The Shawarma Buddha Bowl with cauliflower offers a delicious and healthy twist on the traditional Middle Eastern dish. The roasted cauliflower adds a flavorful and satisfying element to the bowl, complementing the vibrant assortment of vegetables and grains.
Recipe: shawarma buddha bowl
Chickpea Mushroom Curry
This vegan and gluten-free Chickpea Curry or Chana Masala with Mushroom is a delicious and easy-to-make Indian dish that will satisfy your cravings for a mild and creamy curry. Packed with spices, coconut cream, and veggies, it is perfect for beginners who want to explore the world of Indian cuisine.
Recipe: Chickpea Curry
Chickpea Shakshuka
This chickpea shakshuka is a flavorful and hearty stew that combines Middle Eastern spices with tomatoes, bell peppers, onions, and chickpeas. Ready in under 30 minutes, this dish is perfect for a quick and satisfying weeknight dinner.
Recipe: vegan chickpea shakshuka
Vegan Breakfast Casserole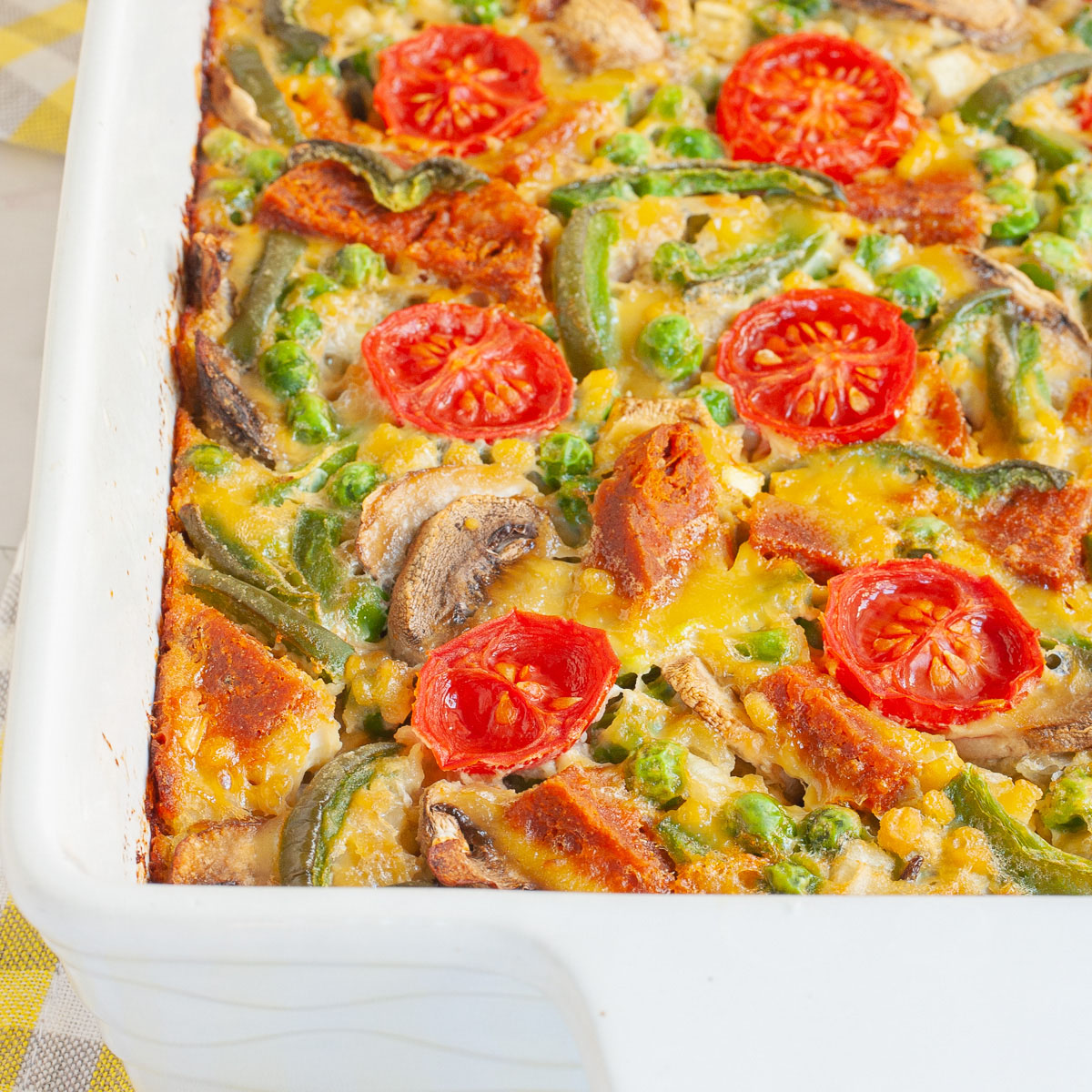 This vegan breakfast casserole is a delicious and customizable breakfast option, made with a quick and easy vegan eggy base and a variety of veggies and vegan sausage. It can be prepared in advance and served hot for a hassle-free morning meal.
Recipe: vegan breakfast casserole
Crispy Vegan Chicken Patties
These vegan chicken patties are a perfect plant-based alternative to traditional chicken patties. The combination of crispy outer crust and flavorful texture inside makes them an excellent addition to any meal.
Recipe: vegan chicken patties
Classic Crispy Falafel
Classic falafel is delicious. Traditionally it is made of soaked chickpeas and not canned, mildly spiced with fresh herbs, formed into balls, and deep-fried until it gets a crispy crust. This vegan falafel recipe will show you exactly how easy it is to make them home.
Recipe: vegan falafel
Vegan Frittata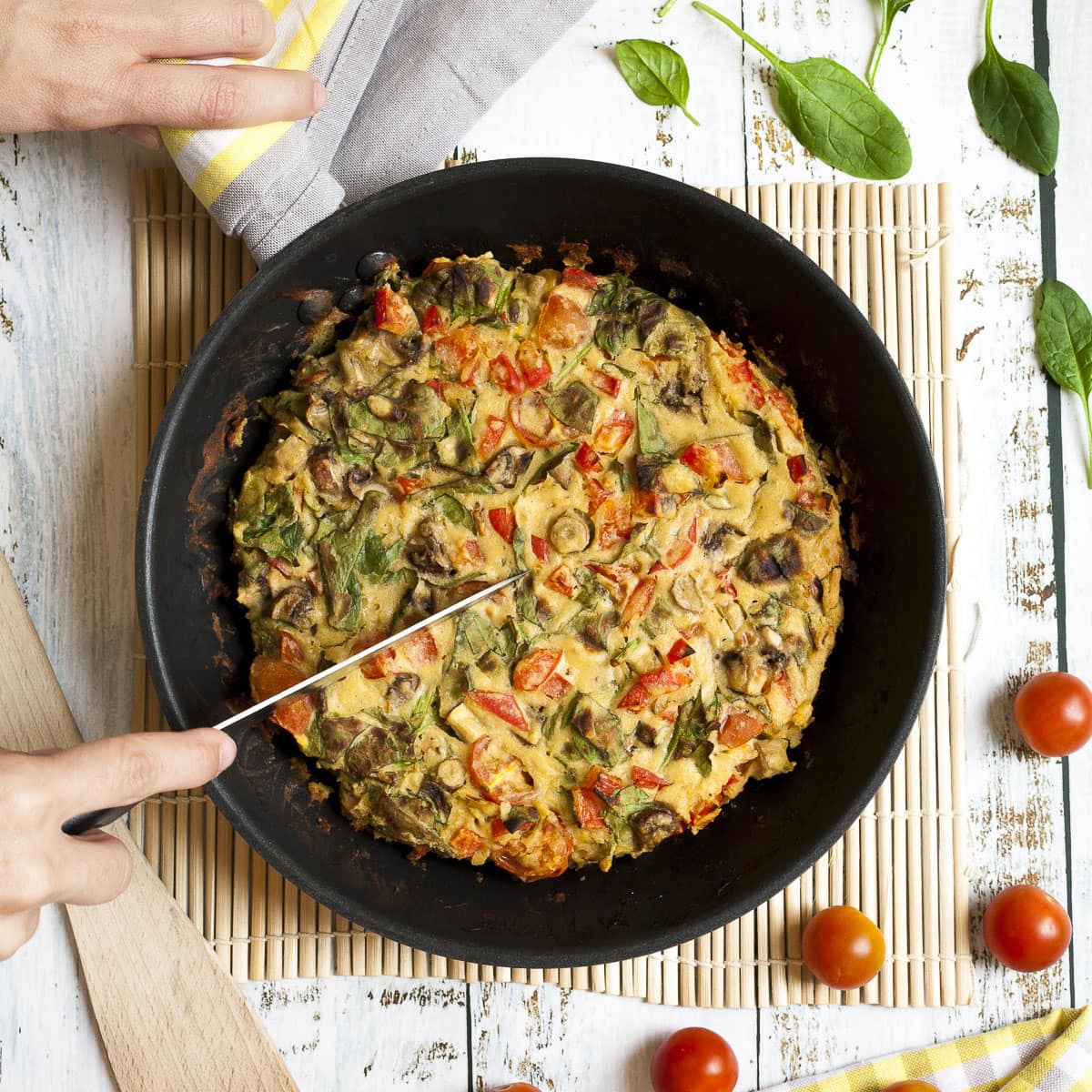 This vegan frittata is a healthy and satisfying breakfast option that is loaded with vegetables and made with a simple 3-ingredient chickpea flour base. It's perfect for meal prep and can be enjoyed hot or cold.
Recipe: vegan frittata
Minestrone Soup
This vegan minestrone soup is a comforting and hearty bowl of goodness. Loaded with vegetables, legumes, and pasta, it is a perfect meal for a chilly evening.
Recipe: vegan minestrone soup
Vegan Tikka Masala
This vegan tikka masala recipe offers a quick and easy way to enjoy a flavorful tomato-based curry sauce that's creamy and aromatic. It can be paired with your choice of ingredients, such as mushrooms, cauliflower, tofu, or chickpeas, to create a delicious and satisfying meal.
Recipe: vegan tikka masala
Vegetable Korma
This vegetable korma recipe is a quick and easy way to make a flavorful Indian dish that is loaded with vegetables and protein-rich chickpeas. With its creamy and aromatic sauce, it is a perfect choice for a healthy and delicious dinner that everyone will love.
Recipe: vegetable korma
Hidden Veggies Pasta Sauce
This healthy vegetable sauce is a delicious and nutritious option for pasta lovers. Packed with seven different veggies and blended into a smooth and creamy sauce, even picky eaters will love this flavorful and satisfying meal.
Recipe: vegetable sauce pasta
Chickpea Salad
This Chickpea Salad is easy, keeps well and works for lunch and snacks.
Recipe: chickpea salad
Rotini Chickpea Pasta with Arugula
You need just a few ingredients to make this delicious Rotini Chickpea Pasta with arugula, cherry tomatoes, and vegan feta. It is healthy, flavorful, and takes less than 30 minutes to make!
Recipe: chickpea pasta
Spicy Moroccan Chickpeas
This chickpea recipe with Moroccan spices is not just for vegans! The lovely aromatic dish of garbanzo beans is very filling, and perfect as a light, nutritious main dish that will please vegans, vegetarians, and meat-eaters alike.
Recipe: chickpea moroccan spices
Lemon Chickpea Orzo Soup
Try chickpea orzo soup if you need a light and refreshing lemony soup. With only a handful of ingredients, all probably already in your pantry, you can whip it up in no time.
Recipe: chickpea orzo soup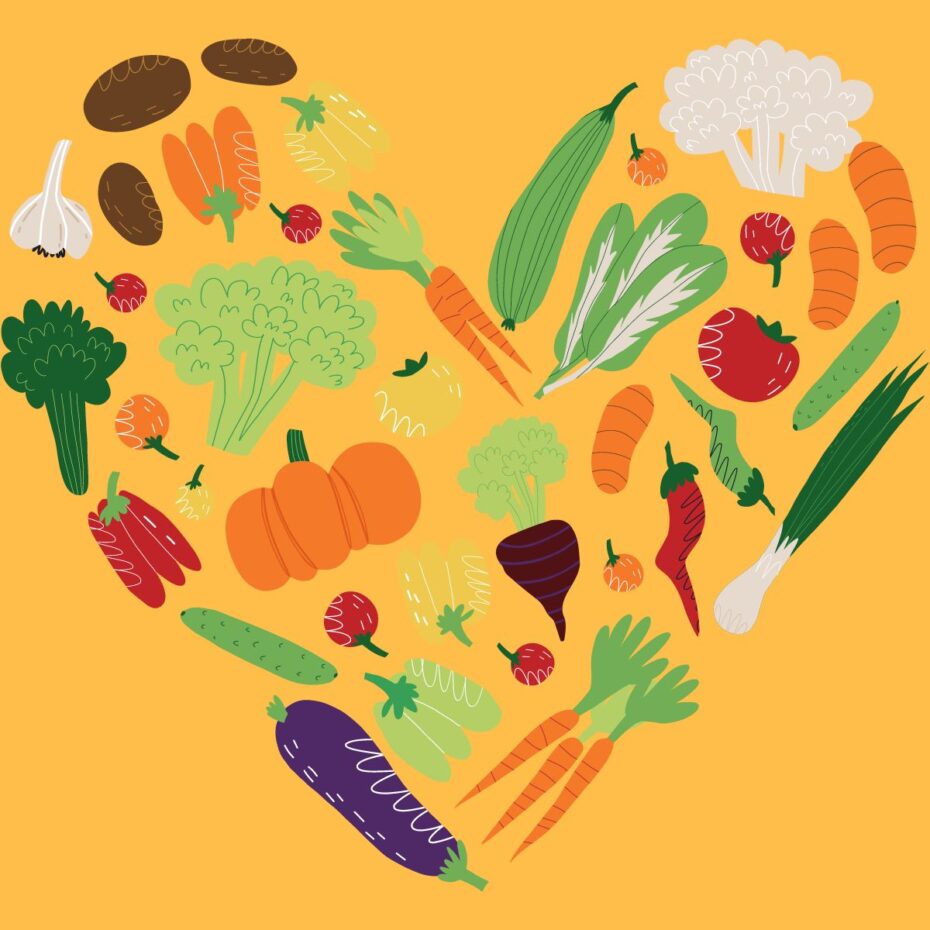 More vegan recipes