If you are a fan of curry dishes and want to try something new, give this chickpea tofu curry a shot! It's plant-based, flavorful, and packs a lot of protein. Seriously – don't sleep on this mouthwatering recipe!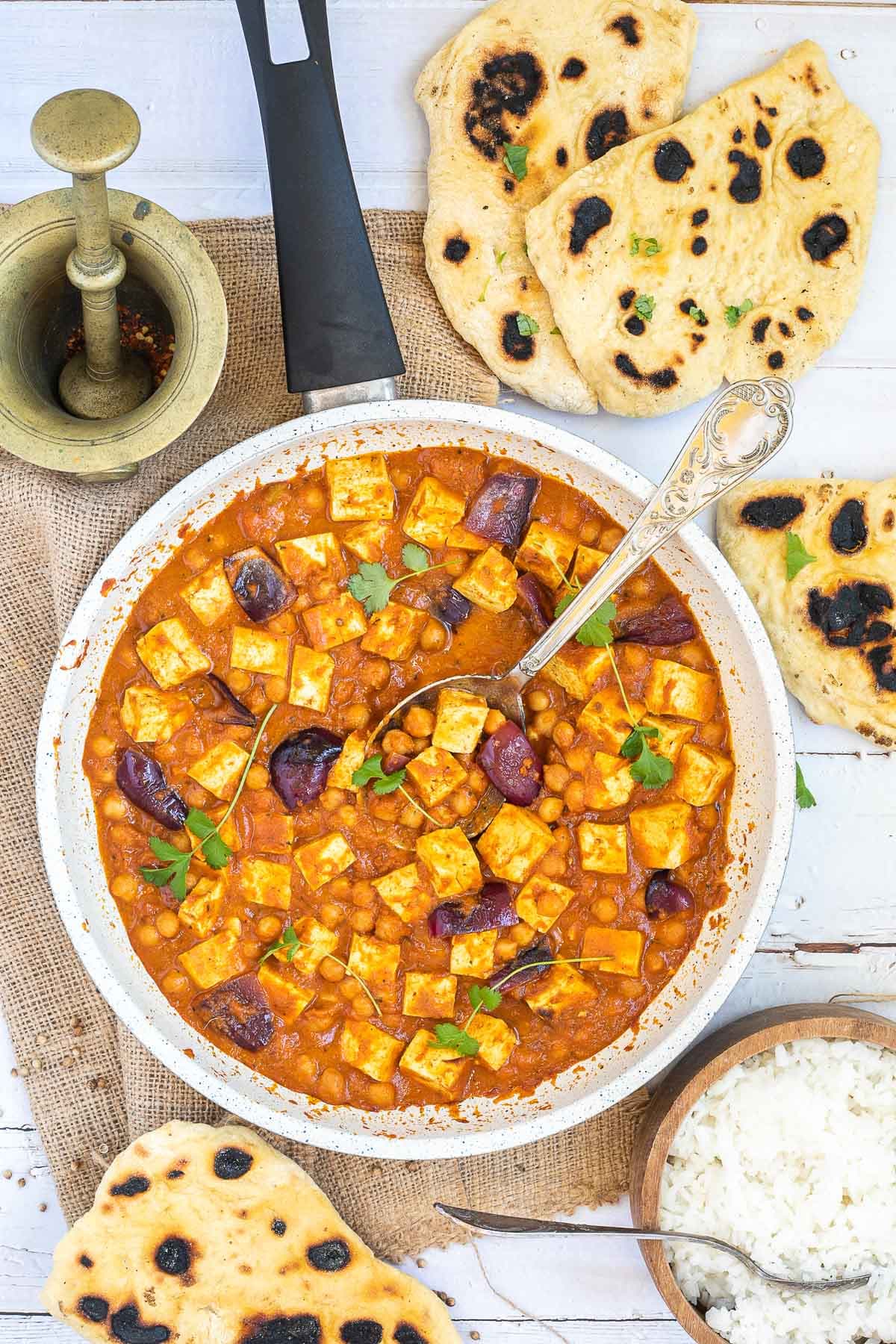 If you are looking for easy vegan curry recipes, check out chickpea
mushroom curry, lentil chickpea curry, sweet potato tofu curry, and vegetable korma.
Jump to:
What to expect?
Our chickpea tofu curry is a delightful combination of flavors and textures, featuring a creamy and aromatic sauce with just the right balance of sweetness and spice. The tofu and chickpeas offer a satisfying chewiness to the dish, while the spice blend consisting of turmeric, cumin, coriander, and garam masala infuses it with a warm and earthy flavor.
Flavorful and satisfying, this recipe is quick and easy to prepare too. The best part is that it is highly customizable, making it the perfect fridge-cleanout recipe. You can adjust the spice levels, add more veggies, or even substitute the chickpeas with other legumes.
In under 40 minutes, you can create a nutritious dinner for yourself and your family. It's a tasty meal prep option for when you need a little extra plant-based protein in your diet!
Ingredients
Remember to use firm tofu and not silken, as it has less moisture. To make the tofu even firmer, you can go the extra mile and press it yourself too, which we will get more into in a bit! Here is the list of ingredients you need:
Firm tofu
Chickpeas – We used canned.
Coconut oil – You can use any other oil you want as well.
Onion
Garlic
Chopped tomatoes → If you can't find fresh ripe tomatoes, use a canned version.
Vegetable broth
Cilantro
Spices – garam masala, turmeric, and chili powder (or flakes)
Chickpea flour
Coriander seeds
Ground cumin seeds
🛒 You can find detailed measurements for all ingredients in the printable version of the recipe card at the bottom of this post.
Instructions
Pressing tofu
Use firm tofu and press it. I used my trusted TofuBud*, but you can choose any DIY method or tofu press. For more information, tips, and steps, read my complete guide on how to press tofu and my honest review of TofuBud.
Preparing the other ingredients
Peel and slice the onion. You need one onion for the paste and then an additional half onion for the curry.
Peel and chop garlic into small pieces.
Drain your canned chickpeas and give them a quick wash.
You can prepare tofu for cooking in 10 ways. In this recipe, we cut pressed tofu into cubes. Tearing them with your hands, as we did in our chili miso tofu recipe, would give a more uneven, natural texture.
Making curry paste
To prepare the curry, heat the frying pan or wok over medium heat until the pan is hot. Add a tablespoon of coconut oil.
Add one onion (sliced up earlier) to the pan. Saute everything for 4-5 minutes.
Next, add the chopped garlic and saute for 2 minutes until lightly browned.
It's spice time! Add garam masala, turmeric, coriander seeds, ground cumin seeds, chili flakes, and sugar.
Add chickpea flour, stir the mixture well, and let it cook for 2 minutes.
Now, add the diced tomatoes and chopped cilantro leaves. Stir the mixture well and let it cook for 3-4 minutes.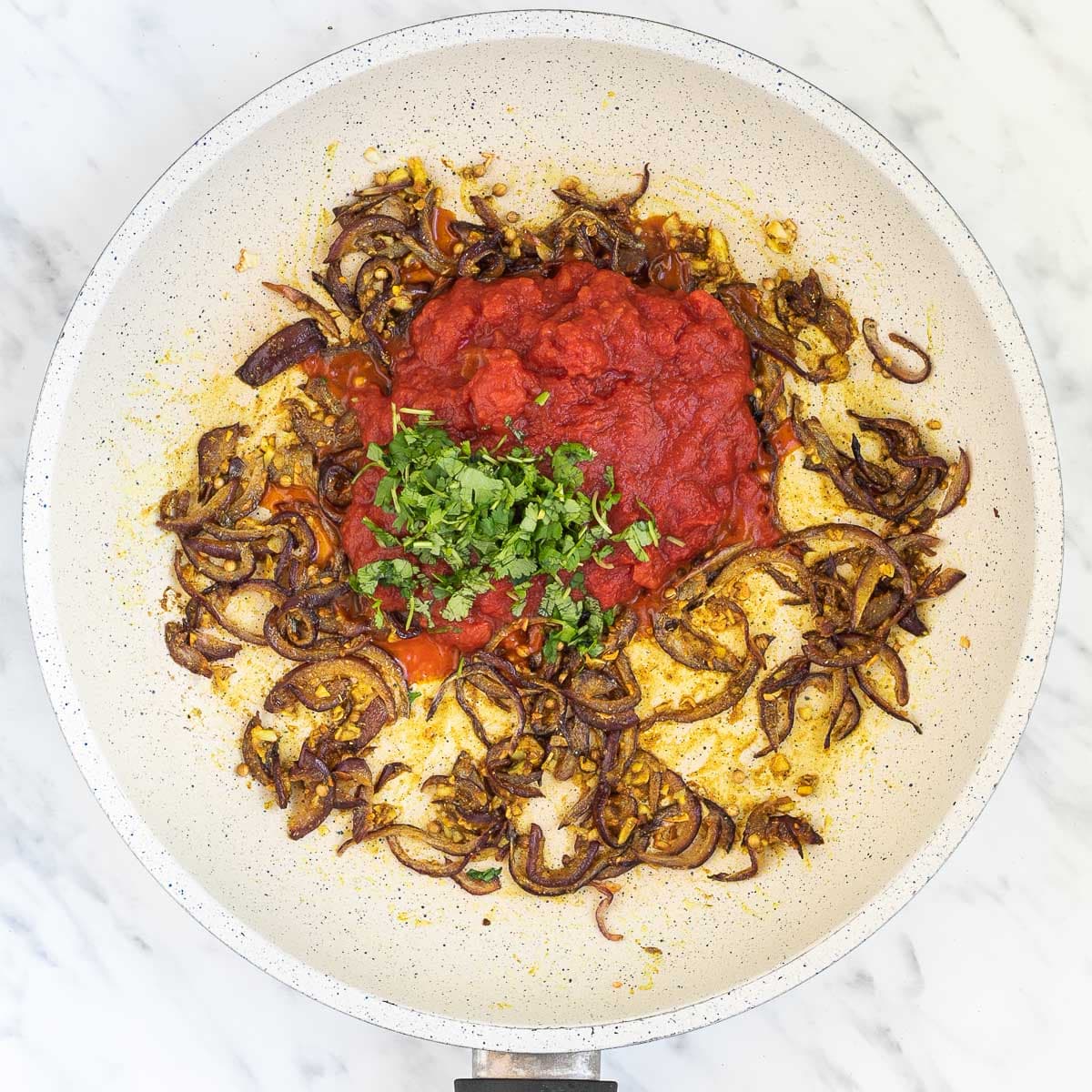 Once the paste has been stirred well, transfer it to a blender. You can also use an immersion blender for this step, but we used Vitamix. Blend the mixture for a minute till it is smooth. Now you have your paste ready!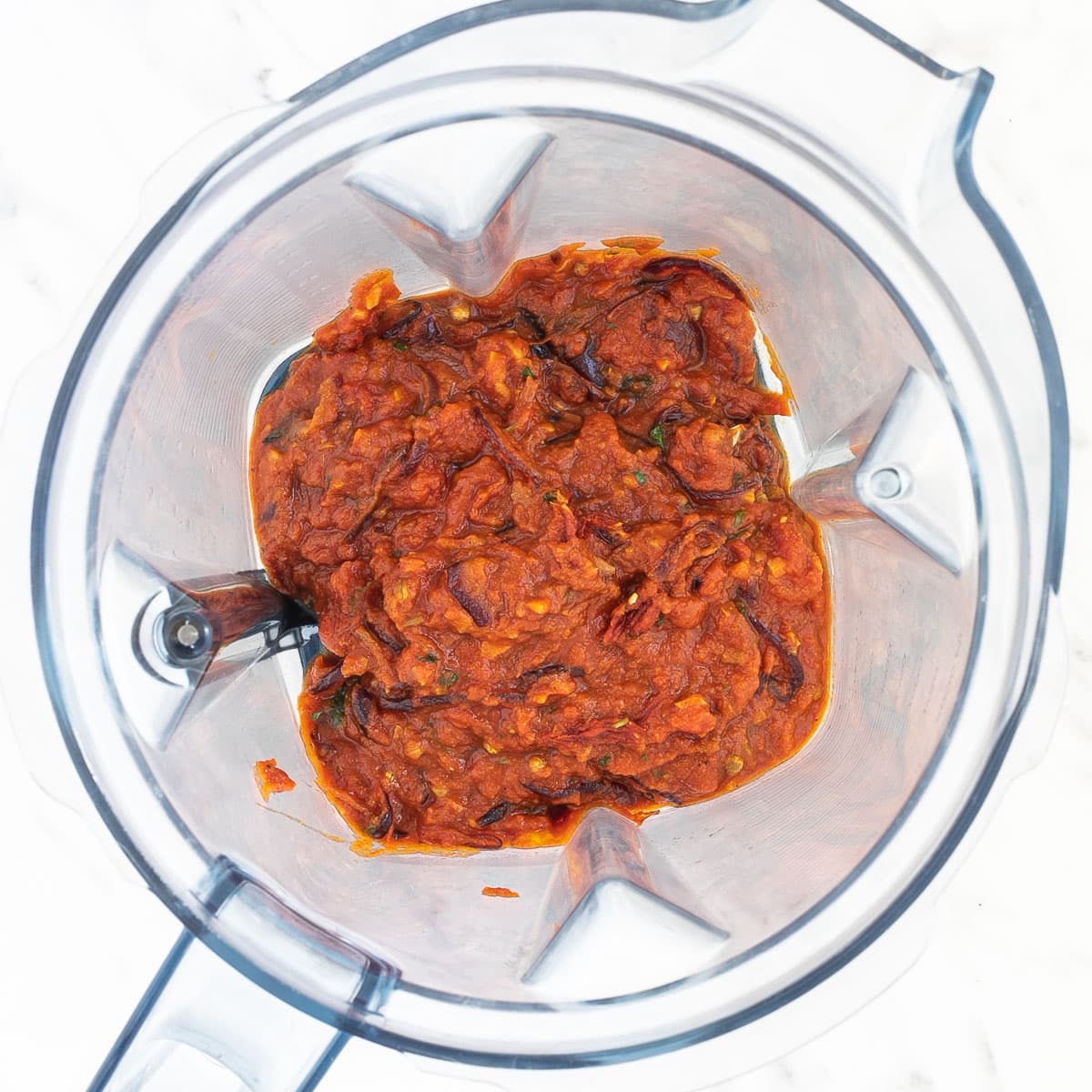 Making chickpea tofu curry
Heat your wok over medium heat. Add another tablespoon of coconut oil, and half an onion (previously sliced). Sprinkle them with cumin and salt. Cook them for 2 minutes.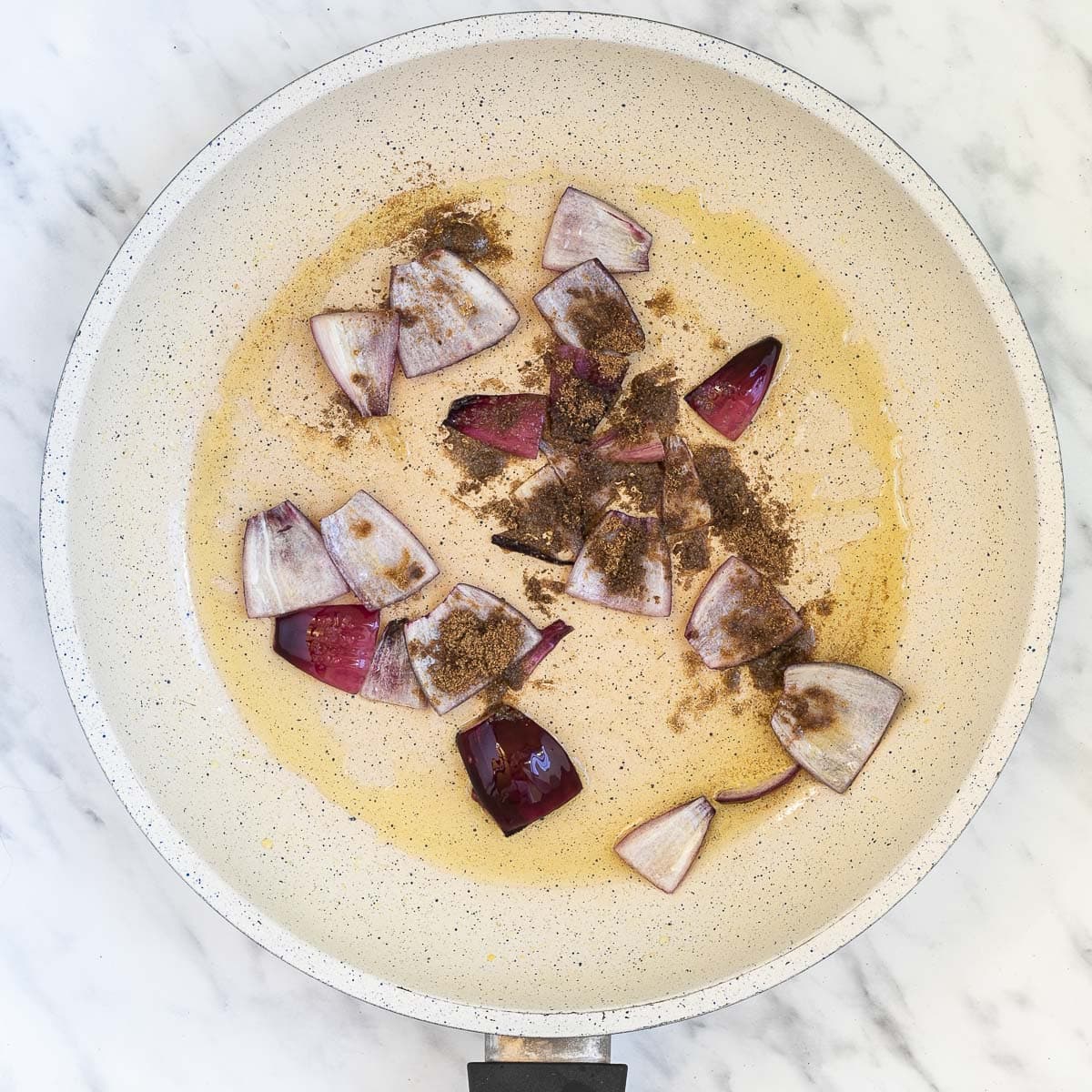 Add chickpeas and tofu cubes into the mixture.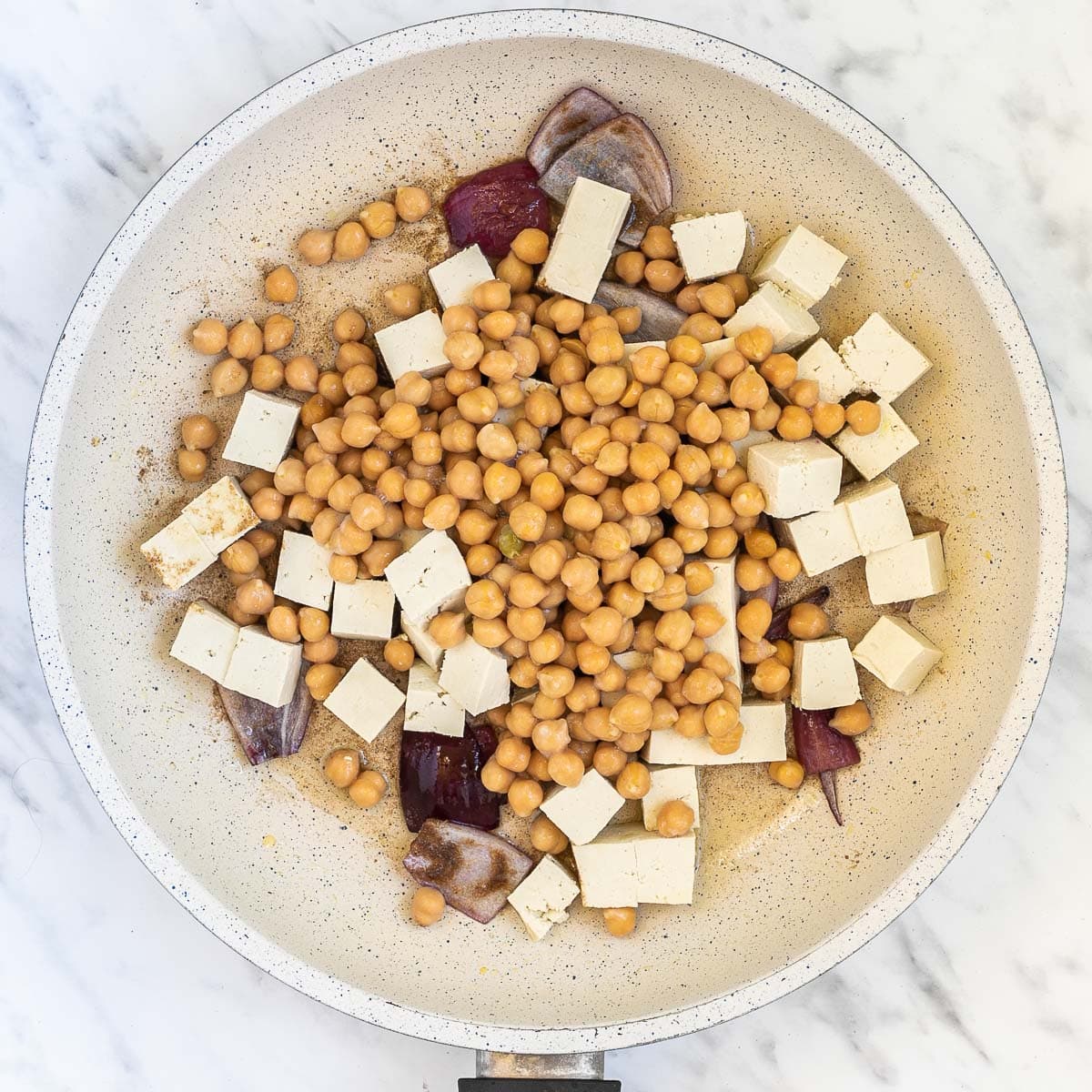 Add the blended paste we made earlier to your seasoning and stir thoroughly.
Then, add vegetable broth to the mixture while ensuring you are still on medium heat. Cover it with a lid and simmer on medium heat for 10 minutes.
Cooking tips
Adjust the seasonings – Play around with the spices and vary the amounts to your taste. Garam masala and chili powder are the main seasonings that influence the spiciness in your mix. If you want something spicier, add more masala or fresh chili peppers. If you prefer a milder flavor, add less chili powder. Remember to taste and adjust the seasoning as you go.
Toast your spices – An extra step to enhance the taste of your chickpea curry is to toast your spices beforehand. Simply heat them in a dry pan over medium heat until fragrant. This makes them even more flavourful.
Make your sauce beforehand – If you are short on time, you can make the curry paste ahead of time and store it in the freezer. Just reheat it and add vegetable broth, chickpeas, and tofu when ready to make your curry.
Variations
Add in vegetables of your choice – Experiment with your chickpea tofu curry by adding various vegetables to achieve different textures and flavors. Spinach is a popular choice, but you can add anything you wish. Some options include eggplant, zucchini, cauliflower, sweet potatoes, and green beans.
Add more protein – Both chickpeas and tofu are great sources of protein. However, you can add more by incorporating ingredients like cooked lentils into your curry, as we did in our lentil chickpea curry recipe.
Coconut cream – Add more cream if you want a thicker and creamier curry. You can replace coconut cream with cashew, yogurt, or almond cream. For a lighter option, use plain or dairy-free yogurt.
Don't stress over the seasonings – If you don't have turmeric, garam masala, or chili powder, add curry powder and 1-2 red chilies to the mixture. You can also substitute chili powder with smoked sweet paprika in a pinch.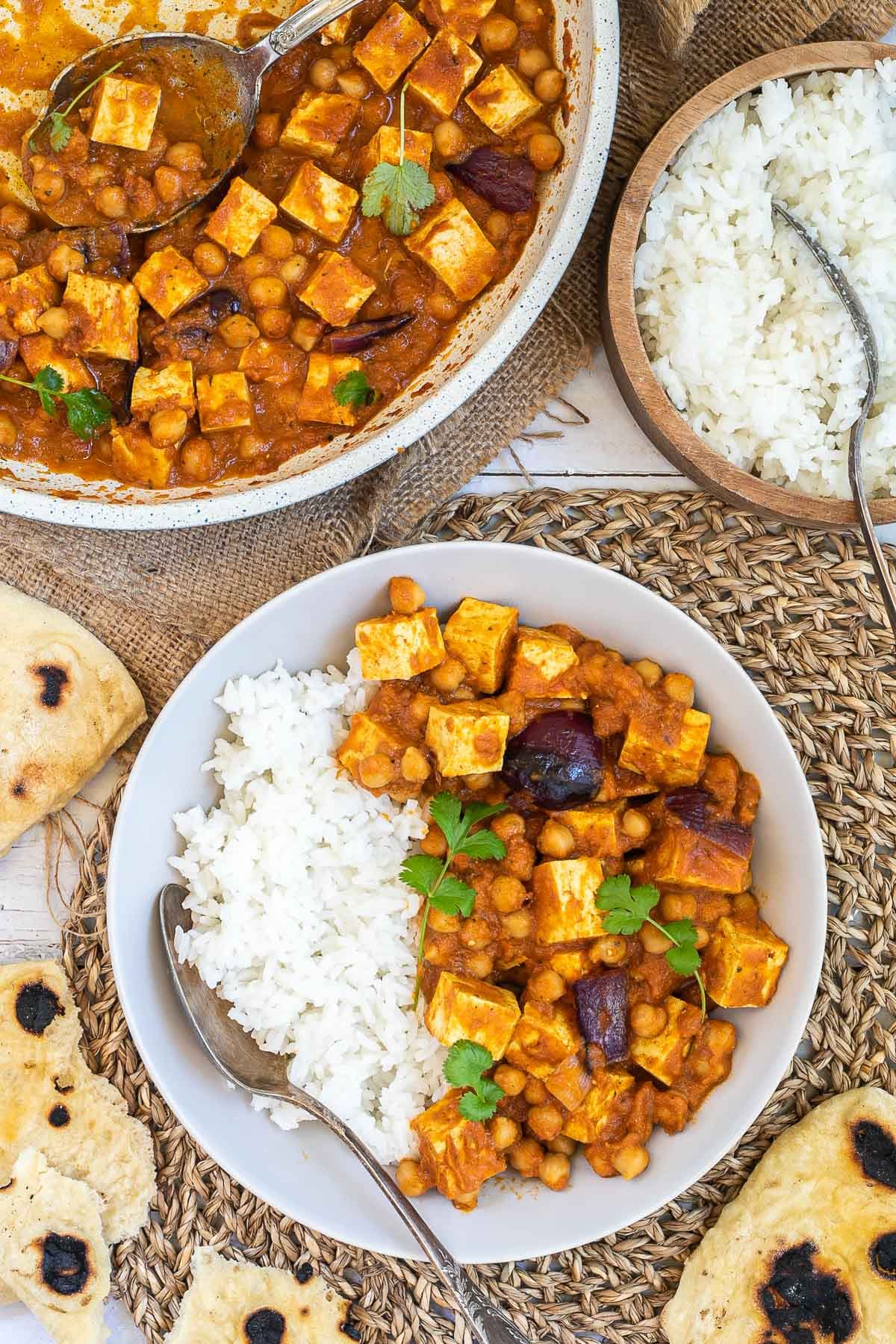 Serving ideas
The most common way to enjoy this dish is with rice, but you can make things interesting by trying different kinds of rice. For instance, basmati rice is the most common pairing with this curry, but brown rice or red rice are also great options if you're looking for more nutritious alternatives.
Chickpea tofu curry is often served with Indian flatbreads – roti, puri, and naan- but you can also try tortillas! Just dip them in the curry and savor the delicious flavors.
Opt for various grains to go along with your curry. Try pairing it with quinoa, buckwheat, or millet.
Are you a fan of cauliflower rice and any other riced veggies? Good news. This chickpea tofu curry goes great with sweet potato rice, as the sweetness balances out the spices nicely.
Another way to serve the curry is to pair it with noodles. Try soba (buckwheat noodles); they have a nutty, earthy, and slightly sweet taste.
Finally, in order to add some fresh flavor and texture to your curry dish, you can chop up some cilantro or parsley and sprinkle it on top. You can also add thinly sliced green onions or scallions for a slightly different flavor profile. Give sprouts a try for some added crunch too!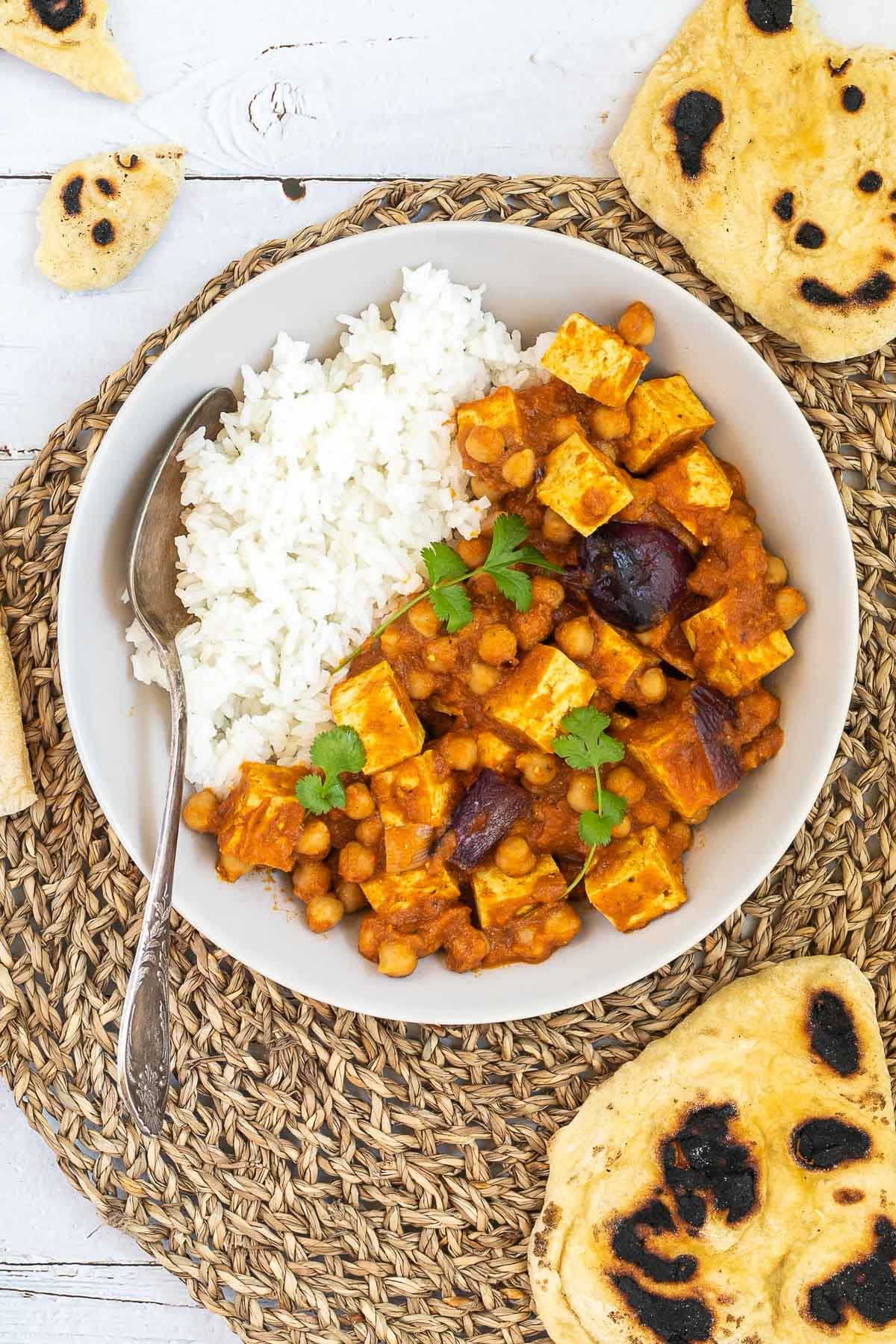 Storing tips
There are a few ways to store leftover curry. One way is to keep it in an airtight container in the fridge. This should keep the curry fresh for up to three days.
Another option is to freeze the curry for up to three months.
Before reheating this chickpea tofu curry, make sure to thaw it well. I suggest thawing it overnight. When you're ready to enjoy it, gently reheat your leftovers in a pan over a medium flame. Or, heat it up in the microwave.
If the curry is too thick, you can add a splash of water or broth to thin it out. Adding a splash of lime juice or a handful of fresh herbs like cilantro or parsley before serving can help refresh the flavors of the mixture.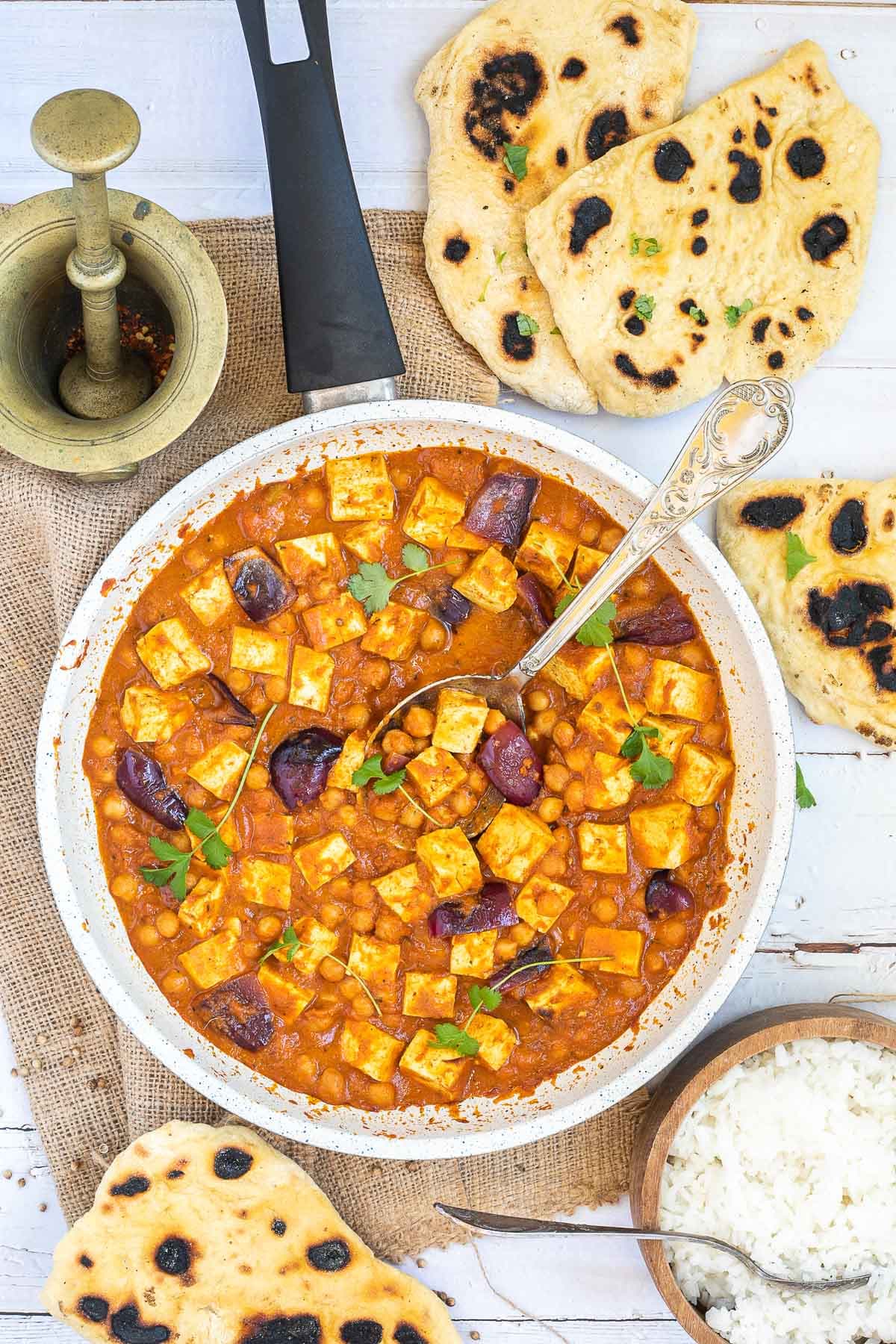 FAQs
Should tofu be cooked before adding it to curry?
No, because, once you cut and press the tofu, it should be firm enough to cook alongside the chickpeas or any other ingredients for that matter and will absorb the flavors of the curry adequately.
What happens if you don't press the tofu before cooking?
You can cook and eat tofu that has not been pressed, but it will retain more water and be softer in texture. For this recipe, we recommend a thicker texture to blend well with the curry. Pressing the tofu helps it absorb seasonings and develop a crisper texture when cooked. It also prevents the tofu from falling apart during cooking.
THANK YOU so much for visiting our website. Please comment below if you have tried this recipe. We LOVE hearing from you! If you loved the recipe, please don't forget to give us a ⭐⭐⭐⭐⭐ RATING. We appreciate all of our readers.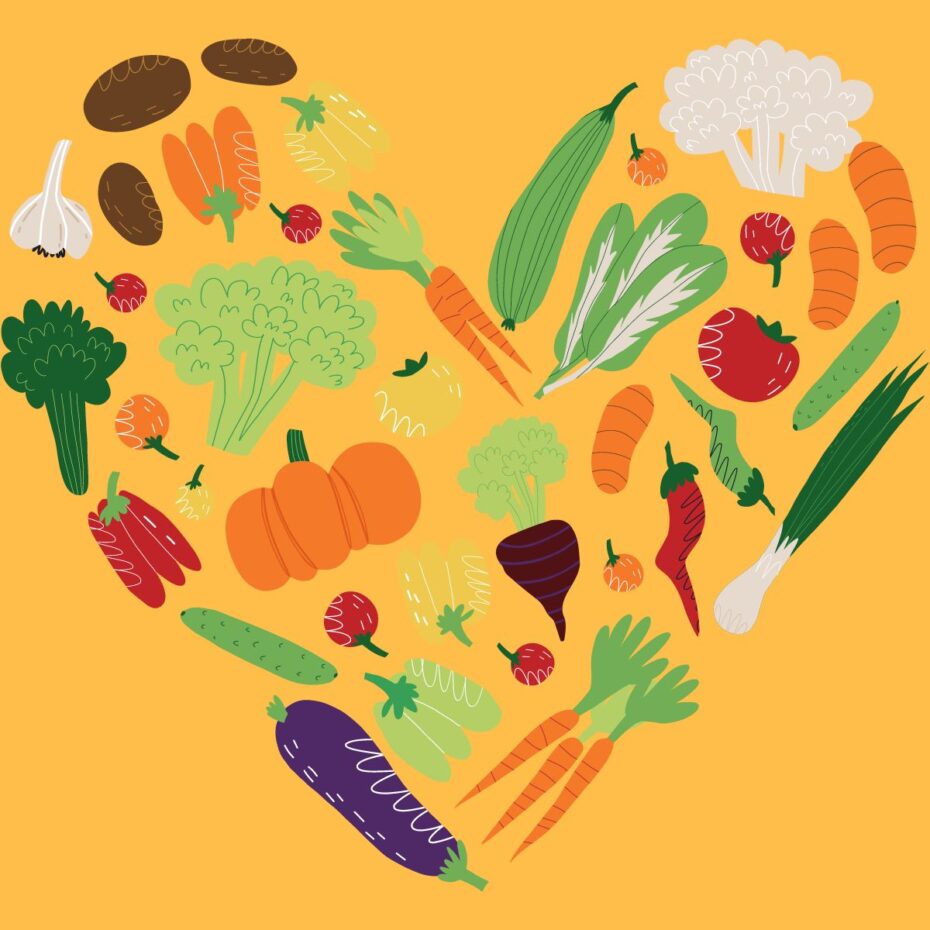 Chickpea Tofu Curry
If you are a fan of curry dishes and want to try something new, give this chickpea tofu curry a shot! It's plant-based, flavorful, and packs a lot of protein. Seriously – don't sleep on this mouthwatering recipe!
EXCLUSIVE 5-ingredient recipes for busy home cooks that are ready in 15 minutes!
Check out our Express Vegan Cookbook!
Instructions
Preparing the ingredients
Peel and slice the onion and chop the garlic.

Press the tofu in a tofu presser. Cut it into ½-inch cubes.
Making the curry
Heat the frying pan or wok over medium heat and add 1 Tbsp coconut oil. Add sliced onions and saute them for 4-5 minutes.

Add chopped garlic and cook for 1-2 minutes.

Add all spices (garam masala, turmeric, coriander seeds, chili flakes, sugar) and chickpea flour. Stir well and cook for 2 minutes.

Add diced tomatoes and chopped cilantro leaves and stir well. Cook for 3-4 minutes.

Transfer the paste to a blender and blend until it is smooth.

Heat the frying pan or wok over medium heat and add 1 Tbsp coconut oil. Add the remaining onions and sprinkle them with cumin and salt. Cook for 2 minutes.

Add drained chickpeas and tofu cubes. Stir.

Add curry paste and vegetable broth. Stir until well combined. Bring it to a boil. Cover with a lid and simmer on medium heat for 10 minutes.
Notes
We served it with white rice. But there are lots of options. Here is our recommendation if you want to mix and match.
Grains like steamed, cooked, or fried white rice, brown rice, quinoa, buckwheat, millet, or a combination of them.
Riced veggies like cauliflower rice or sweet potato rice
Noodles like soba aka buckwheat noodles. If you need to eat gluten-free, please choose gluten-free noodles as soba noodles may contain wheat flour which is not gluten-free.
Toppings like sliced green onion or scallions or sprouts, or fresh cilantro.
Nutrition
Nutrition Facts
Chickpea Tofu Curry
Amount Per Serving (1 serving (without sides))
Calories 253
Calories from Fat 108
% Daily Value*
Fat 12g18%
Sodium 1108mg48%
Potassium 362mg10%
Carbohydrates 25g8%
Protein 13g26%
Vitamin A 259IU5%
Vitamin C 10mg12%
Calcium 167mg17%
Iron 3mg17%
* Percent Daily Values are based on a 2000 calorie diet.