What's not to love about stuffed portobello mushrooms? Depending on their filling, they can be a perfect appetizer, side or main dish. In this recipe take large mushroom caps stuff them with a hearty vegan bean chili, baked them in the oven with melted cheese on top. Absolutely delicious for a weeknight dinner or for holidays like Thanksgiving or Christmas.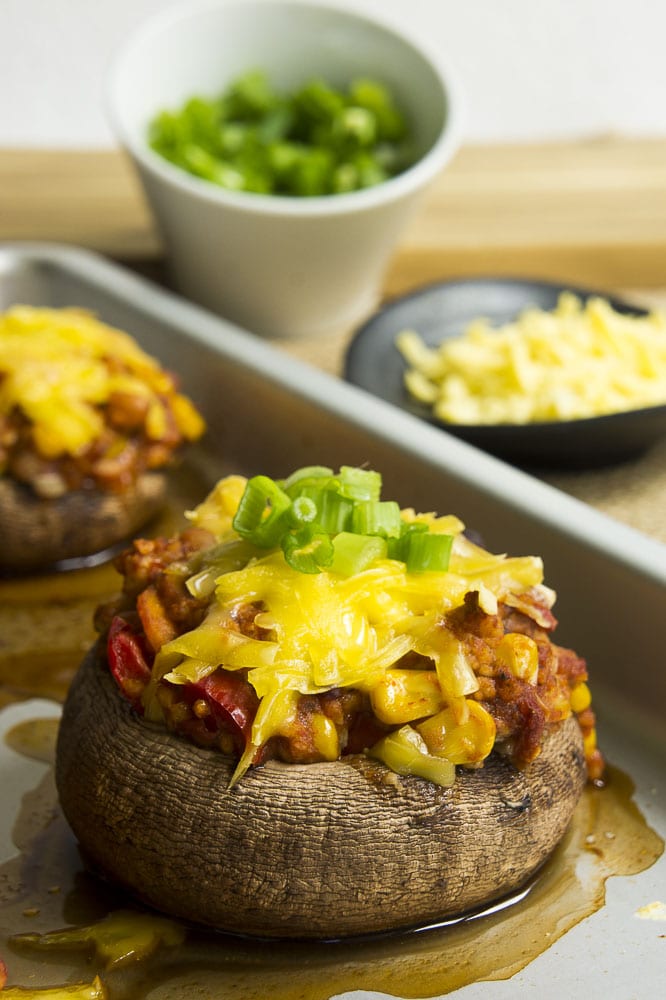 Do you love mushrooms? We have lots of yummy recipes with small portobello mushrooms (aka button mushrooms). We add them to soup, stew, curry, kabob, and risotto. If you are looking for a recipe for large caps portobellos try our Epic Fajitas Portobello Mushroom Burger. It is smoky, spicy and delicious. Browse through for even more mushroom recipes.
Best mushrooms to stuff
In short, any mushroom that has a large enough cap to stuff the filling somewhere. Small ones can be stuffed and turned into appetizer or side, but you need large caps if you want your stuffed mushrooms to be the main course.
As far as we know portobello mushrooms are the most accessible mushrooms with the largest cap. You can probably find them in most stores for an affordable price.
Do you know that portobello mushrooms have several names?
Small white immature ones are usually called cremini/crimini mushrooms, or white/brown button mushrooms or baby bella mushrooms or Italian brown mushrooms or champignon mushrooms. While large brown mature ones are called portobello mushrooms in store. But essentially all of the above is portobello mushroom. You can find more names here.
So don't get discouraged if you can't find portobello mushrooms in your local store. Look for these other names from the list above.
What should be the stuffing?
It depends whether you want them as appetizer or as the main course meal. We love to serve them as dinner so we prefer large mushroom caps loaded with a hearty, veggie-based stuffing to get a delicious and filling meal. In this recipe we stuffed portobello mushrooms with the Best Damn Vegan Bean Chili.
However, we have a couple of other ideas you can use as stuffing:
Let us know in the comments what is your favorite!
3 steps to make stuffed portobello mushrooms
Making stuffed portobello mushrooms is super easy and they look too pretty not to bake them often. Whether you want them to be a killer appetizer, a scrumptious side or the main attraction, you need only 3 steps:
Choosing your mushroom
Choose your stuffing
Ready! Set! Bake!
How to prepare the mushroom caps?
Gently clean them with a damn paper towel or clean kitchen cloth. Don't rinse them and make them soggy!
We never peel portobello mushrooms, but we do snap the stalk out leaving only the gills in.
You also don't need to scrape the gills out. They are absolutely delicious.
Drizzle it with a bit of olive oil and sprinkle it with a bit of black pepper and salt.
We don't use a non-stick baking sheet per se, just brush the top of the cap with a bit of olive oil to avoid any possible sticking.
Making the chili stuffing
You can find detailed instructions, step-by-step photos, faqs and substitutions and 1-min video tutorial in our Easy Vegan Chili recipe. But here is how to make it step by step.
Peel and chop onion and garlic. Wash and chop bell pepper, tomato, and celery. Wash, peel and slice carrots. Cook millet.
Take a large pan and cook the chopped onion and garlic in a bit of olive oil.
Add smoked paprika powder and stir for a minute to activate its flavor.
Add sliced carrots, chopped tomatoes, bay leaves and the chocolate next. Stir and cook for a minute.
Add chopped bell peppers, chopped celery, red wine and tomato sauce. Bring them to boil.
Season it with ground basil, oregano, and parsley and cook the chili until all vegetables are tender. It will take approx. 15 minutes.
Finally, add drained canned beans, sweet corn and cooked millet.
Check seasoning and add a bit of heat in the form of sriracha or hot chili powder.
Baking the stuffed mushroom caps
First, pre-heat the oven to 395 Fahrenheit (200 degrees Celsius). We only season the mushroom caps with salt and pepper as the stuffing will give them additional flavor. Large caps are soft and ready in approx. 20 minutes.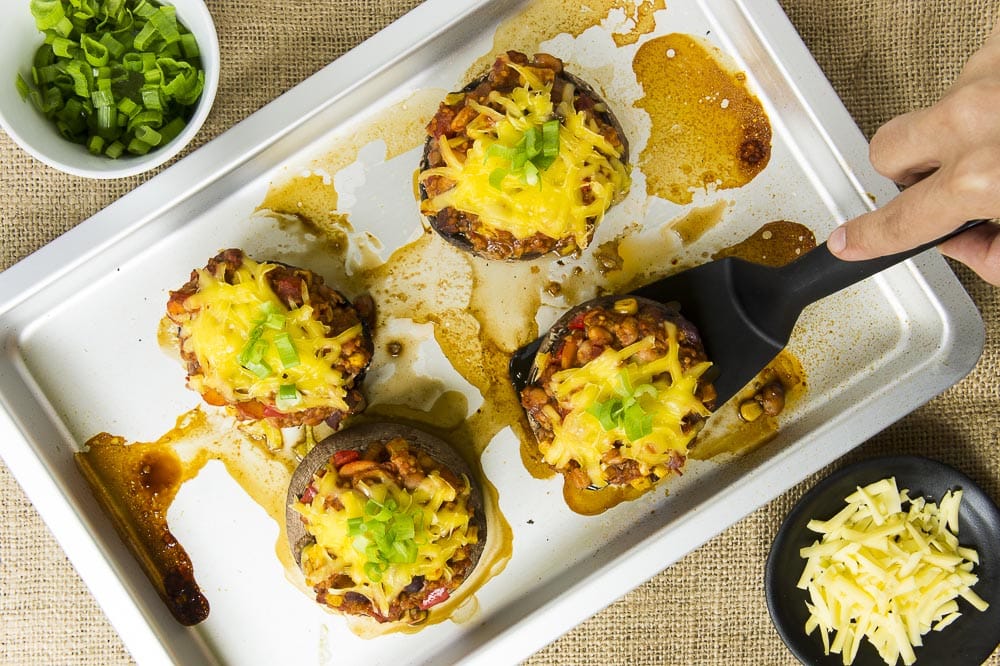 What to serve with vegan stuffed portobello mushrooms?
We like to eat chili stuffed mushrooms with toppings like
grated cheese or vegan parmesan or cashew cream cheese
guacamole or chopped avocado,
hot salsa,
spring onion, chives, or cilantro,
breadcrumbs.
As for sides, we'd like to eat them with
Let us know in the comments what is your favorite side dish!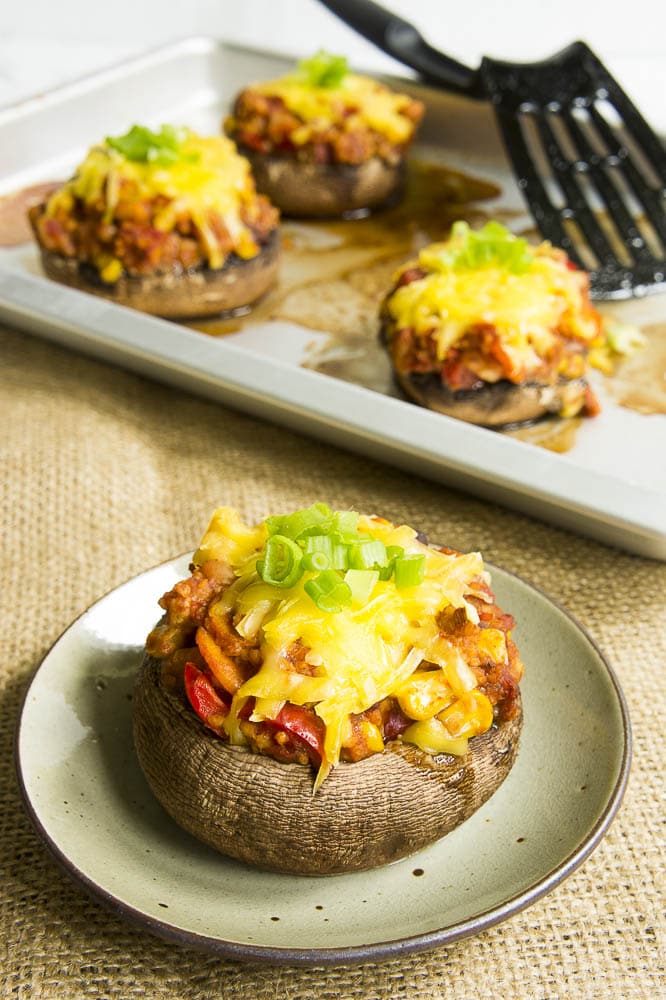 This Vegan Stuffed Portobello Mushrooms recipe is meat-free, dairy-free and egg-free. It is also suitable for vegan, vegetarian, nut-free and gluten-free diets. It is only compliant with WFPB (whole foods plant-based) if you sautee veggies in water or veggie broth for the chili and skip brushing the mushrooms with oil before baking. Skip or use oil-free vegan cheese.
More vegan portobello mushroom recipes
More vegan dinner recipes
You can browse through our Vegan and Gluten-free Dinner Recipes or our Quick Vegan Meals collection or check out
UPDATED: This post was originally published in September 2019, but was updated with detailed instructions, and even more tips and serving ideas on May 2021.