Looking for the perfect blend of something sweet and savory, a milder curry in terms of spice but one that is still packed full of flavor? This protein-rich vegan tofu korma recipe is a fantastic alternative to your regular korma and super easy to make!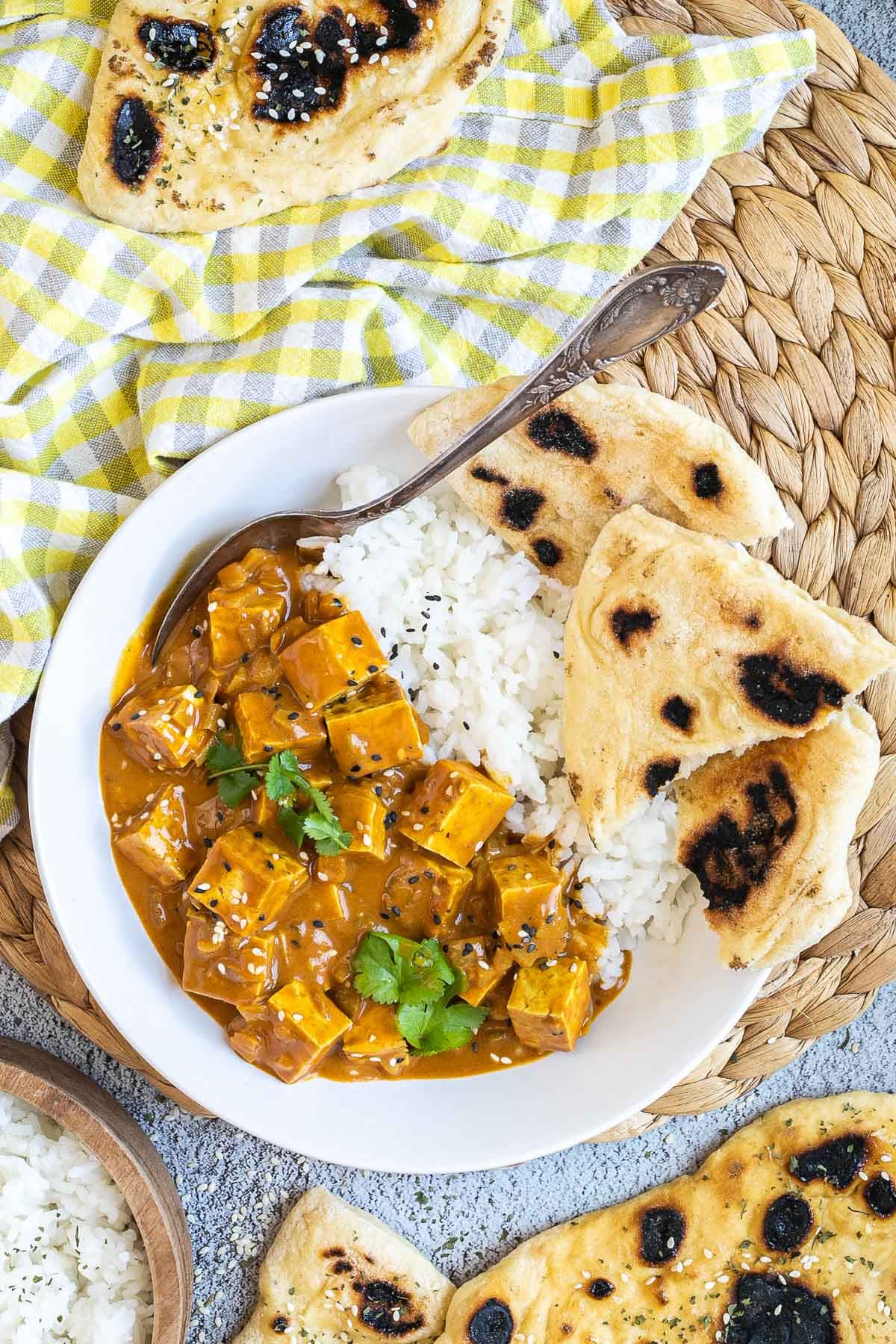 If you are looking for easy Indian vegan recipes, check out chickpea mushroom curry, cauliflower korma, vegetable korma, and chickpea korma.
Jump to:
What to expect?
Korma is a popular curry in South Asian cuisine, particularly in India and Pakistan. Our recipe uses spices such as cardamom, cinnamon, coriander, cloves, and cumin mixed with coconut cream and tomato paste to make a bright, zesty tofu korma. Aromatic as it is flavorful. It goes well with rice, naan, or even quinoa!
Here are some reasons why this recipe will knock your socks off!
The entire recipe is straightforward and comes together in 30 minutes.
The spices used are very simple and easily accessible.
The heat can be controlled! The tomato paste balances out any crazy spices. Even if you do not add chilis or use less masala, the taste is still fantastic.
The recipe is very flexible! Don't worry if you don't have tofu. You can try the many variations listed below.
Ingredients
Let's start by making sure you have all the ingredients! For this recipe, we need firm tofu. Anything else, like silken tofu, will not provide the right texture. Ingredients include:
Firm tofu
Full-fat coconut cream → Use a coconut milk product that has more than 20% fat content like this one. This recipe will not be the same if you use the light coconut milk you can drink.
Coconut oil
Onion
Garlic
Tomato paste
Spices – garam masala, turmeric, bay leaves, ground cumin, cloves, ground coriander seeds, cinnamon, cardamom, and salt.
🛒 You can find detailed measurements for all ingredients in the printable version of the recipe card at the bottom of this post.
Instructions
Pressing tofu
Use firm tofu and press it. We used our trusted TofuBud*, but you can choose any DIY method or tofu press. For more information, tips, and steps, read our complete guide on how to press tofu and our honest review of TofuBud.
Preparing the ingredients
You can prepare tofu for cooking in 10 ways. We cut pressed tofu into cubes around ½ inch in size in this recipe. Tearing them with your hands, as we did in our chili miso tofu recipe, would give a more uneven, natural texture.
Peel your onion and garlic. Chop the onions into quarters and the garlic cloves into small pieces.
Measure all ingredients and make sure your cloves, cinnamon, and cardamom are ground.
Making tofu korma
Begin by heating a wok or frying pan over a stove over medium heat. You can check the temperature by hovering your hand over it. Once the air above feels warm, add some coconut oil and bring it to a sizzle.
Next, add your chopped onion and saute for 3-5 minutes until it browns. After this happens, add the chopped garlic and cook for 2 minutes. Stir periodically to prevent them from sticking to the pan.
One by one, add the spices, namely cardamom, cinnamon, coriander, cloves, turmeric, garam masala, and cumin. Crush the bay leaf and add it in as well. Stir the mixture and cook for 2 minutes or until fragrant.
After the spices are cooked, pour in the tomato paste and stir the mixture well.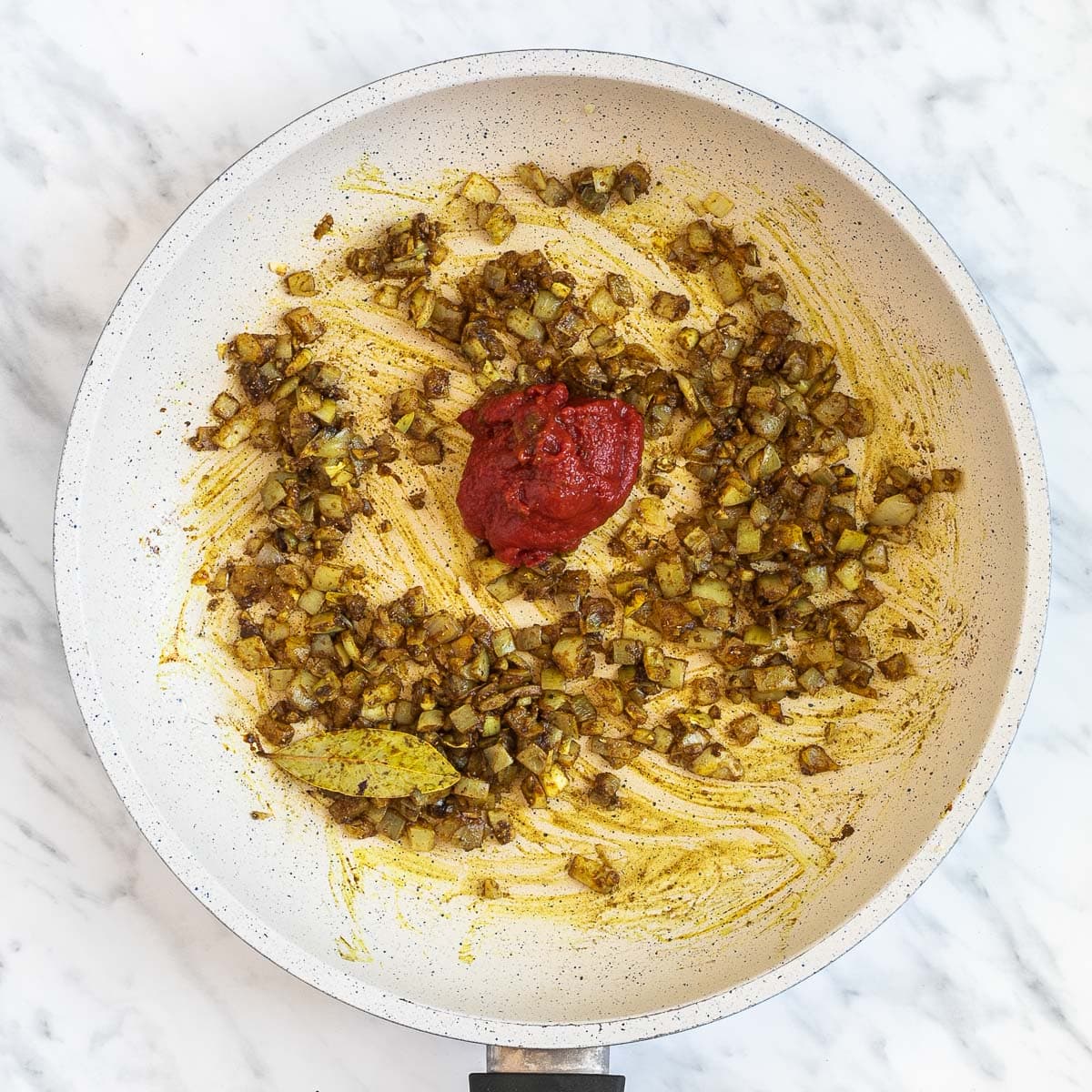 Shake your can of full-fat coconut milk and pour it into the mixture. Stir well till it starts to boil.
Finally, add your tofu cubes to the creamy sauce. Cover the pan with a lid and allow it to simmer for another 10 minutes.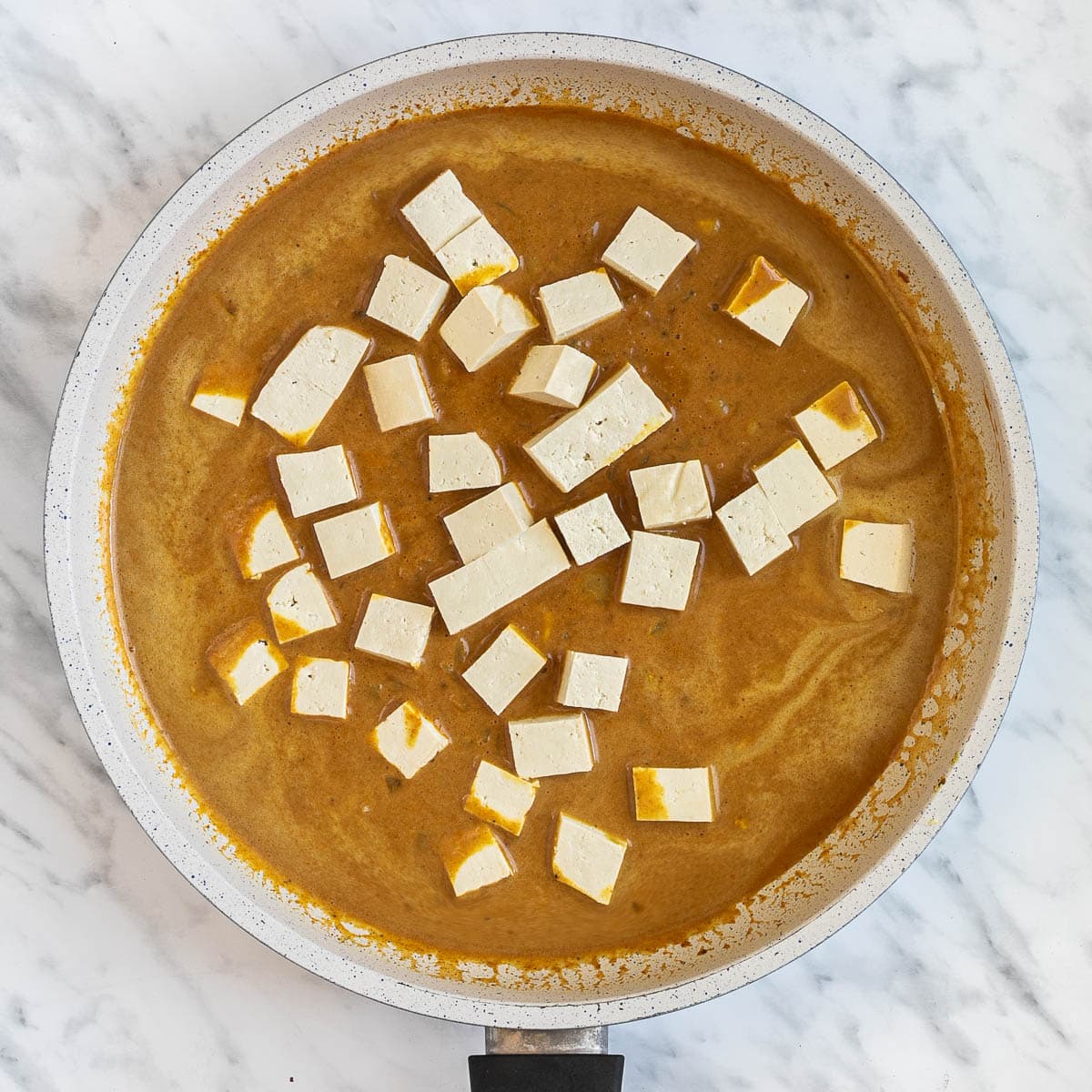 Let the tofu cook thoroughly and allow the sauce to thicken.
Once the korma is ready, garnish it with fresh herbs like cilantro, sprouts, sliced green onion, or scallions. This step is optional, but it can add a great finish to the dish that adds a pop of color and complements its creamy and aromatic flavors.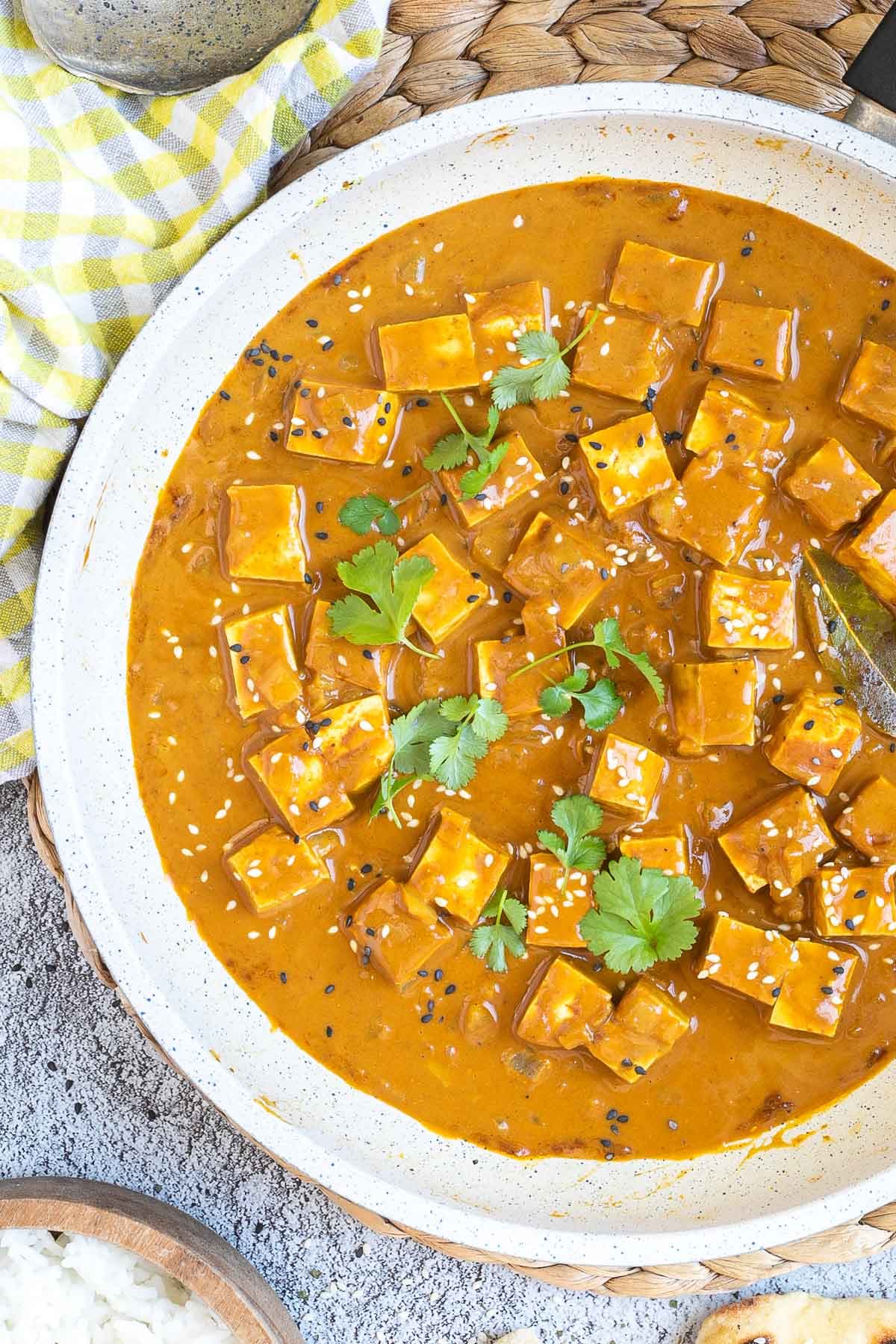 Cooking tips
Don't worry too much about the spices – Take creative liberty with the recipe! Even if you're missing a spice you can always substitute it with another or increase the ones you have to balance it out. If you don't have every spice, you can use a blend! For example, a couple of teaspoons of curry powder, a single teaspoon of garam masala, and a dash of hot pepper sauce can give you somewhat of a similar result if you're in a pinch.
Adjust the consistency of your sauce – Ensure the korma sauce has thickened and is nice and creamy before adding tofu. If you like your korma thinner, you can add some vegetable stock or water.
Toast your spices – If you're using them whole, toast them before adding them to your korma. This will enhance their flavors. Reduce the heat to low before incorporating them so that they don't burn immediately, and you can fry them gently.
Bay leaves are not edible – Remember not to eat the bay leaves, as they aren't edible. And when it comes to storage, bay leaves can make the sauce bitter if left in over time. It's best to remove them once your korma is done.
Add some lime – If you've used too much tomato paste, you can squeeze a little lime juice at the end to balance it out. You can also add green chili for an extra kick.
Variations
Add vegetables – Mix and match your favorite veggies, just like we did in this vegetable korma recipe. Consider trying cauliflower korma, as it provides more crunch than tofu. Spinach is another great option. Bell peppers can add crunch and flavor to the korma. Button mushrooms are always a great option too.
Try different proteins – Incorporate more protein into your korma through ingredients. Check out our recipe for chickpea korma for inspiration.
An alternative for coconut cream – Making tofu korma without coconut cream is easy. Try substitutes like yogurt, cashew cream, and almond cream. You can even use plain vegan or dairy-free yogurt to make a lighter korma. For a richer dish, blend cashews and water together till it turns creamy, and add it to your korma along with coconut cream.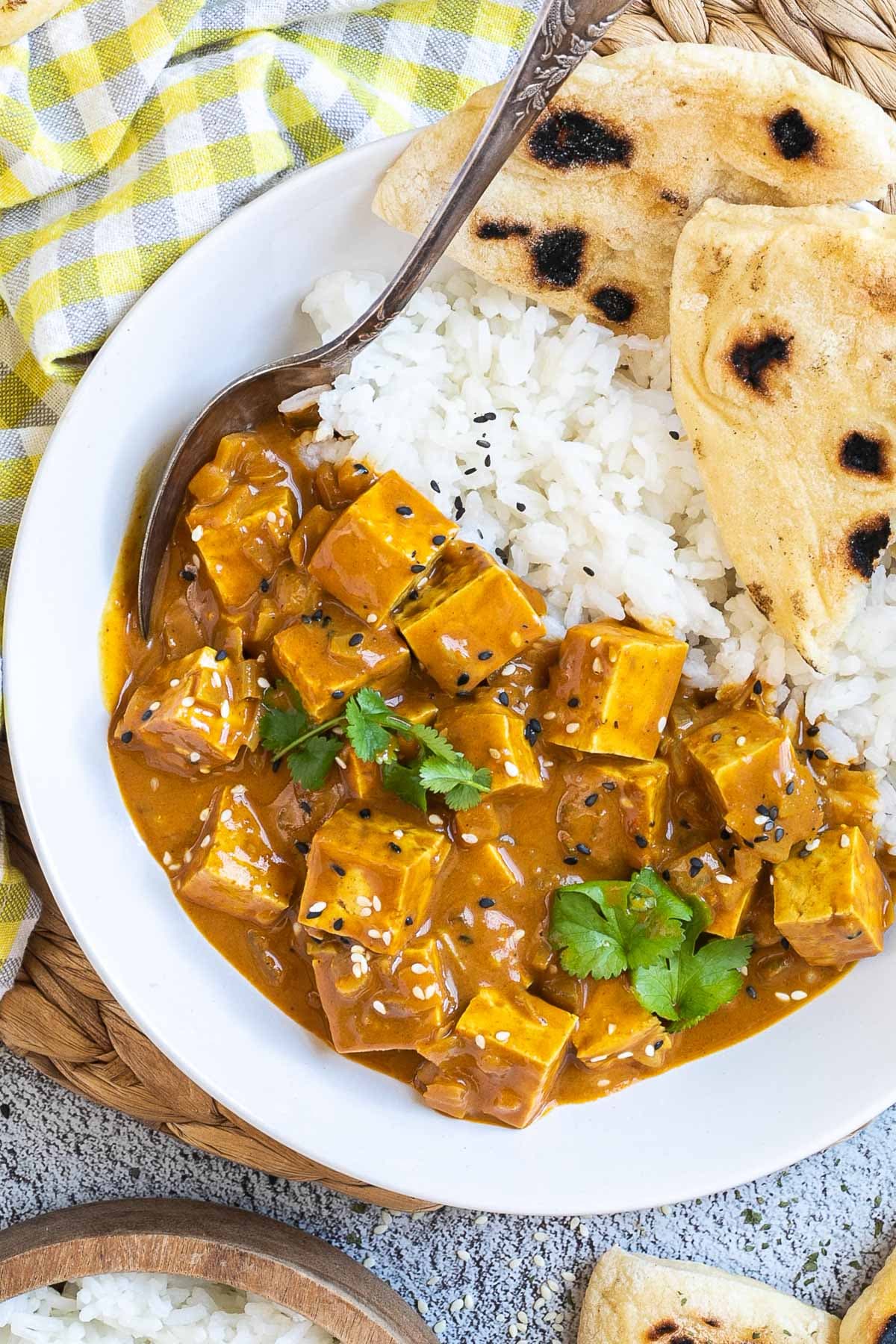 Serving ideas
Serve tofu korma with cooked rice of any variety. The most commonly used is basmati rice or jasmine rice. However, if you want healthier options, choose brown or cauliflower rice.
Serve as a dipping curry for flatbreads such as naan bread, pita, poori, or roti!
Sesame seeds and cashews are a great option for an extra crunch. Although any other chopped nuts or sliced almonds would suffice!
To enhance the dish's flavor, one may want to add toppings like fresh coriander or pomegranate seeds.
You can serve a small serving of raita, a yogurt-based sauce, along with your korma for an authentic eating experience. Not only will it work to balance out the heat and intensity, but it will also complement the dish with additional creaminess.
Storing tips
Refrigerate: Tofu korma can be stored in an airtight container and kept in the refrigerator for 3-4 days.
Freeze: It is possible to freeze your tofu korma for longer periods! You can freeze it for 3 months, but ensure it is in an airtight container. Freezing the tofu will cause it to have a chewier texture.
Reheat: Reheating is relatively easy! Simply place it in a microwave or use your stovetop. Add a splash of water if heating in the pan to prevent it from sticking to the bottom.
Adjust the consistency: If the korma sauce thickens after being refrigerated, you can add water or coconut milk to achieve the desired consistency.
FAQs
What is the korma sauce made up of?
Traditionally, Korma is a dish made with a sauce consisting of yogurt and cream mixed with various spices. There are, however, easy substitutes to make it dairy-free and vegan. For this recipe, tomato paste and coconut milk are combined to create the sauce.
Do I need to fry tofu before putting it in a korma?
You do not need to fry tofu. If you cook fresh, pressed tofu in the sauce, then it will be soft like paneer. However, if you want a bit of extra crunch, pan-fry the cubed tofu in oil over medium-high heat before adding it to the sauce. The tofu will be more spongy, chewy, and slightly crunchy.
What is the most common korma?
Paneer korma is a very popular vegetarian option, but it is not vegan. Tofu is very similar to paneer in terms of texture and is a great vegan alternative.
THANK YOU so much for visiting our website. Please comment below if you have tried this recipe. We LOVE hearing from you! If you loved the recipe, please don't forget to give us a ⭐⭐⭐⭐⭐ RATING. We appreciate all of our readers.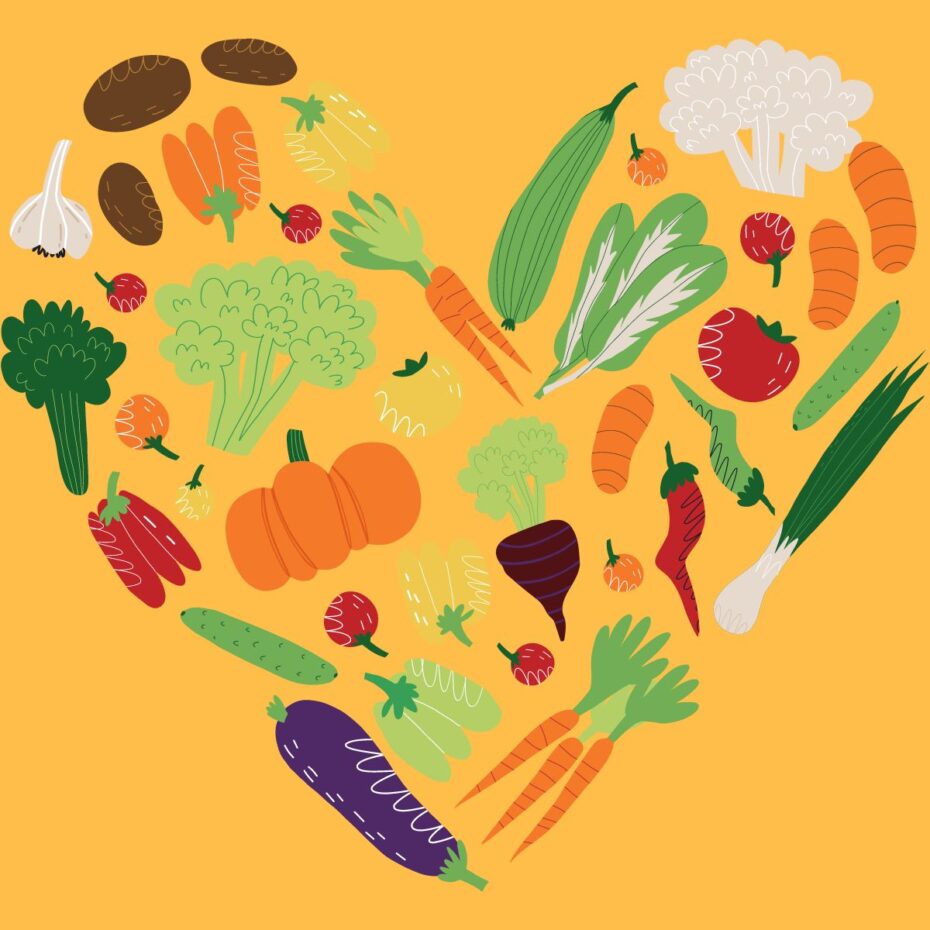 Tofu Korma
Looking for the perfect blend of something sweet and savory, a milder curry in terms of spice but one that is still packed full of flavor? This protein-rich vegan tofu korma recipe is a fantastic alternative to your regular korma and super easy to make!
EXCLUSIVE 5-ingredient recipes for busy home cooks that are ready in 15 minutes!
Check out our Express Vegan Cookbook!
Instructions
Preparing the ingredients
Use a firm tofu and press it. Cut it into ½-inch cubes.

Peel and chop the onion and garlic.
Making tofu korma
Preheat the frying pan or wok to medium heat and add the coconut oil. Add chopped onions and saute them for 3-4 minutes.

Add chopped garlic and cook for 2 minutes.

Add all spices (cardamom, cinnamon, coriander, cloves, bay leaf, turmeric, garam masala, cumin). Stir well and cook for 2 minutes.

Add tomato paste and stir well.

Add full-fat coconut cream. Stir well. Bring it to a boil.

Add tofu cubes. Cover with a lid and cook on medium heat for 10 minutes.
Nutrition
Nutrition Facts
Tofu Korma
Amount Per Serving (1 serving (without sides))
Calories 431
Calories from Fat 360
% Daily Value*
Fat 40g62%
Sodium 363mg16%
Potassium 463mg13%
Carbohydrates 14g5%
Protein 11g22%
Vitamin A 128IU3%
Vitamin C 7mg8%
Calcium 119mg12%
Iron 4mg22%
* Percent Daily Values are based on a 2000 calorie diet.