Add a burst of flavor to your weekly food roster with our exotic sweet potato tofu curry recipe. This dish combines sweet potato, tofu, and spices for a distinct texture and flavor profile that will tantalize your taste buds.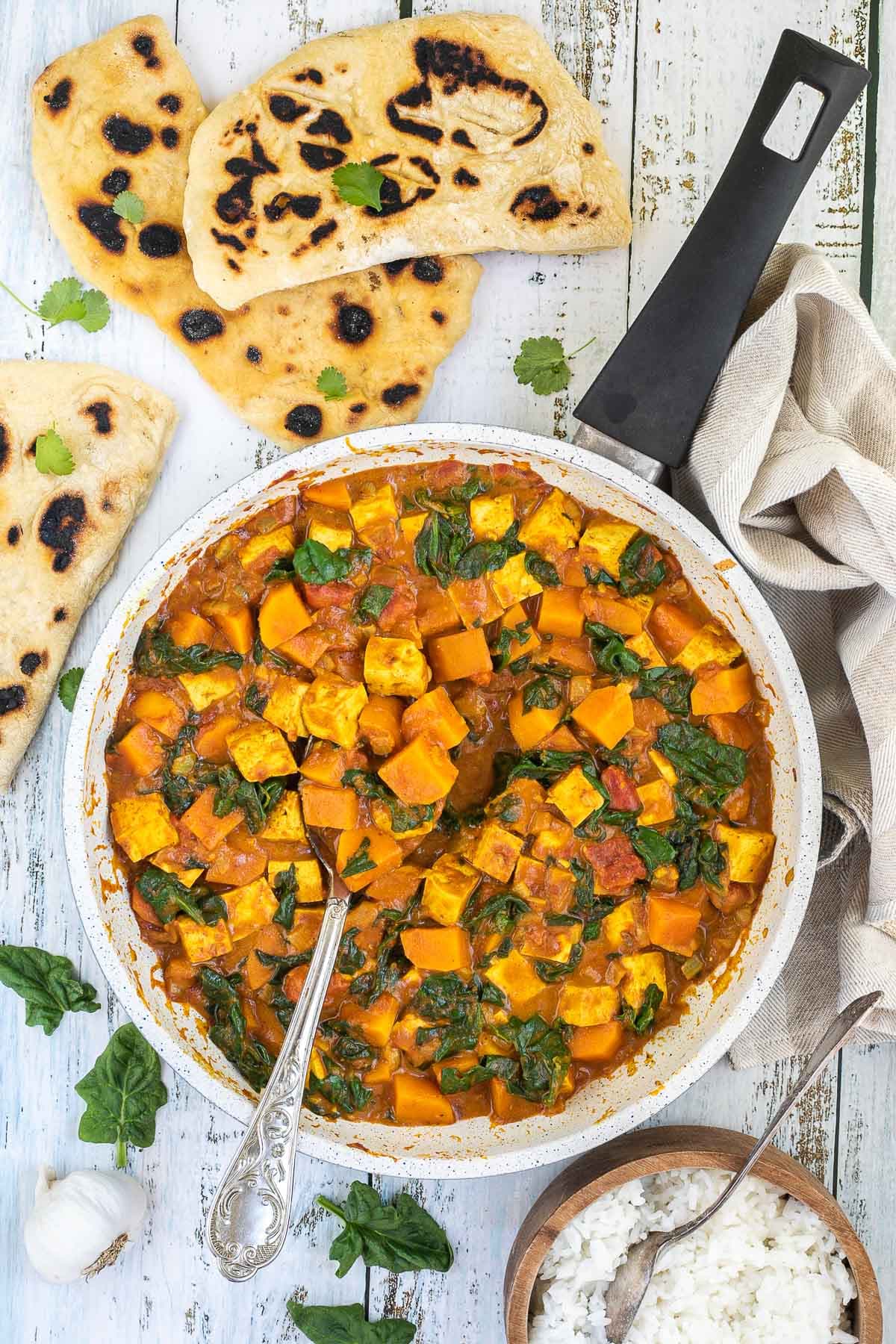 If you are looking for easy Indian vegan recipes, check out chickpea mushroom curry, lentil chickpea curry, chickpea tofu curry, and vegetable korma.
Jump to:
What to expect?
Our sweet potato tofu curry features a creamy and fragrant sauce that is delicately spiced with curry powder, turmeric, and cumin, and enriched with coconut milk. The filling sweet potato and tofu elevate the dish, making each bite satisfying and flavorful.
Not only is this dish delectable, but it is also incredibly easy to prepare. With simple ingredients and no special skills required, this savory masterpiece can be made in less than 35 minutes. Moreover, you can customize the spice level according to your preference, either dialing it down for a milder flavor or amping it up for a spicier kick.
Whether you are a seasoned curry fan or a newbie to Indian cuisine, this recipe will surely impress. The bold flavors of this dish perfectly complement its mild spice, making it suitable for any occasion. In summary, our sweet potato tofu curry is a vibrant and flavorful dish that perfectly balances ease of preparation with perfect flavor.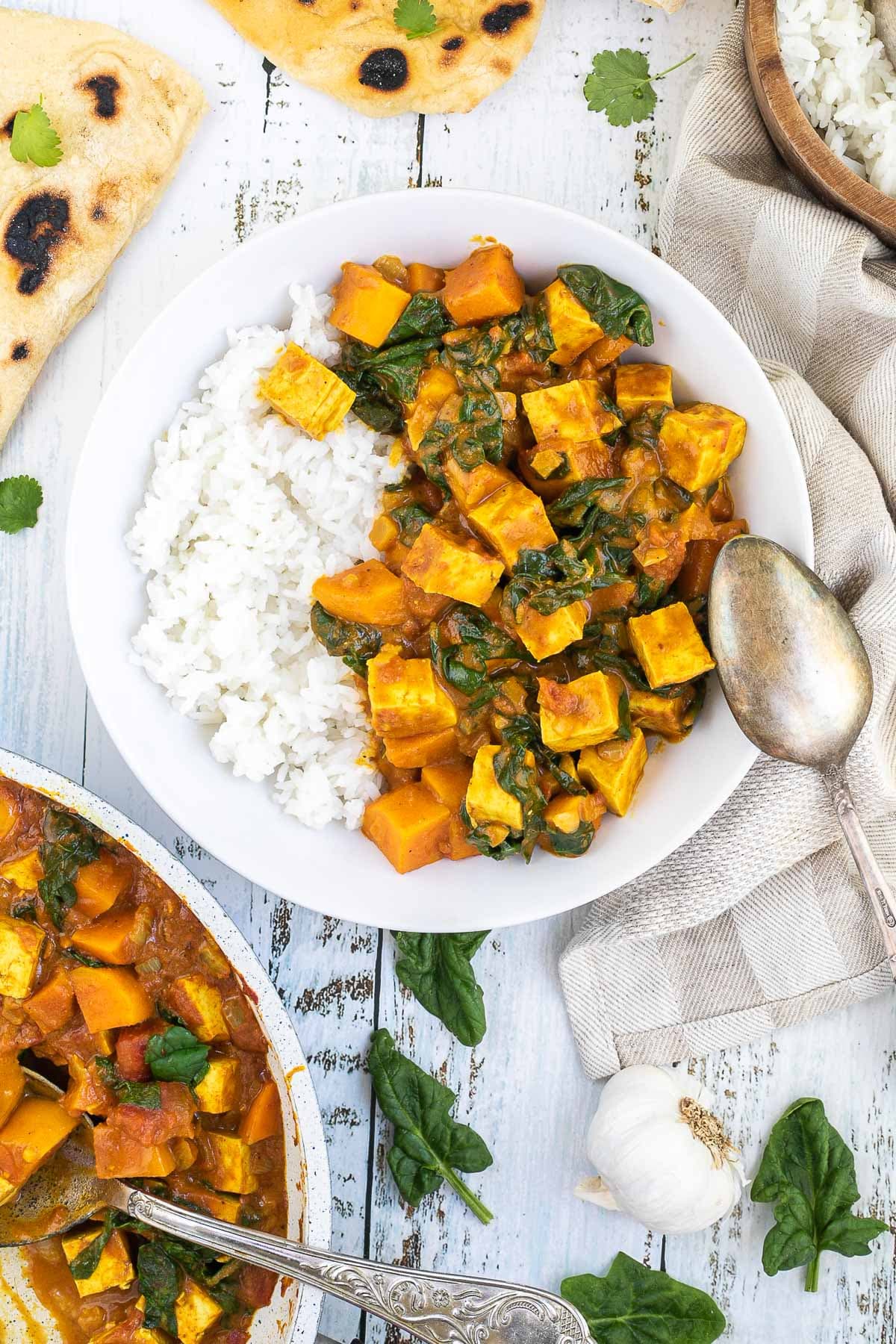 Ingredients
To begin with, let's ensure that you have all the necessary ingredients on hand. It's important to use firm tofu for this recipe as other types, such as silken tofu, won't yield the desired texture. The list of required ingredients includes:
Firm tofu
Sweet potato
Fresh spinach leaves
Full-fat coconut cream – Use a coconut milk product with more than 20% fat content, like this one. This recipe will not be the same if you use the light coconut milk you can drink.
Tomatoes
Coconut oil
Onion
Garlic
Ginger
Spices – garam masala, turmeric, curry powder, ground cumin seeds, and hot chili powder or flakes.
🛒 You can find detailed measurements for all ingredients in the printable version of the recipe card at the bottom of this post.
Instructions
Pressing tofu
Use firm tofu and press it. I used my trusted TofuBud*, but you can choose any DIY method or tofu press. For more information, tips, and steps, read my complete guide on how to press tofu and my honest review of TofuBud.
Preparing the other ingredients
Begin by peeling the onion and garlic. Then, slice the onion lengthwise and dice the garlic cloves into small pieces.
Peel the sweet potatoes and chop them into bite-sized cubes that are roughly ½ inch in size.
You can prepare tofu for cooking in 10 ways. We cut pressed tofu into cubes around ½ inch in size in this recipe. Tearing them with your hands, as we did in our chili miso tofu recipe, would give a more uneven, natural texture.
Don't forget to wash and drain the spinach leaves before adding them to the dish.
Making sweet potato tofu curry
To begin making the sweet potato tofu curry, heat a frying pan or wok over medium heat and add the coconut oil.
Once the oil is heated, add the chopped onions, and cook until they are soft and translucent. This should take 3-4 minutes.
When the onions are done, add some minced ginger and chopped garlic. Continue to cook for another 2 minutes by stirring continuously. This will add a lovely aroma and flavor to your dish.
Add garam masala, cumin, turmeric, curry powder, and chili flakes, and cook for 2 more minutes. Keep stirring to make sure the flavors blend in.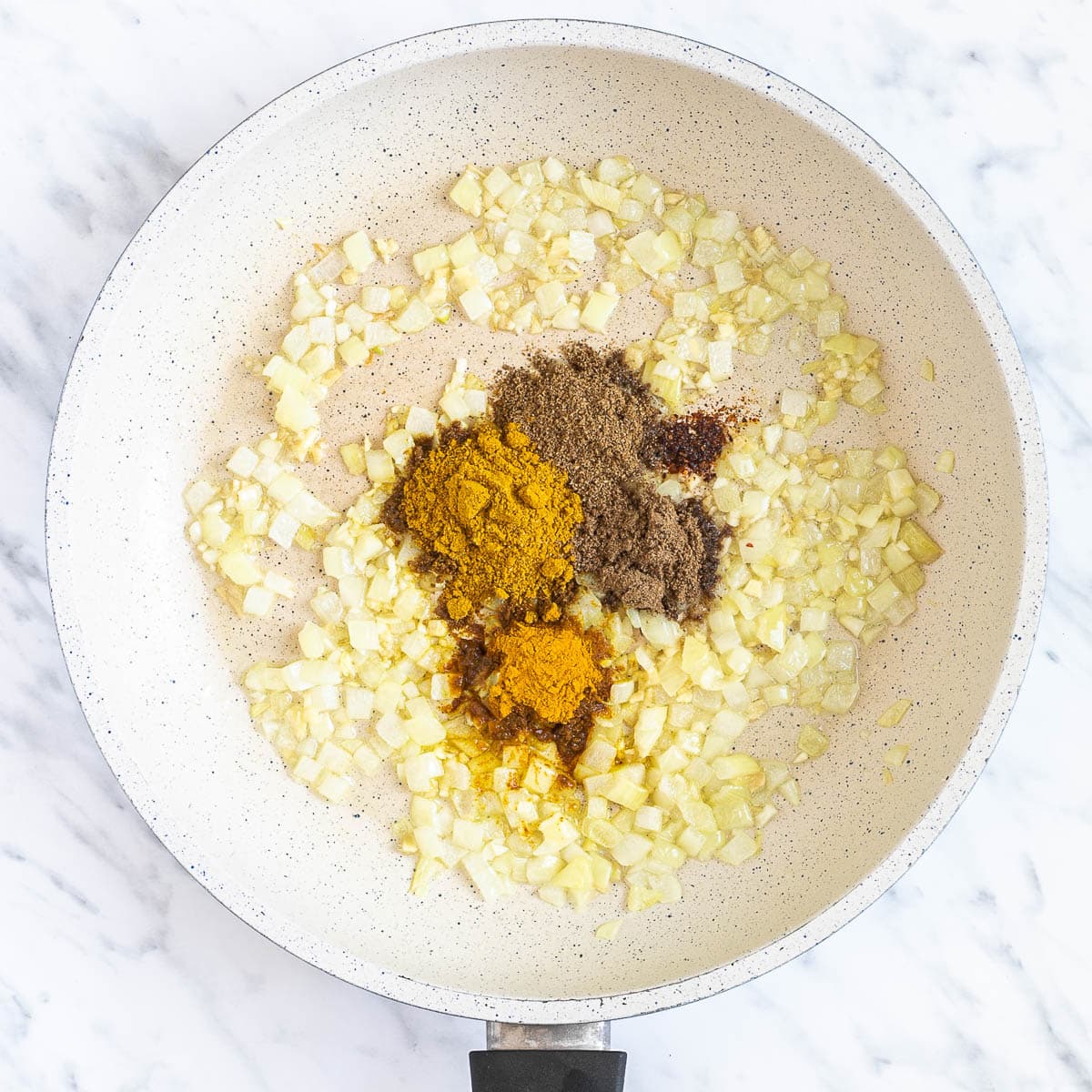 Stir in some diced tomatoes, sweet potatoes, and tofu cubes.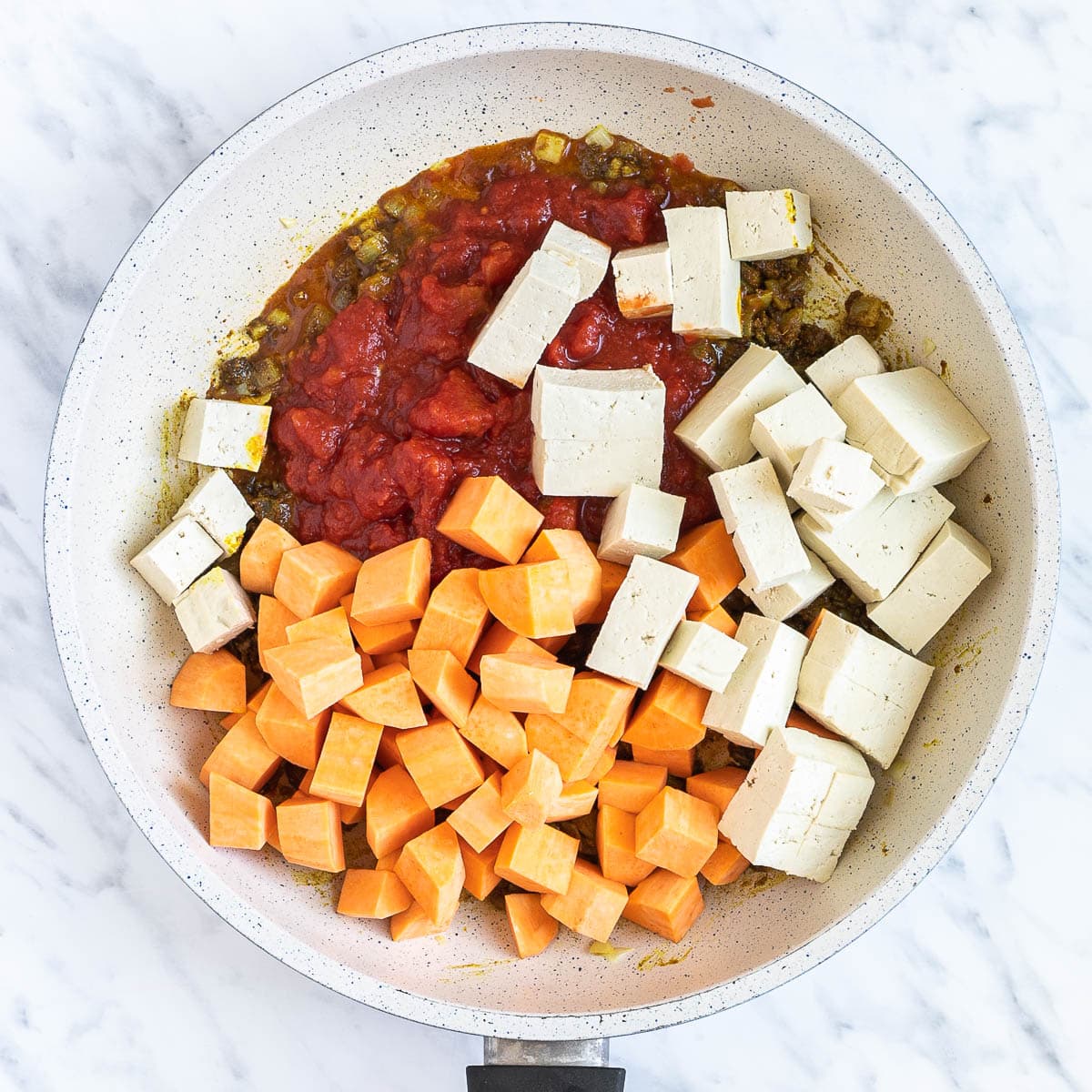 Shake the can of full-fat coconut cream and add it to the pan. Make sure to stir it to incorporate it evenly into the dish. Cover it with a lid and cook for 10 minutes on medium heat, allowing the sweet potatoes and tofu to absorb all the delicious flavors.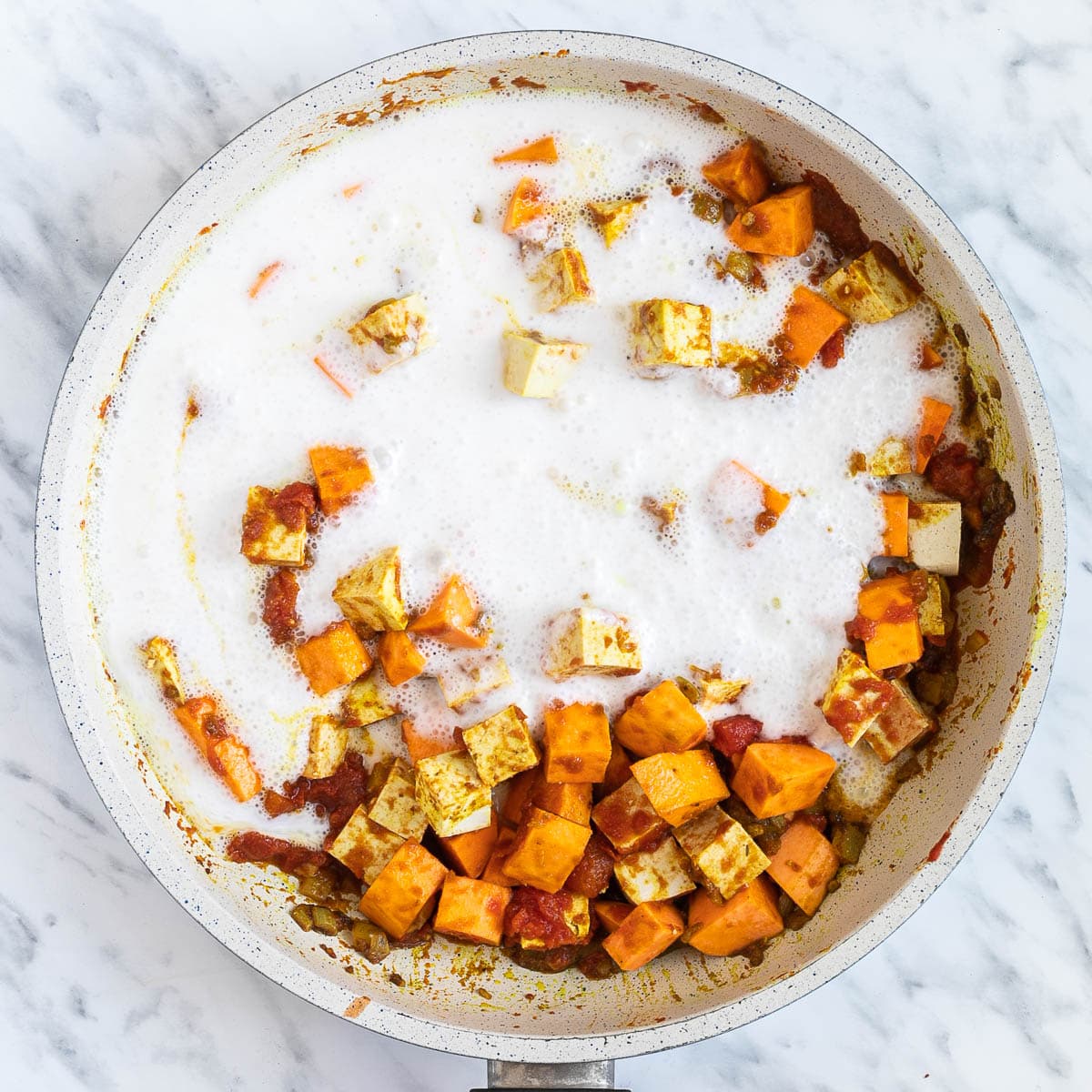 Finally, add fresh spinach leaves and cook for 2-3 minutes. This will give your dish some extra color and nutrition.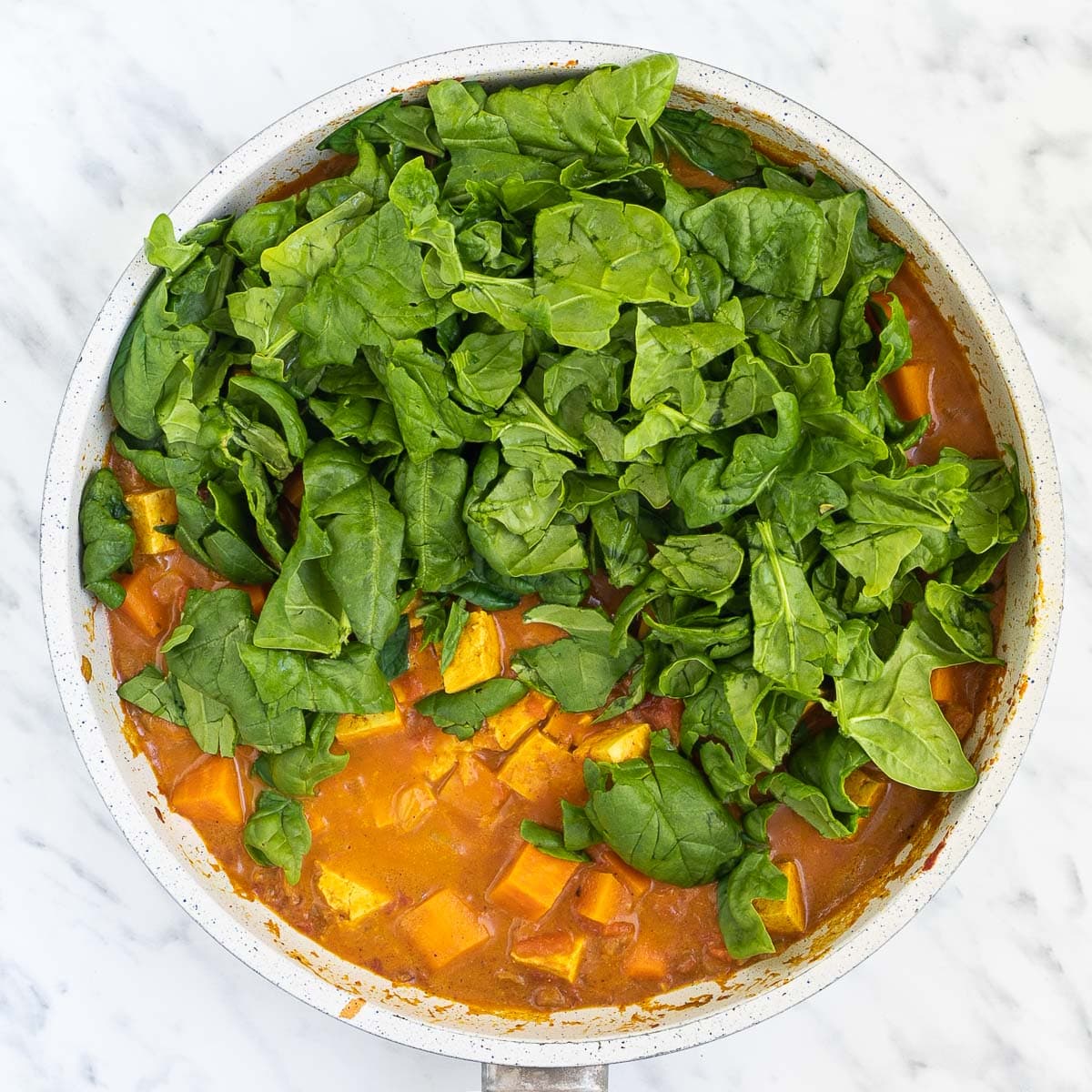 Cooking tips
Use firm tofu – Drain and pat your tofu dry with a paper towel before cutting. Using firm tofu cubes will ensure they keep their shape and remain intact in the curry.
Season to taste – Taste the curry after adding the spices, coconut milk, and other ingredients, as the flavors develop as it cooks. Adjust the seasonings to achieve the desired flavor profile. You may find that you need to add more salt, chili flakes, or other spices to achieve your preferred taste.
Add spinach at the end – Spinach cooks quickly and can become mushy when overcooked. Add the spinach near the end after the sweet potatoes and tofu have finished cooking to avoid this. Cook the spinach until it's wilted, then remove the curry from the heat.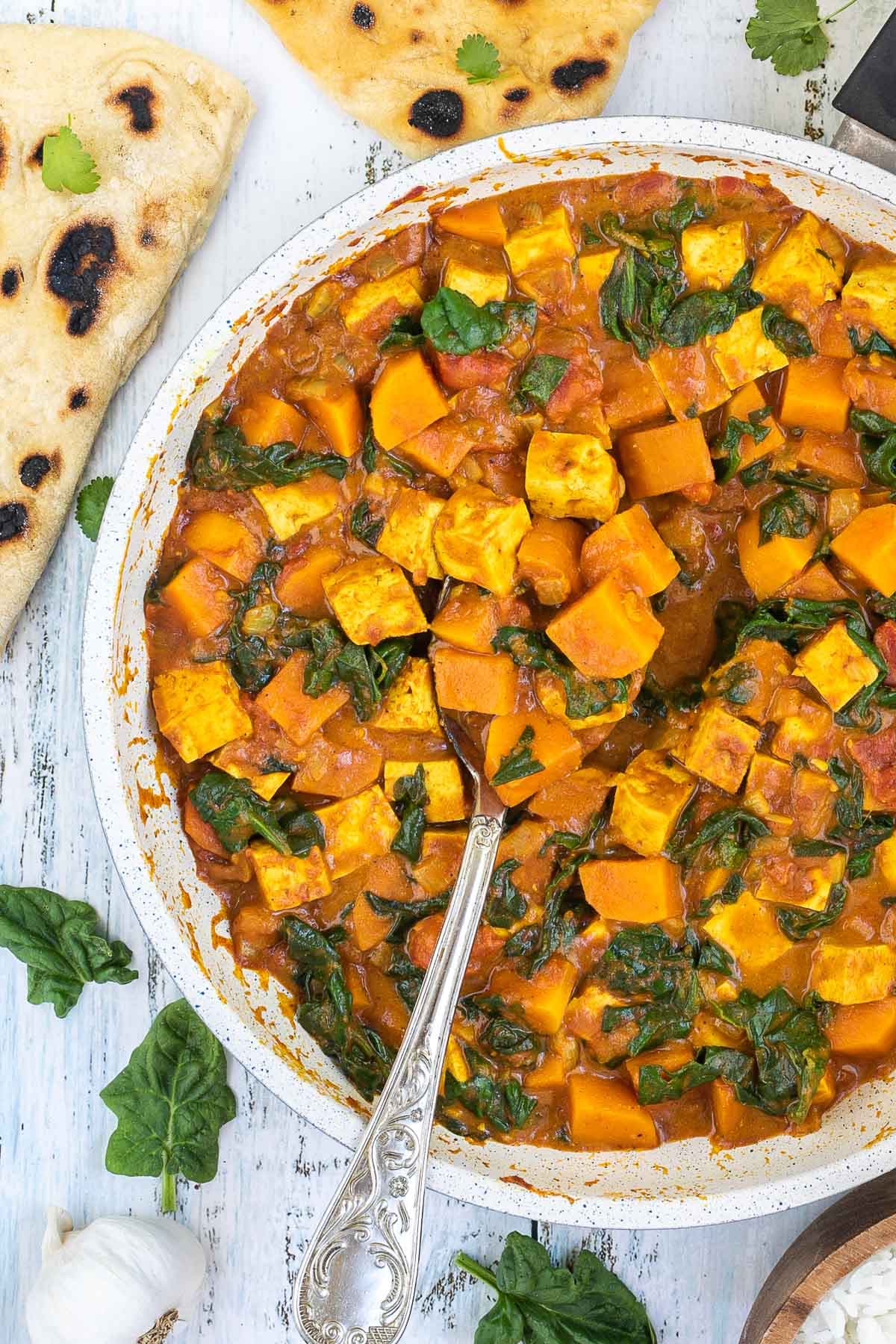 Variations
Spicy twist – Spice it up with cayenne pepper, smoked paprika, or even a pinch of cinnamon for a spicy kick. If you want to reduce the heat, remove some hotter spices and focus on milder flavors like coriander or cardamom.
Veggie extravaganza – This sweet potato tofu curry recipe serves as an excellent canvas for incorporating a variety of vegetables into your diet! Try adding some fresh broccoli, zucchini, or eggplant to your dish. Sauté them separately for added flavor and texture.
Creamy goodness without the coconut – If you don't like coconut cream, you can substitute it for cashew cream or almond milk for a deliciously creamy texture. Simply blend some cashews or almonds with water until smooth, then add it to the curry with some vegetable broth or water.
Add some nuttiness – Add some toasted nuts to your curry, such as cashews, almonds, or peanuts, for a nutty crunch. Try mixing in some creamy peanut butter for a unique take on the classic curry flavors.
Add a tangy burst – Add a splash of lemon or lime juice along with the chopped tomatoes to boost the flavor. Tamarind paste can add a sweet and sour flavor as well.
Herbal infusion – Fresh herbs like cilantro, parsley, and basil will infuse aromatic flavors into your curry.
Sweet touch – Dried fruit, such as raisins, dates, or dried cranberries, can also be used to add bursts of sweetness dispersed throughout your dish.
Serving ideas
You can never go wrong serving curry with steamed or cooked rice. Whether you prefer white, brown, basmati, or jasmine rice, it's a match made in heaven.
Consider serving it with riced veggies, such as cauliflower rice or sweet potato rice.
Serve with steamed vegetables like broccoli, cauliflower, or green beans to balance out the richness of the dish.
This delicious curry pairs well with bread like naan, pita, poori, or roti.
If you're feeling adventurous, you can try pairing the curry with noodles. Buckwheat soba noodles are a popular option, but if you're gluten-free, keep in mind that some brands may contain wheat flour.
Include some pickled vegetables on the side, like carrots or cucumbers, for an added crunchy tartness.
Don't forget to garnish! You can add sesame seeds and cashews to add a satisfying crunch, whereas fresh coriander and pomegranate seeds can work to round out the flavor. You can also add some sliced green onion, sprouts, scallions, or cilantro for a fresh twist.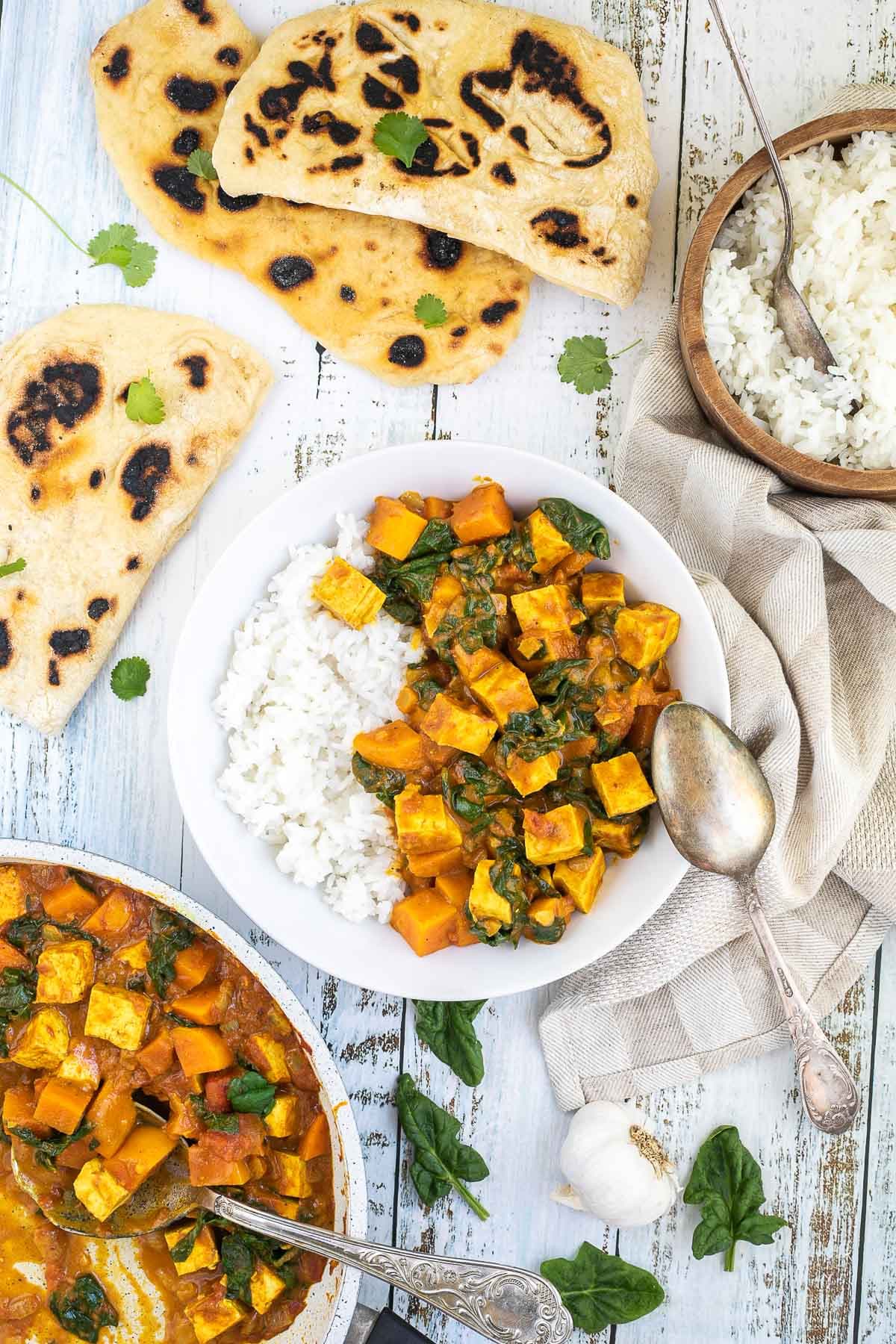 Storing tips
Store your sweet potato tofu curry in an airtight container in the refrigerator for up to 4 days. If you want to keep it for a longer period, you can freeze it in an airtight container for up to 3 months. Just remember to leave some extra space in the container, in case the dish expands when frozen.
Reheat: Reheat in the microwave or on the stovetop, adding water to prevent sticking when reheating on the stove.
Adjust the consistency: If the sauce has thickened in the fridge, simply add some water or coconut milk and adjust the consistency.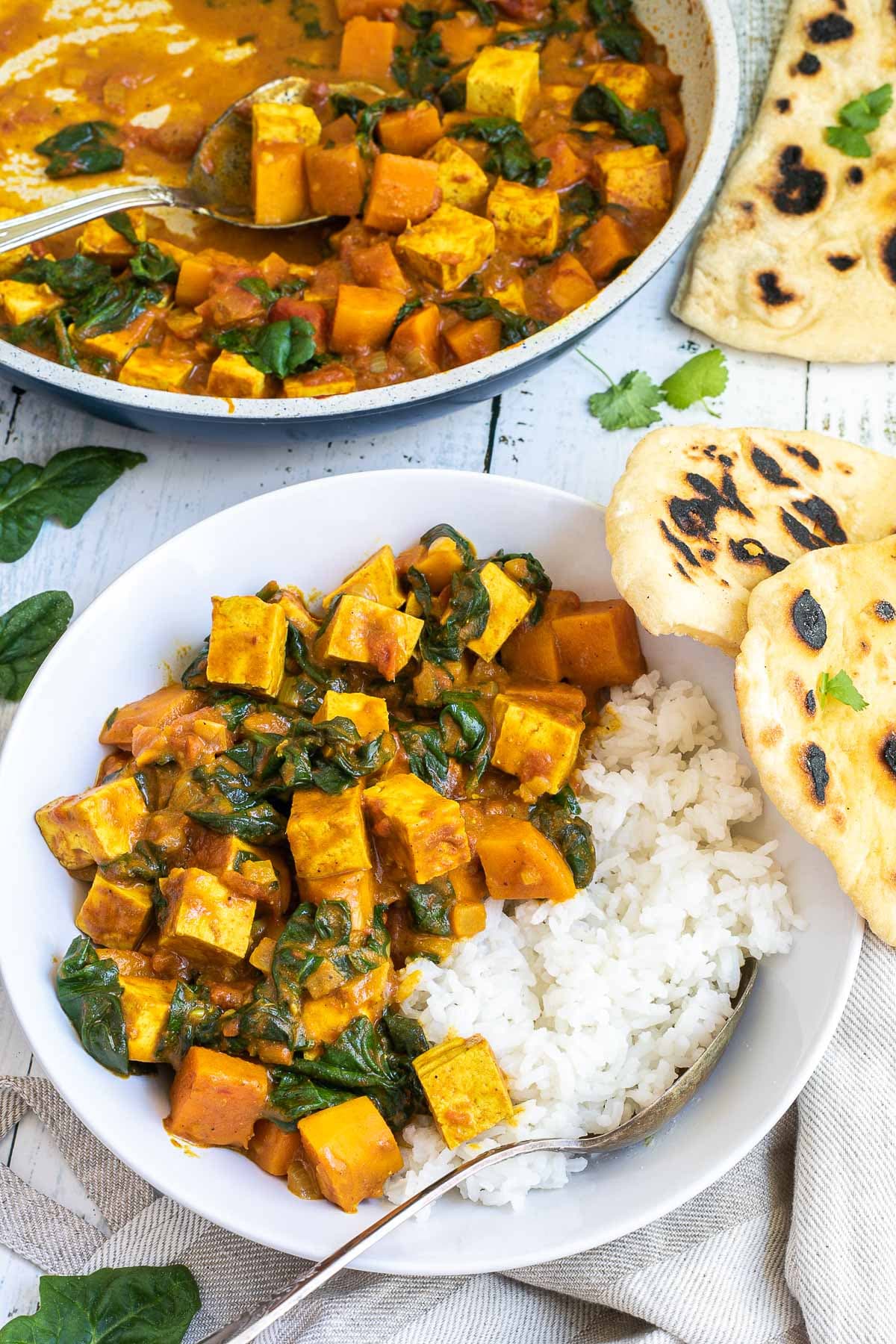 FAQs
Do you need to cook the tofu before adding it to curry?
No. As the tofu cooks in the curry, it absorbs the curry's delicious flavors, adding to the dish's taste and texture.
Do you need to press the tofu before cooking it in the curry?
Tofu is pressed to remove excess moisture and give it a firmer texture that absorbs flavors better. Tofu may become mushy or fall apart if cooked without being pressed. Follow our recipe instructions for the best results.
Can a different vegetable be substituted for the sweet potato?
Absolutely! While sweet potato is an excellent addition to this curry, you can also try butternut squash, cauliflower, carrots, beans, or bell peppers. Keep in mind that the cooking time will vary depending on the vegetables you use, so plan accordingly.
THANK YOU so much for visiting our website. Please comment below if you have tried this recipe. We LOVE hearing from you! If you loved the recipe, please don't forget to give us a ⭐⭐⭐⭐⭐ RATING. We appreciate all of our readers.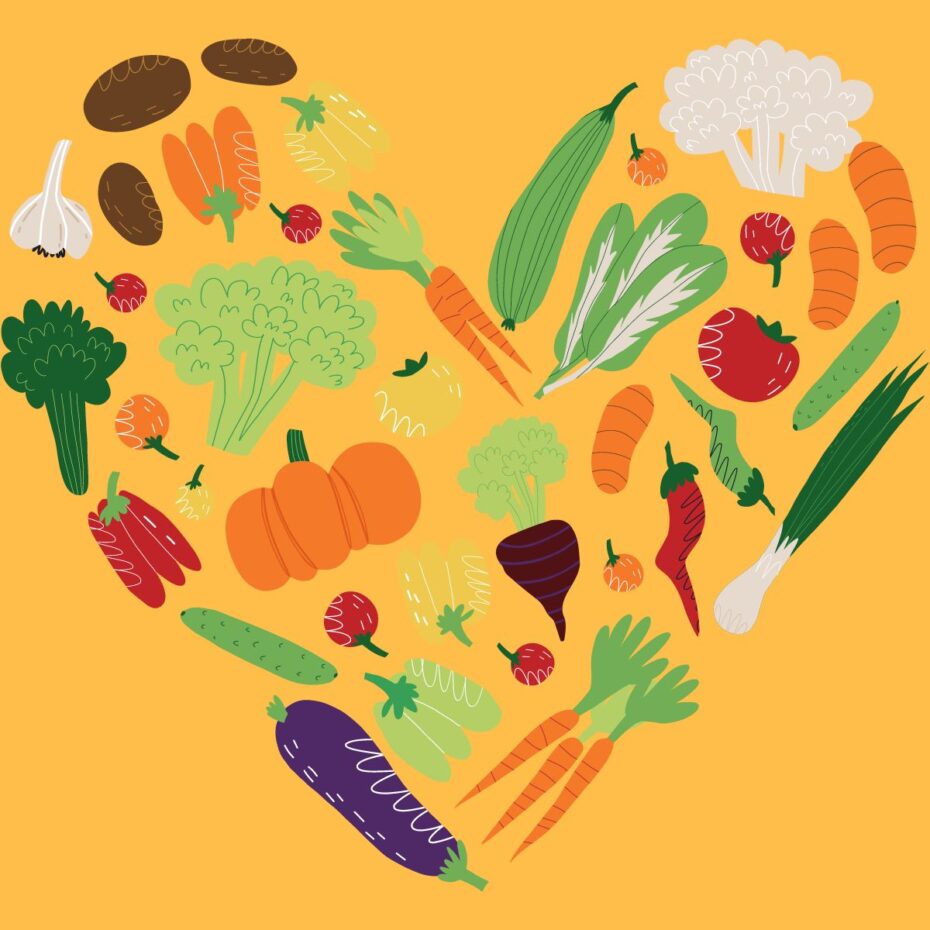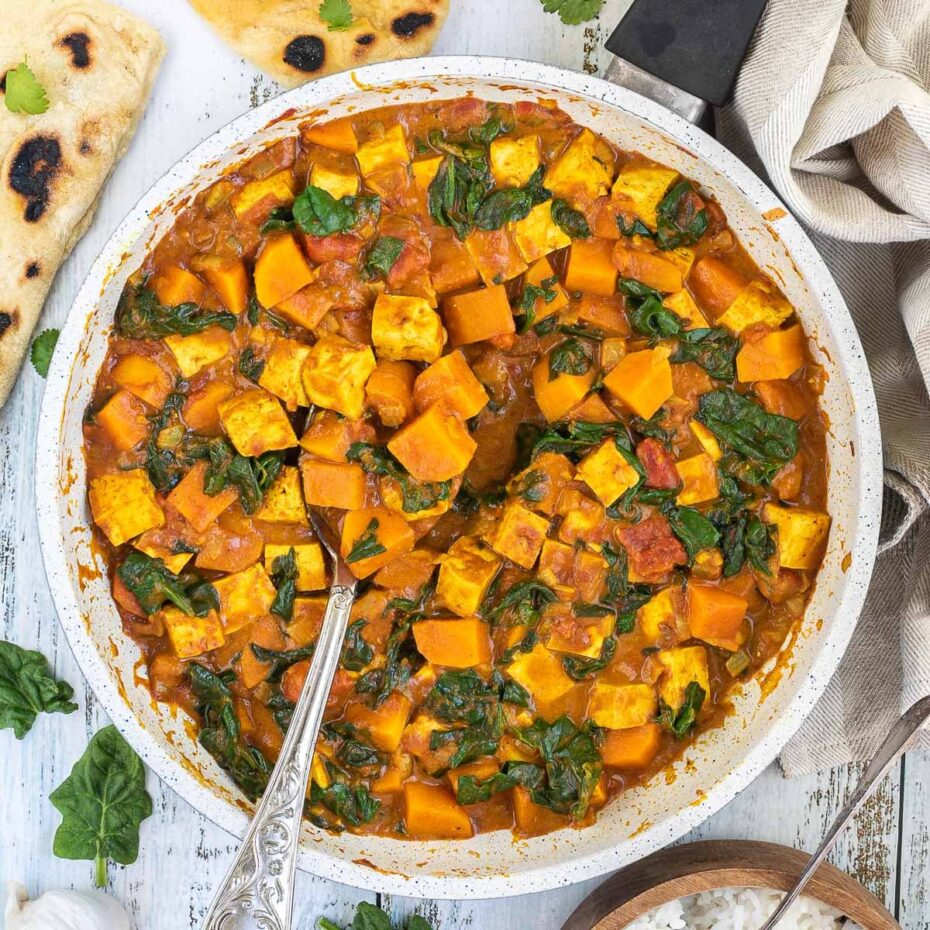 Sweet Potato Tofu Curry
Add a burst of flavor to your weekly food roster with our exotic sweet potato tofu curry recipe. This dish combines sweet potato, tofu, and spices for a distinct texture and flavor profile that will tantalize your taste buds.
EXCLUSIVE 5-ingredient recipes for busy home cooks that are ready in 15 minutes!
Check out our Express Vegan Cookbook!
Instructions
Preparing the ingredients
Peel and chop the onion, garlic, and ginger.

Peel the sweet potatoes and cut them into ½-inch cubes.

Press the tofu in a tofu press. Cut it into ½-inch cubes.

Wash and drain spinach leaves.
Making the curry
Heat the frying pan or wok over medium heat and add the coconut oil. Add chopped onions and saute them for 3-4 minutes.

Add chopped garlic and minced ginger and cook for 2 minutes.

Add all spices (garam masala, cumin, turmeric, curry powder, chili flakes). Stir well and cook for 2 minutes.

Add diced tomatoes, sweet potatoes, and tofu cubes. Stir well.

Add full-fat coconut milk (canned, shaken). Stir well. Bring it to a boil.

Cover with a lid and cook on medium heat for 10 minutes.

Add spinach leaves and cook for 2-3 minutes.
Notes
We served it with white rice. But there are lots of options. Here is our recommendation if you want to mix and match.
Grains like steamed, cooked, or fried white rice, brown rice, quinoa, buckwheat, millet, or a combination of them.
Riced veggies like cauliflower rice or sweet potato rice
Noodles like soba aka buckwheat noodles.
Toppings like sliced green onion or scallions or sprouts, or fresh cilantro.
Nutrition
Nutrition Facts
Sweet Potato Tofu Curry
Amount Per Serving (1 serving (without sides))
Calories 535
Calories from Fat 396
% Daily Value*
Fat 44g68%
Sodium 74mg3%
Potassium 859mg25%
Carbohydrates 30g10%
Protein 13g26%
Vitamin A 12754IU255%
Vitamin C 19mg23%
Calcium 181mg18%
Iron 5mg28%
* Percent Daily Values are based on a 2000 calorie diet.