This buffalo tofu recipe is made with crispy breaded tofu tossed in a spicy buffalo sauce, this easy recipe is ready in just 30 minutes and packs a burst of flavor that will make your taste buds crave more!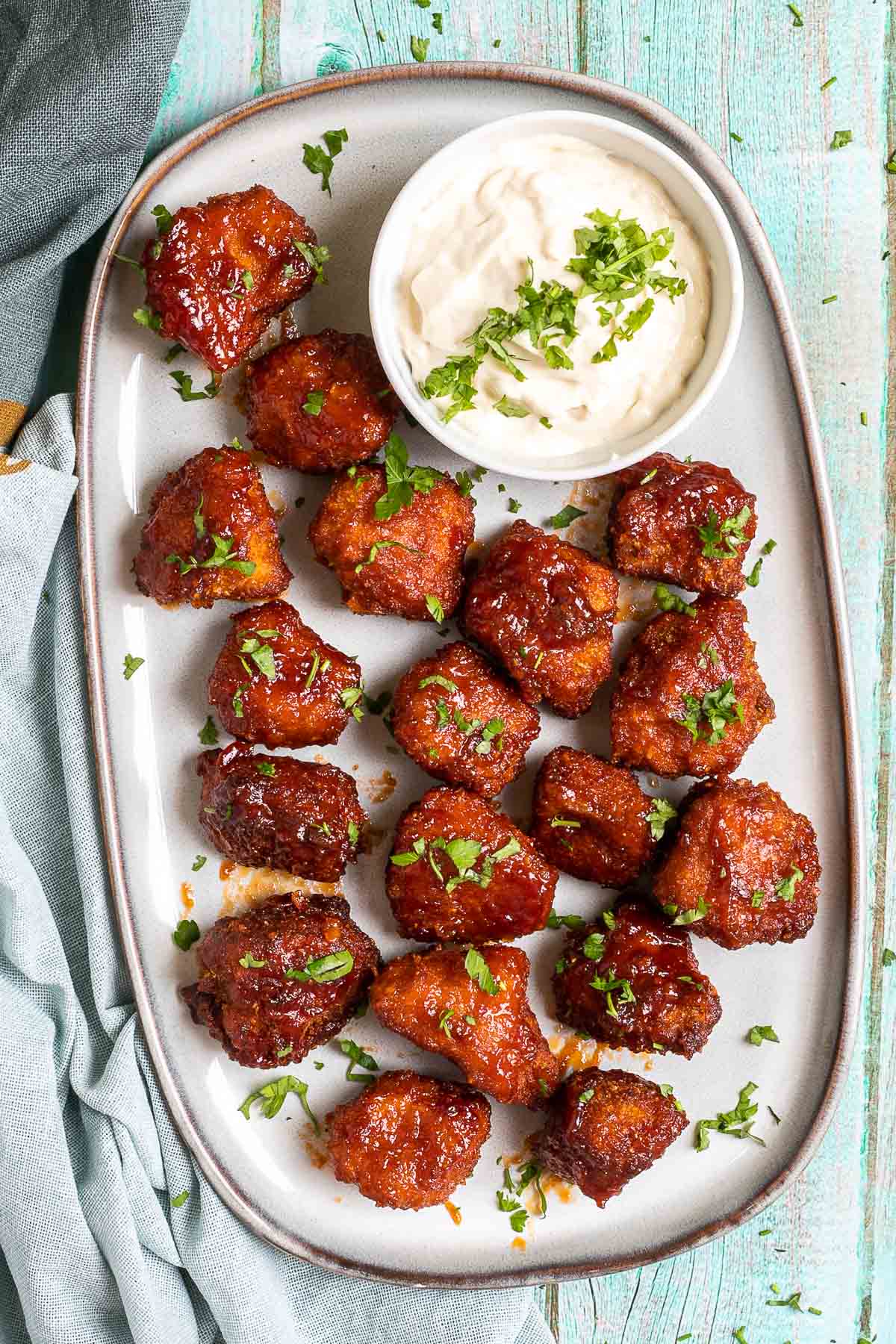 Do you love buffalo sauce? It is one of our favorite spicy condiments. Be sure to try my crispy buffalo cauliflower, vegan buffalo chicken wings using oyster mushrooms, marinated buffalo tofu skewers, or this creamy vegan buffalo chicken dip.
Jump to:
❤️ Why you'll love it
In this simple buffalo tofu recipe, I coated the tofu pieces in a seasoned batter before frying and covering it in a simple, sweet, spicy buffalo sauce. Both the tofu and the sauce are easy to make, requiring only 15 minutes of prep time and 15 minutes of cook time. The result is a crunchy, flavorful dish you can enjoy as a starter, side, or main dish.
I love to make these buffalo tofu bites ultra crispy, so I hand-tear the tofu to create multiple crispy edges. I also prefer using cornflakes in place of the usual breadcrumbs. In this recipe, I deep-fried the tofu, but I know at least 4 ways to make crispy tofu.
🧾 Key ingredients
All of the ingredients needed to make crispy buffalo tofu are simple and easy to find. You may already have several of these items in your pantry. I have also included several substitutes and alternatives so everyone can try this delicious recipe.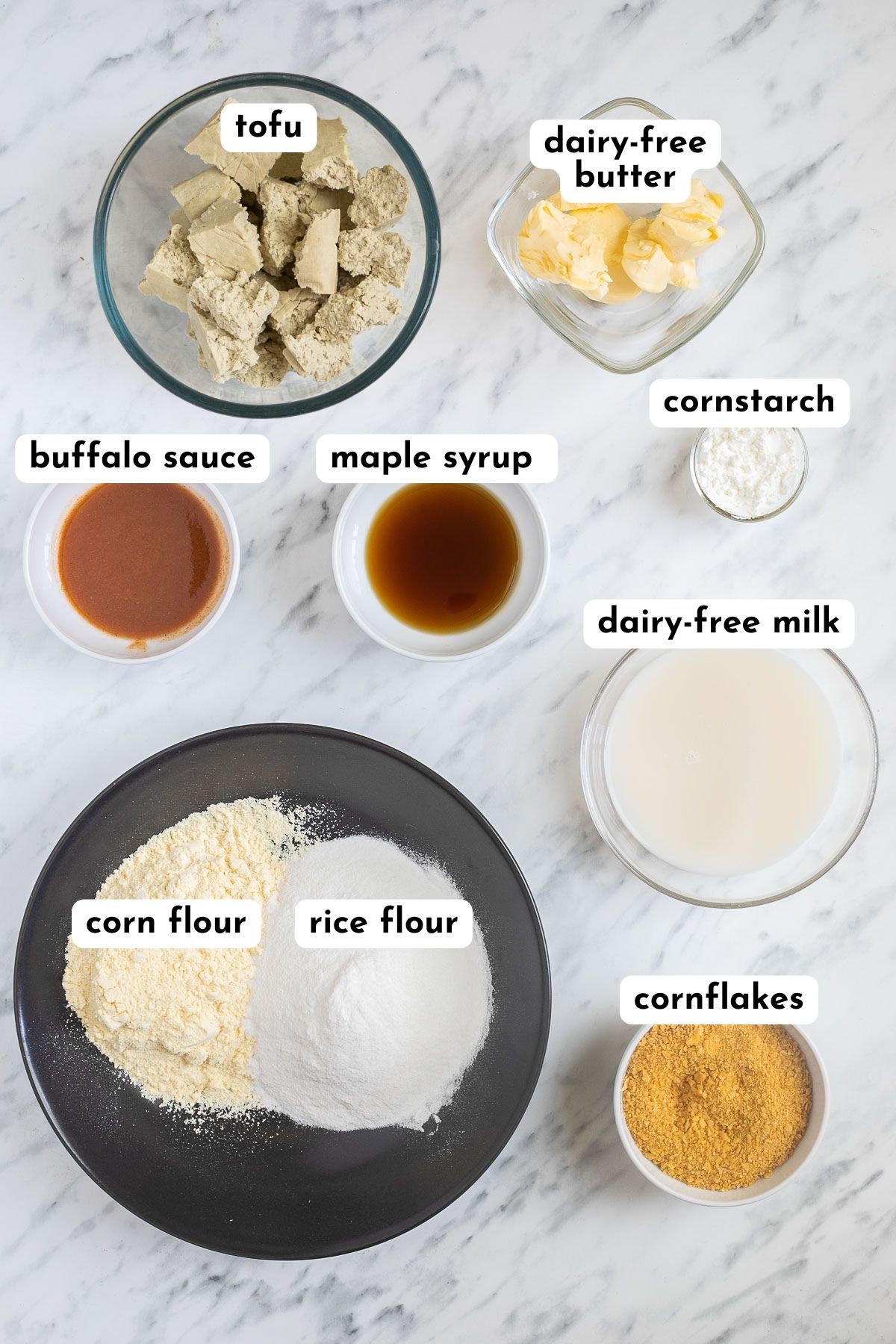 Firm tofu – You can also use extra firm tofu.
Yellow corn flour – You can also use chickpea flour.
All-purpose flour – For a gluten-free option, use white rice flour.
Corn flakes – Alternatively, you can use panko breadcrumbs or one of these other breadcrumbs substitutes.
Corn starch – Tapioca starch is another alternative.
Dairy-free milk – We like to use cashew milk.
Frank's Red Hot Sauce – Any other hot sauce will also work.
Maple syrup
🛒 You can find detailed measurements for all ingredients in the printable version of the recipe card at the bottom of this post.
🥘 Equipment
To make your life easier I recommend a deep-frying pan with a strainer basket. Hot oil can be very dangerous, so be cautious when you deep-fry anything. Having a dedicated pan with a strainer basket makes all the cooking nice and easy.
👩‍🍳 Instructions
Pressing tofu
Use firm tofu and press it. I used my trusted TofuBud*, but you can choose any DIY method or tofu press. For more information, tips, and steps, read my complete guide on how to press tofu and my honest review of TofuBud.
Making buffalo tofu
STEP 1
Using your fingers, slowly and gently tear apart the tofu. You can do so by tearing them in half or by tearing off large pieces, then further tearing them into bite-size tofu nuggets.
STEP 2
In a small bowl, crush the cornflakes into a fine, breadcrumb-like texture. The small chopping bowl of an immersion blender comes really handy here.
STEP 3
Mix the corn flour, all-purpose flour (or rice flour), corn starch, salt, and black pepper in another shallow bowl. Next, mix in the dairy-free milk. Once mixed, it should have the texture of pancake batter: Slow-flowing but not too dense. If the batter thickens, add 1 tsp of water to thin it out again.
STEP 4
First, dip the tofu in the wet batter and coat it evenly. It is easier to coat the tofu using your fingers (versus a fork or spatula).
Gently transfer the coated tofu to the bowl with the crushed cornflakes. Sprinkle the top of the tofu with the cornflakes and pat it gently, ensuring they stick evenly.
STEP 5
Once the tofu is coated, place it on a plate or directly into the fryer. The coating will last up to an hour at room temperature if you cannot cook it immediately.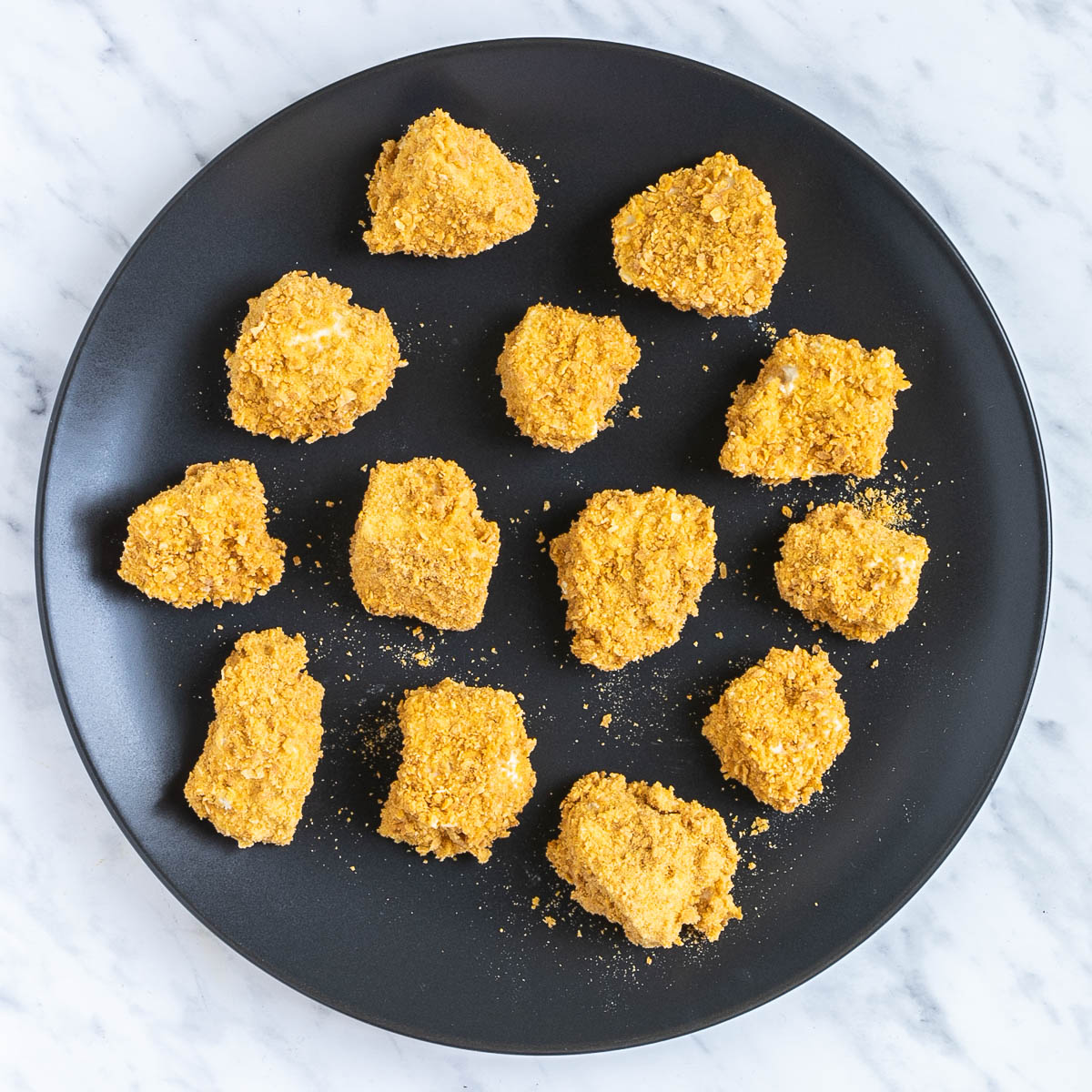 STEP 6
Heat the sunflower oil in a skillet or pot over medium-high heat. You can check to see if the oil is hot enough by dropping a tiny bit of coating in it. If it sizzles, it is ready for frying.
Gently drop the breaded tofu in the oil, taking care not to let the oil splash (it is very hot). Do not overcrowd the pan.
Fry the tofu for 3-4 minutes or until the coating gets crispy. Once fried, move them to a wire rack or paper towel to remove the excess oil.
STEP 7
Melt the vegan butter in a large pan. Once it gets nice and bubbly, add the Frank's Red Hot Buffalo Sauce and maple syrup. Stir the mixture consistently until it is mixed thoroughly. Finally, add the tofu bites to the sauce, coating it evenly.
💡 Expert tip
Coat the tofu while the buffalo sauce is still hot. The sauce sticks to the breading more evenly when hot versus when it is cold. If the sauce cools, reheat it in a pot over medium heat. Do not use high heat, as it can alter the cornstarch and thin out the sauce.
🔄 Variations
Different preparation methods – Instead of hand-shredding your tofu, you can make tofu steak, thin-sliced tofu strips, tofu cubes, or even tofu triangles. Find more techniques in our list of 10 ways to prepare tofu.
Different cooking methods – There are a few alternative ways to make crispy tofu, including air-fried tofu, baked tofu, and deep-fried tofu. See our guide on making crispy tofu for the pros and cons of each method. For even more cooking methods, refer to our guide with 11 ways to cook tofu.
Different marinated tofu recipes – There are countless ways to marinate your tofu. Our marinated tofu favorites are our crispy baked harissa, teriyaki stir fry, and chili miso tofu. We share more ideas in our list of tofu marinade recipes. If using a marinade, it may be best to use parchment paper in the air fryer basket.
With spices – Toss the tofu in herbs and spices such as garlic powder, onion powder, cumin, or smoked paprika into the batter.
See our list of 35 tofu recipes for even more fun variations!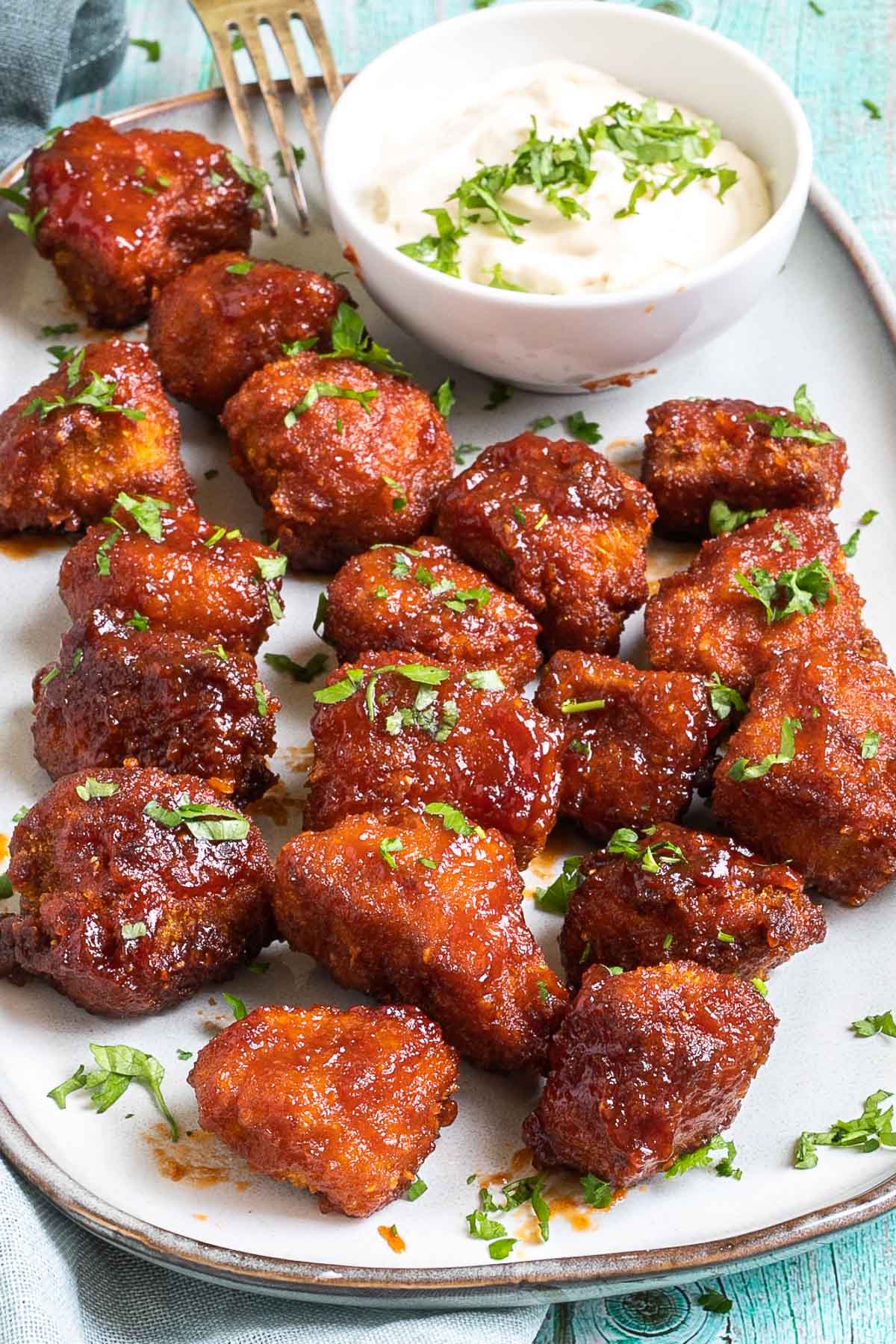 🥣 Serving ideas
Buffalo tofu is versatile enough to be eaten as an appetizer or a side dish. You can also serve it as your main meal with one of these many serving ideas:
On a platter – Serve it with carrots, celery sticks, and vegan blue cheese or ranch dressing (great for game days).
Serve it alongside your favorite veggies like roasted asparagus and mushrooms, sauteed mushrooms, sauteed julienned carrot, or roasted cauliflower.
How about a fresh side salad like this quinoa berry salad? Or on top of crisp greens with vegan blue cheese dressing or ranch dressing for a delicious buffalo "chicken" salad?
One of the easiest ones would be pairing it with steamed or cooked white rice, brown rice, riced sweet potato, or quinoa. You can also try it with cauliflower rice.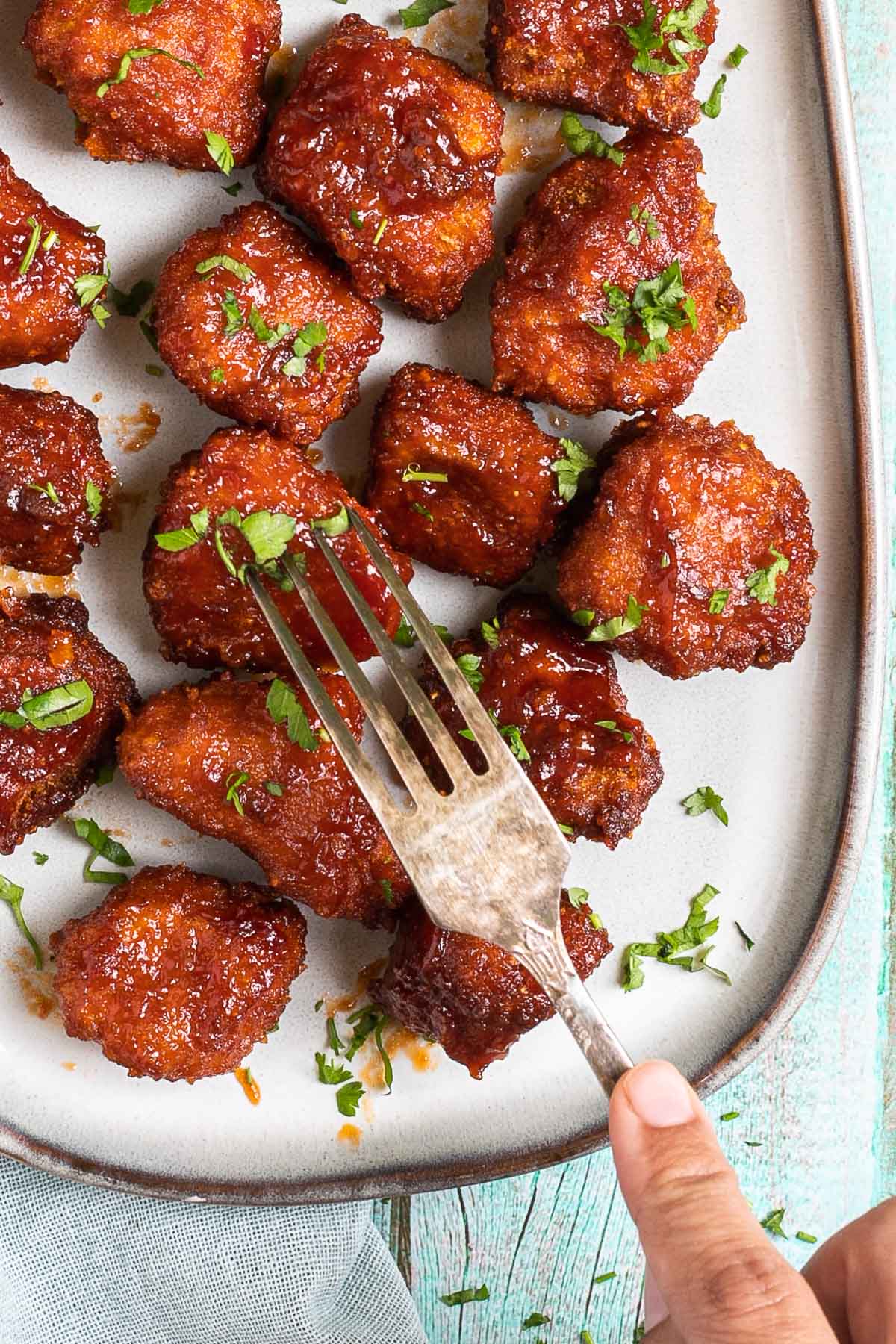 ❄️ Storing tips
Like all breaded and fried recipes, buffalo tofu is best when hot and fresh. However, in case you have leftovers, here is the best way to store it:
In the refrigerator: Once cooled, store the leftover tofu in an airtight container in the fridge for up to three days. For the crunchiest texture, use within 24 hours as they become dry and soggy with time.
In the freezer: Some freeze tofu before cooking to achieve a "meaty" texture. However, I do not recommend freezing tofu after you cook it.
Reheating: Reheat tofu on a baking sheet in the oven or a toaster oven for the crispiest texture. I do not recommend reheating it in a microwave.
🤔 FAQs
Can I make buffalo tofu ahead of time?
We do not recommend making coated buffalo tofu in advance. However, you can make the buffalo tofu sauce in advance, and once cooled, store it in an airtight container. The sauce will last in the refrigerator for 1-2 weeks or in the freezer for up to three months. When ready to use it, reheat it on the stove over low heat, stirring frequently.
Can I make buffalo tofu without cornstarch or coating?
The cornstarch and cornflake coating is not necessary to make buffalo tofu. However, they help the seasonings to stick more, help prevent dryness, and add to their crunchy texture.
THANK YOU so much for visiting our website. Please comment below if you have tried this recipe. We LOVE hearing from you! If you loved the recipe, please don't forget to give us a ⭐⭐⭐⭐⭐ RATING. We appreciate all of our readers.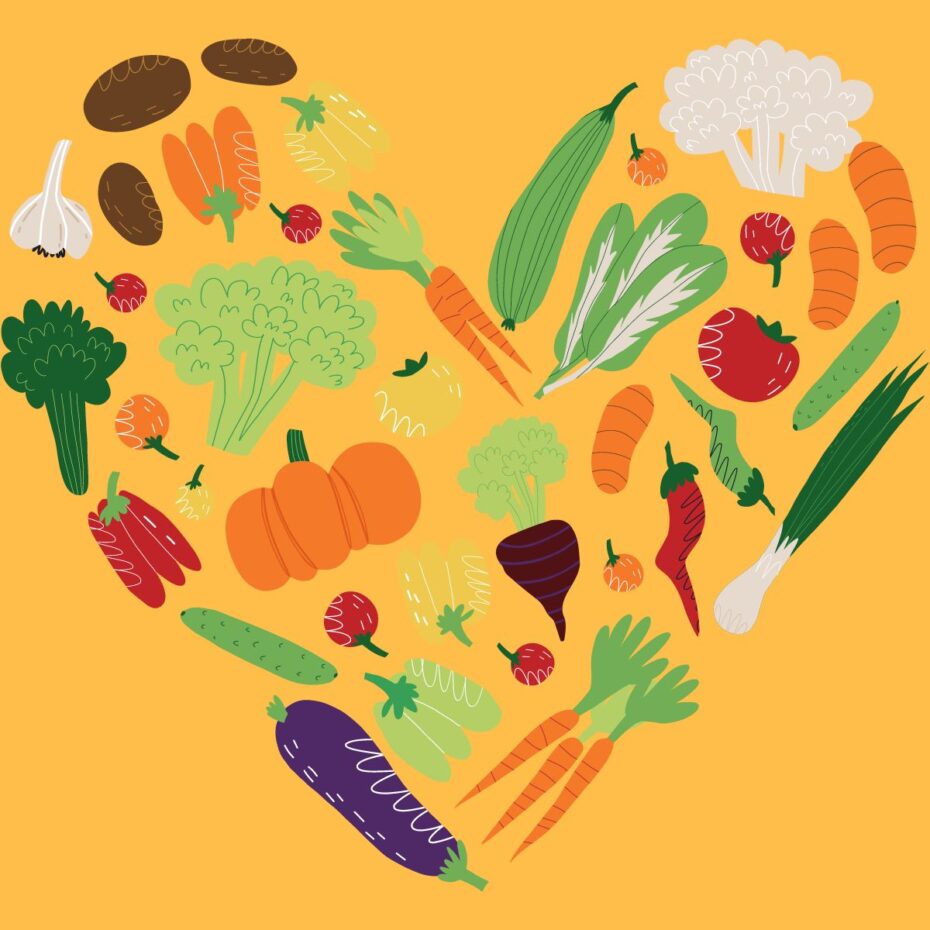 Buffalo Tofu
This buffalo tofu recipe is made with crispy breaded tofu tossed in a spicy buffalo sauce, this easy recipe is ready in just 30 minutes and packs a burst of flavor that will make your taste buds crave more!
EXCLUSIVE 5-ingredient recipes for busy home cooks that are ready in 15 minutes!
Check out our Express Vegan Cookbook!
Instructions
Use a firm tofu and press it.

Use your fingers and tear the tofu slowly and gently. You can tear them first in half or tear off larger pieces, then create bite-size tofu at the end.

We used the small chopping bowl of our immersion blender to crush cornflakes to a fine, breadcrumb-like texture.
Prepare wet batter for coating
Mix in a shallow bowl corn flour, rice/all-purpose flour, corn starch, salt and black pepper. Pour in the dairy-free milk and start mixing. It should have a texture of a pancake batter, slow-flowing but not too dense. In time the flour will thicken the batter a bit, so add 1 tsp of water to thin it again.
Bread the tofu
Dip the tofu first in the wet batter. Coat it evenly. I found it is easier to use your fingers to do that instead of using a fork or spatula.

Transfer the coated tofu gently to the crushed cornflakes. Sprinkle the top and pat it gently. Make sure the crushed cornflakes-based mix sticks to it evenly.

You can place it on a plate or fry it when it is coated. The coating will hold at room temperature for an hour or so without a problem if you need to wait before frying.
Deep-frying
Pour sunflower oil into a skillet or pot. Heat it on medium/high heat. You can test whether it is hot enough by dropping a bit of coating in it. If it sizzles, you are good to go.

Gently drop the breaded tofu in the oil. The oil is hot so pay attention to drop it gently without a splash. Don't overcrowd the pan as the oil will cool down, and the cauliflower florets will need a longer time and thus will soak up more oil.

Fry tofu for 3-4 minutes until the coating gets crispy. When they are ready, transfer them to a paper towel, so the excess oil is absorbed.
Cooking the buffalo sauce
In a large pan add vegan butter. When it's melted and bubbly add Frank's buffalo sauce and maple syrup. Stir constantly until mixed completely.

Add in the fried tofus and coat them with the sauce evenly.
Notes
Do not overcrowd the pan – Adding too much tofu to the oil at once will lower the oil's temperature, requiring more cooking time. You will know that you have overcrowded the pan if the intensity of the sizzling slows down or stops altogether. While waiting for the oil to return to the right temperature, the breaded tofu will continue to soak up the oil. Coat the tofu in batches – When adding the fried tofu to the sauce, coat them on a per-serving basis, especially if the pan is not large enough to coat them all evenly. We recommend adding one serving of sauce to a warm skillet or pan, then tossing it well with one serving of the fried tofu.
Nutrition
Nutrition Facts
Buffalo Tofu
Amount Per Serving (1 serving)
Calories 324
Calories from Fat 90
% Daily Value*
Fat 10g15%
Sodium 926mg40%
Potassium 166mg5%
Carbohydrates 47g16%
Protein 12g24%
Vitamin A 425IU9%
Vitamin C 6mg7%
Calcium 185mg19%
Iron 6mg33%
* Percent Daily Values are based on a 2000 calorie diet.