Transport your taste buds to the exotic flavors of the Middle East with our curated collection of 15 delicious recipes. From fragrant spices to rich, creamy dips and mouthwatering kebabs, these dishes will allow you to recreate the vibrant and diverse world of Middle-Eastern cuisine right in your own kitchen. Whether you're a seasoned chef or a novice in the culinary arts, these recipes will guide you through a culinary journey filled with tantalizing aromas and unforgettable tastes, ensuring that the magic of Middle-Eastern cuisine can be savored and shared in the comfort of your home.
Mediterranean Grazing Board
A grazing board is the perfect combination of aesthetics and taste. With a variety of dips, crunchy breadsticks, pickled onions, and soft pita bread, it's a delicious Mediterranean feast that's perfect for sharing with family and friends.
Recipe: Mediterranean Grazing Board
Hummus Without Tahini
This sunflower seed hummus recipe is hands down the best hummus without tahini out there. We didn't just settle for a basic chickpea puree because we discovered the perfect substitute: roasted sunflower seeds or sunflower butter.
Recipe: hummus without tahini
Grilled Vegetable Kabobs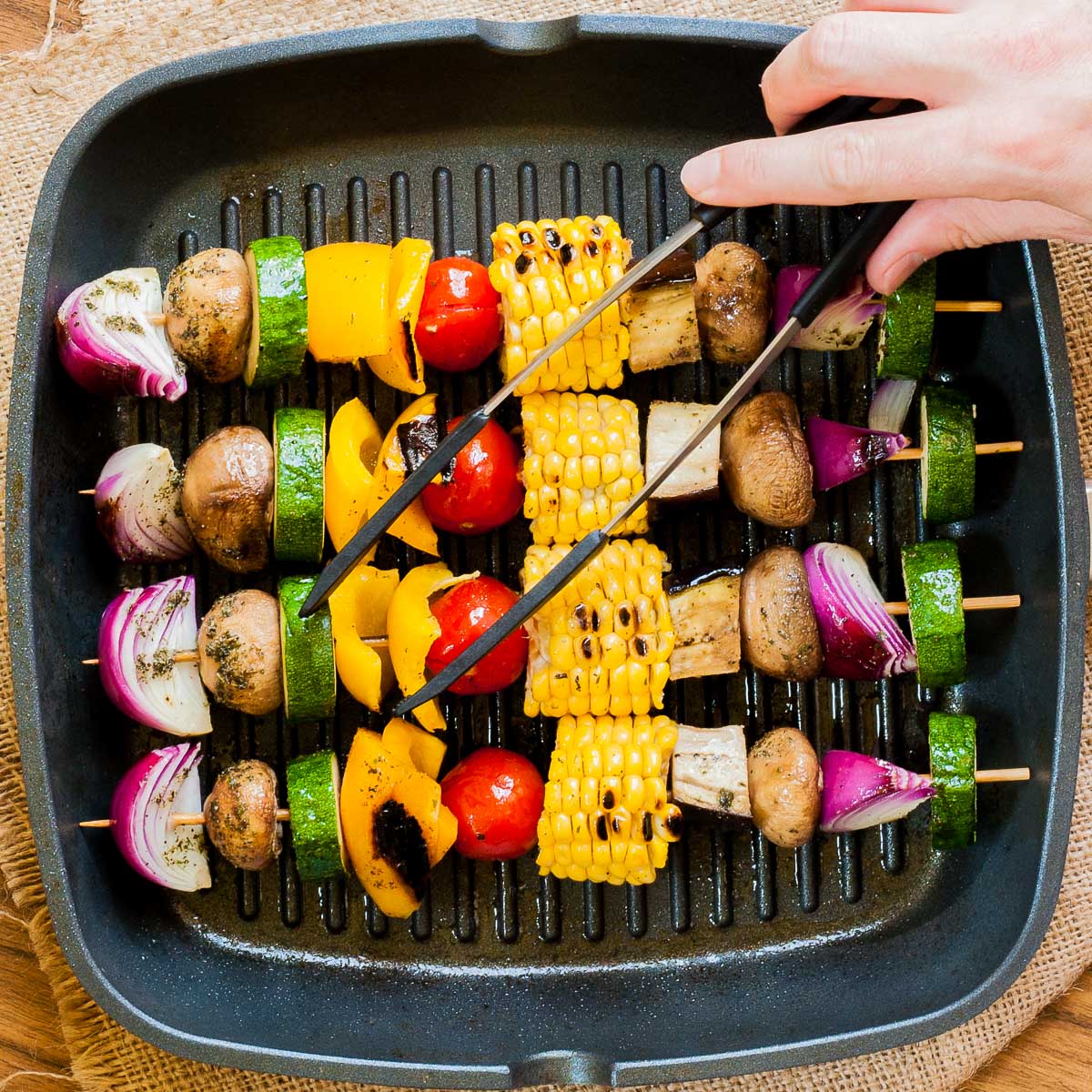 These vegetable kabobs are not only colorful but also incredibly flavorful. They are perfect for grilling and make a great side dish for any BBQ or party. With 3 different ways to make them and 5 delicious marinades to choose from, they are sure to please everyone's taste buds.
Recipe: grilled vegetable kabobs
Roasted Beet Hummus
Have you ever tried pink hummus? This roasted beet hummus recipe will give you the fluffiest and creamiest texture you could imagine. It is also quick to make since you need only 15 minutes to roast the beets, then 5 minutes to blend them together with the chickpeas.
Recipe: roasted beet hummus
Creamy Harissa Tahini Pasta
Get ready for a flavor-packed meal with this harissa tahini pasta sauce recipe that is quick and easy to make in just 20 minutes. The creamy and spicy sauce is a perfect combination with your favorite pasta and vegetables, making it an ideal dish for busy weeknights or any time you need a delicious and satisfying meal.
Recipe: harissa tahini pasta sauce
The Ultimate Falafel Platter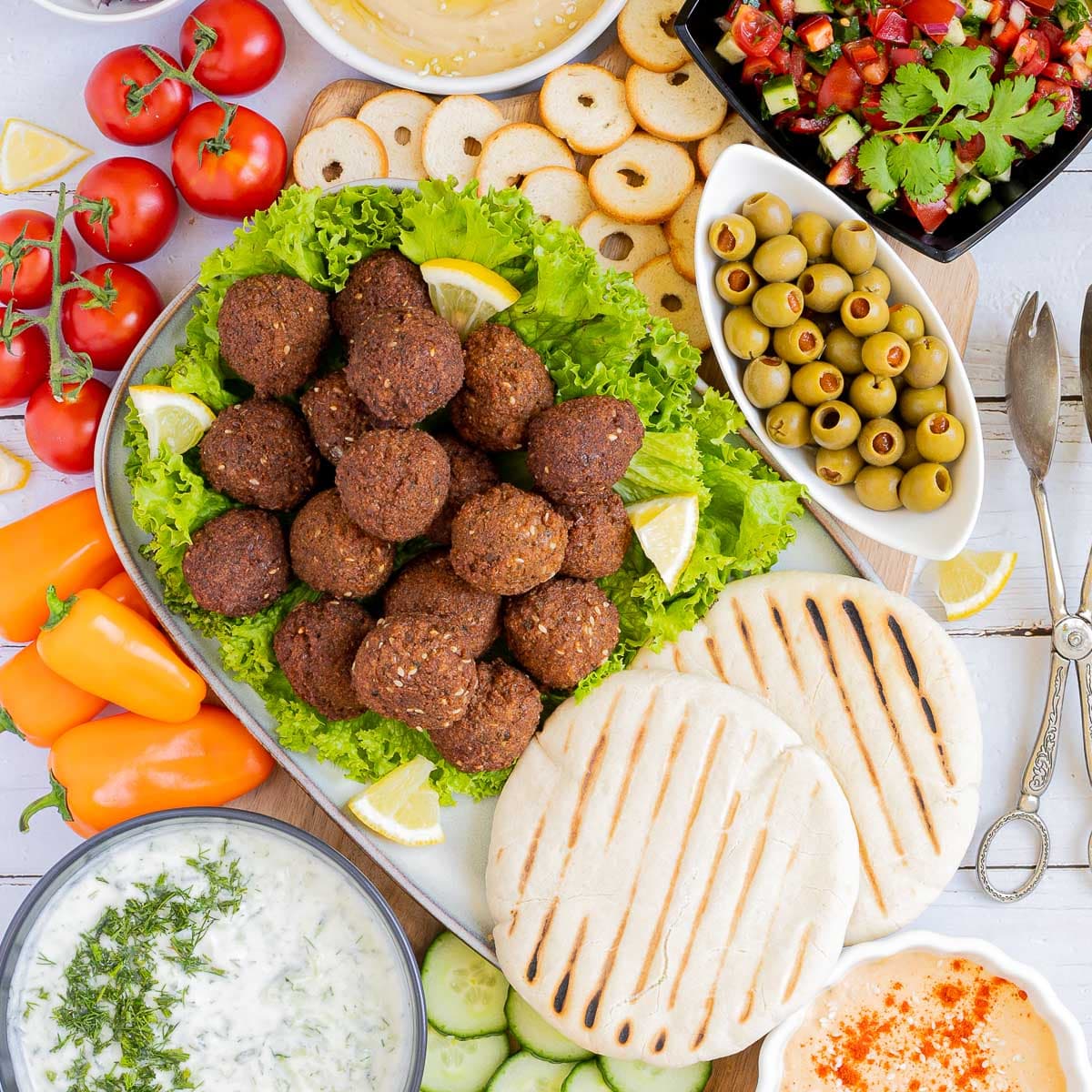 This colorful falafel platter is a feast for both the eyes and the taste buds. Crispy falafel, creamy tzatziki, and flavorful hummus are just some of the highlights of this Middle Eastern-inspired dish that is perfect for any occasion.
Recipe: falafel platter
Hummus Pasta
Hummus pasta salad from our cookbook is a quick and flavorful vegan pasta dish that can be prepared in just 15 minutes. The combination of creamy hummus with tangy sun-dried tomatoes and olives creates a unique taste. Different flavored hummus, such as roasted red pepper or spinach, allow for endless variations.
Recipe: hummus pasta
Chickpea Shakshuka
This chickpea shakshuka is a flavorful and hearty stew that combines Middle Eastern spices with tomatoes, bell peppers, onions, and chickpeas. Ready in under 30 minutes, this dish is perfect for a quick and satisfying weeknight dinner.
Recipe: vegan chickpea shakshuka
The Best Falafel Sandwich
Fresh lettuce leaves, sweet and tangy tahini sauce, and crispy falafel in pita bread are how to make the best falafel sandwich. We show you how easy it is to make this popular Middle Eastern vegetarian street food from scratch and from the comfort of your home.
Recipe: falafel sandwich
Creamy Hummus
It is the smoothest and creamiest hummus that you can imagine. Ditch the olive oil for aquafaba. You will not regret it. Once, you taste this hummus, you will make it over and over again.
Recipe: hummus
Spicy Israeli Couscous
This garlicky, sweet and nutty Israeli couscous with a hint of spiciness is simple to make can be made in less than 15 minutes. Fantastic as a side to any meat dishes, on top of salads or on its own!
Recipe: Israeli couscous
Mujaddara
This mujaddara recipe is a humble dish but pure comfort food. It's simple in its preparation, inexpensive in its ingredients, but with very complex flavors, some very familiar to me (like rice and lentils), and some lovely spices (cumin and turmeric) to improve on some old favorites.
Recipe: mujaddara
Sabich Sandwich
Sabich is an eggplant and egg sandwich, made with eggplant, hard-boiled egg, hummus, tahini, and Israeli salad in pita bread, and it is one of the most popular sandwiches in Israel, and is considered its first native dish.
Recipe: sabich
Baba Ganoush
Eggplant Dip is made from roasted eggplant, tahini, lemon juice and garlic-infused olive oil. We love it as a dip or as a sandwich spread. The pomegranate seeds are optional, but add a bright, fresh, juicy texture and flavor!
Recipe: eggplant dip
Vegan Shawarma
Vegan shawarma with fresh vegetables and homemade garlic yogurt sauce is a real crowd-pleaser. This traditional Middle Eastern recipe is quick, easy, and perfect for dinner or a party.
Recipe: vegan shawarma
26 Big-Batch Dishes to Stock Your Freezer
15 Weekend Lunch Recipes on a Dime to Feed The Family
Europe's Finest 25 Recipes You May Not Even Know Of
25 Asian Foods You Absolutely Need to Make At Least Once
Skip The Dreaded Drive-Thru Line With These 15 Fast Food Copycat Recipes