There are 43 vegan ingredients in Chipotle Mexican Grill restaurants that you can mix and match. However, if you want to try your hand at cooking Mexican food but don't have the time to scout the internet for the best recipes, this list is for you. We've compiled the 19 finest copycat Chipotle vegan recipes that you can easily make at home.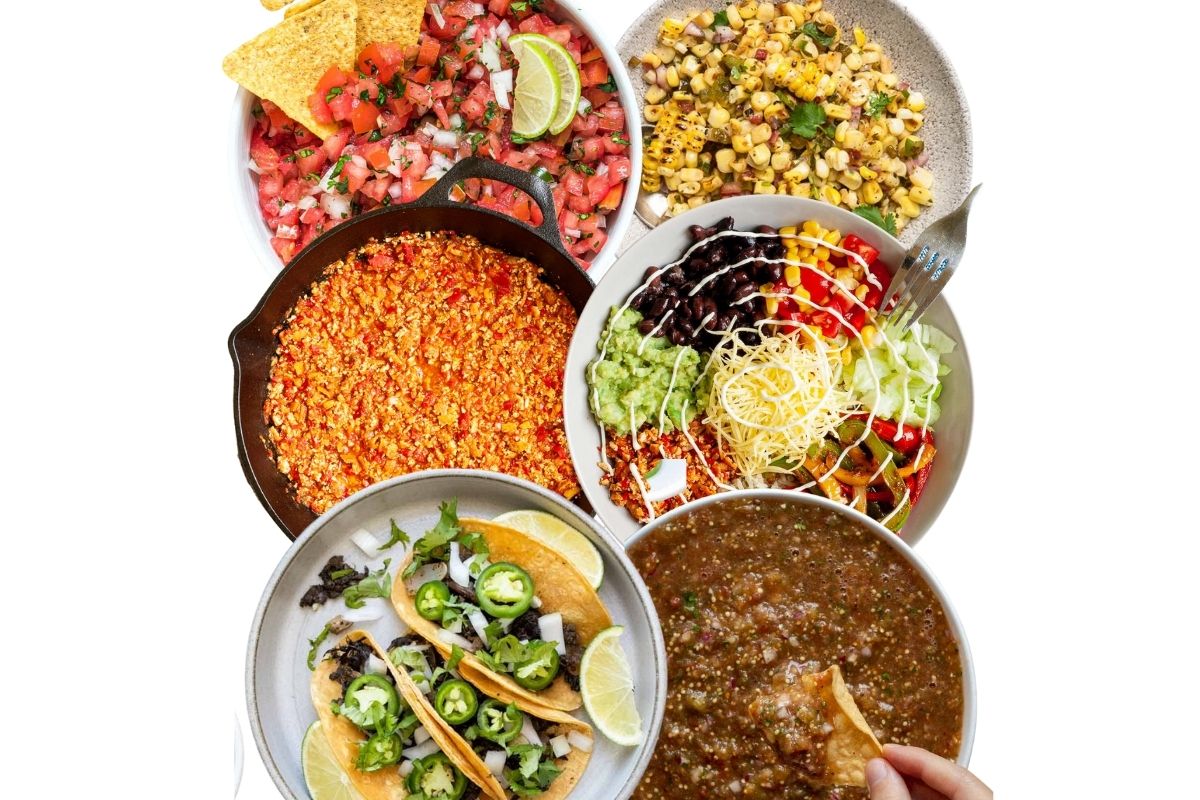 Chipotle vegan options
Is it easy to eat vegan at Chipotle?
Deciding what to eat doesn't have to be a task with all the vegan ingredients that Chipotle offers. Can you believe that out of the 53 ingredients that can be chosen to make a meal, a whopping 43 are vegan? Yes, we counted! As long as you skim a few ingredients like chicken, steak, pork, cheeses, honey, and cream, you're pretty much good to go.
With so many possibilities, it's a piece of cake to make a whole Chipotle vegan meal by selecting your type, base, toppings, and sides.
Types
Chipotle attracts a large number of vegan customers in huge part due to all of its types being vegan-friendly. When building your meal, you can select anything from a burrito, burrito bowl, lifestyle bowl, and a quesadilla to a taco, or salad.
Burrito

tortillas are prepared using corn, flour, and a variety of other vegan components.

Tacos

make a great option if you're craving something lighter than a burrito as they hold fewer toppings. Chipotle serves tacos in two varieties: soft flour tortillas and crispy corn tortillas, both of which are vegan.

Burrito bowls

(the below photo is a copycat recipe) are a godsend for folks who want everything in a burrito except the tortillas. These bowls are made using rice and romaine lettuce as the base, and you may top them with any of the Chipotle vegan toppings listed below.
Salads, on the other hand, are a fantastic option if you want a dinner that isn't as filling as burrito bowls.
Bases
If you're vegan, you should avoid the base components barbacoa (beef), carnitas (pork), pollo asado (chicken), and steak at Chipotle.
The sofritas, however, which are made from organic shredded tofu cooked with Chipotle chilies, roasted poblanos, and a variety of other spices, are a lifesaver. This smoky-chile flavor base gives anything from burritos to tacos and even salads that much-appreciated kick. (The below photo is a copycat recipe.)
If you are not a fan of the Chipotle tofu-based sofritas, don't worry: beans are perfect vegan protein options. The Chipotle black beans and pinto beans bring an authentic Mexican flavor to the table, allowing you to truly let loose and indulge. Black beans are ideal for those who enjoy a nutty texture and an earthy flavor. Pinto beans, on the other hand, are softer and creamier, making them an ideal complement to lifestyle bowls and salads.
The limited-edition plant-based chorizo (that was launched in January 2022) is packed with pea protein goodness and rich flavors of Chipotle peppers, tomato paste, garlic, and smoky paprika. Pea Protein, a plant-based protein that comes from ground-up yellow split peas, is the star of this base. It's the perfect amount of chewy and goes nicely with the Vegan Lifestyle Bowl or the Whole30 Salad Bowl, making it even easier to eat vegan at Chipotle.
Toppings and sides
Chipotle is a vegan haven when it comes to its array of toppings and sides. For starters, I think we can all agree that Chipotle's flavorful rice complements every Mexican dish it serves! The cilantro-lime rice, with both white rice and brown rice, is a vegan item that pairs well with nearly everything; burritos, tacos, bowls, salads, burritos – you name it!
If you want to add a pop of color to your meal, choose the fajita vegetables (the below photo is a copycat recipe), which are essentially green bell peppers and red onions that are grilled to perfection with oregano.
On a similar note, adding some romaine lettuce will not only enhance the look but also add a crunch to your dish. And if you're feeling particularly ambivalent (and adventurous), try the Supergreens Lettuce Blend, which comprises hand-cut romaine lettuce, baby kale, and crisp baby spinach.
The best part about Chipotle's vegan toppings is that you can customize the spice level of your meal with the many salsa selections made available. While the fresh tomato salsa is mild, the tomatillo green-chili salsa and the roasted chili-corn salsa are somewhat spicy. If you enjoy a little bit of a challenge, the tomatillo red-chili salsa is the way to go.
Chipotle's tortilla chips are yet another excellent side dish that is fully vegan. They can be eaten on their own or with guacamole or salsa dip.
When building your meal at Chipotle, be wary of these animal-based menu items: shredded Monterey cheese, sour cream, queso blanco, and honey vinaigrette.
Desserts
Finding desserts can be hard as a vegan as most of them contain dairy, and the cheesecake and ice cream at Chipotle are a testament to this. But don't fret just yet, because here comes the buñuelo to save the day!
Buñuelos are flour pockets that are topped with cinnamon sugar, honey, and apple caramel sauce. Now I know what you're thinking, "honey?!" Just opt for yours without the sweetener and replace it with one of these honey substitutes, and you're golden.
Vegan copycat recipes
There's no denying that Chipotle has more than enough vegan-friendly options to choose from that allow you to enjoy your meal there worry-free. However, having some Chipotle vegan copycat recipes on hand can be more useful than you think. Our list of 19 top recipes will help save you money and avoid the urge to eat out so often!