This loaded vegan tortilla soup is a sure hit for soup lovers. You will get four servings of this delightful Mexican-inspired soup with just an hour of prep and cooking time. Every spoonful will leave a lasting impression!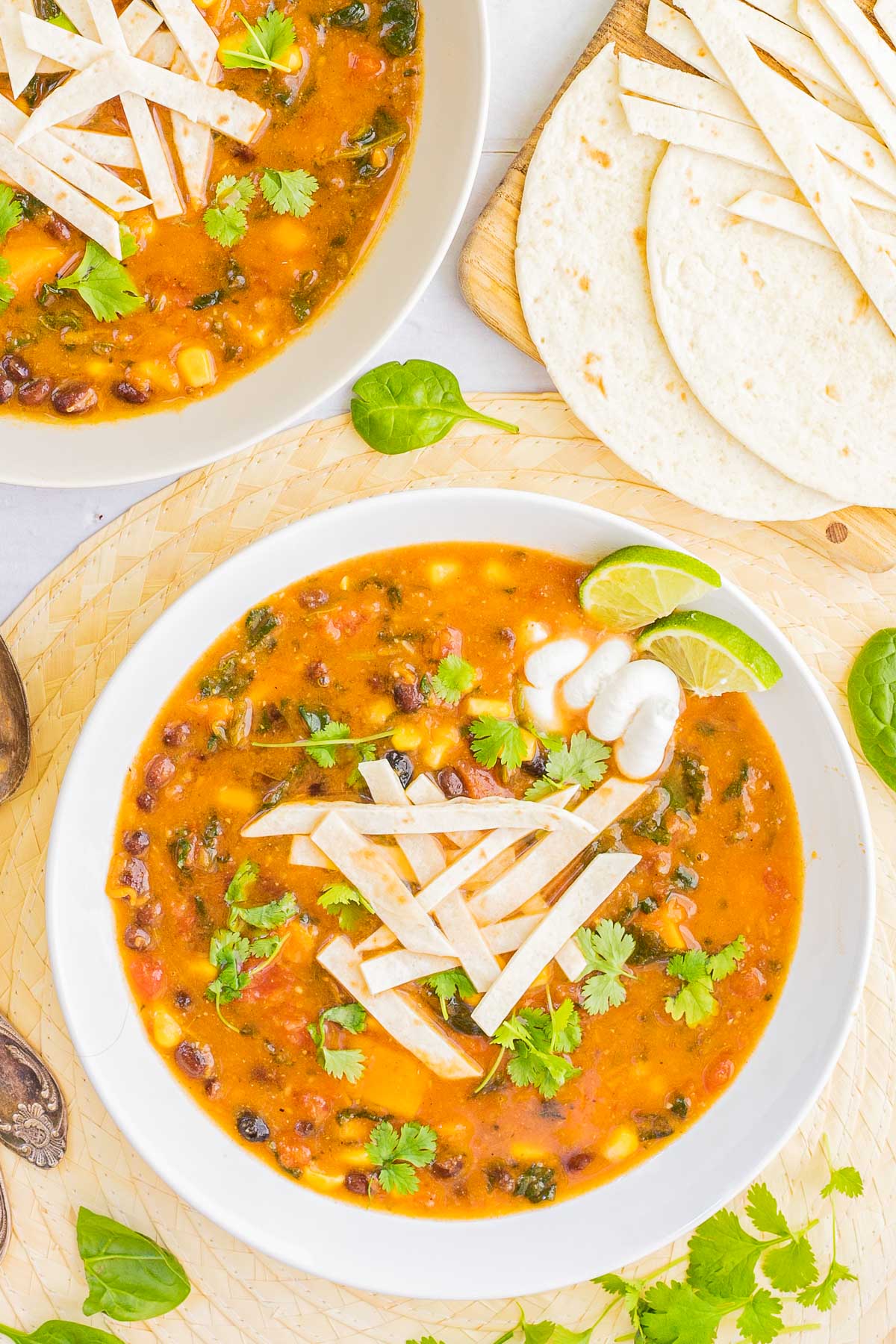 ​​If you are also a soup enthusiast like me, you are in good company. I have several creamy vegan soups to show you. But if you are after a Mexican vibe, try this meaty vegan taco soup.
Jump to:
❤️ Why you'll love it
Our vegan tortilla soup is a Mexican-inspired delight, featuring kidney beans, sweet corn, smoked paprika powder, chili flakes, cilantro, and tortillas. It perfectly balances heat and sweetness, catering to all tastes.
What sets this soup apart is its immensely rich flavor, thanks to butternut squash. It is roasted along with onion and garlic to caramelize its natural sweetness then it is used to thicken the soup and give a wonderful taste like no other.
This recipe is featured in my Winter Vegan Cookbook, among other quick seasonal dishes, made with budget-friendly ingredients. Whether you are gifting it or treating yourself, it is a must-have for any vegan foodie.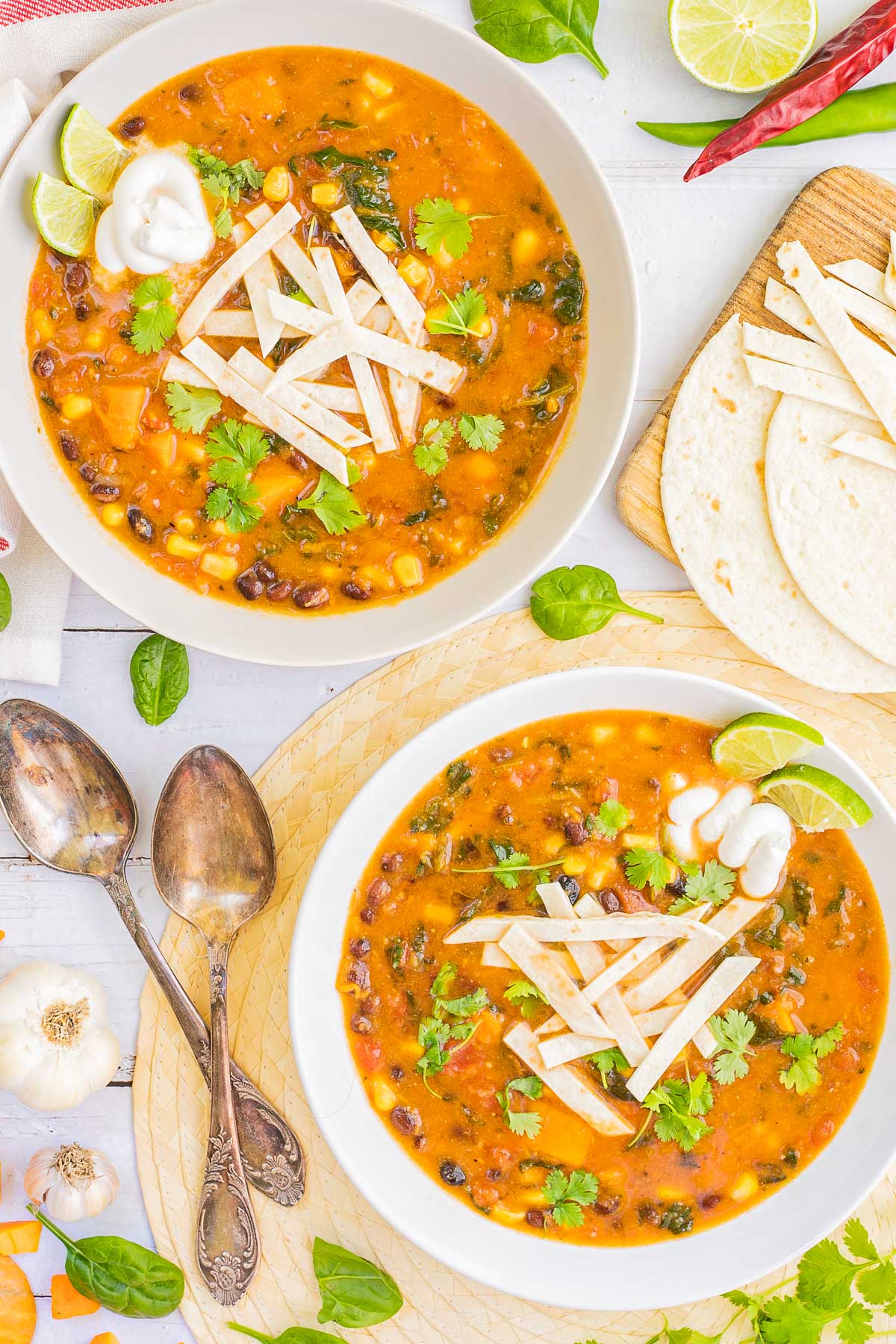 🧾 Key ingredients
Canned chopped tomatoes are the best ingredient to use when you need the perfect tomato base. I usually use this brand, since the tomato taste is lovely. If ripe fresh produce is available, I recommend using juicy heirloom tomatoes.
Canned black beans and sweet corn are must-have ingredients in any tortilla soup. I sometimes substitute black beans for red kidney beans or use a mix of beans to make things interesting.
Butternut squash is the not-so-secret ingredient. Roasted butternut squash is pureed to be used as a thickener and to give a depth of sweet flavor. It pairs well with all the other ingredients.
Frozen spinach leaves are optional, to be honest. But who doesn't want any possibility to add leafy greens without anyone noticing? It will make your tortilla soup more nutritious.
Cumin, smoked paprika powder, and hot chili flakes are the key spices you need to make tortilla soup. You need a bit of a kick when it comes to Mexican-inspired recipes.
Tortillas are only toppings, but they are essential. This soup would not be a proper vegan tortilla soup without them.
🛒 You can find detailed measurements for all ingredients in the printable version of the recipe card at the bottom of this post.
🥘 Equipment
You will need a high-power blender to make the butternut squash truly creamy without any pieces left. I love my Vitamix for its ability to create incredibly smooth textures. While hand blenders work, Vitamix transforms the outcome. You will notice a significant difference, believe me.
👩‍🍳 Instructions
Preparing ingredients
STEP 1
Preheat your oven to 400°F (220°C). While waiting, peel and cut the onions into wedges and butternut squash into cubes.
STEP 2
Place the whole garlic cloves, onion wedges, and diced butternut squash on a parchment paper or non-stick baking sheet. Drizzle them with olive oil, then bake for 30 minutes, or until the vegetables are soft and tender.
STEP 3
After the vegetables are done roasting, let them cool slightly. Then, transfer half of the roasted butternut squash, all onion, and peeled garlic to a food processor. The other half of the roasted butternut squash will be added to the vegan tortilla soup later.
STEP 4
Blend until the vegetables are smooth and creamy.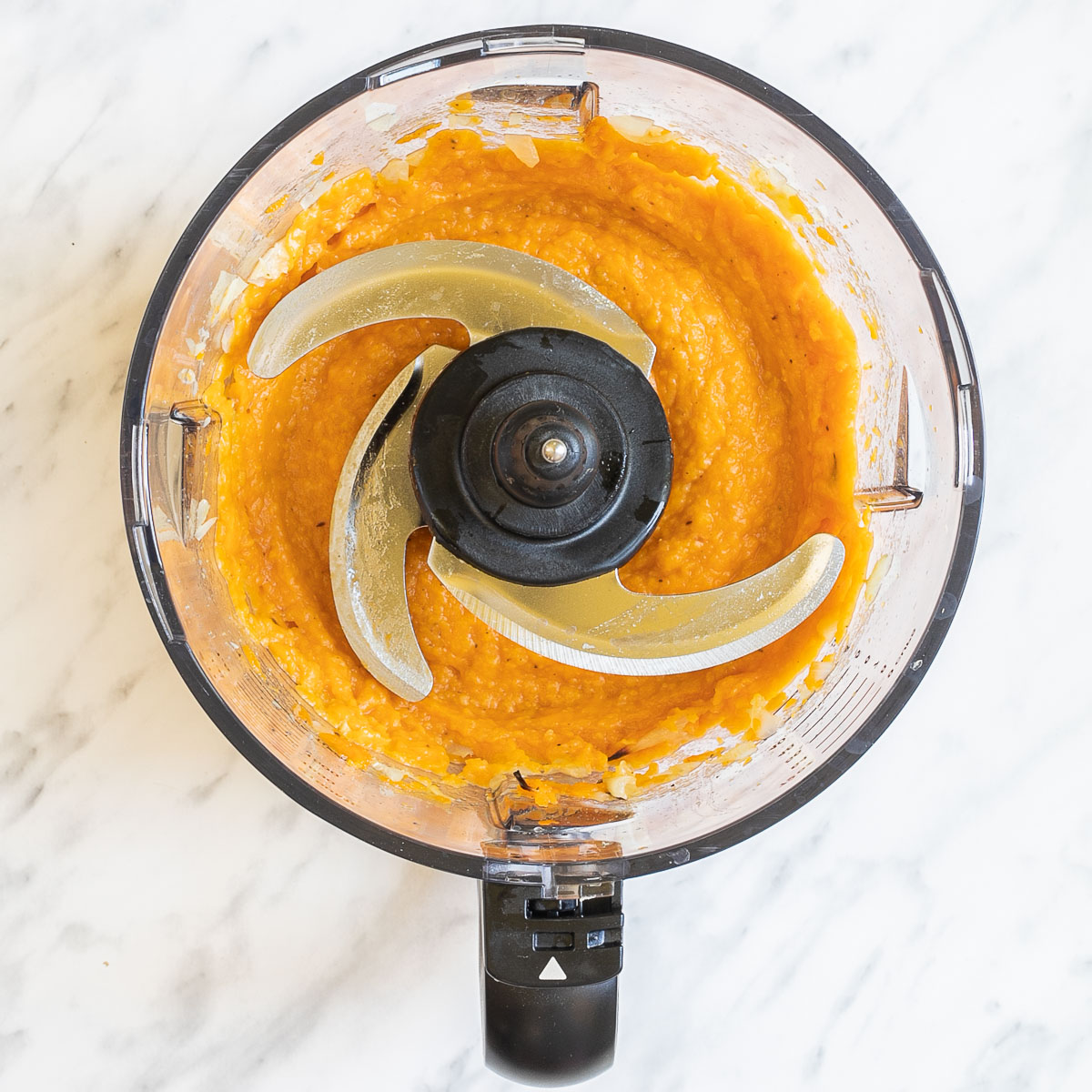 Making vegan tortilla soup
STEP 5
Heat a large stockpot over medium heat and add tomatoes, tomato paste, cumin, smoked paprika powder, chili flakes, salt, and pepper. Pour in the blended vegetables. Stir until combined.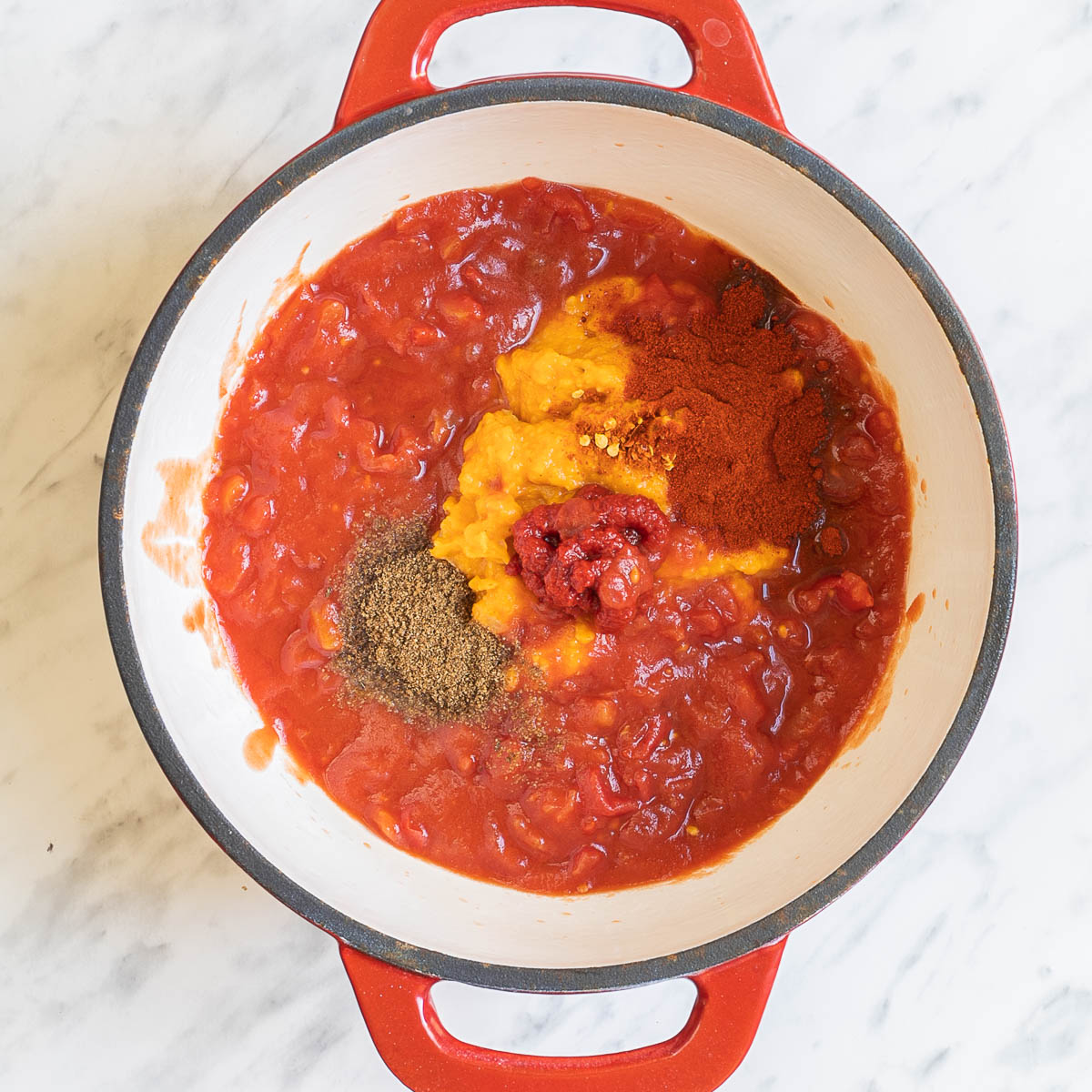 STEP 6
Add vegetable broth. Bring to a boil, then simmer for 5 minutes.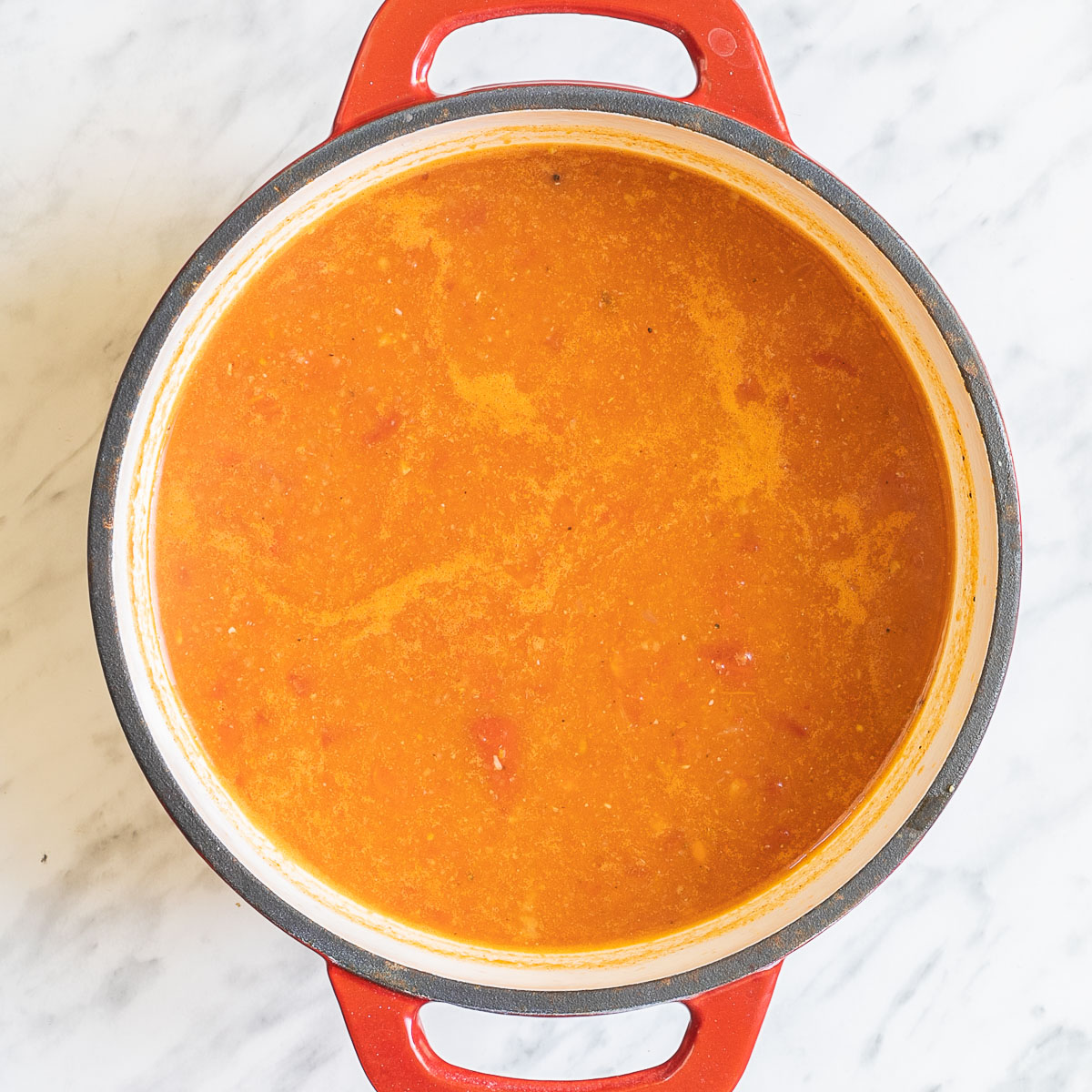 STEP 7
Add the frozen spinach leaves, cilantro, sweet corn, black beans, and the remaining butternut squash (that part you set aside previously). Cook for 5 minutes more, then let cool slightly. Pour the soup into serving bowls and top with tortilla strips. Enjoy!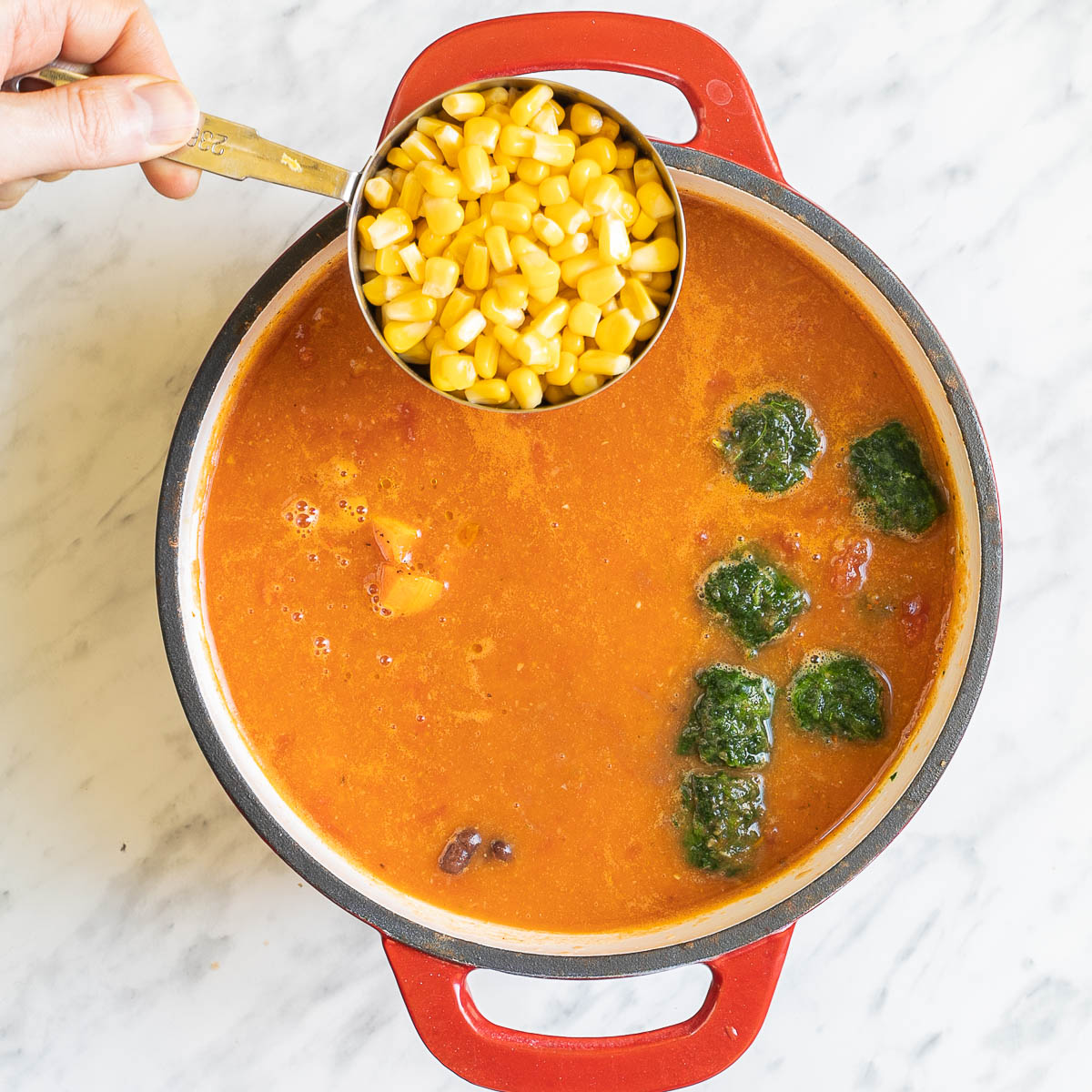 💡 Expert tip
Avoid boiling the tortilla soup for too long to prevent the beans and the other veggies from becoming mushy. The best course of action is to bring it to a boil, then lower the heat and let it simmer only. It will preserve the flavor and texture of the soup better.
🔄 Variations
Crispy tortilla strips as a topping. Pan-fry or bake them. Simply cut the tortillas into strips, spread them out on a baking sheet, drizzle with avocado oil and salt, and bake in a preheated oven at 380°F for 10 minutes, or until golden brown. Keep an eye on them so they don't burn.
Roast tomatoes beside the butternut squash to give your vegan tortilla soup a smoky flavor and a nice char.
Add something meaty. Shredded oyster mushrooms, millet, or TVP are all great additions to this soup. I use them to enhance my vegan white chili, vegan bean chili, and vegan taco soup recipes, respectively.
🥣 Serving ideas
Feel free to add any toppings you like to your vegan tortilla soup. Some popular options include vegan sour cream, vegan cheese, avocado, oregano, maple syrup, lime, or anything else you enjoy. Get creative and have fun with it!
This soup is a flavor bomb on its own, but try it with a Mexican corn salad if you can. It is a classic Mexican side dish that is just perfect for the soup. Squeeze a little lemon juice for some extra freshness and tang.
I love it with avocado mango salsa on the side, which I sometimes use as a filling to make avocado spring rolls.
Serve it with taquitos. These are a fun and crispy way to enjoy the soup.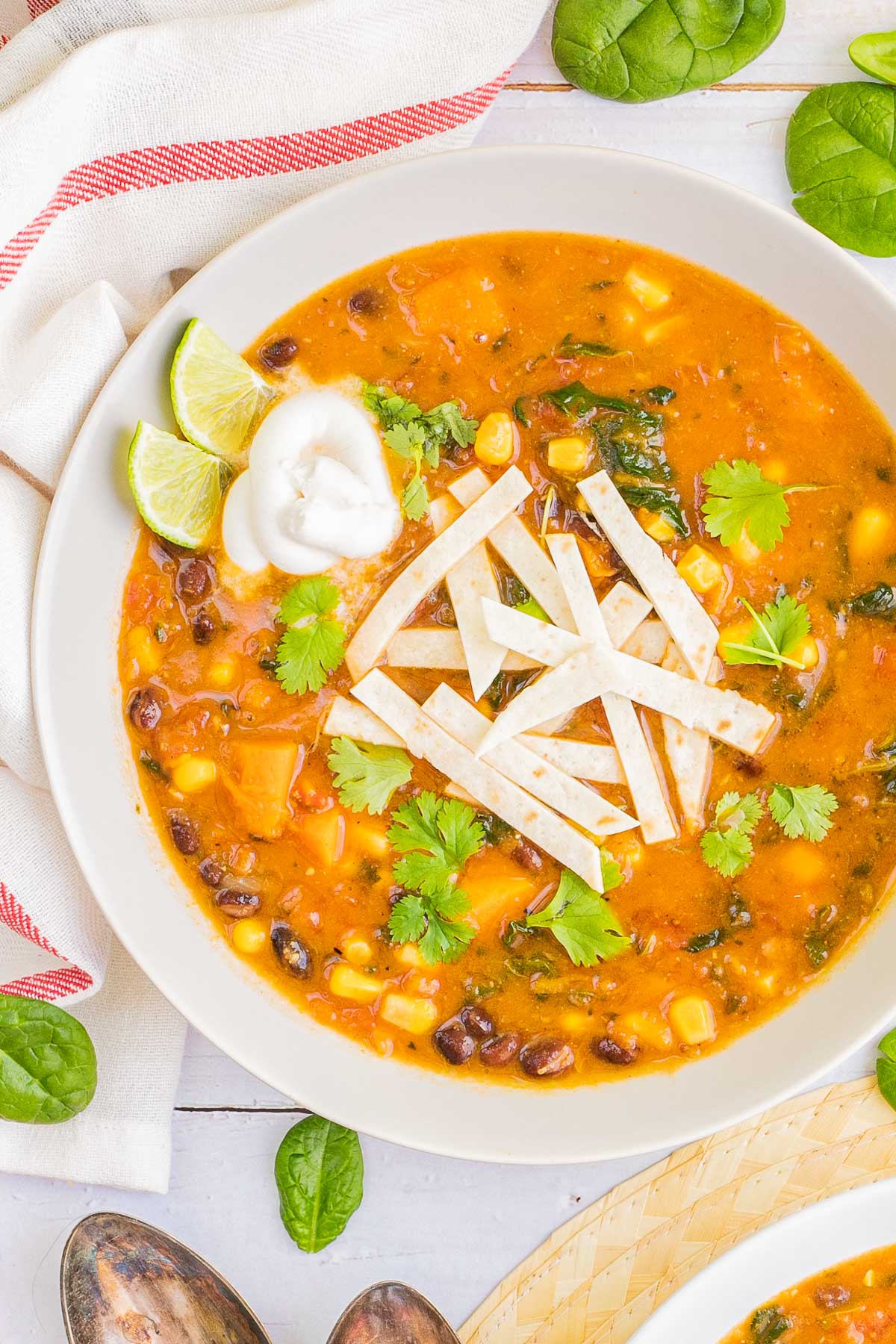 ❄️ Storing tips
Storing and reheating vegan tortilla soup is easy and does not compromise the flavor. In fact, it tends to get even tastier when stored in the fridge as the seasonings meld further.
To store, let the soup cool completely, then transfer it to an airtight container and refrigerate for about 3-4 days.
If you are not planning to consume it right away, consider freezing it in individual serving-sized portions instead of refrigerating it. You can keep it there for up to 3 months. Just be sure to store the tortillas separately, adding them to the soup only right before you serve it.
To reheat, bring the soup to a simmer on the stovetop over medium heat, stirring occasionally. You can also reheat the soup in the microwave, but stir it every 30 seconds to prevent equal reheating.
🤔 FAQs
How do you thicken vegan tortilla soup?
There are plenty of ways to thicken a tortilla soup. The easiest is to add a bit of flour or cornstarch. However, using pureed vegetables gives a thicker base, adds texture, and enhances flavors. Use mashed potatoes, sweet potatoes, beans, or butternut squash.
Will tortilla thicken the soup?
Tortilla stripes are typically used as a garnish, only added at the end. However, if you store the soup with them, the tortilla will get mushy and may alter the soup's consistency. I recommend storing them separately to keep the desired texture.
Can you skip butternut squash?
Yes, because it is not an essential ingredient to authentic tortilla soup, but no, because if you want to skip it, you must change the steps significantly. In this recipe butternut squash thickens the tortilla soup, enhances the flavors, and gives a richer texture. You will love this soup with it if you try.
More vegan Mexican recipes
I love Mexican flavors; therefore, I share many delicious vegan Mexican recipes.
THANK YOU so much for visiting our website. Please comment below if you have tried this recipe. We LOVE hearing from you! If you loved the recipe, please don't forget to give us a ⭐⭐⭐⭐⭐ RATING. We appreciate all of our readers.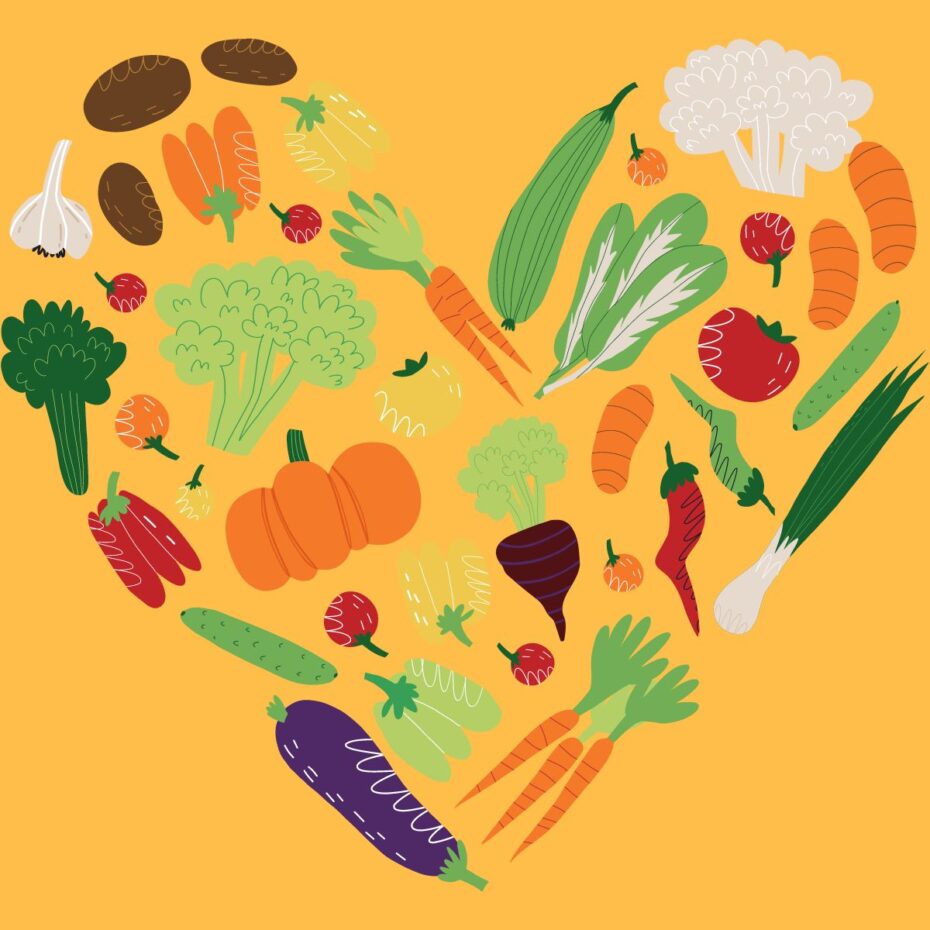 Vegan Tortilla Soup
This loaded vegan tortilla soup is a sure hit for soup lovers. You will get four servings of this delightful Mexican-inspired soup with just an hour of prep and cooking time. Every spoonful will leave a lasting impression!
Instructions
Preheat oven to 400 F / 220 C.

Add diced butternut squash (½ inch, 12 mm), onion wedges, and unpeeled garlic to a baking sheet. Season with salt and black pepper. Drizzle them with olive oil. Use a spatula or your hands to spread the oil evenly. Bake for 30 minutes.

Add the baked onion, baked and peeled garlic, and half of the roasted butternut squash in a food processor or tall container and use a hand blender to blend it.

Take a large stockpot and add diced tomatoes, vegetable broth, blended vegetables, tomato paste, cumin, smoked paprika powder, chili flakes, salt, and black pepper. Bring it to a boil and simmer for 5-6 minutes.

Add frozen spinach leaves, black beans, sweet corn, and the remaining roasted butternut squash cubes. Cook the soup for 4-5 minutes.
Notes
If you prefer to have crispy tortilla strips as a topping, then pan-fry each side of the tortilla for a minute and cut them into strips afterward.
Nutrition
Nutrition Facts
Vegan Tortilla Soup
Amount Per Serving (1 serving)
Calories 412
Calories from Fat 99
% Daily Value*
Fat 11g17%
Sodium 1371mg60%
Potassium 1377mg39%
Carbohydrates 71g24%
Protein 14g28%
Vitamin A 23640IU473%
Vitamin C 54mg65%
Calcium 239mg24%
Iron 6mg33%
* Percent Daily Values are based on a 2000 calorie diet.