It is an easy recipe to make the classic Italian delight vegan. Our tofu bolognese is a 30-minute recipe that combines ingredients like rich tomato sauce, crumbled tofu, finely chopped veggies, and aromatic herbs and spices for a wholesome meal.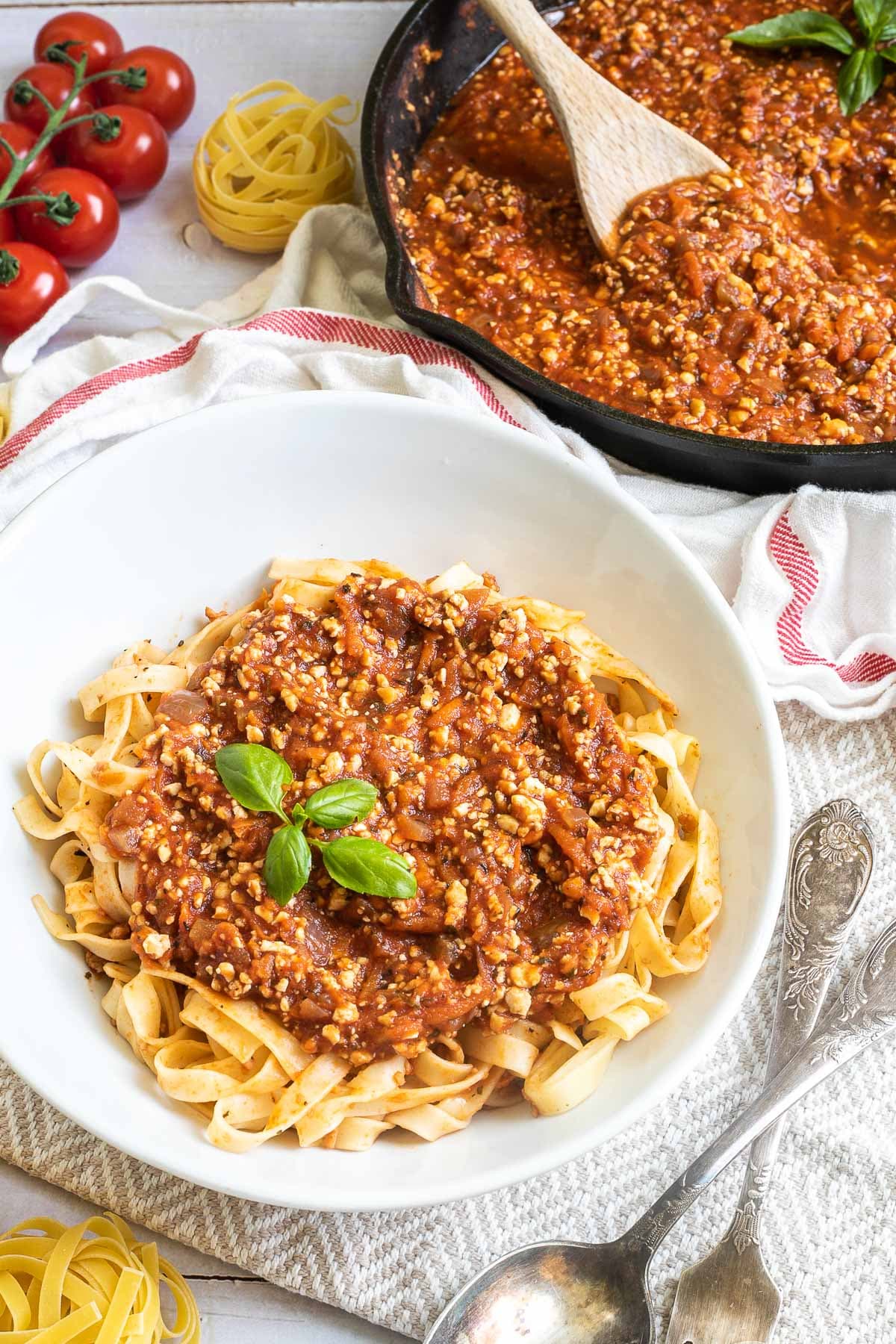 For more plant-based versions of the traditional bolognese, you can check out our easy vegan lentil lasagna, lentil bolognese, vegan spaghetti bolognese with cauliflower walnut meat, and the meatiest vegan bolognese that uses TVP. For even more pasta inspiration, explore our extensive section on vegan pasta recipes.
Jump to:
What to expect?
Our tofu bolognese stays true to its authentic roots with carrots and celery, offering a proper Bolognese experience. Yes, you need veggies as well. Bolognese is not a tomato sauce with basil and ground beef.
The crumbled tofu mimics the texture of ground beef, providing a satisfying bite without feeling heavy. Unlike processed alternatives, our recipe uses fully plant-based ingredients for a wholesome and nutritious meal.
The tofu crumbles serve as a blank canvas for the rich flavors infused into the dish. Pre-frying takes it a step further by adding delightful crispiness that allows the tofu to absorb the savory seasonings.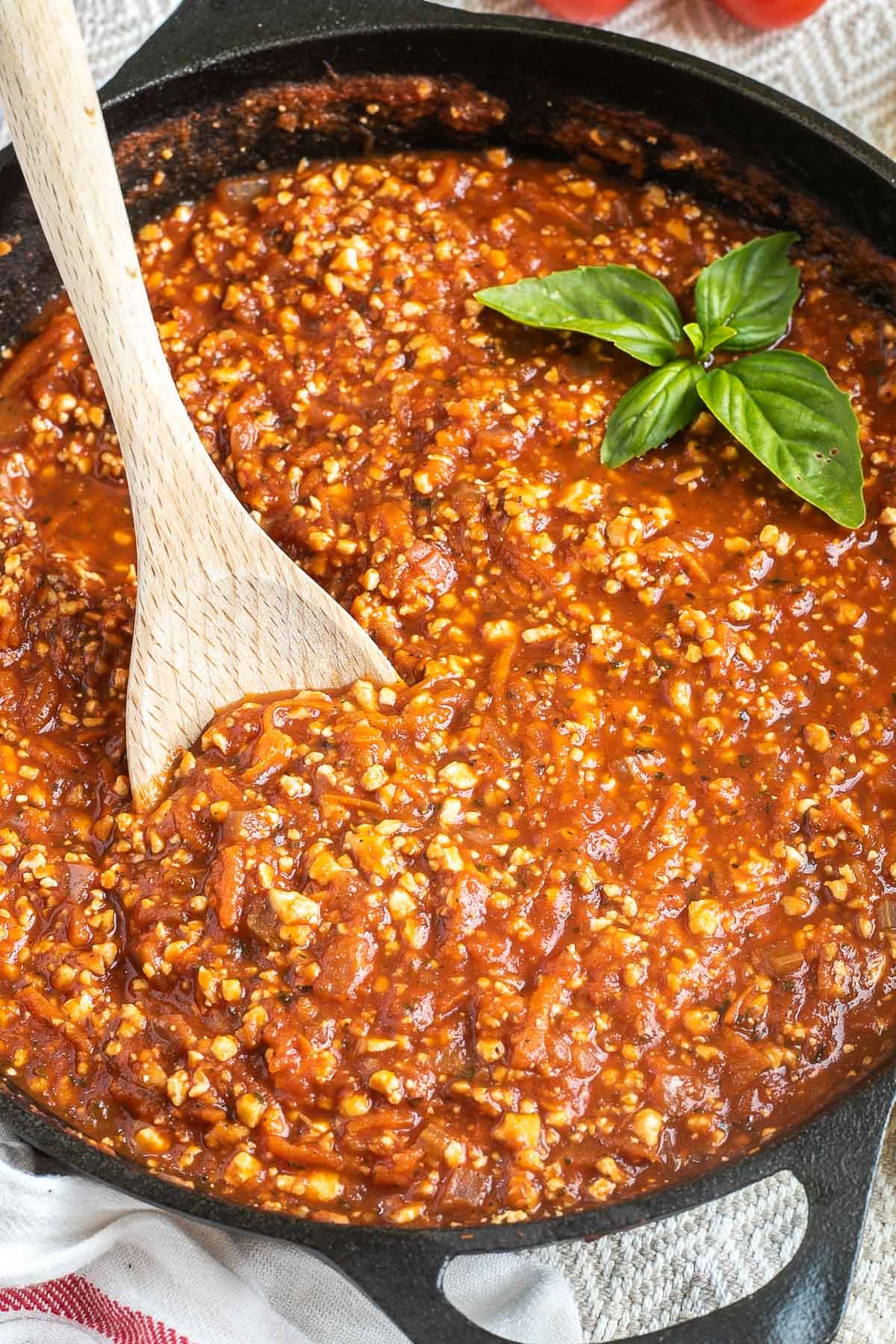 Ingredients
For this tofu bolognese, you will need a food processor to create coarse and even tofu crumbles to replicate the meaty texture of ground beef. To infuse even more flavor into the tofu, you can fry it in some oil and spices.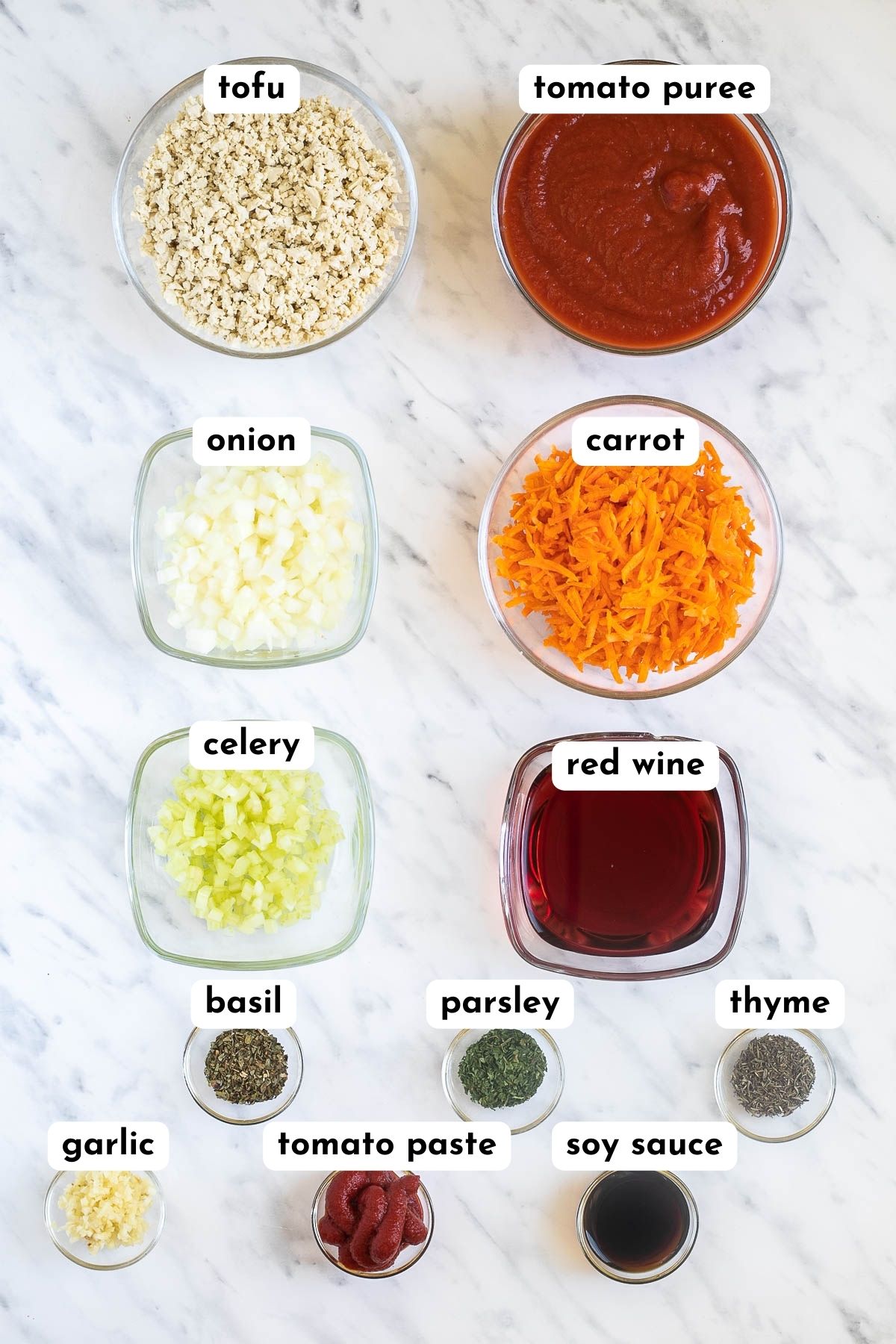 Tagliatelle pasta – While this is the traditional pasta shape for bolognese, you can also use spaghetti or fettuccine. Use gluten-free pasta if you need to.
Firm or extra-firm tofu
Olive oil
Onions
Garlic
Carrot
Celery stalks
Sieved tomato purée – You can probably find several types of tomato sauces in the stores. However, we recommend choosing a sieved tomato product, which is thicker and unseasoned.
Tomato paste – Different from puree, this is more concentrated.
Red wine – It adds to the sauce's luxurious consistency.
Soy sauce – for color, saltiness, and a kick of umami
Parsley
Dried thyme
Fresh basil
🛒 You can find detailed measurements for all ingredients in the printable version of the recipe card at the bottom of this post.
Instructions
Preparing the ingredients
Follow the instructions on the packet to cook your pasta. Make sure it is al dente and not overcooked.
Wash, peel, and chop the onions, cloves garlic, and celery stalks into small pieces.
Wash, peel, and finely grate a medium-sized carrot.
Pressing tofu
Use firm tofu and press it. We used our trusted TofuBud*, but you can choose any DIY method or tofu press. For more information, tips, and steps, read our complete guide on how to press tofu and our honest review of TofuBud.
There are ten ways to prepare tofu for cooking, but to turn them into vegan ground beef, you need to chop it into crumbles with a food processor.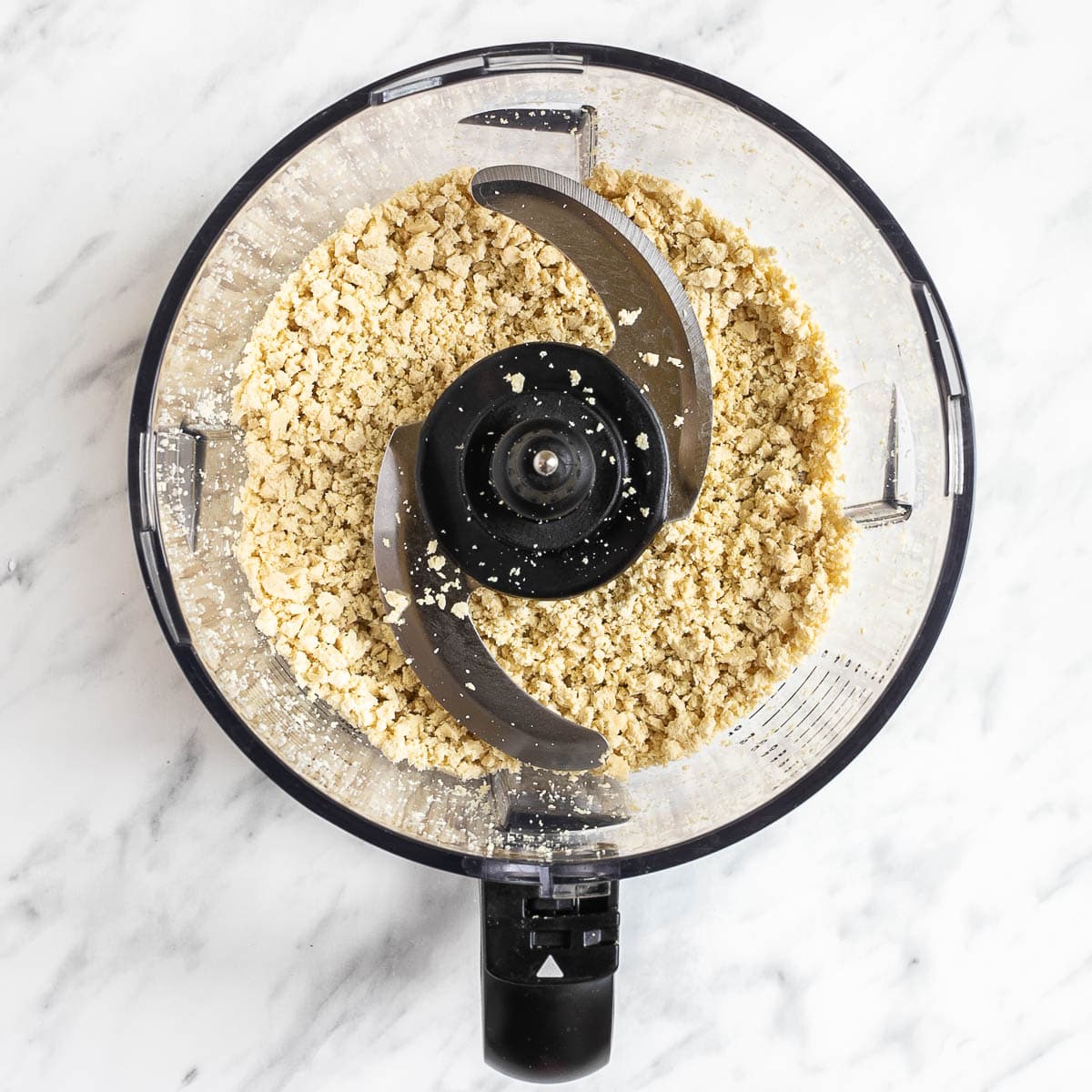 To have an even meatier texture, cook tofu before adding to the sauce. In a non-stick frying pan or large skillet, add 1 Tbsp of olive oil. Once it heats up, add the crumbled tofu and season it with salt and pepper. Pan-fry for about 5-10 minutes or until all the moisture has evaporated. Once ready, you can take it off the stove so it doesn't overcook and dry up. You can carry out this step simultaneously while preparing the tofu pasta sauce below.
Making tofu bolognese
In another non-stick pan, add olive oil and saute the onions for 2-3 minutes.
Add the minced garlic, grated carrot, and chopped celery stalks.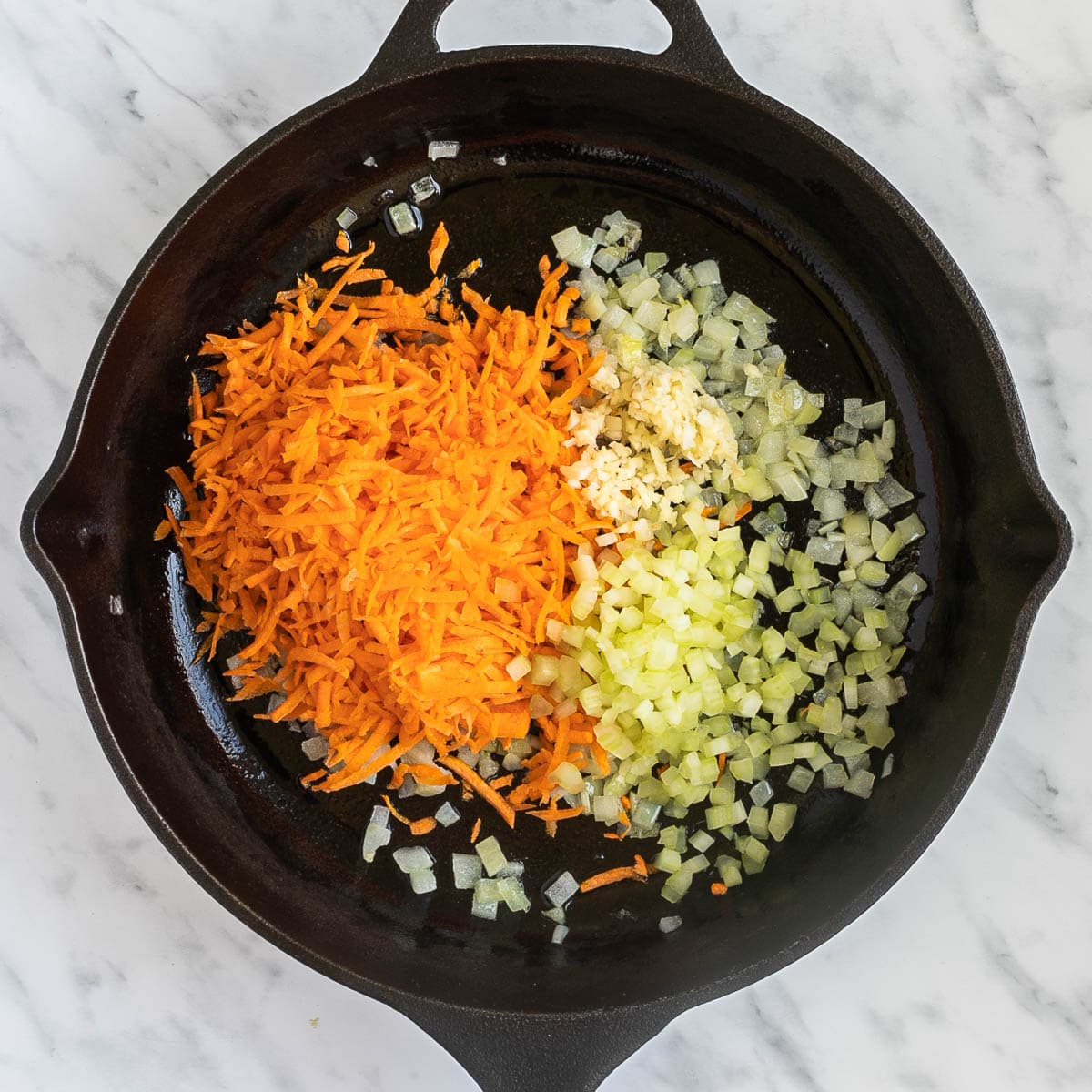 Season this base with salt and pepper along with the herbs – parsley, thyme, and basil. Cook on medium-high heat for a total time of around 5-7 minutes while stirring continuously. If the base sticks to the pan, scrape it with your wooden spatula. These caramelized sediments will add an extra layer of flavor to your sauce!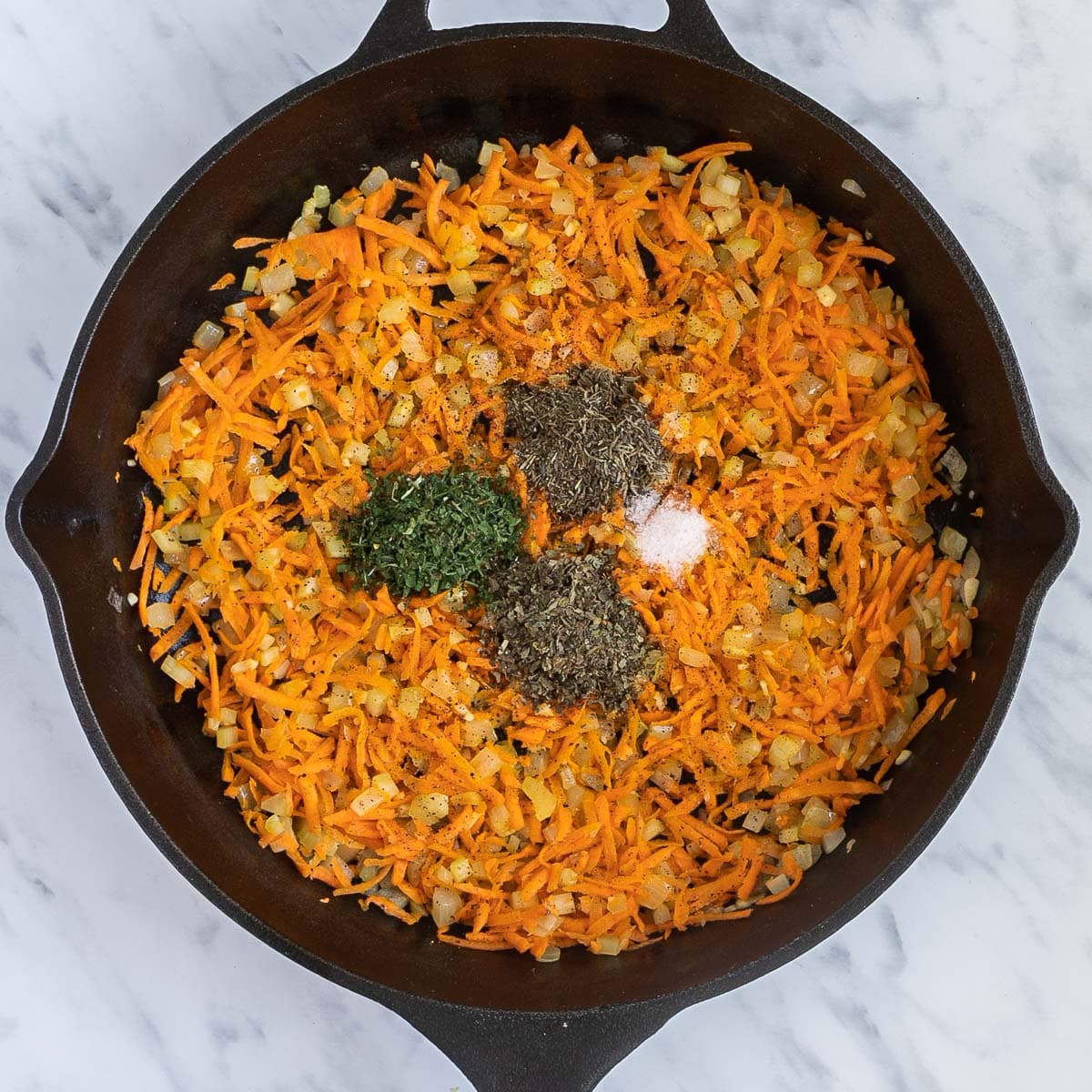 Add the red wine and cook until it's entirely evaporated, stirring the sauce at regular intervals.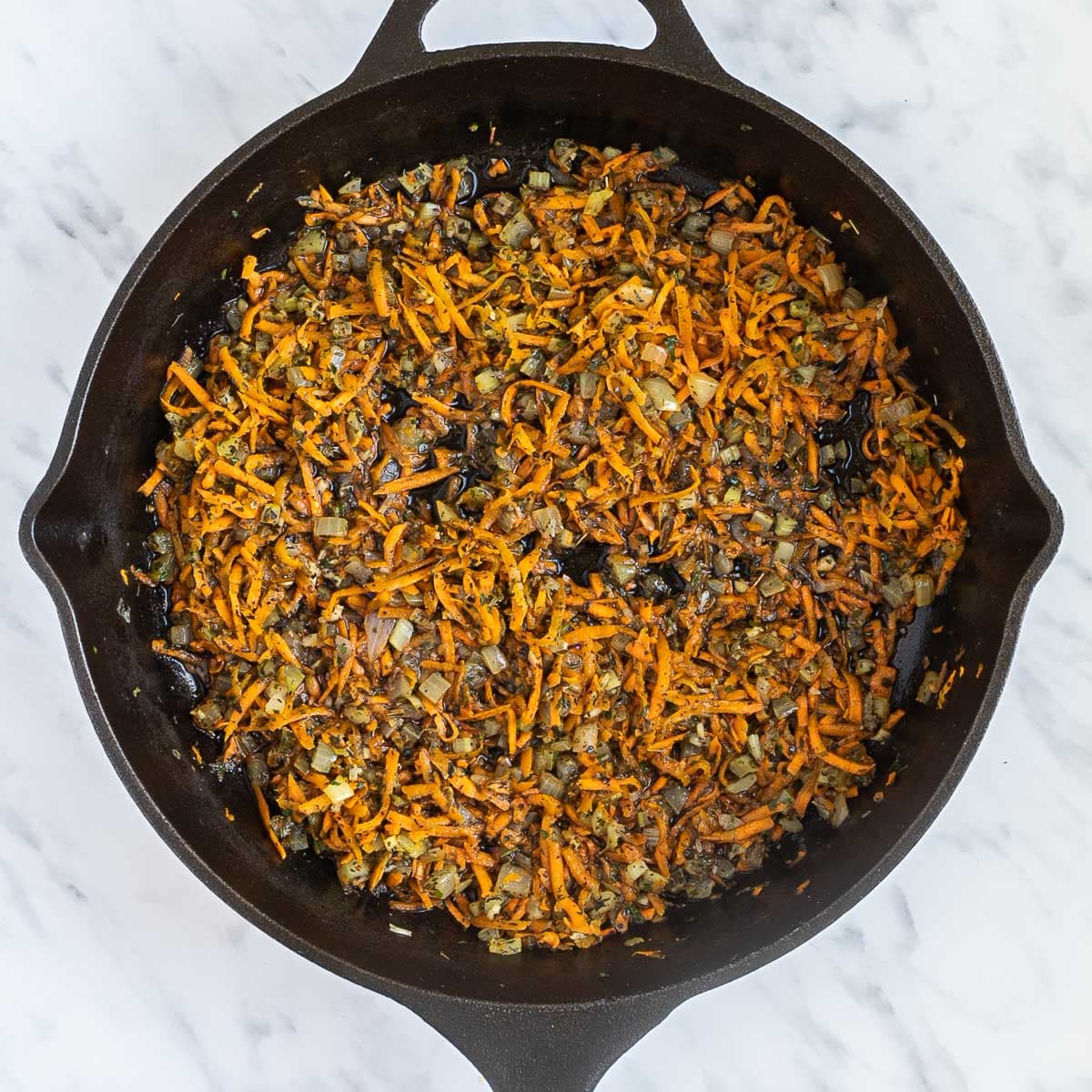 Incorporate the tomato paste, rich tomato sauce, and soy sauce into the base and stir well. Bring it to a boil and cook for another 2-3 minutes.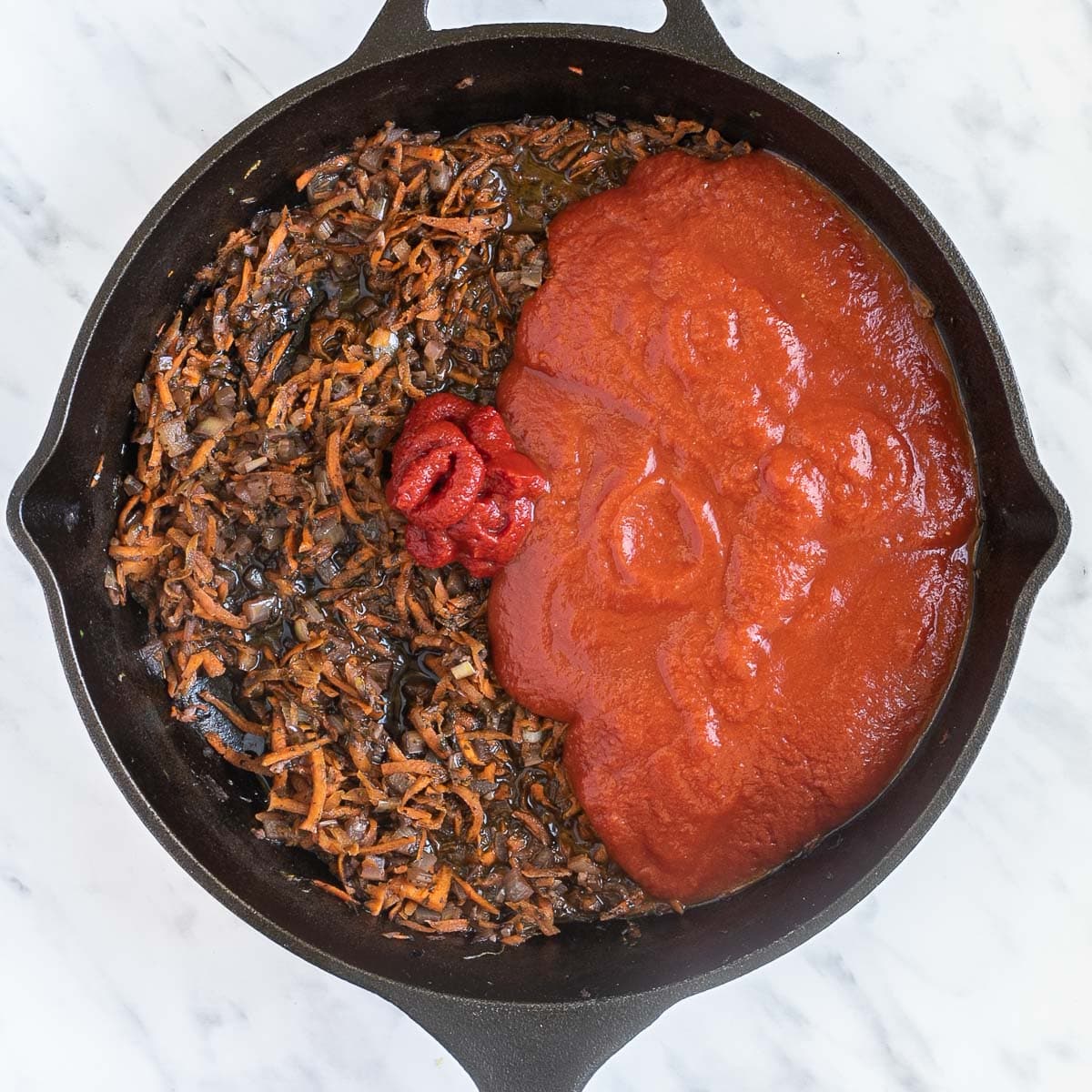 You can adjust the seasoning at this point and add more salt or pepper if needed.
Finally, add the prepared pan-fried tofu, mix well until it's glazed with the sauce, and cook for 2 minutes.
Cooking tips
Marinate the tofu crumbles – For an even richer flavor, consider marinating your tofu before pan-frying. Combine it with salt, pepper, soy sauce, olive oil, and other spices and herbs of your choice to incorporate an additional depth of flavor into the protein.
Feel free to adjust the seasonings – Add a pinch of crushed red pepper flakes, chili powder, a splash of balsamic vinegar, or some more herbs, depending on your preferences. A little garlic powder and onion powder might be a good idea too.
Vegan cheese – You can also garnish your bolognese with plant-based vegan parmesan cheese or nutritional yeast to complete the pasta experience.
Variations
Mushrooms – You can add some chopped button mushrooms for an element of earthiness.
Lentils – You can replace the tofu with the goodness of lentils in your sauce. You will find instructions for the same from our lentil bolognese
Cauliflower and walnut mince – If you aren't a big fan of tofu, you can also try our spaghetti bolognese, which uses cauliflower walnut meat as a fiber-rich substitute.
Textured Vegetable Protein (TVP) – TVP is the meatiest vegan ground beef currently available in the market, and we do love our meaty vegan bolognese with it.
Serving ideas
Give it a veggie twist: Serve your bolognese sauce with some zucchini noodles (zoodles) or spaghetti squash.
Gnocchi: Be bold, and prepare some homemade sweet potato gnocchi to go with it.
Bolognese bowl: Create a hearty grain bowl with either quinoa or brown rice and top it with vegan tofu bolognese. Garnish with fresh basil and your favorite vegan cheese shavings, and serve with salad on the side.
Side salad: In Italy, pasta is usually the first course. But if you serve it as the main meal, prepare a fresh green side salad or pickled vegetables.
How about some garlic bread?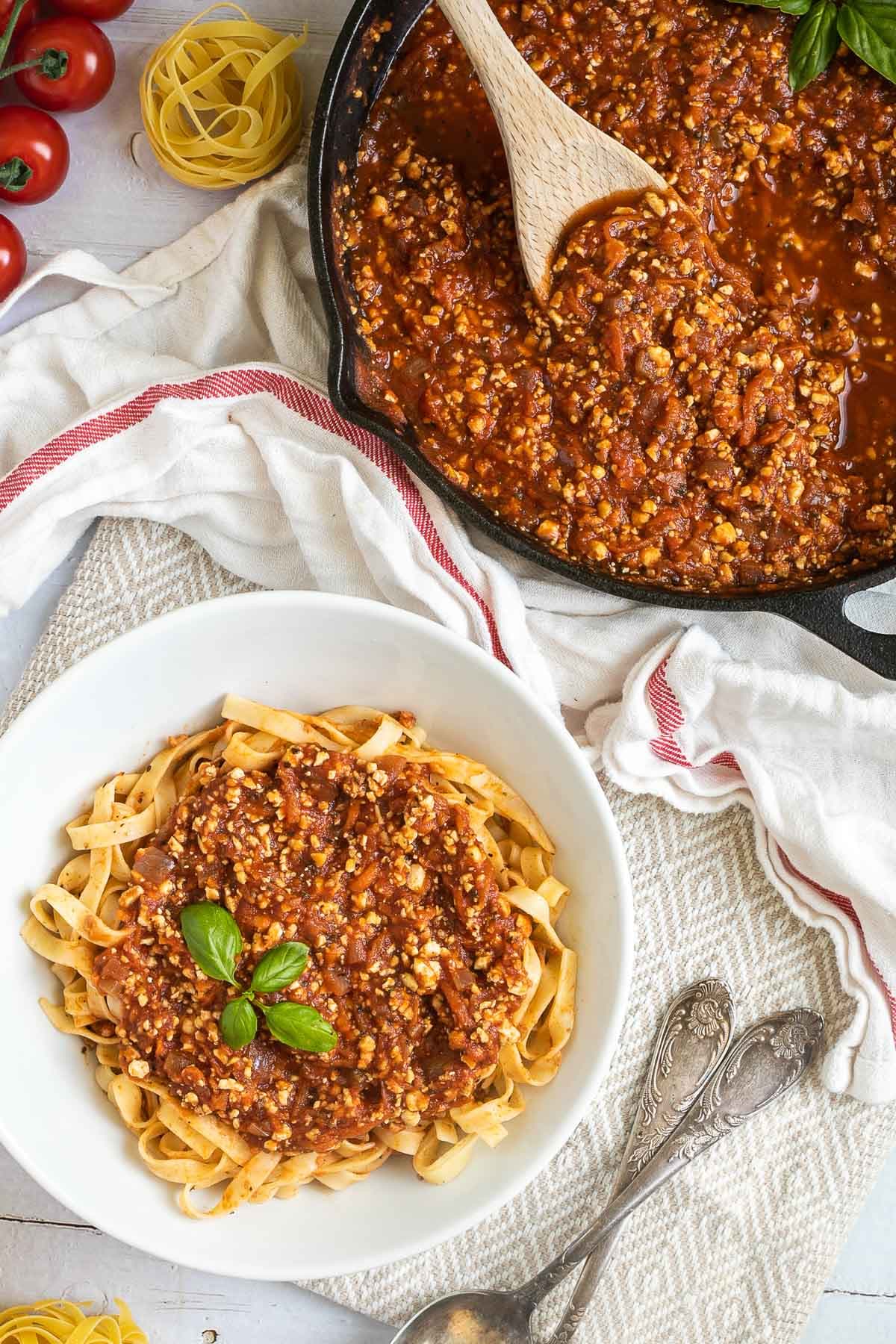 Storing tips
We recommend storing the pasta sauce separately from the cooked pasta. You can store the leftover tofu bolognese in an airtight container and put it in the fridge for up to 3 days. As days go by, the pasta may become soggy, and the sauce dries up.
Transfer it into a freezer-safe container for longer storage and put it in the freezer. It will last you about 3 months.
Just let it thaw to reuse and then reheat it on low flame. Add a little vegetable broth to bring back the original consistency and flavors.
FAQs
Why does my tofu bolognese taste bland?
If it tastes bland to your palate, adjust the seasoning and the amount of herbs used to give it a bolder flavor.
Does tofu bolognese taste better the longer you cook it?
Traditionally, meat-based bolognese benefits from long, slow cooking, taking around 3-5 hours to prepare. However, when working with tofu, it's important to note that it has different properties compared to meat. Tofu can easily dry out and become chewy if overcooked. That being said, while preparing a tofu bolognese, you can still simmer the sauce on low heat for an additional 10 minutes to enhance the infusion of flavors.
How do you make tofu absorb more flavor?
We don't think you need it for tofu bolognese, but to add more dimension to your tofu, you can use smoked tofu or make a simple tofu marinade using olive oil, soy sauce, and spices from the bolognese sauce. Let the tofu marinate for at least 30 minutes or even overnight in the refrigerator before incorporating it into your dish.
THANK YOU so much for visiting our website. Please comment below if you have tried this recipe. We LOVE hearing from you! If you loved the recipe, please don't forget to give us a ⭐⭐⭐⭐⭐ RATING. We appreciate all of our readers.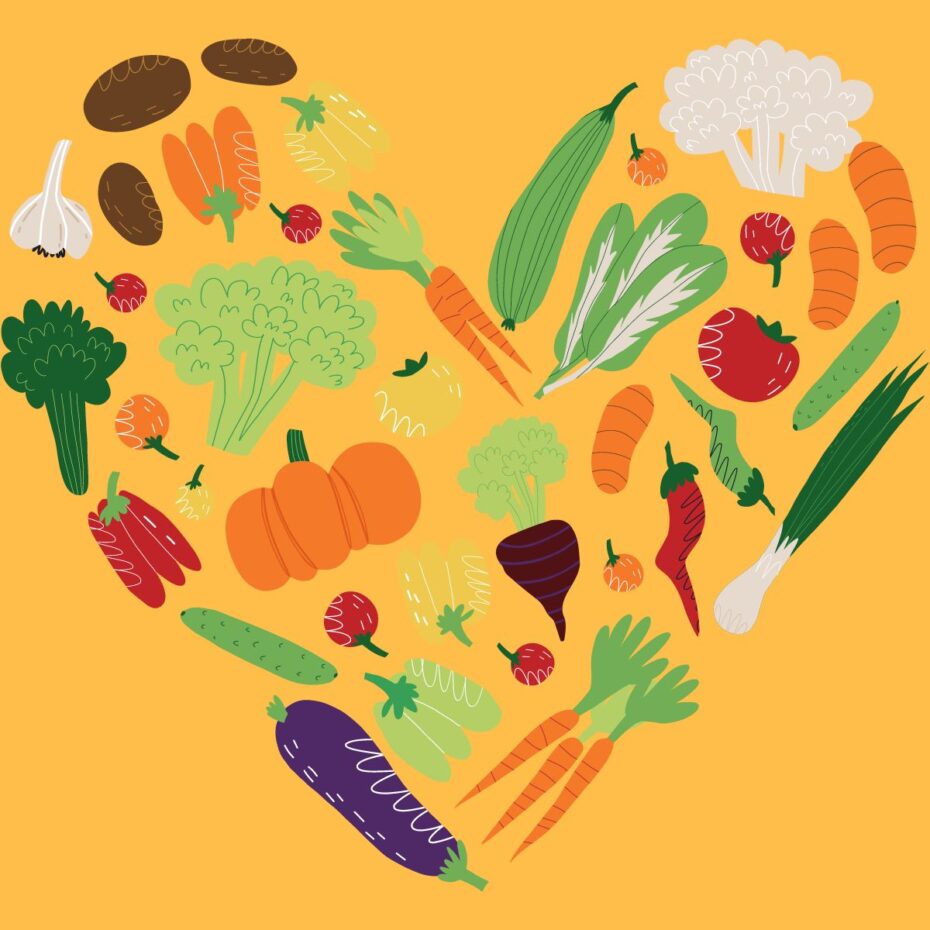 Tofu Bolognese
It is an easy recipe to make the classic Italian delight vegan. Our tofu bolognese is a 30-minute recipe that combines ingredients like rich tomato sauce, crumbled tofu, finely chopped veggies, and aromatic herbs and spices for a wholesome meal.
EXCLUSIVE 5-ingredient recipes for busy home cooks that are ready in 15 minutes!
Check out our Express Vegan Cookbook!
Instructions
Prepare the ingredients
Cook pasta according to packaging instructions.

Peel and chop onion, garlic, and celery stalk.

Press tofu to release excess moisture. In a food processor, chop tofu until it's crumbled.

In a frying pan add 1 Tbsp olive oil and add tofu crumbles. Season with a bit of salt and black pepper. Fry tofu until most of the remaining moisture is gone and it has a "minced meat" texture. It will take about 5-10 minutes (you can do this in parallel with making the sauce). Once ready, take it off the stove.
Making the tofu bolognese
Take a non-stick saucepan and add olive oil. On medium heat, saute onions for 2-3 minutes.

Add grated carrots, chopped celery stalks, and garlic. Season with parsley, thyme, basil, salt, and black pepper. Stir well and cook on medium-high heat for 5-7 minutes. It may stick to the bottom of the pan sometimes. Scrape it up with your wooden spatula, this will give more flavor to your sauce.

Add red wine and cook until it's almost entirely evaporated. Stir it time to time.

Add tomato paste, soy sauce and tomato puree. Stir well. Check for seasoning and add more salt and black pepper if needed. Bring to a boil and cook for 2-3 minutes.

Add the fried tofu crumbles. Stir well and cook for another 2 minutes.
Nutrition
Nutrition Facts
Tofu Bolognese
Amount Per Serving (1 serving)
Calories 613
Calories from Fat 135
% Daily Value*
Fat 15g23%
Cholesterol 83mg28%
Sodium 390mg17%
Potassium 1049mg30%
Carbohydrates 92g31%
Protein 25g50%
Vitamin A 3437IU69%
Vitamin C 20mg24%
Calcium 179mg18%
Iron 6mg33%
* Percent Daily Values are based on a 2000 calorie diet.