It is a super easy spinach lasagna recipe with a hearty marinara sauce and a spinach ricotta filling. Layer them up, ready, set, and bake! You won't miss any vegan ground beef substitutes here. This veggie lasagna recipe will be just as delicious and hearty as any meaty vegan lasagna would be.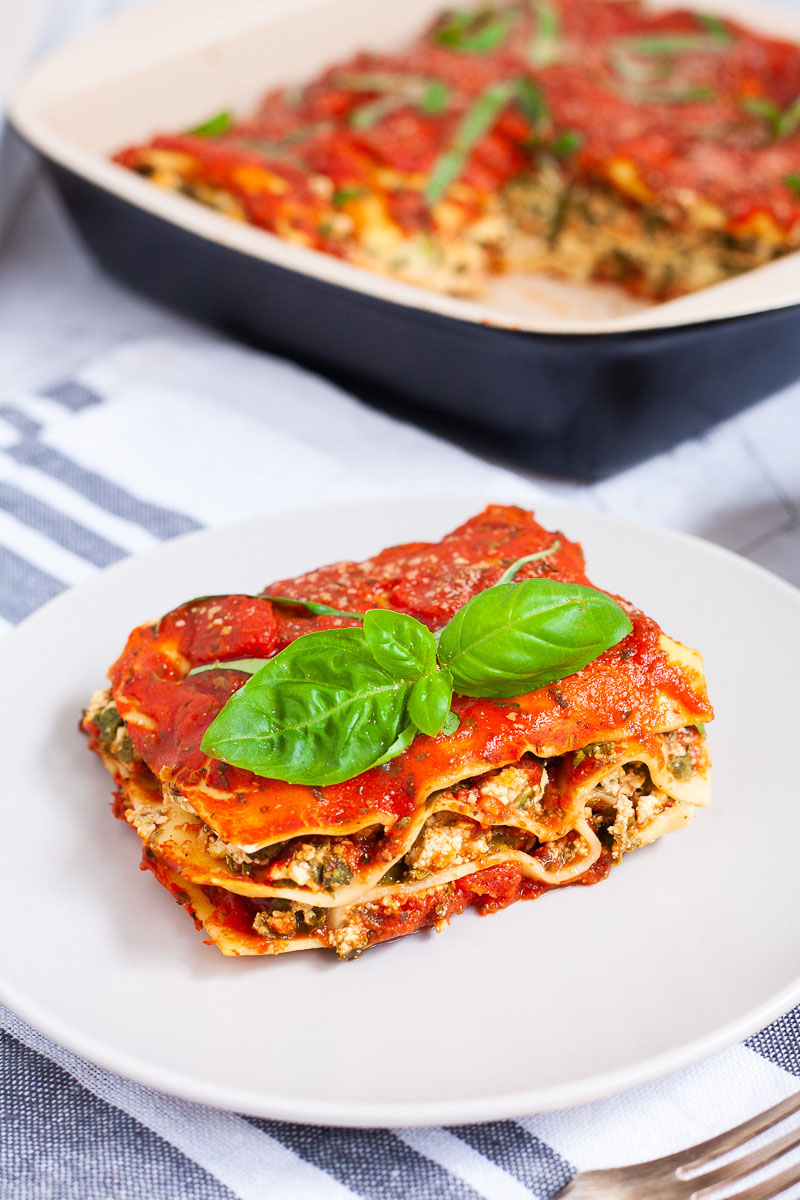 If you love casserole-type dishes, check out our Vegan Shepherd's Pie recipe, or our Vegan Eggplant Parmesan recipe or our Vegan Moussaka recipe. If you are looking for more spinach recipes, browse through our Vegan Spinach Recipes gallery.
What to expect from a spinach lasagna?
Lasagna or lasagne is a popular casserole-type Italian pasta dish where there are 3 alternating layers baked with melted cheese on top. The traditional recipe consists of:
ground beef cooked in a bolognese ragú sauce,
bechamel sauce,
dry or fresh lasagna pasta sheets.
So when you hear spinach lasagna, you might start thinking of where spinach would fit with the above. Is it just a veggie addition to the ragú or is it used instead of the pasta sheets like in eggplant lasagna or cabbage lasagna? It is neither of these things. Spinach lasagna is actually a vegetarian version of the classic lasagna where ground beef is substituted with spinach and ricotta filling.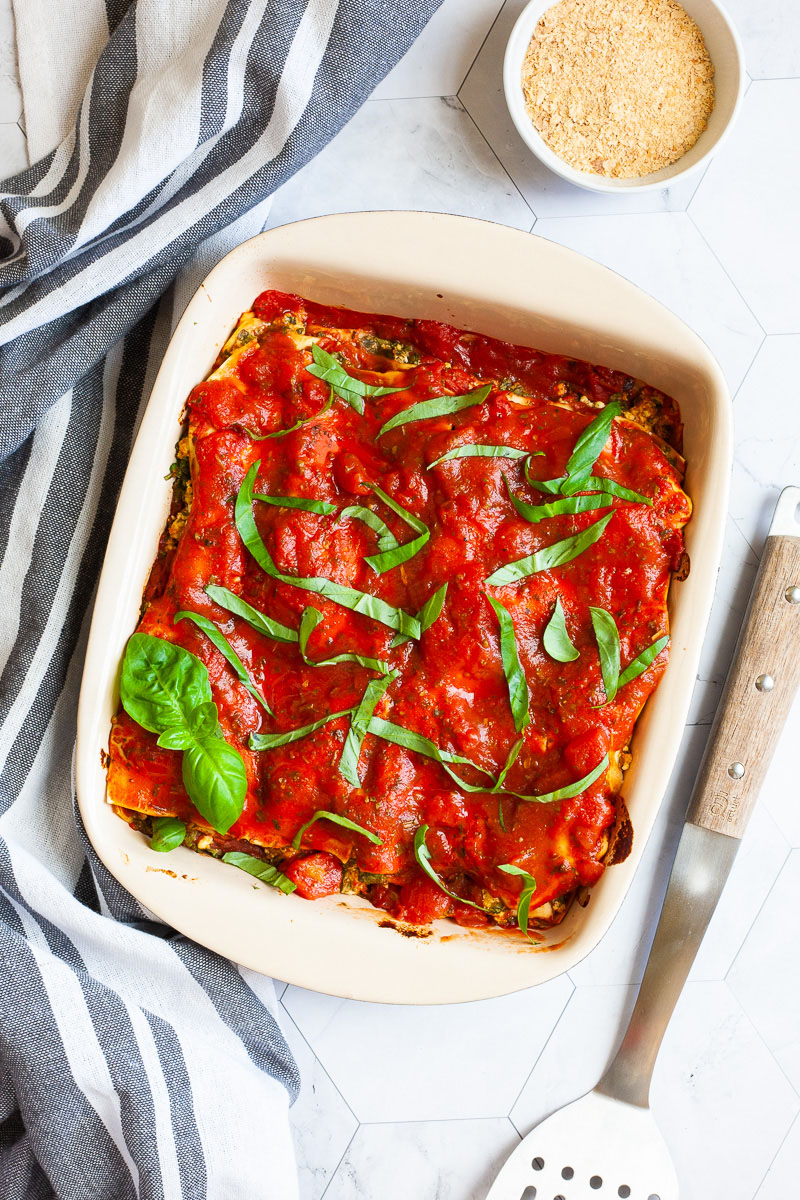 What is vegan spinach lasagna made of?
Spinach lasagna is already a vegetarian recipe so we are one step closer to make it vegan. We have a super easy Classic Vegan Lasagna recipe where we pulled some inspiration from. So what do we need to make a yummy vegan spinach lasagna?
Marinara sauce

-> We made our Vegan Marinara Sauce and cooked it without adding any vegan ground beef alternative.

Bechamel sauce

-> We turned our Vegan Cashew Alfredo Sauce into a truly creamy and thick vegan white sauce. If you need a nut-free version, make our Vegan Bechamel Sauce recipe instead.

Ricotta cheese

-> We used firm tofu in place of ricotta. Of course, you can use any store-bought dairy-free ricotta products as well.

Fresh or frozen spinach leaves

-> If you use frozen leaves, make sure to thaw it and squeeze the water before adding it to the lasagna.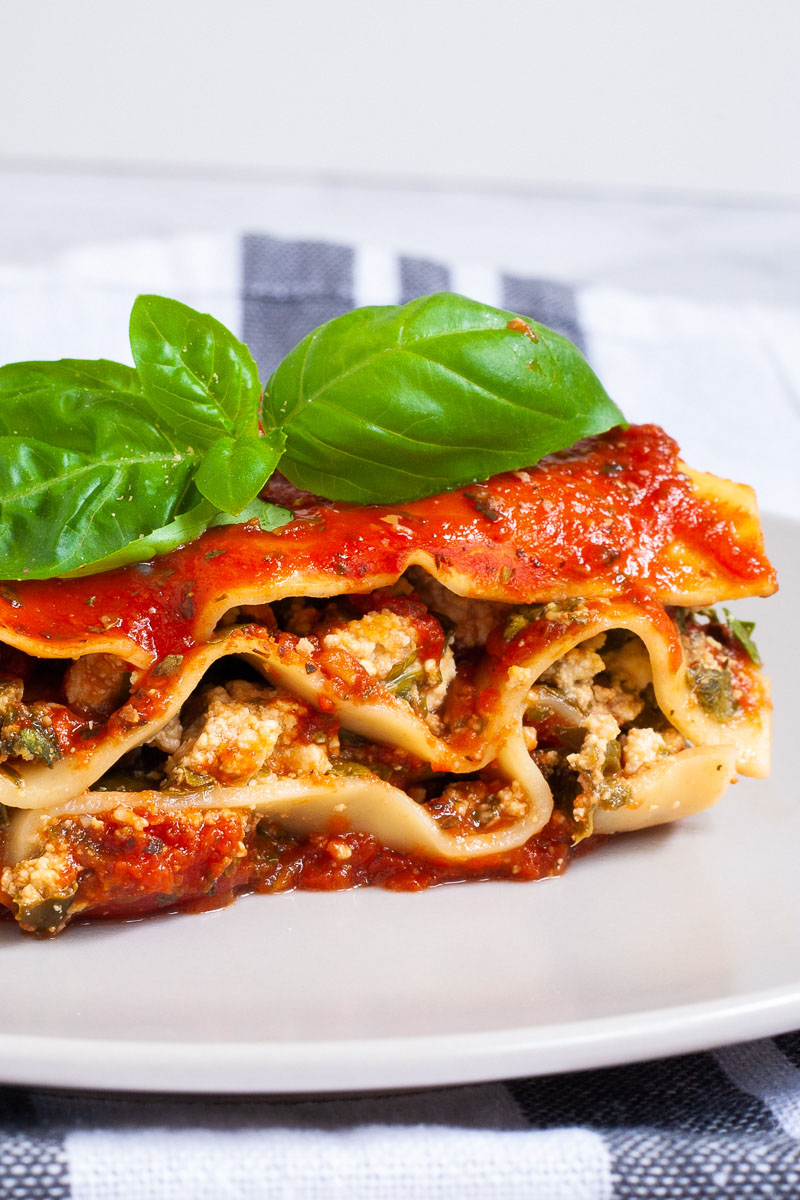 How to make marinara sauce for lasagna?
Heat-up your frying pan and let's make our Homemade Vegan Marinara Sauce.
Saute onion and garlic. – Cook the chopped onion and the finely chopped garlic on olive oil.
Add tomatoes. – When the onion and the garlic is soft and cooked, add canned chopped tomatoes and canned tomato sauce.
Spice it up. – Add dried basil, oregano, salt, and pepper. (If you use fresh ingredients, chop them finely.)
Bring to boil. – On low/medium heat, bring to boil so that the herbs and spices are activated.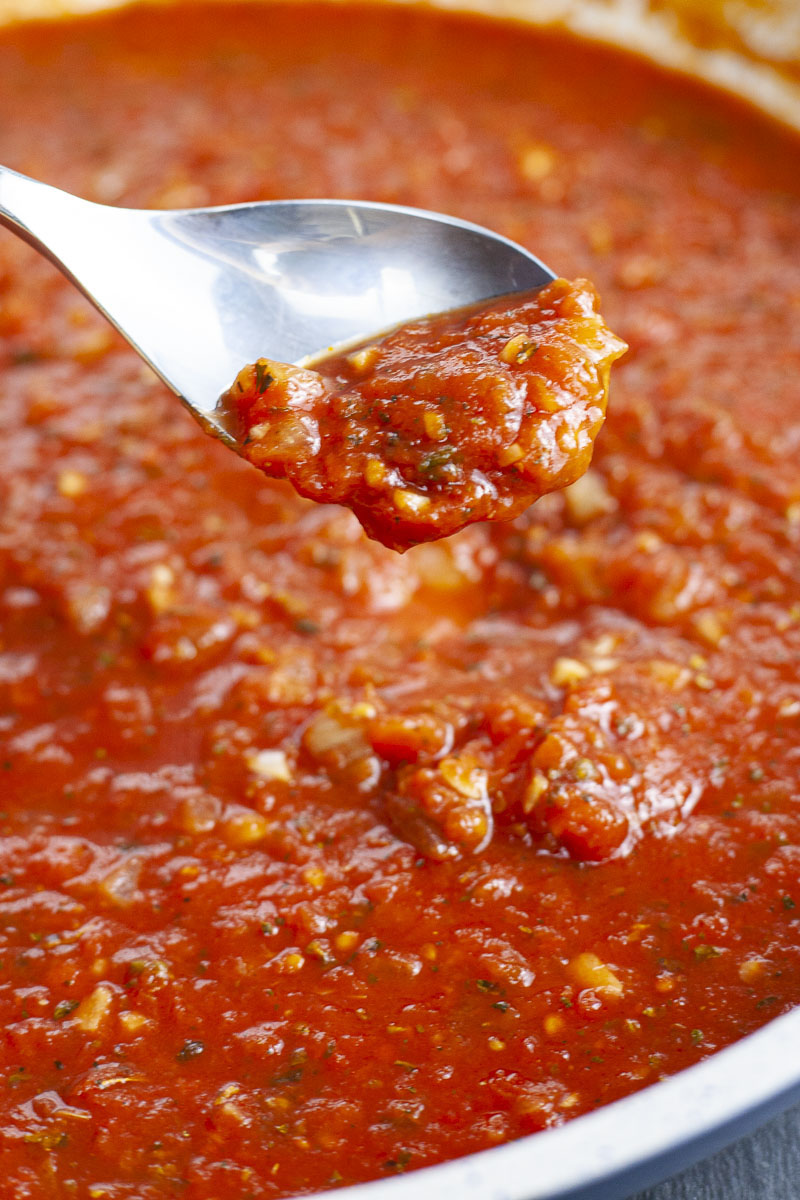 How to make a vegan spinach ricotta filling?
Get your blender, food processor or immersion blender and let's make a spinach ricotta filling starting with our Vegan Cashew Alfredo Sauce recipe. I promise you it will be super quick and easy, you'll see.
Boil water in a kettle and soak cashews in hot water for 5-10 minutes. You can boil water on the stove and kind of cook the cashews for 5 minutes. When the time is up, drain it.
Add the soaked cashews, one clove of garlic in whole, dairy-free milk (we used our Homemade Cashew Milk here) and seasoning (nutmeg, nutritional yeast, salt, and pepper) to your blender or food processor. (photo #1)
Blend them until creamy. (photo #2)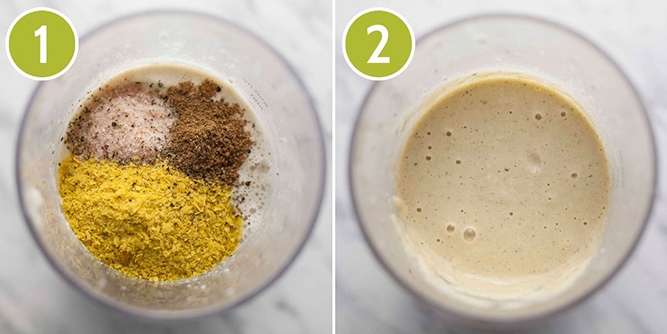 Use a firm tofu and press it. We used our trusted TofuBud*, but you can choose any DIY method or tofu press. Pat it dry with a paper towel.
Take a large mixing bowl and crumble tofu with your fingers.
Add the cashew white sauce. Stir and mix well.
Wash the fresh spinach leaves and chop them in a food processor. Add it to your mixing bowl.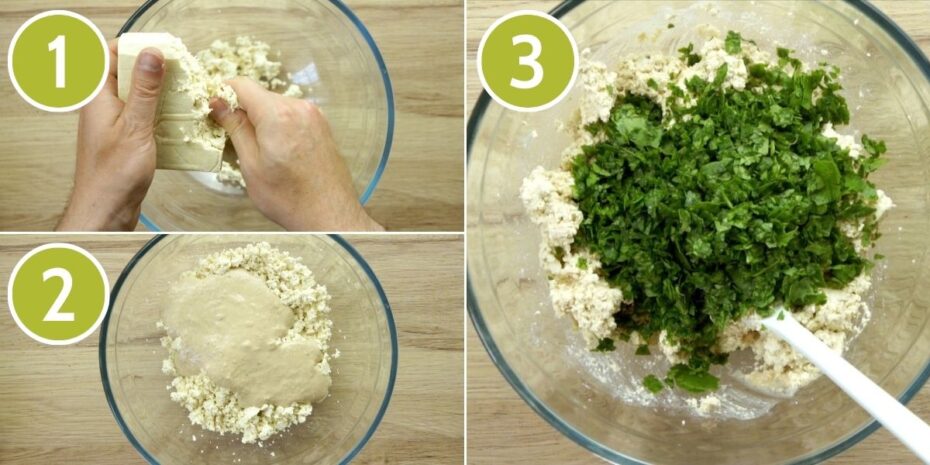 How to layer a vegan spinach lasagna?
Let's talk about metrics so that you know how much vegan lasagna you will get at the end.
The recipe yields

4 servings

.
We used a

9 x 7 x 3 inch

(23 x 18 x 5 cm) large oven-safe dish.
We made 3 layers of lasagna pasta, 4 layers of marinara sauce and 3 layers of spinach ricotta filling.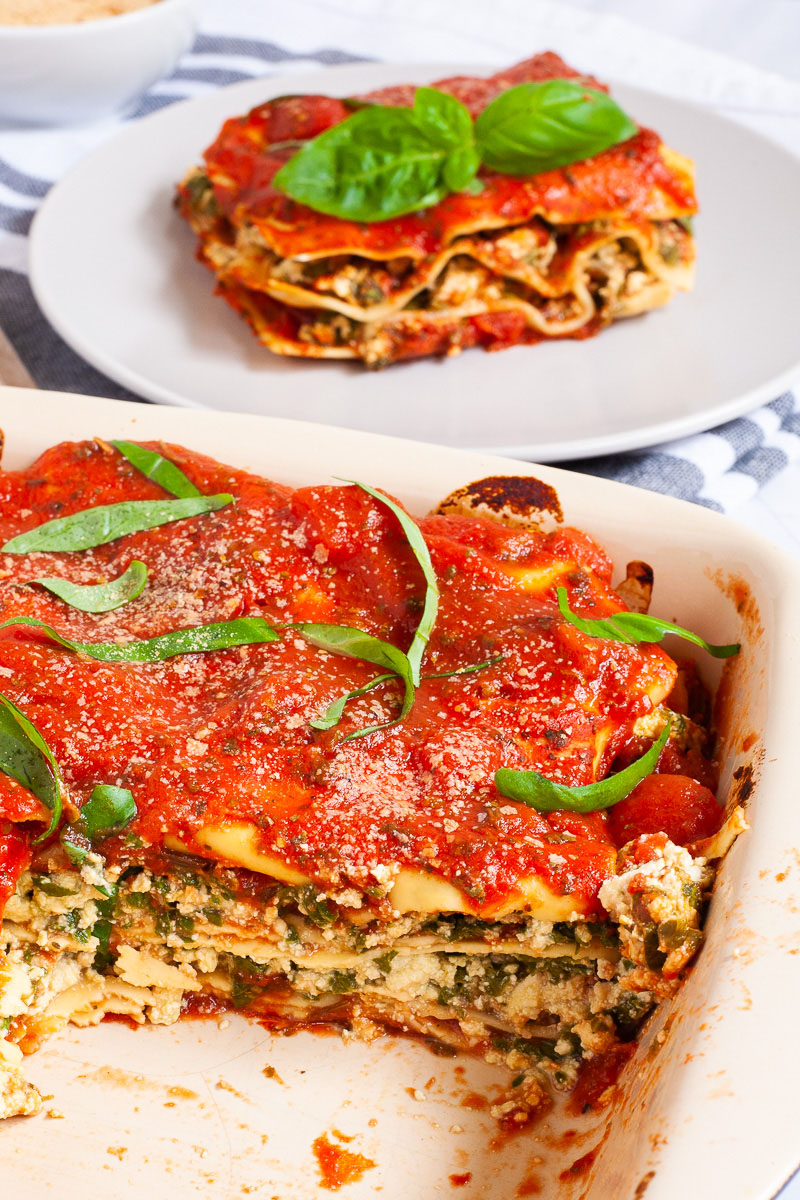 Ready, layer, bake! You can watch the recipe video or follow the below steps:
You don't want your pasta layer at the bottom as it may stick to it while baking. So start with a thin layer of marinara sauce.
Next layer is the lasagna pasta.
Then marinara sauce again.
Next up the vegan spinach ricotta filling.
Then pasta again, marinara next and spinach ricotta filing again and so on.
The last layer should be marinara sauce. You can sprinkle it with grated vegan cheese or vegan parmesan or more nutritional yeast.
Pre-heat oven for 400 Fahrenheit (200 degrees Celsius) and bake your vegan spinach lasagna for 30 minutes.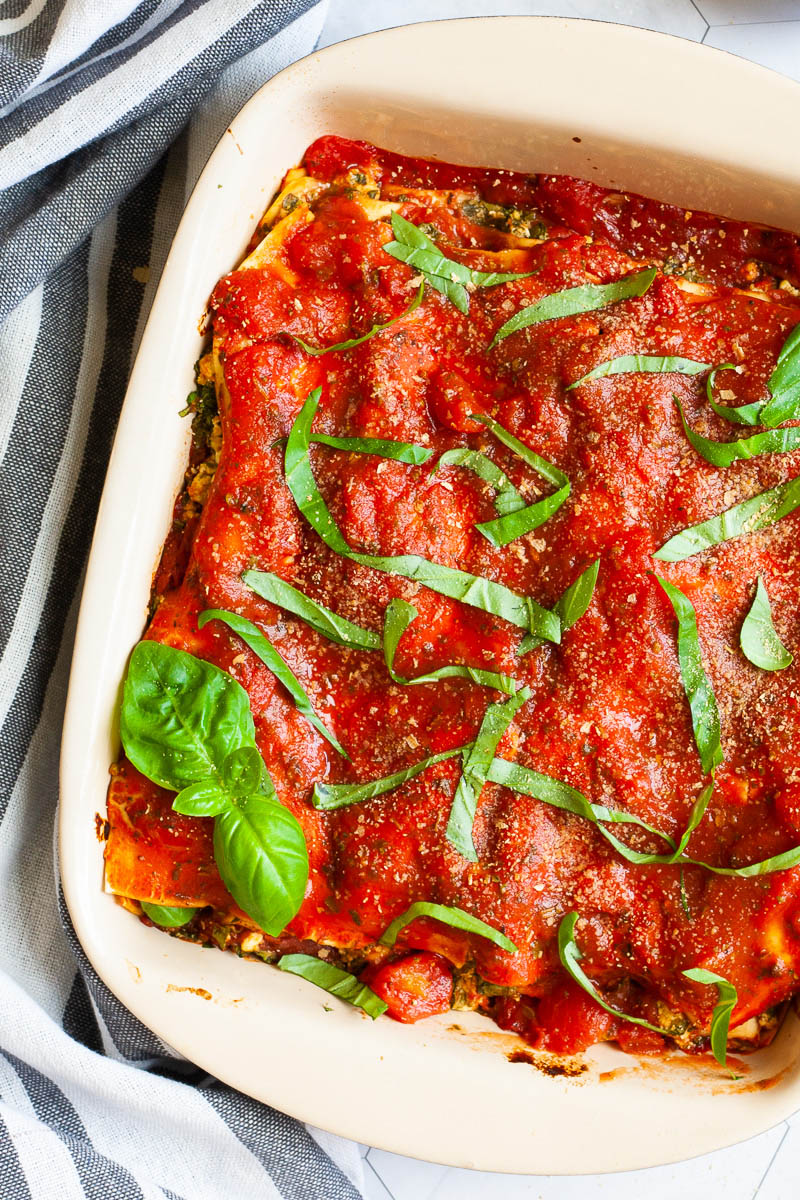 FAQs and substitutions
How to store lasagna?
All casserole-type dishes are great for batch cooking. You can easily store it in the fridge for 3-4 days without any problem.
Can you freeze it?
Store any leftovers per serving (in an air-tight container) in a freezer and thaw whenever you need it.
Can I use frozen spinach instead of fresh leaves?
Absolutely. Let frozen spinach thaw before adding them to your filling. It is important to squeeze any excess water out of it otherwise it will thin your filling significantly. Usually on bag of frozen spinach is 10 oz (280g), which is equal to 1 pound (450g) of fresh leaves. In this recipe we used 4 oz (120g) fresh spinach leaves, so you can substitute it with 2.5 oz (75g) frozen spinach.
This Vegan Spinach Lasagna recipe is meat-free, dairy-free and egg-free. This recipe is WFPB-friendly 1) if you cook the onions for the marinara sauce in water or in veggie broth or directly in the tomato sauce and 2) if you use oil-free dairy-free cheese. This recipe is only gluten-free if you use gluten-free lasagna pasta sheets.
More vegan spinach recipes
You can browse through our Vegan Spinach Recipes or check out these.
More vegan casserole-type recipes