For a light and delicious soup that you can whip up and have ready in just 20 minutes, escarole soup does the trick! This one-pot soup is simple to make and does not require any complicated equipment or recipes. It is both flavorful and filling, creating a perfect addition to your lunch or dinner table!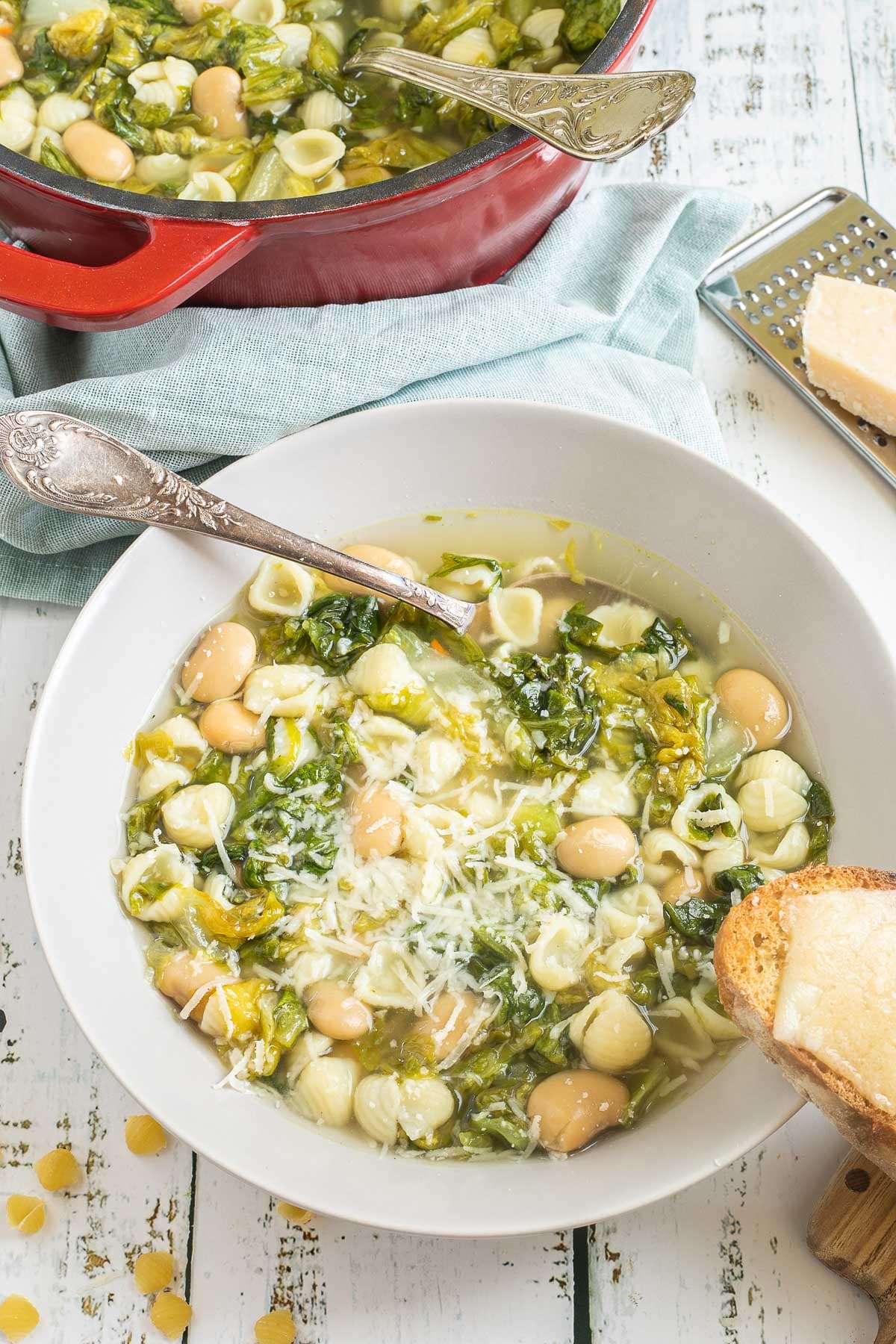 For more delicious vegetable soup recipes to fill you up without weighing you down, try our minestrone soup, vegetarian goulash, Mediterranean cabbage sweet potato soup, or lemony white bean soup. You can also find more hearty recipes in our vegan soups recipe gallery.
Jump to:
What to expect?
This easy-to-make soup combines escarole (a leafy green vegetable similar to lettuce) with white beans, pasta, garlic, veggie broth, and lemon juice to create a light yet filling vegetable soup. While the escarole naturally adds a bitter taste to the soup, the addition of lemon juice, along with the other ingredients, helps to balance out the flavors.
Our escarole soup recipe is quick and easy to make, only requiring 5 minutes of prep time and 15 minutes of cooking time. However, we find that the longer the soup rests, the more the flavors set in. Thankfully, this soup stores and freezes quite well, so you can enjoy it at a later time!
Here is why you will love this recipe:
It is effortless to make, only requiring a few steps to prep your ingredients and a few steps to cook it.
It is hot and ready in just 20 minutes, making for a perfect last-minute lunch or dinner.
It is a one-pot meal using equipment you likely already have at home.
It uses simple ingredients, most of which are already in your pantry or are easy to find in grocery stores.
It is super light, full of flavor, and tastes even better the following day!
Ingredients
This escarole soup recipe requires minimal ingredients, many of which you likely already have in your pantry. Below we also provide some alternatives to customize your soup to your preferences!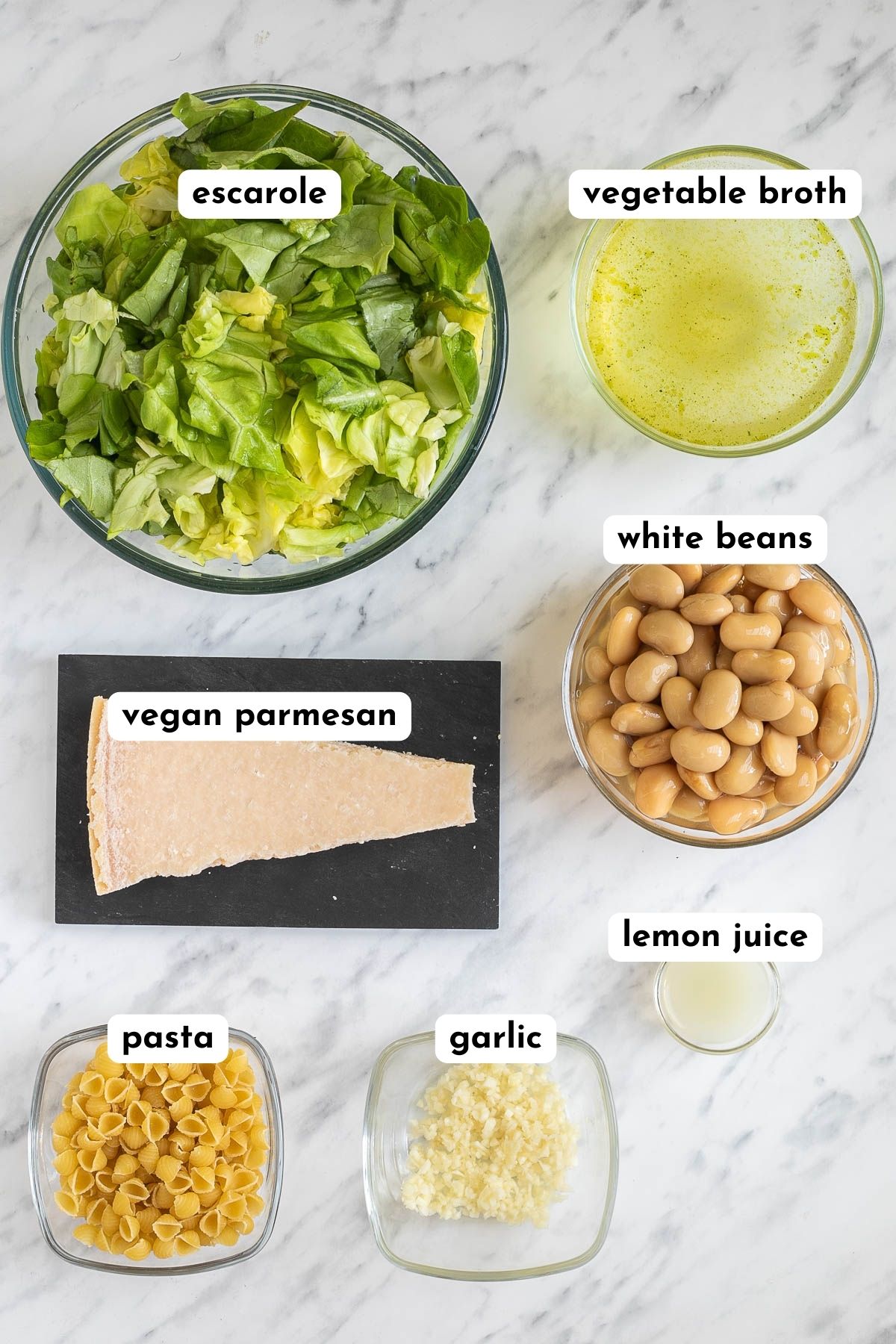 Escarole (fresh) – Kale, chard, and endives are the closest substitutes.
Olive oil
Garlic cloves
Vegetable broth – You can also use vegetable stock.
Small pasta shells – We used dry conchas.
Cannellini beans – You can also use other white beans such as lima beans (a/k/a butter beans), navy beans, or Great Northern beans.
Lemon juice (freshly squeezed) – This helps to cut the bitterness of the escarole.
Salt and pepper
Parmesan cheese (optional)
🛒 You can find detailed measurements for all ingredients in the printable version of the recipe card at the bottom of this post.
Instructions
Preparing ingredients
Wash the fresh escarole thoroughly. Cut it into even squares.
Peel and finely chop the garlic cloves.
If you use canned white beans, drain the liquid. If you use dry beans, pre-cook them separately.
Cook the pasta shells per the package instructions, then drain.
Making escarole soup
Heat a stockpot or Dutch oven over medium-low heat and add the two tablespoons of olive oil. Add the finely chopped garlic and cook for 2-3 minutes. Stir frequently to prevent the garlic from burning.
Add the chopped escarole and season with salt and black pepper to taste. Stir well.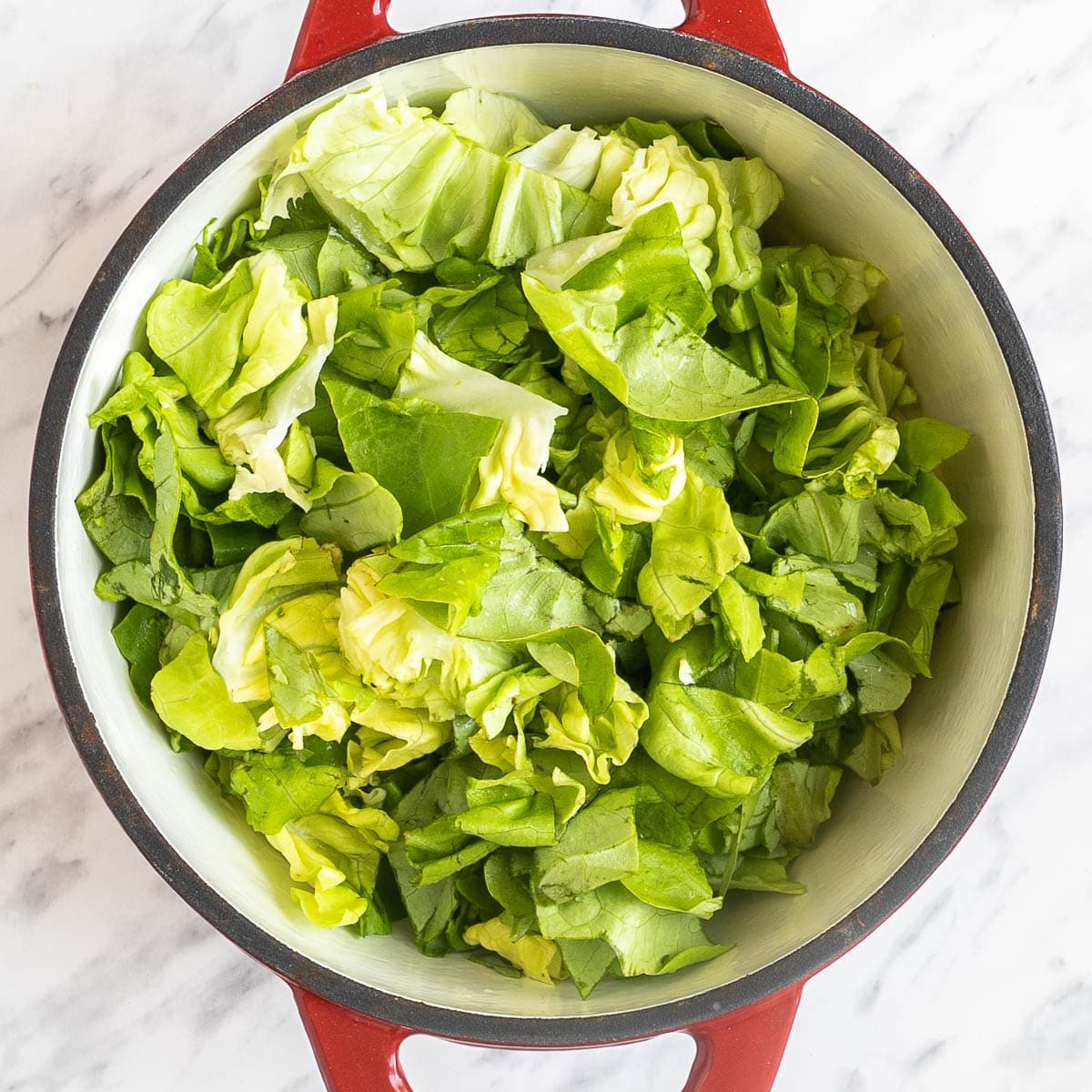 Cook for 2-3 minutes until the escarole wilts to half its size.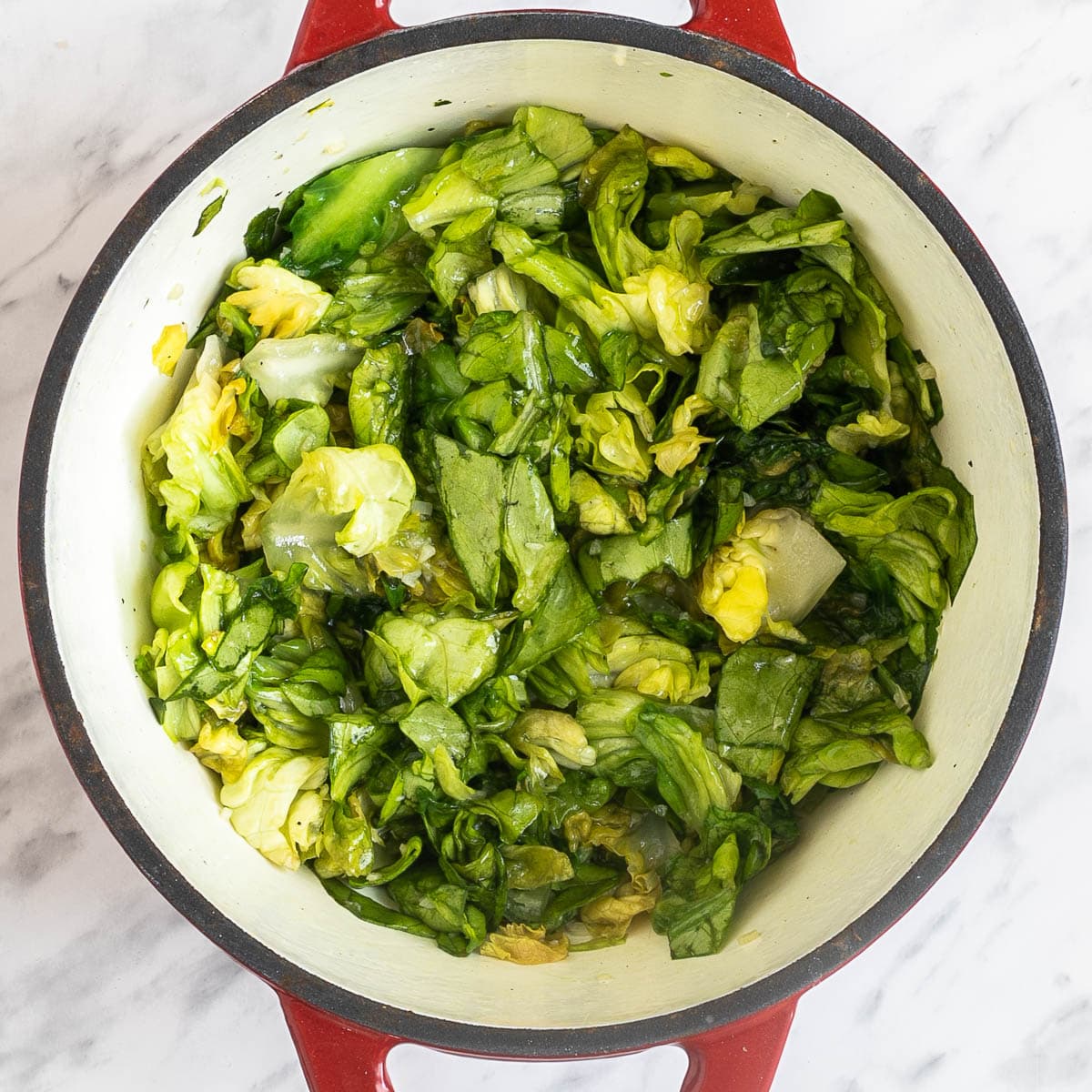 Next, add the vegetable broth and bring it to a boil.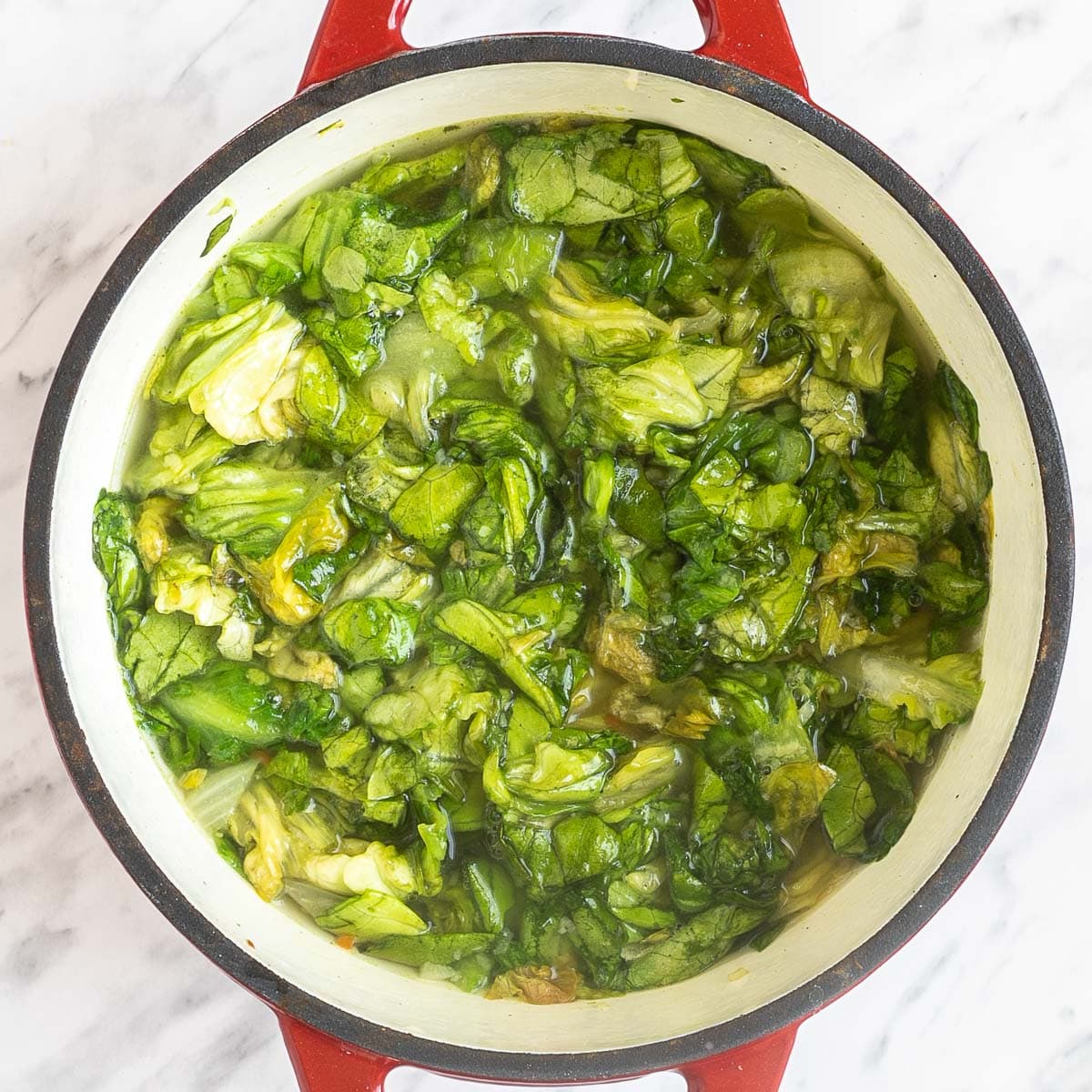 Add the pre-cooked pasta, drained white beans, and lemon juice. Stir well, then simmer for a couple of minutes.
Cooking tips
Stir the garlic frequently – To prevent the garlic from burning after adding it to the stockpot, stir it often.
Precook the beans – If using dry beans versus canned beans, precook them and add them to the soup once they are soft. Cooking and draining them in advance eliminates the foam typically released into the cooking water when beans are cooked dry.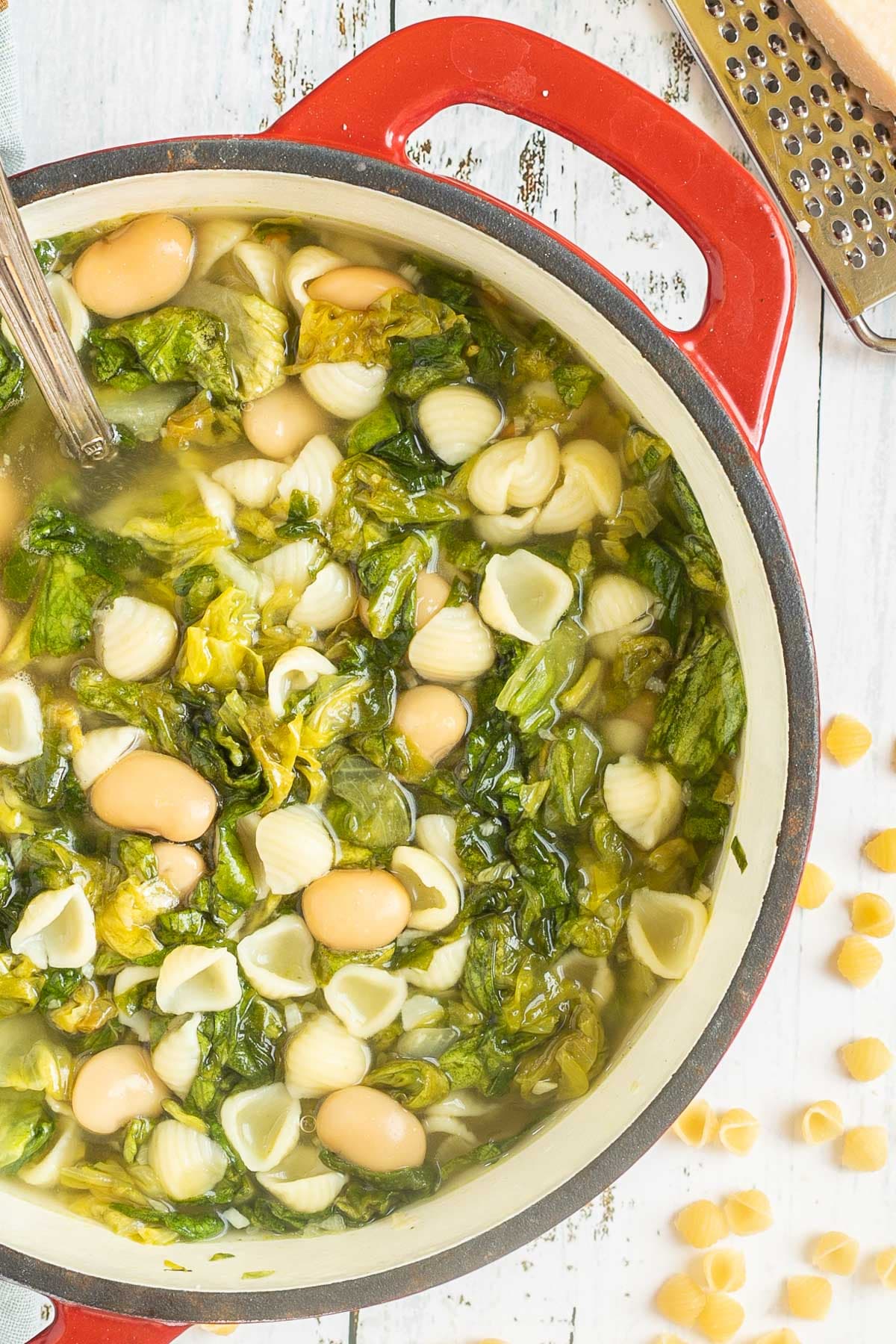 Variations
You can customize this escarole white bean soup in many ways to please your taste buds. Try one of these many variations next time you make it:
Other vegetables – Swap out the escarole for other leafy green vegetables such as spinach, kale, Swiss chard, or collard greens. You can also add veggies such as potatoes, celery, onion, or leek.
Other beans – You can replace or add to the cannellini beans with other white beans such as navy beans, Great Northern beans, or lima beans. You can also use chickpeas.
Cooked rice – Swap out the beans and add pre-cooked white or brown rice.
Different pasta – We prefer small shell pasta for this recipe, but other pasta works just as great! Try your soup with macaroni elbows, orzo, penne, fusilli, farfalle, or whatever other pasta you have in your pantry.
Additional herbs – In addition to the garlic, you can add thyme or fresh parsley to give it more flavor.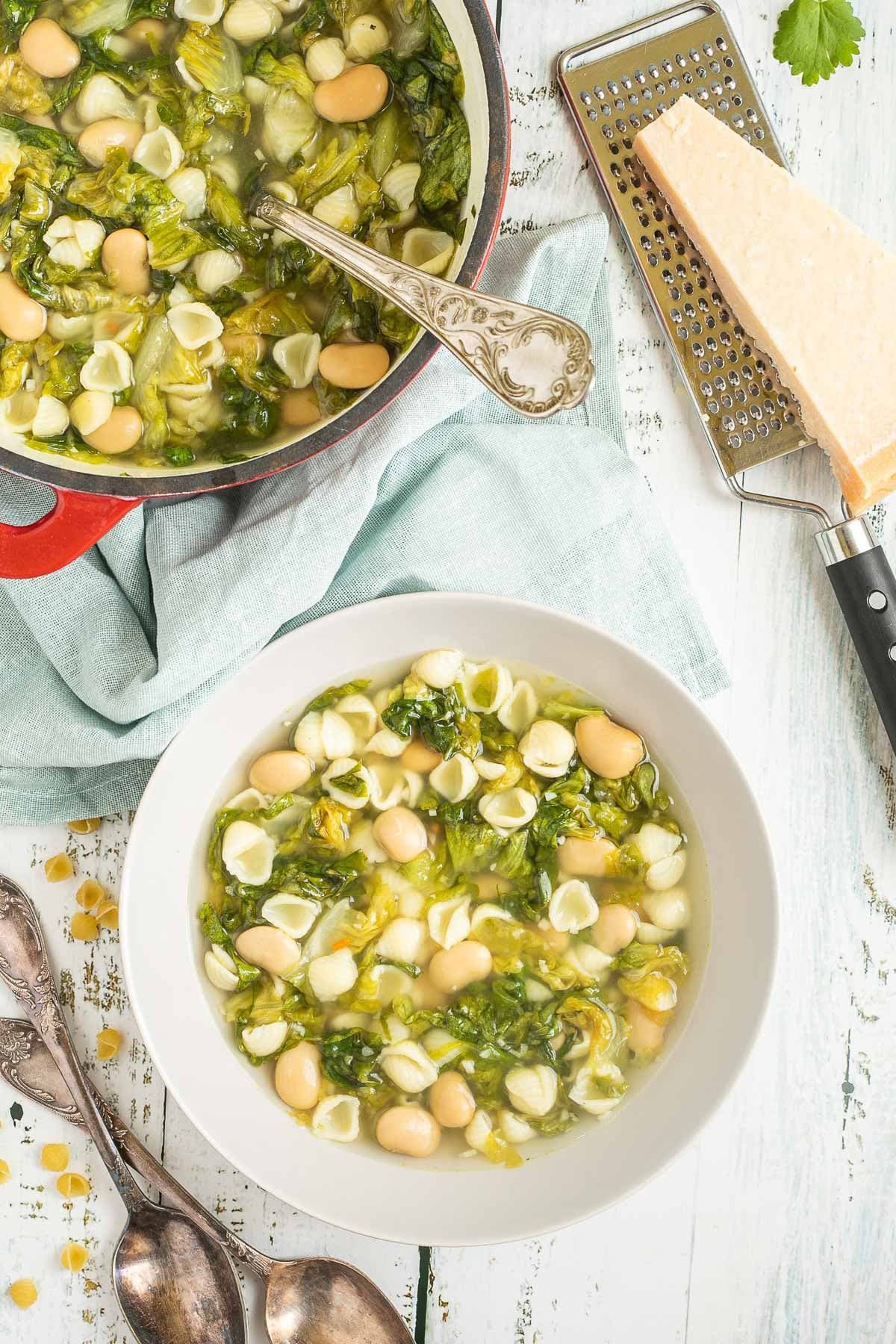 Serving ideas
One of the great things about this escarole soup is that it is a one-pot dish with everything it needs in one place! However, you can always spruce up your soup and fill it up even more with the following serving ideas:
With bread – Serve your soup with breadsticks, garlic bread rolls, or your favorite crusty bread for dunking. Or, serve it in a bread bowl and eliminate one more dish to wash!
Croutons or crackers – Top your soup with croutons or crackers for extra texture.
Smoky topping – Try these delicious vegan bacon bits on top for added flavor.
Dumplings – Instead of pasta, add potato dumplings from our dumpling soup.
Veggie balls – To turn it into an Italian wedding soup, try adding our eggplant meatballs, chickpea meatballs, mushroom meatballs, or tofu meatballs.
Red pepper flakes – If you like a little heat in your soup, sprinkle some red pepper flakes on top before serving.
Parmesan cheese – Sprinkle on vegan parmesan cheese at the end for additional flavor.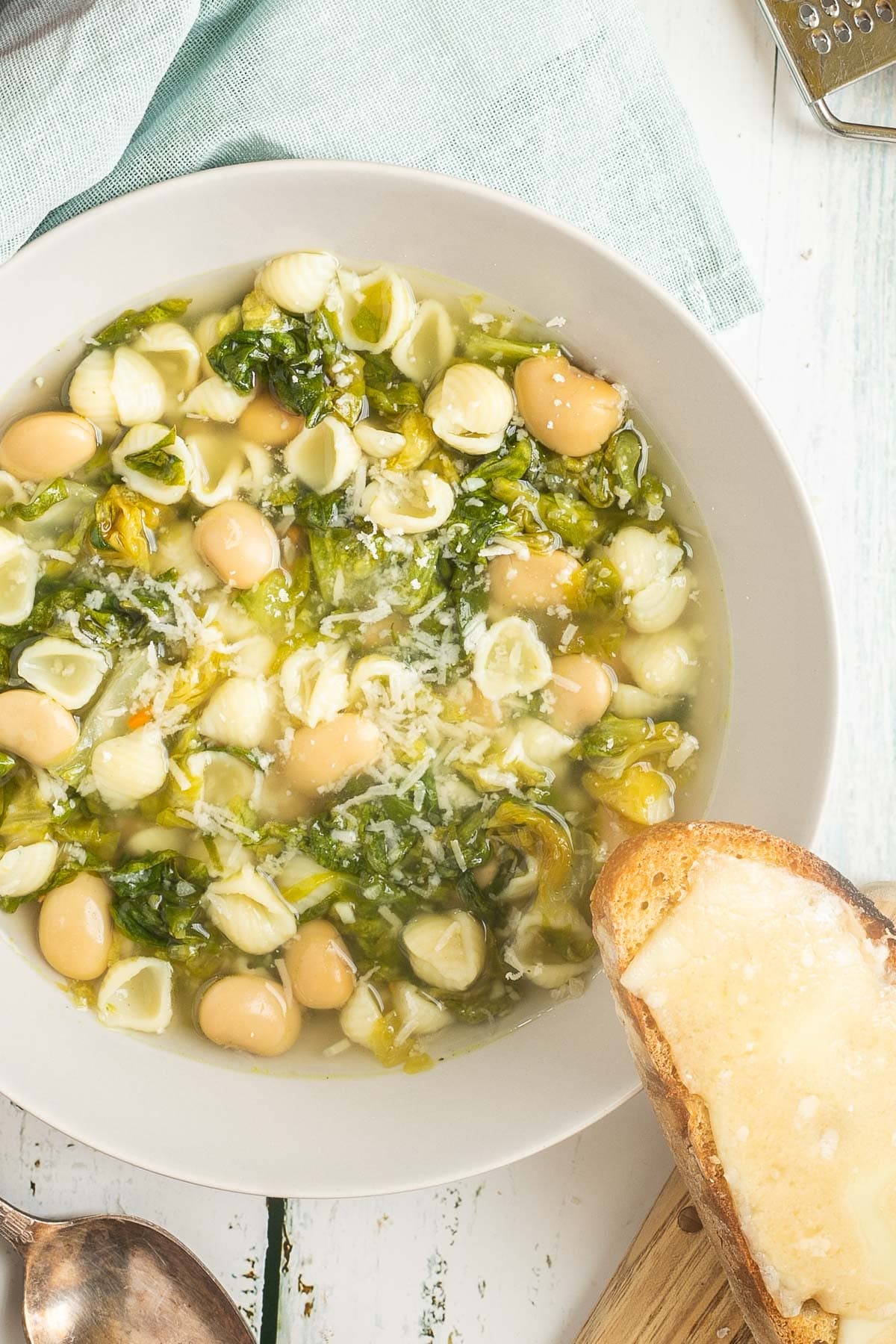 Storing tips
In the fridge – Once the escarole soup has cooled to room temperature, you can store it in the refrigerator in an airtight container for 3-4 days.
In the freezer – You can freeze this escarole and bean soup in an airtight container or resealable plastic bag for up to three months without sacrificing taste. However, you must eliminate any excess air before freezing, as air exposure will spoil the soup. We recommend freezing the soup in consumable portions. It is important to first bring the soup to room temperature before freezing.
Defrosting – To reheat, slowly bring the soup to a boil over low heat. Stir frequently to prevent scorching or sticking.
FAQs
Is escarole soup gluten-free?
Not all escarole soups are gluten-free. However, choosing a certified gluten-free pasta brand and vegetable broth can make it gluten-free.
Is it necessary to blanch the escarole first?
Some recipes require boiling or blanching the escarole to eliminate the bitterness. However, we find that the cooking process is enough to give this soup a delicious flavor without first blanching.
How do you make escarole soup thicker?
There are 20 ways to thicken any soup. The best way to thicken escarole bean soup is to add flour or starch and bring it to a boil to activate them. To do so, add some soup to a separate bowl and mix in the flour and starch. Then, add the slurry back to the hot soup. Do not pour the flour or starch directly in. You can always repeat this step if needed.
THANK YOU so much for visiting our website. Please comment below if you have tried this recipe. We LOVE hearing from you! If you loved the recipe, please don't forget to give us a ⭐⭐⭐⭐⭐ RATING. We appreciate all of our readers.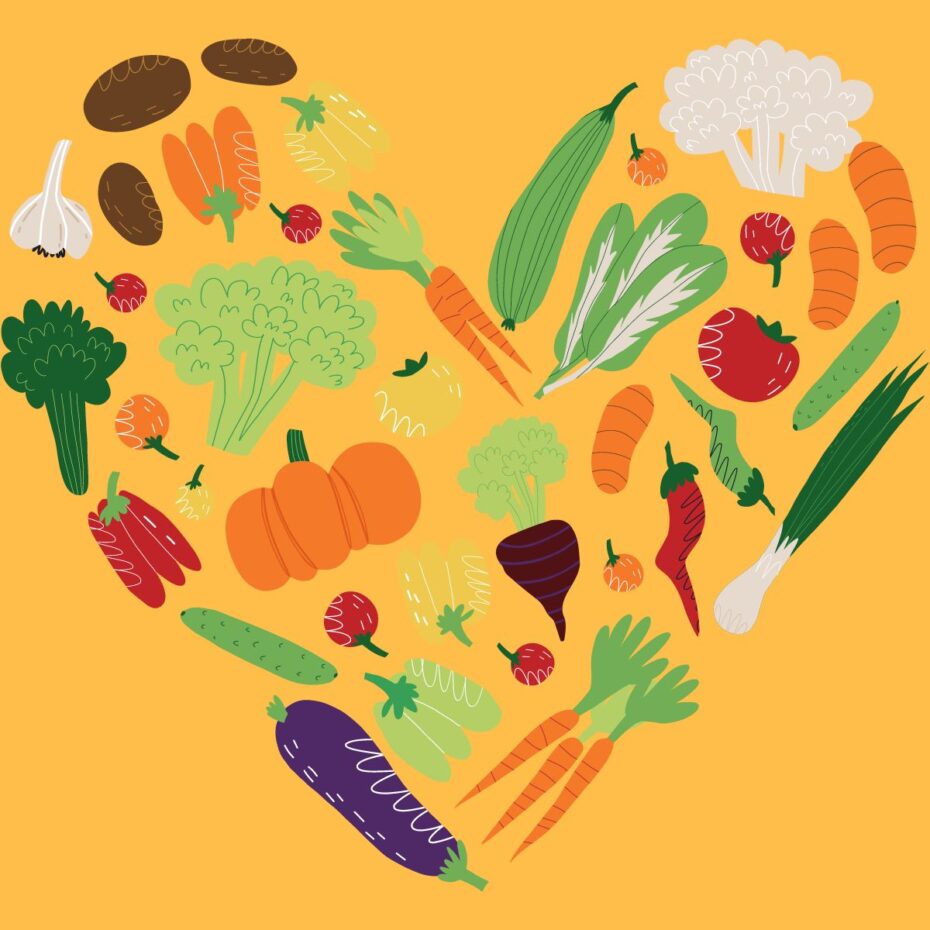 Escarole Soup
This escarole soup is light, delicious, quick and easy to make, requiring only 5 minutes of prep and 15 minutes of cooking time. This one-pot soup is flavorful and filling without any complicated equipment. It is the perfect addition to your lunch or dinner table.
EXCLUSIVE 5-ingredient recipes for busy home cooks that are ready in 15 minutes!
Check out our Express Vegan Cookbook!
Instructions
Wash the fresh escarole. Cut it to even squares.

Cook pasta as per package instructions.

Heat a stockpot on medium-low heat and add olive oil. Add chopped garlic and cook for 2-3 minutes. Stir frequently so garlic does not burn.

Add chopped escarole. Season with salt and black pepper. Stir well. Cook for 2-3 minutes until it has welted to half the size.

Now add vegetable broth. Bring it to a boil.

Add pre-cooked pasta, drained white beans and lemon juice. Stir well. Cook for a couple of minutes.
Nutrition
Nutrition Facts
Escarole Soup
Amount Per Serving (1 serving)
Calories 308
Calories from Fat 72
% Daily Value*
Fat 8g12%
Sodium 972mg42%
Potassium 904mg26%
Carbohydrates 48g16%
Protein 13g26%
Vitamin A 2958IU59%
Vitamin C 10mg12%
Calcium 146mg15%
Iron 5mg28%
* Percent Daily Values are based on a 2000 calorie diet.