Prepare to amaze your partner with a dinner for two with any of these 25 exciting vegan date night recipes. From intimate evenings at home to romantic candlelit dinners, these dishes are designed to create a memorable dining experience. Explore an array of delectable appetizers, tantalizing mains, and irresistible desserts that are sure to set the mood.
The Ultimate Falafel Platter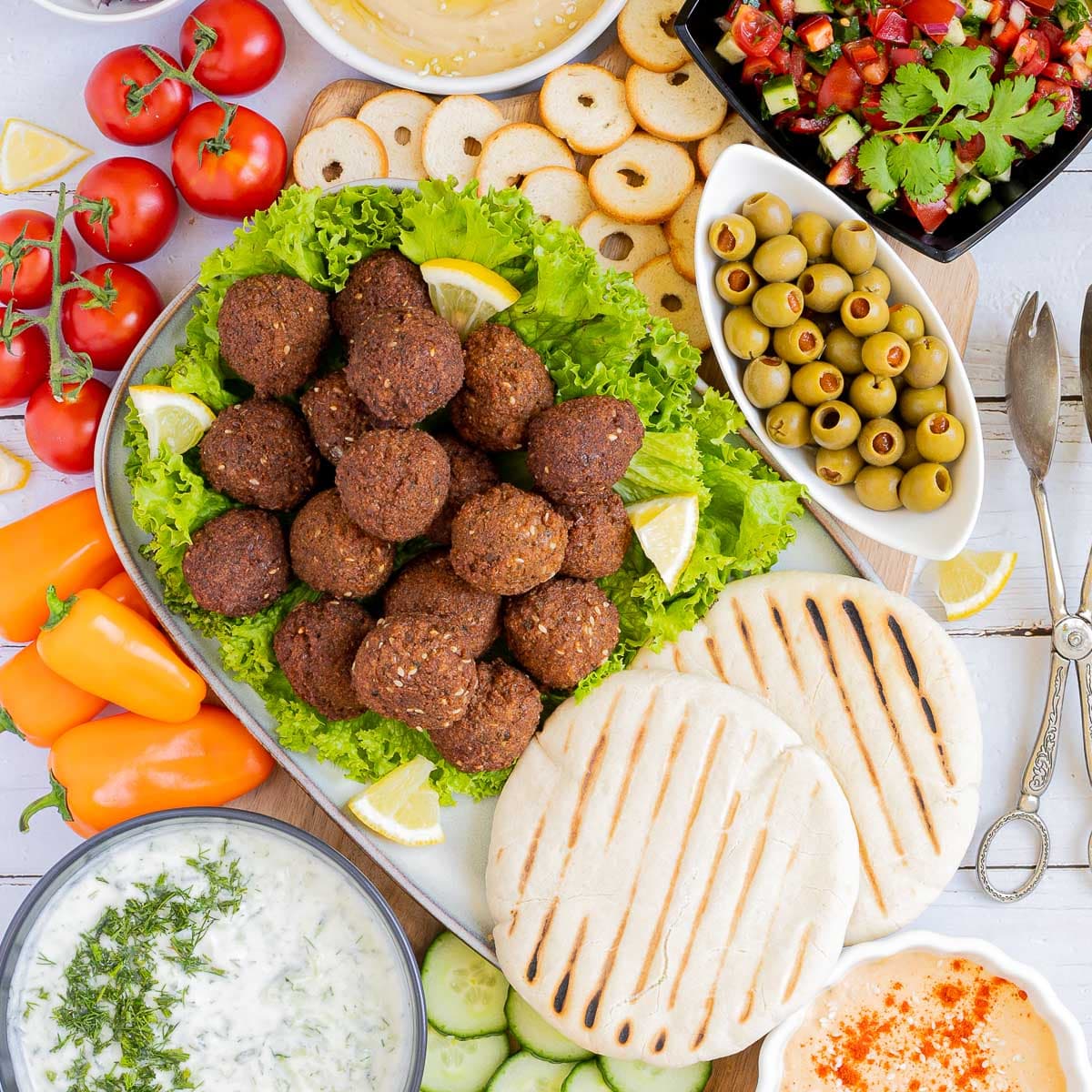 This colorful falafel platter is a feast for both the eyes and the taste buds. Crispy falafel, creamy tzatziki, and flavorful hummus are just some of the highlights of this Middle Eastern-inspired dish that is perfect for any occasion.
Recipe: falafel platter
Mediterranean Grazing Board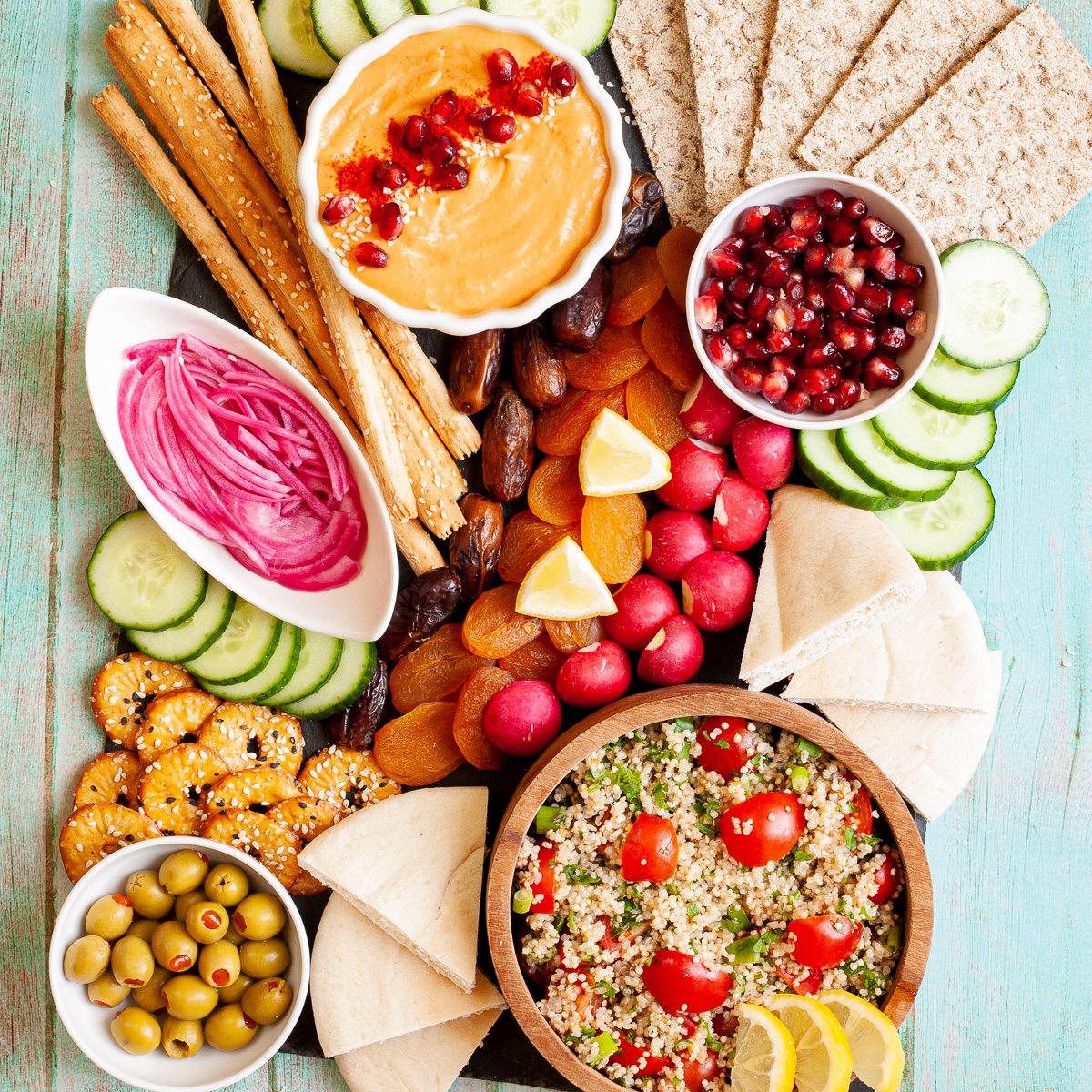 A grazing board is the perfect combination of aesthetics and taste. With a variety of dips, crunchy breadsticks, pickled onions, and soft pita bread, it's a delicious Mediterranean feast that's perfect for sharing with family and friends.
Recipe: Mediterranean Grazing Board
Hummus Pasta
Hummus pasta salad from our cookbook is a quick and flavorful vegan pasta dish that can be prepared in just 15 minutes. The combination of creamy hummus with tangy sun-dried tomatoes and olives creates a unique taste. Different flavored hummus, such as roasted red pepper or spinach, allow for endless variations.
Recipe: hummus pasta
Kung Pao Cauliflower
Kung Pao Cauliflower is a mouthwatering vegan twist on the classic Chinese dish, featuring crispy cauliflower florets tossed in a spicy and tangy sauce. The cauliflower absorbs the flavors of the sauce beautifully, resulting in a deliciously balanced combination of heat, sweetness, and savory notes, making it a delightful choice for those seeking a plant-based and flavorful meal.
Recipe: kung pao cauliflower
Mexican Sweet Potato Rice Bowl
This flavorful vegan Mexican Rice Bowl recipe swaps traditional rice for fajita-spiced sweet potato rice, complemented by a colorful mix of fajita veggies, guacamole, black beans, and tomato corn salsa. Learn how to make this delicious and healthy dish that's perfect for any occasion!
Recipe: mexican sweet potato rice bowl
Sweet Millet Balls with Mixed Berries Sauce
We grew really fond of these sweet millet balls recipe. Although millet is usually an under-rated grain, it is very important, not to mention nutritious. We love our sweet millet balls with a fruity sauce with a hint of cinnamon.
Recipe: millet balls
Eggplant Tofu (Copycat Panda Express)
Have you always loved eggplant tofu, but Panda Express doesn't serve it near your location anymore, or if you always wanted to try it but never had a chance? Fry up your skillet now and make this tofu, eggplant, and bell pepper dish stir-fried in a sweet and spicy sauce.
Recipe: panda express eggplant tofu
Quinoa Salad with Berries and Nuts
This refreshing berry and nuts quinoa salad is a perfect choice for a healthy and satisfying meal. Packed with protein from quinoa and nuts, and topped with fresh summer berries, it's a delicious and nutritious dish for any occasion.
Recipe: quinoa salad
Alfredo Sauce in 15 minutes
Enjoy a healthy and quick meal with our 5-ingredient alfredo sauce recipe. Creamy, delicious, and ready in just 15 minutes, it's the perfect solution for a fast and easy dinner.
Recipe: vegan alfredo sauce
Strawberry Rhubarb Crisp
This strawberry rhubarb crisp is a mouth-watering dessert that can be made in under 30 minutes with only 4-ingredient filling and 4-ingredient crisp topping. It is the perfect blend of sweet and tangy flavors and can be enjoyed with a scoop of vanilla ice cream.
Recipe: strawberry rhubarb crisp
Pineapple Fried Rice with Tofu
This easy vegan pineapple fried rice lets you turn leftover rice into a delicious meal by adding scrambled tofu, sweet pineapples, tomatoes, and green peas seasoned with a mild green curry. If you have 30 minutes, skip ordering take-out and make this protein-packed meal.
Recipe: thai pineapple tofu fried rice
Tofu Steak with Chimichurri Sauce
A perfect tofu steak is a flavorful and satisfying dish that is crispy on the outside and moist on the inside. It is seasoned with a spicy, smoked steak marinade and grilled to perfection, resulting in charcoaled stripes.
Recipe: tofu steak
Smoked Tofu Sushi Rolls
This tofu sushi recipe combines smoked tofu, veggies, and a sriracha mayo to make delicious maki sushi rolls the entire family will love. You do not need to be a professional sushi chef to whip up this recipe.
Recipe: tofu sushi rolls
Baked Butternut Squash Risotto
If you want to give the risotto a try, you should check out this delicious butternut squash risotto recipe. It is easy to make as part of the job is done by the oven. It is aromatic, creamy, and rich, made with Arborio rice, sweet butternut squash, green peas, and roasted pine nuts.
Recipe: vegan butternut squash risotto
Baked Vegan Cheesecake
This vegan New York-style cheesecake is a dreamy dessert with a velvety texture and a tangy flavor that perfectly complements the bright raspberry sauce. Made with only five whole food ingredients, it's oil-free and gluten-free, making it a healthier treat without sacrificing taste.
Recipe: baked vegan cheesecake
Vegan Corn Chowder
This Vegan Corn Chowder recipe is a special one as it features pan-seared corn kernels and a deglazed pan, resulting in an oil-free soup. The soup is thickened with potatoes and made creamy with smooth cashew cream, making it a delicious and healthy option.
Recipe: Vegan Corn Chowder
Rice Paper Egg Rolls
These vegan egg rolls are a perfect appetizer or snack, with a savory and crispy texture that will satisfy your cravings. Made with a flavorful mix of vegetables, they are a healthier alternative to traditional egg rolls and can be easily baked, fried or air-fried in just a few minutes.
Recipe: vegan egg rolls
Cauliflower Fish Tacos
Cauliflower fish tacos offer a creative and vegetarian-friendly twist on the beloved Mexican dish. With cauliflower as a substitute for the traditional fish, these tacos are still packed with flavor, thanks to the crispy texture of the cauliflower, zesty toppings, and a squeeze of lime, providing a delightful and satisfying culinary experience.
Recipe: cauliflower fish tacos
Vegan Eggplant Parmesan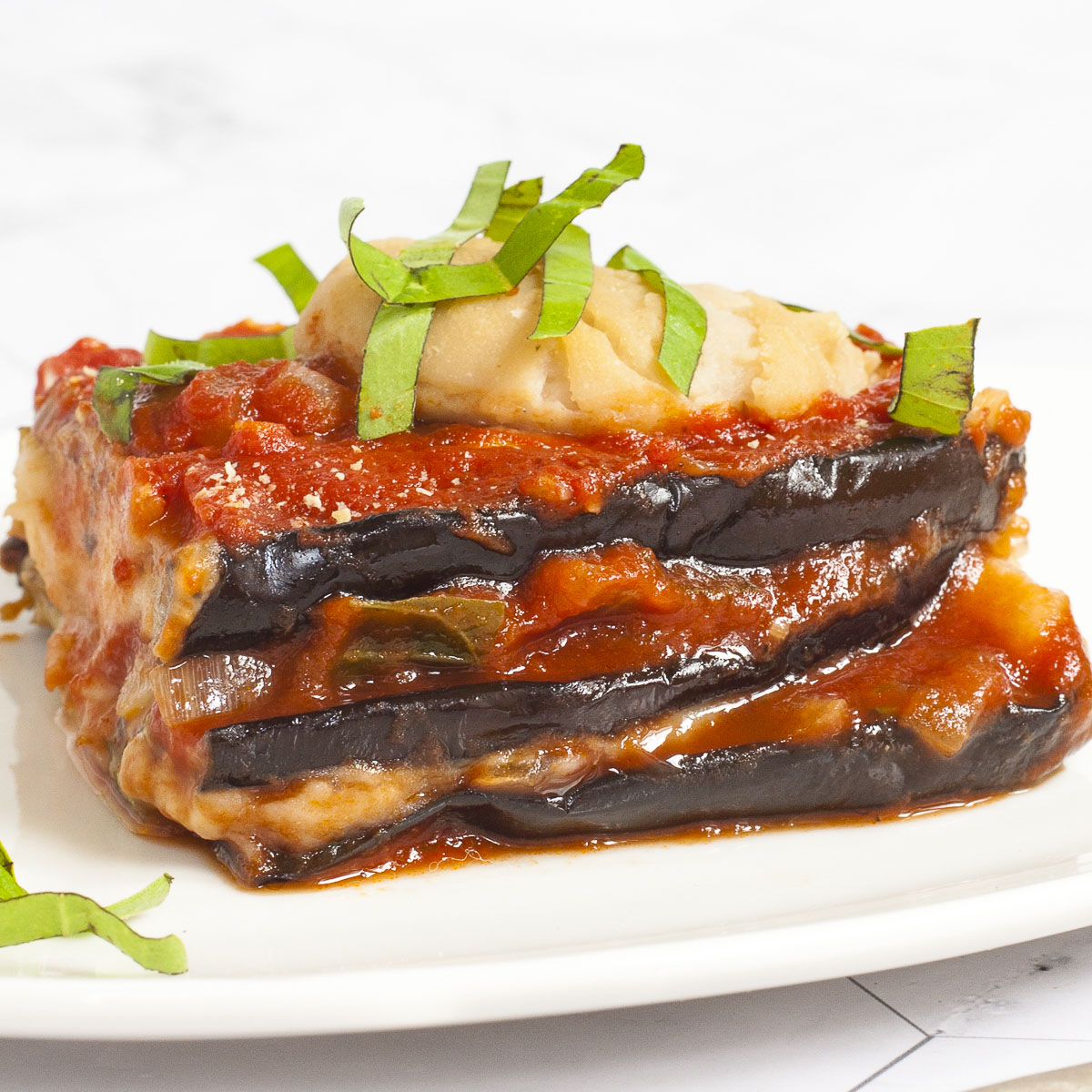 This vegan eggplant parmesan is a delicious and healthy alternative to the traditional Italian dish. With roasted eggplant and a hearty Pomodoro sauce topped with a creamy cannellini bean "cheese" sauce, you won't even miss the breadcrumbs.
Recipe: vegan eggplant parmesan
Vegan Lentil Loaf
This vegan lentil loaf is packed with nutrients and flavor, and it's a perfect option for a healthy and filling dinner. Plus, it's easy to customize with your favorite herbs and spices for a dish that is sure to impress.
Recipe: vegan lentil loaf
Meaty Vegan Moussaka
This vegan moussaka recipe features layers of tender roasted eggplant slices, a rich tomato-based ragu sauce made with vegan ground meat, and a velvety creamy white bechamel sauce that is baked to perfection. It's a hearty and flavorful Mediterranean-inspired dish that is sure to impress.
Recipe: vegan moussaka
Vegan Panna Cotta
This vegan panna cotta is a decadent, silky-smooth Italian dessert made without gelatin or dairy. With only a few simple ingredients, it is a quick and easy dessert that will impress your guests.
Recipe: vegan panna cotta
Vegan Pot Pie
This creamy and flavorful vegan pot pie is a perfect comfort food, packed with vegetables and topped with either a flaky vegan pie crust or a crispy sliced potato crust. Whether you're serving it for a holiday dinner or enjoying it as leftovers, this dish is sure to satisfy your taste buds.
Recipe: vegan pot pie
Vegan Tikka Masala
This vegan tikka masala recipe offers a quick and easy way to enjoy a flavorful tomato-based curry sauce that's creamy and aromatic. It can be paired with your choice of ingredients, such as mushrooms, cauliflower, tofu, or chickpeas, to create a delicious and satisfying meal.
Recipe: vegan tikka masala
Grilled Vegetable Napoleon
This grilled vegetable Napoleon is a showstopper with vibrant, char-grilled layers of veggies like eggplant, zucchini, bell pepper, portobello mushroom, and more. If you want a visually stunning and flavorful side dish, look no further. Served with aromatic basil pesto, it is stunning and flavorful.
Recipe: vegetable napoleon