The best summer desserts are definitely with the ones using strawberries. This absolutely delicious Gluten-free Strawberry Rhubarb Crisp is done in less than 30 minutes! Only 4-ingredient filling and 4-ingredient crisp topping. Quick to assemble, quick to bake, and even quicker to disappear. Serve it with a scoop of vanilla ice cream! It is delish!
You know summer is really here if you are thinking about all the delicious ways you can enjoy summer fruits. My all-time favorite fruit is strawberry. I enjoy them fresh or add them to oatmeal, or millet porridge for breakfast. If you love strawberry desserts, make some Strawberry Puree and top our Vegan Panna Cotta, or our Vegan Tapioca Pudding or our Vegan Chocolate Pudding or this Coconut Milk Chia Pudding with it.
Strawberry and rhubarb with crisp topping
The sweet strawberries make a perfect match for the tart rhubarb. They work because it is nice to have something balance the sugariness of the strawberries and at the same time rhubarb would be too sour on its own.
We like to make things healthy, simple, and quick. These 3 things not always possible to achieve at the same time, but this crisp recipe is coming quite close. We make this recipe using only 4 ingredients for the filling and 4 ingredients for the crisp. Did I say this is the easiest dessert ever?
How to make a gluten-free crisp?
It is not only the easiest but also one of the quickest desserts you can put together. I love to make crisp, crumble, or streusel topping or whatever it is called, as they are quick and easy. No kneading, no rolling, no special skill is needed to make them. I just bring out my food processor, add
rolled oats – They are kind of rustic looking, aren't they? You can also use quick oats, which make more of a crumble rather than a crisp. Buy certified oats to make sure it is gluten-free.
almond flour – You can use almond meal. The texture will be quite similar but the nutty taste of the almonds will be a little more prominent. We also tested this recipe with oat flour if you need it to be nut-free.
coconut sugar – We chose coconut sugar instead of white sugar or brown sugar. And the reason is simple and not at all health-related. 🙂 Coconut sugar has a subtle caramel taste which gives the crisp a speculoos kind of flavor. If you haven't tried it, you should. It certainly brings this gluten-free crisp to the next level.
unsalted butter – Any unsalted butter would do even if you need vegan or dairy-free. Don't worry the recipe is perfect either way.
Take your food processor and add all ingredients. Or you can add only half of the rolled oats and mix with the other ingredients until they get to a breadcrumb-like texture. Then add the remaining rolled oats at the end and pulse a couple of times to combine. This way half of the rolled oats will remain more or less intact so that they make an even crunchier crisp topping. 2 minutes tops and you are ready!
Ingredients for a strawberry rhubarb filling
If you have perfect, delicious, ripe, and fresh strawberries and fresh rhubarb, you really only need these TWO ingredients. What else you can add?
sugar

– you can certainly add sweetener (granulated sugar, brown sugar, maple syrup, other alternatives) especially if the fruit is not ripe enough, but not necessary. I prefer to use coconut sugar though as they have a nice caramel flavor which goes great with any fruit.

water

– only if you use frozen strawberries and you didn't have time to thaw them

lemon juice

– you don't really need it here as you have rhubarb to have something sour

starch

– optional. Both strawberry and rhubarb are not that juicy that you need to thicken them much. If I make any crisp as a mug cake, I always omit it completely.

vanilla extract

– you can add it depending on your taste (1 tsp)

spices like cinnamon or cardamon

– if you want an extra zing (1 tsp)

herbs like basil or mint

– if you prefer some pizzazz (1 Tbsp freshly chopped leaves)
Let us know in the comments, which is your favorite combination. Ours is in the recipe card. 🙂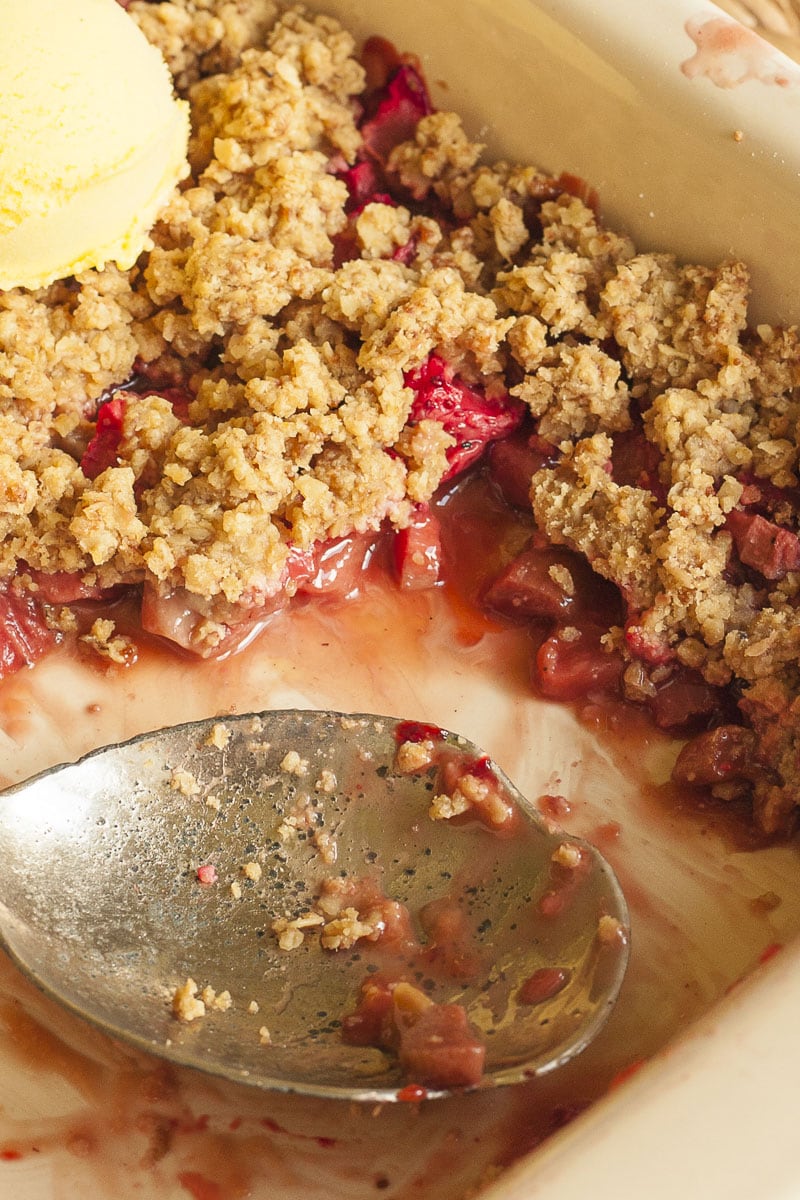 How to make Gluten-free Strawberry Rhubarb Crisp?
Hulling the strawberries
My mom always told me to wash the strawberries with the leaves on for two reasons. One, so that the dirt will not get into the strawberries. Two, if you take the leaves out the strawberries will taste watery 🙂 So I do it as she told me to do. First wash, then take the leaves out. Well, I am my mother's daughter.
How to hull strawberries? I use a knife, angle it close to the stem, push the knife gently in and turn the strawberry. This strawberry huller* makes things extra easy or you can use this straw trick.
Peeling the rhubarb or not?
I usually peel the rhubarb, although many places say it is not necessary to do so. I use a potato peeler or a small knife as it is so easy to remove the strings. Rhubarb softens quicker if I do so. You can see how to peel a rhubarb with a knife in action here.
Assembling
I recommend cutting the strawberries in quarters and slicing the rhubarb at most 1-inch wide (less than one cm). To reduce the number of dishes I need to wash after, I add the fruits directly to the baking dish. Sprinkle it with coconut sugar and cornstarch. Stir until combined. Then spread the crumbs using your fingers on top of the fruit filling.
As for spices I love to use vanilla extract (1 tsp) or a bit of cinnamon or cardamom (1 tsp). Freshly chopped basil or mint leaves can really bring your strawberry filling to the next level (1 Tbsp). Or if you like exciting combinations, you can drizzle it with balsamic vinegar. It goes great with luscious strawberries.
Baking
Bake it in a pre-heated oven of 350 Fahrenheit (180 degrees Celsius) for at least 20 minutes or until the fruit softens and bubbles on the side, and the crisp topping is crunchy enough but not yet brown. And what to serve with it? It is easy. VANILLA ICE CREAM or whipped cream! Enjoy!
FAQs and substitutions
What kind of fruits you can substitute strawberries for?
I've made crisps like this one using blackberries, blueberries, raspberries, or a combination of these. Check out our Gluten-free Apple Crisp Pie, or our Gluten-free Blueberry Crisp, or our Gluten-free Plum Crumble.
Can I use frozen strawberries?
You can absolutely use frozen strawberries after thawing. However, you should know that strawberries get really soft after thawing. So the difference between using frozen vs fresh is that the fruit filling will be way juicer and the strawberry quarters will be much softer. They will be much closer to a Strawberry Puree or compote.
Can I use frozen rhubarb?
Yes, you can. When I prepare rhubarb for freezing, I always cook the slices in boiling water for 2 minutes and freeze after that. In this way, I can add them to the fruit filling without thawing.
Can I use different sweeteners to make it low-carb?
Sure you can, although I only tested this recipe with cane sugar and coconut sugar (the same amount is needed). Therefore, I am not familiar with the measurements for other sweeteners like stevia or erythritol. If you do, please let us know in the comments.
Can you use other starch?
I tried it with tapioca starch, but its binding power is not as strong as that of the corn starch. I don't recommend using flour as they will make the strawberry rhubarb sauce part quite grainy. The powder texture of starches mixes better with fruity juices. I have never tested with arrowroot or potato starch. If you do, please let us know in the comments. For more info on gluten-free flours and starches, check out our 90+ Gluten-free Flours List.
This Strawberry Rhubarb Crisp recipe is vegan, so dairy-free, and egg-free. It is also suitable for vegetarian, soy-free, and gluten-free diets. It is not WFPB-friendly (whole foods, plant-based) as dairy-free butter is not compliant due to its oil content.
More fruity gluten-free dessert recipes
You can browse through our Vegan and Gluten-free Dessert Recipes or check out
Easy Strawberry Rhubarb Crisp (Vegan / Gluten-free)
This absolutely delicious Gluten-free Strawberry Rhubarb Crisp is done in 30 minutes! Only 4-ingredient fruit filling and 4-ingredient crisp topping. Quick to assemble and quick to bake! The easiest dessert ever!
Ingredients
Strawberry Rhubarb Filling
EXCLUSIVE 5-ingredient recipes for busy home cooks that are ready in 15 minutes!
Check out our Express Vegan Cookbook!
Instructions
Making a strawberry rhubarb filling
Wash the strawberries with leaves on. Then cut them in half then into quarters.

Wash the rhubarb and cut them into 0.5-inch (less them 1 cm) slices.
Making a gluten-free crisp topping
Pre-heat oven for 350 F (180 degrees).

Add half of the rolled oats and all other ingredients to the food processor (almond or oat flour, coconut sugar, dairy-free butter (should be fridge cold, not room temperature)). Mix until they get to a breadcrumb-like texture.

Add the remaining rolled oats and only pulse a couple of times to combine. We want the oats to remain more or less intact.
Assemble and bake
Scatter the fruit pieces in a shallow oven-save dish and sprinkle them with coconut sugar, corn starch and cinnamon. Stir until combined.

Scatter the crisp topping evenly over the fruit using your fingers.

Bake for 20 minutes or until the crisp topping turns golden brown. Serve it warm with vanilla ice cream that melts all over it. Enjoy!
Notes
TOP TIP:
1 pound of strawberry makes you one layer of fruit below the crisp topping. You can certainly double the amount of fruit filling, to get an even richer result. My husband prefers the one layer version. Me – who adores strawberries – I love the double filling version.
Nutrition
Nutrition Facts
Easy Strawberry Rhubarb Crisp (Vegan / Gluten-free)
Amount Per Serving (1 serving)
Calories 184
Calories from Fat 54
% Daily Value*
Fat 6g9%
Sodium 30mg1%
Potassium 223mg6%
Carbohydrates 31g10%
Protein 4g8%
Vitamin A 30IU1%
Vitamin C 46mg56%
Calcium 63mg6%
Iron 1mg6%
* Percent Daily Values are based on a 2000 calorie diet.
UPDATED: This recipe was originally posted in May 2020, but was rewritten and republished with more tips and detailed instructions in Feb 2021.