If you want to give vegan risotto a try, you should check out this delicious Vegan Butternut Squash Risotto recipe. It is easy to make as part of the job is done by the oven. This risotto is aromatic, creamy, and rich, made with Arborio rice, sweet butternut squash, green peas, and roasted pine nuts.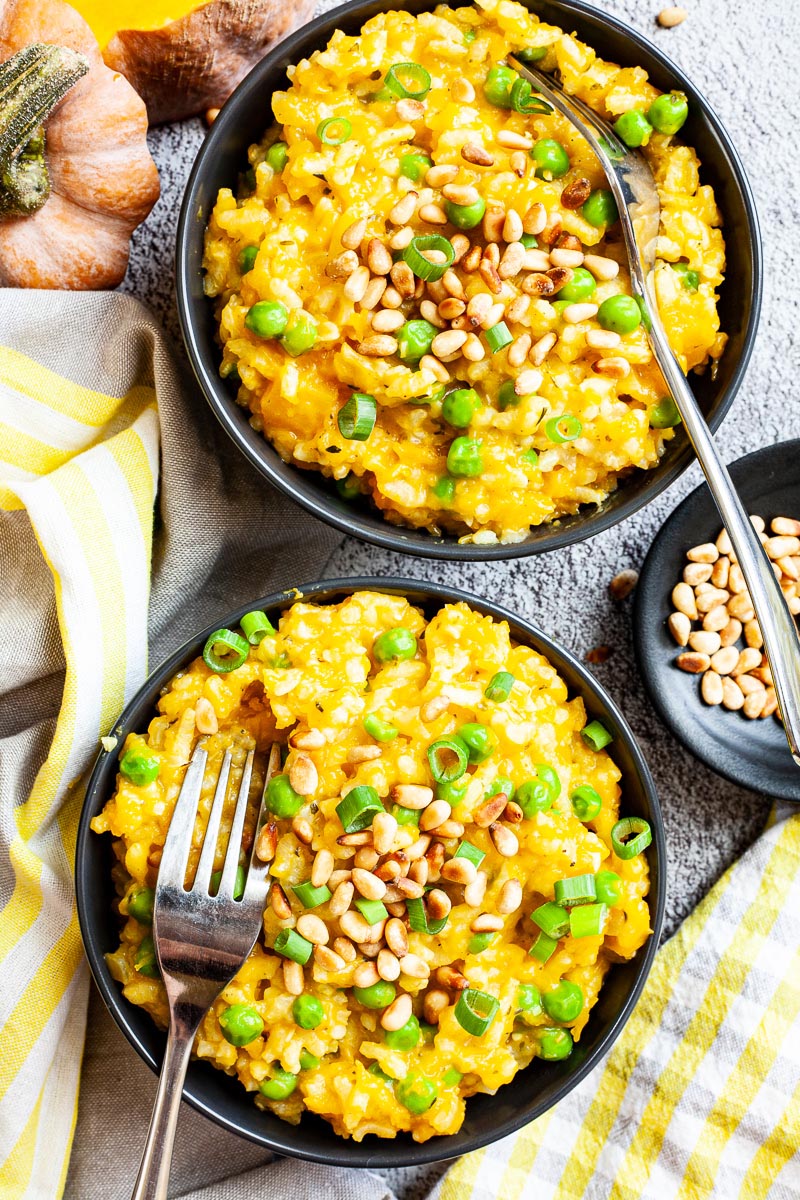 There are certainly many ways to enjoy rice. And we do have many different recipes where rice is not just a side dish, but an essential ingredient. Take for example Broccoli Lentil Stir-Fry, Vegan Mexican Rice Casserole, or Sweet Potato Sushi Rolls. Where rice is a binder like in Chickpea Meatballs and Mushroom Meatballs recipes. Don't forget about something sweet like Vegan Rice Pudding.
What is risotto?
Risotto is the most common way to cook rice in Italy. According to the traditional Italian risotto recipe, it means that high-starch, short-grain rice is cooked in broth, which has to be added in batches with frequent stirring. Risotto usually, but not always contains butter, white wine, and parmesan cheese for extra creaminess. It is creamy due to the high starch content, while the rice grain is still firm not mushy.
The best rice for risotto
If you have seen our Vegan Mushroom Risotto recipe you have already known that we recommend choosing short-grain rice with high starch content. The 3 most common types of rice to cook risotto with are:
Arborio – We use this type just as well it is recommended in Italian recipes.
Carnaroli – Chefs claim this to be the best rice for risotto as they use it to make restaurant-style risotto.
Vialone Nano – It is also quite popular rice as it is more starchy than Arborio. Hence, it results in a creamier risotto, but no really available in your everyday store.
Ingredients you need
If you want to make any risotto, the main ingredients you need are
Arborio rice – or any other risotto rice you have.
white wine – while the classic recipe calls for dry white wine, we prefer using sweet white or even semi-sweet rosé
vegetable broth
vegan butter – it is better with butter than using olive oil I ensure you
Anything else is up to you. As we were making a vegan butternut squash risotto, we added vegetables and spices that pair well with butternut squash. These are:
Onion
Garlic
Thyme – fresh sage is not the only herb that goes great with butternut squash
Cumin
Oregano
Green peas
Pine nuts
Freshly chopped parsley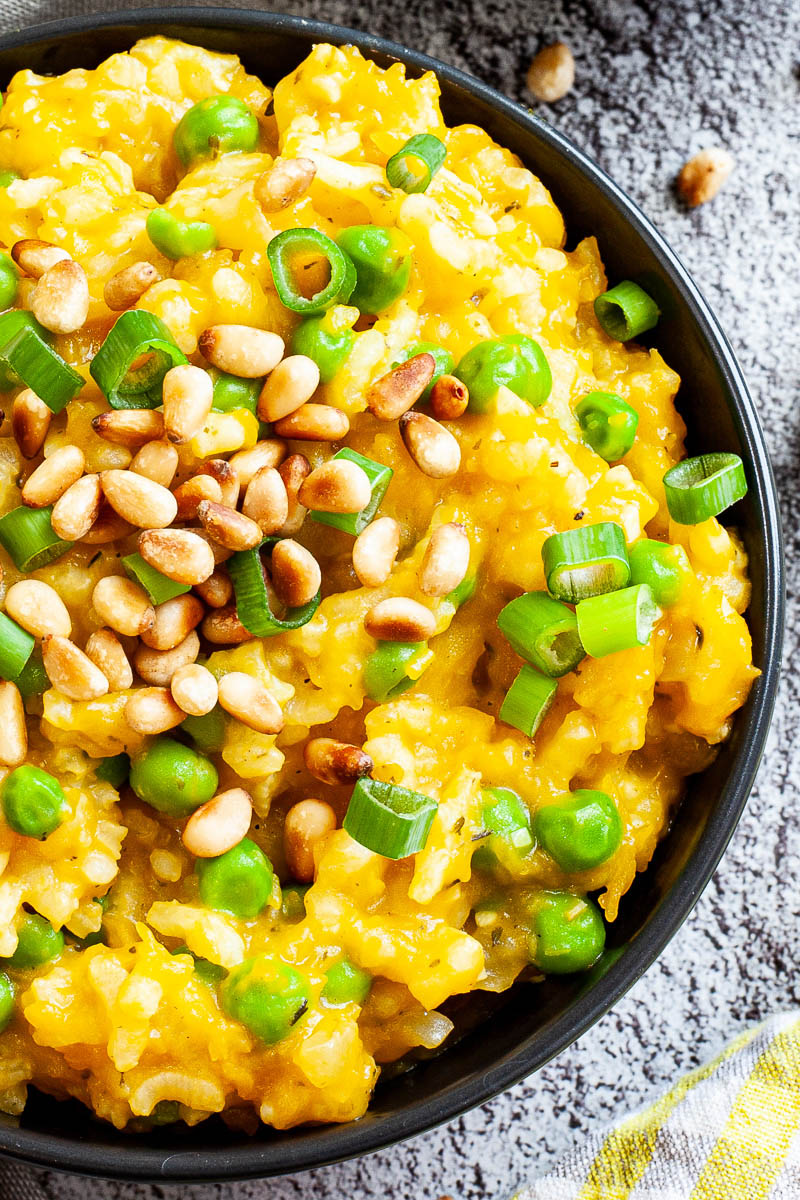 How to make a baked vegan butternut squash risotto?
Prepare the ingredients
Peel and dice butternut squash.
Peel and chop onion and garlic.
Pre-cook green peas or use pre-cooked frozen ones.
Don't wash the rice as you need its starch content to make the risotto creamy.
Toast pine nuts. Heat a frying pan over medium heat. No oil or butter is needed. Just add the pine nuts plain and simple. Stir continuously with a wooden spatula and toast them until brownish. Takes 2-3 minutes. Watch them as they can get charred easily.
Start on the stove-top
Take pot or a Dutch oven and heat it over medium heat. Add dairy-free butter and chopped onion and cook them until they are soft and tender. It takes usually 2-3 minutes.
Add chopped garlic and cook for another 1-2 minutes.
Now, add unwashed Arborio rice and stir it for 1-2 minutes to coat it with the melted butter. (picture #1)
Next, add the white wine and cook the rice in the wine until the wine is absorbed or steamed away. It usually takes 2 minutes.
Add chopped butternut squash. Mix well. (picture #2)
Add vegetable broth and seasoning. Stir well. (picture #3-#4)
Now, you are ready to move your risotto to the oven.
Let's bake it!
Pre-heat oven over 390 Fahrenheit (200 degrees Celsius).
Cover your pot with an oven-safe lid and place it on the middle rack.
Bake the risotto for 20 minutes.
When it is ready, take it out and remove the lid. (picture #5)
Add more dairy-free butter, pre-cooked green peas and toasted pine nuts. Mix well, but gently. Not to crush the cooked buttenut squash too much. (picture #6) Serve it with chopped parsley or vegan Parmesan.
Top tips to make perfect risotto
High heat or low heat? – You need to pay attention to that when you make classic risotto. This baked recipe will make this much easier as you only need to cook on the stove-top for 5-10 minutes over medium heat.
Why baking? – Making risotto can be time-consuming as it does involve a lot of stirring even if you chose this Basic Vegan Risotto recipe. I wouldn't say it will be perfect Italian restaurant chef-style, but your risotto will still taste pretty awesome.
Hot or cold veggie broth? – We recommend using hot veggie broth although as it is a baked version it doesn't make much difference. If you use hot broth then it will take less time to bring it to boil before placing it in the oven.
Don't wash the rice. – You need its starch content to get a creamy consistency.
Prepare and measure in advance – Every recipe we make for the first time, we like to prepare and measure every ingredient in advance. So, when the cooking starts there are no last-minute tasks or surprises.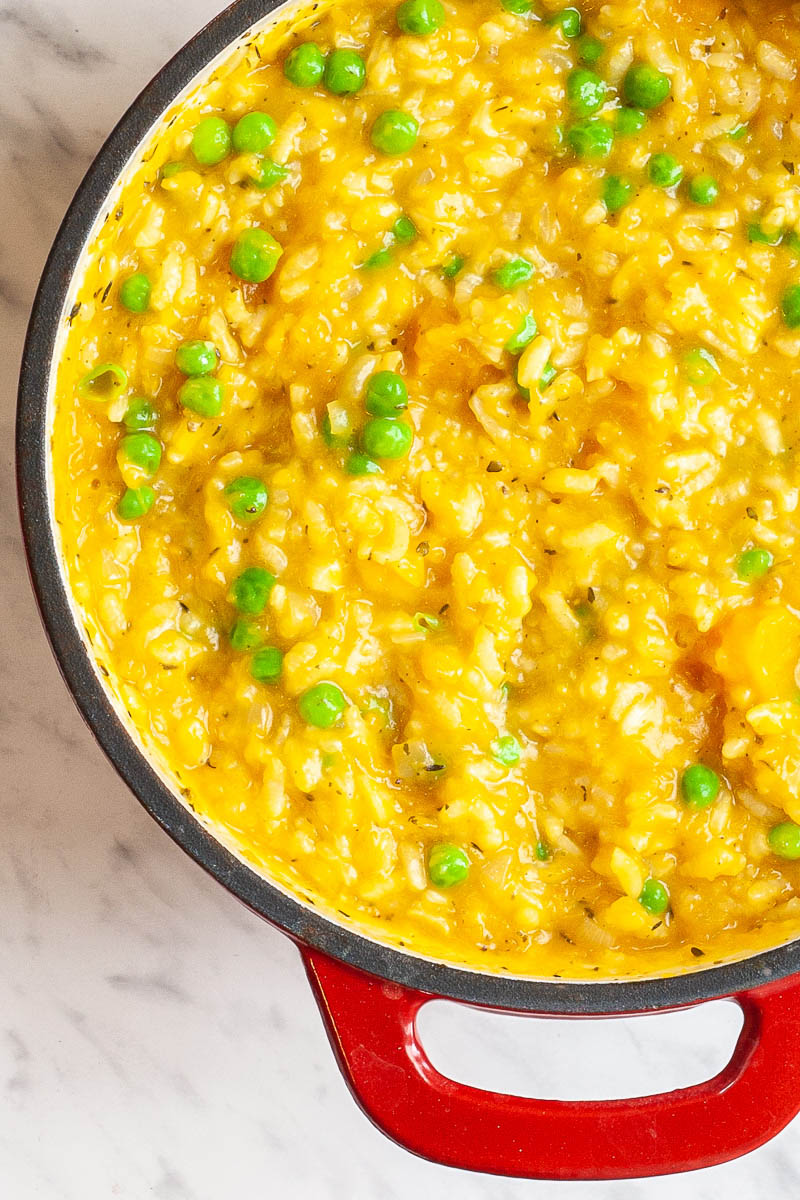 What to serve with a butternut squash risotto?
Italians may serve it as a side dish or first course, but we totally eat it as a main course meal. This vegan butternut squash risotto is so rich and filling. We batch cook it in advance so it easily lasts for several meals. So what else can you add or serve with it?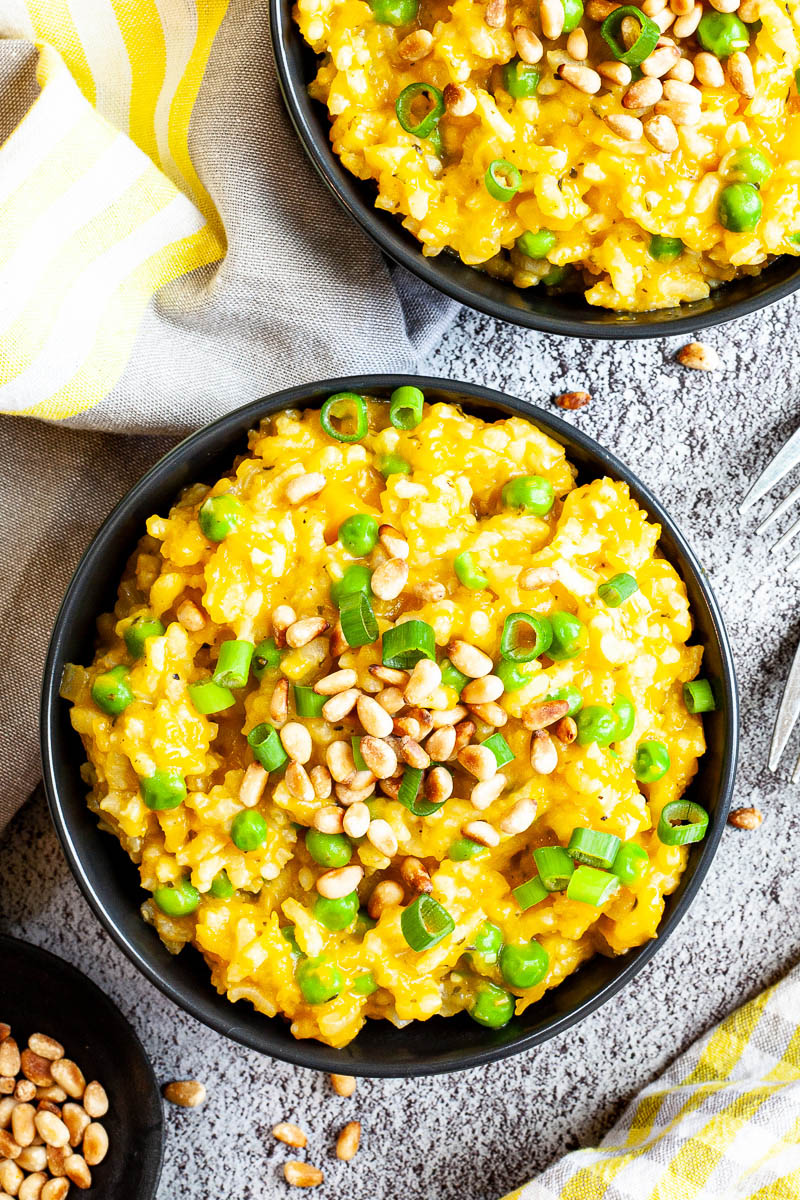 FAQs and substitutions
Can you use basmati rice?
If you have Basmati rice at home, you don't need to rush to the store to get Arborio rice. It may not be restaurant-style and be less creamy, but you can make up for it with extra butter and vegan parmesan. If you want to try this recipe with Basmati rice, make sure you adjust your expectations as it will be mushier and less firm than you would expect from risotto.
Can you use another type of pumpkin or squash?
Yes, you can. While we love butternut squash because of its sweetness, there are other types of pumpkin or squash that are equally delicious with risotto, for example, Buttercup squash, Hokkaido pumpkin, Kabocha squash, or Acorn squash.
What other veggies can you add?
While we really love pairing butternut squash with green peas, it goes well together with other green veggies as well. For example, asparagus, Brussels sprouts, broccoli, or spinach. I can totally see it with oyster mushrooms or portobello mushrooms.
Can you make them ahead of time?
Absolutely. We love to batch cook it so that it can last for multiple meals. The only thing you need to pay attention to is that even if the rice is cooked, there is still moisture. The longer you store it, the mushier it gets as the rice will continue to absorb any liquid.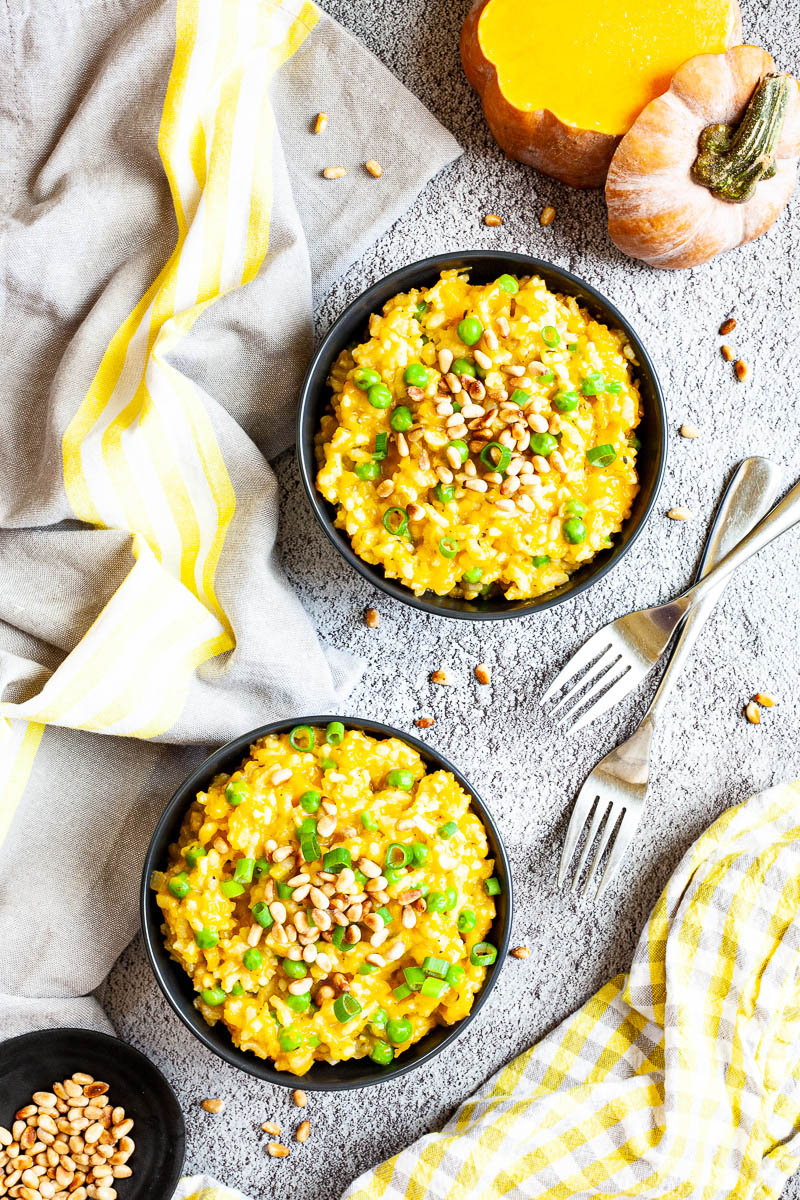 This Vegan Butternut Squash Risotto recipe is meat-free, dairy-free, and egg-free. It is suitable for vegan, vegetarian, gluten-free, and nut-free diets.