Calling Overnight Chia Seed Pudding easy is the understatement of the year. It is basically a 3-ingredient breakfast or dessert, which you can blend with a spoon and chill it in the fridge overnight to have a delicious treat in the morning. My recipe is chia seed pudding with coconut milk to have a vegan, dairy-free, gluten-free breakfast or dessert for everyone to enjoy, including me.
How to make chia seed pudding?
Chia seed pudding is a 3-ingredient breakfast or dessert. All you need is chia seeds, dairy-free milk, and sweetener of your choice. Voilá, as simple as it can be. Mix all 3 ingredients with a spoon and leave it to rest until the chia seeds do there work and turn your milk into pudding.
What is overnight chia pudding?
Chia pudding is perfect for meal prep. You can mix the ingredients the night before to have a delicious not to mention nutritious breakfast in the morning. However, you don't have to wait for that much, if you don't want to. Just give chia seeds an hour to do their part and you can enjoy your chia pudding right after.
Nutrition of chia seed pudding
Chia seeds are considered superfood for years now because they are nutrient-packed. According to Cronometer
Chia seeds are low in calories (49 kcal per Tbsp), but for example very high in Omega-3 (1.8 g per Tbsp). It is also high in Vitamin K, calcium, iron, magnesium.
Is chia seed pudding good for weight loss? Well, it is usually a good sign if something is high in fiber (5 g per Tbsp), but don't base your diet solely on this. For more nutritional details go and check out, for example, this Healthline article.
Why spicy melon purée topping?
Well, in the middle of summer during the melon season, there was really no question to what kind of fruit sauce/purée I would choose to accompany this overnight chia seed pudding recipe. I have already made a couple of times a quick and cold melon summer soup, where I used mint leaves, cinnamon, and nutmeg to spice it up a bit. So, I thought this combination would be perfect for an overnight chia seed pudding with coconut milk.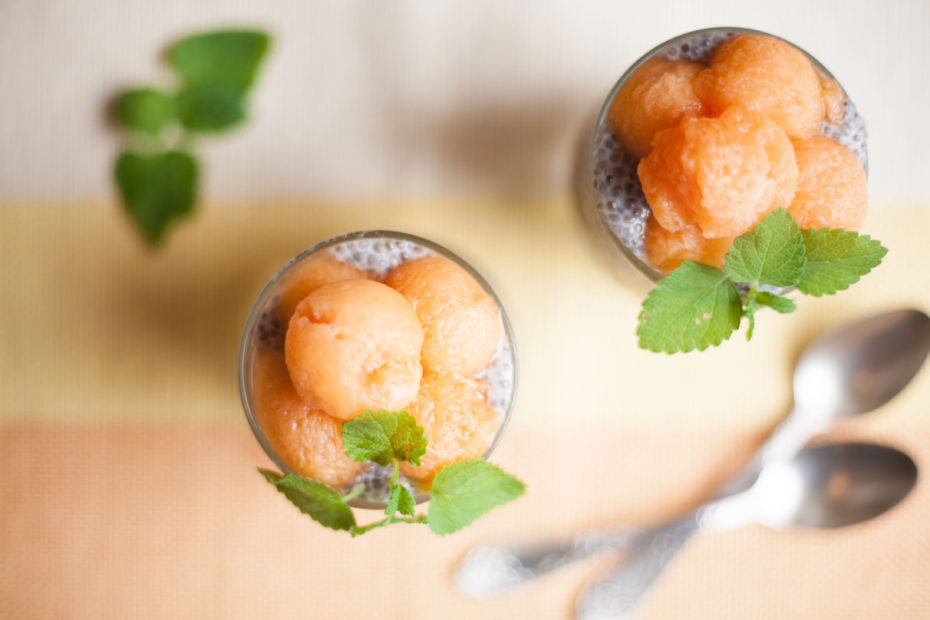 How to make spicy melon purée?
Making the spicy melon purée is not really longer than making this coconut milk chia pudding. Literally, it took me each less than 5 minutes. You can mix the chia seeds, the coconut milk and the sweetener of your choice together with a spoon. Although, for the spicy melon puree to get a smooth consistency you might want to use a hand blender. But really, that's all about it. Simple, quick and delicious, not to mention healthy. All you have to do is wait a bit for the chia seeds to get to the right consistency.
Overnight Chia Seed Pudding with Spicy Melon Puree
3-ingredient overnight chia seed pudding with coconut milk and spicy melon puree (mint, cinnamon, nutmeg). Simple & delicious breakfast or dessert.
Ingredients
Overnight Chia Seed Pudding
EXCLUSIVE 5-ingredient recipes for busy home cooks that are ready in 15 minutes!
Check out our Express Vegan Cookbook!
Instructions
Overnight Chia Seed Pudding
Mix it after the first hour so that your chia pudding thickens evenly.

Only add layers (like a fruit sauce or a puree) in the morning after the overnight chia pudding is ready.
Spicy Melon Puree
Cut the melon out of its peel and into cubes for easier blending.

Blend the melon cubes, the mint leaves, and the spices together with a hand blender.

When ready, you can add some extra chia seeds to the spicy melon puree to get to the right consistency. If you have a really ripe and sweet melon, you might get a bit watery puree.

Chill it in the fridge before adding to your overnight chia seed pudding.

In the morning, layer up your breakfast with chia pudding then melon puree then chia pudding again. If you have some left-over melon cubes, add them to the top. Good appetite!
Video
Nutrition
Nutrition Facts
Overnight Chia Seed Pudding with Spicy Melon Puree
Amount Per Serving (1 serving)
Calories 127
Calories from Fat 62
% Daily Value*
Fat 6.9g11%
Sodium 3.75mg0%
Potassium 94mg3%
Carbohydrates 15g5%
Protein 2.75g6%
Vitamin A 600IU12%
Vitamin C 2.5mg3%
Calcium 145mg15%
Iron 2.9mg16%
* Percent Daily Values are based on a 2000 calorie diet.
My Pure Plants is a participant in the Amazon Services LLC Associates Program, an affiliate advertising program designed to provide a means for us to earn fees (no additional cost to you) by linking to Amazon.com and affiliated sites.