Vegan doesn't mean gluten-free. Far from it. We collected the 11 most common ingredients and food staples of the vegan diet that you need to cross out when you start a gluten-free diet. It is not a complete list, but rather a how to start on a gluten-free diet if you're vegan starter guide.
I was diagnosed with NCGS (non-celiac gluten sensitivity) in 2014. Since then I have been following a gluten-free diet. When we decided to turn toward a plant-based (vegan) diet, we researched and learned a lot about how to live and eat gluten-free vegan. Here is my list for you to know where to start.
What is gluten?
Gluten is a protein that can be found in wheat, rye, spelt, and barley. The most common is obviously wheat. I don't want to go into medical details on how gluten affects people with celiac disease, you can read all about that in Medical News Today. What is important here to know what you need to look for to decide whether a food is save for you to eat or not.
The number one rule of eating gluten-free is always to check the label of any product you buy. Try to look for the "certified gluten-free" logo to ensure the food is 100% safe to eat. Read more about FDA's Gluten-free Food Labelling here.
Here are 11 common vegan staples that you have to avoid on a gluten-free vegan diet:
Seitan
The number 1 on our avoid gluten list is seitan as it is made of wheat flour or vital wheat gluten. It is used as a vegan meat alternative for beef and pork in various meatless recipes like stew, chili, kebab, gyros, bacon, etc. Don't worry there is still an almost endless number of options depending on what you need from chicken cutlets to ground beef.
The closest gluten-free alternative would be tempeh, which is used similarly to seitan, but it is made of soybeans.
Couscous / Bulgur
I know they are technically two things, but they are very similar. You might not have realized but couscous is actually steamed balls of durum wheat semolina and bulgur is cracked parboiled groats of durum wheat.
The closest gluten-free alternatives would be millet, buckwheat and quinoa.
Soy sauce
You would think that soy sauce is made of entirely soybeans, but that is sadly not the case. Soybeans are fermented together with barley or wheat in salt and water with the help of mold or yeast culture. And sadly, both barley and wheat are gluten-containing whole grains. I have written a full post titled "Is soy sauce gluten-free?" including 5 gluten-free alternatives for it.
The closest gluten-free alternative would be tamari and coconut aminos.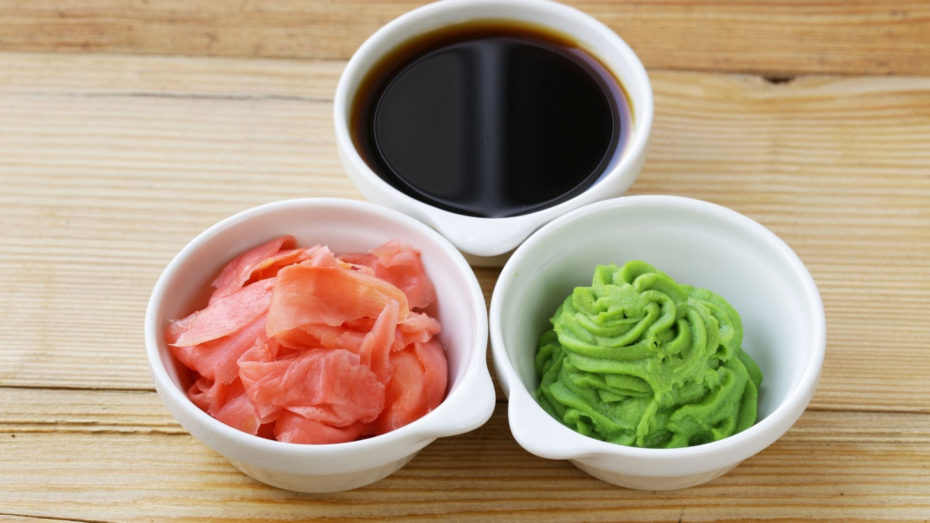 Marinated tofu
You should pay attention to marinated and flavored tofu. As tofu is a very popular meat substitute in a vegan diet, companies make a ton of variety in terms of flavors and marinades. You should check for gluten-containing condiments among the marinade ingredients like soy sauce, Worcestershire sauce, Teriyaki, Eel sauce, Ponzu sauce, or BBQ sauce as none of them are gluten-free.
The safest way to enjoy tofu is buying unflavored tofu and marinate it at home.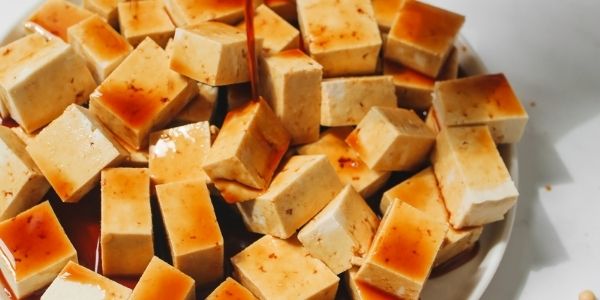 Sushi
Even if you have been choosing vegan sushi, making sure that your sushi is also gluten-free is a whole other exercise. I went into details in a post titled "Is sushi gluten-free?", but here is a couple of pointers you need to take into consideration.
If sushi rice is made of distilled rice vinegar, then it should be safe to eat.
Nori sheets should be 100% made of seaweed which is compliant.
Sushi fillings, toppings, and condiments are far from gluten-free. Here are a couple of examples containing gluten: tempura, breaded fillings, surimi (not that it is vegan), food marinated in soy sauce, Teriyaki, Eel sauce, Ponzu sauce, or BBQ sauce. More details in the "Is sushi gluten-free?" post.
Restaurants prepare lots of different kinds in the same space so it is hard to avoid cross-contamination even if you try your best to pick the right type of sushi for you.
The safest way to enjoy sushi is to make them at home. This is a super easy recipe for Sweet Potato Sushi Rolls that you can try.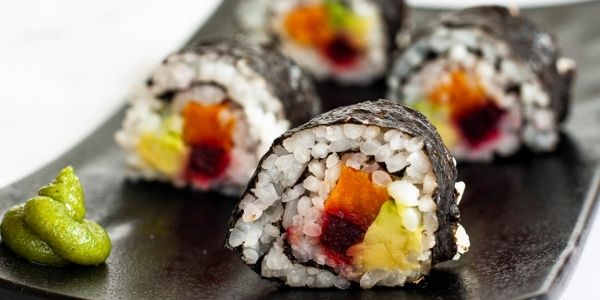 Oat milk / Rolled oats / Oat flour
Oats are considered as non-gluten-containing grain as per FDA rules. However, oats are usually handled together or in close proximity to gluten-containing grains like wheat and barley. Therefore, the chances are usually high that the oat has cross-contaminated with gluten somewhere during production. So you need to be cautious there. Not to mention people with celiac disease might react to oats as oats have a protein called avenin, which is different but rather similar to gluten.
The safest way to keep oats in your diet if you buy "certified gluten-free", but they still may end up on your foods to avoid list.
Granola / Cereal / Corn flakes
Yogurt with granola or cereal with milk might be your go-to breakfast, but now you need to pay closer attention. If you take a granola box and it says with large letters "Oats, Nuts, and Berries" be cautious. There is still a very high possibility that you will find rolled wheat or other gluten-containing grains among the ingredients. Not to mention if there are really only oats in them, there is a very slim chance that those oats are "certified gluten-free" ones.
The safest way to enjoy granola is to make it at home or look for the large gluten-free label on the box like this one*.
As for cereals, you would think that if you are talking about corn flakes, they are 100% corn flakes. Sadly not. Take Kellog's Frosted Flakes, which is 100% corn but they use malt flavoring which is not gluten-free.
The list of gluten-free corn flakes is very rather short. You can find more online like these gluten-free puffs* or these multi-grain gluten-free pillows*.
Corn tortillas
Even if the package says corn tortillas, it is actually pretty hard to find one that is 100% made of cornflour. There is always a little bit of wheat flour in it – I presume – to make it softer. You have a better chance at finding 100% corn tortillas among hard taco shells.
The safest way to enjoy them is to make your own tortilla (Flourless Tortilla recipe) or try one of the store-bought certified gluten-free tortillas like Mission tortillas* or BFree Tortillas*.
French fries
Let's make a distinction between restaurant-style French fries and frozen French fries from the freezer section. You would think that it is only potatoes, so it is vegan and gluten-free. But there is a big but.
If you want to order French fries in a restaurant, you need to ask whether they deep fry it in the same oil as they deep fry breaded food in. The breadcrumbs (usually wheat-containing) jeopardize the oil, even if the fries were really 100% potatoes. A seemingly safe food just became dangerous due to how they prepare it.
If you search for frozen French fries to bake or deep fry at home, you need to take make sure they are in fact gluten-free. The devil is in the details. Be especially skeptical when the fries are seasoned. Even more so when it is labeled as "Produced in a facility processes wheat".
The safest way to enjoy French fries is to deep fry or bake raw potatoes at home or buy "certified gluten-free" frozen French fries.
Crispy fried onion
It was one of the most surprising discoveries when I started eating gluten-free. I have never ever thought fried onion rings are coated in wheat flour before deep-fried and packed up.
The safest way to enjoy them is to make them at home and coat it with gluten-free flour or look for non-coated crispy fried onions*.
Beer
It is kind of a bonus category, being not really a food per se. However, beer goes to the avoid immediately list sadly. The main ingredients of beer are malt from barley, hops, yeast and water. Barley is one of the gluten-containing grains and the distillation process does not eliminate the gluten from the drink. Companies are getting more and more creative though and come up with gluten-free beer or gluten-reduced beer. Here is a good infosheet about the differences.
The safest way to enjoy them is to choose dedicated gluten-free beer.
***********
We hope the above list is helpful for you to start your gluten-free vegan life. Let us know in the comments or drop us an email if you have any questions.