This butternut squash pasta sauce blends the warmth of seasonal ingredients with the classic taste of Italian cuisine, all in one delicious bowl. It combines the earthy flavors of roasted butternut squash with the comforting goodness of pasta. It's like getting the best of both worlds on your plate!
Check out my other pasta sauce recipes, like creamy spinach pasta sauce, caramelized carrot pasta sauce, or my casarecce pasta.
Jump to:
❤️ Why you'll love it
My butternut squash pasta is a flavorful blend of roasted butternut squash, mingled with roasted garlic and onion. Thyme and sage are just the herbs you need to turn them into an aromatic sauce. Add some pasta into the mix, and you've got yourself a delightful dish.
This recipe is all about balance. The sweet and nutty flavors of winter squash harmonize with the savory allure of garlic and onion. Roasting adds a caramelized undertone to all these vegetables, highlighting their natural sweetness. In the end, all is blended into a savory and creamy sauce, coating every strand of pasta!
If you're on the hunt for more tasty seasonal recipes, don't forget to check out my Winter Vegan Cookbook. It's filled with plant-based goodness to keep your taste buds dancing all winter long. You won't want to miss it!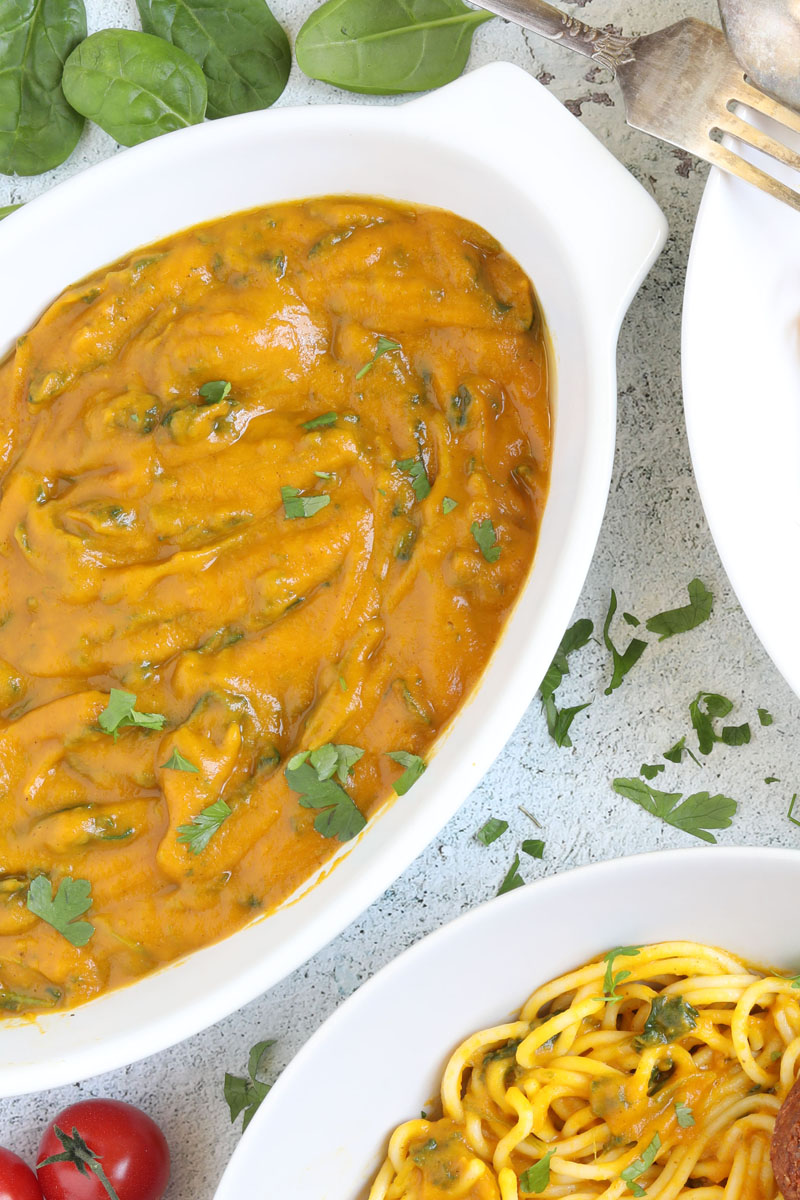 🧾 Key ingredients
The beauty of this recipe lies in the texture and flavors of blended roasted butternut squash with onion and garlic!
Butternut squash is the main star of the dish since it lends that rich, earthy flavor and a touch of sweetness to the dish. You can also use other squash or pumpkin, but butternut squash tastes lovely and sweet to me.
Pasta – Choose any shape of pasta you prefer. If you need it to be gluten-free, choose one that is or substitute it with some zucchini noodles.
Cloves of garlic add a bold, savory flavor that pairs beautifully with the sweetness of the squash and herbs.
Onions provide a subtly sweet, aromatic depth to the dish, enhancing its overall flavor.
Sage and thyme (fresh or dried) are my favorite herbs to use with squashes and pumpkins. They complement them perfectly.
🛒 You can find detailed measurements for all ingredients in the printable version of the recipe card at the bottom of this post.
🥘 Equipment
When it comes to creamy pasta sauces, the stronger your blender is, the smoother you will end up with. I love my Vitamix, especially to make the best creamy textures. Hand blenders are fine, but having a powerful tool like that will make all the difference. You'll see.
👩‍🍳 Instructions
Preparing the ingredients
STEP 1
Set the oven to preheat at 400°F (220°C). While the oven is preheating, prepare the vegetables. Dice the fresh butternut squash into ½-inch cubes or slice it. Cut the onions into wedges.
STEP 2
Boil a large pot of water and follow the instructions on the back of the packet to cook pasta. Cook the pasta until it's al dente. Once done, remove the pasta from the stove and drain it. Be sure to reserve some of the pasta water for later use.
Making butternut squash pasta sauce
STEP 3
Line a sheet pan with a baking sheet. Toss diced butternut squash, unpeeled garlic cloves, and onion wedges into the pan. Season with salt, crushed pepper, sage, and thyme. Drizzle 2 tablespoons of olive oil, then roast for 30 minutes.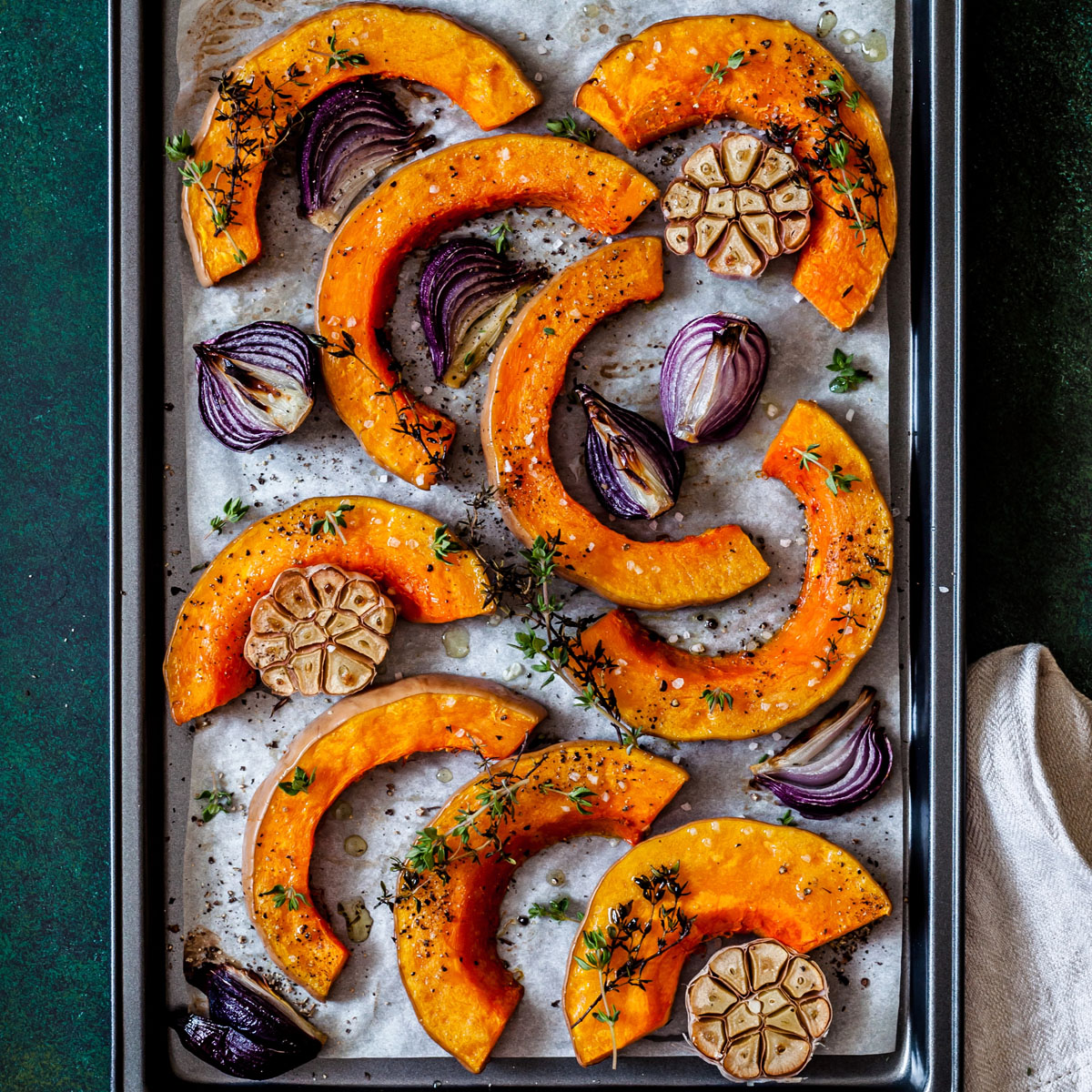 STEP 4
Cool the roasted veggies slightly. Peel the roasted garlic before adding everything from the sheet pan to a blender. Also, add canned diced tomatoes and vegetable broth. Season with salt, ground pepper, and parsley. Blend until smooth.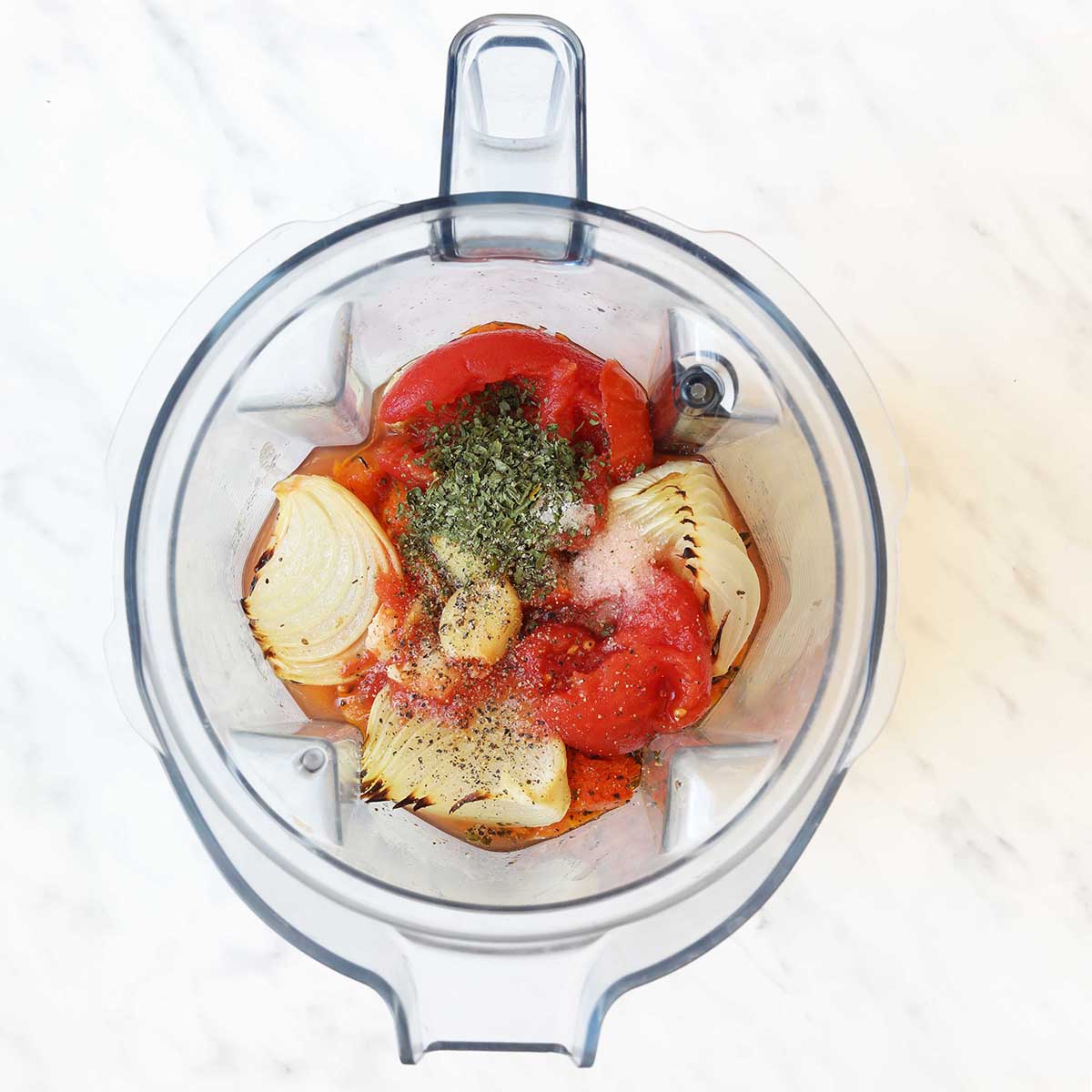 STEP 5
Transfer to a saucepan, add spinach, and simmer for 3-4 minutes until creamy. This step is optional, but I highly recommend it. This recipe is easy to boost with leafy greens without altering the flavor or texture.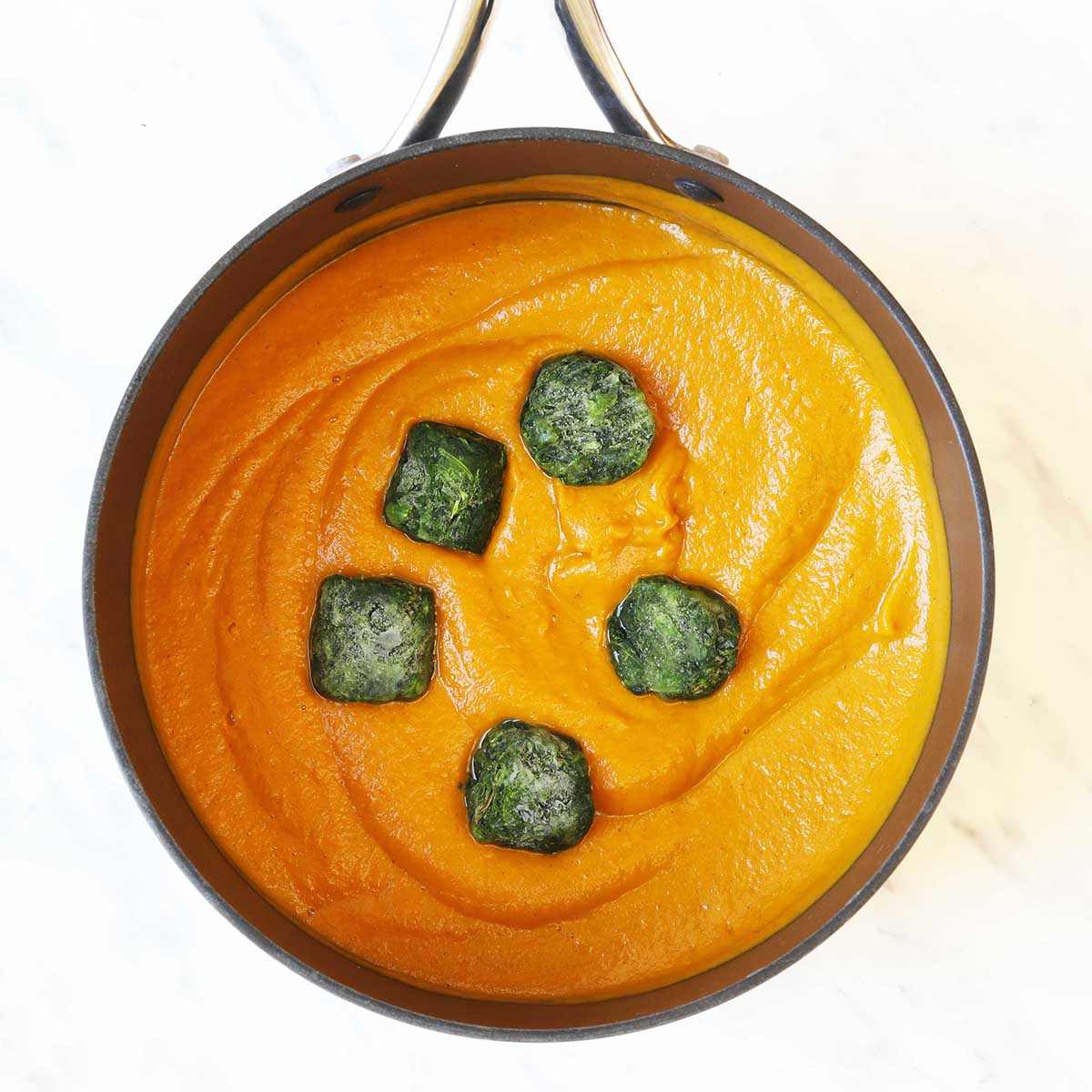 STEP 6
Add the cooked pasta and toss it around till every noodle is coated with the creamy sauce. Add some reserved pasta water to achieve your preferred consistency if the sauce is too thick.
💡 Expert tip
To make peeling and cutting butternut squash easier, microwave it for a minute or two. This softens the skin, making it more manageable to work with.
🔄 Variations
Want to give your butternut squash pasta sauce some extra oomph? Sprinkle on some toasted pinenuts or walnuts for that satisfying crunch. Or make your dish pop by grating vegan parmesan cheese on top.
Get creative with your pasta selection. Try different short pasta shapes like fusilli, penne, or farfalle. These varieties will capture the savory sauce in their nooks. And if you're on a gluten-free diet, plenty of alternatives are available, from classic choices to protein-packed options like quinoa spaghetti, edamame spaghetti, or chia flour pasta.
🥣 Serving ideas
This butternut squash pasta sauce is great served with some vegan black bean balls. You can find the recipe in my Winter Vegan Cookbook. Alternatively, pair it with tofu meatballs, TVP meatballs, or eggplant meatballs.
I love adding a pop of color with fresh or roasted cherry tomatoes and toasted pine nuts. Or complement it with a fresh green salad. Enjoy!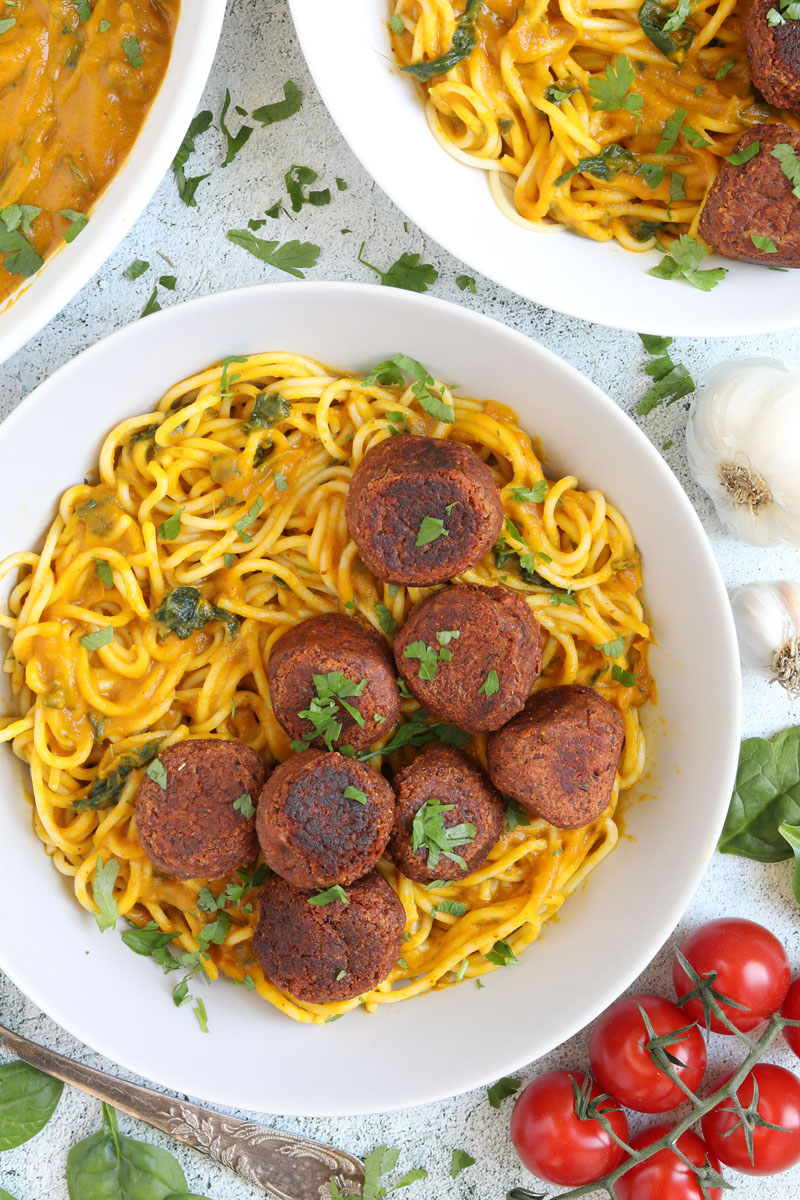 ❄️ Storing tips
I always recommend storing pasta and sauce separately. Even if your pasta is cooked, it can still absorb the sauce, making the pasta mushy and the sauce dry.
Store any leftover butternut squash pasta in an airtight container in the refrigerator for up to three days. For longer storage, use a freezer-safe container and freeze it for approximately three months.
To reheat, you can use a microwave for a quick meal or gently warm it on the stovetop. Add a little water or vegetable broth to restore the consistency and revive the flavors.
🤔 FAQs
What is the easiest way to peel and cut a butternut squash?
To peel and cut a butternut squash easily, start by slicing off both ends. Use a vegetable peeler to remove the skin while holding the squash upright. Then, cut it in half lengthwise, scoop out the seeds, and proceed to cut it as needed for your recipe. Cut them equal-sized to ensure even cooking as well as caramelization.

How can I enhance the flavors of my butternut squash sauce?
To elevate the flavors of your butternut squash pasta, consider adding a dash of nutmeg and a sprinkle of nutritional yeast when preparing the sauce. These ingredients can add a subtle depth and a cheesy, umami note to your dish.
More butternut squash recipes
I have several delicious pasta recipes, but if you are looking for recipes with butternut squash, here are my favorites:
THANK YOU so much for visiting our website. Please comment below if you have tried this recipe. We LOVE hearing from you! If you loved the recipe, please don't forget to give us a ⭐⭐⭐⭐⭐ RATING. We appreciate all of our readers.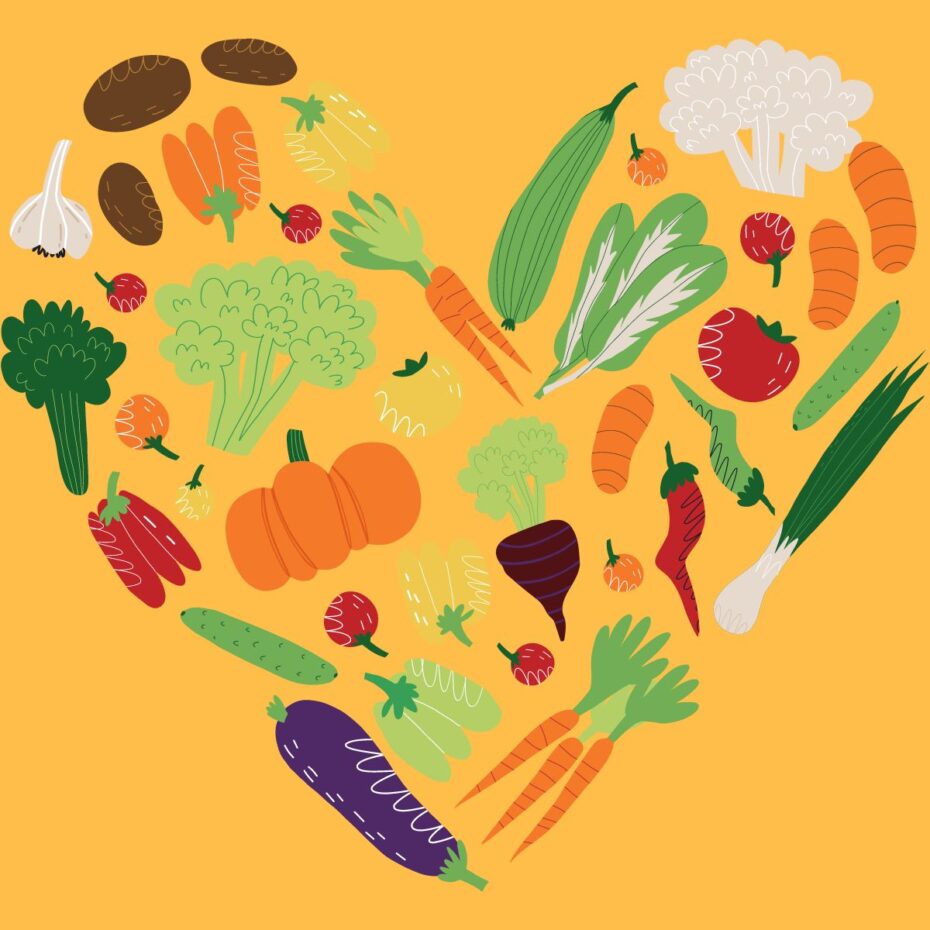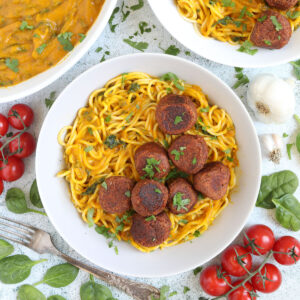 Butternut Squash Pasta Sauce
This butternut squash pasta recipe blends the warmth of seasonal ingredients with the classic taste of Italian cuisine, all in one delicious bowl. It combines the earthy flavors of roasted butternut squash with the comforting goodness of pasta. It's like getting the best of both worlds on your plate!
Instructions
Cook pasta as per package instructions. Drain it.

Preheat oven to 400 F / 220 C.

Add diced butternut squash (½ inch), onion wedges, and unpeeled garlic to a baking sheet. Season with salt, thyme, sage, and black pepper. Drizzle them with 2 Tbsp olive oil. Use a spatula or your hands to spread the oil evenly. Bake for 30 minutes.

Add all baked vegetables, canned tomatoes, vegetable broth, salt, black pepper, and parsley to a blender and blend until smooth.

Add the blended sauce and the frozen spinach leaves into a saucepan. Bring it to a boil and cook for 3-4 minutes.

Mix cooked pasta with sauce. Enjoy!
Nutrition
Nutrition Facts
Butternut Squash Pasta Sauce
Amount Per Serving (1 serving)
Calories 552
Calories from Fat 81
% Daily Value*
Fat 9g14%
Sodium 217mg9%
Potassium 1135mg32%
Carbohydrates 104g35%
Protein 17g34%
Vitamin A 23330IU467%
Vitamin C 51mg62%
Calcium 174mg17%
Iron 4mg22%
* Percent Daily Values are based on a 2000 calorie diet.