Make this amazing butternut squash curry by combining sweet, nutty butternut squash with a mix of aromatic spices and coconut milk. You will have a delightful dish that is easy to make and can be batch-cooked anytime. It is comfort food at its finest.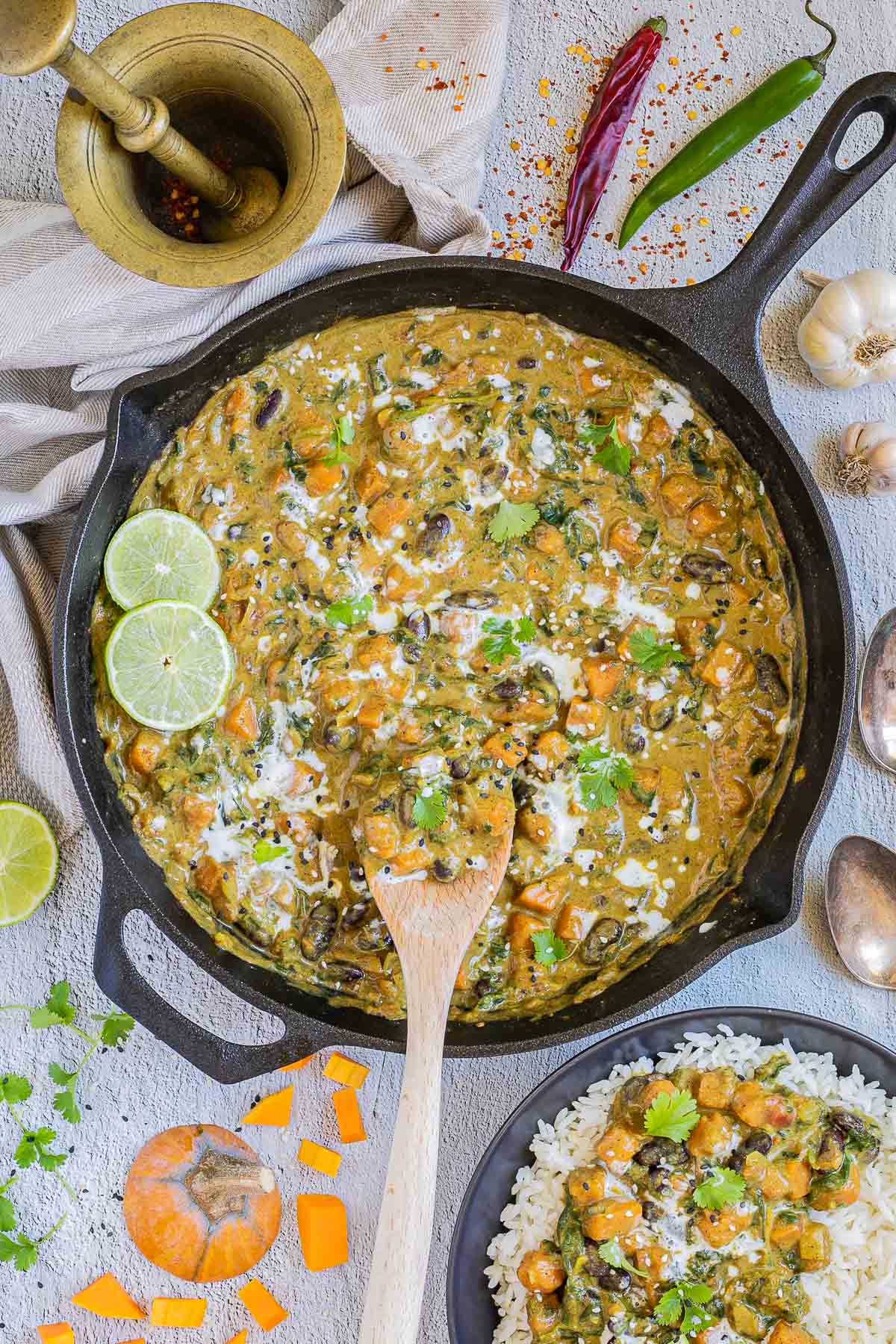 If you want to add more tasty curries to your weekly menu, check out my other recipes, like chickpea tofu curry, sweet potato tofu curry, and lentil chickpea curry.
Jump to:
❤️ Why you'll love it
I really love the taste of roasted butternut squash curry. The sweet, nutty butternut squash with those aromatic spices and coconut milk creates a creamy, and just slightly garlicky curry that's incredibly satisfying. This dish strikes a perfect balance – comforting yet exciting – and it is always a hit when I serve it to my family and friends.
The curry powder's gentle heat nicely counters the sweetness of the butternut squash. Coconut milk gives it a rich, creamy texture that is hard to resist, and a hint of garlic adds depth to the taste. The overall result? A curry that is both scrumptious and fulfilling.
If you're looking for more budget-friendly recipes, be sure to check out my Winter Vegan Cookbook. It's packed with tasty, wallet-smart dishes like this curry recipe.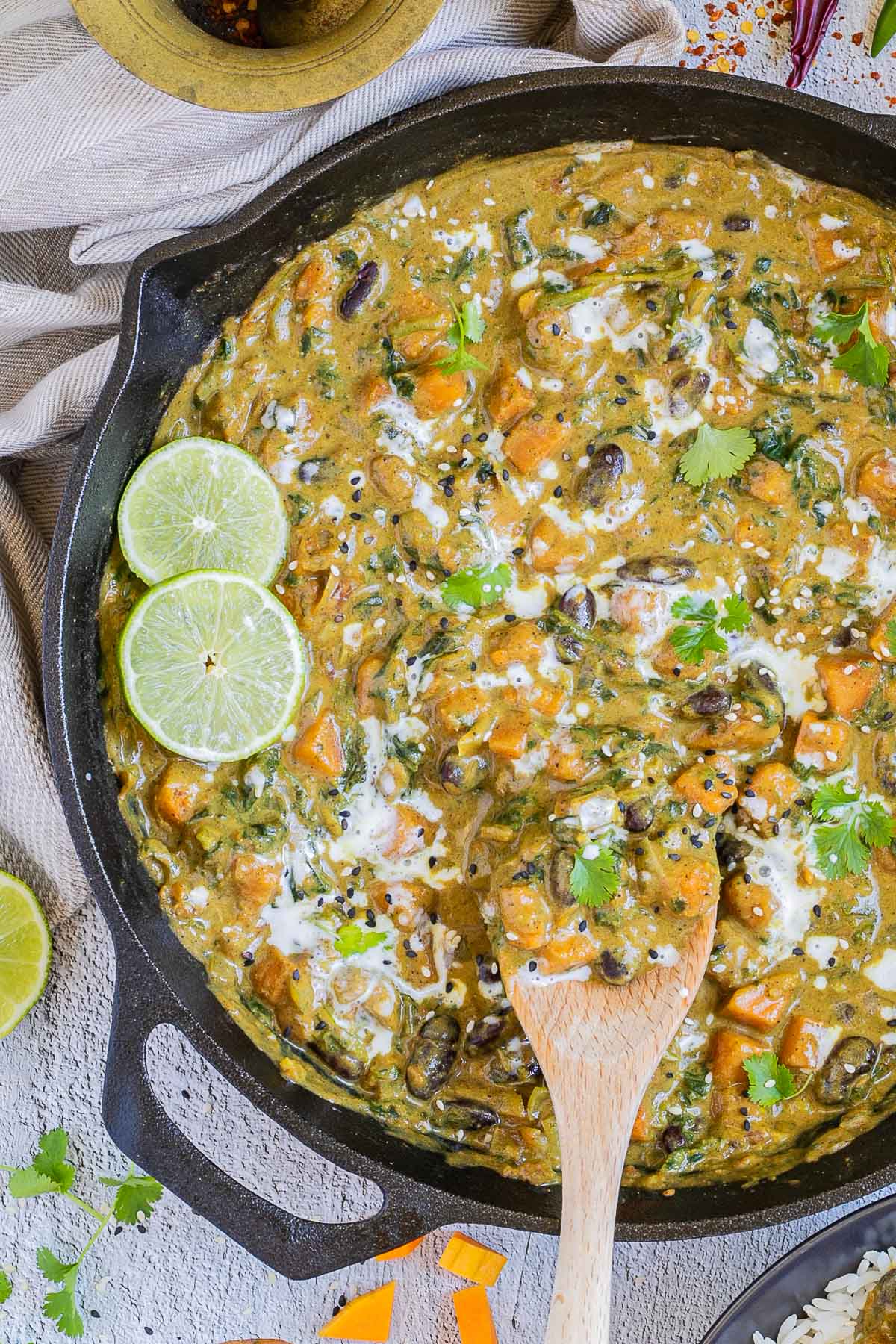 🧾 Key ingredients
Butternut squash takes center stage, contributing a rich, earthy flavor with a touch of natural sweetness. Other squashes, as well as sweet potatoes, are suitable alternatives.
Garlic cloves are a must-have ingredient in this curry. It adds a robust, savory taste that perfectly complements the squash and herbs.
Red kidney beans and spinach are optional ingredients but contribute greatly to the overall flavor and richness.
Garam masala is a medley of flavors. Store-bought garam masala features spices like mace, cinnamon, pepper, coriander seeds, cardamom pods, cumin seeds, and more (or less! It just depends on your choice). It uniquely combines sweetness, warmth, earthiness, and subtle floral notes.
Full-fat coconut cream for that velvety texture. Cashew cream is another option for achieving this. For a lighter twist, opt for light coconut milk.
🛒 You can find detailed measurements for all ingredients in the printable version of the recipe card at the bottom of this post.
🥘 Equipment
I love my trusted Vitamix, which turns anything into a smooth, creamy texture. You can optionally use an immersion blender to blend the curry and achieve a close enough consistency.
👩‍🍳 Instructions
Preparing the ingredients
Peel the butternut squash and then dice it into little 1-inch cubes. Moving on, peel the onion and give it a fine chop. Peel and mince the garlic cloves, and finish by dicing those fresh tomatoes or grab canned tomatoes from your pantry.
Making butternut squash curry
STEP 1
Begin by preheating a frying pan over medium heat. Once it's hot, add a generous drizzle of oil, and then toss in the diced butternut squash. Sauté them for about 4 to 5 minutes, stirring occasionally until they develop a beautiful golden-brown hue.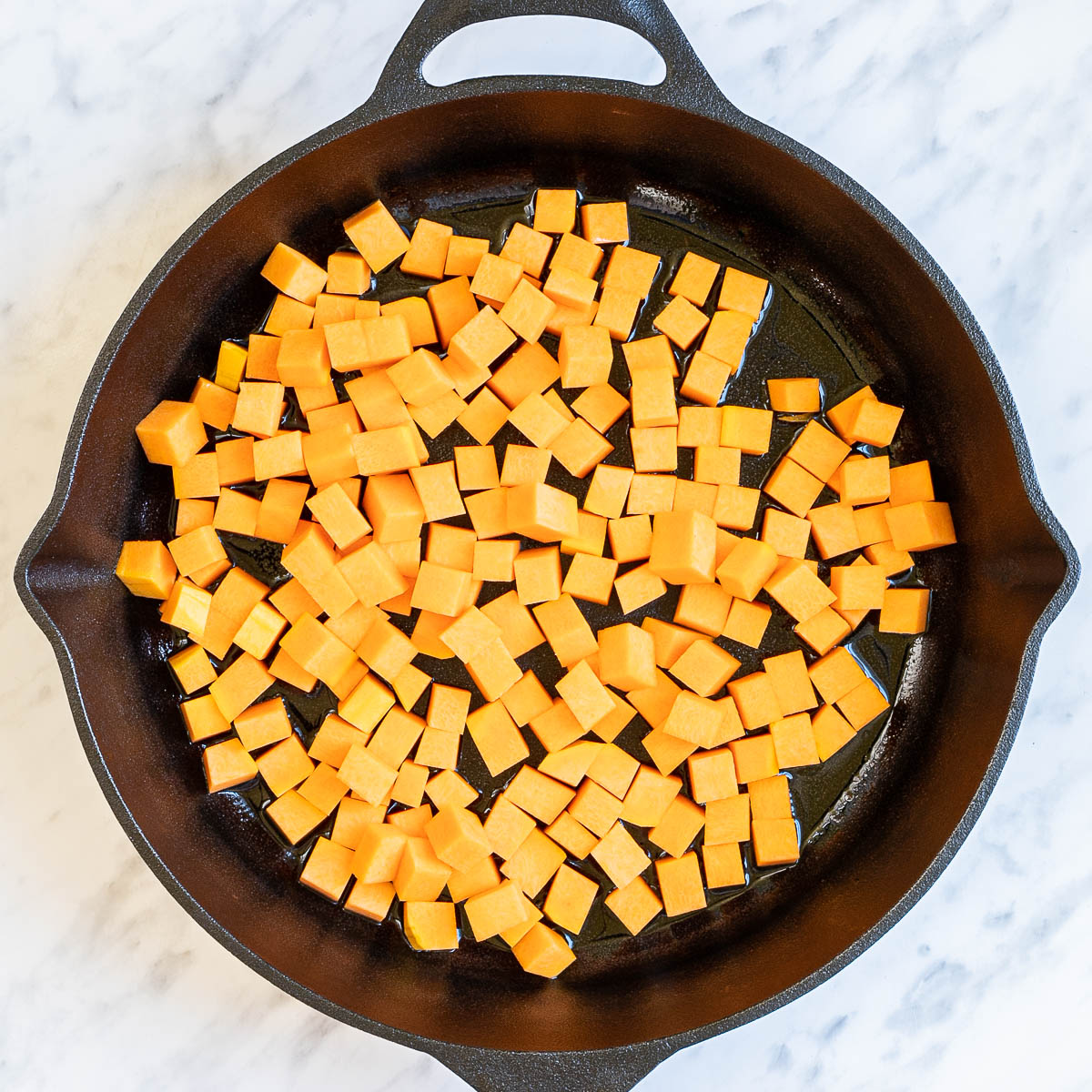 STEP 2
Now, introduce the finely chopped onion and minced garlic to the pan. Sprinkle a pinch of salt to enhance the flavors. Keep sautéing for an additional 3 to 4 minutes until the onion becomes translucent and aromatic.
STEP 3
Stir in the diced tomatoes, garam masala, turmeric, and ginger powder. Pour in the vegetable broth and give everything a thorough stir. Allow the mixture to come to a gentle boil, enhancing the flavors.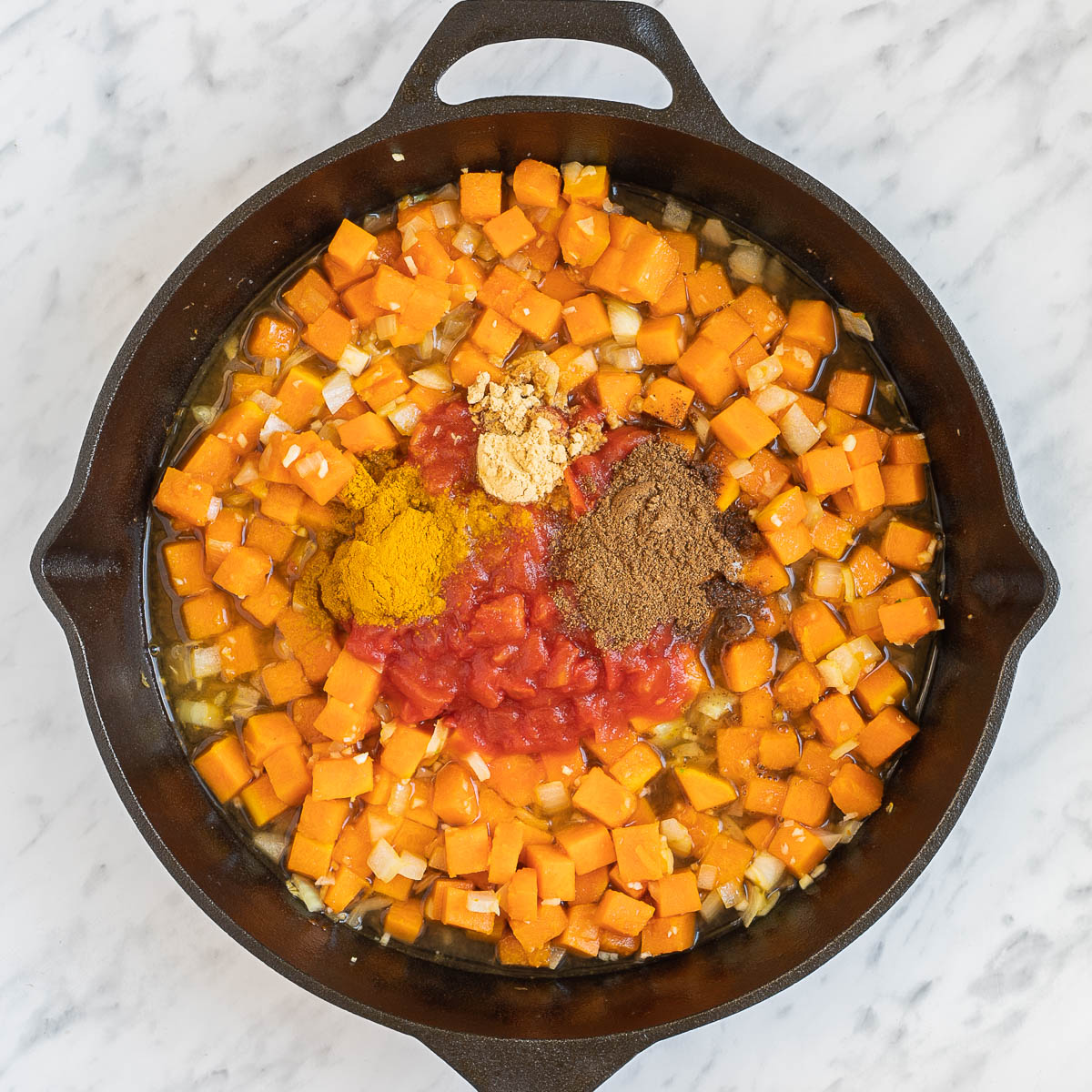 STEP 4
Lower the heat to a gentle simmer and let the curry continue simmering for about 10 minutes.
STEP 5
Add the drained kidney beans, frozen spinach, and coconut cream to the pan. Stir well to blend everything. Cook for an extra 3 to 4 minutes until the beans are heated through. You want to ensure the spinach remains vibrant, and the curry achieves its creamy consistency.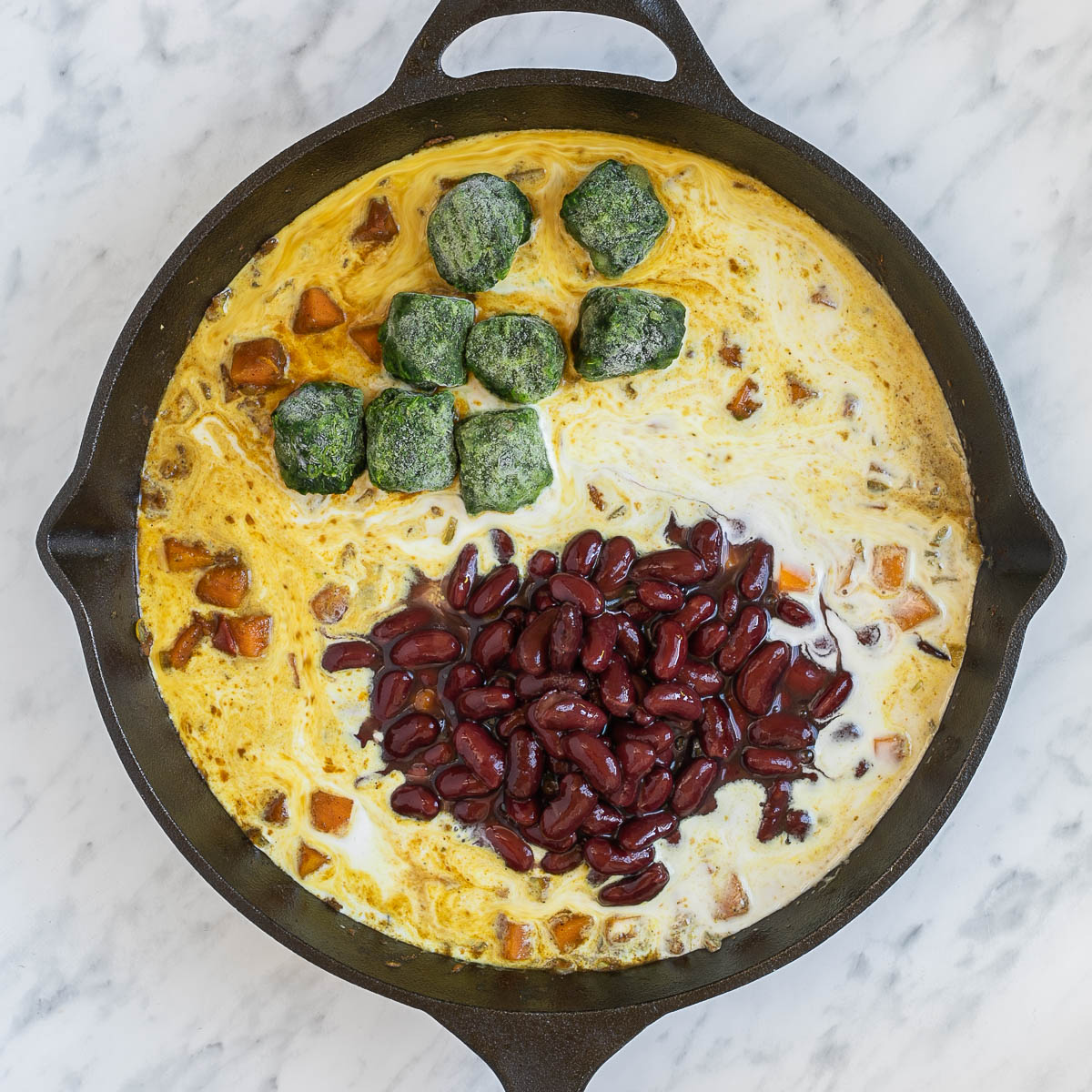 💡 Expert tip
Pre-roasted butternut squash can add an additional caramelized tone to the curry. Before adding them to the curry, you can roast them in the skillet or use leftovers from other recipes like butternut squash steaks.
🔄 Variations
If you don't have garam masala on hand, you can easily recreate it at home. Replace it with the same amount of curry powder and add 1 teaspoon of ground cumin. While it won't replicate the exact flavor of garam masala, it will still infuse your curry with a flavorful and aromatic blend of spices.
Customize the spice level to your liking. It is a mild butternut squash curry now, but add red pepper flakes, diced chili peppers, or your favorite hot sauce.
Full-fat coconut cream impacts the thickness of the curry. If you use light coconut milk, the texture will certainly be different. You will lose the richness the coconut cream provides.
While this recipe features kidney beans, you can experiment with other add-ins like chickpeas, red lentils, or tofu. Just adjust the cooking times accordingly to ensure it is fully heated through.
🥣 Serving ideas
Explore the world of flatbreads like chapati, lavash, or tortillas – they're wonderfully versatile for wrapping and savoring your curry.
Warm pita bread, pillowy naan, or the traditional Indian roti are all excellent choices to scoop up the curry.
For a side, whip up a refreshing salad with cucumber and red onion, dressed in a light vinaigrette for a full meal.
My go-to side for curries is simple steamed rice, but if you want something light and slurp-worthy, try rice noodles.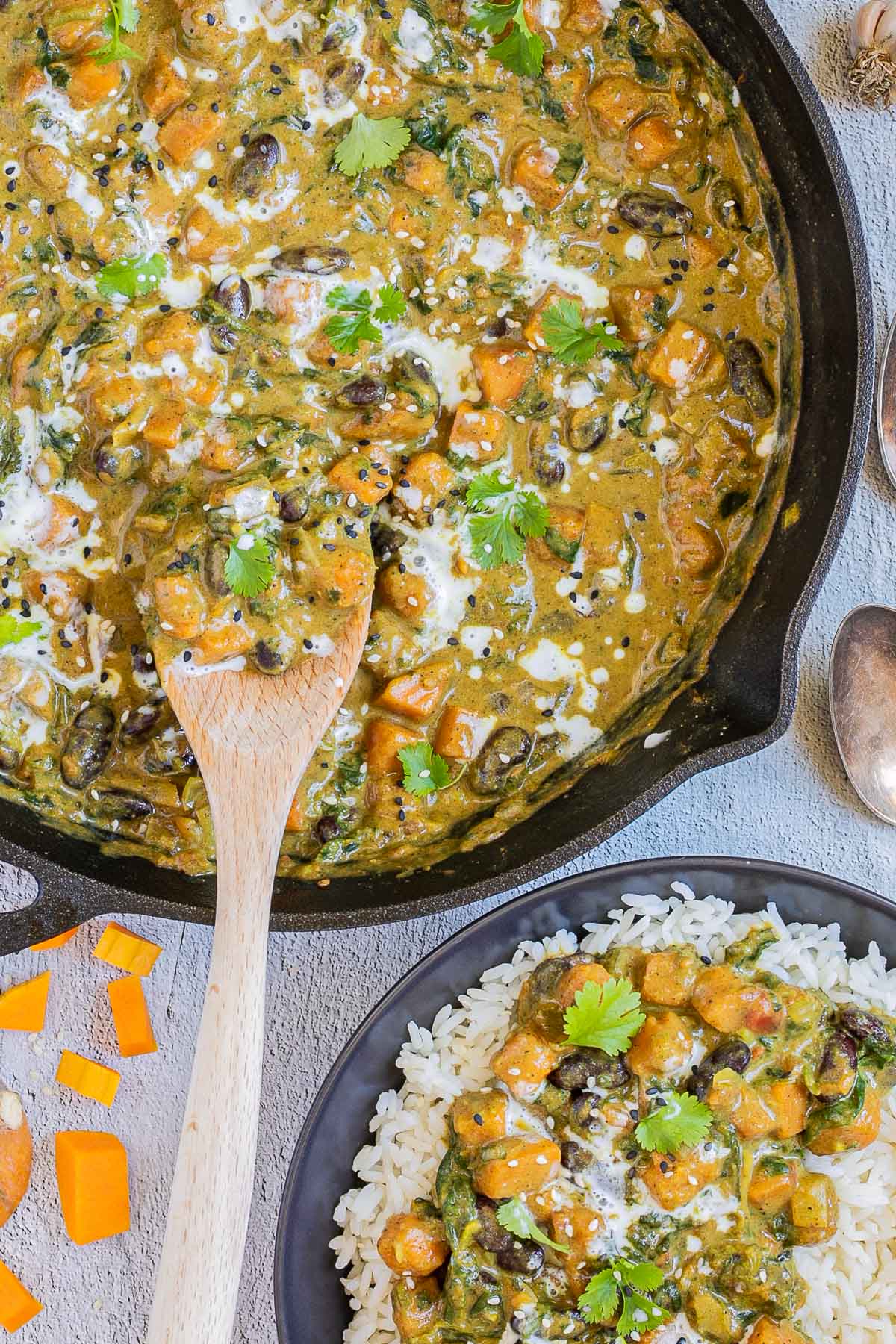 ❄️ Storing tips
To store your delicious butternut squash curry, pop any extra servings in airtight containers or freezer-safe containers and keep them in the fridge for 3-4 days. If you plan a longer break, your curry will stay tasty for 2-3 months in the freezer.
When you're ready to dig in again, reheat on the stovetop or microwave, and don't hesitate to add a splash of coconut milk or broth to revive those lovely flavors. A squeeze of fresh citrus juice or a sprinkle of extra spices can really wake it back up.
🤔 FAQs
Is it necessary to peel butternut squash before cooking?
Yes, it is necessary. Peeling butternut squash before cooking is crucial for flavor and texture. It helps the squash absorb flavors and become creamy in dishes like butternut squash curry.
How do you peel a tough squash?
To peel a tough squash like butternut, trim the ends, then use a sharp vegetable peeler or knife to remove the skin, following its natural curve. If it is too tough, a quick microwave zap for a minute or two can soften it, making peeling easier.
What part of butternut squash do you use?
You can use almost any part if a recipe calls for butternut squash. The best is to cut off the stem on top and bottom, peel it, and scoop out the seeds and the slimy middle. Cut into the required sized as per your chosen recipe. For curries, cube works the best.
More curry recipes
I love curry recipes since they are aromatic, flavorful, easy to make, and perfect for batch cooking. Here are some of my favorite ones:
THANK YOU so much for visiting our website. Please comment below if you have tried this recipe. We LOVE hearing from you! If you loved the recipe, please don't forget to give us a ⭐⭐⭐⭐⭐ RATING. We appreciate all of our readers.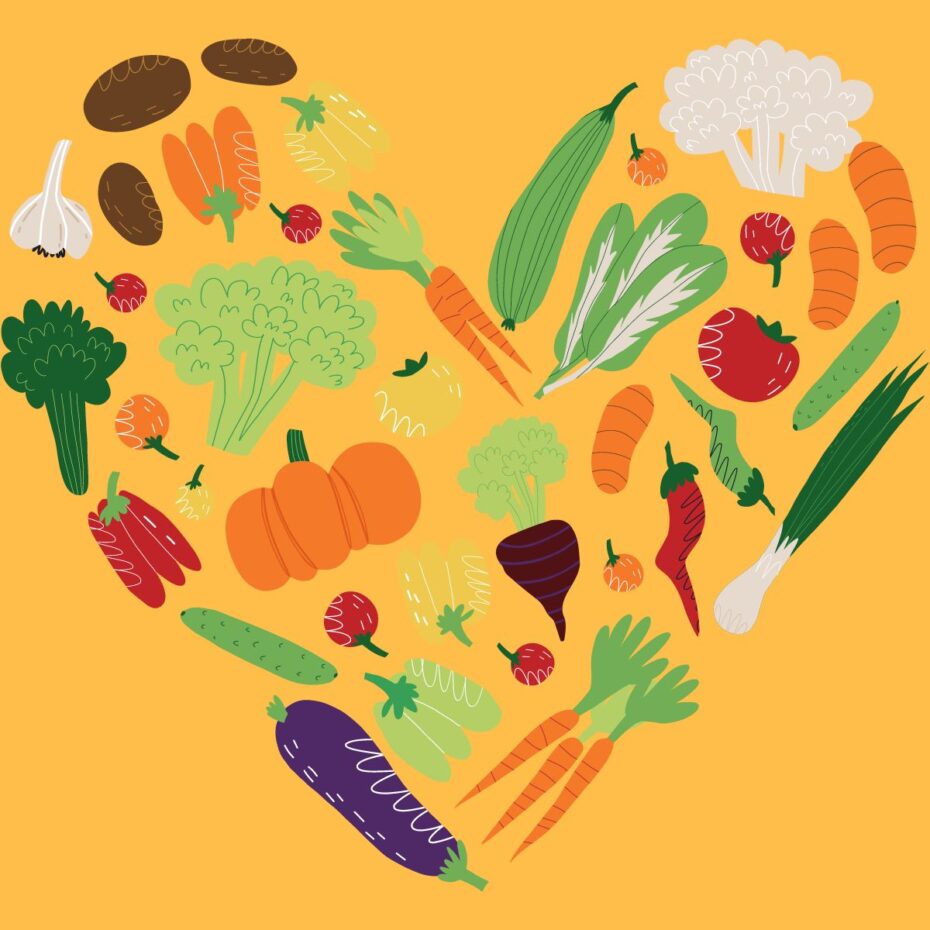 Butternut Squash Curry
Make this amazing butternut squash curry by combining sweet, nutty butternut squash with a mix of aromatic spices and coconut milk. You will have a delightful dish that is easy to make and can be batch-cooked anytime. It is comfort food at its finest.
Instructions
Preheat a frying pan over medium heat and add oil and diced butternut squash (½ inch). Cook for 4-5 minutes.

Add chopped onion and garlic. Season with salt and cook for another 3-4 minutes.

Add canned chopped tomatoes, garam masala, vegetable broth, turmeric, and ginger. Stir well and bring it to a boil. Simmer for 10 minutes until the squash is almost tender.

Add beans, frozen spinach, and coconut cream. Cook for 3-4 minutes.

Serve it with chopped cilantro and squeeze some lime juice on top.
Notes
This recipe works great with roasted butternut squash. Pre-roast them before adding them to the curry, or use leftovers from other recipes.
Don't have any garam masala? You can replace it with the same amount of curry powder and 1 tsp cumin. It will not taste the same, but you will have a flavorful, aromatic curry dish nonetheless.
Nutrition
Nutrition Facts
Butternut Squash Curry
Amount Per Serving (1 serving without sides)
Calories 403
Calories from Fat 198
% Daily Value*
Fat 22g34%
Sodium 346mg15%
Potassium 1360mg39%
Carbohydrates 48g16%
Protein 12g24%
Vitamin A 23174IU463%
Vitamin C 49mg59%
Calcium 182mg18%
Iron 6mg33%
* Percent Daily Values are based on a 2000 calorie diet.