In this collection of 19 delicious vegan appetizers, we're bringing you a colorful array of options to help you choose what to serve. From nutritious dips to flavorful bites, each recipe is designed to wow your guests.
Avocado Spring Rolls
Try our avocado spring rolls for a delicious and easy-to-prepare summer snack or appetizer. They are freshly prepared with a mix of flavorful avocado mango salsa and vermicelli noodles to create a delightful combination of texture and flavor. So refreshing!
Recipe: avocado spring rolls
Savory Eggless French Toast with Bruschetta
Our idea of a perfect vegan breakfast is this savory, 3-ingredient, eggless french toast with bruschetta made from fresh, ripe tomatoes, basil and garlic. Yum! If you are looking for a quick and savory breakfast idea, search no further.
Recipe: vegan french toast
Baked Chili Miso Tofu Bites
Transform tofu into a flavorful and crispy meal with our 8-ingredient chili miso tofu marinade. Tearing the tofu into uneven bite-size pieces gives this miso tofu a unique texture. The rough edges of the torn pieces will crisp up better in the oven, giving the tofu a more satisfying crunch.
Recipe: chili miso tofu bites
The Ultimate Falafel Platter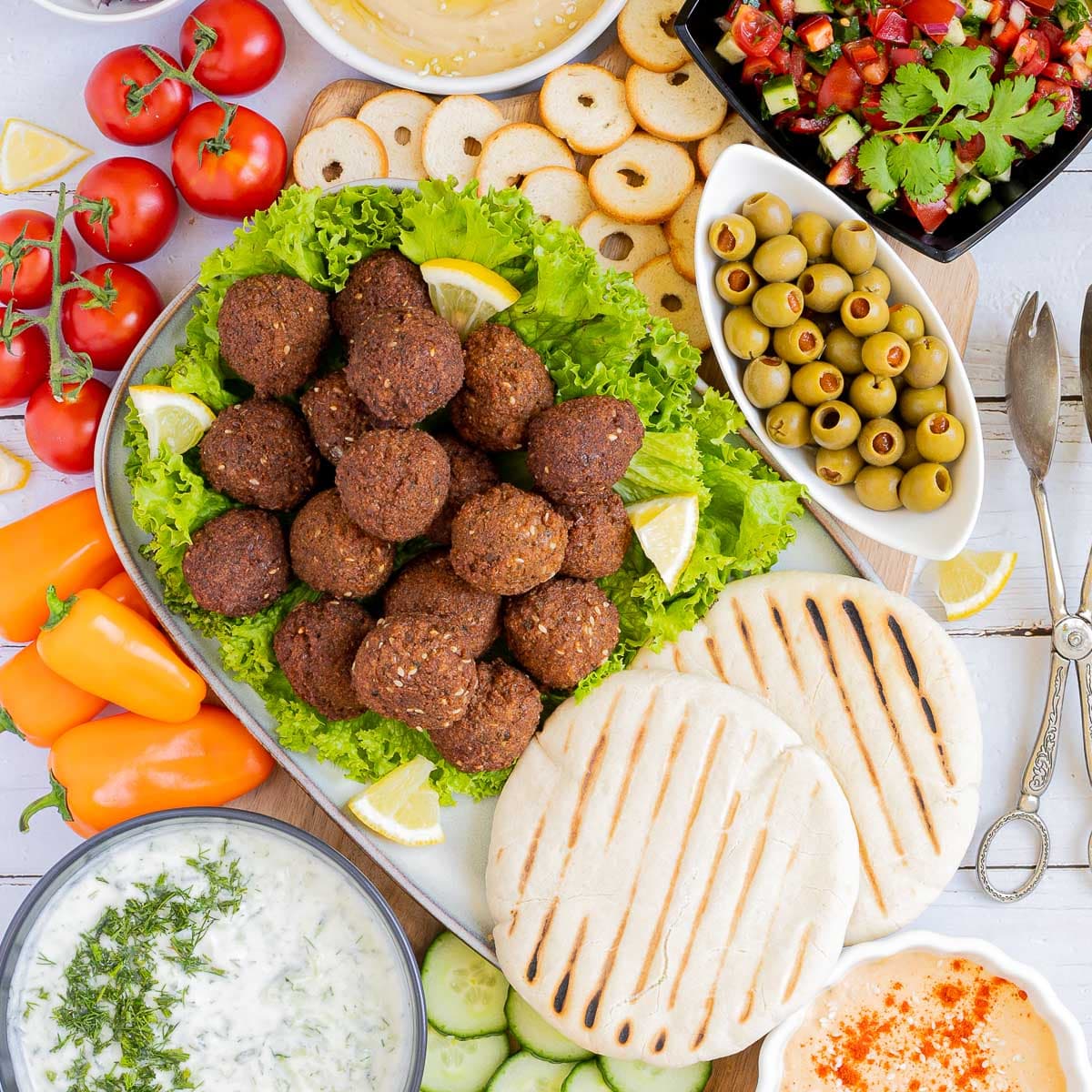 This colorful falafel platter is a feast for both the eyes and the taste buds. Crispy falafel, creamy tzatziki, and flavorful hummus are just some of the highlights of this Middle Eastern-inspired dish that is perfect for any occasion.
Recipe: falafel platter
Rice Paper Samosa Rolls
These rice paper samosas are a healthier twist on the classic fried samosas, filled with a spicy and flavorful potato and pea mixture, and wrapped in a crispy rice paper wrapper. They are easy to make and sure to impress your guests at any gathering.
Recipe: vegan samosas
Mediterranean Grazing Board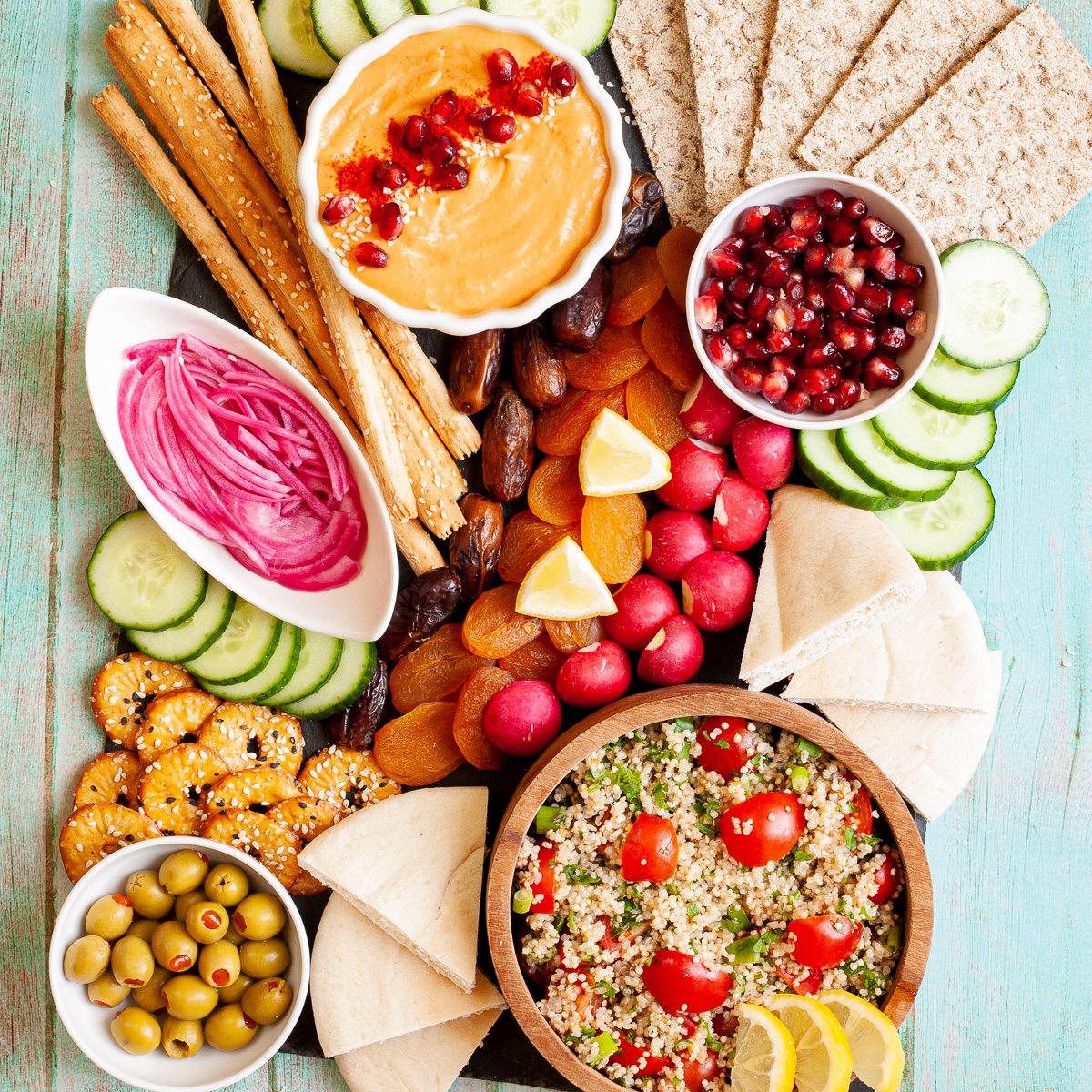 A grazing board is the perfect combination of aesthetics and taste. With a variety of dips, crunchy breadsticks, pickled onions, and soft pita bread, it's a delicious Mediterranean feast that's perfect for sharing with family and friends.
Recipe: Mediterranean Grazing Board
Grilled Buffalo Tofu Skewers
Indulge in the bold and spicy flavors of buffalo tofu with a crispy caramelized crust that is sure to satisfy your cravings. Try pan-frying or grilling marinated tofu on skewers for an easy but flavorful dish that will leave you wanting more.
Recipe: buffalo tofu skewers
Hummus Without Tahini
This sunflower seed hummus recipe is hands down the best hummus without tahini out there. We didn't just settle for a basic chickpea puree because we discovered the perfect substitute: roasted sunflower seeds or sunflower butter.
Recipe: hummus without tahini
Sliceable Pistachio Cheese
Did you know you can make homemade vegan cheese using pistachios in 20 minutes? It will have a beautiful green color, a nutty, cheesy flavor, and a perfectly sliceable texture.
Recipe: pistachio nut cheese
Ramen Spring Rolls
Rolled and ready in just under 30 minutes, these ramen spring rolls are sure to be a scrumptious addition to your next dinner party. Serve it up as an appetizer or snack and let your guests enjoy the savory flavors of bok choy, scallion, and wood ear mushroom, cooked in a spicy blend of sriracha and soy sauce!
Recipe: ramen spring rolls
Crispy Rice Paper Spring Rolls
Enjoy the perfect balance of textures and flavors with these crispy and flavorful rice paper spring rolls. Packed with fresh and colorful veggies, along with marinated tofu, these rolls are a healthy and delicious meal that can be enjoyed as a snack or a light lunch.
Recipe: rice paper spring rolls vegan
Roasted Beet Hummus
Have you ever tried pink hummus? This roasted beet hummus recipe will give you the fluffiest and creamiest texture you could imagine. It is also quick to make since you need only 15 minutes to roast the beets, then 5 minutes to blend them together with the chickpeas.
Recipe: roasted beet hummus
Sushi Spring Rolls
Whether you are preparing for an office potluck or hosting friends and family at home, these delicious sushi spring rolls are sure to impress. You can create mouthwatering rolls featuring aromatic, teriyaki tofu, creamy avocado, and crunchy cucumber.
Recipe: sushi spring rolls
Vegan Buffalo Chicken Dip
Learn how to make a creamy, cheesy, vegan cream cheese sauce that's both soy and nut-free using cannellini beans. Pair it with oyster mushrooms for the perfect plant-based alternative to shredded chicken in your vegan buffalo chicken dip.
Recipe: vegan buffalo chicken dip
Buffalo Vegan Chicken Wings
Are you looking for the tastiest, and easiest Vegan Buffalo Wings? The chicken itself is only ONE ingredient! No vital wheat gluten or seitan or any other soy product is needed. It is hot and sticky on the outside, meaty on the inside.
Recipe: vegan buffalo chicken wings
Rice Paper Dumplings
These crispy rice paper dumplings are a delicious vegan alternative to traditional dumplings. With a filling of marinated king oyster mushrooms, vegetables, and mung bean sprouts, they are bursting with flavor and texture.
Recipe: rice paper dumplings
Rice Paper Egg Rolls
These vegan egg rolls are a perfect appetizer or snack, with a savory and crispy texture that will satisfy your cravings. Made with a flavorful mix of vegetables, they are a healthier alternative to traditional egg rolls and can be easily baked, fried or air-fried in just a few minutes.
Recipe: vegan egg rolls
Classic Crispy Falafel
Classic falafel is delicious. Traditionally it is made of soaked chickpeas and not canned, mildly spiced with fresh herbs, formed into balls, and deep-fried until it gets a crispy crust. This vegan falafel recipe will show you exactly how easy it is to make them home.
Recipe: vegan falafel
Vietnamese Spring Rolls
These vegan Vietnamese spring rolls are the perfect light and refreshing appetizer or meal, filled with fresh herbs, crunchy vegetables, and savory mushroom shreds wrapped in delicate rice paper. The combination of textures and flavors is truly satisfying and healthy.
Recipe: vegan Vietnamese spring rolls