Rolled and ready in just under 30 minutes, these ramen spring rolls are sure to be a scrumptious addition to your next dinner party. Serve it up as an appetizer or snack and let your guests enjoy the savory flavors of bok choy, scallion, and wood ear mushroom, cooked in a spicy blend of sriracha and soy sauce!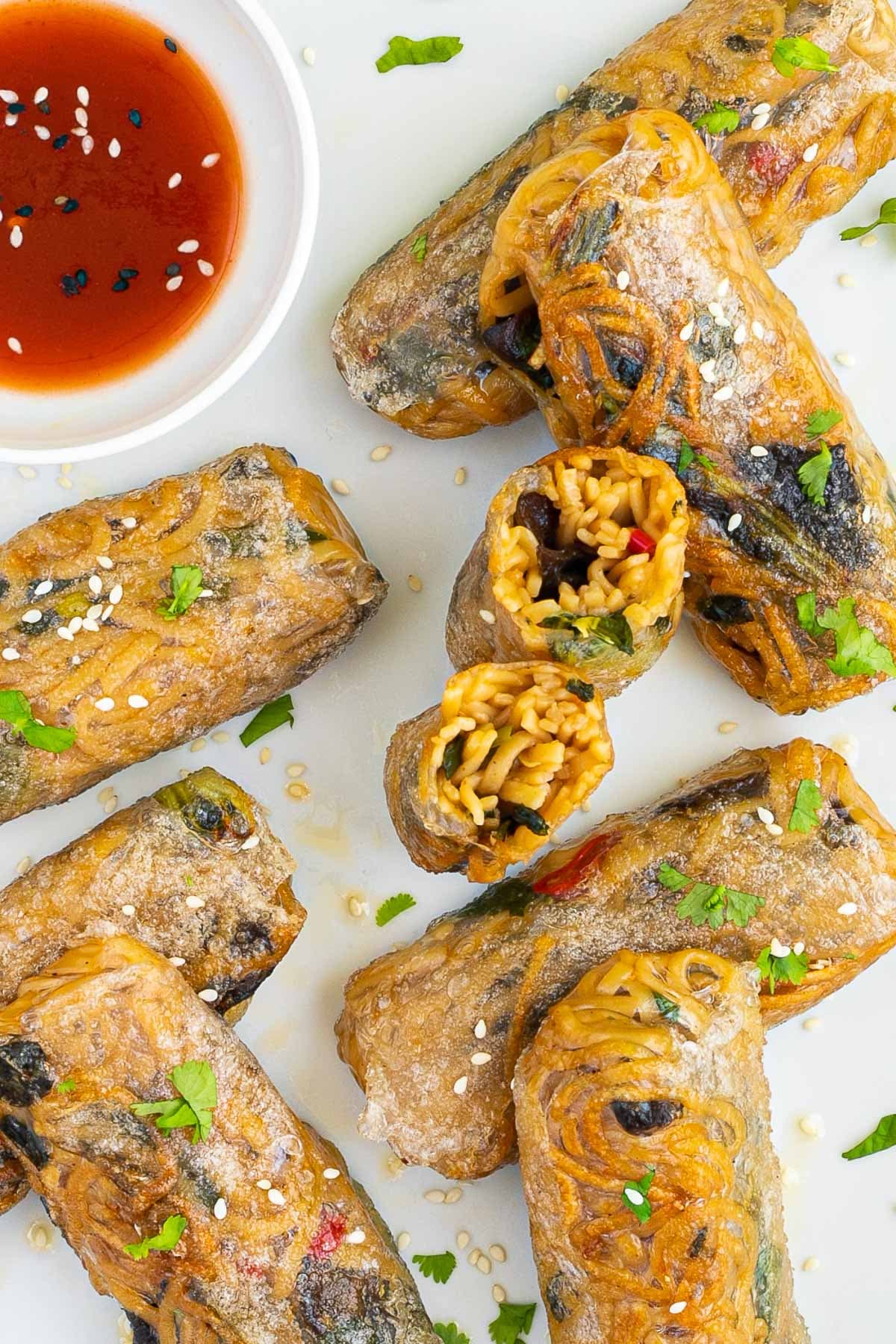 Check out our other spring rolls recipes, like Vietnamese spring rolls, rice paper spring rolls, avocado spring rolls, and sushi spring rolls, for more inspiration! We have so many, delicious rice paper recipes.
Jump to:
What to expect?
This mouth-watering recipe combines the chewy texture of ramen with the satisfying crunch of a spring roll. You'll start by whipping up a bowl of ramen that exhibits the earthy and versatile flavors of wood ear mushrooms, crispy bok choy and scallions, and fiery red chili peppers. A generous filling of this ramen is then wrapped in rice paper wrappers and pan-fried until golden brown and crispy.
Not only is this recipe packed with delicious ingredients, but it's also incredibly easy to make! With just a pair of gentle hands and a few simple ingredients, you'll master the art of rice paper rolling and spring roll making in no time. Feel free to customize the filling to your taste by adding veggies like carrots, cabbage, or avocados. And if you prefer a milder spice level, you can opt for a gentler hot sauce instead of sriracha.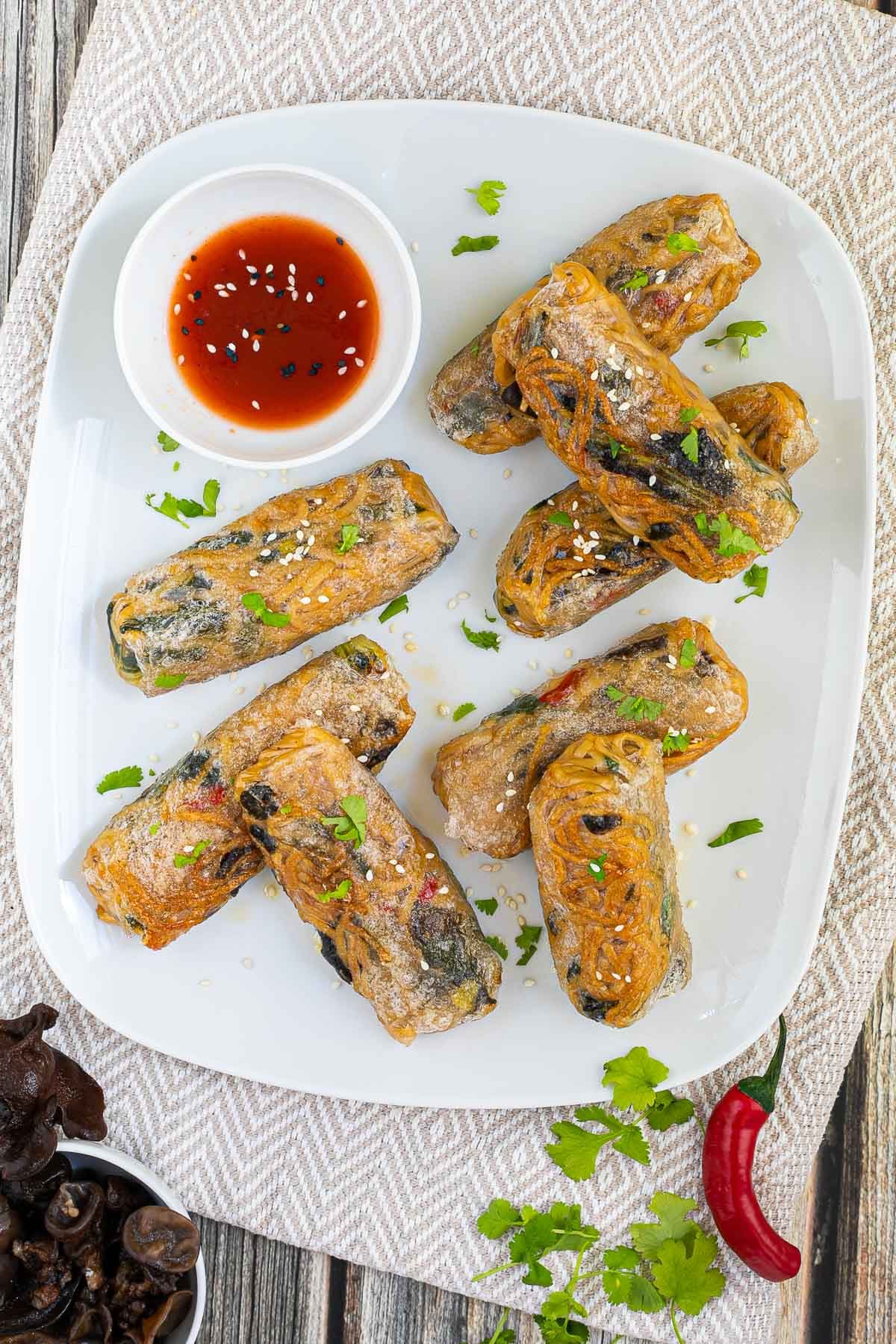 Ingredients
Most of the spices, veggies, and sauces needed for this recipe are likely already stocked in your kitchen. For a more authentic pan-Asian taste, however, you can head to your nearest store and gather the following ingredients: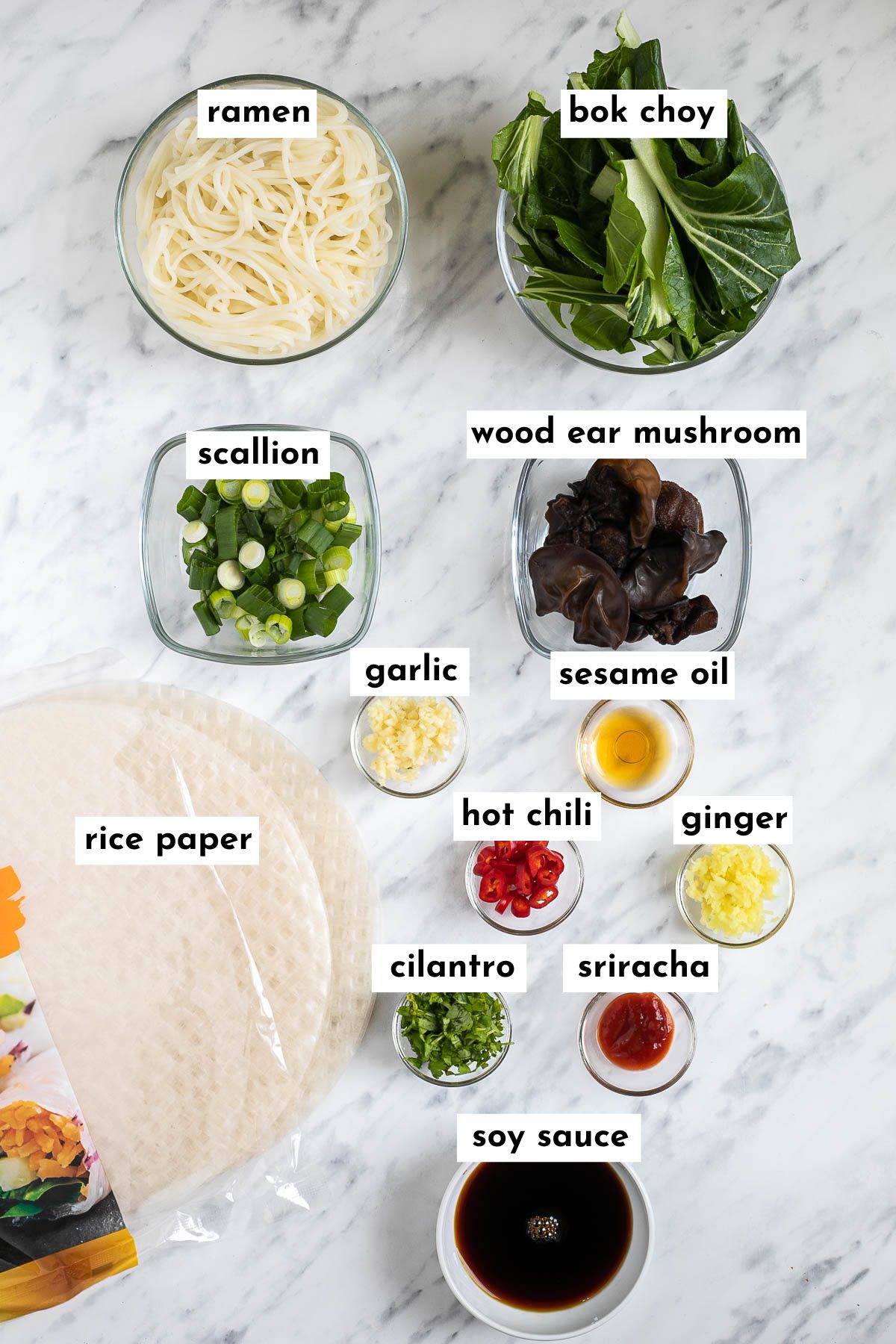 Rice paper wrappers → It is easier to work with rice paper sheets that are 100% made of rice flour. You must be more careful during rolling if yours contains tapioca or any other starch. Since they are thinner, it is easier to tear them.
Ramen noodles → We used 3.5 oz for this recipe.
Scallion
Bok choy
Soy sauce → Choose tamari for gluten-free.
Sesame oil
Chili paste – We used Sriracha for extra flavor.
Red chili peppers
Ginger
Garlic
Fresh cilantro
🛒 You can find detailed measurements for all ingredients in the printable version of the recipe card at the bottom of this post.
Instructions
Preparing the ingredients
Cut the bok choy into strips after a thorough wash
Give scallions, red chili pepper, and fresh cilantro a wash before chopping them up.
Peel the garlic and ginger and mince them.
Pre-cook the dried wood ear mushrooms (check out our article on wood ear mushrooms for cooking tips!)
Pre-cook ramen noodles in a large pot of water, but discard seasoning packs.
Making the ramen noodles
In a wok or large pan, add a tablespoon of coconut oil. Put the stove on medium heat and add your minced garlic and ginger. Stir it constantly for about a minute.
Once this is done, pop in your cooked wood-ear mushrooms along with green onions and bok choy. Add salt and black pepper to season it. Stirring continuously, cook for 2-3 minutes, or until tender.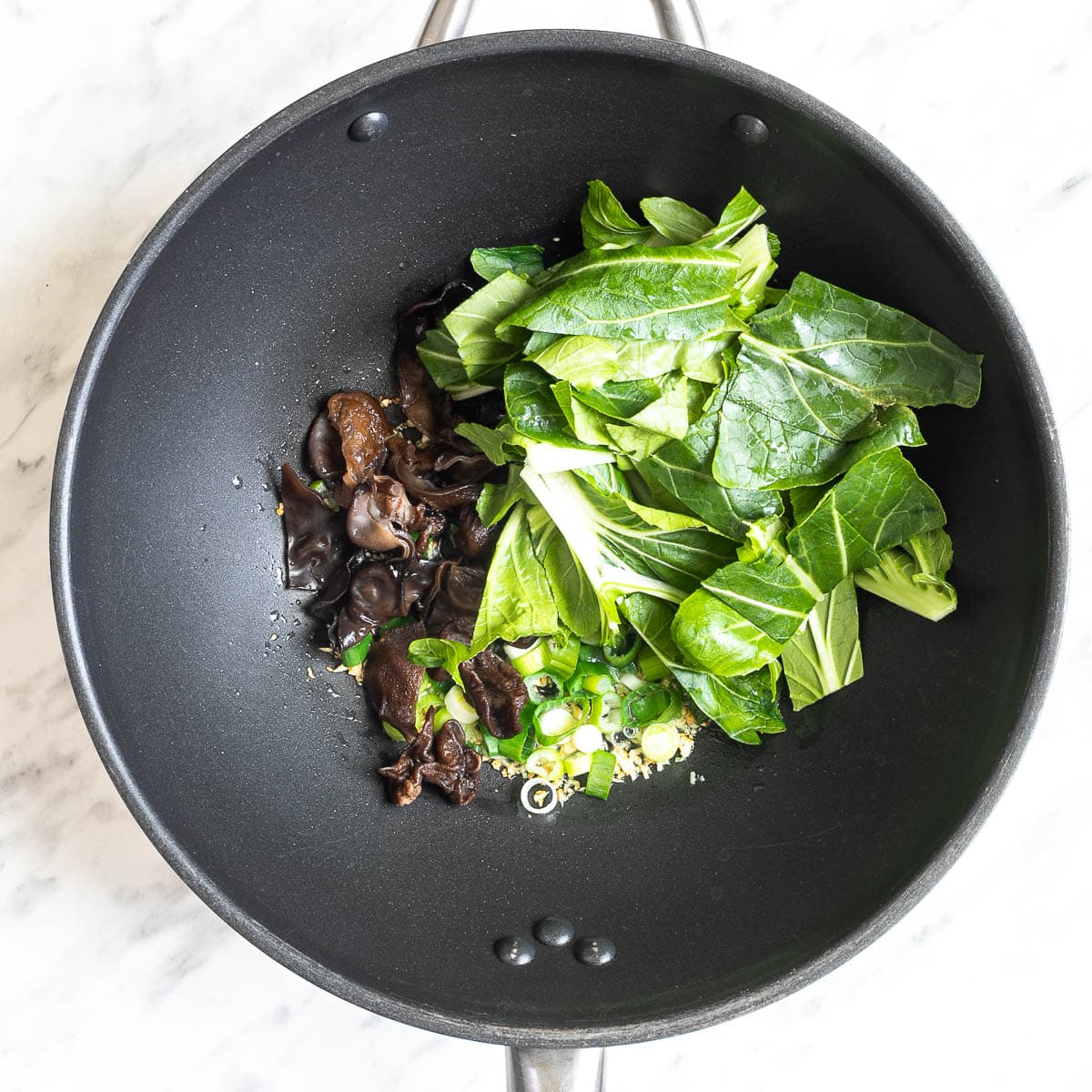 Toss in your cooked ramen noodles along with red pepper slices. Mix well to get the flavors in evenly.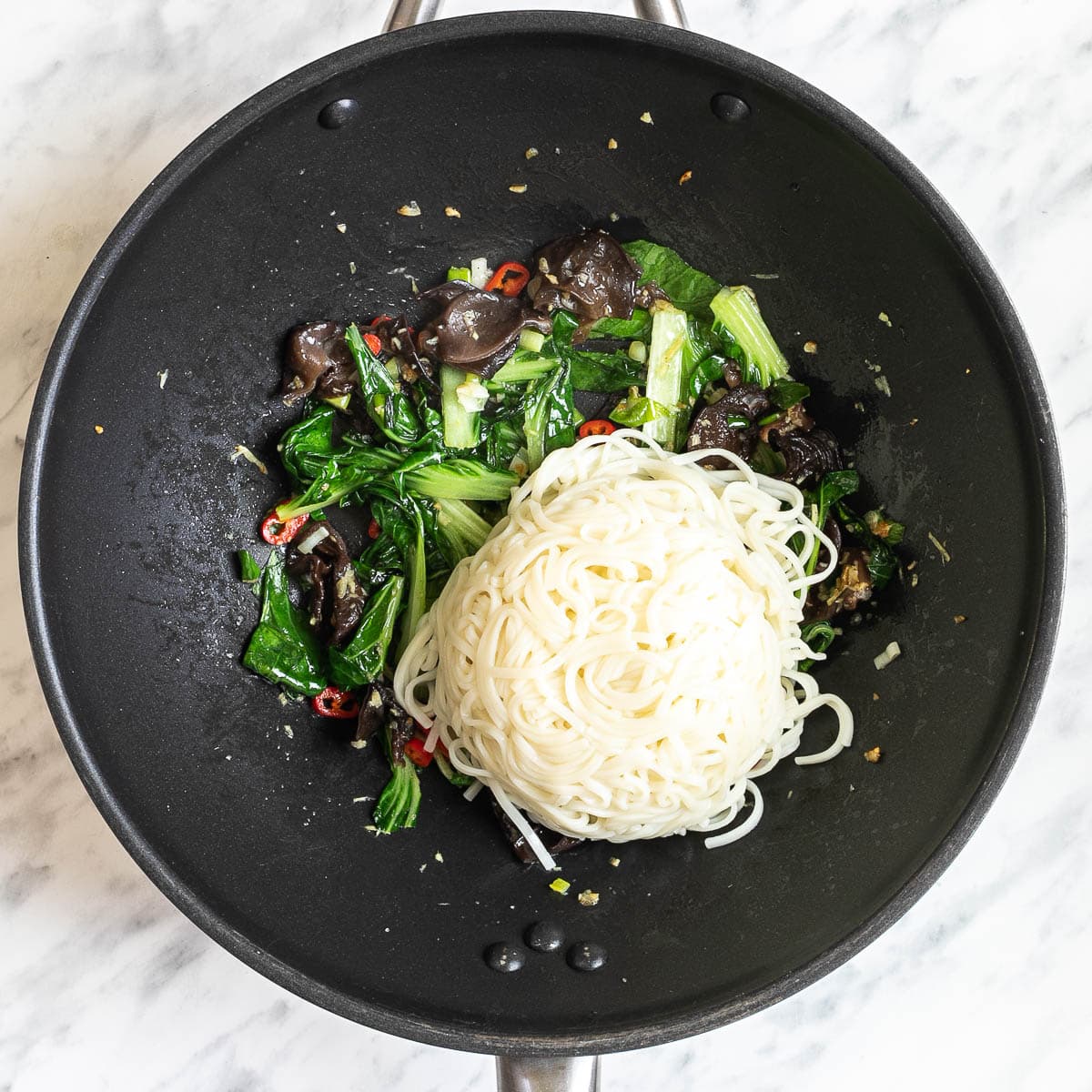 Add your soy sauce, sesame oil, and sriracha into this mix. For the final touch, throw in the chopped cilantro and stir-cook it for another 2-3 minutes.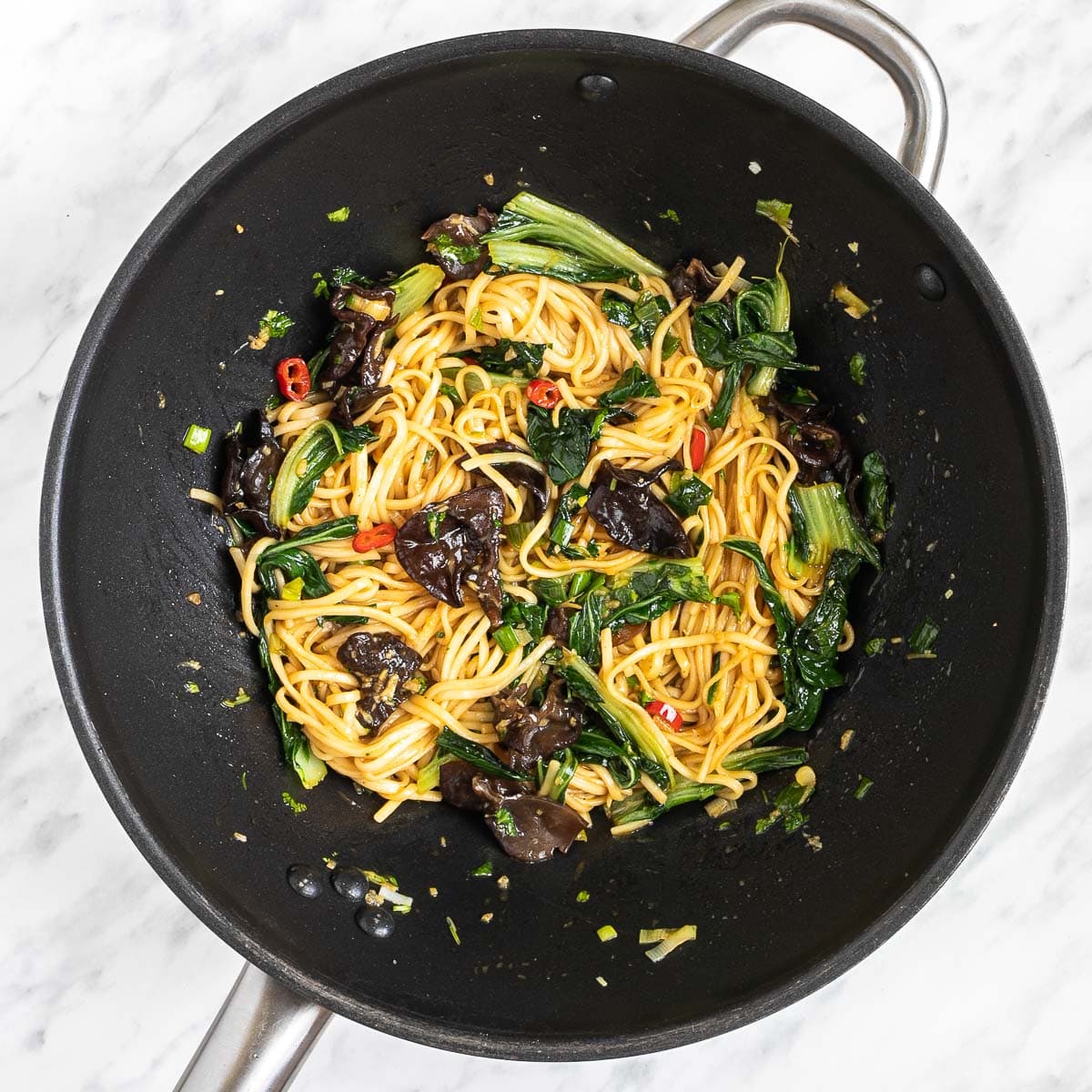 Making ramen spring rolls
Soak rice paper in water (Our cooking tips below will take you through exactly how to do this.) Once fully submerged and malleable, move the rice wrapper to a dry, smooth, and clean surface.
Take a scoop of ramen noodles and place it in the center. Since typical rice paper is approximately 8-9 inches (ca. 23 cm) wide, you'll have enough space to add up to 3 tablespoons of filling. This will make your spring roll measure about 4 inches (ca. 10 cm) long.
Gently but tightly, fold the sides of the rice paper towards the middle, ensuring the filling is in place.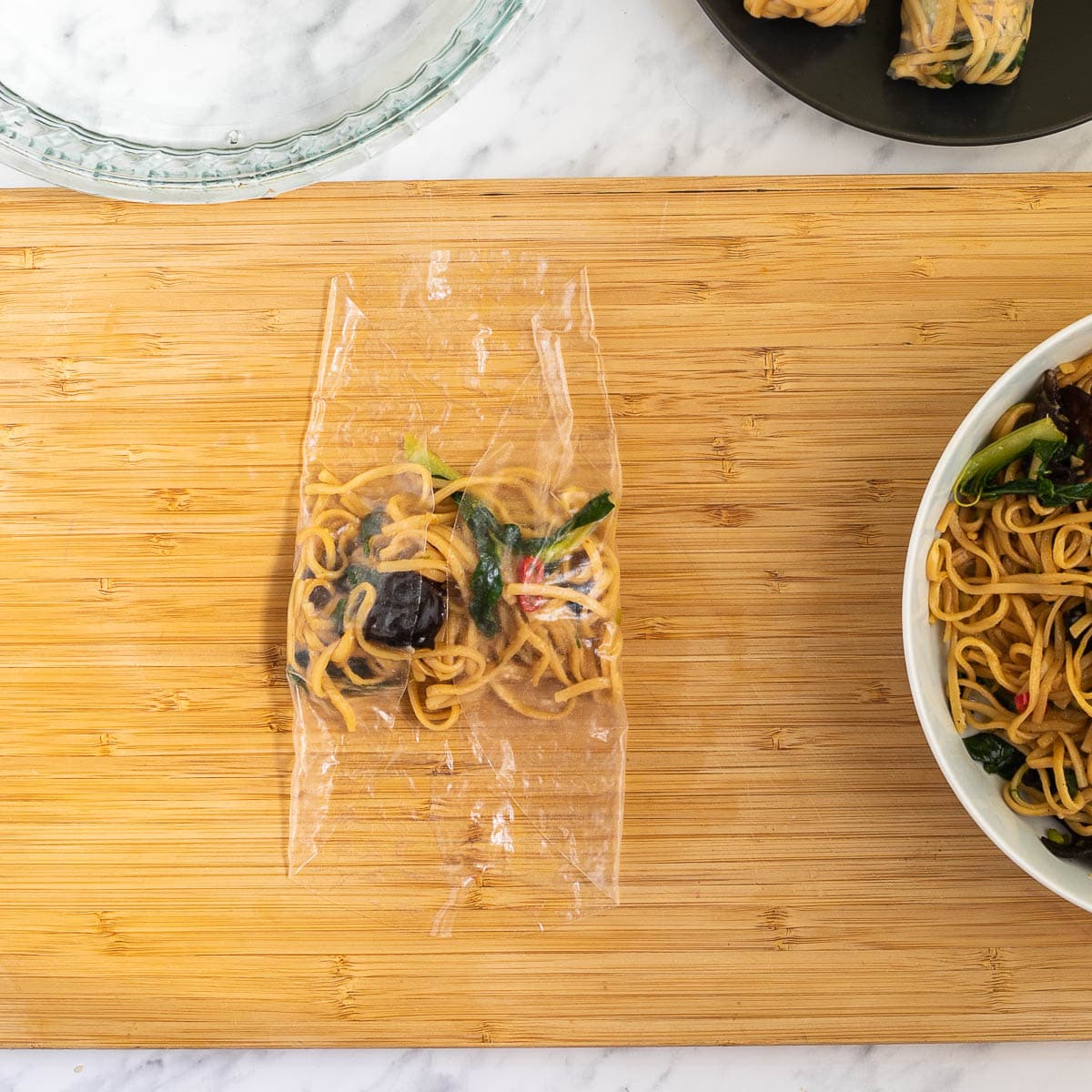 Carefully fold the bottom seam up towards the center in the same way. Tuck the filling tightly inside the rice paper with your fingers and roll it all the way up.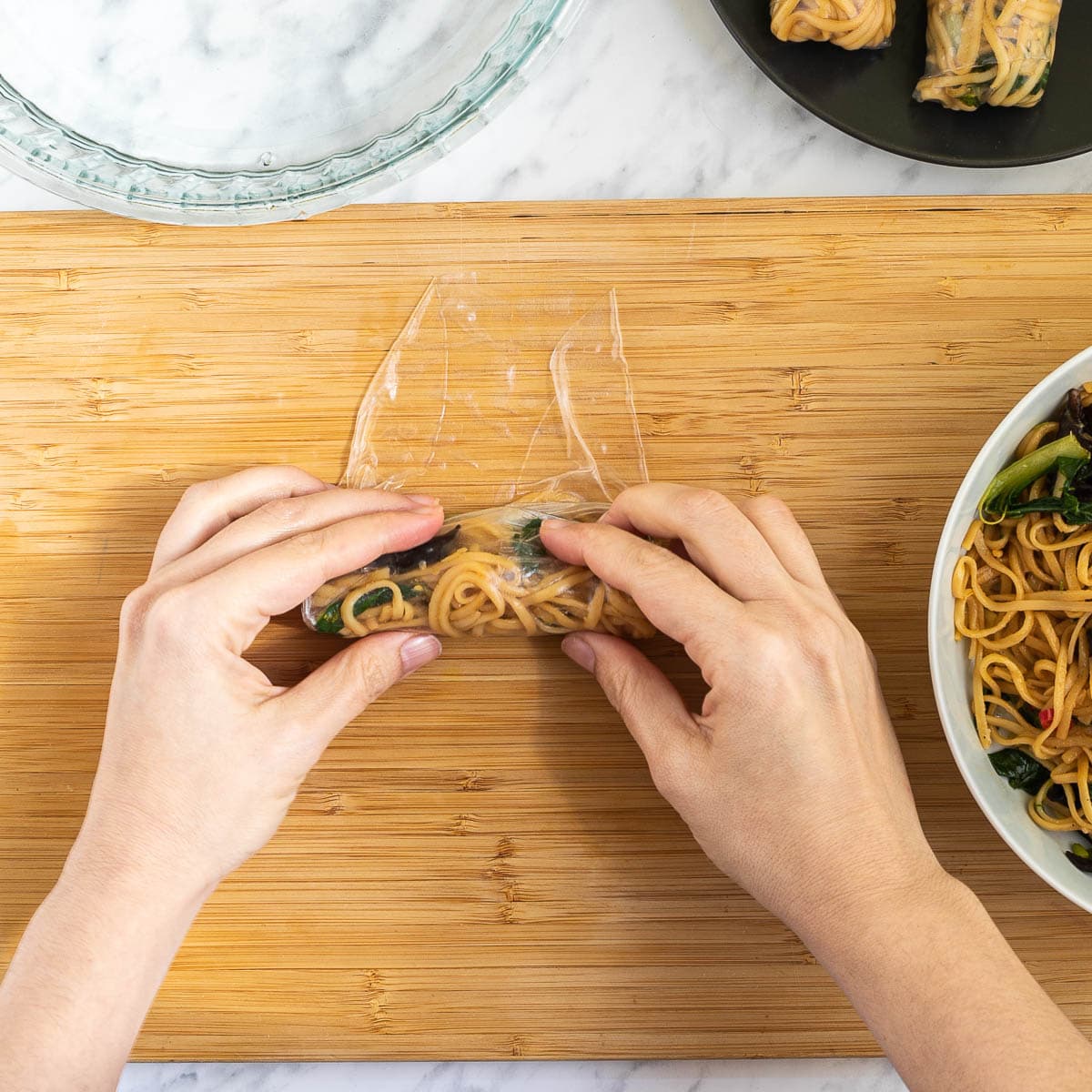 Once you have completed the roll, transfer it to parchment paper or a large plate. Make sure the closing seam is on the bottom.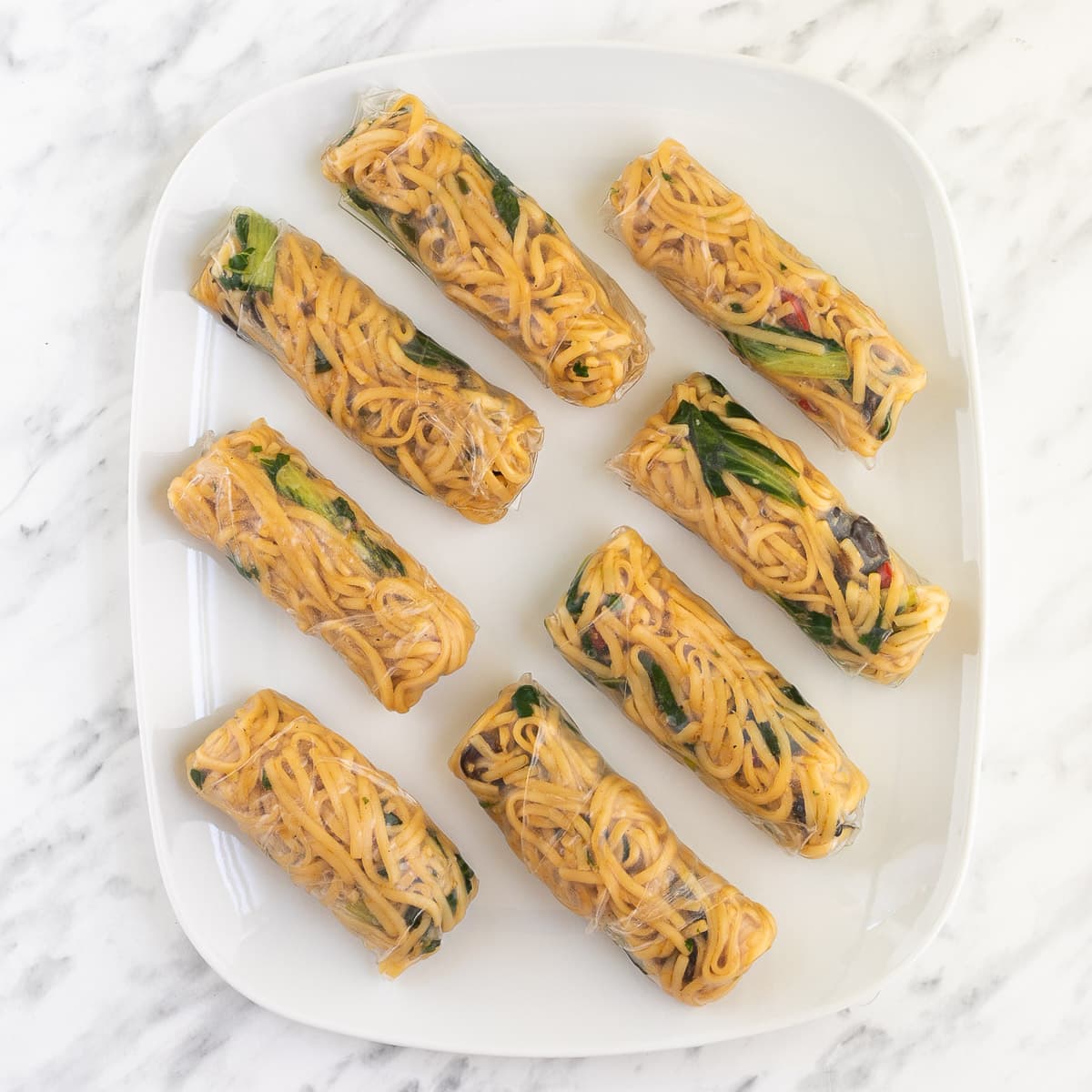 Take a large pan and pre-heat the coconut oil over medium heat. Place spring rolls on the pan and fry on each side for 2 minutes, or until golden brown. Fry them in batches, so you have enough space to flip them. Your crispy fried spring roll is done! Enjoy!
Cooking tips
Keep your hands dry – When handling rice papers, make sure your hands are dry. Wet hands will make them damp and soften the papers, making them difficult to work with.
How to wet the sheets – Refer to the packaging of your rice paper to determine its ingredients. If the rice paper is rice-flour based, dip it in water for 3-4 seconds, then allow it to rest on a dry surface. If the rice paper is soft to the touch, it is ready to use. However, if your rice paper is tapioca starch-based, only dampen it with a wet paper towel.
Cooking ramen – When cooking ramen, remember to taste as you go! Before adding more sauce to your ramen, to increase the spice level or add sourness, always give it a taste. The same applies when adding seasonings. This will ensure that your ramen filling matches your preferences and achieves the desired flavor profile.
Variations
Veggies – If you want to add a twist to this spring roll recipe, try a Vietnamese take. This variation will feature fresh vegetables like sprouts, shredded lettuce, delicious purple cabbage, carrots, and basil or mint leaves. You can also make a classic spicy hoisin peanut sauce to go with it.
Noodles – Instead of conventional ramen, try rice vermicelli. This is especially great if you want to make gluten-free ramen spring rolls.
Wrappers – Get your hands on a large size spring roll pastry that is wheat-based for a fluffier, more filling spring roll. Lumpia wrappers are a great alternative too. Although they are thinner than your usual spring roll wrappers, they have better elasticity, making it easier to hold the stuffing in. Here's a more thorough list of spring roll wrapper variations that you can try out.
Spice level – Don't like it spicy? Lose the chili paste and spicy sauces and go for a milder sweet chili sauce. Alternatively, you can add some tofu, corn kernels, and bean sprouts to balance the heat from the red chilies or chili flakes.
Frying techniques – If you want to skip conventional pan-frying, try air-frying or even baking.
Serving ideas
Complement your delicious ramen spring rolls with classic dipping sauces – from hot chili to sweet or peanut sauces, and more. Check out our list of dipping sauces for some creative options!
Equipment
Rice paper water bowl – A rice paper water bowl is a nifty tool for softening rice papers. It's way handier than using a large bowl on your kitchen counter, so purchasing it was a good decision for us.
Wok – Use a wok or a large deep pan to ensure that the sauces and spices mix together evenly with the other ingredients.
Frying pan or cast-iron skillet (we use the one from UnoCasa) – Choose one about 10 inches (ca. 25 cm) in width to pan-fry your rolls easily and quickly.
Storing tips
It's important to handle your rolls properly when refrigerating them, especially before cooking them. Ensure they don't touch each other, as uncooked rolls tend to stick together in the fridge. Once cooked, store them in an airtight container or in plastic wrap to preserve freshness. It's best to consume them as soon as possible, as they may lose their crispness over time.
Freezing your crispy ramen rice paper rolls can be a bad idea, as this makes the wraps damp and soggy. When cooled, the veggies and noodles may also release moisture, and your rolls may not taste as good as they would when freshly made.
Want to revive some leftovers? Heat a lightly oiled pan and gently flip your rolls in it a couple of times to restore their crispiness.
FAQs
How do you prepare rice paper for rolls?
Since our recipe uses rice paper made from 100% rice flour, all you have to do is submerge the rice paper in water for about 5–8 seconds and transfer it to a dry surface. Just make sure your hands are dry when handling them. Using a rice paper water bowl and rice paper tray can make preparation a lot easier.
What is the secret to making rice paper rolls?
Always make sure you are patient when making the rolls. Wrapping your filling in fine rice paper can be a tricky task, especially if it has a large tapioca starch content. Take your time when using your fingers to roll and pack the filling tightly inside the wrapper. Our recipe goes through the exact steps of this to make things easy!
How to make ramen spring rolls?
Cook your ramen noodles per the packet instructions or in your go-to style. Add ginger, garlic, wood ear mushrooms, bok choy, scallion, red chili peppers, and seasoning, along with spicy oils and zesty sauces to pack in a punch of flavors. Once it is done, prep your rice paper wrappers, fill them with a generous helping of ramen, wrap them tightly and gently, and leave them to rest before you pan-fry, bake, or air-fry them. Check out our instructions above for a detailed walk-through on making the best-ever ramen spring rolls!

More spring roll recipes
Try one of these delicious rice paper recipes, or choose one from below:
THANK YOU so much for visiting our website. Please comment below if you have tried this recipe. We LOVE hearing from you! If you loved the recipe, please don't forget to give us a ⭐⭐⭐⭐⭐ RATING. We appreciate all of our readers.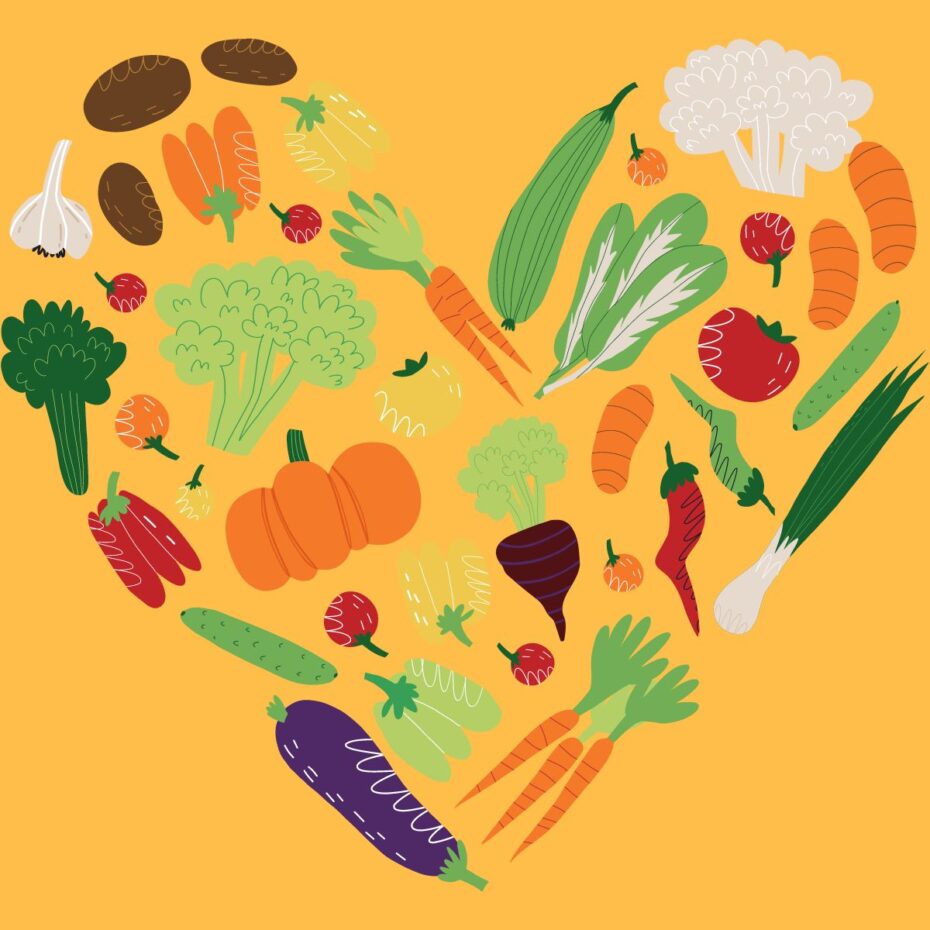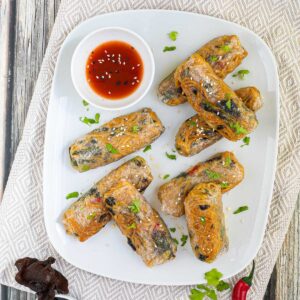 Ramen Spring Rolls
Rolled and ready in just under 30 minutes, these ramen spring rolls are sure to be a scrumptious addition to your next dinner party. Serve it up as an appetizer or snack and let your guests enjoy the savory flavors of bok choy, scallion, and wood ear mushroom, cooked in a spicy blend of sriracha and soy sauce!
Ingredients
Spring roll filling
3.5

oz

Ramen noodles

2

oz

Bok choy

2

oz

Wood ear mushrooms

cooked

1

Scallion

¼

Red chilies

2

cloves

Garlic

1

Tbsp

Ginger

minced

1

Tbsp

Freshly chopped cilantro

2

Tbsp

Coconut oil

2

Tbsp

Soy sauce

2

tsp

Sesame oil

½

tsp

Salt

¼

tsp

Black pepper
EXCLUSIVE 5-ingredient recipes for busy home cooks that are ready in 15 minutes!
Check out our Express Vegan Cookbook!
Instructions
Prepare the ingredients
Wash and cut bok choy into stripes.

Wash and chop the scallion, the red chili pepper, and the fresh cilantro.

Peel and mince the garlic and the ginger.

Cook dried wood ear mushrooms as per package instructions.

Cook ramen noodles according to package instructions. Discard the seasoning packets.
Cook the filling
Preheat 1 Tablespoon of coconut oil in a wok or large pan. On medium heat, add minced garlic and ginger. Cook for 1 minute while constantly stirring.

Add pre-cooked wood ear mushrooms, scallions, bok choy, and red chili peppers. Season them with salt and black pepper. Stir well and cook for 2-3 minutes.

Add pre-cooked ramen noodles. Mix well.

Add chopped cilantro, sriracha, soy sauce, and sesame oil. Stir well and cook for 2-3 minutes.
Rolling ramen spring rolls
Gently submerge the rice paper. (See NOTES on how to know the duration.)

Once submerged, transfer it to a dry and smooth surface.

I place the filling in the middle. If you have standard-size rice paper wrappers (8 inches (ca. 20 cm)), you can fit 2-3 Tablespoons of filling. It would make a 4-inch (ca. 10 cm) long spring roll.

First, fold the sides gently but tight towards the middle. Take the bottom seam and fold it upwards gently, but tight. Use your fingers to tuck the filling tight within the rice paper before rolling it all the way up.

Place your finished spring roll on a parchment paper or a large plate with the closing seam on the bottom.
Frying
Preheat 1 Tbsp coconut oil in a large pan. On medium heat, fry spring rolls on each side for 2 minutes. Don't overcrowd the pan, so you can flip them easily.
Notes
Use dry hands → Dry your hand before grabbing another wrapper for the package. If you reach inside with wet hands, they will soften and be hard to separate.
Damp towel or submerging in water? → If you see tapioca starch as the only or first ingredient, you should know it is the delicate type. A damp towel is enough to get them soft. If you see rice flour only or as a first ingredient, then you need to submerge it in water to get them soft.
How to test how much time you need to submerge the rice papers? → The rice paper in the video is made of 100% rice flour. I submerge this type for 7-8 seconds. If unsure about yours, start with 3-4 seconds and place it on a dry surface. If it softens after 2-3 seconds, you are good to go.
Nutrition
Nutrition Facts
Ramen Spring Rolls
Amount Per Serving (1 roll)
Calories 156
Calories from Fat 63
% Daily Value*
Fat 7g11%
Cholesterol 2mg1%
Sodium 797mg35%
Potassium 96mg3%
Carbohydrates 20g7%
Protein 4g8%
Vitamin A 427IU9%
Vitamin C 6mg7%
Calcium 26mg3%
Iron 1mg6%
* Percent Daily Values are based on a 2000 calorie diet.