Get ready to delight your taste buds with this fantastic 30-minute cauliflower korma recipe. The recipe uses warm spices like cumin, coriander, turmeric, and garam masala to create the perfect blend of flavors. Its aromatics and creamy texture will transport you to the colorful streets of India in no time!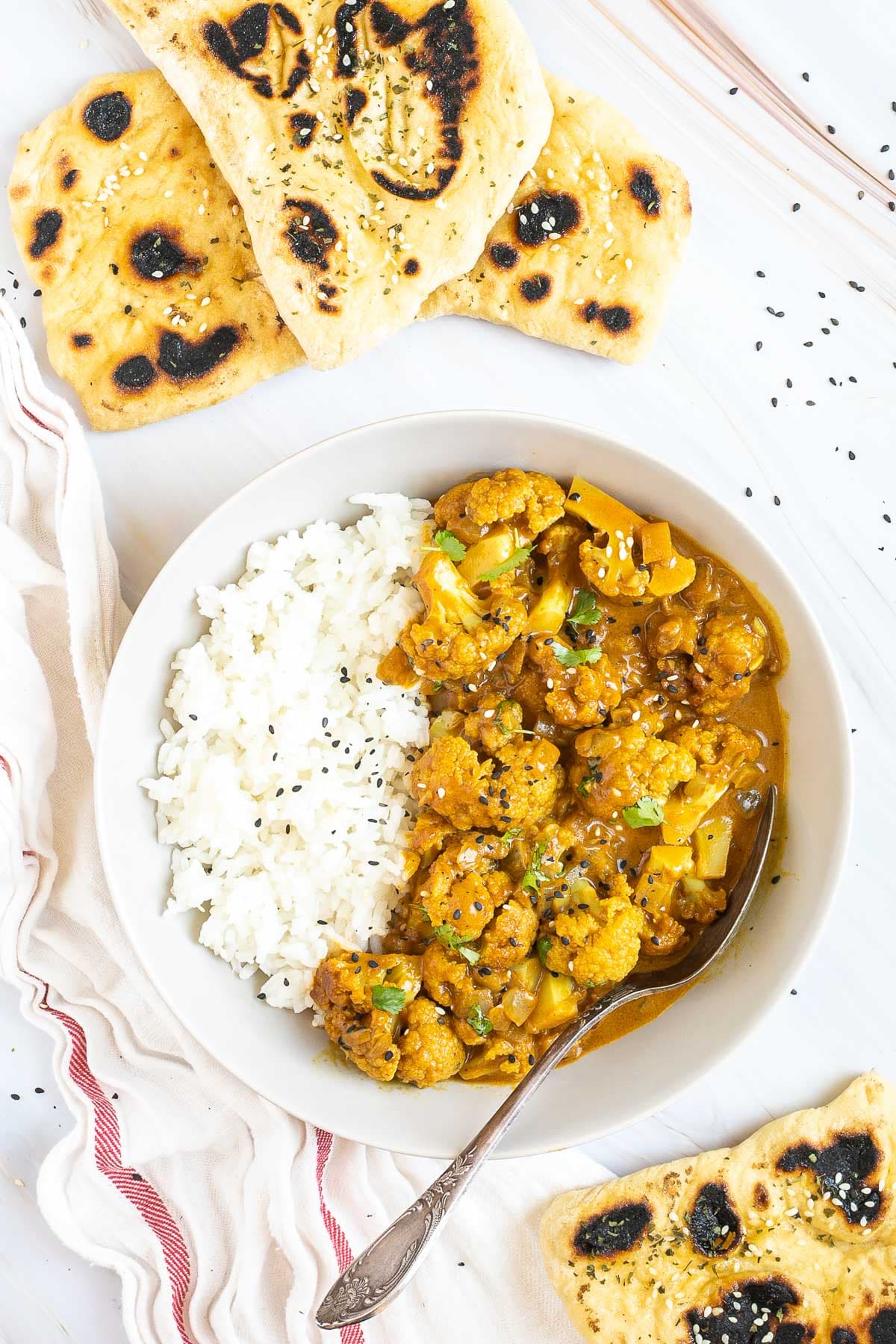 If you are looking for easy Indian vegan recipes, check out chickpea mushroom curry, chickpea korma, vegetable korma, and tofu korma.
Jump to:
What to expect?
Tantalize your taste buds with our divine cauliflower korma. The dish combines the freshest ingredients with a rich blend of exotic spices like ground cumin, coriander, paprika, and turmeric. It stands out due to its irresistibly creamy texture, achieved by the clever combination of creamy coconut milk and cashews.
Each bite will transport you to a world of exotic aromas and flavors that will leave you craving more. So, why wait? Treat yourself to the magic of our cauliflower korma (also called "kurma") and savor the exquisite flavors of a dish that perfectly balances spice and creaminess.
Ingredients
For the best flavor and texture, opt for fresh cauliflower florets, or frozen ones if you're short on time. This short list of ingredients is all you need to make this delectable dish straight from the heart of India!
Cauliflower → Fresh is preferred, but frozen works too
Full-fat coconut cream → Use a coconut milk product with more than 20% fat content like this one. This recipe will not be the same if you use the light coconut milk you can drink.
Coconut oil
Onion
Garlic cloves
Tomato paste
Spices: ground cumin, garam masala, turmeric, bay leaves, salt, cloves, ground coriander seeds, cinnamon, and cardamom.
🛒 You can find detailed measurements for all ingredients in the printable version of the recipe card at the bottom of this post.
Instructions
Preparing the ingredients
To prepare the cauliflower, chop off its outer leaves and cut it into bite-sized florets. Don't worry about making them perfect. It is all about that authentic, rustic feel with korma!
Peel and chop your onion into long chunks and your garlic into small, even pieces.
Making cauliflower korma
Bring coconut oil to a sizzle in a frying pan or wok on medium heat.
Sauté your chopped onions for 3-4 minutes until they turn translucent and give off an irresistible aroma.
Add in your chopped garlic and cook for 2 minutes until it is fragrant.
Sprinkle in your favorite spices like cardamom, cinnamon, coriander, cloves, bay leaf, turmeric, garam masala, and cumin. Stir well for 2 minutes to blend the flavors in.
Add tomato paste and mix well to add a slight tang and a rich taste to the dish.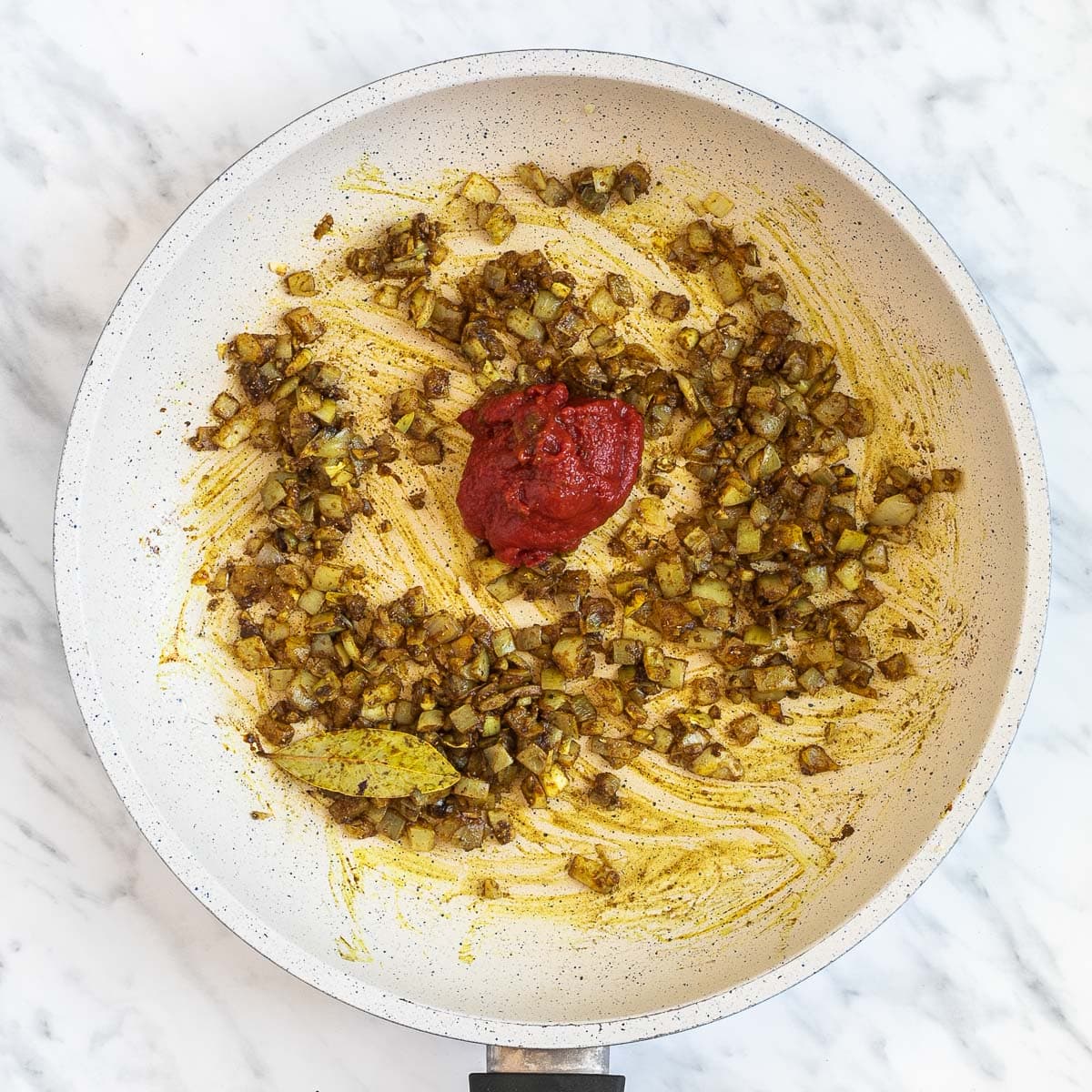 Achieve a beautiful, creamy consistency by shaking your can of full-fat coconut milk before adding it in. Bring it to a boil.
Finally, add your cauliflower florets and let them cook covered in the pan on medium heat for 10 minutes. Look or them to turn tender, juicy, and bursting with flavor.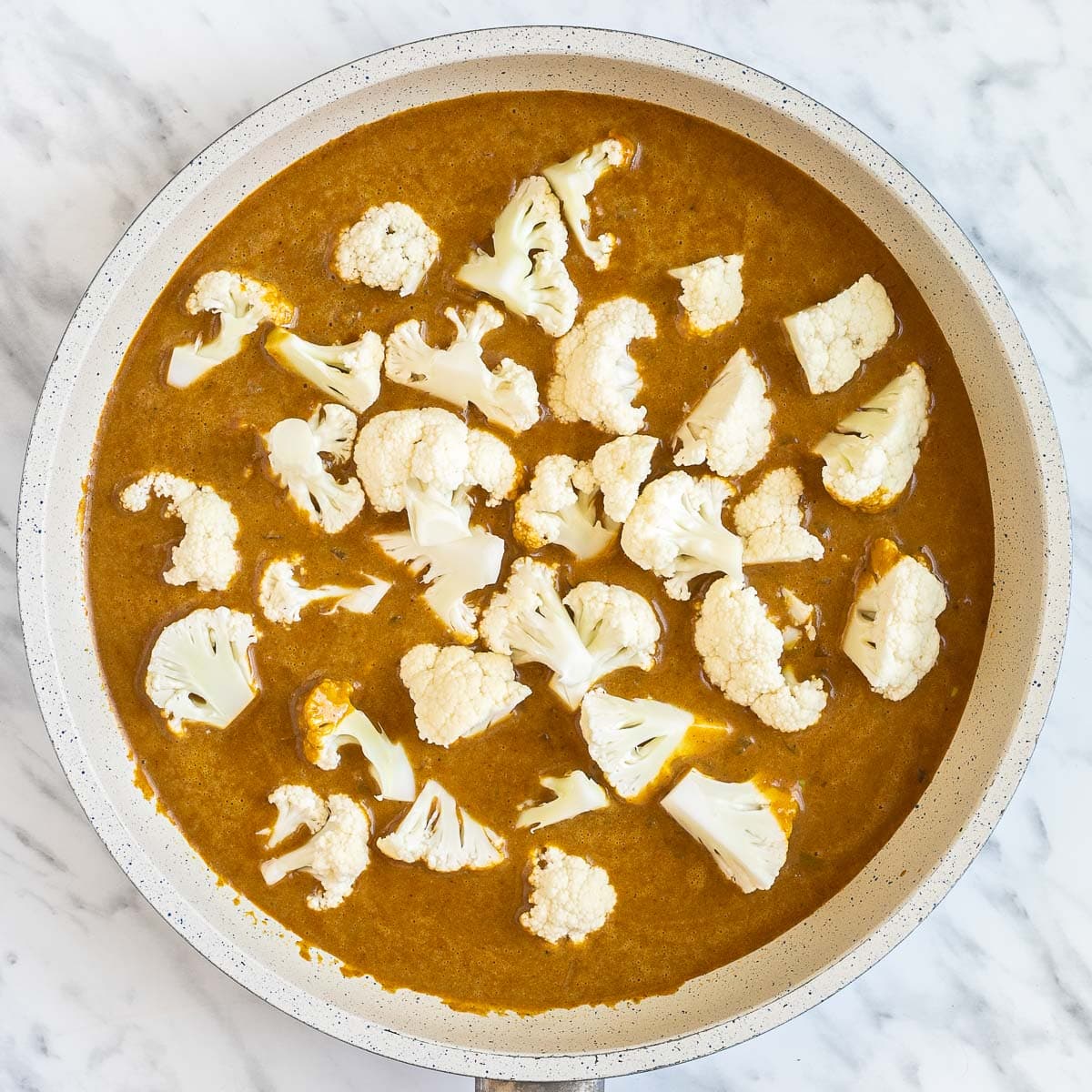 Cooking tips
Don't overcook the cauliflower – Fresh cauliflower and frozen cauliflower need to be cooked differently. Ultimately, the cauliflower pieces in your korma should be tender, but not overcooked or mushy. Overcooking them will result in a less flavorful dish, so if you're using frozen cauliflower, remember to keep a close eye on your florets and stop cooking your korma as soon as they achieve the bite you desire. Also, make it a point to pat dry your frozen cauliflower before adding them to your pan to remove excess moisture.
Roast the cauliflower – To enhance the flavor profile of your korma, consider roasting the cauliflower in the oven for a few minutes before adding it to the recipe. Although this is an optional step, the roasting process can impart a nutty and slightly caramelized taste to the cauliflower; a delicious addition to the dish.
Adjust the spice level to your preference – This korma recipe features a blend of spices that create a mild yet aromatic flavor. However, you can adjust the spice level to your liking by adding more or less certain spices. If you prefer a spicier korma, consider adding a dash of chili powder or red pepper flakes to kick up the heat.
Whole spices vs ground spices – When using whole spices such as cumin or coriander seeds, consider toasting them in a dry skillet for a few minutes until fragrant for a more robust flavor profile.
Remove the bay leaf from the korma – Bay leaves add a subtle earthiness to the dish through their distinct fragrance, but are not edible. They can also turn the sauce bitter if left in too long, so remove them once the korma is done cooking.
Variations
Add other veggies – While cauliflower takes center stage in this dish, don't be afraid to add colorful companions such as carrots, peas, potatoes, spinach, or bell peppers. Check out our vegetable korma recipe.
Try different proteins – Although this recipe is vegetarian, you can easily add your favorite protein. Check out our recipes for tofu korma and chickpea korma for more inspiration.
Curry powder/ garam masala – Are you missing some spices for this korma recipe? There are plenty of flavorful workarounds. Experiment with a pre-made spice mix or substitute with your own go-to spices to create a unique and savory twist. You can even try using a combination of curry powder and garam masala as an alternative to the individual spices listed in the recipe for an easier way of achieving that explosion of mouth-watering flavor.
Cashew/ almond cream – If you don't want to use coconut cream, you can substitute it with cashew cream or almond cream. Using coconut oil over other fats, such as ghee or butter, ensures that this dish is completely vegan.
Serving ideas
Serve the cauliflower korma over a bed of fluffy rice. You can use basmati rice, jasmine rice, or any other type of rice you prefer.
Pair the cauliflower korma with some warm, fresh naan bread. You can make your own naan or buy some from the store.
Add a side salad to your meal for a refreshing crunch. A simple green salad with cucumbers, tomatoes, and a lemon vinaigrette pairs great with the korma.
Serve it with a side of raita, a yogurt-based sauce, with your cauliflower korma. It can help balance the heat of the spices and add some extra creaminess.
Add a dollop of chutney, a spicy and tangy condiment, to your meal for an extra burst of flavor. Mango chutney or tamarind chutney are great options.
Storing tips
Refrigerate: To store cauliflower korma in the fridge, let it cool completely before transferring it to an airtight container. It can be stored in the refrigerator for up to 3-4 days.
Reheat and adjust consistency: When reheating it, add a splash of water or coconut milk to loosen up the sauce and prevent it from drying. You can reheat it on the stove or in the microwave. Mix the korma every 30-40 seconds to ensure it heats up evenly and to prevent the cauliflower from overcooking and turning soggy.
Freeze: If you want to freeze it, let it cool completely and transfer it to a freezer-safe container or a resealable freezer bag. It can be stored in the freezer for up to 2-3 months.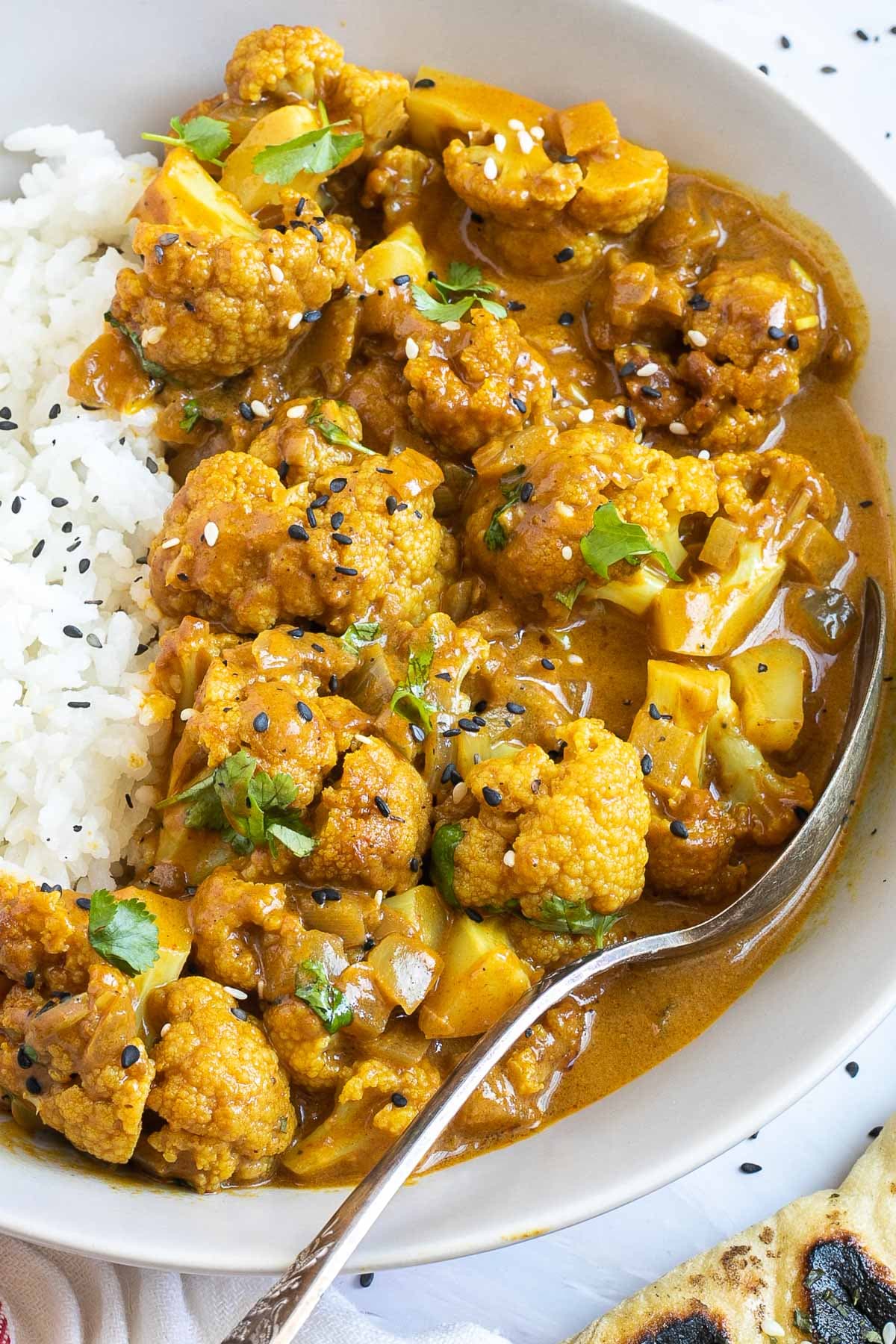 FAQs
Can I use frozen cauliflower to make korma?
While fresh cauliflower is recommended for this recipe, you can use frozen cauliflower if fresh is not available. However, make sure to thaw, and pat dry the cauliflower before cooking to prevent excess moisture.
Do you need coconut cream to make korma?
Coconut cream is an important ingredient in this recipe and is essential for the creamy texture and flavor. While other types of milk can be used as a substitute, the final result will not be the same. If you are allergic to coconut, you can try using almond cream or cashew eam, but keep in mind that the taste and texture will be different.
Is cauliflower korma vegan?
Not always. Recipes may use ghee or butter as well as heavy cream sometimes. Our recipe substitutes them for coconut oil and full-fat canned coconut cream to make it vegan.
THANK YOU so much for visiting our website. Please comment below if you have tried this recipe. We LOVE hearing from you! If you loved the recipe, please don't forget to give us a ⭐⭐⭐⭐⭐ RATING. We appreciate all of our readers.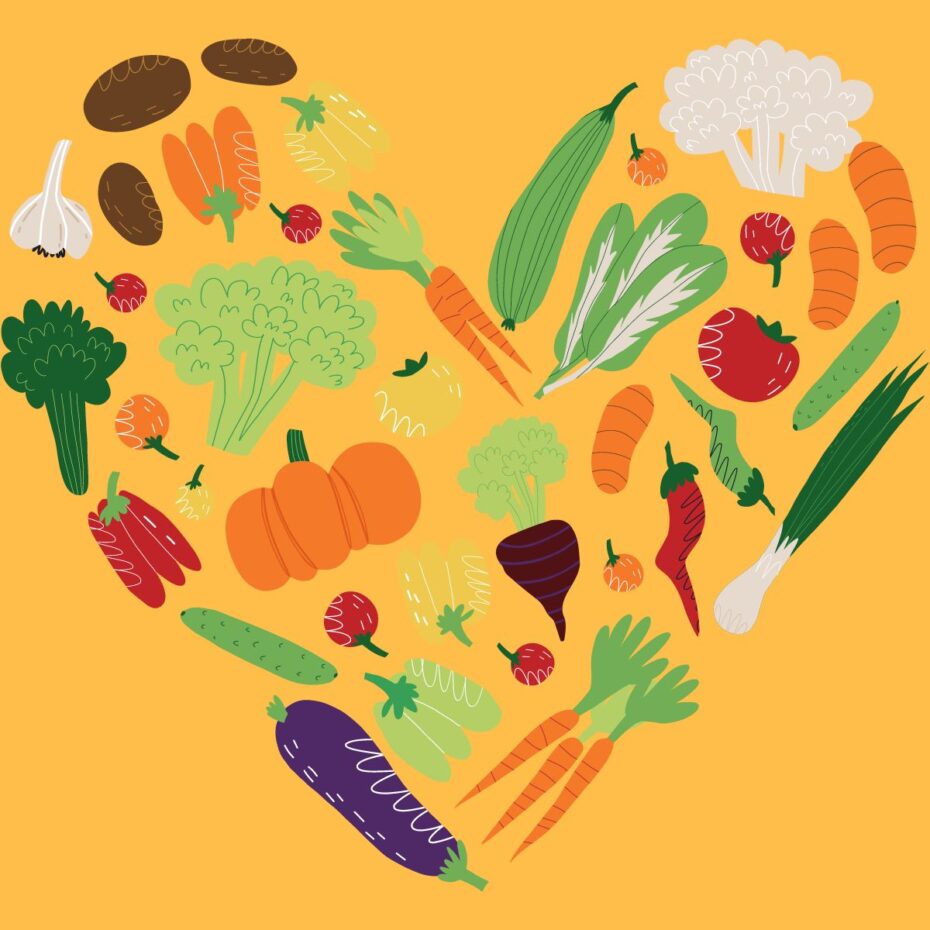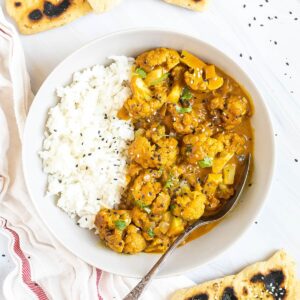 Cauliflower Korma in 30 Mins!
Get ready to delight your taste buds with this fantastic 30-minute cauliflower korma recipe. The recipe uses warm spices like cumin, coriander, turmeric, and garam masala to create the perfect blend of flavors. Its aromatics and creamy texture will transport you to the colorful streets of India in no time!
EXCLUSIVE 5-ingredient recipes for busy home cooks that are ready in 15 minutes!
Check out our Express Vegan Cookbook!
Instructions
Cut the outer leaves of the cauliflower. Cut it into smaller florets.

Peel and chop the onion and garlic.

Preheat the frying pan or wok over medium heat and add the coconut oil. Add chopped onions and saute them for 3-4 minutes.

Add chopped garlic and cook for 2 minutes.

Add all spices (cardamom, cinnamon, coriander, cloves, bay leaf, turmeric, garam masala, cumin). Stir well and cook for 2 minutes.

Add tomato paste and stir well.

Add full-fat coconut cream. Stir well. Bring it to a boil.

Add cauliflower florets. Cover with a lid and cook on medium heat for 10 minutes.
Nutrition
Nutrition Facts
Cauliflower Korma in 30 Mins!
Amount Per Serving (1 serving (without sides))
Calories 397
Calories from Fat 333
% Daily Value*
Fat 37g57%
Sodium 390mg17%
Potassium 759mg22%
Carbohydrates 17g6%
Protein 6g12%
Vitamin A 128IU3%
Vitamin C 55mg67%
Calcium 52mg5%
Iron 3mg17%
* Percent Daily Values are based on a 2000 calorie diet.