Brunch is the perfect opportunity to indulge in a delicious, homemade meal that's not only satisfying but also good for your health. These 18 brunch creations are designed to tantalize your taste buds while providing a dose of nutrition. From colorful veggie-packed omelets to wholesome grain bowls and refreshing smoothie bowls, there's something here for every brunch enthusiast who wants to start their day on a nutritious note. So, whether you're planning a leisurely weekend brunch or a midweek treat, these recipes are bound to inspire your culinary adventures.
Healthy Breakfast Hash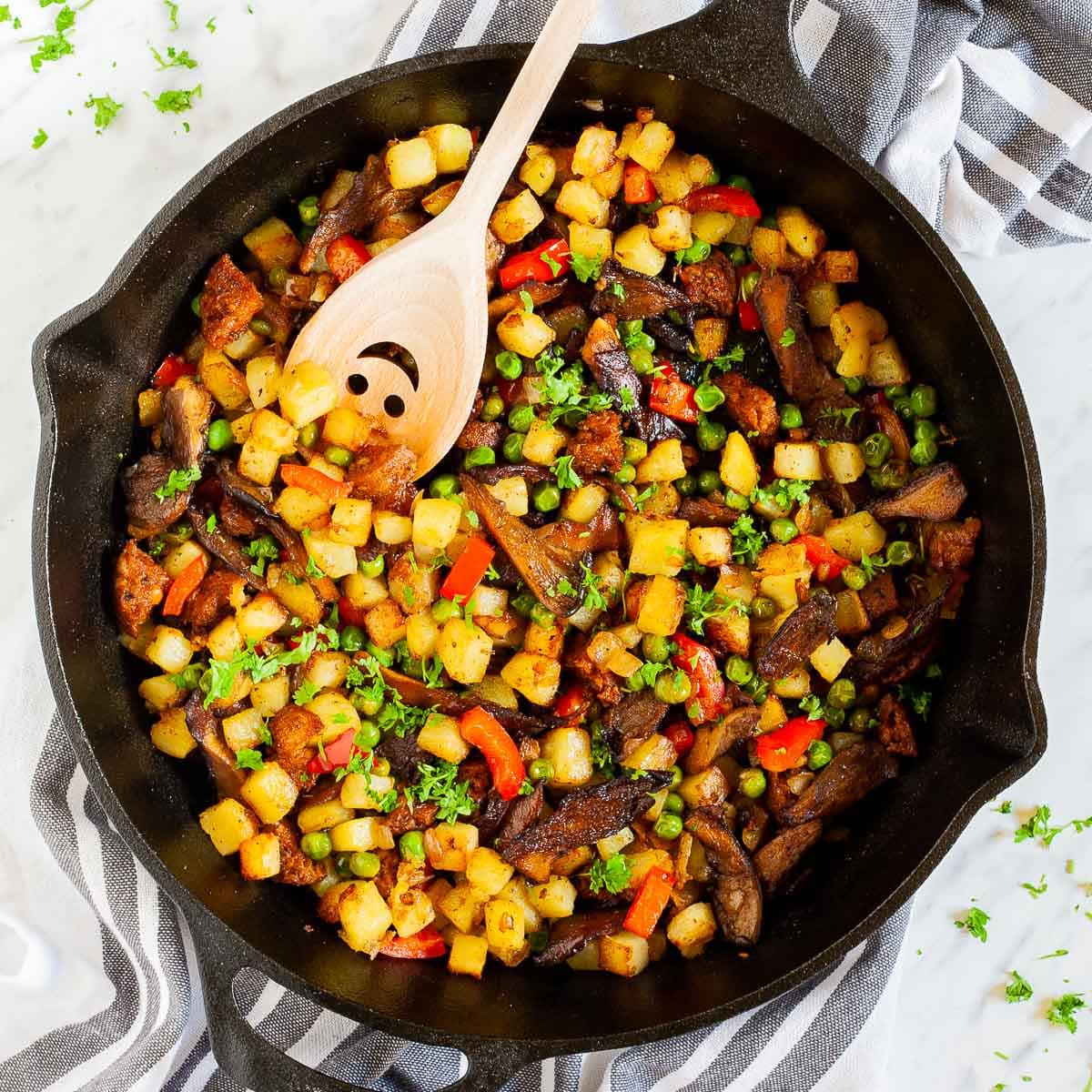 This vegan breakfast hash is a delicious and hearty way to start your day, with fried potatoes and crispy oyster mushrooms mixed with a colorful array of veggies like green peas, onions, and bell peppers. It's easy to make and sure to satisfy any breakfast or brunch cravings.
Recipe: vegan breakfast hash
Roasted Eggplant Red Pepper Dip
This roasted eggplant and red pepper dip is a smoky, rich, flavorful dip. It is the combination of two popular Middle Eastern classics baba ganoush and muhammara. Serve it with vegetables or with sliced pita bread, but it is especially delicious added to a grilled cheese sandwich.
Recipe: veggie dip
Mexican Sweet Potato Rice Bowl
This flavorful vegan Mexican Rice Bowl recipe swaps traditional rice for fajita-spiced sweet potato rice, complemented by a colorful mix of fajita veggies, guacamole, black beans, and tomato corn salsa. Learn how to make this delicious and healthy dish that's perfect for any occasion!
Recipe: mexican sweet potato rice bowl
Cauliflower Steak in 20 Mins
If you're looking for a new and exciting way to enjoy cauliflower, try making these cauliflower steaks. With their crispy exterior and tender interior, and seasoned to perfection, they make a perfect plant-based main dish or side that doesn't require an oven.
Recipe: cauliflower steak
Roasted Cauliflower
Roasted cauliflower gets a makeover with this delicious recipe. The mild spiciness of the roasted florets is perfectly complemented by a creamy lemon herb tahini sauce, making it a perfect side dish for any meal.
Recipe: roasted cauliflower
Vegan Egg Salad
This vegan egg salad sandwich is a delicious and healthy alternative to traditional egg salad, made with tofu and cashews for a creamy and protein-packed filling. The recipe is made with whole foods, without any processed ingredients or high-fat mayo, making it a nutritious and satisfying brunch option.
Recipe: vegan egg salad
Coconut Milk Pasta Sauce
This easy and flavorful coconut milk pasta sauce is the perfect dairy-free alternative to a classic tomato-based sauce. Made with simple ingredients like canned tomatoes, garlic, and coconut milk, it comes together in just 30 minutes and will satisfy all your pasta cravings.
Recipe: coconut milk pasta sauce
Cream Cheese Veggie Pinwheels
These Veggie Pinwheels with Cream Cheese are a quick and tasty appetizer that are always a hit at parties. The colorful vegetables, creamy cheese, and soft tortilla make for a satisfying and delicious bite.
Recipe: Veggie Pinwheels
Tofu Cream Cheese
Looking for a quick and healthy cream cheese alternative? Try this 5-minute vegan tofu cream cheese recipe that is perfect for breakfast bagels or toast. Made with simple and healthy ingredients, this spread is high in protein and free from dairy, oil, and gluten.
Recipe: tofu cream cheese
Mediterranean Grazing Board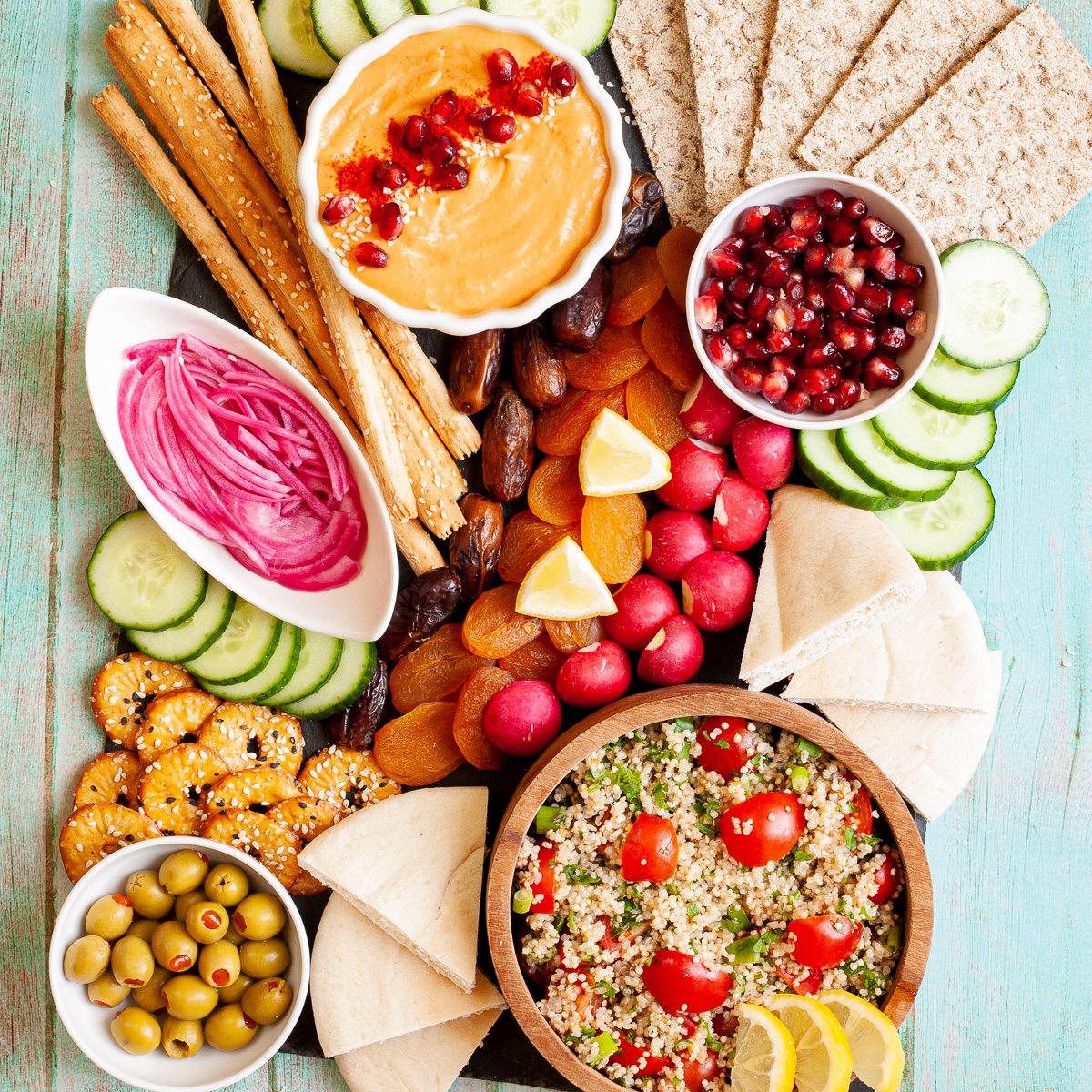 A grazing board is the perfect combination of aesthetics and taste. With a variety of dips, crunchy breadsticks, pickled onions, and soft pita bread, it's a delicious Mediterranean feast that's perfect for sharing with family and friends.
Recipe: Mediterranean Grazing Board
Thai Glass Noodle Salad
Indulge in the flavors of Thailand with this refreshing and easy-to-make meatless Yum Woon Sen salad recipe. Loaded with tangy tomatoes, crunchy celery, and roasted peanuts, and tossed with a zesty salad dressing, this dish is perfect for a light summer meal or as a side dish for your next barbecue.
Recipe: Yum Woon Sen
Caramelized Carrot Pasta Sauce
This unique carrot pasta sauce is made by caramelizing root vegetables and combining them with tangy mustard, lemon juice, and creamy sour cream, resulting in a sweet and savory dish that is both filling and flavorful, and is sure to be a standout addition to any dinner table.
Recipe: carrot pasta sauce
Quick Broccoli Lentil Stir Fry
This lentil stir-fry recipe is the perfect solution for a quick, easy and healthy meal. With tender lentils, crunchy broccoli florets, and sweet corn, it comes together in just 20 minutes, and is served with flavorful turmeric rice.
Recipe: broccoli lentil stir fry
Mexican Rice Casserole
This is one of the quickest and easiest Mexican-style vegan rice casserole recipes with the meatiest vegan ground beef ever, lots of black beans, and sweet corn in a spicy tomato-based sauce. You can make it in 30 minutes.
Recipe: vegan mexican rice casserole
Sweet Millet Balls with Mixed Berries Sauce
We grew really fond of these sweet millet balls recipe. Although millet is usually an under-rated grain, it is very important, not to mention nutritious. We love our sweet millet balls with a fruity sauce with a hint of cinnamon.
Recipe: millet balls
Meaty Vegan Moussaka
This vegan moussaka recipe features layers of tender roasted eggplant slices, a rich tomato-based ragu sauce made with vegan ground meat, and a velvety creamy white bechamel sauce that is baked to perfection. It's a hearty and flavorful Mediterranean-inspired dish that is sure to impress.
Recipe: vegan moussaka
Sweet Red Lentil Pancakes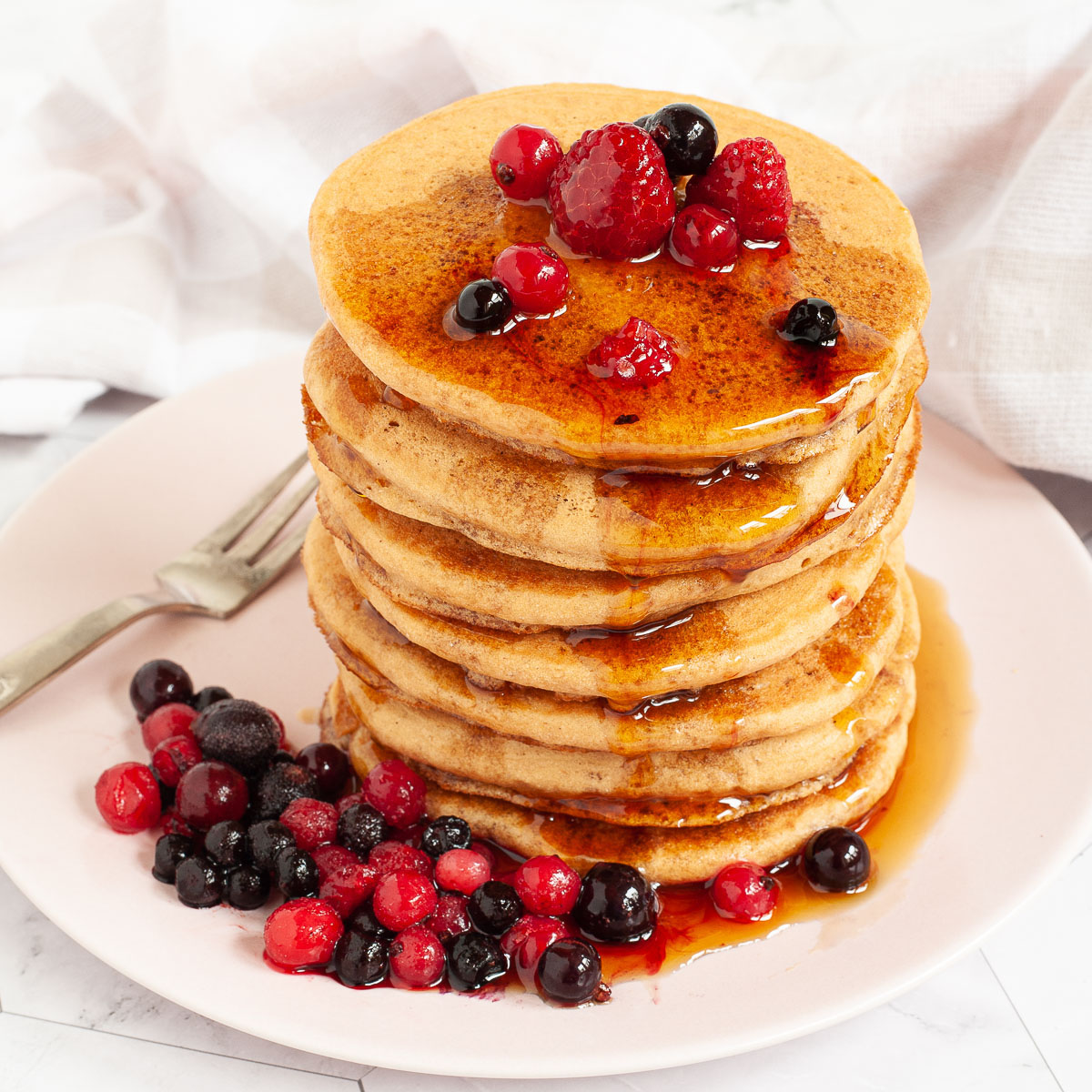 These sweet red lentil pancakes are a delicious and nutritious alternative to traditional pancakes, with a light and fluffy texture and a natural source of protein. Made with only 6 pantry ingredients, they are also vegan-friendly and can be enjoyed without any taste of the lentils.
Recipe: red lentil pancake
Fried Apple Rings (Donuts)
These Fried Apple Rings look like giant apple donuts/doughnuts. They are neither deep-fried nor baked. The juicy apple slices are dipped into a 3-ingredient pancake batter, fried like a pancake and sprinkled with cinnamon sugar.
Recipe: fried apple rings
26 Big-Batch Dishes to Stock Your Freezer
15 Weekend Lunch Recipes on a Dime to Feed The Family
Europe's Finest 25 Recipes You May Not Even Know Of
25 Asian Foods You Absolutely Need to Make At Least Once
Skip The Dreaded Drive-Thru Line With These 15 Fast Food Copycat Recipes