This is a meatless alternative to the popular Vietnamese street food, Bánh Tráng Nướng. Thin rice paper sheets topped with vegan ground pork and spring onions mixed in a vegan eggy mixture, then fried until the rice paper pizza is crispy and the bottom turns golden brown. Serve with mayonnaise or sweet chili sauce and enjoy!
If you are looking for more vegan Vietnamese recipes, we recommend trying the quintessential fresh Vietnamese spring rolls (coming soon).
What is a Vietnamese pizza?
Bánh Tráng Nướng (which translates as grilled rice paper) is popular street food in Vietnam, especially in Saigon and Da Lat that uses rice paper wrappers as the pizza base. It is topped then with various vegetables but mostly green onions, dried pork floss, or dried shrimp mixed with quail eggs or chicken eggs. Finally, it is either grilled over charcoal or pan-fried until the wrappers get crispy and the egg is cooked. There are endless variations as you can imagine.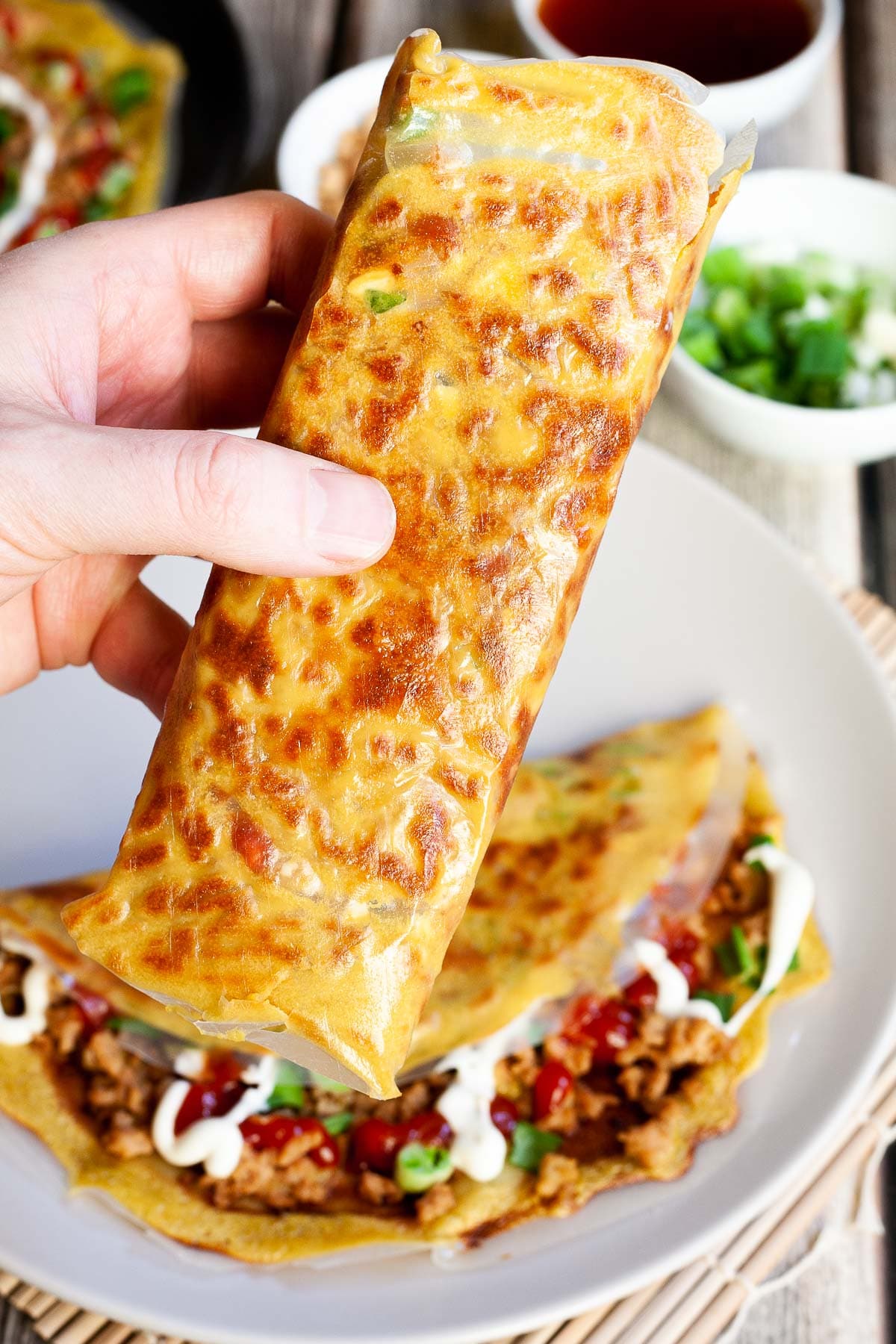 Ingredients to make it vegan
You may think that it is impossible to make it vegan since the main ingredients are eggs and other animal-related products. However, there are great meatless alternatives that you can use to create a delicious vegan Vietnamese pizza at home. See the recipe card for quantities.
Vegan dried pork

using TVP (textured vegetable protein), vegetable broth, onion, soy sauce, sugar, and vegetable oil

Vegan egg mixture

using cashew nuts, nutritional yeast, turmeric, black salt, garlic, and dairy-free milk

Toppings

: spring onion and mayonnaise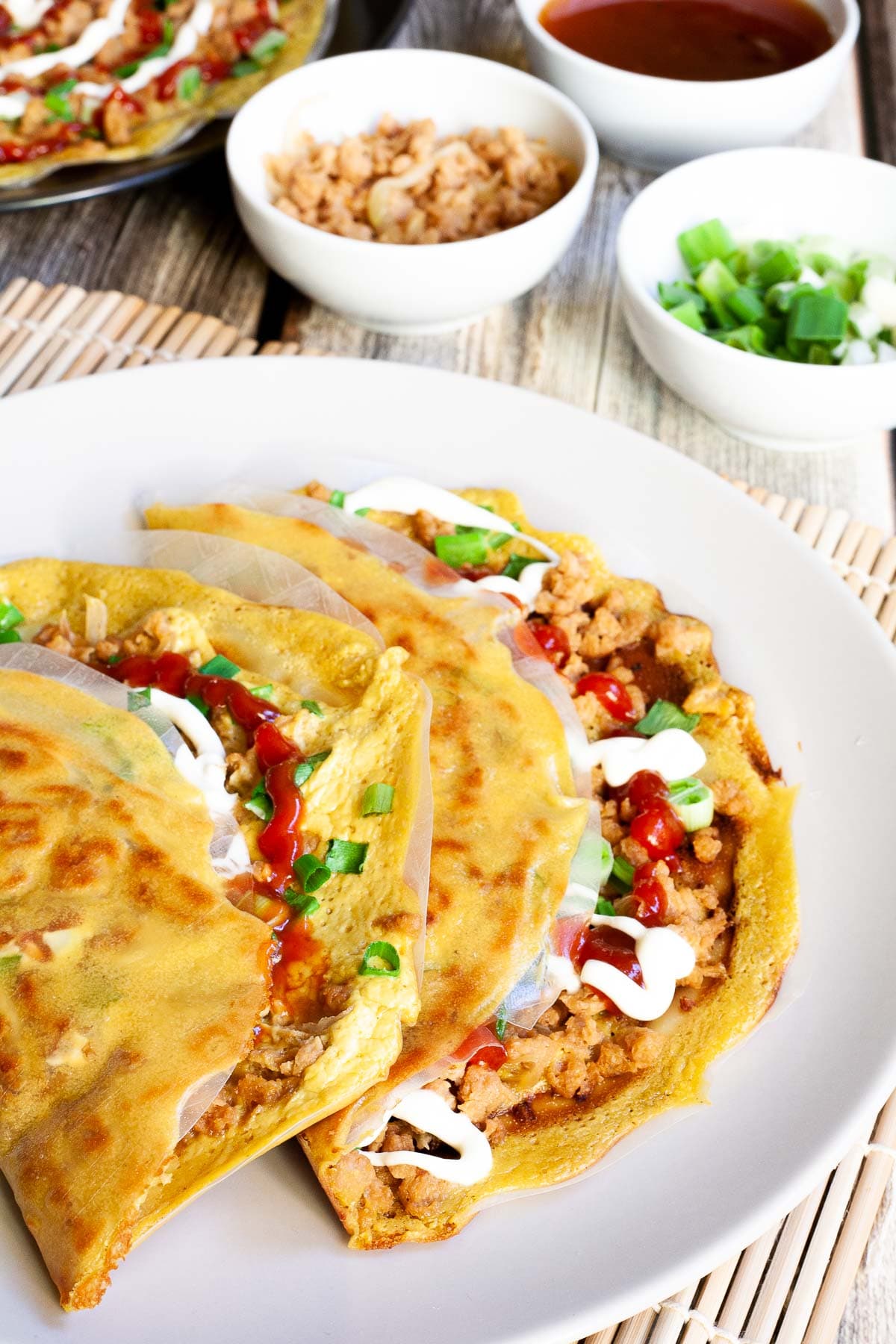 How to make vegan Vietnamese pizza?
Vegan eggy mixture
There are many alternatives you can choose from like tofu, chickpea flour batter, JustEgg, or other egg replacers. The most important thing to think about is that the "batter" has to be moist enough to dampen the rice paper a bit. Otherwise, you may end up with rice paper chips and not crispy rice paper pizza. That is why we opted for a liquid cashew nut-based mixture.
Boil water in a kettle and soak cashews in hot water for 5 minutes. Alternatively, you can soak them overnight or cook them in boiling water on a stovetop for 5 minutes.
Take a high-power blender like Vitamix and

add all ingredients

: soaked cashews, unsweetened dairy-free milk (we used homemade cashew milk), garlic, nutritional yeast, black salt, sea salt, turmeric, and black pepper.

Blend

it until smooth. If you only have a hand-held immersion blender, expect it to be less smooth, or use cashew butter instead of soaked cashews.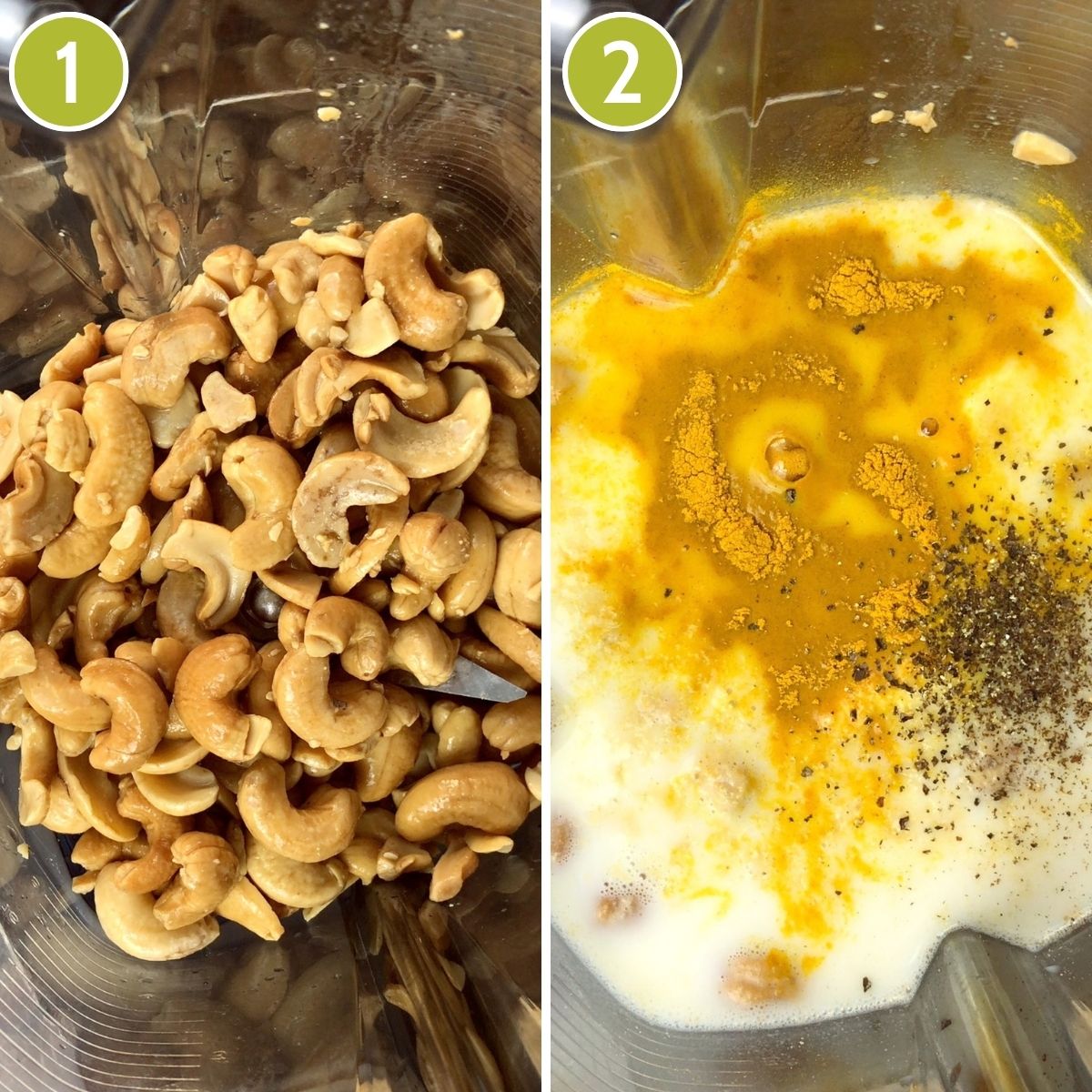 Vegan ground pork
The classic recipes usually use pre-cooked ground pork or pork floss (also known as rousong or ruốc in Vietnamese), which is a dried pork product seasoned with soy sauce and spices.
To make it vegan the best ingredient to use is textured vegetable protein. It is a dehydrated product made of 100% soybean flour. The texture of which resembles ground pork really well. So what do you need to make vegan pork floss?
Soak

TVP in hot vegetable broth for 10 minutes.

Drain

if they are soft.

Squeeze

them as much as you can with your hands, by using a sieve or a cheesecloth, or even a nut milk bag. They may be hot, so watch out for your hands before touching them.

Preheat a frying pan

over medium heat. Add vegetable oil.
Add sliced

onion

and saute them from approx. 2-3 minutes.
Add

TVP

and saute them for another 2 minutes.
Add

soy sauce

or tamari and stir well.
Add

sugar

and stir again. Cook them for another 2 minutes.
Rice paper pizza
Now the best and last step, let's fry some meatless banh trang nuong. Here is how to do it:
Take a non-stick frying pan and preheat it over

low heat

. We recommend flat-bottom pans like cast-iron skillets, but not grill pans or wok.
Place one

dry rice paper sheet

in it and

quickly spread

approx. 2-3 tablespoons of the vegan eggy mixture over it with the back of a spoon. It has to cover almost the entire sheet thinly.
Spread 2-3 tablespoons of precooked

TVP aka "pork"

and chopped

spring onion

over it.

Increase the heat

over medium-high. If the rice paper wrapper starts to lift off, use a wooden spatula to gently push it back.

Fry

it for approx. 5-6 minutes. You know it is ready if the bottom is crispy and starting to get golden brown. And there you go. Delicious, crispy, savory but a little bit sweet rice paper pizza.
Variations
You can choose other toppings as well. Since rice paper sheets can quickly get brown, we recommend using pre-cooked ingredients or those ones which can be eaten raw. Here are a couple of ideas for you to mix and match, but let us know in the comments which are your favorites.
canned sweet corn or green peas
canned or pre-cooked beans and lentils
onion, shallots, scallions, or anything similar
shredded vegan cheese
roasted or pan-fried oyster mushrooms (they make perfect meaty add-ins. We use them to make vegan shredded chicken, vegan gyro meat, or vegan pulled pork)
other vegan meat alternatives
chili flakes, sweet chili sauce, sriracha, or anything similar if you like it hot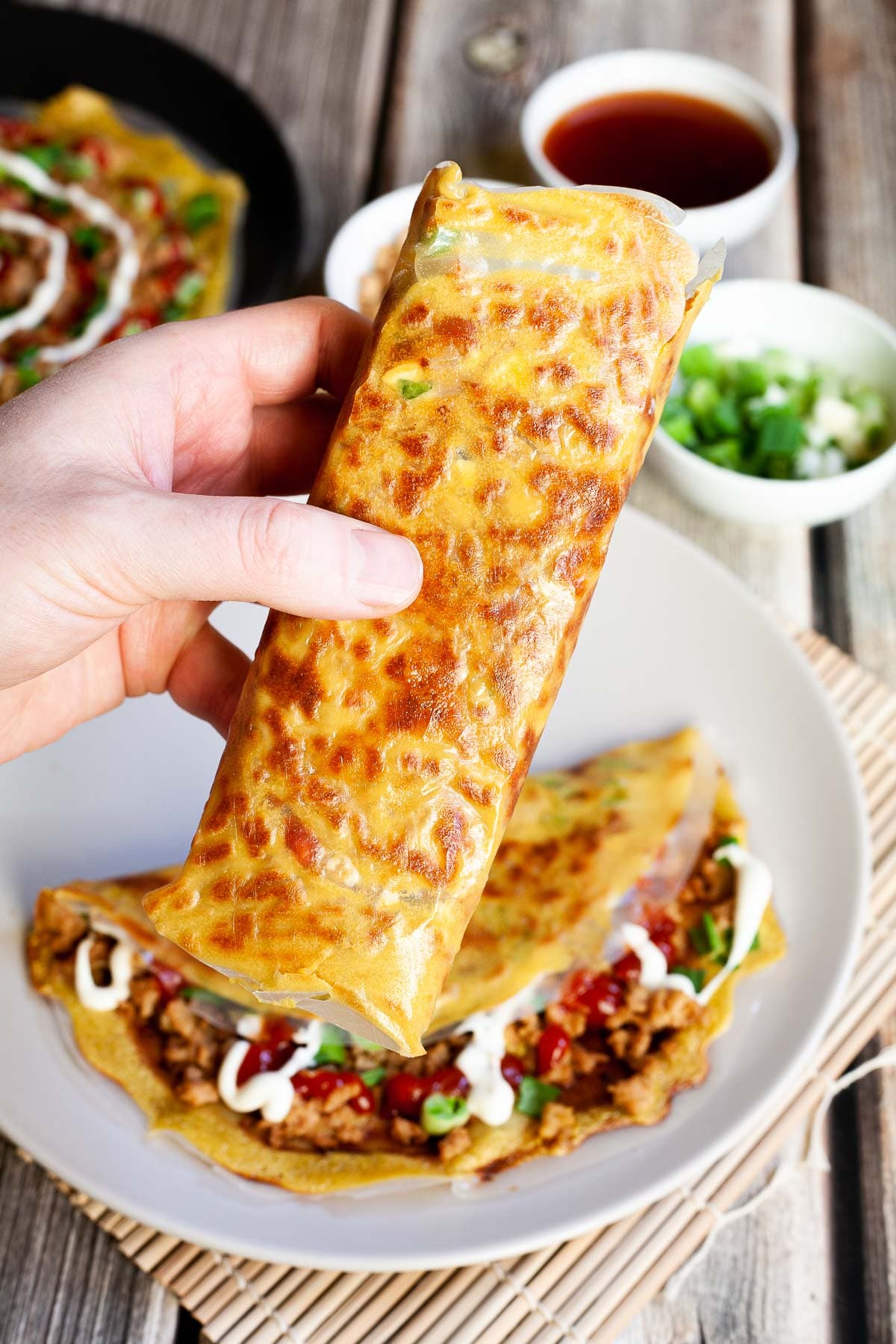 FAQs and substitutions
How do you store it?
It is best to serve it warm. The pizza will lose its crispiness as time goes by. It was yummy the next day but a bit more on the chewy side. You can keep it in the fridge for 2-3 days tops. We recommend reheating it in a pan and not in a microwave.
Can you make them ahead of time?
You can prepare the vegan eggy batter and the vegan pork substitute ahead of 2-3 days without any problem. We recommend assembling and frying it right before serving it. It is not freezer-friendly.
This Vietnamese Rice Paper Pizza recipe is meat-free, egg-free, and dairy-free. It is suitable for vegan and vegetarian diets. It is not soy-free since TVP is a soy-based product. It is WFPB-friendly (whole foods plant-based) if you fry TVP in veggie broth instead of oil.
More vegan Asian recipes