Get creative and mix and match these 32 sensational vegan pizza toppings to craft your own masterpiece. Whether you're a fan of traditional flavors or crave unique combinations, this list will take your pizza night to a whole new level of deliciousness. Happy pizza-making!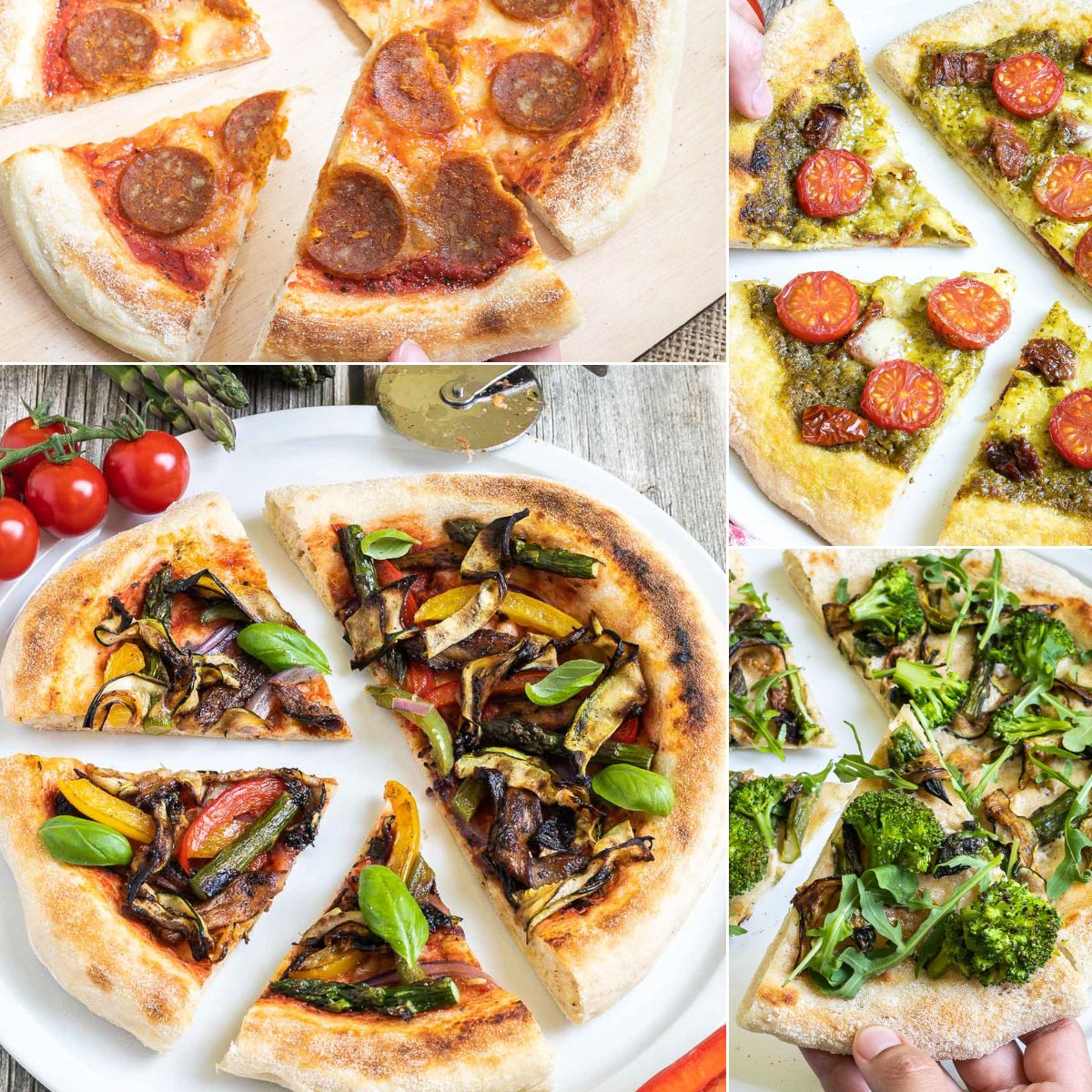 Crafting delightful vegan pizzas isn't just about having an outstanding vegan pizza dough recipe (or a homemade gluten-free crust) and a fragrant pizza sauce. The true magic is in the combination of toppings. Whether your palate leans towards timeless classics or daring innovations, our compilation of more than 30 sensational vegan pizza toppings ensures there's a choice for every taste.
Jump to:
Classic vegan pizza toppings
From gooey cheese to fragrant herbs, these favorites have been winning hearts for years. There is a reason they captivate taste buds and evoke feelings of nostalgia.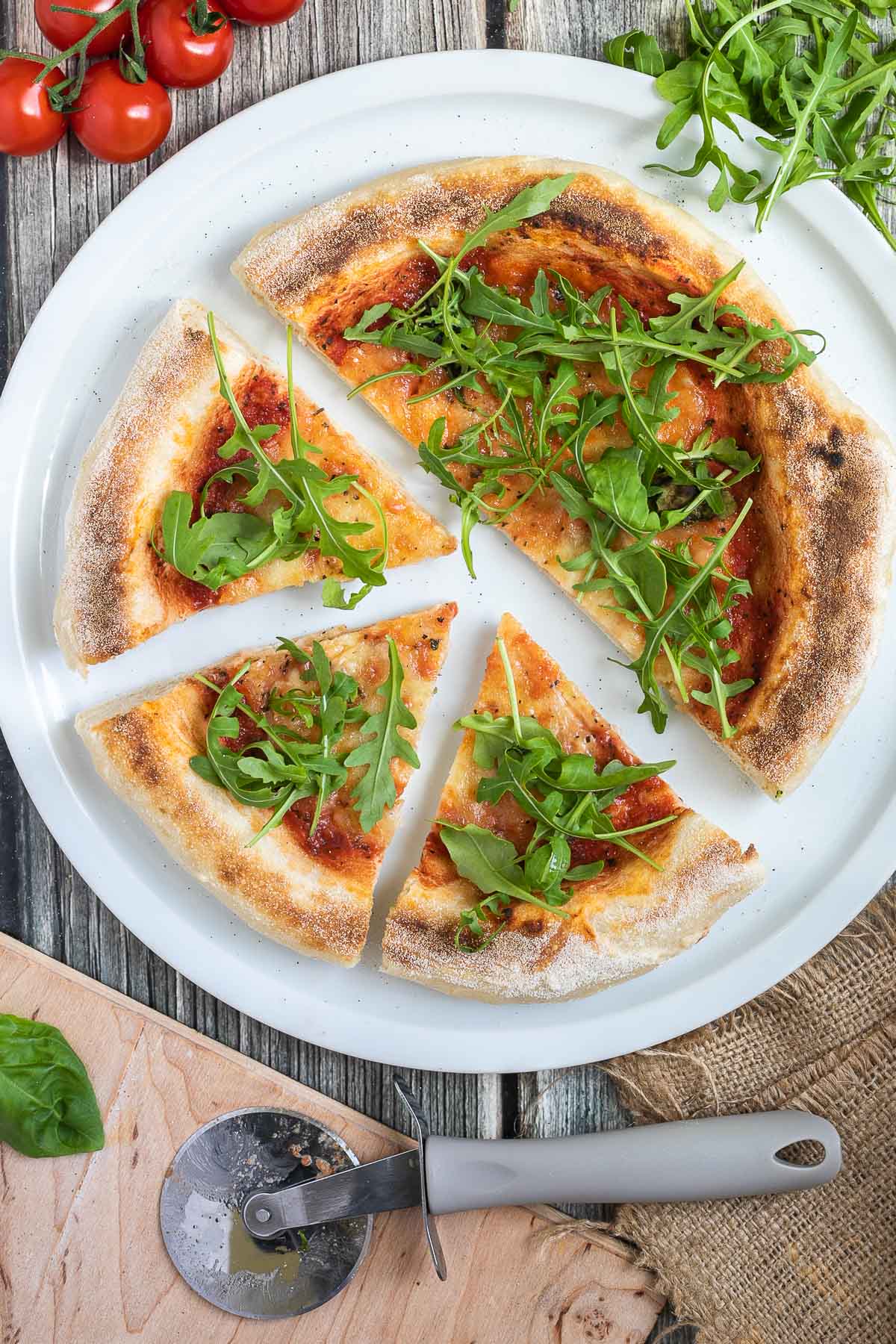 Vegan mozzarella cheese: Choose store-bought vegan cheeses or make them at home. It is creamy and satisfying, the perfect addition to any vegan pizza.
Fresh basil leaves: A fragrant touch of green fresh herbs complements any flavors.
Sautéed spinach: Packed with nutrients and earthy goodness, sautéed spinach adds depth to each bite, just like in this cheeseless pizza.
Sliced mushrooms: Its rich flavor and meaty texture cannot be missing from the mix of toppings. Button mushrooms sometimes release a lot of liquid that can make for a soggy pizza. Think of oyster mushroom or shiitake as an alternative.
Sliced zucchini: Enjoy the mild and delicate taste of zucchini in every bite. We prefer to sauté thinly sliced zucchini and add to this vegan white pizza.
Red onion rings: The sharp and vibrant red onions lend color and flavor. They will be so sweet after baking. They are must-haves, in our opinion.
Fresh cherry tomatoes: Bursting with juiciness and sweetness, cherry tomatoes are a delightful and spectacular addition.
Vegan pepperoni: Its savory, spicy, and smoky flavors make vegan pepperoni pizza one of the most popular.
Arugula or rocket: The peppery arugula adds a refreshing crunch and vibrant green color. I say it is an essential topping for any vegan pizza. It is certainly that in our kitchen.
Gourmet pizza toppings
Elevating your pizza night to new heights, these vegan ingredients are designed to make your pizza even more flavorful and stunning. Being creative is so much fun, don't you think?
Artichoke hearts: You can love or hate their celery-like lemony flavor, but they fit right in savory pizzas.
Kalamata olives: Briny and bold, these olives provide a quintessential Mediterranean flair. Pair them with hummus instead of tomato sauce, and you'll have a delicious hummus pizza.
Caramelized onions: I'll tell you what. The golden sweetness of caramelized onions is a true game-changer.
Roasted red peppers: Sweet and smoky. They are a must-have addition to a loaded veggie pizza.
Roasted eggplant: Rich and tender, roasted eggplant brings a luxurious feel to your pizza. Don't add them raw. Always fry or roast them in advance.
Sun-dried tomatoes: Intense flavor and chewy texture make sun-dried tomatoes a standout choice. We love them on our pesto pizza.
Pineapple chunks: Italians may say it is a no-go, but many adores its sweet-tangy taste.
Jalapeño slices: Add a kick of heat that wakes your taste buds with every bite.
Vegan alfredo sauce: We often use a thick cashew alfredo sauce as a pizza base with lots of green vegetable toppings.
Pesto: A basil and nutty goodness enhance the overall flavor profile. They can be used instead of tomato pizza sauce or added as a swirl on top.
Vegan ricotta cheese: Creamy and delicate, this cheese substitute creates a velvety texture. It's a great ingredient to make white pizza.
Vegan chorizo: A plant-based version of the spicy sausage that adds depth and richness. Our vegan chorizo is made of tofu and seasoned to resemble Chipotle's version.
Vegan bacon bits: It is usually tempeh, mushroom, or coconut-based, but we turn buckwheat seeds into vegan bacon bits. A true addition to any vegan meat lover's pizza.
Surprising Twists
Some of the best vegan pizza toppings are those that surprise you. Unconventional combinations and unexpected flavors can defy your expectations of what a great vegan pizza should taste like.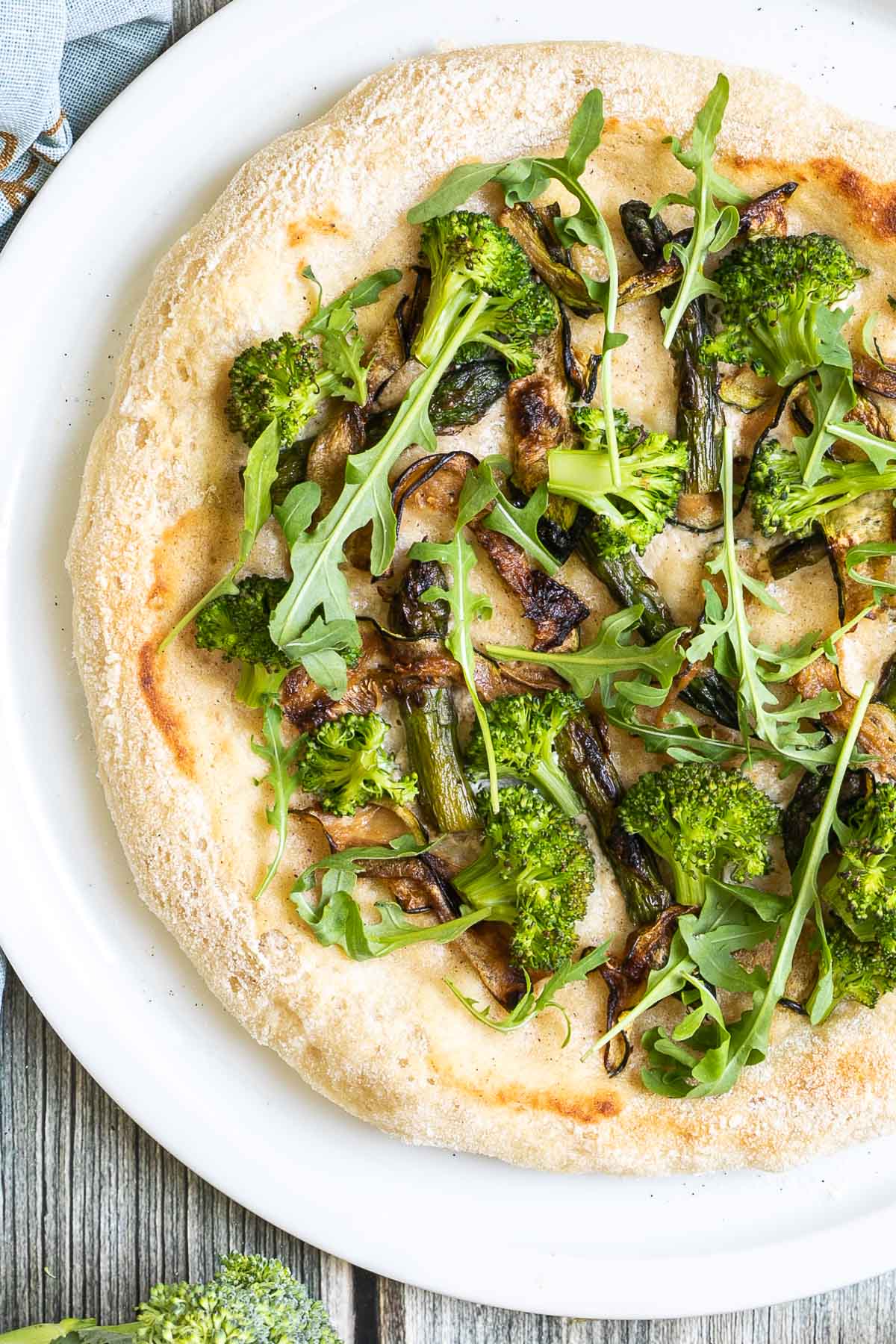 Avocado slices: Creamy avocado brings a luxurious mouthfeel and a dose of healthy fats.
Roasted garlic cloves: Who wouldn't love roasted garlic? While you can add them raw as toppings, it is even better to pre-fry or roast them in some oil and herbs.
Shredded Brussels sprouts: A surprising and delightful addition that adds a hint of crunch. We recommend adding them after baking.
Roasted butternut squash: Sweet and savory, butternut squash adds a delightful twist. Pair it with kale and other fall favorites, and you have a truly delicious harvest pizza.
Vegan feta: This salty vegan cheese substitute is a wonderful addition to our hummus pizza, even in place of other vegan cheeses.
Chopped kale: A powerhouse of nutrients, kale adds both color and texture. Chop them into small pieces and add them after baking, or hide them below other toppings.
Capers: Tiny bursts of tanginess that create an exciting contrast of taste. They are often combined with tuna or anchovies. So, if you want a "frutti di mare" feeling, add some capers.
Vegan BBQ sauce: Infuse your pizza with smoky-sweet barbecue flavors.
Vegan buffalo sauce: This ingredient could be a great choice for those who crave a spicy kick and a dash of heat.
Vegan Tzatziki sauce: Creamy and tangy, these sauces offer a Mediterranean twist. We recommend drizzling the sauce on top after baking.
Pickled jalapeños: A tangy and spicy choice for those who crave bold flavors.
The best vegan pizzas
If you find yourself lost in this array of vegan pizza toppings, don't worry! We've got the inspiration you need to mix and match. Delve into our collection of 28 mouthwatering vegan pizza recipes that will redefine your plant-based pizza game, or grab one of our favorite recipes below:
FAQs
Which pizza toppings are vegan?
You can choose vegetables like zucchini, red pepper, spinach, and even butternut squash, fruits like pineapple, figs, or berries, vegan meat alternatives from tofu bacon to vegan sausages. Don't forget fresh salad leaves and herbs. The most popular ones are basil and arugula.
Is pizza vegan without cheese?
The pizza dough is usually vegan, but in some cases, they use dairy to activate the yeast. A simple tomato-based pizza sauce is also vegan since it is usually made of sieved tomato puree, herbs, and olive oil. Even if you skip cheese, the toppings may not be all vegan. Don't just think of meat, eggs can also be toppings.