This vegan blueberry crisp is one of the easiest desserts you can make. With just four ingredients, you can whip up the perfect crisp topping in under two minutes. Then, add some fresh blueberries, sprinkle in some cinnamon for an extra kick of flavor, and voila! Your dessert is ready in no time. Don't forget to top it off with a scoop of vanilla ice cream – it's an absolute must!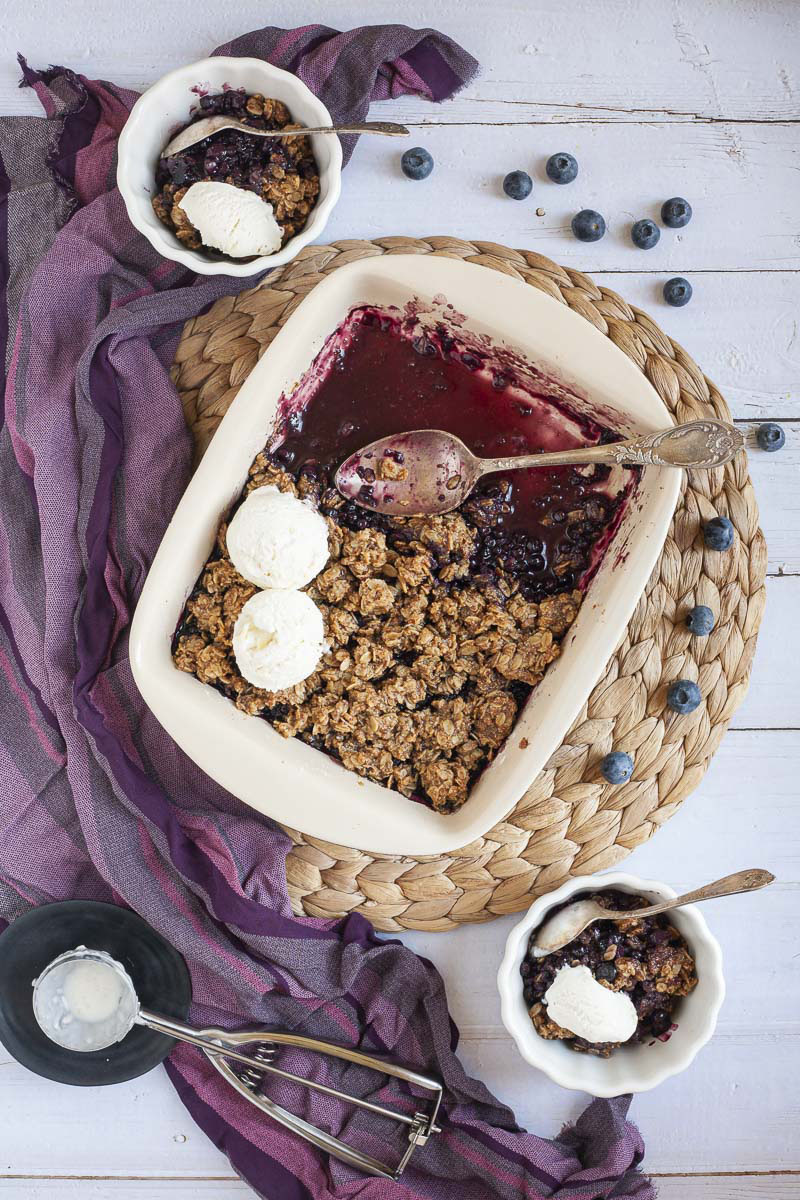 If you are looking for easy dessert recipes, try our strawberry rhubarb crisp, apple caramel crumble, blueberry lemon crumble pie, plum crumble, or apple crisp pie.
Jump to:
What to expect?
Is it crisp or crumble or streusel? I never really know what people expect when they hear these names. But crisp should be a kind of crumble that uses oats instead of purely flour. Both in this blueberry crisp recipe and in our strawberry rhubarb crisp recipe, we use golden brown, crispy, crunchy topping made of oats and almond flour. Compared to our apple crumble recipe, where we use a grated dough to top the caramel apples with flaky light crumbs.
This delectable dessert is not only simple and easy to make, but it is also perfect for any occasion. Whether you have a sudden craving for something sweet or an unexpected guest drops by, this blueberry crisp will be your go-to treat, so make sure you have a bag of frozen blueberries in your freezer at all times.
With just five minutes of prep time, you can put together this mouthwatering blueberry crisp and pop it in the oven to bake. Chat away with your visitors while it bakes. Once it is out of the oven, you will be greeted with the warm and inviting aroma of sweet blueberries and cinnamon. As you take your first bite, you'll be hit with a perfect mix of soft and crunchy.
Ingredients
Blueberry filling
Fresh or frozen blueberries
Sugar – We used coconut sugar for its lovely caramel undertones that perfectly complement blueberries. Or choose other sweeteners like granulated sugar, brown sugar, or maple syrup. Honey is not vegan, so check out these vegan honey substitutes.
Cornstarch – We did test it with tapioca starch but found that it wasn't as effective at binding the ingredients together. While all-purpose flour and other types of flour may be tempting to use, we advise against them as they can make the filling grainy.
Cinnamon
Crisp topping
Rolled oats – This recipe also works with quick oats, but rolled oats make the crisp look rustic.
Almond flour or almond meal – If you prefer a stronger almond flavor, choose the latter. The texture of the crisp will be quite similar in both cases.
Coconut sugar – It has a subtle and irresistible caramel taste that elevates any dish and adds a unique speculoos or biscoff-like flavor.
Unsalted butter – We used dairy-free butter.
🛒 You can find detailed measurements for all ingredients in the printable version of the recipe card at the bottom of this post.
Instructions
Making the crisp topping
No kneading, rolling, or special skill is needed to make the crisp topping. Just bring out your food processor and add all ingredients.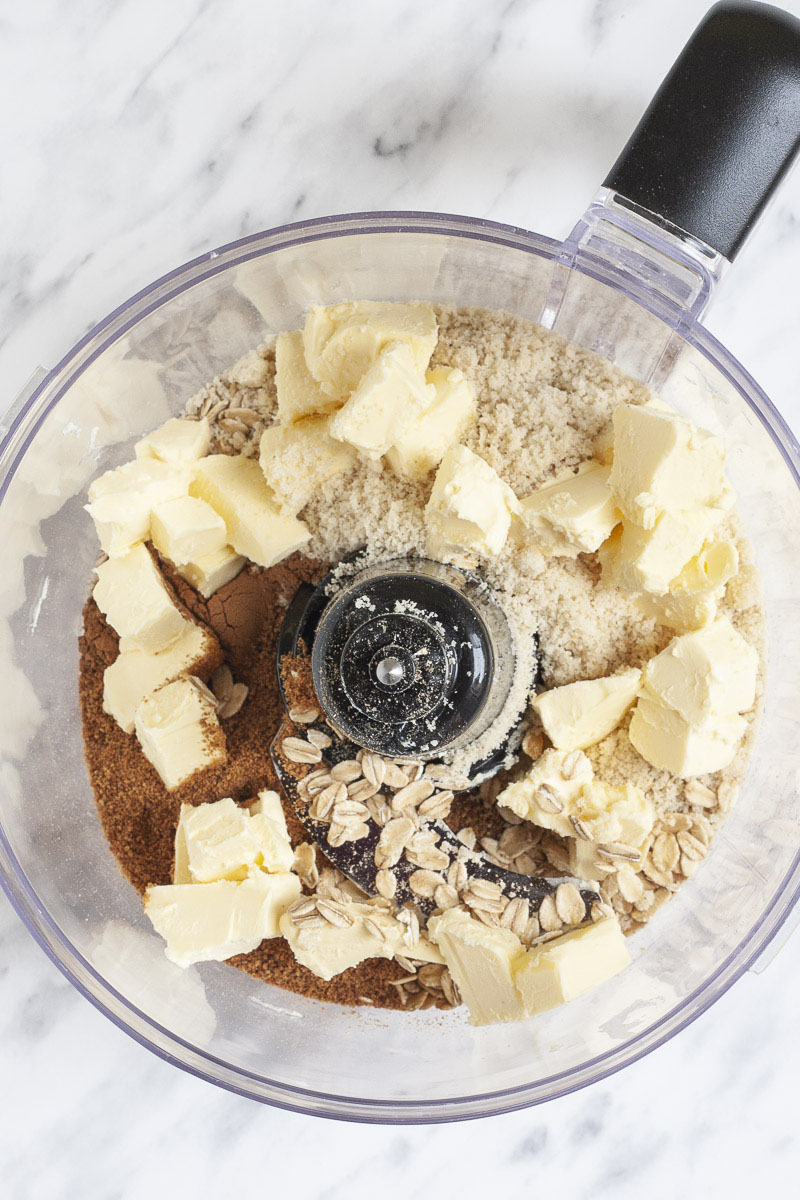 Pulse a couple of times to combine. The rolled oats should still be visible. There is no need to chop them too finely with the food processor.
Preparing the filling
It is a ridiculously easy blueberry dessert, I can tell you that. One of the reasons is that you don't really need to prepare anything apart from washing. No hulling, no peeling, and no cutting are required.
If you use frozen blueberries like, I did in these pictures, then no need to thaw or wash them. Just dump them in the baking dish. Sprinkle them with coconut sugar, cornstarch, and cinnamon. Stir until combined. That's it! One minute tops!
Making blueberry crisp
Choose an oven-safe baking dish or pie dish.
Add fresh or frozen blueberries directly to it.
Add coconut sugar and cornstarch. Toss and stir it gently with a spatula until combined.
Spread the crisp mixture using your fingers on top of the fruit filling.
Bake it in a preheated oven of 350 Fahrenheit (ca. 177 °C) for at least 20 minutes. The fruit should soften and be bubbly on the side. The crisp topping is crunchy enough but not yet brown. And what to serve with it? It is easy. Vanilla ice cream or whipped cream! Isn't it the best vegan blueberry crisp? Enjoy!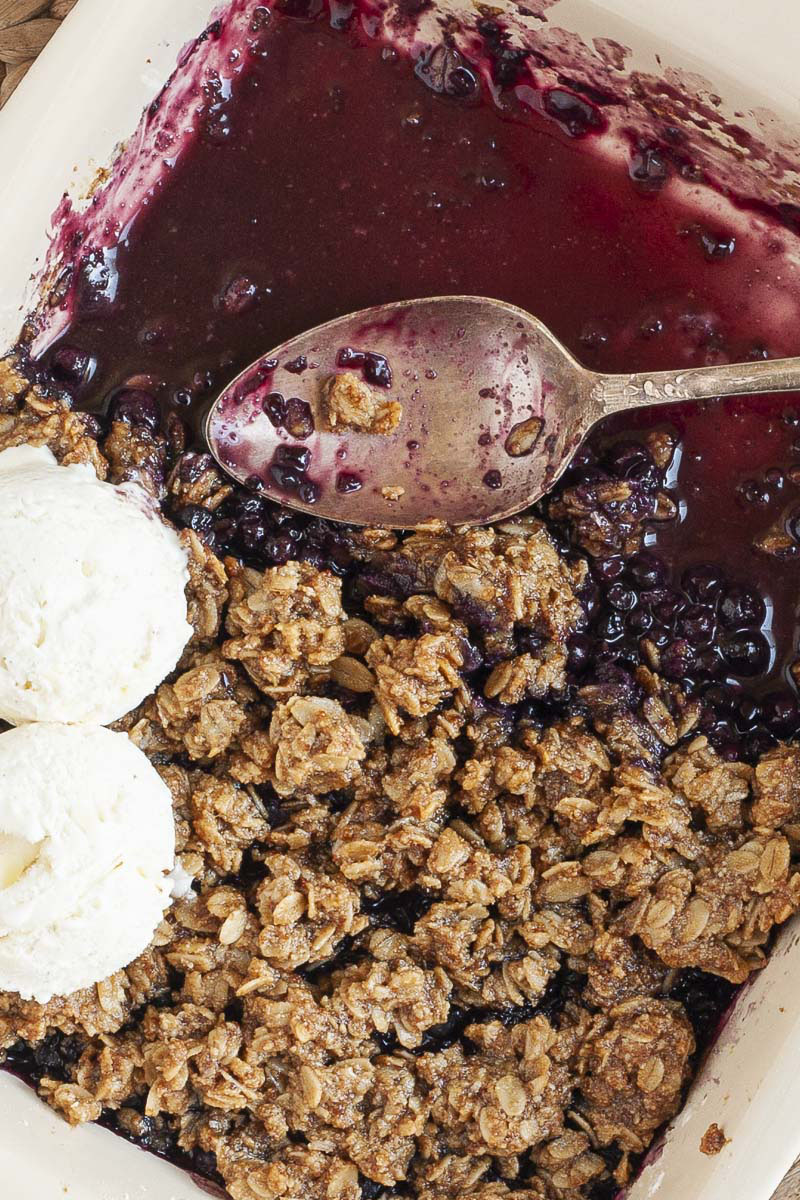 Cooking tips
How much sugar to add? – Taste your blueberries and adjust the level of sugar accordingly. Are they sweet or rather tart? You can certainly add more or less sweetener, depending on that.
Add a bit of lemon juice – It is supposed to bring the natural sweetness out. I would omit it if your blueberries are not sweet enough.
Variations
Mixed berries – All berries go great together. Mix in some raspberries, blackberries, or strawberries. Or buy a bag of frozen mixed berries for convenience.
Apple and cinnamon – Blueberries pair well with thinly sliced apples. And we already know that cinnamon is perfect with everything.
Peach and ginger – Mix ¼ teaspoon ginger powder into the crisp topping to give it a spicy flair, and add canned peach quarters to the filling. It will be magical.
Mango, lime, and mint – Turn this easy blueberry crisp tropical by adding chopped mango and freshly chopped mint to the filling and ½ teaspoon of lime zest to the crisp topping.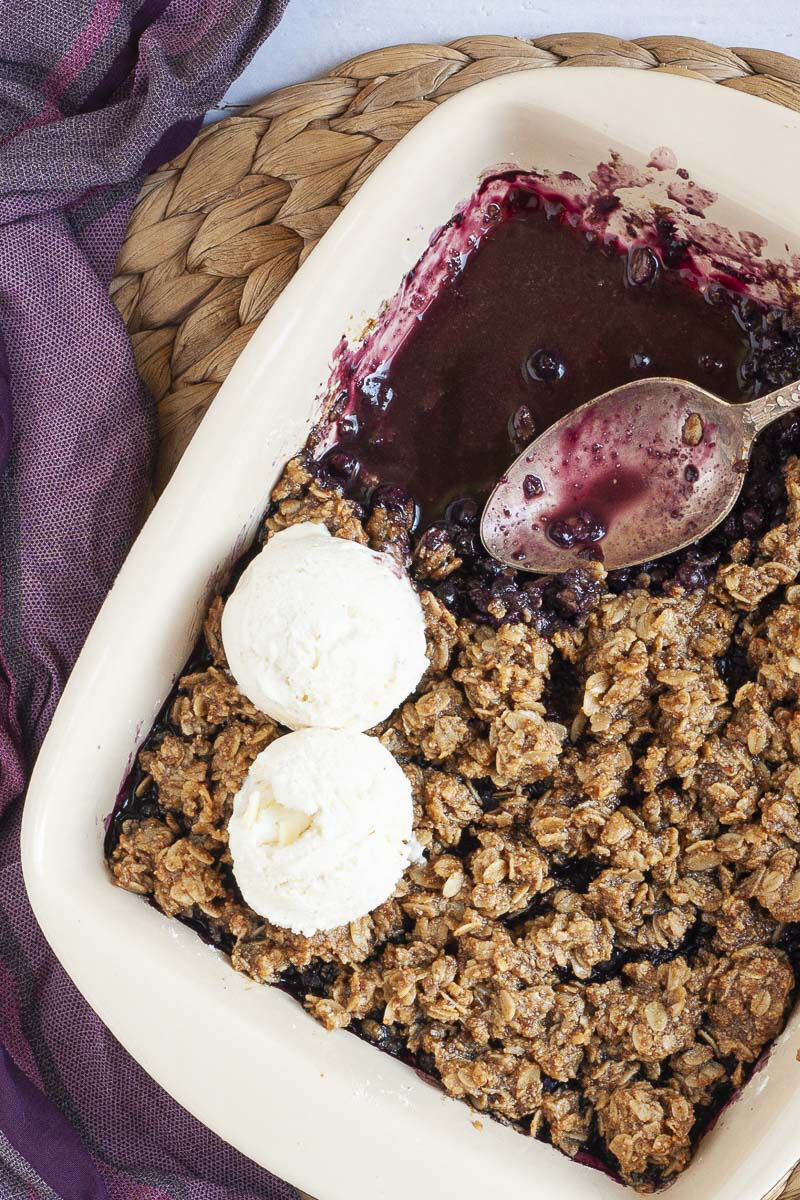 Equipment
Oven-safe glass baking dish – I prefer using a glass pie dish or a ceramic pie dish if I use an uncooked filling. If I need to pre-cook the filling, I like using our cast-iron skillet from UnoCasa, for example, in our apple crumble recipe.
Storing tips
First, make sure to let this vegan blueberry crisp cool completely before covering it with plastic wrap or aluminum foil and storing it in the refrigerator. This delicious dessert will last for up to four days in the fridge.
If you want to keep it even longer, freeze it for up to three months. We recommend airtight containers for easy access to individual servings. Wrapping small portions in aluminum foil or finding space for a whole baking dish can be challenging, so individual containers are a great option.
When you're ready to enjoy it again, simply thaw it in the refrigerator overnight and then reheat it in the microwave.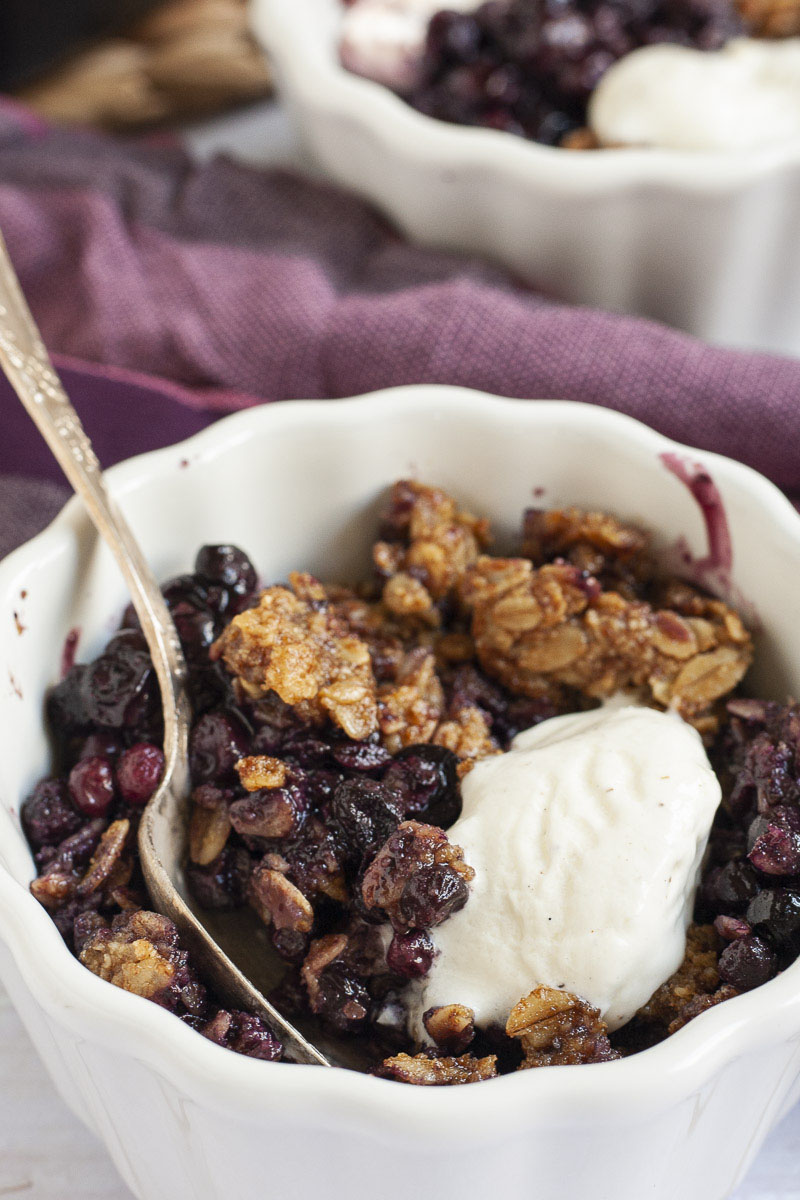 FAQs
Can you make blueberry crisp with frozen blueberries?
Yes, you can make a perfect blueberry crisp using frozen fruit. No need to thaw them. Drop them into the baking dish, mix them with the other ingredients, and then top them with a crisp topping. Bake them, then enjoy.
Why is my blueberry crisp watery?
Blueberries generally don't have a high water content compared to strawberries. To avoid a watery filling, we recommend mixing in some cornstarch. It will thicken the juices released from the berries.
Can blueberry crisp be made ahead of time?
Absolutely. It can sit on the counter for a couple of hours without any problem, but put it in the shade and not directly next to any heat source. In the fridge it lasts for 3-4 days, although if you want to retain the crispy topping, pop it back in the oven for a couple of minutes before serving.
THANK YOU so much for visiting our website. Please comment below if you have tried this recipe. We LOVE hearing from you! If you loved the recipe, please don't forget to give us a ⭐⭐⭐⭐⭐ RATING. We appreciate all of our readers.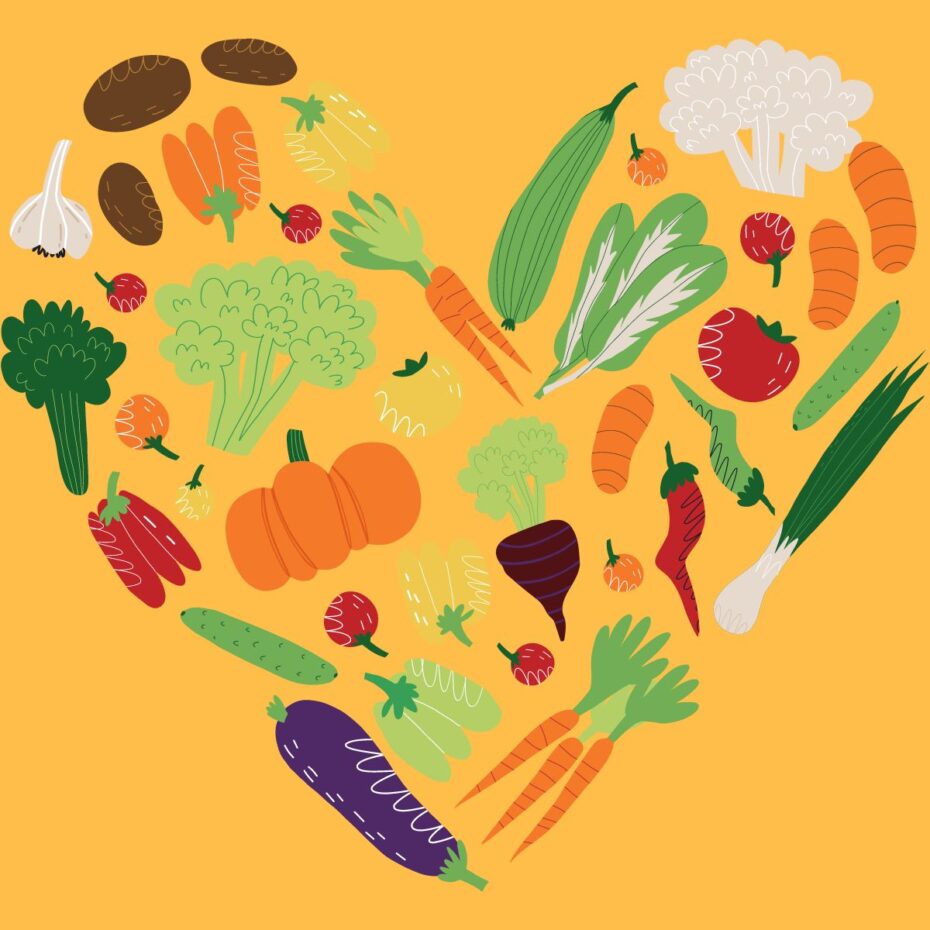 Blueberry Crisp (Vegan)
This vegan blueberry crisp is one of the easiest desserts you can make. With just four ingredients, you can whip up the perfect crisp topping in under two minutes. Then, add some fresh blueberries, sprinkle in some cinnamon for an extra kick of flavor, and voila! Your dessert is ready in no time. Don't forget to top it off with a scoop of vanilla ice cream – it's an absolute must!
EXCLUSIVE 5-ingredient recipes for busy home cooks that are ready in 15 minutes!
Check out our Express Vegan Cookbook!
Instructions
Add all crisp ingredients to a food processor. Pulse it for a couple of times.

Preheat oven to 350 F (180 degrees).

To reduce the number of dishes you must wash after, add the blueberries (washed, of course) directly to the baking dish. If you use frozen ones, don't need to thaw them in advance.

Sprinkle it with coconut sugar, cornstarch, and cinnamon. Mix well with a spatula.

Scatter the crisp topping evenly over the fruit with your hands.

Bake for 20 minutes, or until the crisp topping turns golden brown. Serve it warm with vanilla ice cream that melts all over it. Enjoy!
Nutrition
Nutrition Facts
Blueberry Crisp (Vegan)
Amount Per Serving (1 serving)
Calories 198
Calories from Fat 54
% Daily Value*
Fat 6g9%
Sodium 29mg1%
Potassium 110mg3%
Carbohydrates 35g12%
Protein 4g8%
Vitamin A 43IU1%
Vitamin C 7mg8%
Calcium 38mg4%
Iron 1mg6%
* Percent Daily Values are based on a 2000 calorie diet.