Imagine mildly spicy roasted cauliflower florets drizzled with a creamy lemon herb tahini sauce. This recipe will turn cauliflower into an elegant and delicious side dish to accompany any main course. If you love cauliflower, you will absolutely adore this flavorful and colorful recipe.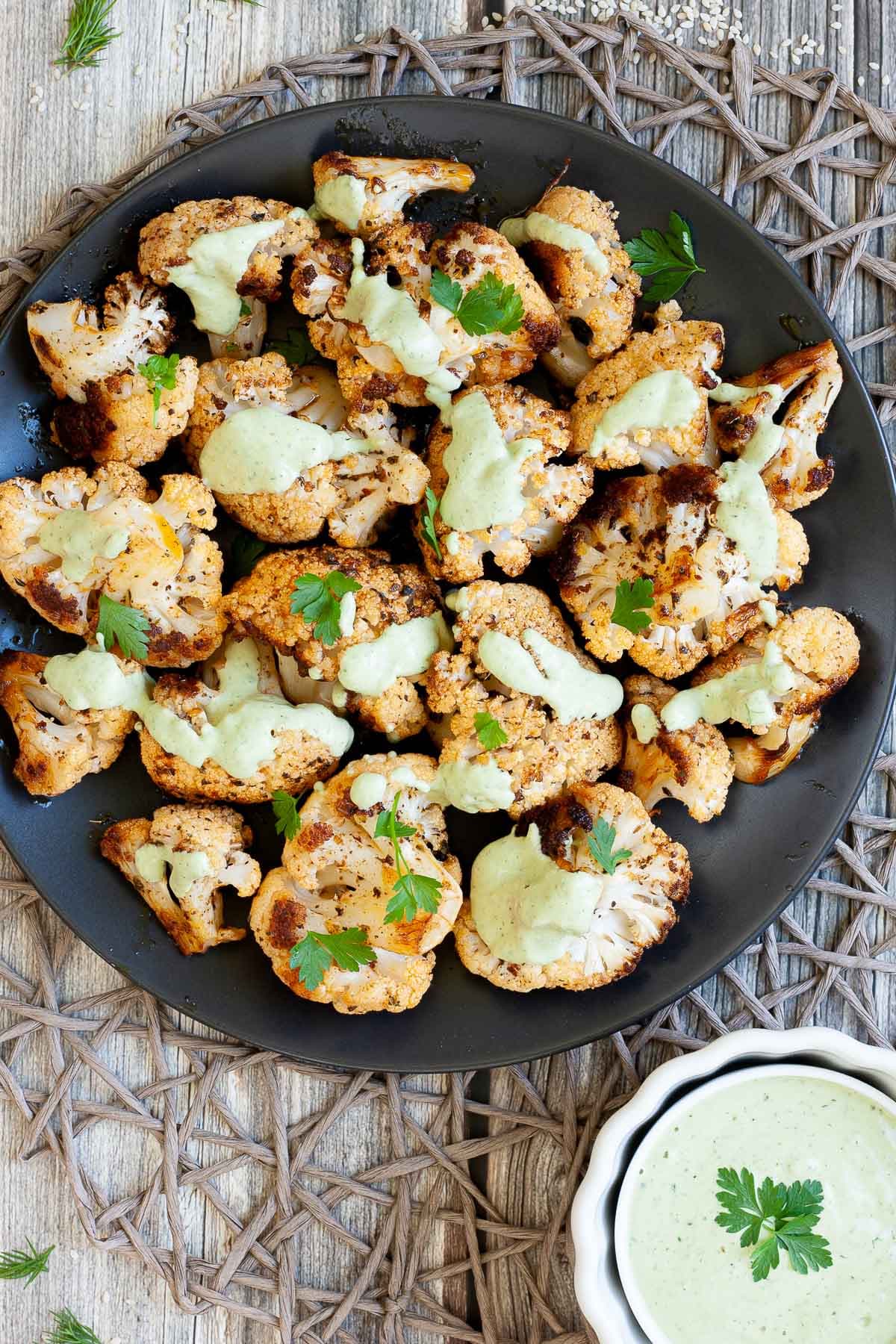 If you are looking for more cauliflower recipes, try these cauliflower steaks with green peppercorn sauce or this creamy vegan cauliflower soup.
What can you expect?
Cauliflower can be kind of a bland-tasting vegetable, don't you think? The best thing that can happen to it is if you roast it in the oven with a flavorful spice mix. That way it will be slightly caramelized. We chose this smoky and spicy seasoning combination to enhance its natural flavors.
Why you should serve roasted cauliflower with tahini sauce? If you choose a tahini-based sauce it doesn't mean that the sesame seed taste will overpower the main ingredient. On the contrary, it will be like a rich dip with a lemony, herby, slightly nutty flavor. If you have something spicy, it is always nice to balance it with something mild and creamy. It pairs well with many other vegetables and can also be used as a salad dressing.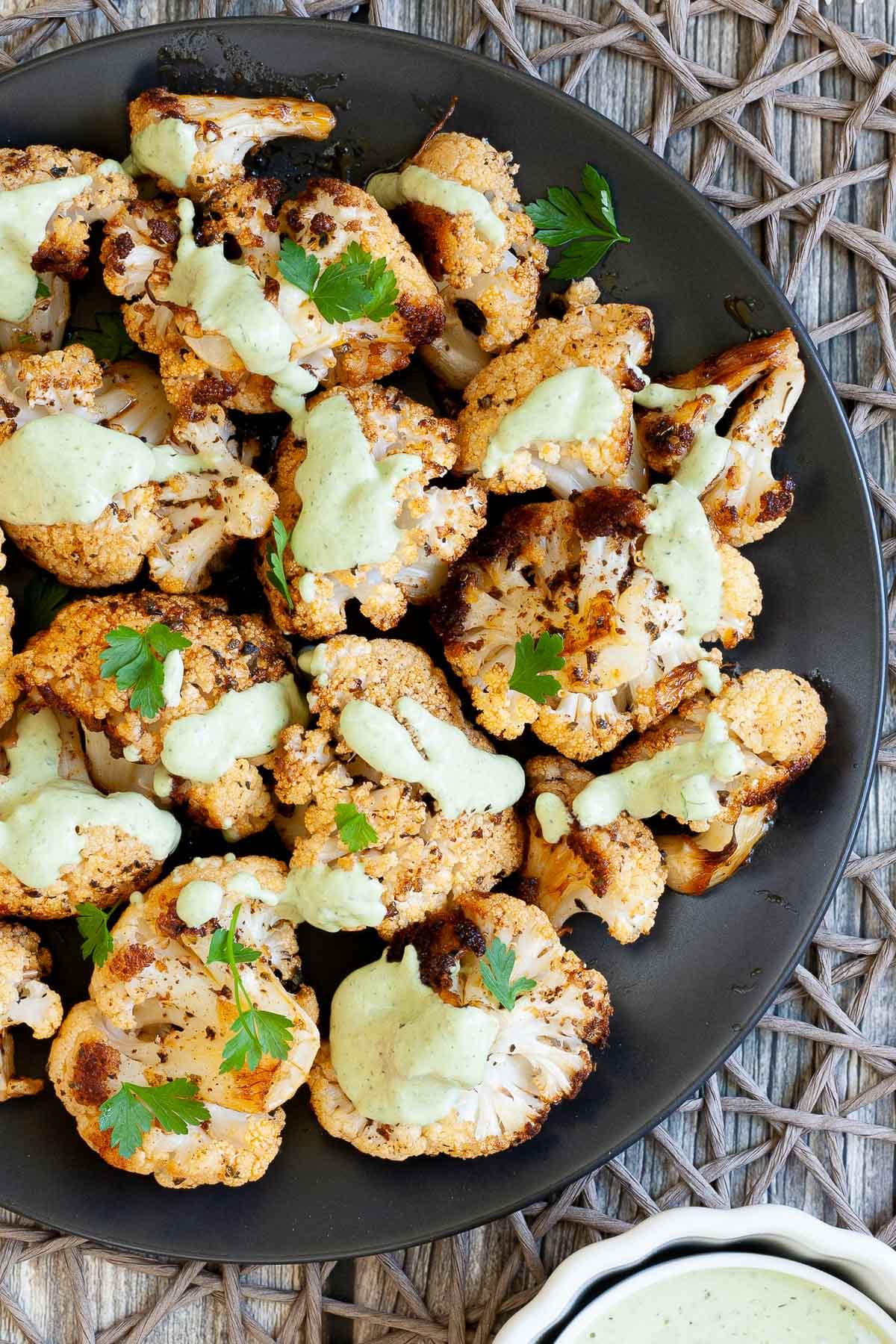 Ingredients
Well, apart from the main ingredient, the cauliflower here is the list of the homemade spice mix we used to make it delicious. You can find the exact amounts in the recipe card below. We used dried herbs and ingredients since sometimes they are better for a marinade.
Garlic powder
Smoked sweet paprika powder
Hot red pepper flakes
Dried oregano
Dried basil
Dried rosemary
Olive oil
Black pepper
Salt
If you are making the lemon herb tahini sauce, here are the ingredients below. For other serving suggestions, please scroll further down.
Tahini paste (ground sesame seeds turned into a paste) – This sauce was specifically developed with tahini. However, if you want to look for a substitute for any reason, check out our complete list of tahini substitutes.
Freshly squeezed lemon juice – Alternatively you can use lime as well
Fresh dill – We recommend using fresh herbs instead of dried ground ones as the flavor is much more intense.
Fresh parsley – The same for these. The flavor is better with fresh herbs.
Capers – Since they are actually rosebuds, they have a lemony, slightly floral aroma that goes perfectly with the other fresh herbs. They are close to olives in the sense that they are also in salty brine.
Garlic
Olive oil
Black pepper
Salt
How to roast cauliflower?
Cut cauliflower into florets
Choose a cauliflower that is firm, heavy, and tight without any brown spots.
Peel off the leaves as much as you can. You may not be able to get rid of all leaves by hand.
Cut off the stem at the bottom with the remaining leaves.
Place the cauliflower head on a wooden cutting board with the stem above.
Hold it steady by the stem. Take a sharp knife and start cutting the stem of each floret off the main stem.
If you end up with larger florets, cut them in half.
Spice it up!
Take a small bowl and add all ingredients of the marinade.
Mix it well with a whisk or spoon.
Baking the florets
Preheat the oven to 395 Fahrenheit (200 degrees Celsius).
Take a sheet pan with parchment paper or a non-stick baking sheet and place florets in the middle.
Drizzle them with the marinade.
Use your hands to really rub in the marinades and the florets are covered on all sides with it.
Spread the florets in one layer. Try to space them out to avoid overcrowding.
Bake them for approx. 40 minutes. Depending on the size of the florets the baking time may be shorter, so check them halfway and adjust the time accordingly. They are ready if they are tender.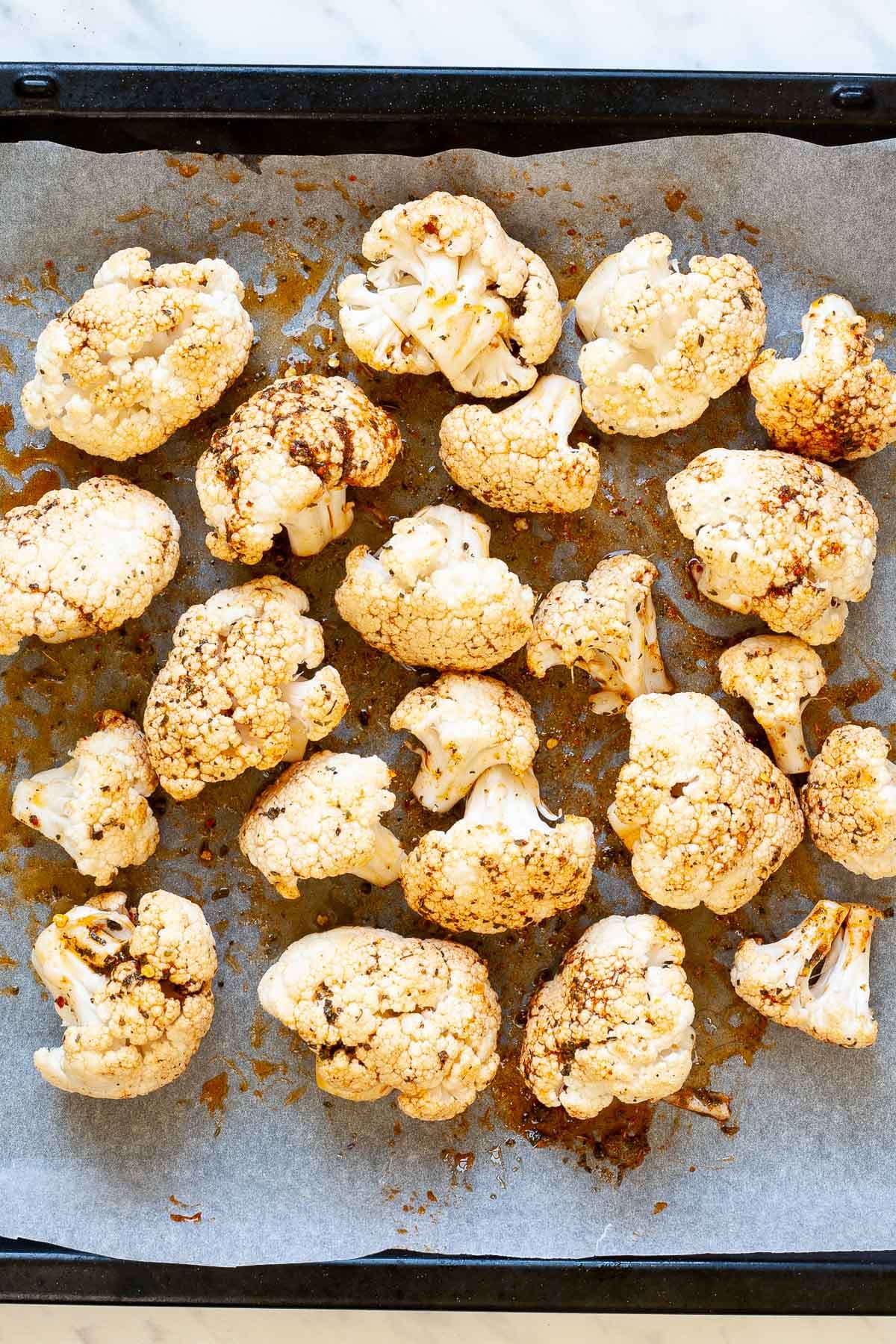 How to make lemon herb tahini sauce?
Well, it is quite easy and you can be done with it in like 5 minutes! Here is what you need to do:
Wash the fresh dill and parsley.
Squeeze one lemon to capture the juice.
Peel garlic clove.
Add all ingredients to a blender or food processor (tahini, lemon juice, garlic clove, olive oil, black pepper, salt, water, dill, parsley, and capers).
Blend it until you get a smooth sauce. The desired consistency is like a thick paste. Add a tablespoon of water to adjust it if needed.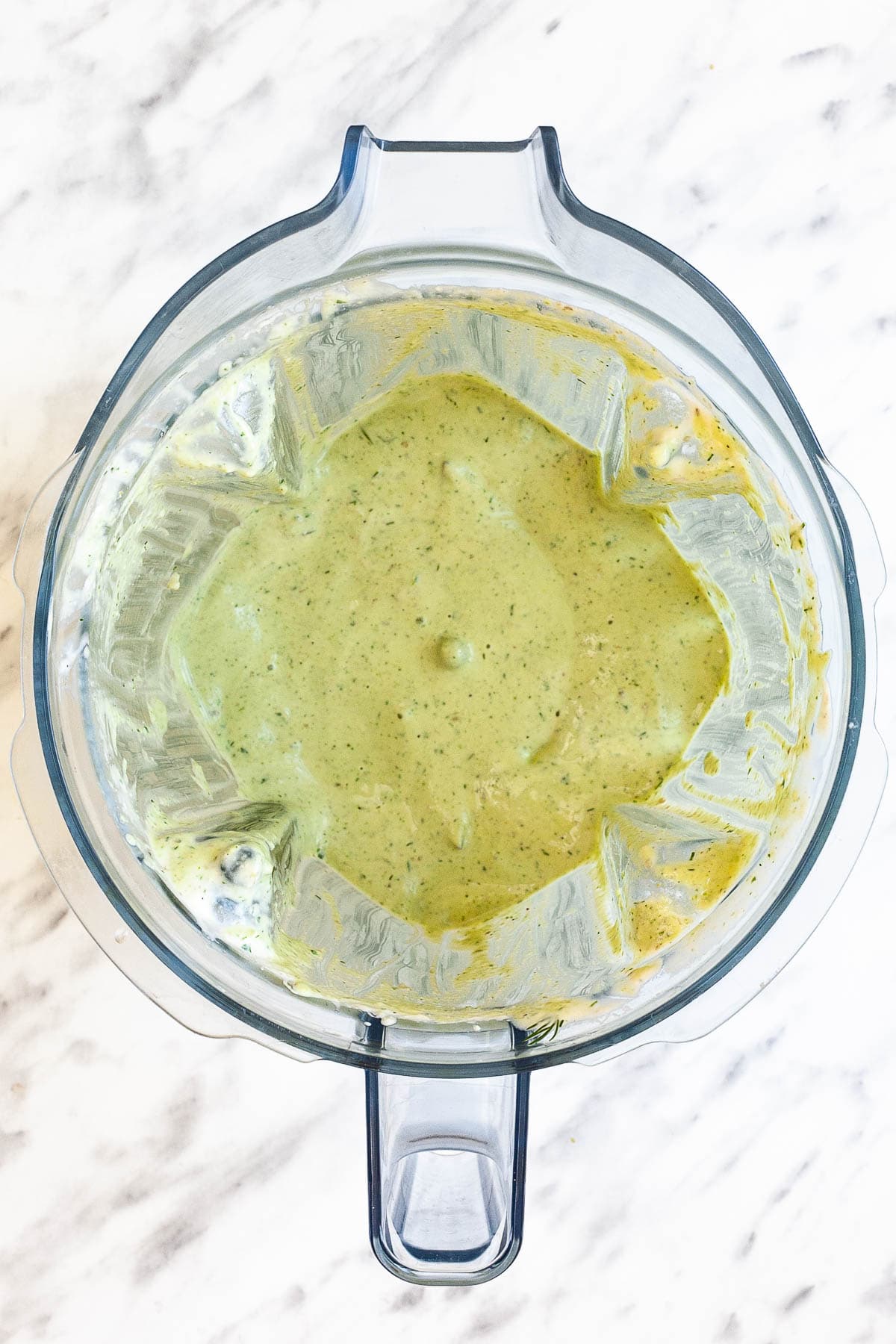 Top tips to make it perfectly
Cold vs room temperature – We recommend taking the cauliflower out of the fridge early on so that it can reach room temperature. It is easier to bake the florets crispy if the oven remains hot at all times.
Adjust baking time – We cannot empathize enough that baking time largely depends on the size of the florets. If you have a small cauliflower head, you may end up with smaller florets. Then 40 minutes will be too much. Check them at least at halftime after 20 minutes.
How to add the marinade? – While you can marinate the florets in a large bowl, we like minimizing the number of items you need to wash up after cooking. Therefore, we do the marinating directly on the sheet pan.
Which blender to use for the sauce? – The amount of the ingredients may be too small for your blender. In that case, take a thin long container and use a hand blender aka immersion blender. Since there are no hard ingredients, your lemon herb tahini sauce will still be creamy and smooth.
Other sauces to serve with roasted cauliflower
We really love this lemon herb tahini sauce, but cauliflower also pairs well with the following sauces and condiments:
FAQs
How to store it?
We recommend storing roasted cauliflower and tahini sauce separately in the refrigerator. They might lose some of their crispy texture while storing, but they will still taste delicious after reheating.
Can I use other herbs in the sauce?
You can find many green herb combinations that pair well with tahini like cilantro, thyme, basil, oregano, mint, or chives. However, this sauce was tested with dill and parsley. If you use other herbs, the spices may not match them.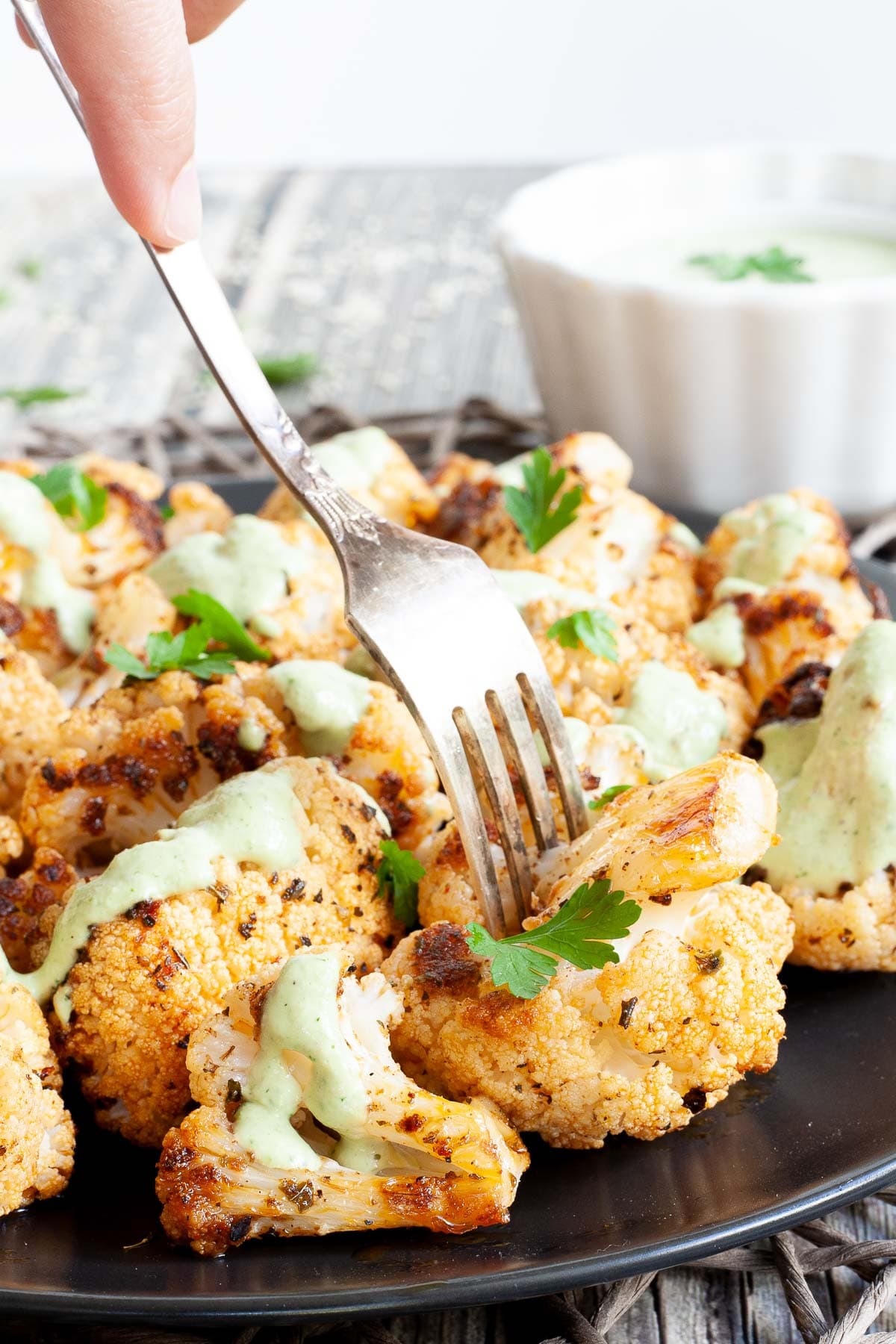 This roasted cauliflower with tahini sauce recipe is meat-free, dairy-free, and egg-free. It is also suitable for vegan, vegetarian, soy-free, nut-free, and gluten-free diets. It is not WFPB-friendly (whole foods plant-based) since we used oil to make the marinade and the sauce.
More cauliflower recipes
If you are looking for more cauliflower recipes, try these recipes below:
More vegetable side dishes
You can browse through our vegan sides recipe gallery or check out