These Gluten-free Lemon Cookies are crispy, buttery, shortbread-like cookies with a delicious tangy lemon flavor that is coming from freshly squeezed lemon juice and freshly grated lemon zest. They are absolutely delicious on their own, but turning them into blueberry jam filled cookie sandwiches is like a match made in heaven.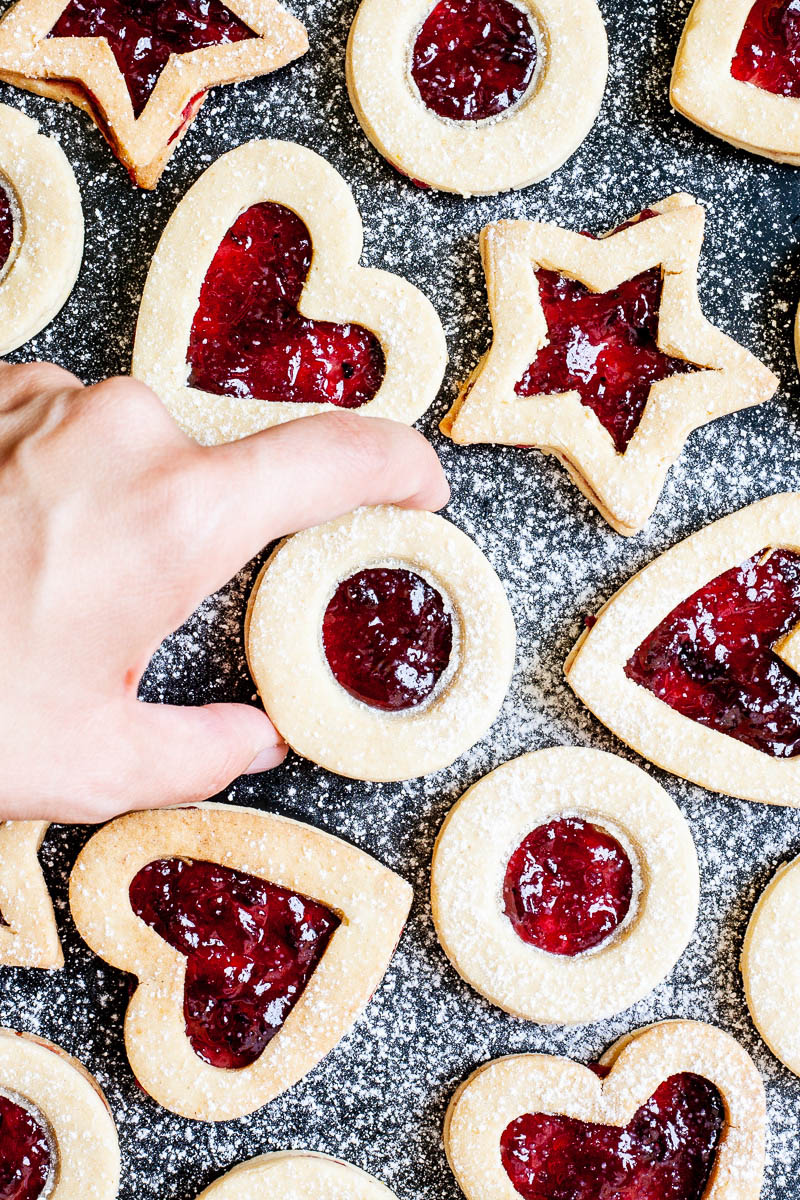 Do you love cookies? We have more recipes you might like. Have you seen our Chocolate Dipped Gluten-free Coconut Cookies or our super easy, kid-friendly 3-ingredient Banana Peanut Butter Oatmeal Cookies yet?
If you see a cookie recipe, usually the first thing you want to know is how do they taste like? Are they crispy or chewy? Will they melt in your mouth or crunch under your teeth? And most importantly, since this is a gluten-free cookie recipe, you probably want to know if you can tell it is gluten-free or not.
These super easy lemon cookies are buttery, shortbread-like cookies. They are soft and crunchy, rather than chewy. You can absolutely taste the lemon, but the flavor is not too strong. We added just enough sweetener to make these cookies tangy and luscious at the same time.
And the best news besides the above is that non of my family members and friends who tasted these cookies could tell that they were gluten-free. I would say the easiest thing you can bake gluten-free is cookies.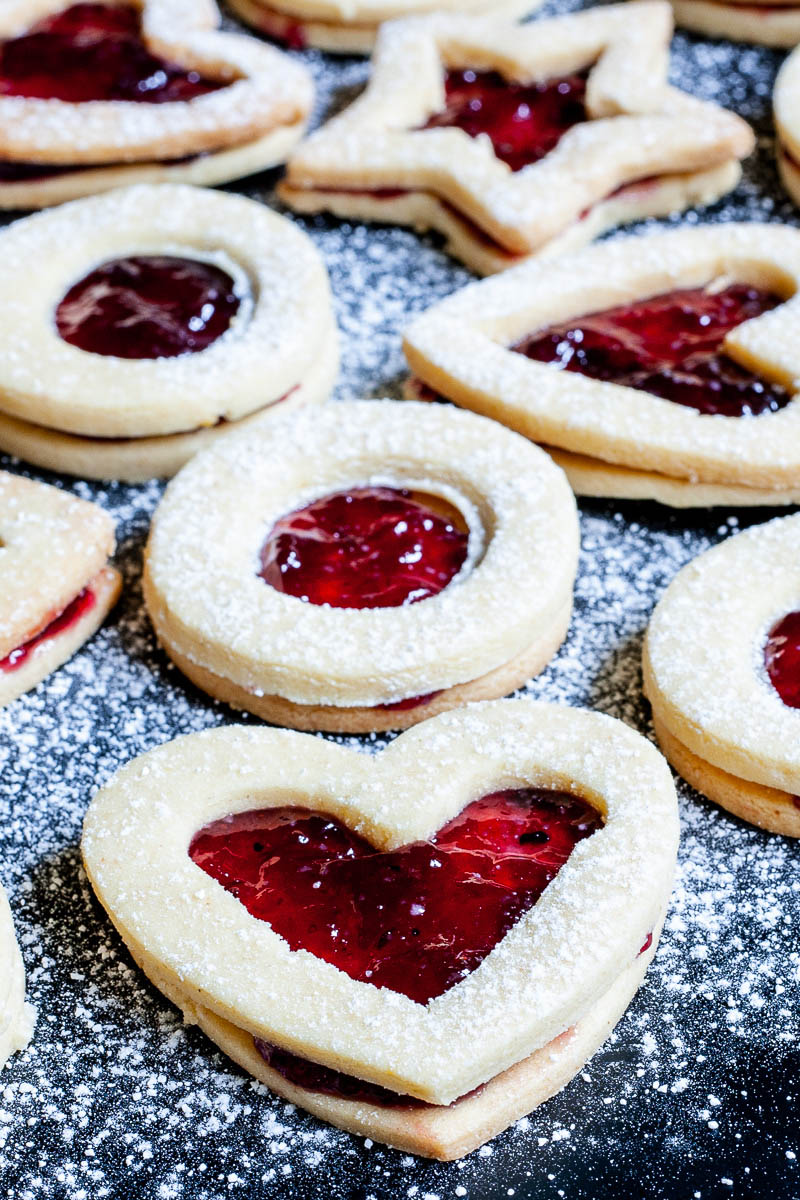 Ingredients
You need a simple pantry ingredients, a quick mix and you can bake and enjoy the first batch in 20 minutes! They are not only gluten-free, but dairy-free and nut-free as well. So what do you need?
white rice flour
buckwheat flour
corn starch (you can substitute it with tapioca or other starches)
cane sugar (you can use coconut sugar or other dry sugars)
dairy-free butter (I haven't tested it with dairy butter)
freshly squeezed lemon juice
freshly squeezed lemon zest
salt
A quick note: There is really no need for xanthan gum or other similar ingredients. As these gluten-free cookies don't need elasticity and there are really not too much wet ingredients, a gluten-free flour blend with xanthan gum is unnecessary.
If you have seen our other cookie recipes, you can tell that I love using a food processor to mix the ingredients. The main reason behind is that the dairy-free butter can be thoroughly incorporated within one minute. So what do you need to do?
Add all dry and wet ingredients (white rice flour, buckwheat flour, starch, sugar, fresh lemon juice and zest, salt, and dairy-free butter) to a food processor and mix until it reaches a crumb-like texture. (It will not likely form a ball like that.)
Take a large bowl and add the dough from the food processor. Knead it with your hands for 2 minutes or so to form a cookie dough ball. If the ball is dry and crumble still after 2-3 minutes, add 1-3 tsp water, 1 tsp at a time. The dough should not stick to your fingers. If it is you added too much water. In that case, make sure you flour the rolling mat thoroughly.
Take your rolling mat and lightly flour it. Roll the cookie dough thin about 4 mm (approx. ¼-inch) or at most 1 cm (approx. ½-inch). Choose your favorite cookie cutter and cut out the shapes you want.
Bake them on parchment paper for 10-12 minutes. Baking time may depend on your oven, so check them around 8-10 minutes.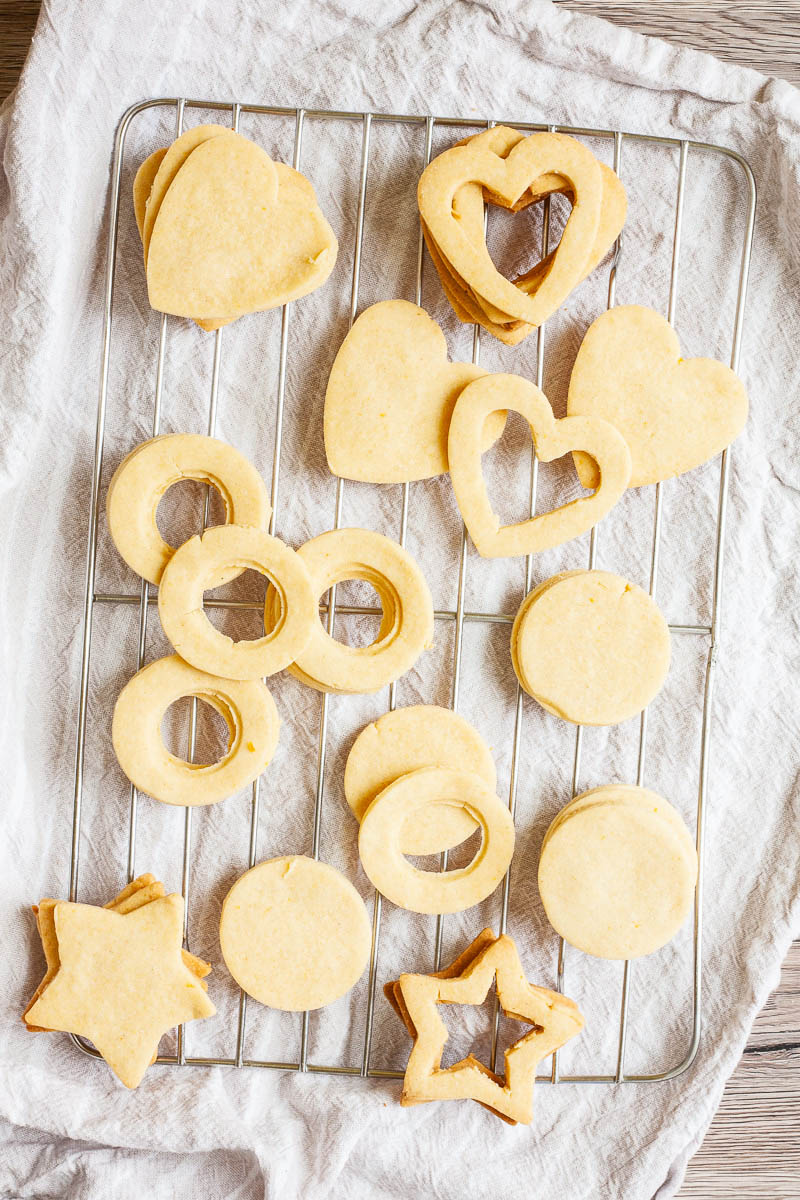 Top tips to make them perfect every time
Measure it with a scale – Baking is about precision. To bake something perfectly is a question of science like how different ingredients react to each other under heat. I always measure the ingredients as well on a scale and convert the recipe back to cups. I use King Arthur's Weight Chart to make sure that the cup measurements are in-line with the grams. If you want to make these cookies perfectly ever time, make sure your measurements are precise.
Flour your surface – I recommend using rice flour as it has a grainy, tiny ball-like consistency that just makes working with any dough easier. The dough just rolls all over it literally.
Use a saran wrap or cling foil – It doesn't matter which recipe it is. A gluten-free cookie or a gluten-free pie crust or a gluten-free pizza crust recipe, I ALWAYS use a saran wrap/cling foil on the top so the dough will not stick to the rolling pin. If you do that, you can save so much time and hassle.
Parchment paper instead of a baking sheet – I recommend using parchment paper instead of a baking sheet especially if you are making multiple batches. The main reason is that gluten-free cookies right out of the oven are very vulnerable. If you try to transfer them, they may break or crumble. If you use a parchment paper you can move the cookies to a wire rack without touching them.
Place them close – You can place them relatively close to each other as there is no baking powder, baking soda or any other type of leavening. Which means they will not rise significantly.
When are they ready? – If they start to brown on the edges, you are too late.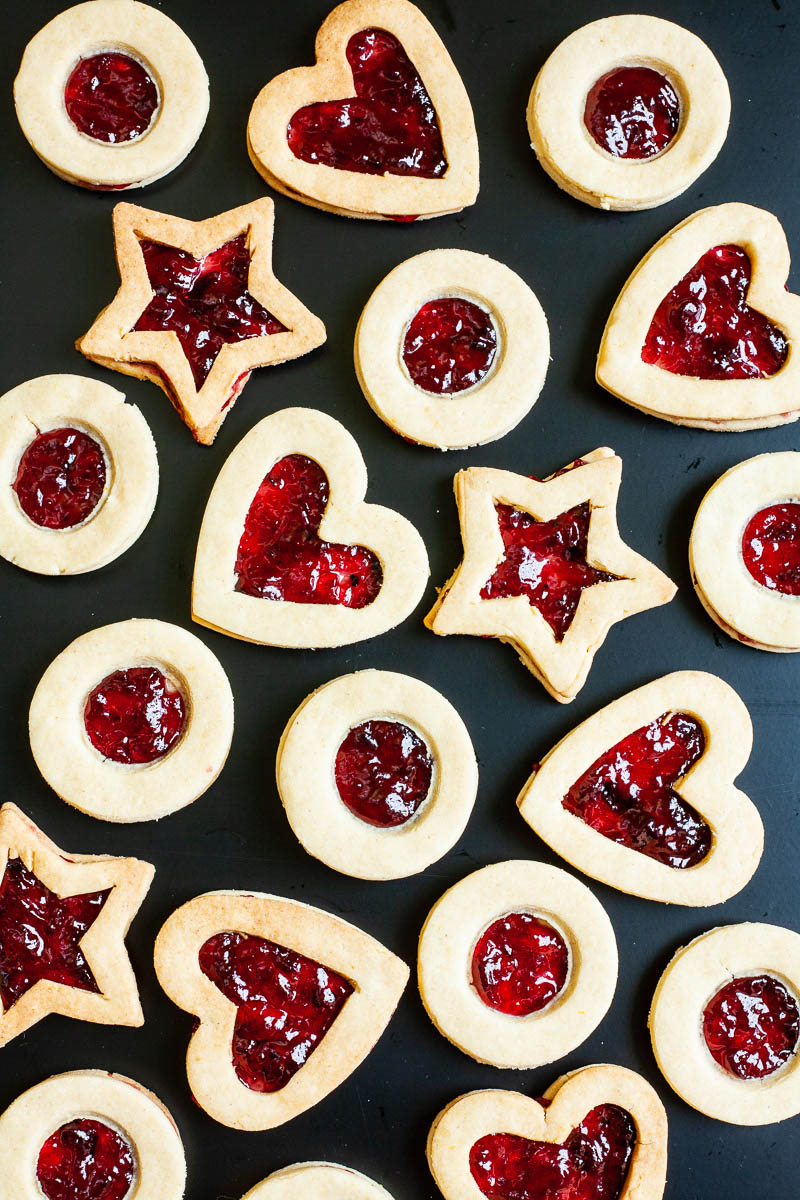 We have made these cookies several times just like that plain and simple. However, after the most amazing Gluten-free Blueberry Pie with Lemon Crumble I have ever eaten, there was really no question. I had to add blueberry to these lemon cookies as well. So how to do that?
Choose your cookie cutter. You can cut out one type of cookies and pair them like that. Or you can use linzer cookie cutters*, where you have a full cookie and a "window" cookie to stick together.
Wait until the lemon cookies cooled down.
Spread a bit of blueberry jam on top of the bottom cookie.
Place the top cookie or the "window" cookie on it and gently press it together.
FAQs and substitutions
Can I use lemon extract?
Yes, but you need to adjust the amounts a bit. McCormick has an unsweetened gluten-free lemon extract*, which states that 1 tsp of extract equals to 1tsp of grated lemon zest. In this recipe I added 2 Tbsp lemon juice and 1 Tbsp lemon zest. However, I don't recommend adding 3 Tbsp. Extracts supposed to have a strong aroma, so I would try it with 1 Tbsp only.
Can I make it ahead of time?
Even if you add jam, these cookies can be on room temperature for a long time. You can leave them out for 1-2 days without covering them and they will be just as good as new. You can store them longer approx. up until 2 weeks, if you use an airtight container. I never stored them longer, so let me know if you do.
Can the cookie dough be frozen?
Yes, before rolling down, take it out to thaw in the fridge overnight or on room temperature for at least 1 hour.
Can I substitute any flour or starch?
I have only tested it with tapioca starch and saw no difference. Read our Tapioca Flour Substitutes article for more starch options. As for the flours, you can use oat flour or millet flour instead of buckwheat, although the flour combination in the recipe card is the one I recommend the most.
Can I substitute cane sugar?
You need dry sugar for this recipe to work: white sugar, coconut sugar or anything that is fine and powder-like. I haven't tested it with any liquid sweetener like maple syrup.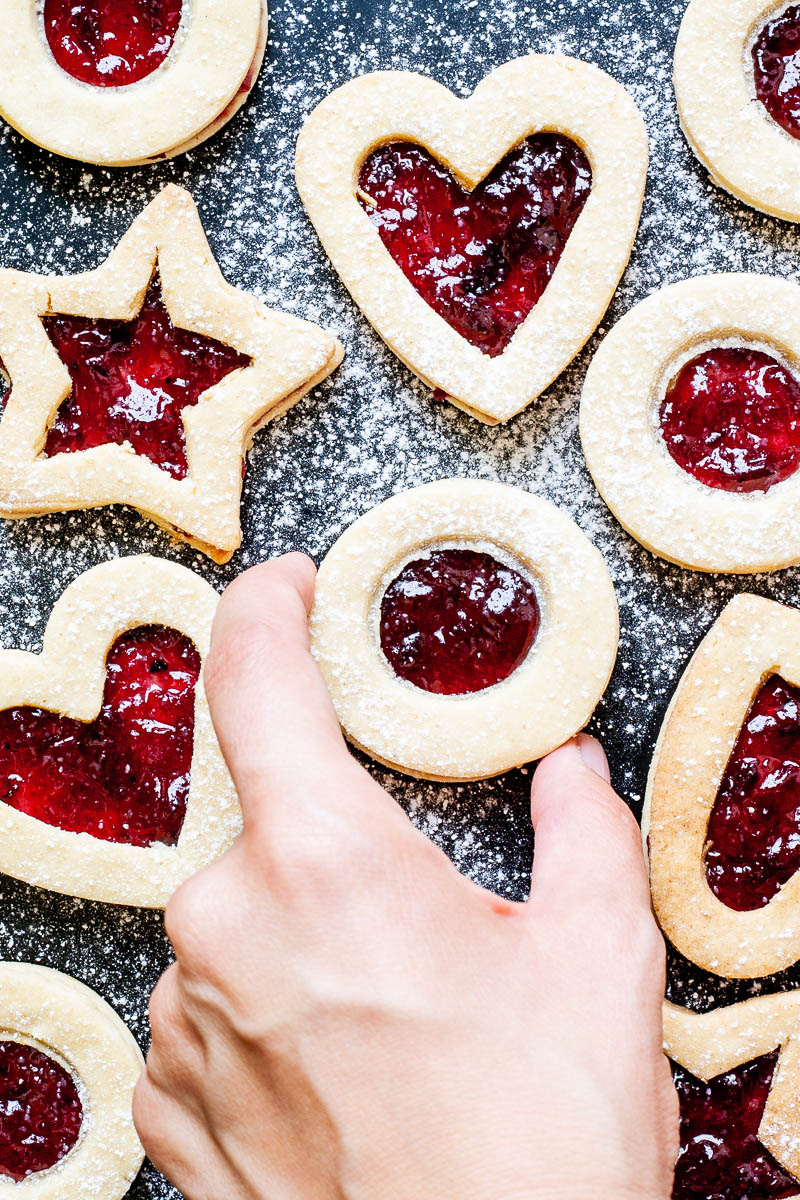 This Gluten-free Lemon Cookies recipe is vegan, so dairy-free and egg-free as well. It is also suitable for soy-free diet. It is not WFPB-friendly (whole foods plant-based) as the butter is not compliant. I haven't tested this recipe with any nut butter, but please comment below if you tried it like that.