These Gluten-free Snowball Cookies are nutty, buttery in a melt-in-your mouth way. They are similar to shortbread cookies, but baked as little balls and double rolled in powdered sugar to turn them into perfect snow balls. If you are looking for any easy, gluten-free, dairy-free recipe without specialty box mix, this is the one for you. Perfect Christmas cookies I might add.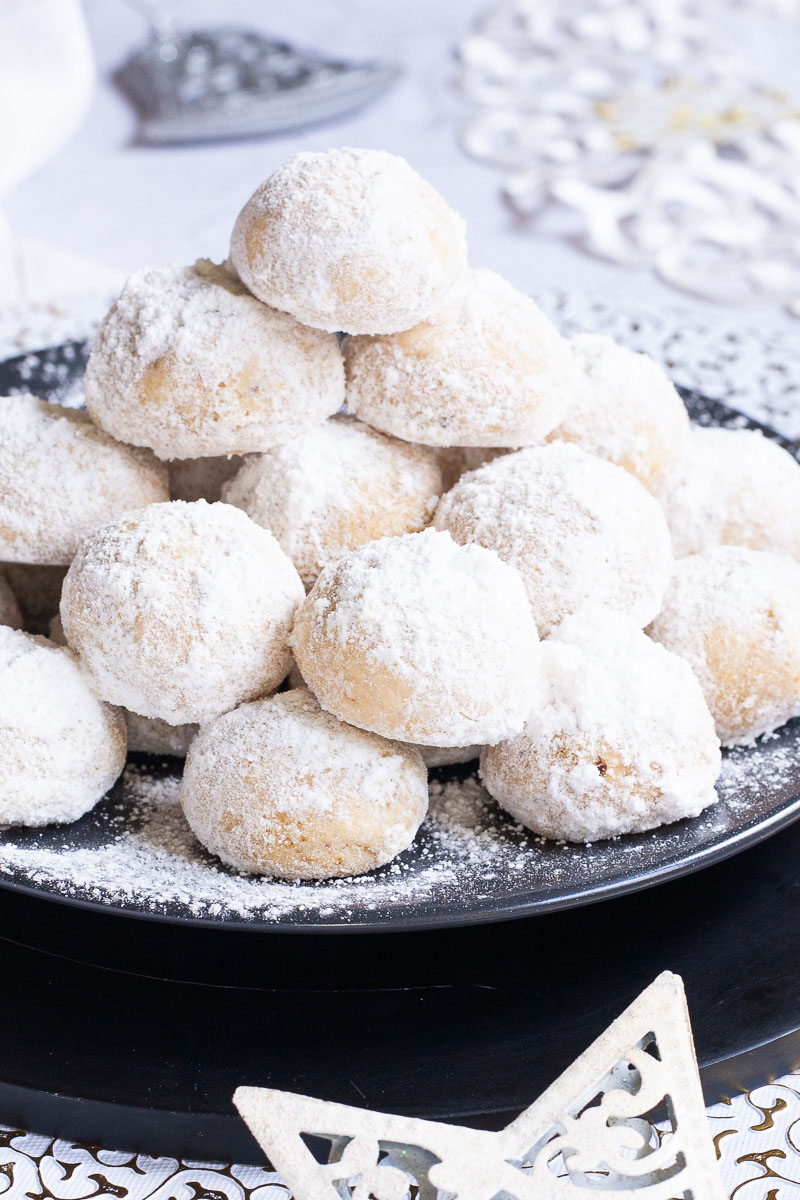 Do you love cookies? Check out our Chocolate Dipped Gluten-free Coconut Cookies or our super easy, kid-friendly 3-ingredient Banana Peanut Butter Oatmeal Cookies. More to come, so stay tuned.
These shortbread-like, crunchy, nutty, buttery cookies are quite popular in many countries, though they may have different shapes, or they may have different nuts in them. The most popular snow ball cookies are Mexican Wedding Cookies and Russian Tea Cakes. However, we do have a Gluten-free Hungarian Walnut Crescent Cookies (Hókifli) recipe, which is very similar to this one, but baked in a crescent form. They are very typical Christmas holiday cookies in Hungary.
Ingredients
Our recipe calls for only a handful of ingredients. If you have visited our blog before you may already know that I don't use any specialty box mix or branded gluten-free flour blend, but individual gluten-free flours only. To make these Gluten-free Snowball Cookies you need the following ingredients:
walnut meal (you can use pecans, almonds or other nuts)
white rice flour
cornstarch

(you can substitute it with

tapioca or other starches

)

cane sugar

(you can use coconut sugar or other dry sugars)

dairy-free butter

(I haven't tested it with dairy butter)

vanilla extract (optional)
salt
powdered sugar (also known as icing sugar)
A quick note: There is really no need for xanthan gum or other similar ingredients. Their primary purpose is to keep the gluten-free dough elastic and bind excess moisture. In this gluten-free cookie recipe, there is really no need for elasticity and there is only one wet ingredient which is butter.
You can make them by hand in 3 minutes, or by a food processor in 2 minutes.
Add all ingredients (ground walnuts, rice flour, starch, sugar, butter, salt and vanilla extract) to a

food processor

.
Pulse until you get a

crumbs

like texture.
Take a large bowl and add the dough.

Knead

it with your hands for 2-3 minutes until it forms a dough.
Depending on the butter you use or the exact measurements, if you still feel that the dough is too dry, add 1-3 teaspoons of

water

. 1 teaspoon at a time.
Take 1 Tablespoon of cookie dough and

form a ball

with your hands.

Bake

them on a parchment paper for 10-12 minutes. Baking time may depend on your oven, so check them around 8-10 minutes.

Dust

them with powdered sugar right out of the oven.
Don't move them until they cooled down. Then,

roll them again

in powdered sugar to create a lovely snowball-like effect.
Top tips to make them perfect every time
Measure it with a scale

– Baking is about precision. To bake something perfectly is a question of science like how different ingredients react to each other under heat. I always measure the ingredients as well on a scale and convert the recipe back to cups. I use King Arthur's Weight Chart to make sure that the cup measurements are in-line with the grams. If you want to make these cookies perfectly ever time, make sure your measurements are precise.
Parchment paper instead of a baking sheet – I recommend using parchment paper instead of a baking sheet especially if you are making multiple batches. You can take out the parchment paper from the sheet pan and bake the next round, while the first round can cool down on its own. If you try to move them while they are hot, they will likely break.

Place them close

– As there is no baking powder, baking soda or any other type of leavening, they will not rise significantly. You can place them relatively close to each other.

When are they ready?

– If they start to brown on the edges, you are too late.

Why do you need double dusting?

– When you dust them with powdered sugar right out of the oven, the heat will melt it a little bit creating the perfect surface for the next round of powdered sugar to really stick to it.
FAQs and substitutions
How long will the cookies last?
They hold up for quite long even on room temperature. We left them out for 3-4 days and the texture hasn't changed much. That is why they can be perfect as edible Christmas gifts as well. You can store them longer approx. up until 2 weeks, if you use an airtight container. I never stored them longer, so let me know if you do.
Can I substitute any flour or starch?
I have only tested these gluten-free cookies with corn starch and tapioca starch and saw no difference. Read our Tapioca Flour Substitutes article for more starch options. As for the flours, you can use oat flour instead of white rice flour. I haven't tested it with any other flour.
Can I substitute cane sugar?
You need dry sugar for this recipe to work: white sugar, coconut sugar or anything that is fine and powder-like. I haven't tested it with any liquid sweetener.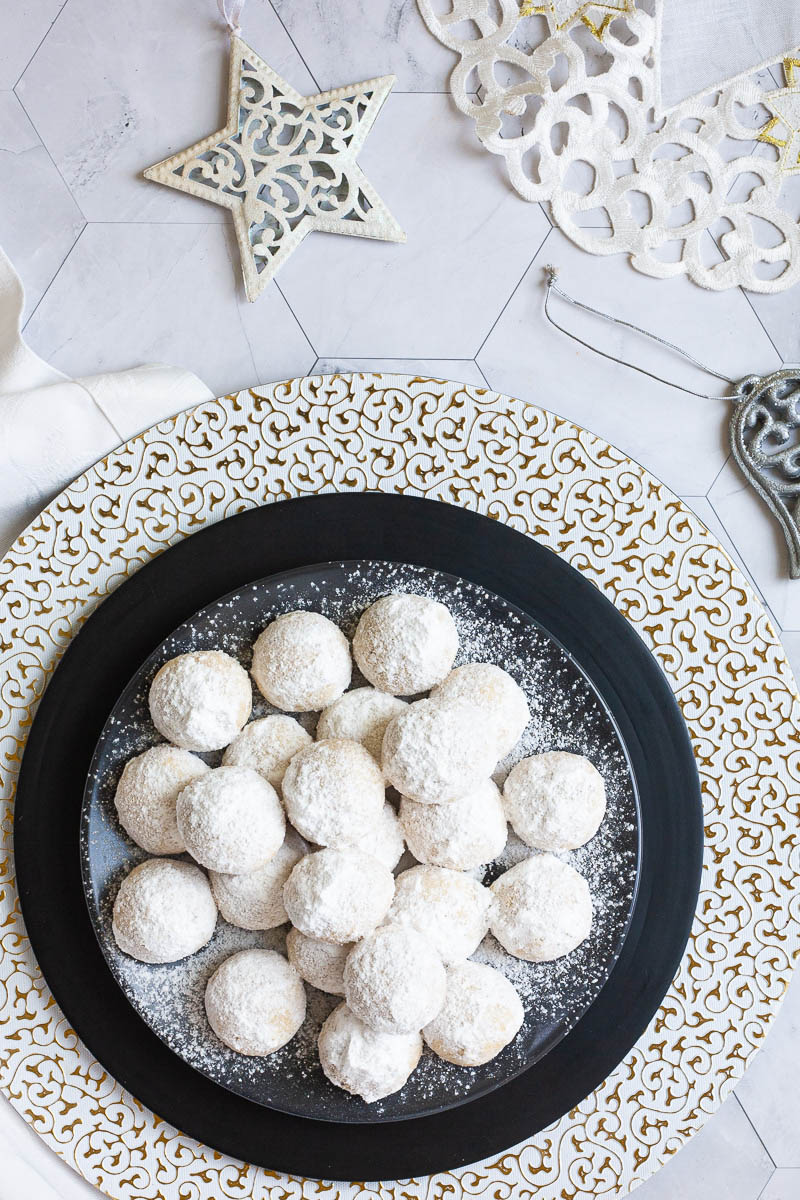 This Gluten-free Snowball Cookies recipe is vegan, so dairy-free and egg-free as well. It is also suitable for soy-free diet. It is not WFPB-friendly (whole foods plant-based) as the butter is not compliant. I haven't tested this recipe with any nut butter, but please comment below if you tried it like that.