These Gluten-free Thumbprint Cookies are buttery, soft cookies, similar to shortbread cookies. They are absolutely delicious with a dollop of your favorite jam. If you are looking for any easy, gluten-free, dairy-free recipe without specialty box mix, this is the one for you. They are perfect Christmas cookies don't you think.
Do you love cookies? We have more recipes you might like. Have you seen our Chocolate Dipped Gluten-free Coconut Cookies or our festive Gluten-free Snowball Cookies or these heavenly Blueberry Jam-packed Gluten-free Lemon Cookies.
It is usually the first question to ask, am I right? What can we expect if we bake these cookies? Well, you will get soft, shortbread-like cookies, which are deliciously rich and buttery. You can pair it with any jam you like, blueberry, raspberry, or any berries really. We quite like it with apricot jam, as it gives a bit of a tangy balance to the sweetness of the cookies. But you can really go creative with this recipe, and add Nutella, chocolate, candy melts, sprinkles, chopped nuts and so on. The variations are limitless.
Did I tell you the best part? They are gluten-free, dairy-free, nut-free and vegan, but nobody will tell you that. They are absolutely delicious, the best gluten-free thumbprint cookies I ever made.
Ingredients
These gluten-free cookies are one of the easiest to make as you don't need any special ingredients, like specialty gluten-free flour blends. Take the below 5 ingredients, then grab your favorite jam from your pantry and enjoy the first batch of these thumbprint cookies in 20 minutes!
white rice flour
buckwheat flour
corn starch (you can substitute it with tapioca or other starches)
cane sugar (you can use coconut sugar or other dry sugars)
dairy-free butter (I haven't tested it with dairy butter)
vanilla extract
pinch of salt
A quick note: There is really no need for xanthan gum or other similar ingredients. As these gluten-free cookies don't need elasticity and there are really not too much wet ingredients, a gluten-free flour blend with xanthan gum is unnecessary.
I know it is probably not the most well-known use for food processor, but I love how smoothly it incorporates the butter into the dough. Alternatively, you can mix it using your hands or a spatula.
Add all dry and wet ingredients (white rice flour, buckwheat flour, starch, sugar, vanilla extract, salt, and dairy-free butter) to a

food processor

and mix until it reaches a crumb-like texture. (It will not likely form a ball like that.)
Take a large bowl and add the dough from the food processor.

Knead it

with your hands for 2 minutes or so to form a cookie dough ball. If the ball is dry and crumble still after 2-3 minutes, add 1-3 tsp water, 1 tsp at a time. The dough should not stick to your fingers. If it is you added too much water, so add a bit of flour to compensate it.
Take 1 Tablespoon of cookie dough and

form a ball

with your hands and place it on a parchment paper. (See below photo.)

Gently push

a ½ teaspoon measuring spoon in the middle to make an indentation for the jam or use your thumb to make a thumb print :-). If they crack a bit, don't worry, pat it with your hands. Cracks give them a kind of rustic look anyway.
Add ½ teaspoon of

jam

in the center of each cookie.

Bake

the thumbprint cookies for 10-12 minutes. Baking time may depend on your oven, so check them around 8-10 minutes.
A quick note: THE JAM IS HOT!!! – Please be mindful of the fact that jam turns super hot and liquid in the oven. If you touch it, it may burn your fingers. Please let the cookies cool down before serving!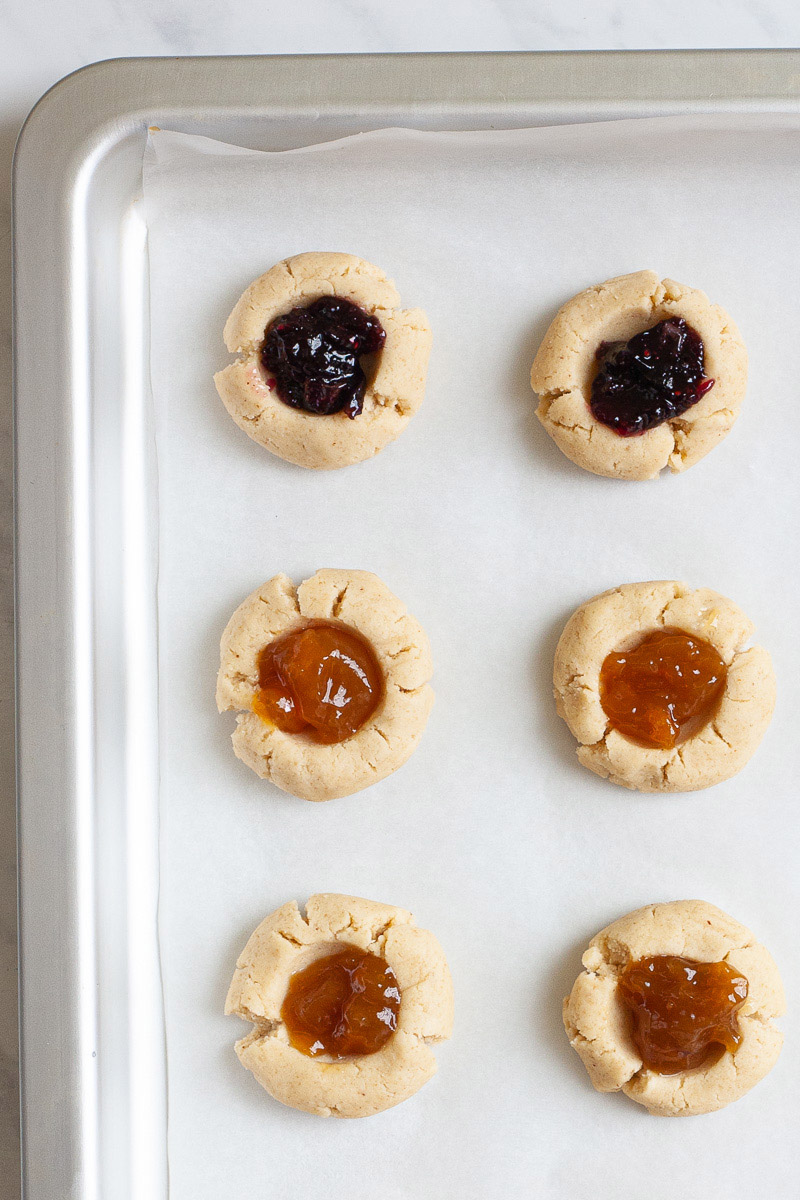 Top tips to make them perfect every time
Measure it with a scale – The most important step you can take to ensure your thumbprint cookies turn out perfect is paying attention to measurements. Baking is about precision. Sometimes even smaller differences can mess up the results. I always measure the ingredients as well on a scale and convert the recipe back to cups. I use King Arthur's Weight Chart to make sure that the cup measurements are in-line with the grams. If you want to make these cookies perfectly ever time, make sure your measurements are precise.
Parchment paper instead of silicone mats – I recommend using parchment paper instead of a baking sheet or silicone mat especially if you are making multiple batches. The main reason is that gluten-free cookies right out of the oven are very vulnerable. It is especially true for thumbprint cookies because the jam is hot right out of the oven and can burn your fingers if you touch them. If you use a parchment paper you can move the cookies to a wire rack without touching them.
Place them close – You can place them relatively close to each other as there is no baking powder, baking soda or any other type of leavening. Which means they will not rise significantly.
When are they ready? – If they start to brown on the edges, you are too late.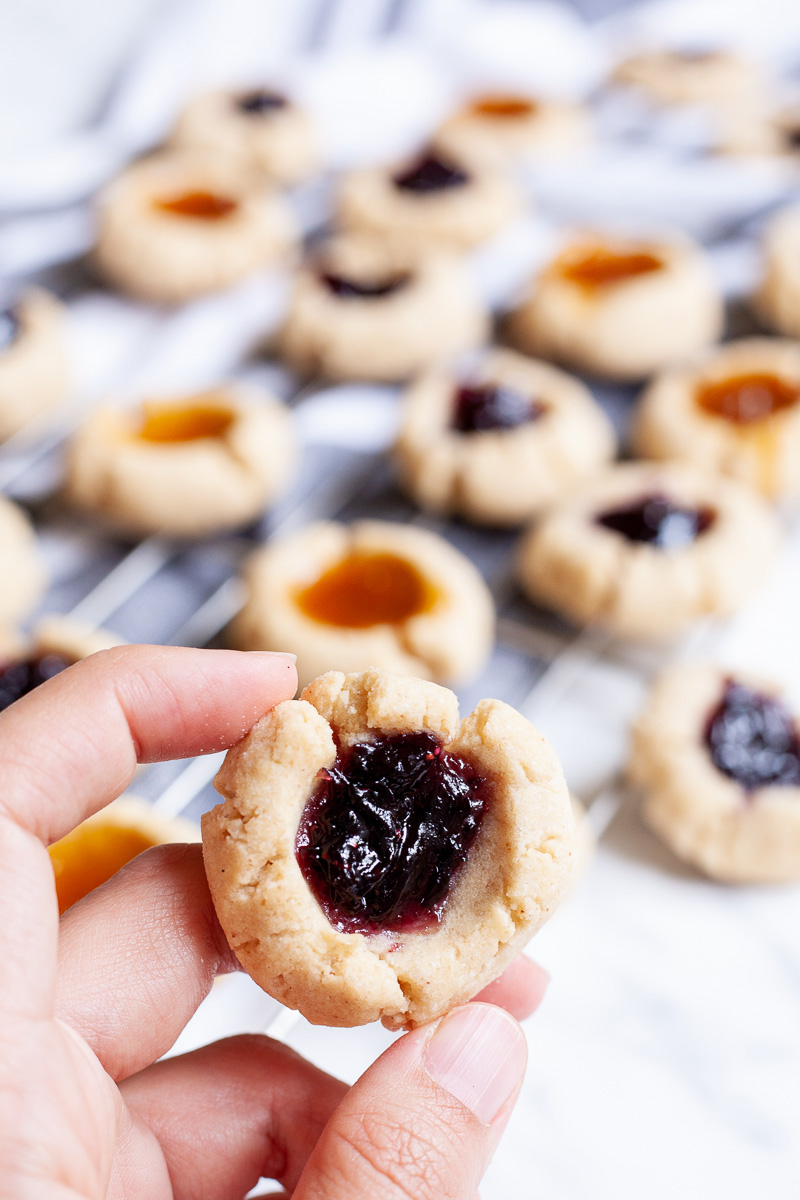 Fillings and toppings
BEFORE BAKING

: Any kind of

jam

like blueberry or raspberry jam, or other berries. We quite like the tanginess of apricot or orange marmalade to pair it with the sweetness of the cookies.

You can also try candy melts.

AFTER BAKING

: Melted

chocolate

,

Nutella

, lemon curd or

cream cheese

. Bake the the thumbprint cookies empty and fill them after they are cool.
You can also sprinkle the sides with chopped nuts, sprinkles, or shredded coconut. It depends on the flavor combination you want to try.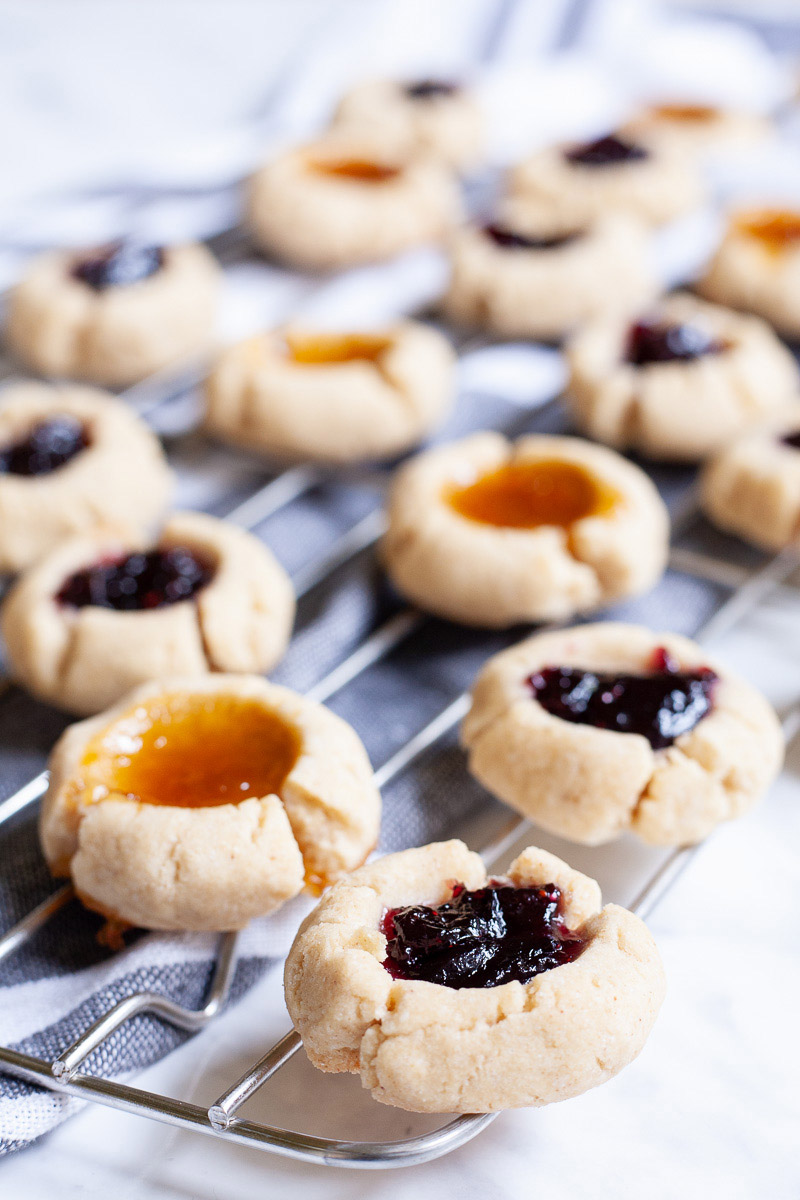 FAQs and substitutions
Can I make it ahead of time?
Absolutely. Even if you store them on room temperature, they are perfect for 1-2 days even without covering them. If you want to store them longer, use an airtight container. They will last for approx. up until 2 weeks. I never stored them longer, so let me know if you do.
Can the cookie dough be frozen?
Yes, before forming the thumbprint cookies, be sure to take it out to thaw in the fridge overnight or on room temperature for at least 1 hour.
Can I substitute any flour or starch?
I have only tested it with tapioca starch and saw no difference. Read our Tapioca Flour Substitutes article for more starch options. As for the flours, you can use oat flour or millet flour instead of buckwheat, although the flour combination in the recipe card is the one I recommend the most.
Can I substitute cane sugar?
You need dry sugar for this recipe to work: white sugar, coconut sugar or anything that is fine and powder-like. I haven't tested it with any liquid sweetener like maple syrup.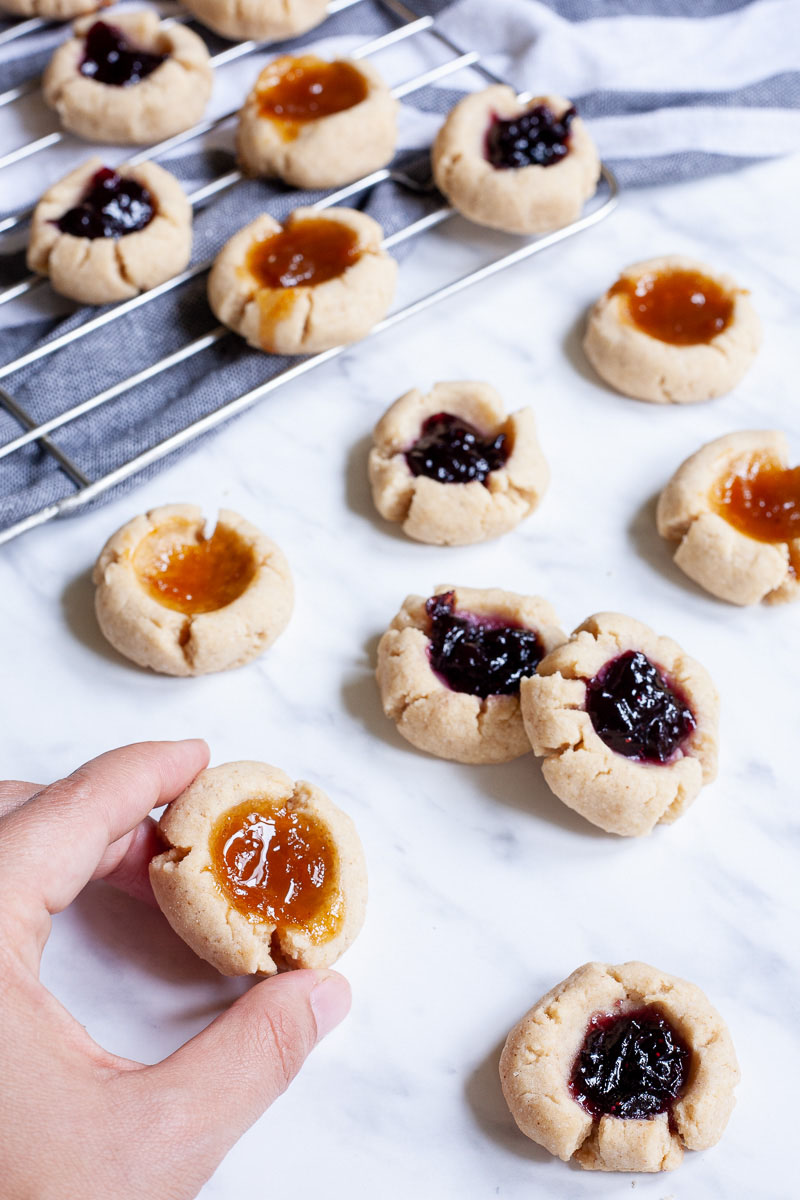 This Gluten-free Thumbprint Cookies recipe is vegan, so dairy-free and egg-free as well. It is also suitable for soy-free diet. It is not WFPB-friendly (whole foods plant-based) as the butter is not compliant. I haven't tested this recipe with any nut butter, but please comment below if you tried it like that.