This simple 3-ingredient Vegan Tapioca Pudding is a lovely and light dessert perfect with fresh fruits or fruit puree. It is naturally gluten-free, not to mention paleo-friendly if you make it with coconut milk. Doesn't it look gorgeous with this homemade strawberry puree?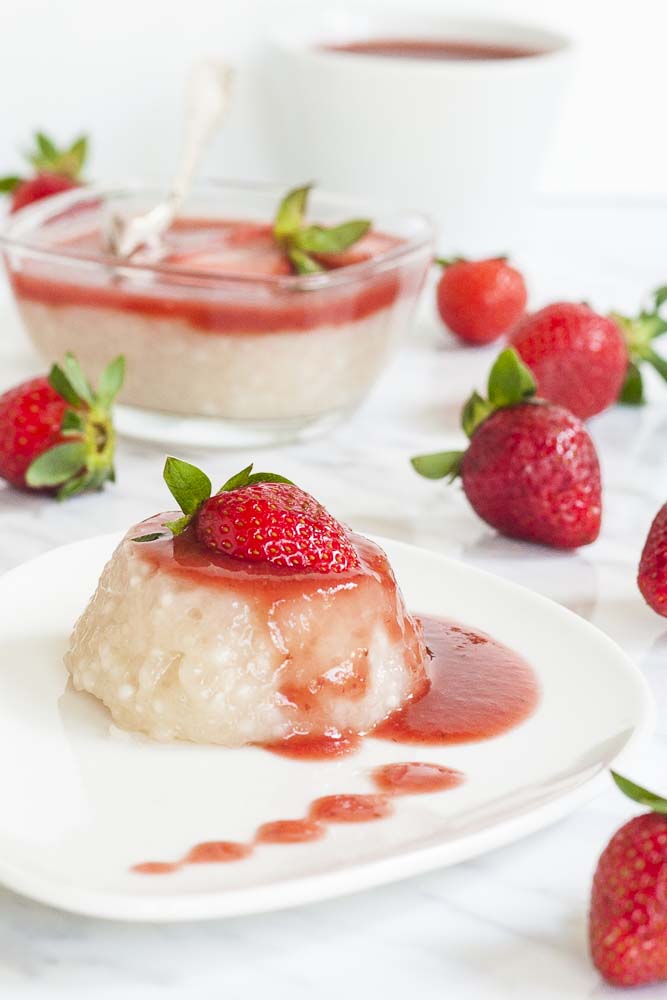 I love easy and simple desserts. Don't you? Apart from this tapioca pudding, I also enjoy making Vegan Panna Cotta, Vegan Rice Pudding, or Vegan Chocolate Pudding recipes with our daughter. She is not big on patience, so I need simple and quick. If you need something extra-quick choose this no-bake, make-ahead Overnight Chia Pudding recipe.
What are tapioca pearls?
Have you heard of cassava root or manioca or yuca? It is a plant native in South America but is now also cultivated in West Africa and Asia. Tapioca starch is made from the root of this plant by extracting its starch content. The main ingredient in tapioca pearls, which you need to make this pudding recipe is made of this tapioca starch. It is 100% gluten-free, vegan, as well as paleo. It is a great ingredient as it fits within many diets.
Tapioca pearls are not the same as boba for bubble tea. You need small dry tapioca pearls to make this pudding. Boba is usually much larger, sometimes even colored, and called black tapioca balls. If you choose large pearls, then you should expect to cook them much longer. They will also remain pearls and will not really look like pudding.
Don't confuse tapioca pearls with sago. Sago is made of a palm and not cassava. They look the same and you can certainly make sago pudding, which is quite similar to this.
Ingredients
The old-fashioned tapioca pudding is made with lightly beaten egg yolks, which we skip obviously in this vegan version. Actually, it is a 3-ingredient basic recipe, which you can tailor to your taste:
milk of your choice – We use almond milk or homemade cashew milk. If you want to make it paleo, use light coconut milk.
sweetener of your choice – We usually use cane sugar, but if you want your pudding to be snowy white, use white sugar.
pure vanilla extract (optional)
For substitutions, scroll down a bit and you can read all about the different versions.
How to make Vegan Tapioca Pudding
Soaking the tapioca pearls
First, you need to soak the tapioca pearls in water. You can use a saucepan or a separate bowl. Leave the pearls soaking at room temperature for 15 minutes. The pearls will absorb part of the water and begin to soften a bit.
Making the pudding
After 15 minutes, take a saucepan and add the soaked tapioca pearls with the water and the milk, and bring to boil.
Reduce the heat to medium-low and stir occasionally. When the pudding begins to thicken and the pearls become translucent, get in there and stir more frequently to avoid burning. You need approx. another 15 minutes to have your tapioca pudding ready.
Now, take off the heat and add the cane sugar and vanilla extract.
Stir well. Serve! Good appetite!
Top tips to make it perfectly
Do you need it to turn translucent?

– In a perfect tapioca pudding, all the pearls are translucent. If not all pearls are like that, you need to cook a bit longer on low heat. But don't stress on this, the pudding will still taste delicious, creamy and cooked even if some pearls remain white.

Can you soak it overnight?

– If you soak the tapioca pearls overnight, they may lose their shape. We recommend soaking from for 15-30 minutes before cooking.

Do you need to stir it continuously?

– Stirring is important, but you don't have to stand next to it the whole time. Make sure you pay attention while you bring it to boil and towards the end when the pudding thickens. Use a non-stick pan if you have one. We add the sugar at the end especially for this reason as added sugar during cooking increases the possibility of burning down.

Don't use coconut cream only

– If you want to add extra creaminess, you can use canned full-fat coconut milk. However, use it in combination with normal dairy-free milk. 100% coconut milk will make it super fatty and frankly it will not taste good.
Toppings for tapioca pudding
Our favorite topping for tapioca is fresh fruits and/or fruit puree. We love them with
What is your favorite? Let us know in the comments.
How to serve tapioca pudding as panna cotta?
Well, you need a silicone muffin mold like this one*. Pour the pudding while hot into the mold and chill it in the fridge for at least an hour. The measurements of this recipe will give you the perfect Panna Cotta-shaped tapioca pudding, like the one in the below picture.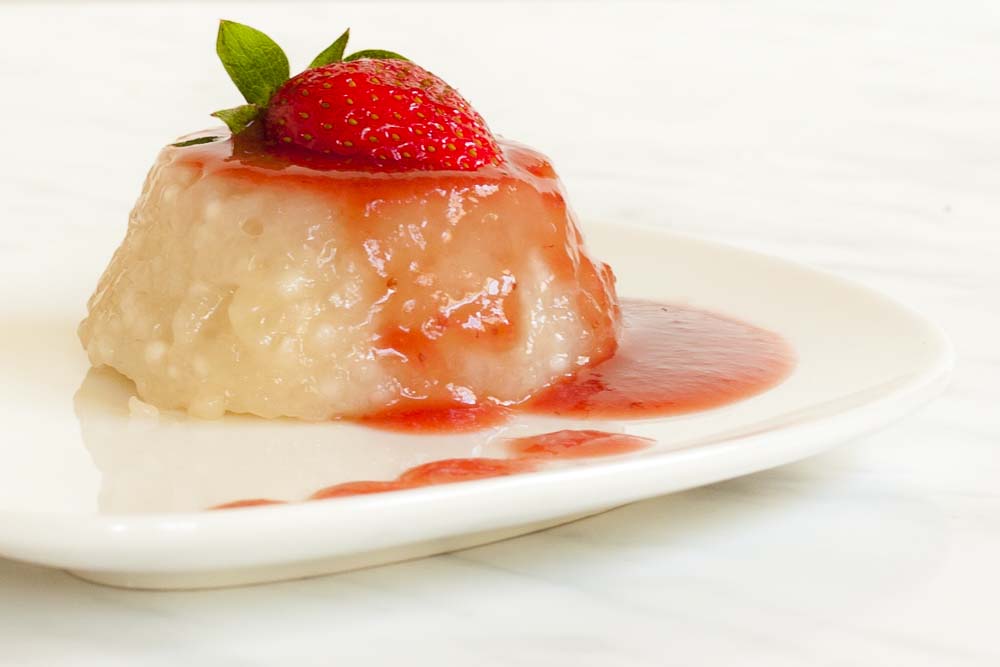 FAQs and substitutions
Can I use tapioca flour instead of pearls?
If you use tapioca flour or tapioca starch, then you will get more of a custard-like pudding. You can certainly do that, but the measurements need to be changed as they are not 1:1 substitutions.
Can I use coconut milk?
Yes, you can. If you use full-fat canned coconut milk, the tapioca pudding will be creamier but heavier as well due to the high-fat content. We recommend it in combination with dairy-free milk.
Can I use different sweetener to make it low-carb?
Sure you can, although I only tested this recipe with cane sugar and coconut sugar (the same amount is needed). Therefore, I am not familiar with the measurements for other sweeteners like stevia or erythritol. If you do, please let us know in the comments. If you want your tapioca pudding to be snowy white, use white sugar. If you want to use maple syrup, then cook it further after adding to, so it will not lose its thickness.
How long does tapioca pudding last?
Keep in the fridge and eat within 3 -4 days. It is not freezer friendly, the texture will change when thawed.
Is tapioca good for health?
I wouldn't call it a healthy dessert. Tapioca pearls are almost entirely starch, nothing else really. You can read more about it over at Healthline.
This Tapioca Pudding recipe is vegan, so dairy-free, and egg-free. It is also suitable for WFPB, vegetarian, paleo, and gluten-free diets.
More vegan dessert recipes
You can browse through our Vegan Dessert Recipes or check out
UPDATED: This recipe was initially posted in July 2019. It has been updated with even more info, tips, topping ideas and republished in November 2021.