This Blueberry Millet Porridge recipe is a refreshing 4-ingredient alternative to classic oatmeal. In combination with blueberries, it is a perfect breakfast to kick-start your day. Cooking millet for breakfast is easy and the outcome is somewhere between rice pudding and oatmeal. Closer to which end is only depending on your taste. This version is one of my go-to vegan millet recipes for breakfast.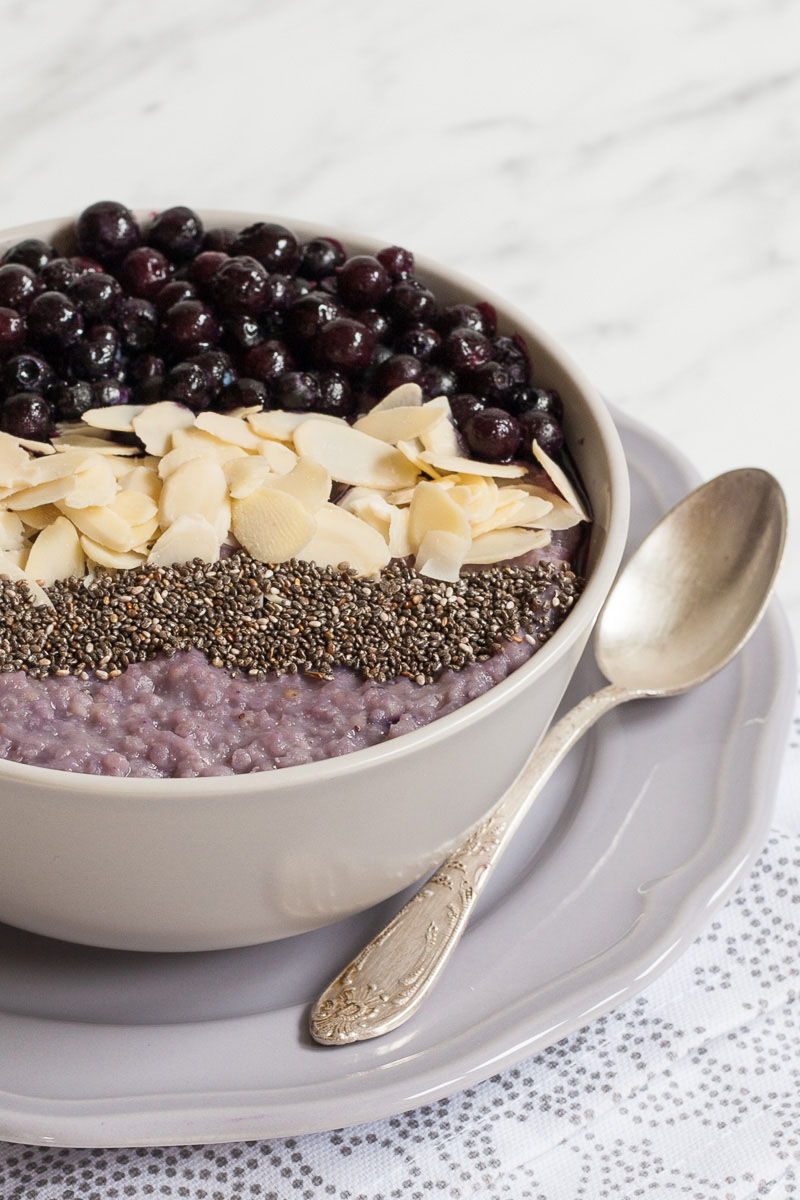 If you love porridge-type breakfasts as much as we do, you'll love these vegan and gluten-free breakfast recipes as well. Check out our Vegan Tapioca Pudding with Strawberry Sauce or The Creamiest Vegan Rice Pudding ever with Mixed Berries Sauce, or our Healthy Apple Cinnamon Oatmeal, or our Overnight Chia Pudding.
What is millet?
In short, millet is an underrated gluten-free whole grain. 🙂 On a more serious note, millet grains are tiny yellow balls with a black dot on one side (see below picture). It has several different types, but these 4 are the most well-known ones. If you want to read more about the various types, read FAO's millet list.
Finger millet – This is the most common one. It is also known as "ragi" in India or "wimbi" in Africa. This is also the one I used for this recipe.
Pearl millet
Foxtail millet
Proso millet
I wasn't a huge fan of millet either before I was diagnosed with coeliac. Not for some time even after that. However, I began to try and test different recipes and after eating these Sweet Millet Balls with Mixed Berries Sauce I was hooked. I love millet now.
Hulled finger millet or Ground millet porridge
I love the idea that this millet porridge recipe can be made two ways:
If you prefer to have a whole grains breakfast porridge, which is similar to rice pudding or tapioca pudding, then go with hulled finger millet*.
If you prefer to have an oatmeal-like experience, then use millet flakes* or just grind your hulled millet pearls in a food processor or in a coffee grinder.
I don't recommend using millet flour* as it will be more like a pudding than a porridge.
It is up to you really. I tried the first two versions and the ingredients in the recipe card are working in both cases. The first version is more grainy, while the second version is rather a thick and creamy porridge. You can see the difference in the below picture.
If you are making millet porridge for one, we recommend using a coffee grinder or what I usually use is the chopping bowl of a hand blender*. If you wash your millet, please dry it up among towels otherwise grinding wet millet grains properly is really hard.
How to cook millet porridge for breakfast
How to prepare millet
As a first step, you might want to wash and rinse millet a couple of times. Millet can have this bitter after-taste if you don't. The bitterness comes from the hull, so washing ensures that you get rid of any remaining ones.
Also, let me just note here that no need to soak the millet. It will not shorten the cooking time.
The next question is grind or not the grind.
Cooking millet grains or ground millet?
If you prefer to stick to the whole grains version of this recipe, you don't need to grind. You will have a lovely, rice or tapioca pudding-like porridge, which I personally also enjoy very much.
If you prefer a thick and creamy oatmeal-like breakfast then you have to use millet flakes or have to grind the millet pearls. You can grind millet in a coffee grinder, in the chopping bowl of a hand blender or in a food processor if you need a big batch.
The perfect way to cook millet porridge
In both cases, the golden ratio (according to my opinion) is by using 1 cup millet and 4 cup liquid. For maximum creaminess use 4 cups of dairy-free milk (like this homemade cashew milk). A more frugal approach would be 1 cup millet – 2 cup water – 2 cup milk. I don't recommend to increase the water part any further otherwise, you might end up with cooked millet as a side dish, not as a breakfast.
Take a saucepan and add millet and your choice of water – dairy-free milk combination. Bring to boil and then cook them over medium heat until most of the milk is absorbed. It will take approximately 15 minutes.
When almost all of the liquid is absorbed by millet (see below image), reduce heat and add sugar or maple syrup or sweetener of your choice and blueberries. Stir and simmer for 5 minutes until you have a creamy porridge.
Toppings for millet breakfast porridge
How to make your breakfast millet even better? With various toppings of course. My personal favorites are:
lots of berries as you can't have enough blueberries
blanched almond slices for crunchiness
chia seeds for added nutrition
Other ways to enjoy millet
What else can you do with millet besides porridge? Let me tell you that there are several delicious recipes to enjoy millet. Once you try this millet porridge recipe, you will think of it next time you make other meals as well. Here are some inspiration:
FAQs and substitutions
What kind of milk can I use?
We love making this porridge with almond milk or cashew milk (here is our Homemade Cashew Milk recipe). However, you can choose other types of dairy-free milk as well even whole milk (dairy). The recipe should work the same resulting in a delicious breakfast.
Can I use other fruits?
Absolutely, whatever berry you have: blackberries, blueberries, strawberries, raspberries, and a combination of these. You can absolutely use frozen fruit as well. No need to thaw them, just add it to the porridge.
Can I use other sweeteners?
Sure you can. I usually use coconut sugar, cane sugar, or maple syrup. I am not familiar with the measurements for other sweeteners like stevia or erythritol. If you do, please let us know in the comments.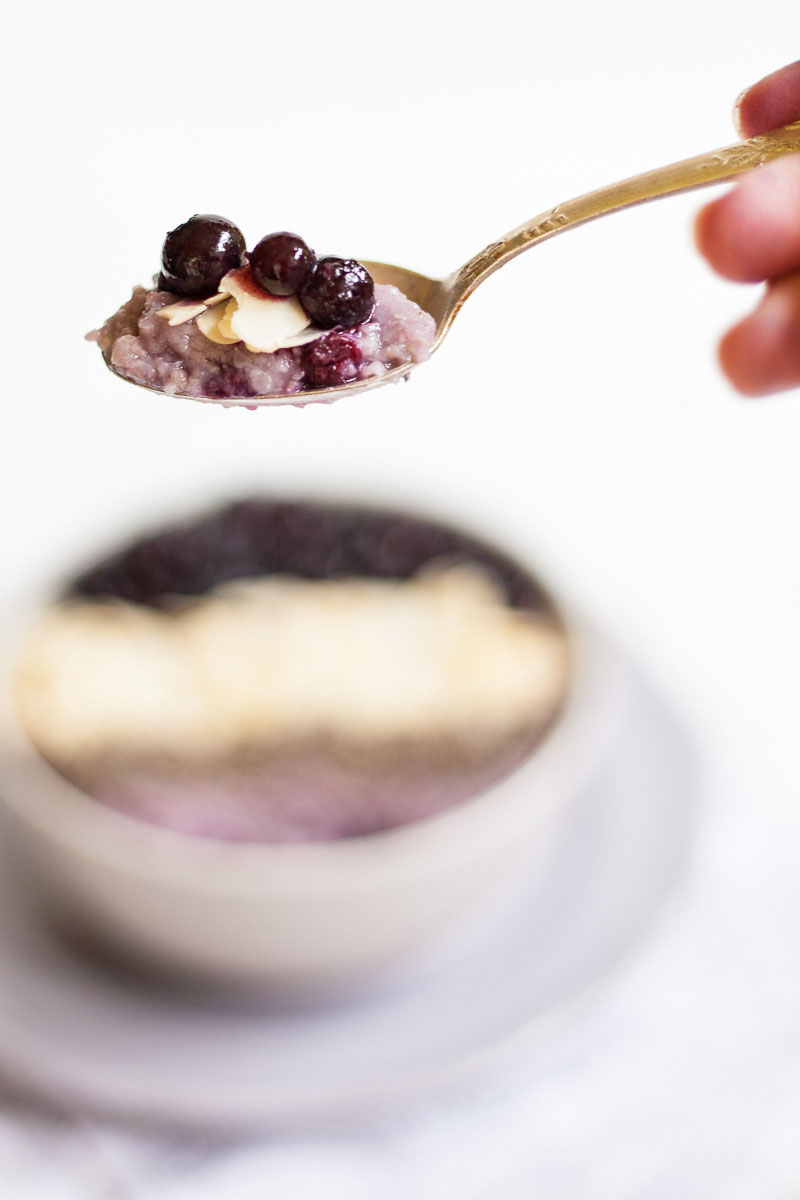 This Millet Porridge recipe is vegan, so dairy-free, and egg-free. It is also suitable for vegetarian, soy-free, and gluten-free diets. This recipe is nut-free if you don't use nut milk. It is not WFPB-friendly (whole foods, plant-based) as cane sugar is not compliant. You can change it to date sugar, coconut sugar or maple syrup.
When I was asked by the Whole Grains Council to develop a recipe specifically for their Whole Grains Sampling Day I immediately thought of millet. If you don't know them, they are a non-profit consumer advocacy group who intends to educate people about whole grains and promote their health benefits. So it is not a sponsored post in any meaning, but rather a whole grain and millet enthusiast post. 🙂 This recipe was also featured in their article titled Creative Ways to Eat Whole Grains for Breakfast.
More sweet vegan breakfast recipes
You can browse through our Vegan and Gluten-free Breakfast Recipes or check out
UPDATED: This recipe was originally posted in March 2019. It has been updated with detailed instructions and tips in February 2021.