In the culinary landscape of the United States, there are legendary restaurants that have achieved iconic status for their extraordinary dishes. These establishments have left an indelible mark on the world of gastronomy, each known for a signature creation that has delighted diners for generations. In this exploration, we'll delve into the storied histories of 12 legendary American restaurants and the remarkable dishes that have earned them their revered status, proving that some flavors become not just memorable but legendary.
Katz's Delicatessen – New York City
Step into the world of Katz's Delicatessen, where history and flavor collide to create an unforgettable dining experience. This legendary New York establishment, established in 1888, goes beyond being a mere restaurant – it's a cherished piece of the city's vibrant past. Indulge in the essence of quintessential NYC cuisine as you savor their iconic pastrami on rye sandwich. The meticulously cured, smoked, and seasoned pastrami, generously piled on freshly baked rye bread, has captured the hearts and palates of countless generations, leaving an enduring mark on the taste buds of all who visit.
Hyman's Seafood – Charleston
With a rich history dating back to 1890, Hyman's Seafood has transformed from a humble dry goods store into a beloved culinary landmark that has captured the hearts and taste buds of both local regulars and international celebrities. Among their culinary treasures, their renowned shrimp and grits take center stage. Prepared with the freshest locally sourced shrimp atop a bed of creamy, stone-ground grits, this dish epitomizes Hyman's commitment to showcasing the flavors of the region in every delightful bite.
Zehnder's of Frankenmuth – Frankenmuth
For over a century and a half, Zehnder's of Frankenmuth has stood as a shining example of warm Midwest hospitality, inviting countless visitors to experience its charming, historically-inspired dining spaces. At the heart of Zehnder's culinary legacy lies its legendary family-style chicken dinner, a true centerpiece of their menu. Indulge in platters of golden, crispy fried chicken, accompanied by an enticing assortment of comforting homestyle side dishes that will transport you to a world of delightful flavors and cherished traditions.
Peter Luger Steak House – New York City
Since its inception in 1887, Peter Luger Steak House has solidified its place as an iconic establishment in Brooklyn, garnering widespread acclaim and prestigious recognitions, including multiple James Beard Awards. At the heart of their culinary mastery is the magnificent porterhouse steak, meticulously aged to perfection and expertly charred to create a tantalizing flavor profile. Available in various portions catering to individual preferences or shared indulgence, this steak is a true testament to the art of grilling and a delight for all meat enthusiasts.
The Salt Lick BBQ – Driftwood
Nestled in the charming town of Driftwood, Texas, The Salt Lick BBQ stands as a beloved institution, celebrated for its unwavering commitment to crafting authentic, mouthwatering Texas-style barbecue. For over five decades, they have remained faithful to the time-honored low-and-slow cooking method, infusing their meats with unmatched tenderness and imbuing them with the essence of the Lone Star State. Each succulent bite showcases the culmination of their labor and the secret family dry rub, resulting in a symphony of flavors that will transport you to barbecue nirvana.
Joe's Stone Crab – Miami Beach
Nestled in the vibrant culinary scene of Miami Beach, Joe's Stone Crab stands as an iconic institution, deeply ingrained in the city's gastronomic heritage. With a rich history spanning over a century, this legendary eatery has remained steadfast in its dedication to delivering the finest, locally-sourced seafood. At the heart of their menu, the stone crab claws take center stage, harvested sustainably from the bountiful Atlantic waters just steps away. Served chilled and accompanied by their renowned mustard sauce, each succulent bite is a testament to Joe's unwavering commitment to quality and a true indulgence for seafood aficionados.
Union Oyster House – Boston
Immersed in the storied streets of Boston, Union Oyster House stands as an enduring testament to American culinary heritage, proudly holding the distinction of being the oldest continuously operating restaurant in the country since 1826. Revered for its rich traditions, one dish has become synonymous with New England's coastal cuisine: the iconic New England clam chowder. This creamy, soul-warming soup captures the essence of the region, featuring tender clams, hearty potatoes, and aromatic onions, blending together to create a symphony of flavors that transport diners to the rugged shores of the Northeastern seaboard.
Mother's Restaurant – New Orleans
Nestled in the vibrant city of New Orleans, Mother's Restaurant has become an iconic culinary destination, steeped in a rich history dating back to 1938. Celebrated for its unassuming charm, this beloved establishment has risen to prominence through its signature dish: the legendary gumbo. A harmonious medley of the region's finest seafood, tender meats, and captivating spices, each spoonful of this flavorful masterpiece is a tribute to the timeless artistry of Creole cuisine, embodying the essence of generations of culinary excellence that has made Mother's a revered institution.
Commander's Palace – New Orleans
With a history that spans over a century, Commander's Palace has solidified its status as a culinary institution in New Orleans since 1893, serving as a revered training ground for renowned chefs. Among its treasured dishes, the emblematic turtle soup takes center stage, captivating diners with its meticulous preparation and unforgettable taste. Crafted with locally sourced turtle meat, a luscious roux base, and a touch of sherry, this labor-intensive masterpiece of Creole cuisine harmonizes an array of flavors and textures, showcasing the exquisite artistry that has made Commander's Palace a timeless gem in the city's vibrant culinary landscape.
Tadich Grill – San Francisco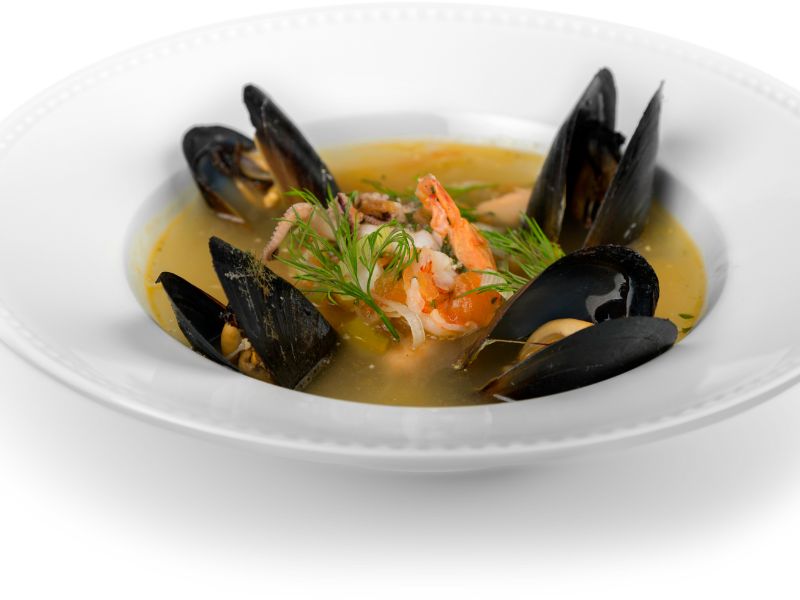 Nestled in the heart of San Francisco, California, The Tadich Grill proudly holds the title of the state's oldest continuously operating restaurant, tracing its roots back to 1849. Drawing on Croatian culinary traditions, the restaurant's distinctive cooking techniques revolve around mesquite and charcoal broilers, infusing their seafood dishes with a range of enticing flavors. A true standout is their renowned Cioppino, a delectable fish stew crafted from a medley of the freshest local catches, including Dungeness crab, clams, shrimp, scallops, squid, mussels, and fish. This beloved dish captures the essence of San Francisco's vibrant seafood scene, delighting diners with its rich flavors and wholesome ingredients.
The Olde Pink House – Savannah
Nestled in the charming city of Savannah, Georgia, The Olde Pink House, also known as The Pink House and formerly Habersham House, stands as a beloved restaurant and tavern. Renowned for its culinary offerings, it boasts a signature dish that has captured the hearts of locals and visitors alike: She-crab soup. This indulgent soup, reminiscent of a bisque, showcases a velvety blend of milk or heavy cream, crab or fish stock, succulent Atlantic blue crab meat, and traditionally, crab roe. A touch of dry sherry is delicately added as it is plated, enhancing the flavors. The soup's thick and luxurious texture may be achieved through heat reduction or the addition of a purée of boiled rice, while enticing seasonings such as mace, shallots, or onions add depth and character to the dish.
Antoine's – New Orleans
Since its inception in 1840 by Antoine Alciatore, Antoine's has proudly stood as one of the oldest family-run restaurants in the United States. Nestled in the heart of New Orleans, this iconic establishment has left an indelible mark on the city's culinary landscape. Among its many culinary contributions, Antoine's holds the distinction of being the birthplace of the renowned Oysters Rockefeller. This legendary dish features succulent oysters delicately arranged on the half-shell, adorned with a luscious sauce crafted from butter, vibrant green herbs, and breadcrumbs. Baked or broiled to perfection, each bite unveils a harmonious blend of flavors. Completing the dish, a garnish of fresh lemon wedges adds a delightful zest. While the original recipe may or may not include spinach, it remains a popular addition for achieving the signature bright green hue that has come to be associated with this beloved classic
26 Big-Batch Dishes to Stock Your Freezer
15 Weekend Lunch Recipes on a Dime to Feed The Family
Europe's Finest 25 Recipes You May Not Even Know Of
25 Asian Foods You Absolutely Need to Make At Least Once
Skip The Dreaded Drive-Thru Line With These 15 Fast Food Copycat Recipes