This is a recipe for a Simple Pumpkin Cream Soup from fresh Hokkaido pumpkin. There are literally thousands of different pumpkin soup recipes that use different kinds of fresh pumpkin or squash or even a canned version. Now, I am not saying that we have tried them all, but according to our opinion 🙂 this recipe is the best and easiest. So, let us show you how to make a thick creamy pumpkin soup from scratch.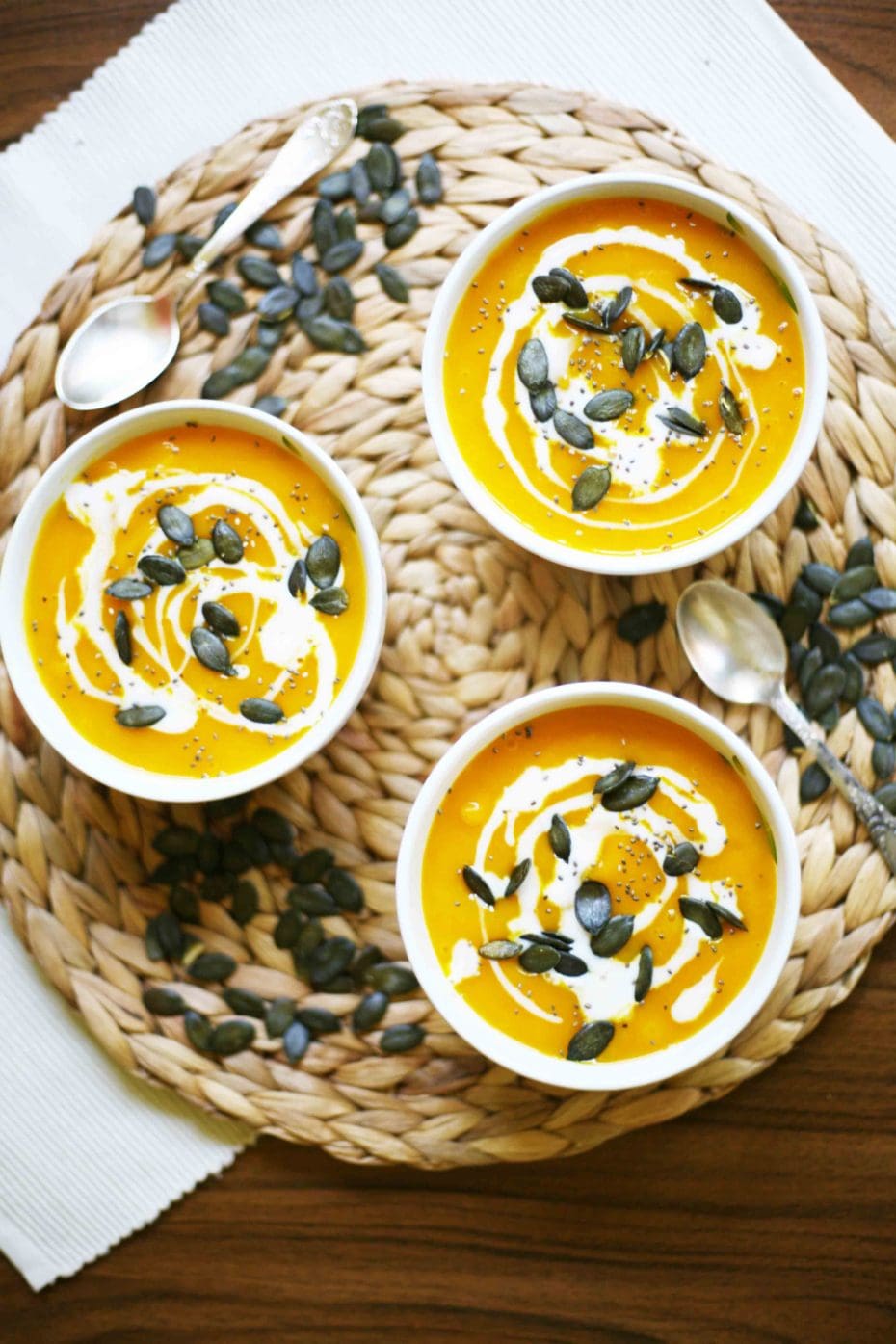 This post may contain affiliate links, please read the privacy policy for more details.
The best pumpkin for pumpkin soup is Hokkaido pumpkin
You can choose from many many different pumpkins or squashes for this simple soup, but let me tell you why you should choose Hokkaido.
This pumpkin is not syrupy sweet like butternut squash, which has a perfect caramelized flavor after roasting. No, this pumpkin is rather aromatic, but more on a savory side. While butternut squash is perfect for pie, Hokkaido – for us – is better for a hearty and wholesome dish. Moreover, butternut squash may have this fibery texture even after blending, but Hokkaido turns into a mousse.
By the way, this recipe is also part of our Quick Vegan Meals collection.
[Tweet "The best pumpkin soup recipe with fresh Hokkaido pumpkin. Creamy and healthy. via @mypureplants]
Hokkaido pumpkin nutrition
If the above weren't enough, here is s on our main ingredient.
Hokkaido pumpkin is technically a fruit since it contains seeds. But in terms of nutrition it is more like a vegetable. /Heathline.com/
The first thing you might think of when you see an orange vegetable is Vitamin A (from beta-carotene), which is known to be great for eye health. Well, yes. Eating only 100 g of cooked pumpkin will help you reach almost double the recommended daily intake from Vitamin A. Cool, right.
If you would like to read more, here is two articles on Healthline: 9 impressive health benefits of pumpkin or general nutritional info on pumpkins.
How to prepare a Hokkaido pumpkin?
Hokkaido pumpkin also known as red kuri squash or Japanese squash is an orange-skinned winter squash. Its skin is extremely hard – in my opinion – and not easy to peel. That is why we showed you in our video 'how to peel and cut a Hokkaido pumpkin'.
In short,
You need a sharp and large knife to first cut it half. Move slowly and cautiously, so that your knife won't slip.
When ready, use a spoon to scoop out the seeds.
Now, turn the pumpkin half upside down so that it firmly stays in one place.
Use a sharp knife to cut small and thin peels off the pumpkin. Sorry, you can't use a peeler as the skin is extremely hard.
If you are more visual, watch our short video in the recipe card.
How to make pumpkin cream soup from scratch?
This simple pumpkin soup recipe needs only 5-ingredients. Quick, easy, and deliciously creamy.
Step 1 – Prepare all the vegetables
You have peeled the pumpkin. Now, cut them into first stripes then into cubes. Also, peel and dice the potatoes, and peel and chop onion and garlic.
Step 2 – Cook your cream of pumpkin soup
First, cook the chopped onion and garlic on olive oil (for WFPB-friendly recipe add them directly to the veggie broth). When they are tender, add veggie broth, diced pumpkin, and potatoes. To preserve the unique aromatic taste of the Hokkaido pumpkin, we only season the soup with salt and pepper. When ready, use an immersion blender and blend it until you reach a creamy mousse consistency. Good appetite!
Topping suggestion for your pumpkin cream soup
Now, you have dairy-free, gluten-free Hokkaido pumpkin soup from fresh pumpkin, which is already yummy on its own. But how about some topping.
We sprinkled the individual servings with chia seeds, pumpkin seeds, and dairy-free heavy cream. Just to add some crunchiness. What do you think?
This Simple Pumpkin Soup is vegan, vegetarian, nut-free, grain-free, gluten-free and WFPB-friendly (whole foods plant-based).
If you try this recipe, let us know. Leave a comment and rate it below.
Say hi on Instagram or on Twitter and tag your photo #mypureplants.
We are always so happy to see if you've successfully created any dish based on our recipes. If you have any photo, please email us, we'd love to add it to our Facebook Photo Gallery
Shop this recipe
Hand blender | Vegan veggie broth | Vegan cooking cream | Chia seeds | Pumpkin seeds
Simple Hokkaido Pumpkin Soup
The best and easiest, healthy and creamy Hokkaido Pumpkin Soup from fresh pumpkin. Let us show you how to make it from scratch.
Ingredients
1

Tbsp

Olive oil

1

Onion (medium)

2

cloves

Garlic

50

oz

Hokkaido pumpkin (without seeds and peel)

1.5kg

3

Potatoes (medium)

50

fl oz

Veggie broth

1,5l

Salt (to taste)

Pepper (to taste)
Instructions
Peel and chop the onion and garlic into small pieces. Peel and dice the potatoes.

Peel and chop the Hokkaido pumpkin. For easy reference watch our short video. In short, you need a sharp and large knife to first cut it half. Move slowly and cautiously, so that your knife won't slip. When ready, use a spoon to scoop out the seeds. Now, turn the pumpkin half upside down so that it firmly stays in one place and use a sharp knife to cut small and thin peels off the pumpkin.

Heat a saucepan on medium heat until olive oil is shimmering. Add the chopped onion and garlic coat it with the oil and spread evenly. Stir occasionally (For WFPB diet - cook them in veggie broth)

Once onion is tender but still white, pour the veggie broth onto it. Stir a couple of times.

Add diced pumpkin and potatoes. Cook them for approx. 20-30 minutes. The smaller the diced pumpkins/potatoes are the shorter the cooking time. Both have to be tender to be ready.

Use a hand blender and puree them thoroughly. Now add the salt and pepper to taste. Ready to serve it.
Nutrition
Serving:
1
bowl
Calories:
180
kcal
Carbohydrates:
33
g
Protein:
4.8
g
Fat:
2.8
g
Saturated Fat:
0.5
g
Polyunsaturated Fat:
0.3
g
Monounsaturated Fat:
1.65
g
Sodium:
571
mg
Potassium:
302
mg
Fiber:
2.9
g
Sugar:
12.6
g
Vitamin A:
3200
IU
Vitamin C:
7.9
mg
Calcium:
32
mg
Iron:
0.7
mg
Related Posts
My Pure Plants is a participant in the Amazon Services LLC Associates Program, an affiliate advertising program designed to provide a means for us to earn fees (no additional cost to you) by linking to Amazon.com and affiliated sites.