These are the best, rich, fudgy vegan brownies! This quick and easy recipe requires just a handful of pantry-friendly ingredients and comes together in no time. The crackly top is the perfect finishing touch to these decadent treats.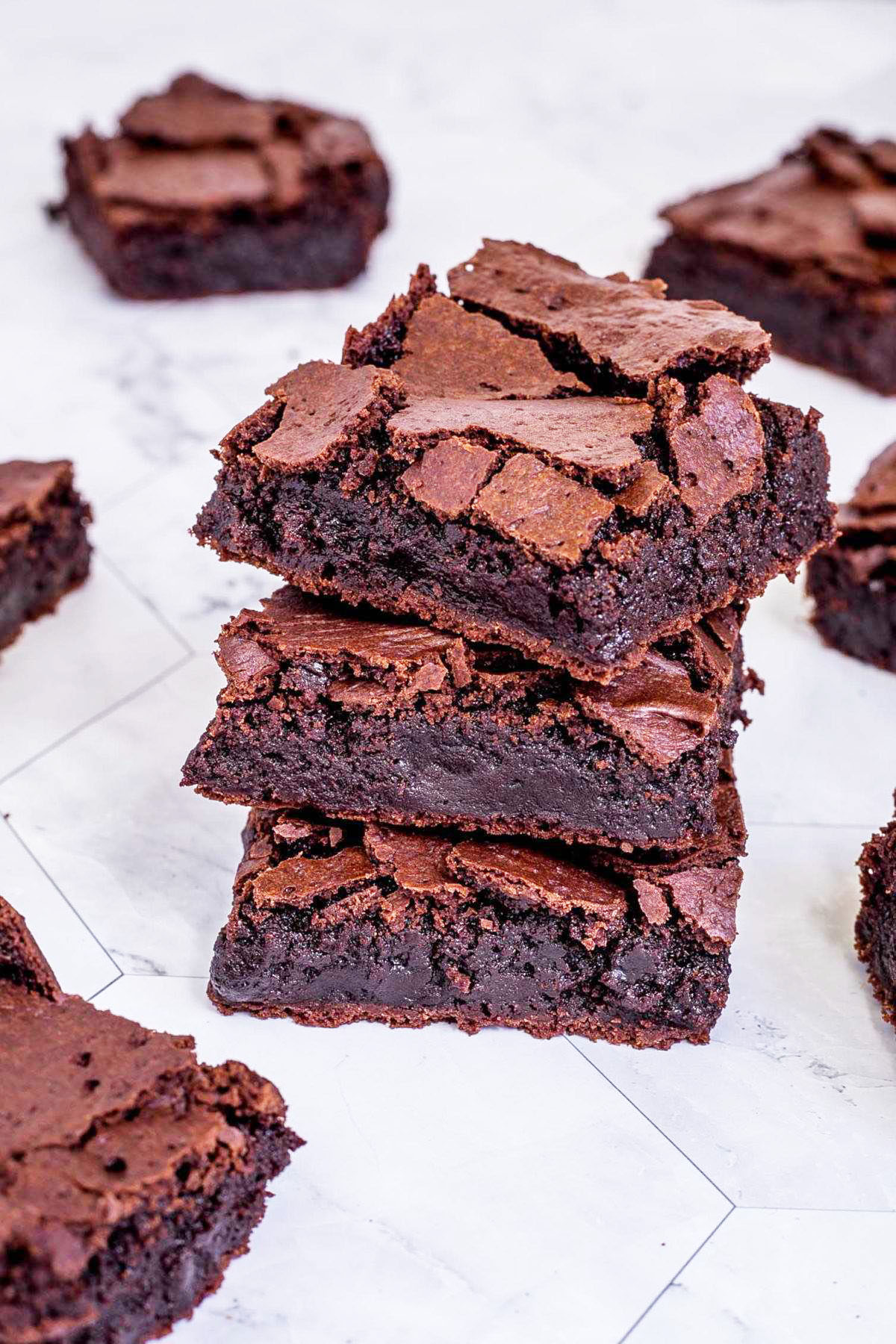 Need more recipes to satisfy your chocolate cravings? Check out our other chocolate desserts like chocolate cake, chocolate pudding, vegan chocolate muffins, and vegan chocolate peanut butter muffins.
Jump to:
❤️ Why you'll love it
I have been on a mission to whip up the absolute best vegan brownies for several years. I did not want to post it until they were absolutely perfect. I took some cues from this baking community and tinkered around until I hit that sweet spot of taste and texture I was after.
So, what's the end result, you ask? A vegan brownie recipe that ditches the fancy stuff like aquafaba, flax eggs, or vegan egg replacements. Instead, I stuck to the basics, like cane sugar and top-notch dark chocolate. Trust me, it is fudgy, chewy in the middle, but so heavenly crackly on top. It makes every square totally satisfying.
I hope you enjoy making and devouring these brownies as much as I loved creating the recipe. In fact, I am sure that if you stick to my instructions, these vegan brownies will blow your socks off!
🧾 Key ingredients
This vegan brownie recipe keeps it simple with pantry staples you already have. Check the recipe card below for quantities and substitutions. In just 40 minutes, you'll have a top-tier vegan dessert since these brownies are a sure winner!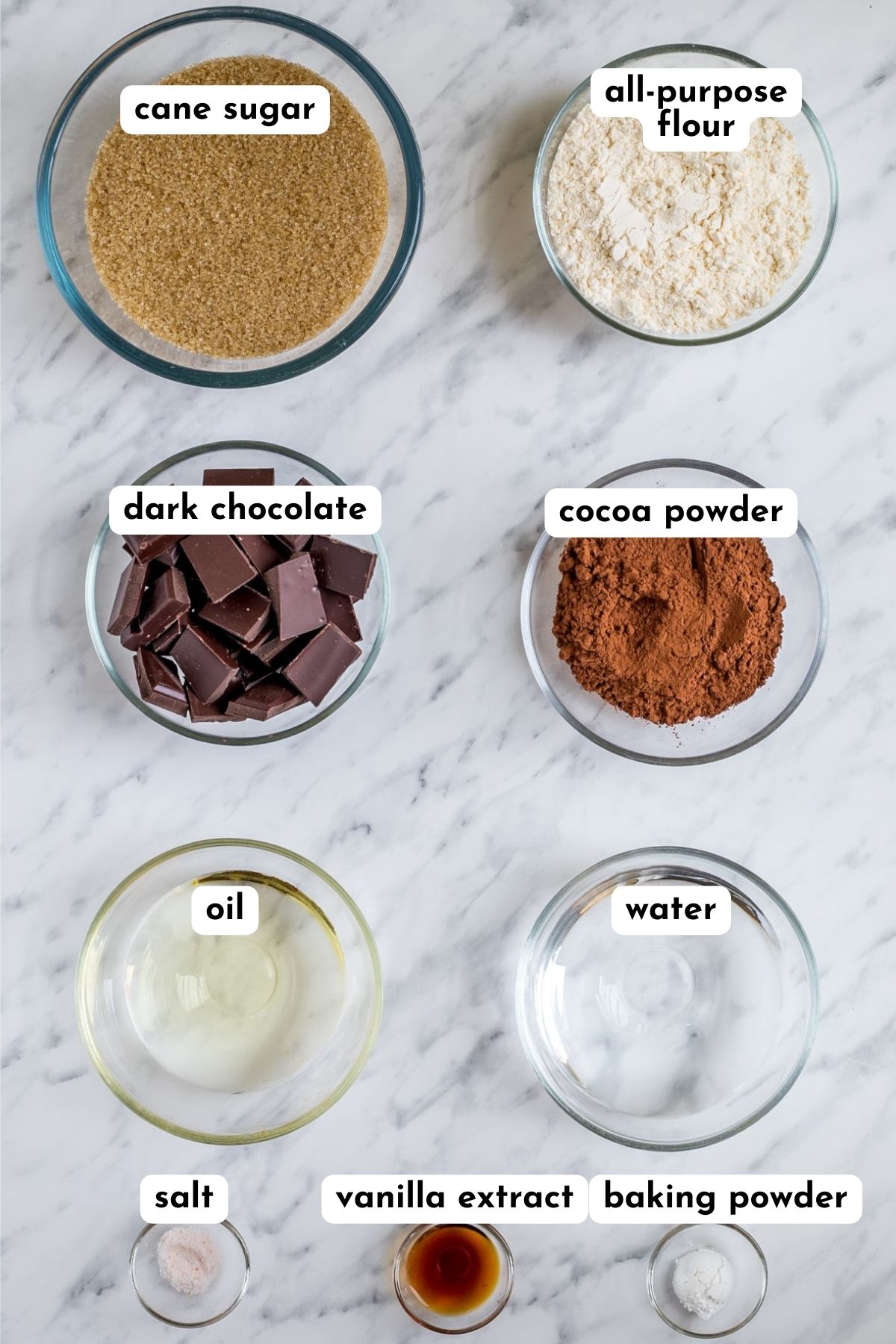 Dark chocolate – Not all brands are created equal, so make sure to use dairy-free. I like using Lindt 70% (in the above photo) or Callebaut 811 vegan chocolate chips. A good quality chocolate can make all the difference.
Natural cocoa powder – I used natural organic cocoa powder because the natural one has the classic chocolate flavor, while the Dutch-processed one brings a more bitter flavor, similar to 80% dark chocolate, and I already use that. Both being bitter is just too much for me. I recommend this brand.
Vegetable oil – You can also use any other neutral-tasting oils but I recommend sunflower oil or coconut oil. Vegan butter can vary from brand to brand, and you cannot get consistent results.
Cane sugar – I prefer cane sugar or brown sugar since they have this molasses-like taste that suits brownies.
All-purpose flour – This recipe also works with a gluten-free flour blend if it is a direct substitute for all-purpose flour. Not self-raising flour, though.
🛒 You can find detailed measurements for all ingredients in the printable version of the recipe card at the bottom of this post.
👩‍🍳 Instructions
Initial preparation
Start by preheating the oven to 325°F/ 160°C, grease an 8" x 8"/ 20 cm x 20 cm metal baking pan well, or line it with parchment paper.
Making vegan brownies
STEP 1
Set up a double boiler by placing a heat-proof bowl over a pot of simmering water. Combine the dark chocolate and oil in the bowl, letting them melt together. Stir consistently for a smooth mix. Don't overheat it. If it is melted, set it aside.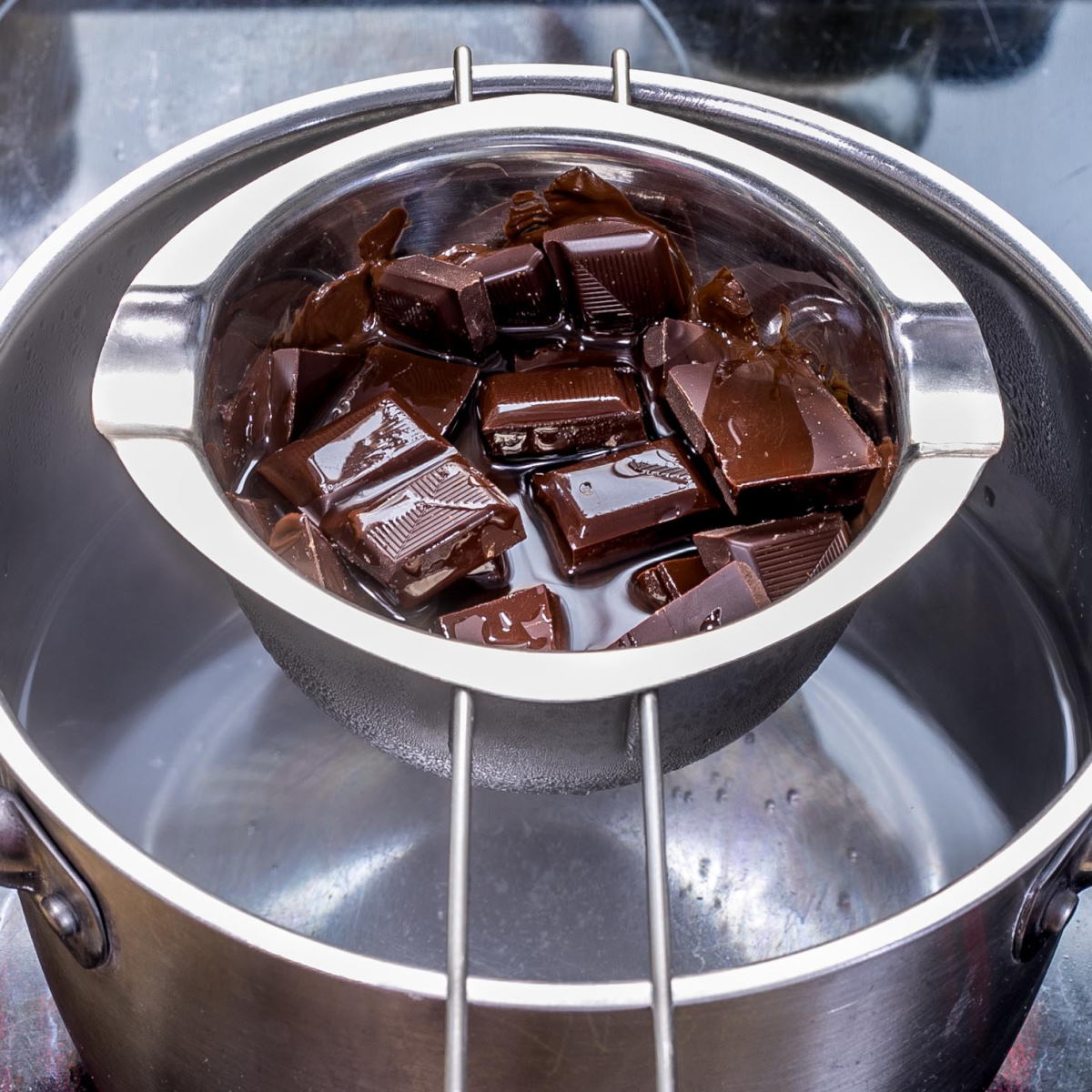 STEP 2
In a small saucepan, create the sugar syrup by gently simmering sugar and water. Swirl to dissolve the sugar faster, ensuring it simmers without boiling.
STEP 3
While whisking continuously, slowly blend the sugar syrup into the melted chocolate mix. The mixture thickens initially but will smooth out once all the syrup is added. If it doesn't thicken at first, the final result may not be what I got. Include the vanilla extract in these wet ingredients.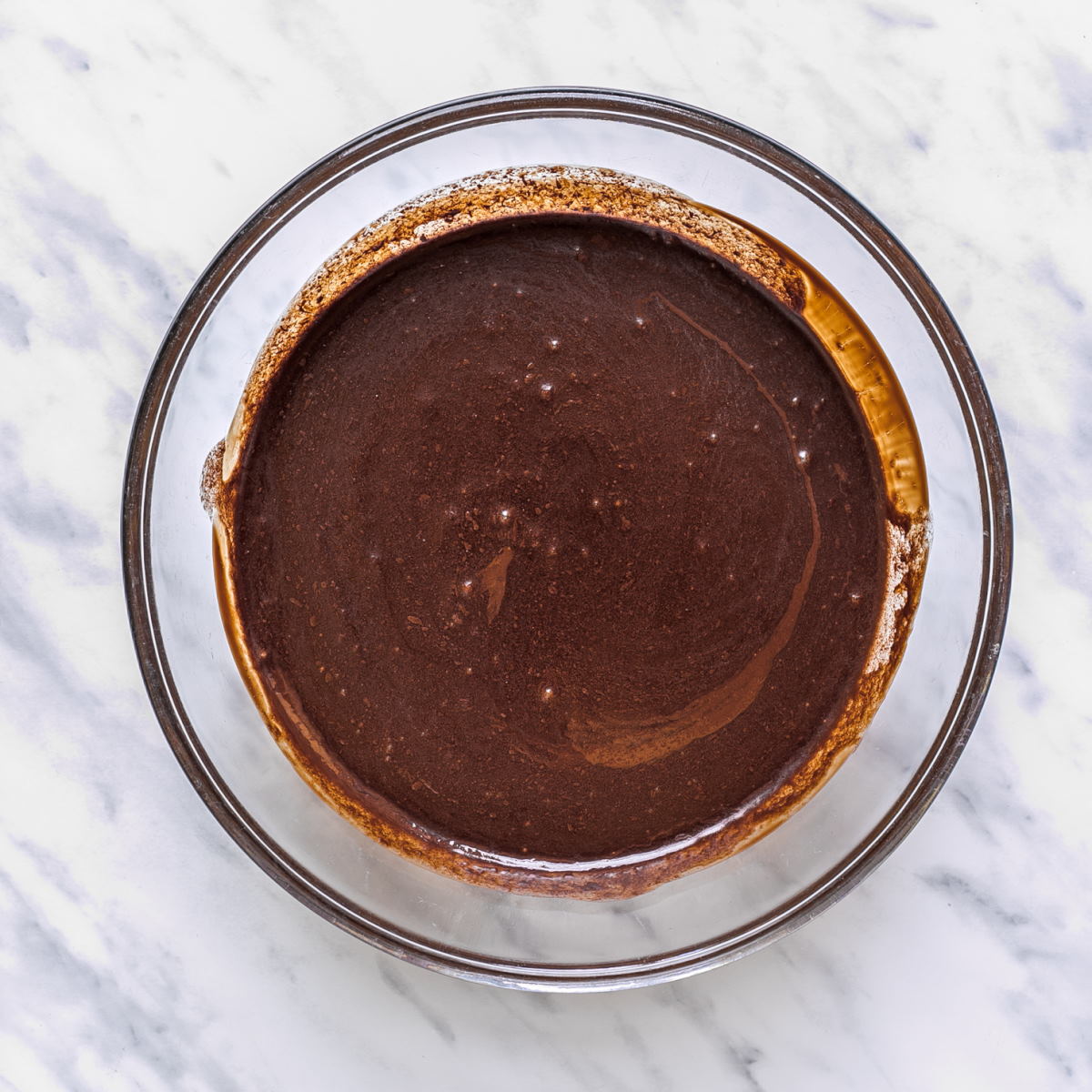 STEP 4
Now, whisk in the cocoa powder until the mixture is free of lumps.
STEP 5
Sift in the flour, baking powder, and salt, then gently fold. Mix well without overdoing it.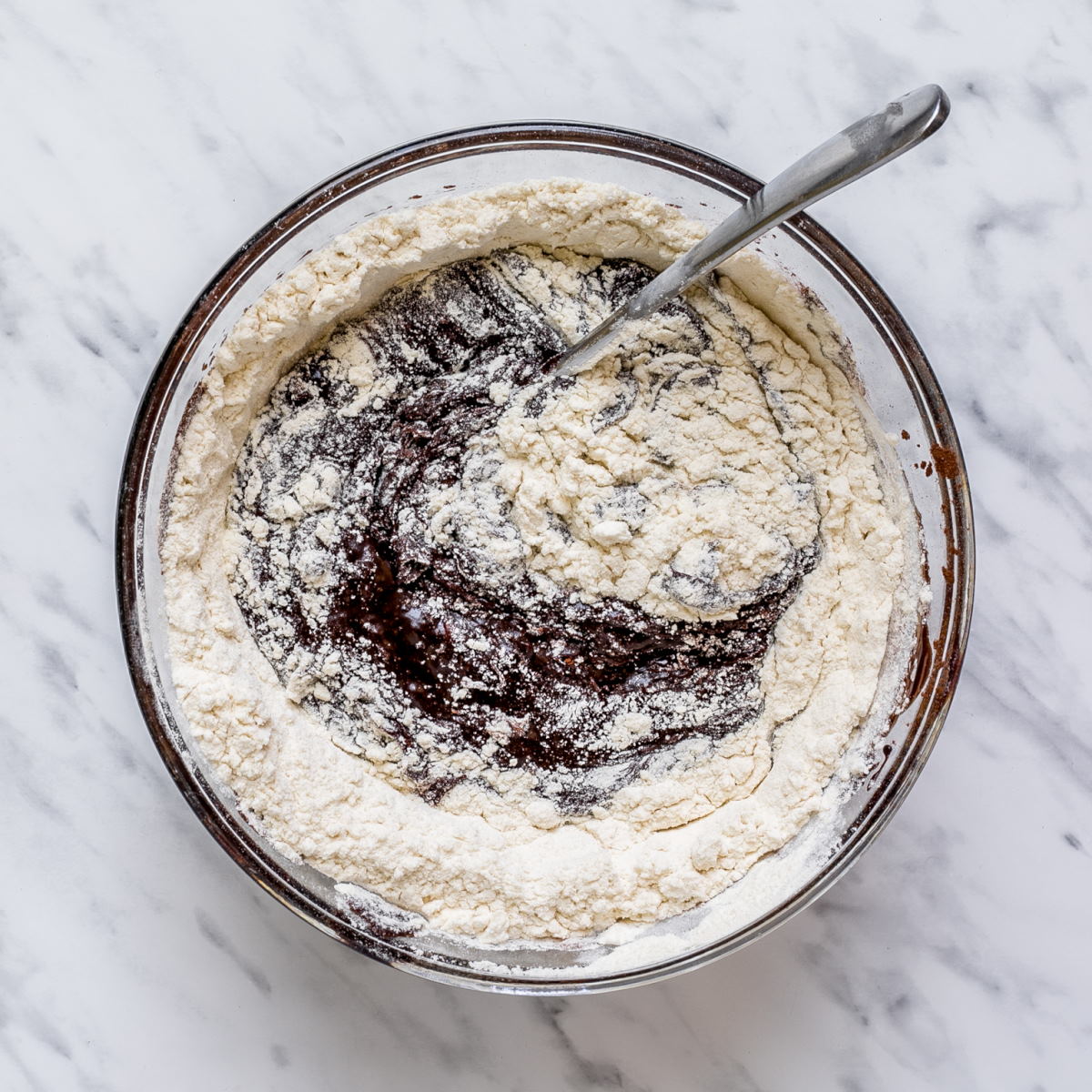 STEP 6
After the 10-minute prep, transfer this silky batter into the prepared baking tray and level it.
STEP 7
Bake for 30-35 minutes until a skewer inserted at the center shows slightly moist crumbs. The goal is a sticky, fudgy texture without gooey liquid.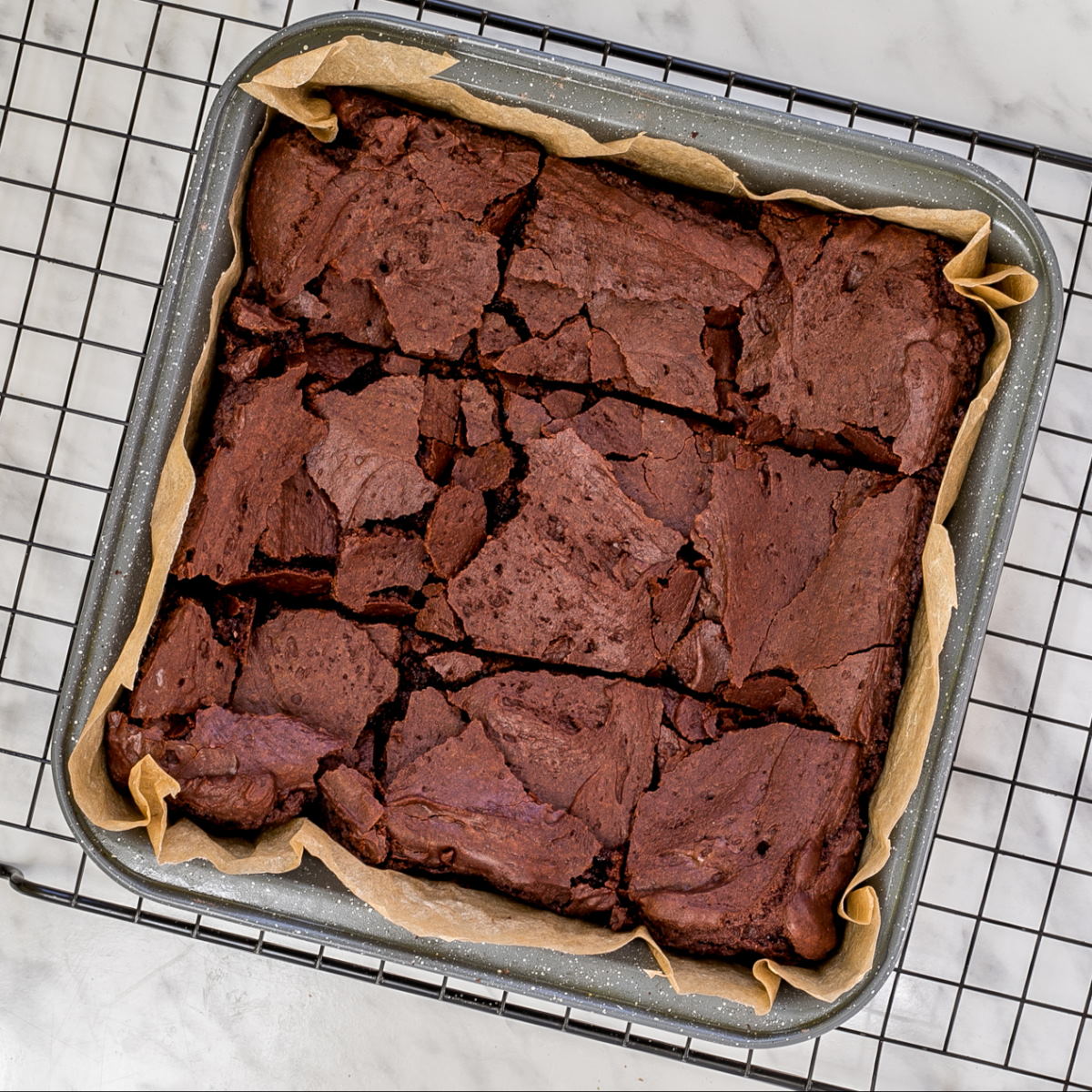 STEP 8
Once the pan and brownies are totally cooled, cut them into 16 equal slices.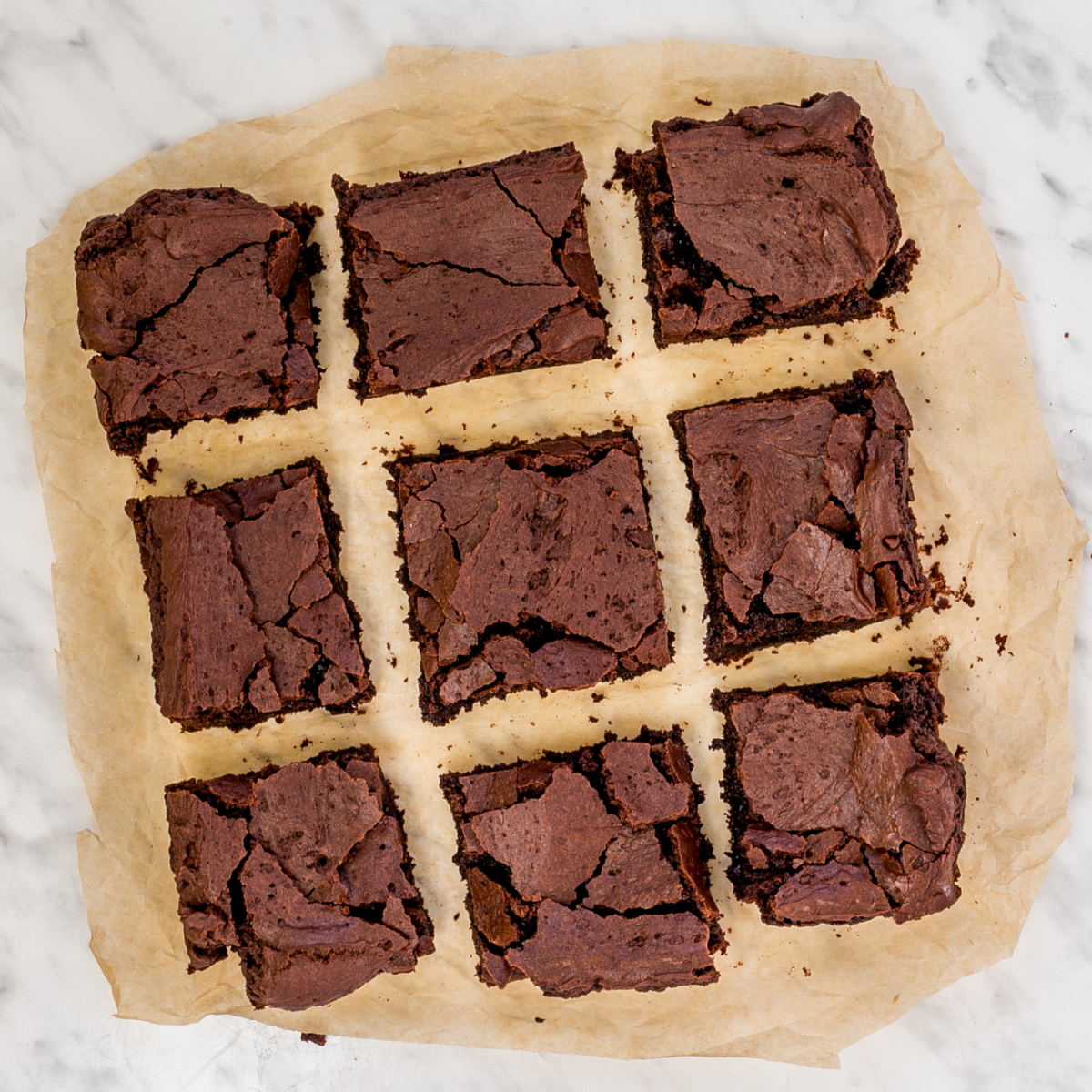 💡 Expert tips
Discover how to make the most delicious vegan brownies with these important and straightforward tips. The first two steps are quite crucial and can truly affect the outcome. Follow these guidelines to avoid any slip-ups and ensure your treats have that desired fudgy center and a delightful crackly, crumbly top.
Melt together chocolate and oil: Avoid melting the chocolate first and then adding the oil. You want to melt the chocolate and oil together at the same time to ensure a smooth and seamless blend. Executing this critical step correctly prevents the oil from separating and pooling on top of the chocolate. Stir intermittently to reach that ideal consistency and ensure you don't overheat the mix.
Add sugar syrup to melted chocolate slowly: Don't underestimate the power of vigorous whisking. Add the syrup gradually, bit by bit, rather than all at once. This approach promotes a silky cohesion and infuses the batter with the desired fudgy brownie texture. If it doesn't thicken at the beginning, you may not get the texture I got at the end.
Cooling: Resist the temptation to slice into your brownies until they've cooled entirely. This important step preserves their shape and structural integrity.
🔄 Variations
Add-ins
I love giving these vegan brownies extra flavor by tossing in dried fruit, nuts, or more chocolate chips. Walnuts or pecans offer a classic crunch, while almonds or hazelnuts bring a unique texture. If you're into chewiness, cranberries are the way to go.
Extra flavor boost
If you like deep, bitter chocolate flavor, consider adding a shot of espresso to the batter. I did that to my vegan chocolate muffins, and they turned out really dark and rich. And for those seeking a gourmet twist, a touch of fresh orange zest or a pinch of chili powder can take the taste to a whole new level.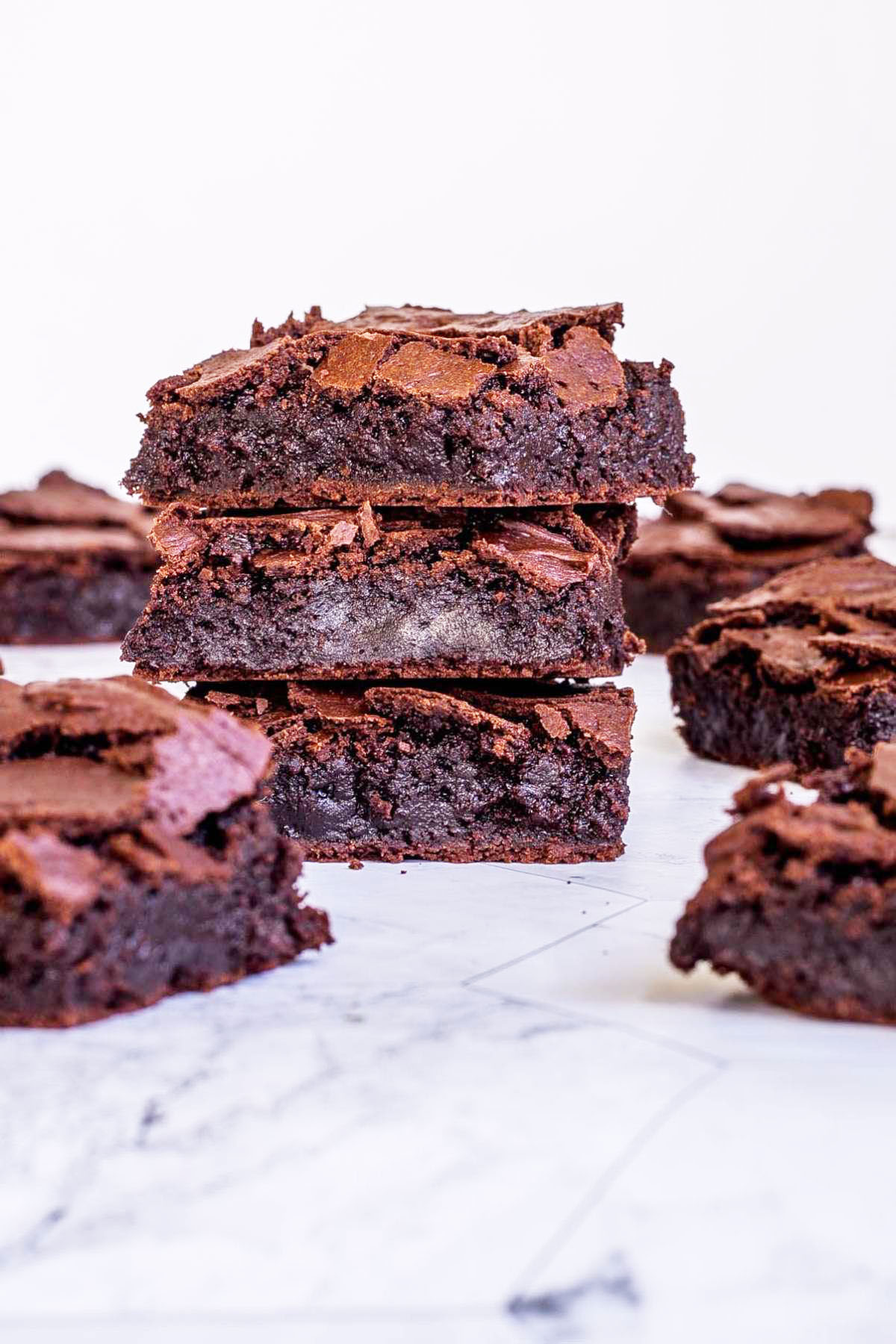 🍦 Serving ideas
These epic vegan brownies open the door to endless possibilities, and I am not just talking about the add-ins. Their fudgy texture and luscious chocolate flavor act as the perfect canvas for pairings.
I am saying only three little words: Whipped Coconut Cream. A dollop of homemade whipped cream is all you need to balance the rich flavor with something light. Pair it with a handful of fresh berries like strawberries, blueberries, or raspberries for a burst of color and natural sweetness.
It doesn't have to be summer to think of Vanilla Ice Cream. Warm up your brownie and present it with a scoop of your favorite vegan ice cream. My top choice is vanilla in this case. The contrast of warm and cold is a dessert dream come true. Top it off with a drizzle of vegan hot fudge or caramel sauce.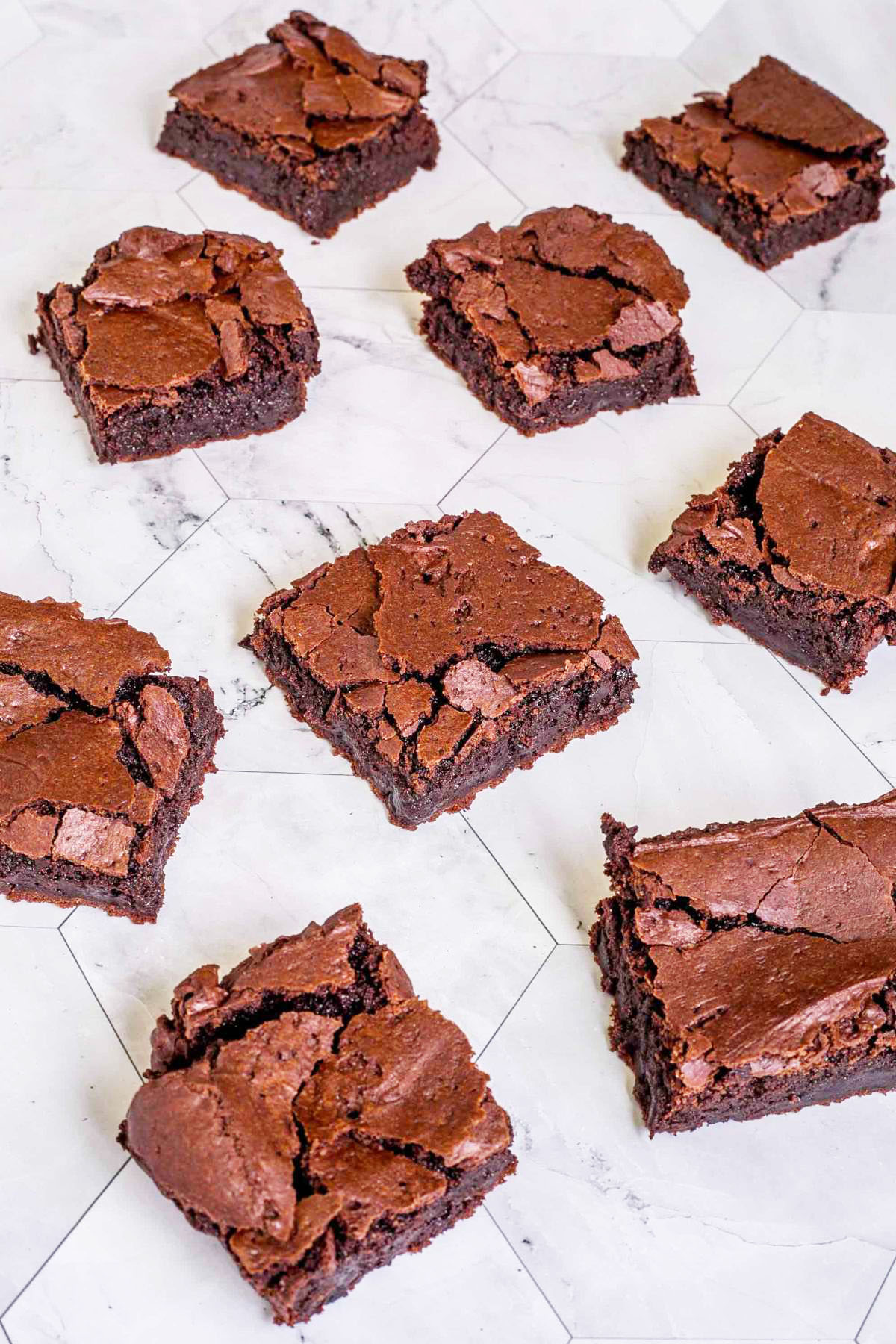 🥣 Equipment
I recommend 8 x 8-inch metal baking pan for even baking. I also tested this recipe with glass, but it didn't deliver the same quality outcomes. The bottom was not crispy enough, the batter did not cook through, and the top was getting too dark.
I also tested this vegan brownie recipe in a 9 x 9 inch (23 x 23 cm) pan. I cut the baking time to 28-32 minutes and got slightly thinner brownies. While the taste remains consistent, there might be a slight difference in texture.
I use a double-boiler melting pot (see the below photo), which I find extremely handy. Before, I had to choose the top pot wisely. If it is too large, it does not leave enough room for the water to boil. Bubbles could get in the melted chocolate, spoiling the texture. If the top pot did not have a large enough handle, I had to hold it in my hands all the time.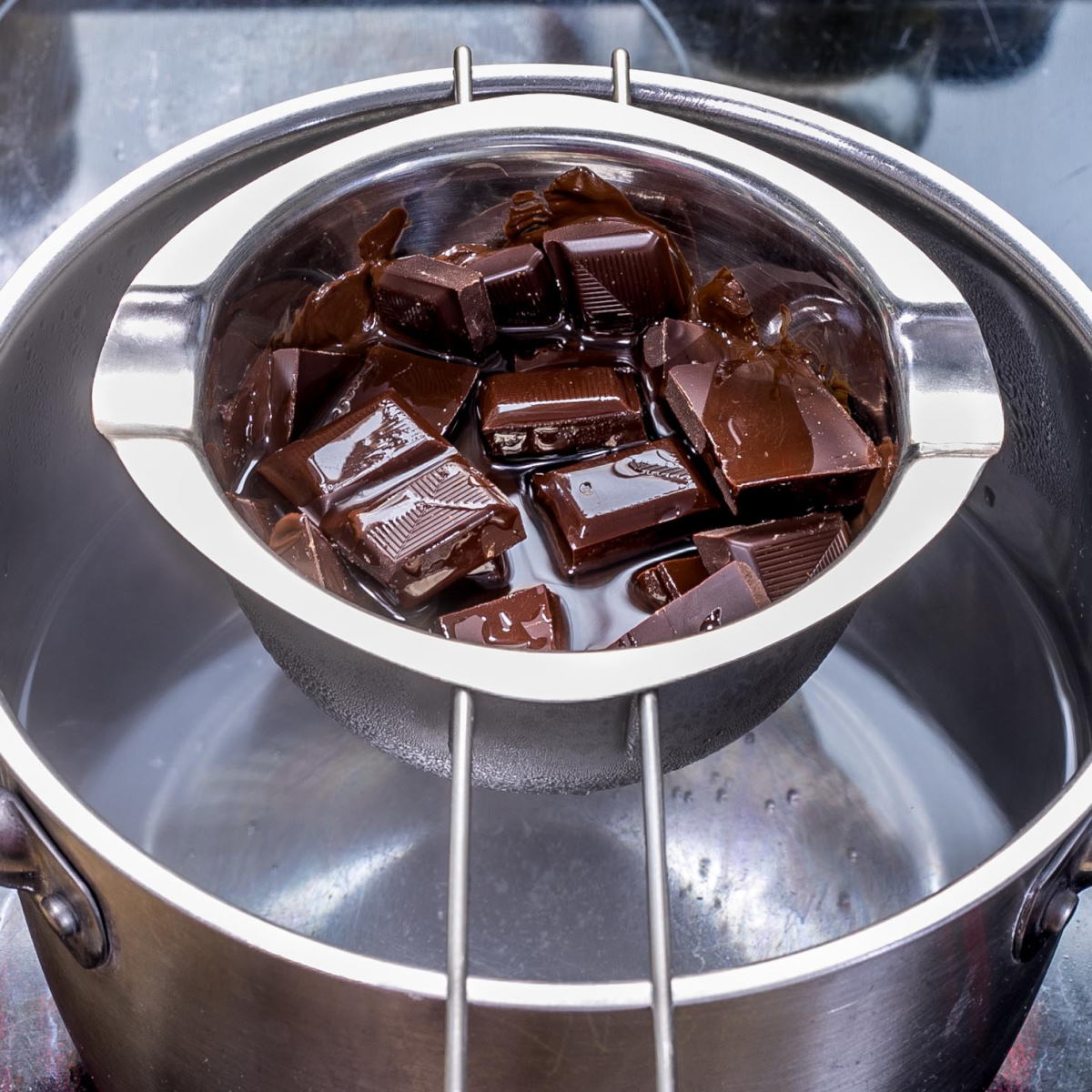 ❄️ Storing tips
Keep leftover brownies fresh by placing them in an airtight container. Refrigeration maintains quality for up to 5 days. When reheating, opt for a gentle method like using a microwave or low-temperature oven to retain the velvety texture.
For longer storage, freeze them in ziplock bags for up to a month in the freezer. Thaw frozen brownies at room temperature for optimal taste and consistency.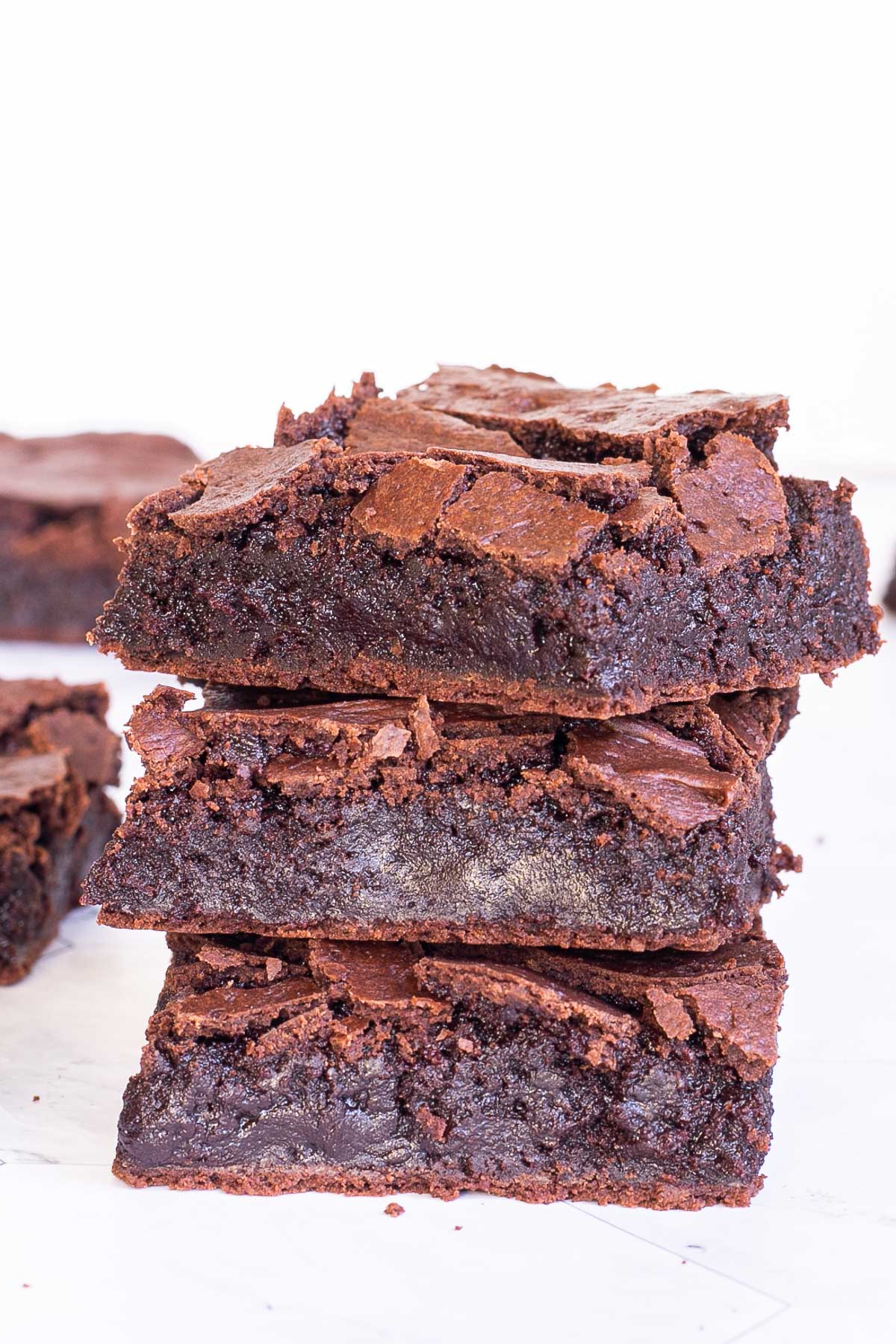 🤔 FAQs
What is a good substitute for eggs in brownies?
In traditional brownie recipes, eggs provide moisture, structure, and binding. For vegan baking, you can use alternatives like aquafaba (chickpea can liquid), oil, or gelled flax/chia seed fiber with water. My recipe cleverly replaces eggs with vegan dark chocolate and oil, preserving the moist, fudgy texture.

How are these best vegan brownies made?
These brownies come together by delicately blending vegan dark chocolate and vegetable oil. A mixture of cane sugar and water forms a sweet syrup that enhances the texture. Carefully folding in all-purpose flour, cocoa powder, baking powder, and sea salt completes the batter. The result is fudgy in the middle but crispy on the top.
More vegan chocolate desserts
THANK YOU so much for visiting our website. Please comment below if you have tried this recipe. We LOVE hearing from you! If you loved the recipe, please don't forget to give us a ⭐⭐⭐⭐⭐ RATING. We appreciate all of our readers.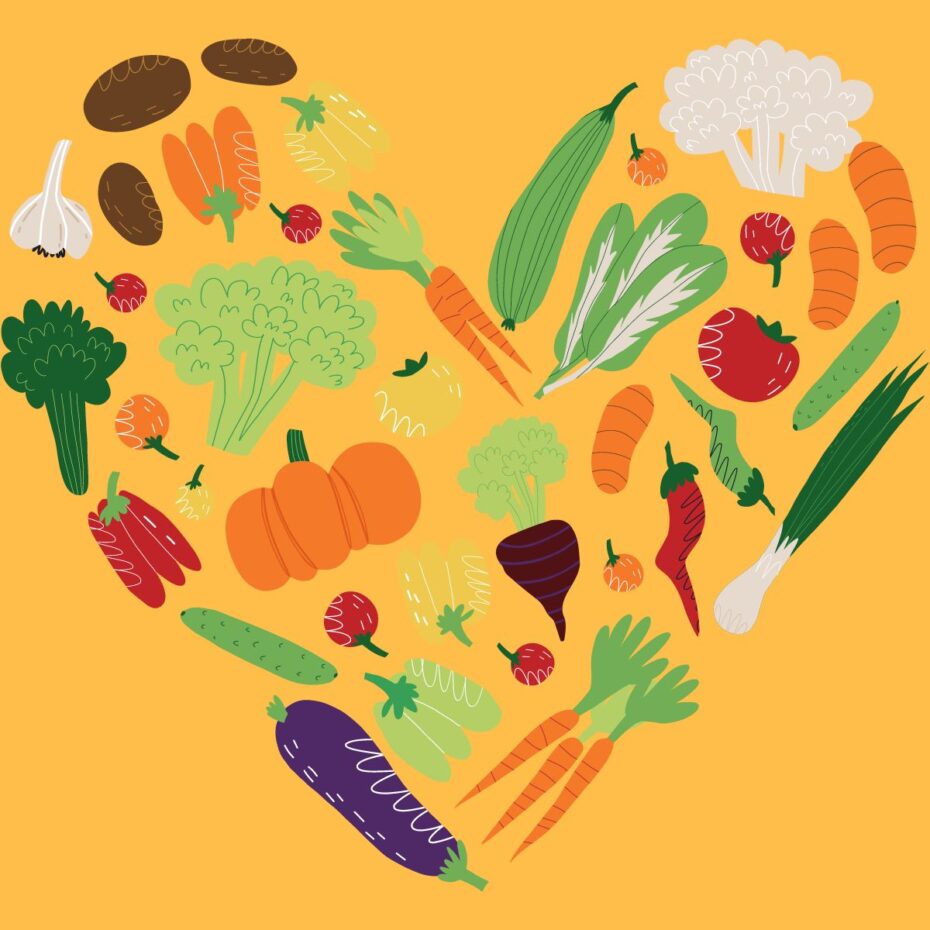 The Best Vegan Brownies
These are the best, rich, fudgy vegan brownies! This quick and easy recipe requires just a handful of pantry-friendly ingredients and comes together in no time. The crackly top is the perfect finishing touch to these decadent treats.
EXCLUSIVE 5-ingredient recipes for busy home cooks that are ready in 15 minutes!
Check out our Express Vegan Cookbook!
Instructions
Preheat oven to 325°F/160 C.

Line an 8×8"/20cm x 20cm* baking pan with parchment or grease very well.

Combine chocolate and oil in a double broiler melting pot over a pot of simmering water. Heat until just melted, stirring to combine. Set aside.

In a small saucepan combine the sugar and water over medium heat until just simmering, swirling a couple times to dissolve. Do not allow it to boil.

Once dissolved, pour slowly into the chocolate mixture while whisking. The chocolate will initially become thick, but will thin out once all the sugar syrup is added. If you add them all at once, the texture will be off.

Whisk in the vanilla extract.

Whisk in the cocoa powder until smooth.

Stir in flour, baking powder, and salt until just combined. Do not overmix.

Pour into the prepared baking pan and level out.

Bake for 30-35 minutes or until a skewer inserted comes out with a slight cling of moist mixture, but not gooey liquid.

Allow to cool completely in the pan before cutting into 16 squares.
Notes
*Can also use a 9×9"/23cm x 23cm for thinner brownies. Bake for a shorter period of time: 28-32 minutes.
Read expert tips to make sure you have the perfect vegan brownies at the end.
Nutrition
Nutrition Facts
The Best Vegan Brownies
Amount Per Serving (1 square)
Calories 186
Calories from Fat 45
% Daily Value*
Fat 5g8%
Cholesterol 0.3mg0%
Sodium 53mg2%
Potassium 131mg4%
Carbohydrates 34g11%
Protein 3g6%
Vitamin A 4IU0%
Calcium 21mg2%
Iron 2mg11%
* Percent Daily Values are based on a 2000 calorie diet.