A delicious combination of creamy, sweet, and citrusy, Thai green curry fried rice is one of the best things to happen to your leftover rice from the night before. Ready in just half an hour, this easy-to-make vegan fried rice recipe will have your taste buds dancing in no time!
We love Thai food because of its nutritious, flavorful, and aromatic ingredients. For even more Thai-themed fried rice recipes, check out our pineapple fried rice and tom yum fried rice recipes.
Jump to:
What to expect from this recipe?
Native to central Thailand, green curry is a popular dish in Thai cooking. It is a fragrant dish made with a base of green curry paste and enhanced with several herbs, spices, vegetables, and sometimes protein.
It is not uncommon to find green curry on your Thai takeout menu, but often the flavor can be overpowering: It is either too sweet, salty, or spicy. But with this creamy green curry fried rice recipe, you can quickly make your own at home, just as you like!
Here's why you'll love this vegan green curry fried rice recipe:
It is super easy to make, using leftover rice and simple ingredients that you can find in your neighborhood grocery store.
You can whip it up in only 30 minutes, making it a great last-minute lunch or dinner.
It is very aromatic and pleasing to taste, combining sweet, citrusy, and savory flavors.
It is customizable to your taste and preferences.
It is incredibly versatile and easily made into other new recipes!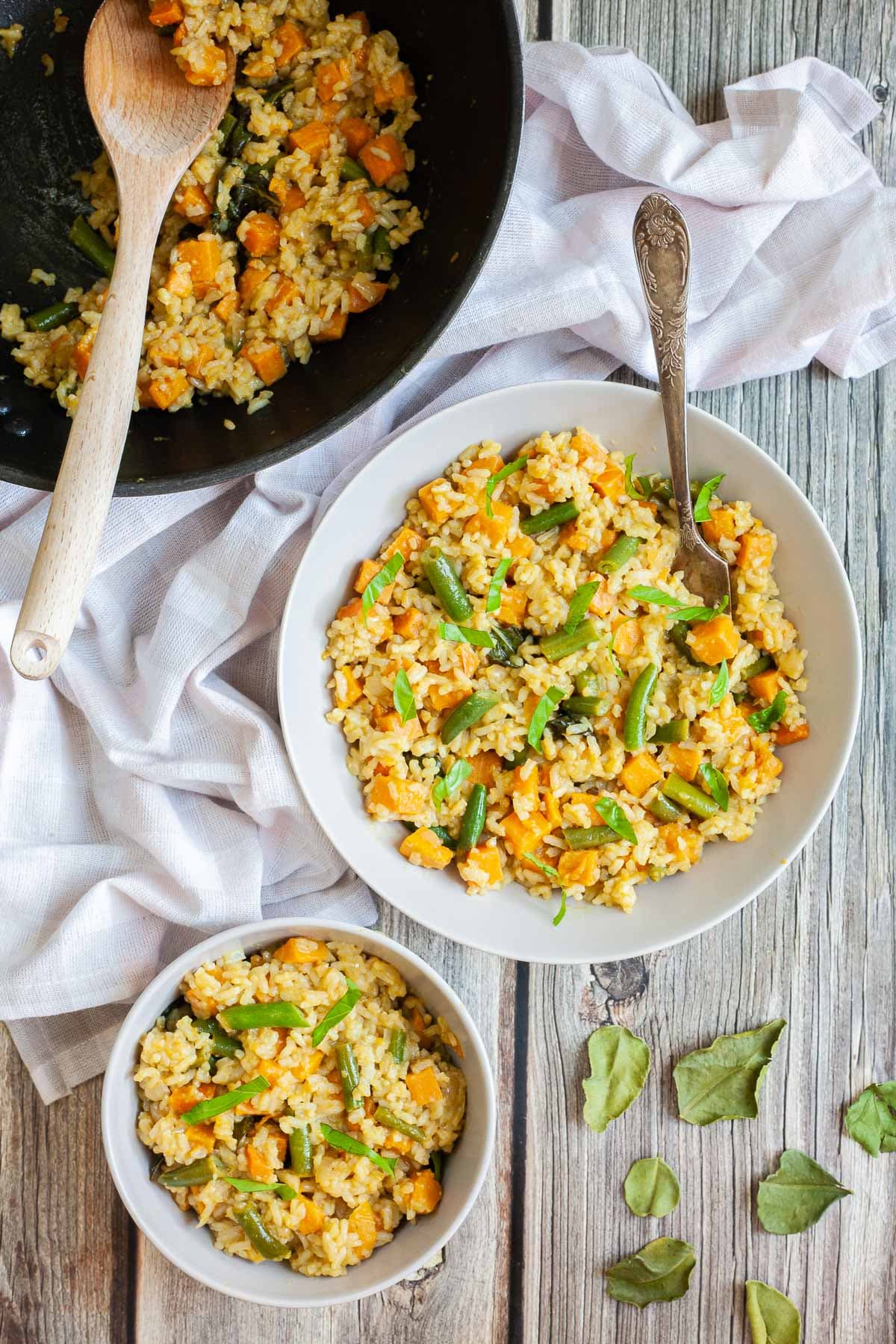 Ingredients
Green curry is made from a combination of curry paste, vegetables, and spices that you can easily find in your local store or any Asian supermarket. We have also provided a few substitutes below for the ingredients that you may not have available:
Sweet potatoes
Green beans
Green curry paste → You will want to make sure that it is a vegan curry paste, as some can contain shrimp paste or fish sauce. We used this authentic Thai brand.
Canned full-fat coconut cream → This helps to give the curry its creamy texture and full flavor. We use this brand.
Coconut Oil → Coconut oil is best for high-heat frying and has no coconut flavor. However, you can use any vegetable oil.
Onion (small)
Jasmine rice (measured as cooked) → Jasmine rice is the most popular for a curry; however, you can use any long-grain rice.
Soy sauce → You can also use tamari for a gluten-free option.
Sugar → Any sugar will work. Keep in mind that if you use honey, it will no longer be a vegan dish. We recommend that you use one of these honey substitutes instead.
Thai basil leaves →Fresh leaves are best. You can substitute Thai basil leaves with a combination of classic basil leaves and a few mint leaves.
Kaffir lime leaves → You can also use bay leaves as a substitute.
Salt
🛒 You can find detailed measurements for all ingredients in the printable version of the recipe card at the bottom of this post.
Instructions
Preparing the ingredients
The key to making green curry fried rice in just a half-hour is to have all of your ingredients prepared and ready to go before you cook them.
Start by peeling and chopping the onion into small pieces.
Next, peel and cut the sweet potatoes into bite-sized pieces, approximately ½-inch (1cm) cubes.
Measure out the remaining ingredients in the recipe and put them to the side.
Making green curry fried rice
To make this recipe, you will add many ingredients over several steps. In addition, you will need to stir it frequently to avoid burning, so try not to walk away as it cooks.
Before starting, pre-heat the wok over medium-high heat. Once heated, add the coconut oil.
Add the chopped onion to the wok and sautee for approximately three minutes.
Stir in the green curry paste and continue stirring for 1-2 minutes.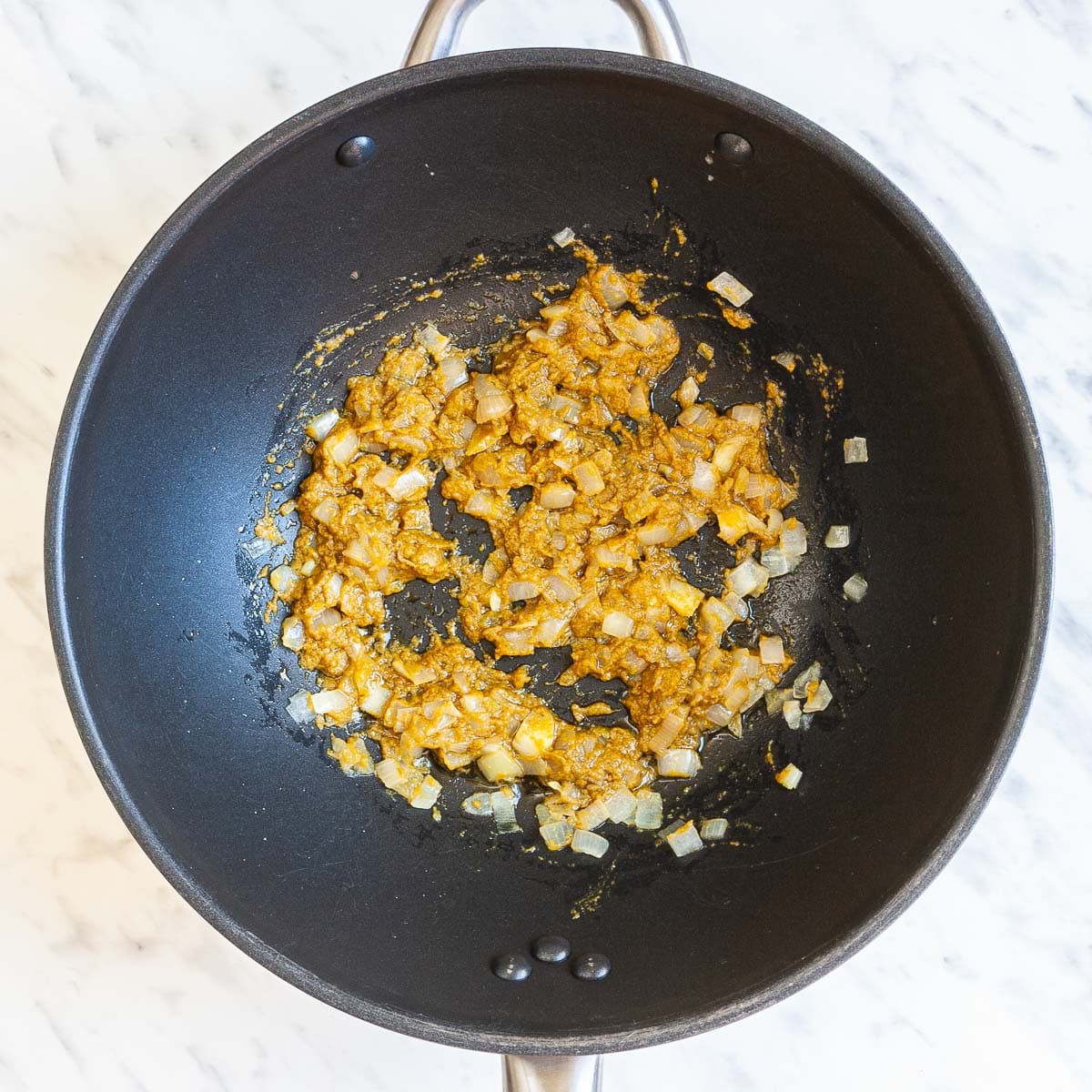 Add in the sugar, soy sauce, and kaffir lime leaves. Stir the mixture well for one minute.
Next, add the full-fat coconut cream and bring it to a boil. Once it starts to boil, continue cooking for two minutes.
Add the sweet potatoes and green beans, then cook until they are almost done. To speed up the process, use a lid and cook for approximately 15 minutes. Add salt to taste.
Stir in the leftover rice. Fry it for approximately 2-3 minutes, stirring the mixture well.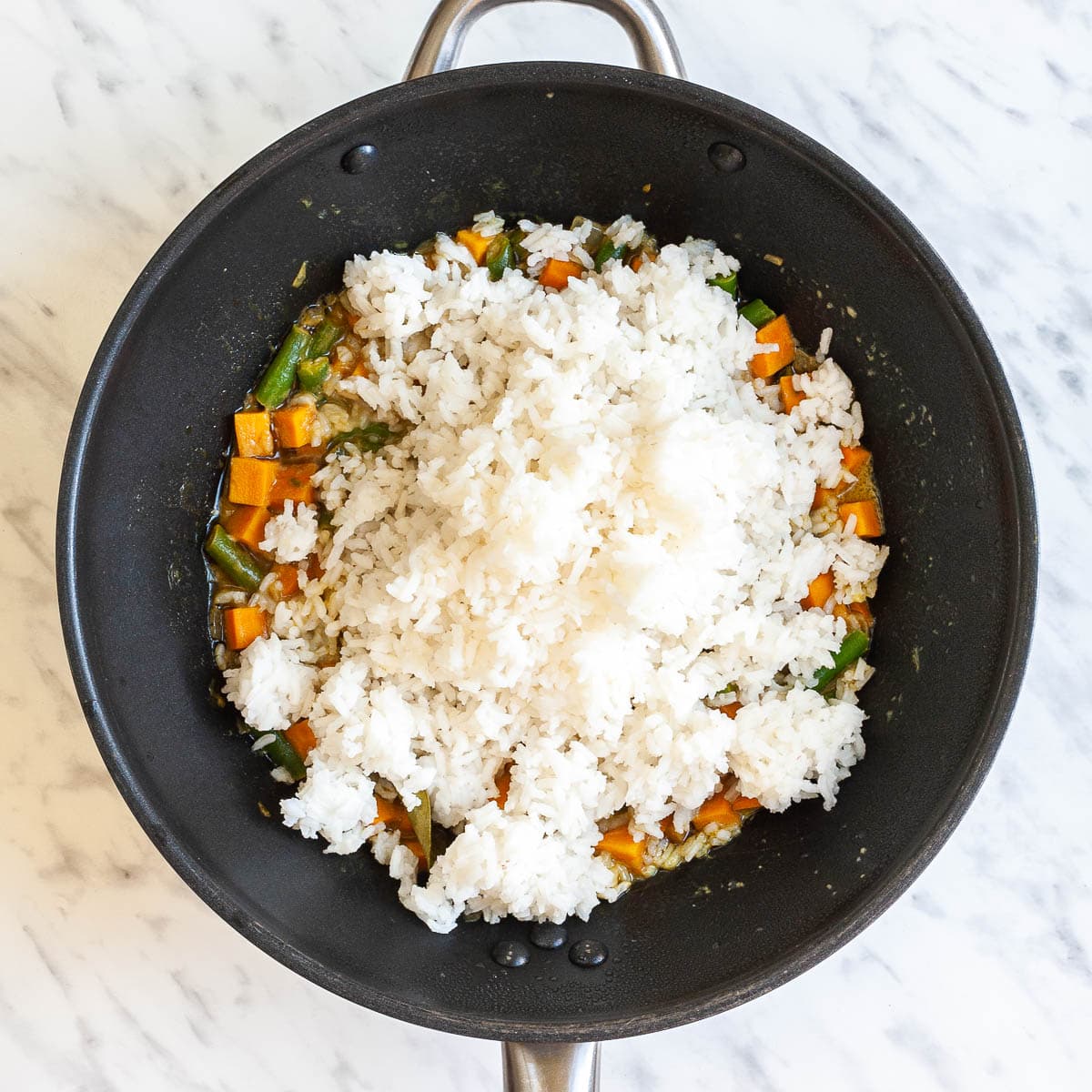 Remove the wok from the heat. Last but not least, add the basil leaves and stir well. Take the kaffir lime leaves out before serving and enjoy!
Cooking tips
Use day-old rice versus freshly made rice – The best part about fried rice is that it cooks and tastes better with leftover rice, making whipping up new dishes a breeze! When you add freshly cooked rice to a hot wok, it turns out sticky and soggy and is more susceptible to burning. Cooled rice or rice made the day prior prevents the above and results in the perfect texture and taste.
Always fry using high heat – The goal is to fry the rice, not sautee it! The higher the heat, the crunchier your vegetables will be, and the quicker your dish will cook!
Variations
Different types of rice – Substitute the jasmine rice for other aromatic, long-grain rice such as basmati rice or traditional long-grain white rice. For a lower-calorie alternative, you can use brown rice. Or, use quinoa in place of rice.
Other vegetables to use – Add or substitute the veggies in this recipe with crunchy ones such as colorful red bell peppers, carrots, cauliflower, spinach, bamboo shoots, or broccoli, as in our broccoli lentil stir-fry. Or, you can use softer vegetables such as Thai eggplant or winter melon. You can even experiment with other veggies– there's no wrong answer when it comes to curry!
Other protein sources – You can top your curry with vegan-friendly proteins such as chickpeas, oyster mushrooms, or fried tofu, like this simple teriyaki tofu.
Kid-friendly options – To make your curry more kid-friendly, consider using milder ingredients, such as mild curry paste, to cut back on the spice level.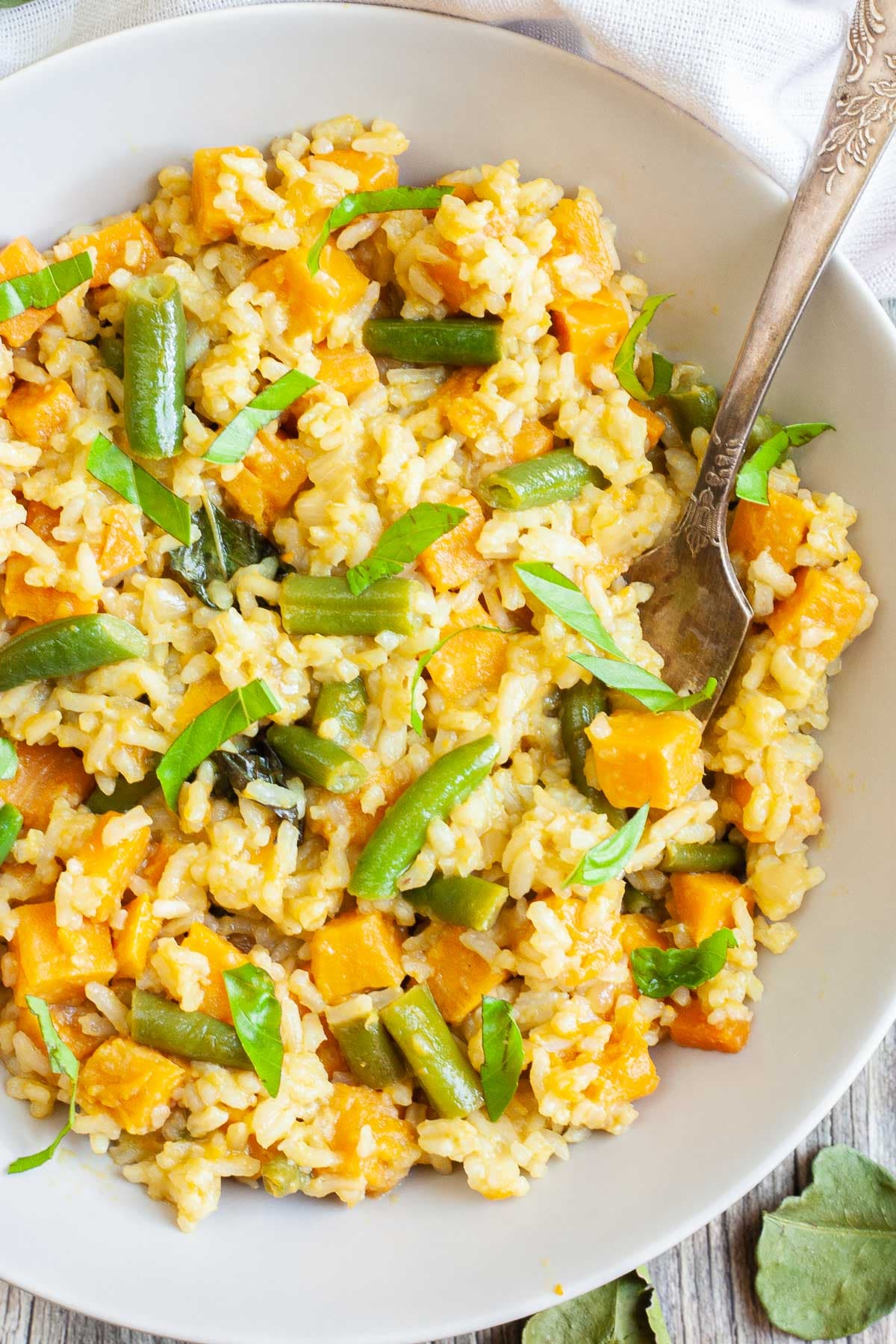 Serving ideas
One of the best parts about green curry fried rice is that it is entirely customizable to fit your taste and preferences! Spice up your meatless curry a notch with one or more of these additional toppings:
roasted peanuts, a popular addition to fried rice recipes
chopped cucumber for a little extra crunch
Thai chili peppers to kick up the heat a notch
squeezed lime wedges to add a more tangy flavor
spring onion or salted fried onion for different flavors and texture
coriander or cilantro for added flavor
pineapple or sliced banana for a subtle taste of sweetness
sesame oil to drizzle on top
Equipment
Wok – A wok is critical to cooking an excellent stir-fry for several reasons: It quickly and evenly generates the heat required to cook the dish efficiently, its oversized shape and sloping sides help to move the food around easily as it cooks without burning or spilling, it requires less cooking oil than a regular frying pan, and it fits more food.
Cast-iron skillet – If you don't have a wok, use a cast-iron skillet or frying pan. We recommend the cast-iron Skillet by UnoCasa, which is great for evenly cooking high-heat dishes. It also helps to retain the heat during and after the cooking process.
Storing tips
Refrigerator – Although a plant-based food, rice is highly susceptible to bacteria when left out at room temperature for longer than necessary. Once the dish has cooled, immediately store the leftover green curry fried rice in an airtight container in the refrigerator for up to three days. The sooner you use it, the better, as the rice will dry out over time.
Freezer – While some recipes say that you can freeze green curry fried rice for up to a month or more without a problem, we don't recommend it since it already uses leftover rice. Additionally, freezing will affect the texture of the vegetables.
Reheating – This green curry fried rice recipe can be reheated on the stove, in the microwave, or in the oven. Before reheating, add some water to give moisture to the rice. Make sure the rice is piping hot before you serve it to ensure any surviving bacteria is killed. Only reheat the ice once.
FAQs
Can you skip the sugar in the recipe?
The sugar in Thai green curry helps balance out the recipe's many other flavors. However, since only a little is used, you can skip it. As a result, you may notice a mild difference in taste but can compensate for it by adding sweet toppings such as pineapple or sweet vegetables such as corn.
What is the difference between green, red, and yellow curry?
While all three curry varieties are packed with flavorful spices and veggies, the difference is in the type of chilies they are made. Green curry is made primarily with green chili peppers and has a bright green color. Red curry is a bright red, spicy hot dish with red chili peppers. Yellow curry is a rich and savory dish made with yellow chili peppers.
What is the best type of rice to serve with green curry?
Basmati and jasmine rice are the most popular to serve with green curry. Both are flavorful and aromatic and complement the curry flavor quite well.
THANK YOU so much for visiting our website. Please comment below if you have tried this recipe. We LOVE hearing from you! If you loved the recipe, please don't forget to give us a ⭐⭐⭐⭐⭐ RATING. We appreciate all of our readers.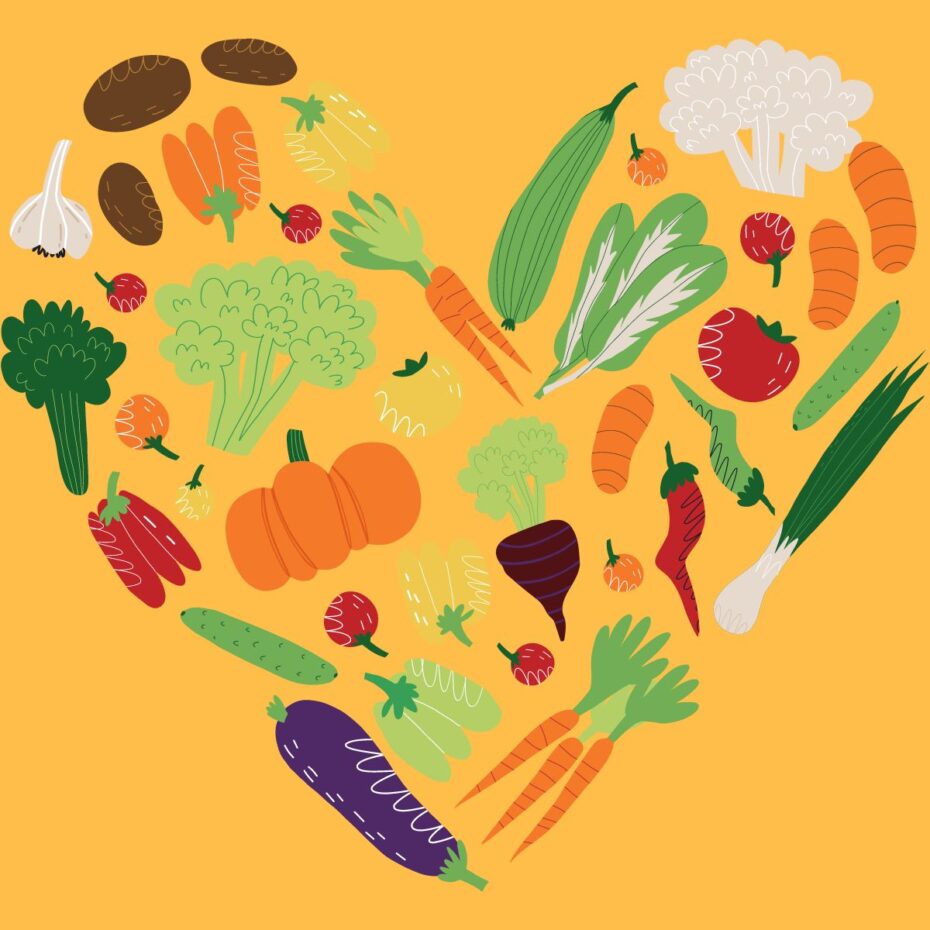 Thai Green Curry Fried Rice
A delicious combination of creamy, sweet, and citrusy, Thai green curry fried rice is one of the best things to happen to your leftover rice from the night before. Ready in just half an hour, this easy-to-make vegan fried rice recipe will have your taste buds dancing in no time!
EXCLUSIVE 5-ingredient recipes for busy home cooks that are ready in 15 minutes!
Check out our Express Vegan Cookbook!
Instructions
Preparing the ingredients
Peel and cut sweet potatoes into ½ inch (1cm) cubes.

Measure all other ingredients.
Making Thai Green Curry fried rice
Pre-heat wok to medium high heat. Add coconut oil.

Add chopped onion. Sautee for 3 minutes.

Add green curry paste Stir constantly for 1-2 minutes.

Add sugar, soy sauce, kaffir lime leaves. Stir well for 1 minute.

Add full-fat coconut cream. Bring to a boil and cook for 2 minutes.

Add sweet potatoes and green beans. Cook until the vegetables are almost done. Use a lid to fasten the process (circa 15 minutes). Add salt and check for seasoning.

Add leftover rice. Stir well. Fry for 2-3 minutes.

Take off the heat. Take the kaffir lime leaves out. Add basil leaves. Stir well.
Notes
Day-old rice is better than freshly made

– Fried rice recipes are ideal for using leftover rice and making something quick for a weeknight lunch or dinner. If you precook the rice and add it to the wok while it is still hot, it will be sticky and soggy. It is also easier to burn. We recommend using cooled rice made the day of or the day before.

Frying is about high heat

– It is not a sauteed rice recipe but a fried one. The vegetables will stay crunchy at the end rather than soft. It also makes for an easy and quick dish!
Nutrition
Nutrition Facts
Thai Green Curry Fried Rice
Amount Per Serving (1 serving)
Calories 428
Calories from Fat 36
% Daily Value*
Fat 4g6%
Sodium 1063mg46%
Potassium 466mg13%
Carbohydrates 88g29%
Protein 10g20%
Vitamin A 708IU14%
Vitamin C 17mg21%
Calcium 50mg5%
Iron 2mg11%
* Percent Daily Values are based on a 2000 calorie diet.