Explore the culinary possibilities of zucchini and eggplant with these 16 tasty recipes that showcase the versatility of these vegetables. From satisfying casseroles and flavorful stir-fries to innovative dips, and creative sandwiches, these creations offer a variety of ways to enjoy the bounty of zucchini and eggplant. Whether you're seeking vegetarian options, experimenting with new flavors, or simply want to make the most of seasonal produce, these recipes provide a range of delicious choices that will inspire your cooking. Embrace the goodness of these vegetables and create dishes that are as wholesome as they are delightful!
Eggplant Tofu (Copycat Panda Express)
Have you always loved eggplant tofu, but Panda Express doesn't serve it near your location anymore, or if you always wanted to try it but never had a chance? Fry up your skillet now and make this tofu, eggplant, and bell pepper dish stir-fried in a sweet and spicy sauce.
Recipe: panda express eggplant tofu
One-Pot Ratatouille
This is the best French summer vegetable stew that you can stir up in one pot within 30 minutes. I say to stir up because the traditional ratatouille is cooked on a stovetop and not baked.
Recipe: ratatouille
Eggplant Parmesan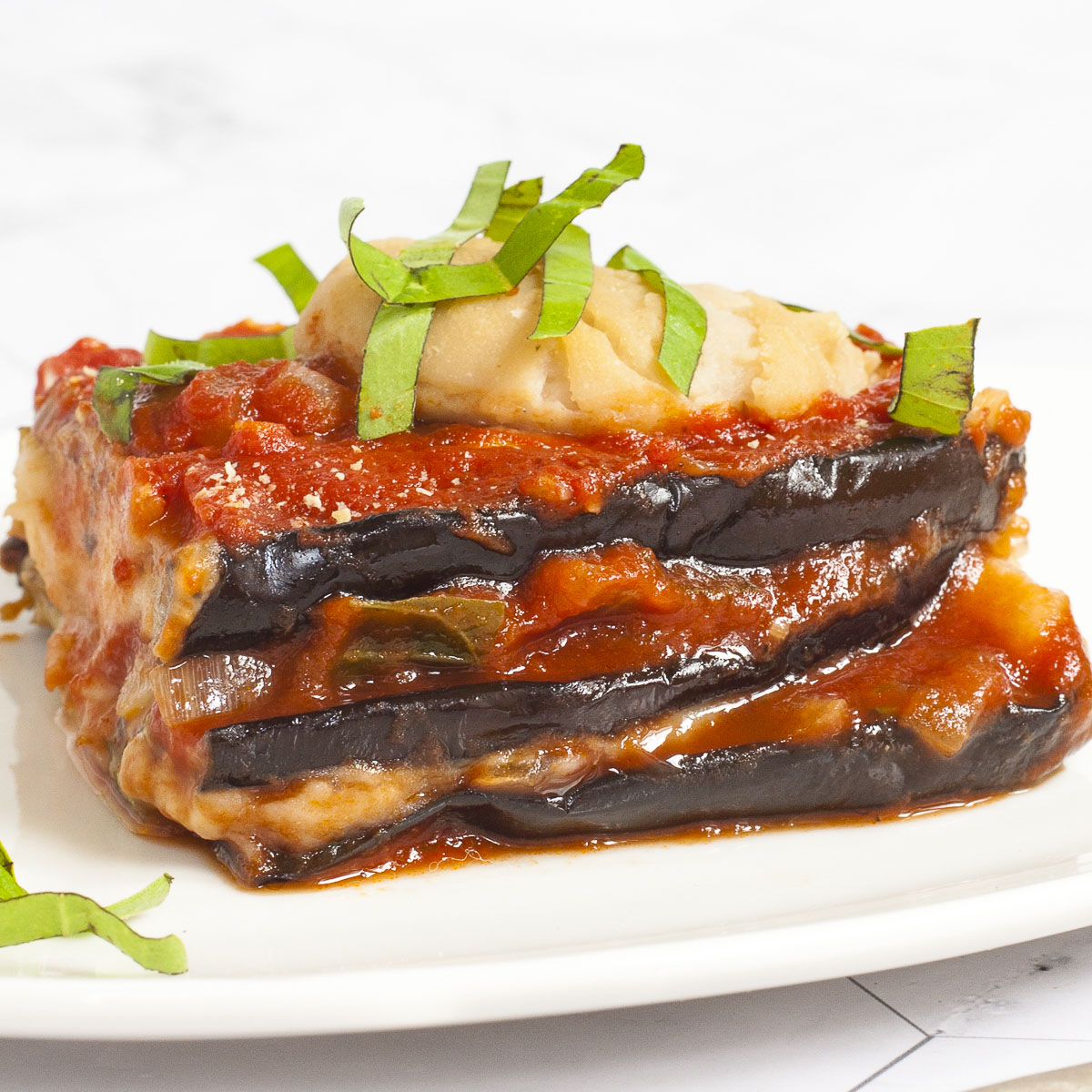 This eggplant parmesan is a delicious and healthy alternative to the traditional Italian dish. With roasted eggplant and a hearty Pomodoro sauce topped with a creamy cannellini bean "cheese" sauce, you won't even miss the breadcrumbs.
Recipe: eggplant parmesan
Vegetable Moussaka
This moussaka recipe features layers of tender roasted eggplant slices, a rich tomato-based ragu sauce made with vegan ground meat, and a velvety creamy white bechamel sauce that is baked to perfection. It's a hearty and flavorful Mediterranean-inspired dish that is sure to impress.
Recipe: moussaka
Zucchini Quinoa Stir-Fry
Zucchini Quinoa Stir-Fry is a delightful fusion of flavors and textures, combining the lightness of zucchini with the nutty goodness of quinoa. This vibrant and nutritious dish is not only packed with vitamins and minerals but also offers a delightful crunch and a burst of freshness in every bite.
Recipe: zucchini quinoa stir fry
Eggplant Meatballs
Looking for a twist on traditional meatballs? Look no further than these delicious eggplant meatballs! Made using only eggplant and perfectly seasoned for a delicious flavor, they pair perfectly with your favorite marinara sauce and a plate of spaghetti.
Recipe: eggplant meatballs
Grilled Vegetable Kabobs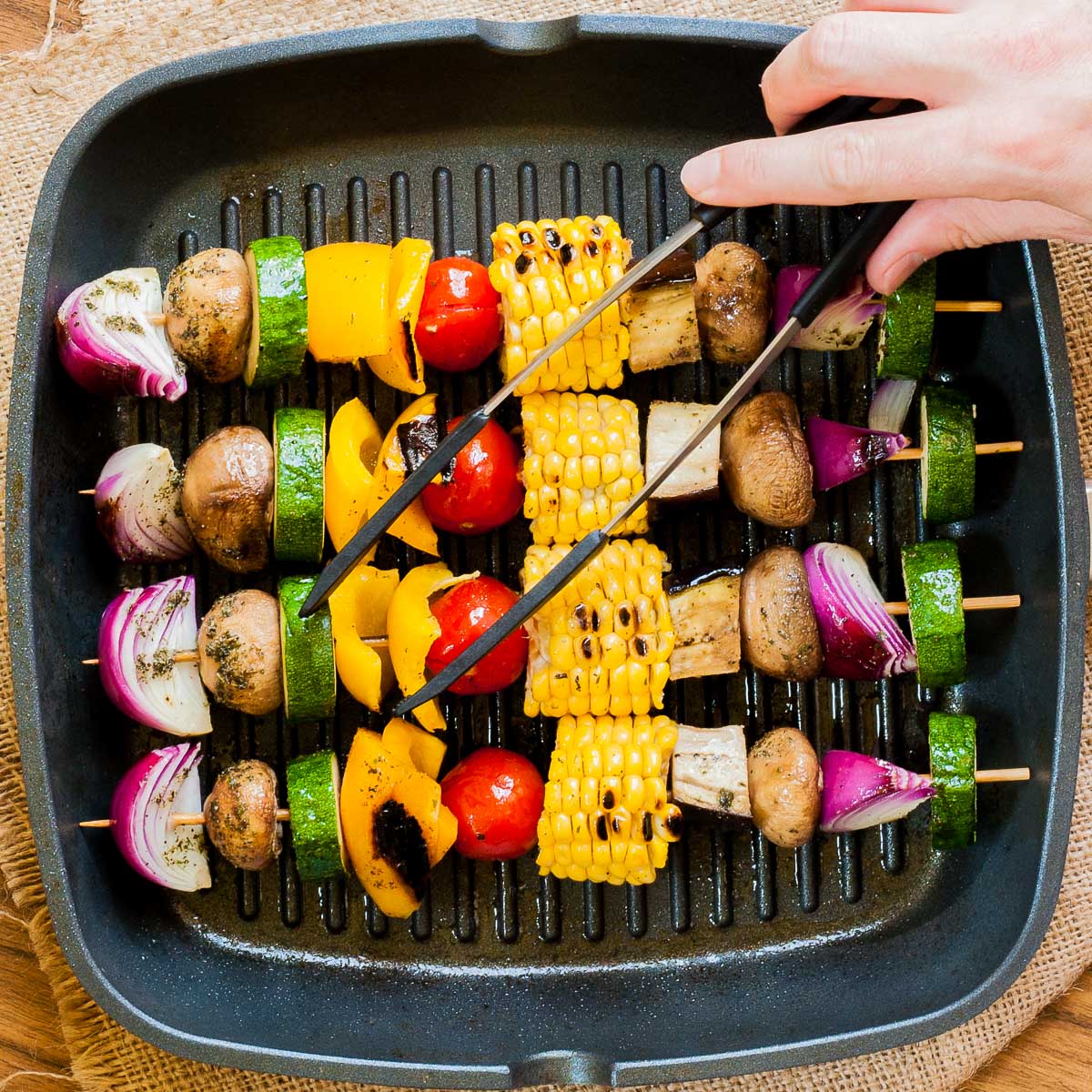 These vegetable kabobs are not only colorful but also incredibly flavorful. They are perfect for grilling and make a great side dish for any BBQ or party. With 3 different ways to make them and 5 delicious marinades to choose from, they are sure to please everyone's taste buds.
Recipe: grilled vegetable kabobs
Vegetable Shepherd's Pie
This Vegtable Shepherd's Pie is true comfort food for any seasons with rainbow carrots, zucchini and eggplant topped with creamy vegan mashed potatoes.
Recipe: shepherds pie
Grilled Vegetable Napoleon
This grilled vegetable Napoleon is a showstopper with vibrant, char-grilled layers of veggies like eggplant, zucchini, bell pepper, portobello mushroom, and more. If you want a visually stunning and flavorful side dish, look no further. Served with aromatic basil pesto, it is stunning and flavorful.
Recipe: vegetable napoleon
Hidden Veggies Pasta Sauce
This healthy vegetable sauce is a delicious and nutritious option for pasta lovers. Packed with seven different veggies and blended into a smooth and creamy sauce, even picky eaters will love this flavorful and satisfying meal.
Recipe: vegetable sauce pasta
Roasted Eggplant Red Pepper Dip
This roasted eggplant and red pepper dip is a smoky, rich, flavorful dip. It is the combination of two popular Middle Eastern classics baba ganoush and muhammara. Serve it with vegetables or with sliced pita bread, but it is especially delicious added to a grilled cheese sandwich.
Recipe: veggie dip
Greek Zucchini Noodle Salad
Embrace zucchini season with this healthy Greek Zucchini Noodle Salad. It's fresh and full of flavor with a light Greek dressing.
Recipe: zucchini noodle salad
Zucchini Fritters
These crispy zucchini fritters are easy to make, easy to freeze for later, and really easy to eat! Serve them with a tangy lemon herb yogurt for an awesome appetizer, side, lunch or vegetarian main.
Recipe: zucchini fritters
Cheesy Baked Zucchini Gratin
This recipe for Cheesy Baked Zucchini Gratin features summer squash and onions in a creamy sauce topped with crispy, buttery breadcrumbs. It tastes light and rich at the same time with a delicate, mouthwatering flavor and can be on your table in under an hour.
Recipe: zucchini gratin
Zucchini Lasagna Roll-Ups
Zucchini Lasagna Roll-Ups are a delicious twist on traditional lasagna, where thinly sliced zucchini is used instead of pasta sheets. The zucchini adds a light and fresh flavor to the dish, while still maintaining the comforting and cheesy elements of classic lasagna.
Recipe: zucchini lasagna roll
Grilled Eggplant Sandwich
Not eating meat doesn't mean you can't enjoy amazing, hearty sandwiches; as proof, I bring you this lovely vegan roasted eggplant sandwich. Fire up the grill, and make a sandwich everyone will love.
Recipe: eggplant sandwich
26 Big-Batch Dishes to Stock Your Freezer
15 Weekend Lunch Recipes on a Dime to Feed The Family
Europe's Finest 25 Recipes You May Not Even Know Of
25 Asian Foods You Absolutely Need to Make At Least Once
12 Legendary American Restaurants and Its Legendary Dishes