Warm up with the ultimate list of the best chili recipes that cater to a variety of tastes and preferences. From classic beef chili and spicy options to vegetarian and unique regional variations, this collection offers a wide range of choices to satisfy your chili cravings. Whether you're seeking a comforting bowl of chili on a chilly day or looking for crowd-pleasing recipes for game day gatherings, these dishes provide a mix of flavors and ingredients that make them the best in the chili world. Embrace the hearty goodness of chili and enjoy these ultimate recipes that warm both body and soul!
Fajita Veggies
This fajita veggies recipe is easy to make and packed with flavor. Simply sauté onions and bell peppers, season with spices, and voila! Enjoy with your favorite protein and toppings for a delicious meal.
Recipe: fajita veggies
Sheet Pan Portobello Fajitas
The sizzling combination of bell pepper, onion, and portobello mushroom strips in these fajitas is truly mouthwatering. Paired with guacamole, salsa, black beans, and sour cream, this dish is quick and easy to make and sure to be a crowd-pleaser.
Recipe: sheet pan portobello fajitas
Chicken And Peppers Sheet Pan Dinner
This chicken and peppers sheet pan dinner comes together for your freezer in under 5 minutes using already frozen ingredients!
Recipe: chicken and peppers
Sheet Pan Pancakes
Sheet Pan Pancakes offer a convenient and time-saving way to enjoy fluffy pancakes for a crowd. Rather than flipping individual pancakes on a griddle, you pour the pancake batter onto a large sheet pan and bake it in the oven, resulting in a perfectly cooked, golden-brown pancake that can be sliced into squares or rectangles for easy serving to a group.
Recipe: sheet pan pancakes
Sheet Pan Garlic Butter Shrimp
Sheet Pan Garlic Butter Shrimp is a quick and flavorful seafood dish that features plump, succulent shrimp roasted on a sheet pan with a delectable garlic butter sauce. This simple yet elegant preparation method ensures that the shrimp absorb all the delicious flavors, creating a mouthwatering and effortless meal with minimal cleanup.
Recipe: garlic butter shrimp
Texas Sheet Cake
Our Texas Sheet Cake sticks close to the classic: large, thin, moist chocolate cake with a poured-on chocolate icing studded with nuts. Easy to make, serves a crowd – and you will definitely get your chocolate fix!
Recipe: texas sheet cake
Lemon Blueberry Sheet Pan Pancakes
These Lemon Blueberry Sheet Pan Pancakes just might become your new go-to breakfast or brunch dish when you have a crowd to feed.
Recipe: lemon blueberry sheet pan pancake
Sheet Pan Sweet Potato Hash with Chorizo
Sheet Pan Sweet Potato Hash with Chorizo is a hearty and savory dish that combines the natural sweetness of roasted sweet potatoes with the spicy kick of chorizo sausage, all cooked together on a single sheet pan. This easy-to-make recipe results in a delicious and satisfying breakfast or brunch option that's bursting with bold flavors and minimal fuss in the kitchen.
Recipe: sweet potato chorizo sheet pan
Blackened Tilapia Baja Fish Nachos
What do you think about sheet pan blackened tilapia Baja fish nachos for dinner tonight? There are so many reasons these baked loaded nachos are great. First of all, this is a simple seafood nachos recipe, and then it's also ideal for Super Bowl or game day. Use whichever topping ideas you want.
Recipe: tilapia baja fish nachos
Sheet Pan Eggs Benedict
Eggs benedict is a classic breakfast choice, and the combination of muffins and Canadian bacon with poached eggs is hard to beat. However, a sheet pan isn't usually associated with an easy eggs benedict recipe. This sheet pan eggs benedict recipe works because there are other components in the dish, such as eggs, potatoes and vegetables, which are baked in the oven, and the English muffins can also be crisped up in there.
Recipe: eggs benedict
Meyer Lemon Sheet Pan Roasted Chicken
Sheet pan dinners make weeknight dinners a breeze. This Meyer Lemon Roasted Chicken is no exception. It's delicious enough for a dinner party but simple enough for any night of week!
Recipe: meyer lemon roasted chicken
Plum Roasted Chicken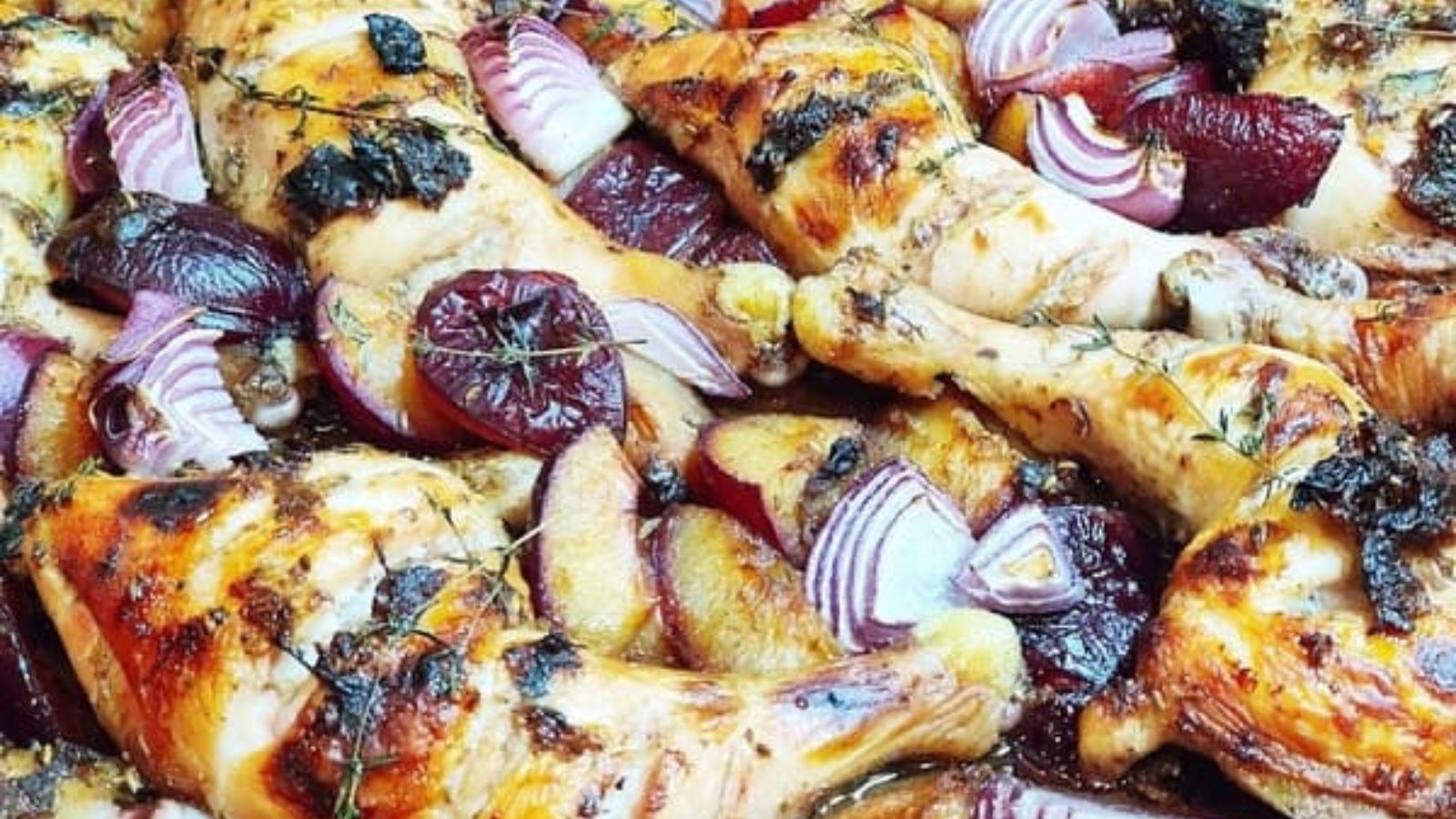 This sheet pan recipe is a beautiful blend of sweet plums and soft red onions with roasted chicken. Everyone will be asking for seconds and licking up their plates…well at least that's what happens at my dinner table!
Recipe: plum roasted chicken
Sheet Pan Kielbasa and Veggies
This Sheet Pan Kielbasa and Veggies is a quick and fuss-free dinner recipe for busy weeknights. Just dump all of the ingredients on a cooking tray and bake. This recipe can be made with regular sausages and any vegetables you have in your fridge.
Recipe: kielbasa and veggies
Salmon Oreganata With Green Beans
his Sheet Pan Salmon Oreganata With Green Beans And Potatoes is a quick, healthy, and satisfying dinner. Everyone will love the flaky, crispy coating and zesty flavors; this easy-baked salmon recipe is bound to become a new family favorite.
Recipe: salmon oreganata
Keto Sheet Pan Sausage and Veggies
With tasty smoked sausage and tender roasted vegetables, this Keto Sheet Pan Sausage and Veggies Recipe is easy to make and delicious. When you need a quick weeknight meal, this recipe can be baked in the oven in less than 30 minutes.
Recipe: keto sausage veggies
Brown Sugar Pork Chops
These Sheet Pan Brown Sugar Pork Chops will become a weeknight fall favorite for parents and kids alike. Easy to prepare and clean up with only one pan!
Recipe: brown sugar pork chops
Sheet Pan Chicken Fajitas
If you are looking for a quick, family-friendly dinner idea, I've got you covered. These Sheet Pan Chicken Fajitas are the easiest things ever and kids love them. Ready in under 30 minutes too!
Recipe: chicken fajitas
Lemon Garlic Salmon with Broccolini
Sheet Pan Lemon Garlic Salmon with Broccolini can be cooked and on the table in less than 30 minutes. The salmon is covered in a delicious lemon garlic drizzle.
Recipe: salmon with broccolini
Sheet Pan Vegetable Stir Fry
For this quick and easy dinner, dump everything onto a sheet pan, toss with homemade stir-fry sauce and bake. That's it! Add in cooked grains as desired and eat.
Recipe: vegetable stir fry
Sheet Pan Breakfast Hash
Vegetarian Sheet Pan Breakfast Hash is a wholesome morning meal that brings together a colorful array of roasted vegetables like potatoes, bell peppers, and onions, combined with spices and eggs cracked right onto the sheet pan. This easy and nutritious breakfast option is perfect for a crowd or for meal prep, offering a hearty and flavorful start to your day without the need for multiple pans or extensive cooking.
Recipe: breakfast hash
26 Big-Batch Dishes to Stock Your Freezer
15 Weekend Lunch Recipes on a Dime to Feed The Family
Europe's Finest 25 Recipes You May Not Even Know Of
25 Asian Foods You Absolutely Need to Make At Least Once
Skip The Dreaded Drive-Thru Line With These 15 Fast Food Copycat Recipes