Savor the final moments of summer with these 25 mouthwatering BBQ recipes that are perfect for enjoying the warm evenings. From succulent grilled meats and flavorful marinades to tasty vegetable skewers and delectable BBQ sauces, these recipes offer a wide variety of options for outdoor grilling and dining. Whether you're hosting a backyard barbecue or simply looking for ways to make the most of the season's flavors, these dishes provide a range of smoky, savory, and sweet tastes that will make your summer evenings unforgettable. Embrace the joy of outdoor cooking and relish these recipes that celebrate the essence of summer BBQs!
Black Bean Burger
This delicious black bean burger from our cookbook is perfect for a quick vegan meal that does not skimp on flavor. With a hearty 5-ingredient black bean patty, fresh lettuce and tomato, and a spicy mayo sauce, this burger will satisfy even the most discerning taste buds. Perfect for those who crave veggie burgers, even on busy weeknights.
Recipe: black bean burger
Grilled Calamari Steak
A classic Mediterranean dish that's all about quality ingredients and simple preparation. Just be sure to use a good quality olive oil and a very hot grill pan. Flash-frozen calamari steaks are now readily available in many fish markets and grocery stores.
Get the recipe: grilled calamari steak
Oyster Mushroom Steak
This recipe is perfect for those who want a tasty and meatless alternative to steak. With the right marination and cooking technique, pearl oyster mushrooms can be transformed into a crispy and flavorful dish that can satisfy even the most carnivorous appetites.
Recipe: oyster mushroom steak
Tomahawk Steak
Learning how to cook a tomahawk steak isn't as intimidating as you might think! It's definitely not difficult, but it's not something you want to wing at the last minute. So, let's get into it. Because once you've got this down, there's really not a more show-stopping, delicious meal out there.
Get the recipe: tomahawk steak
Philly Cheesesteak
To make the best Philly cheesesteak you should pan-fry shredded oyster mushrooms (not cut, but torn apart). They will have the perfect beefy texture and taste. Fill your hoagie roll with a generous amount of mushroom cheesesteak and vegan cheese.
Recipe: Philly cheesesteak
Grilled Vegetable Napoleon
This grilled vegetable Napoleon is a showstopper with vibrant, char-grilled layers of veggies like eggplant, zucchini, bell pepper, portobello mushroom, and more. If you want a visually stunning and flavorful side dish, look no further. Served with aromatic basil pesto, it is stunning and flavorful.
Recipe: vegetable napoleon
Chicken Fried Steak
This chicken fried steak recipe with homemade country gravy is the comfort food you've been waiting for. This recipe takes cube steak that is breaded in a crispy breading and topped with a homemade white country gravy that is perfectly seasoned. No matter who you make this for, I can guarantee there will be someone asking for seconds.
Get the recipe: chicken fried steak
T-bone Steaks on the Grill
I don't know about you, but nothing says satisfaction to me like a perfectly grilled steak. Make that a bunch of T-bone steaks on the grill, and honestly, it's heaven. However, if you're a first timer and a little nervous about how to go about this, don't worry, we're going to get you through it. This method also works well for grilling just about any kind of steak, so keep this guide handy as we head into grilling season!
Get the recipe: t bone steak
Cauliflower Steak in 20 Mins
If you're looking for a new and exciting way to enjoy cauliflower, try making these cauliflower steaks. With their crispy exterior and tender interior, and seasoned to perfection, they make a perfect plant-based main dish or side that doesn't require an oven.
Recipe: cauliflower steak
Giada Dogs
Every summer, without fail, I crave hot dogs. A plain old hot dog will never suffice though, last summer it was the tijuana dog and bahn mi dog and this year, as inspired by Giada's recent segment on the Today show, the Giada Dog. Pink's (the famous Hollywood hot dog joint) is apparently adding the Giada dog to it's list of celebrity-inspired dogs – though it isn't on their online menu quite yet. The hot dog is topped with sauteed peppers and onions and mozzarella cheese.
Get the recipe: giada dog
Grilled Buffalo Tofu Skewers
Indulge in the bold and spicy flavors of buffalo tofu with a crispy caramelized crust that is sure to satisfy your cravings. Try pan-frying or grilling marinated tofu on skewers for an easy but flavorful dish that will leave you wanting more.
Recipe: buffalo tofu skewers
Chipotle Black Bean Burger
This chipotle black bean burger recipe is a delicious and flavorful alternative to traditional burgers. Made with black beans, adobo sauce, and spices such as cumin and smoked paprika, these patties are perfect for grilling or frying and are sure to be a hit with vegans and meat-lovers alike!
Recipe: chipotle black bean burger
Dominican Hot Dog
BBQ Fiesta? You are going to love these recipes for a Dominican hot dog party. There's one for everybody. While there is not just one Dominican hot dog recipe, all these are inspired by actual ones I've tried around the DR. They're perfect for your Dominican cookout or BBQ.
Get the recipe: Dominican hot dog
Creamiest Scalloped Potatoes
This creamy scalloped potatoes recipe is the ultimate comfort food and a perfect side dish for any occasion. With its creamy, garlicky, and savory flavors, it is sure to please everyone at the dinner table.
Recipe: scalloped potatoes
Gyros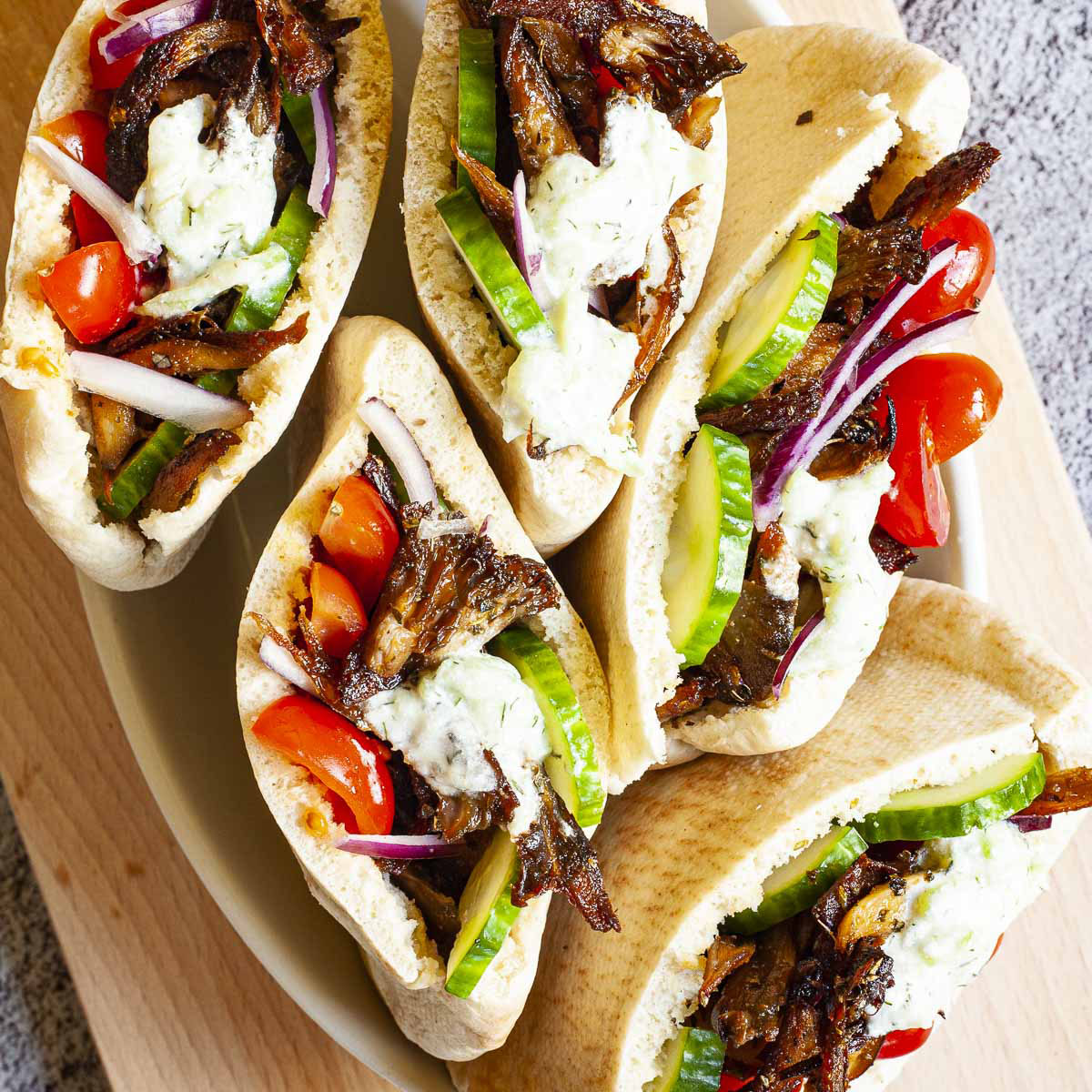 These gyros made with shredded oyster mushrooms have the perfect texture and taste, making them the best option for a filling meal. The crispy vegan gyro meat pairs well with fresh vegetables and homemade tzatziki sauce, all wrapped up in a pita pocket.
Recipe: gyros
Big Mac Style Meatless Burger
Why is it the meatiest meatless burger? Because it has a chewy, ground beef-like texture (thank you TVP), and it does not taste like veggies at all.
Recipe: burger
French Onion Dip
This homemade French onion dip is a perfect party appetizer or savory snack to munch on in between meals. It is sour cream based, easy to make, with less than 10 ingredients and delicious.
Recipe: french onion dip
Grilled Vegetable Kabobs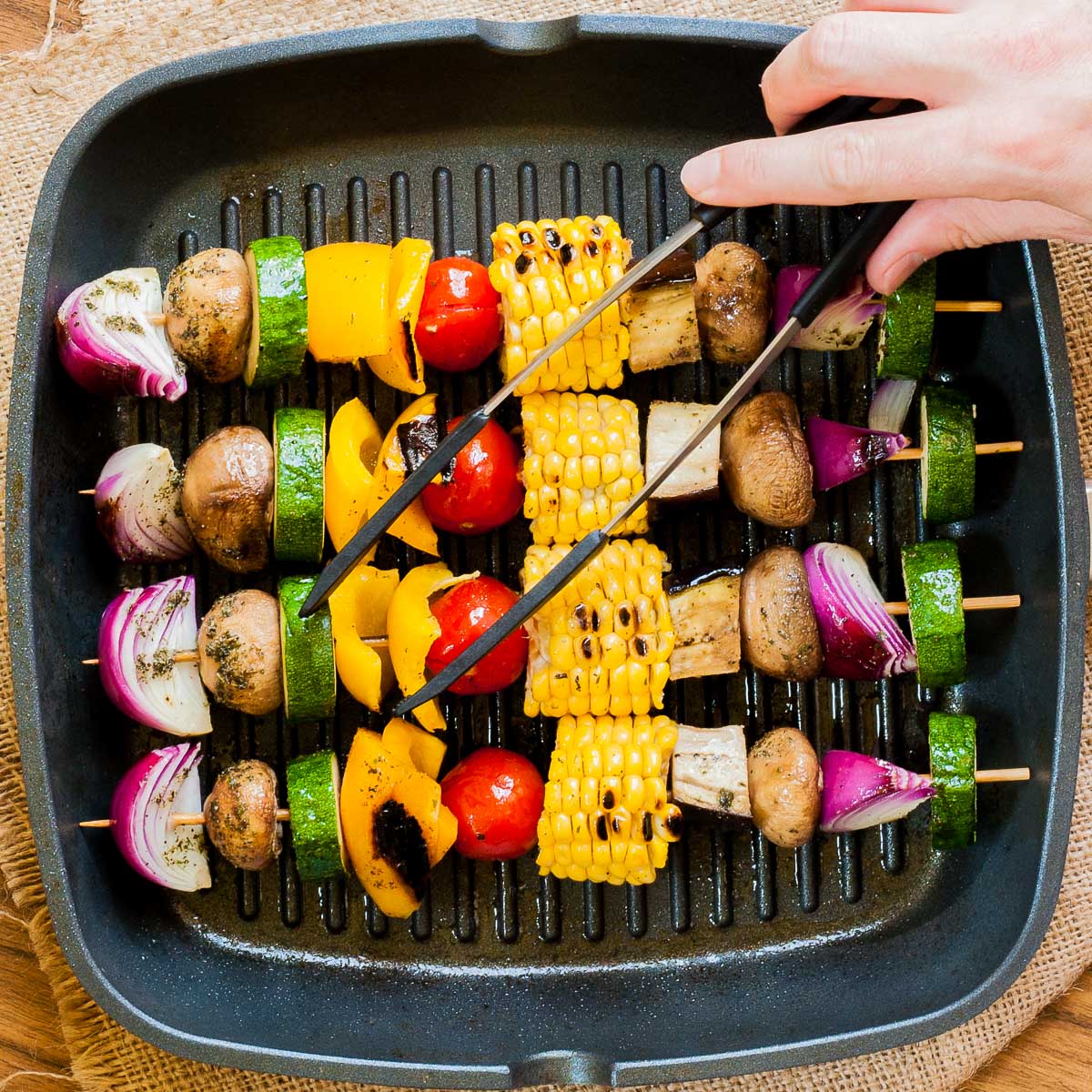 These vegetable kabobs are not only colorful but also incredibly flavorful. They are perfect for grilling and make a great side dish for any BBQ or party. With 3 different ways to make them and 5 delicious marinades to choose from, they are sure to please everyone's taste buds.
Recipe: grilled vegetable kabobs
Watermelon Gazpacho
This watermelon soup is a cold, refreshing, and sweet-savory summer soup that is prepared in gazpacho style. It means blended raw without straining and serve chilled. This soup will surely cool you down on a hot summer day.
Recipe: watermelon gazpacho
Peanut Butter Pie with Oreo Crust
It is a very easy recipe with an amazing creamy texture, deep Peanut butter and Oreo flavours, and can be made in literally no-time. You will need only 5 basic ingredients you probably already have at home and no special equipment is needed, you don't even have to turn the oven on!
Recipe: no bake peanut butter pie
Panna Cotta
This panna cotta is a decadent, silky-smooth Italian dessert made without gelatin or dairy. With only a few simple ingredients, it is a quick and easy dessert that will impress your guests.
Recipe: panna cotta
Raspberry Lemonade Cheesecake
This No-bake Raspberry Lemonade cheesecake consists of a silky, ultra-creamy lemony cream cheese filling, tangy raspberry compote in a crunchy, sweet crust that is enhanced with freezed dried raspberries for the ultimate luxurious taste. Imagine raspberry lemonade in a cheesecake format!
Recipe: no bake cheesecake
Blueberry Pie with Lemon Crumble
This blueberry pie is a delicious combination of warm, sweet, and juicy blueberry filling topped with a crunchy, lemony crumble. It's a perfect dessert with a scoop of vanilla ice cream, and it's unnoticeably vegan and gluten-free.
Recipe: blueberry pie
Strawberry Cheesecake
No bake Strawberry Cheesecake with Graham cracker crust is one of the most popular desserts all around the world and no wonder why! It is phenomenal as the silky ultra-creamy cheese filling meets the fruity strawberry compote in the crunchy, sweet Graham cracker crust. This is an absolutely no-fuss Strawberry cheesecake recipe, no baking involved, no issue around the water bath, you do not even have to turn the oven on.
Recipe: no bake strawberry cheesecake
Bailey's Irish Cream Pie
Boasting a wonderful Oreo crust along with vanilla pudding mix, this Bailey's Irish Cream no bake pie is so good. It is an easy no bake dessert which tastes just as good as anything from a top bakery.
Recipe: baileys Irish cream pie
26 Big-Batch Dishes to Stock Your Freezer
15 Weekend Lunch Recipes on a Dime to Feed The Family
Europe's Finest 25 Recipes You May Not Even Know Of
25 Asian Foods You Absolutely Need to Make At Least Once
Skip The Dreaded Drive-Thru Line With These 15 Fast Food Copycat Recipes