Kick-start your after-school routine with these 23 quick family dinners that make midweek meals a breeze. From speedy skillet dishes and simple sheet pan meals to flavorful pasta creations and satisfying one-pot wonders, these recipes offer a variety of options to feed your hungry crew. Whether you're juggling homework, activities, or simply looking for stress-free family dinners, these recipes provide a range of flavors and textures that will keep everyone satisfied and on track. Embrace the ease of midweek cooking and enjoy these dishes that set the stage for quality family time around the table!
The Best Hearty Vegetable Stew
This hearty vegetable stew combines nutritious vegetables, herbs, red wine, and chocolate in one pot to create a rich, comforting, and filling dinner. It is packed with flavor and has an unforgettable aroma that will make your mouth water as soon as it starts to cook!
Recipe: vegetable stew
Hummus Quesadillas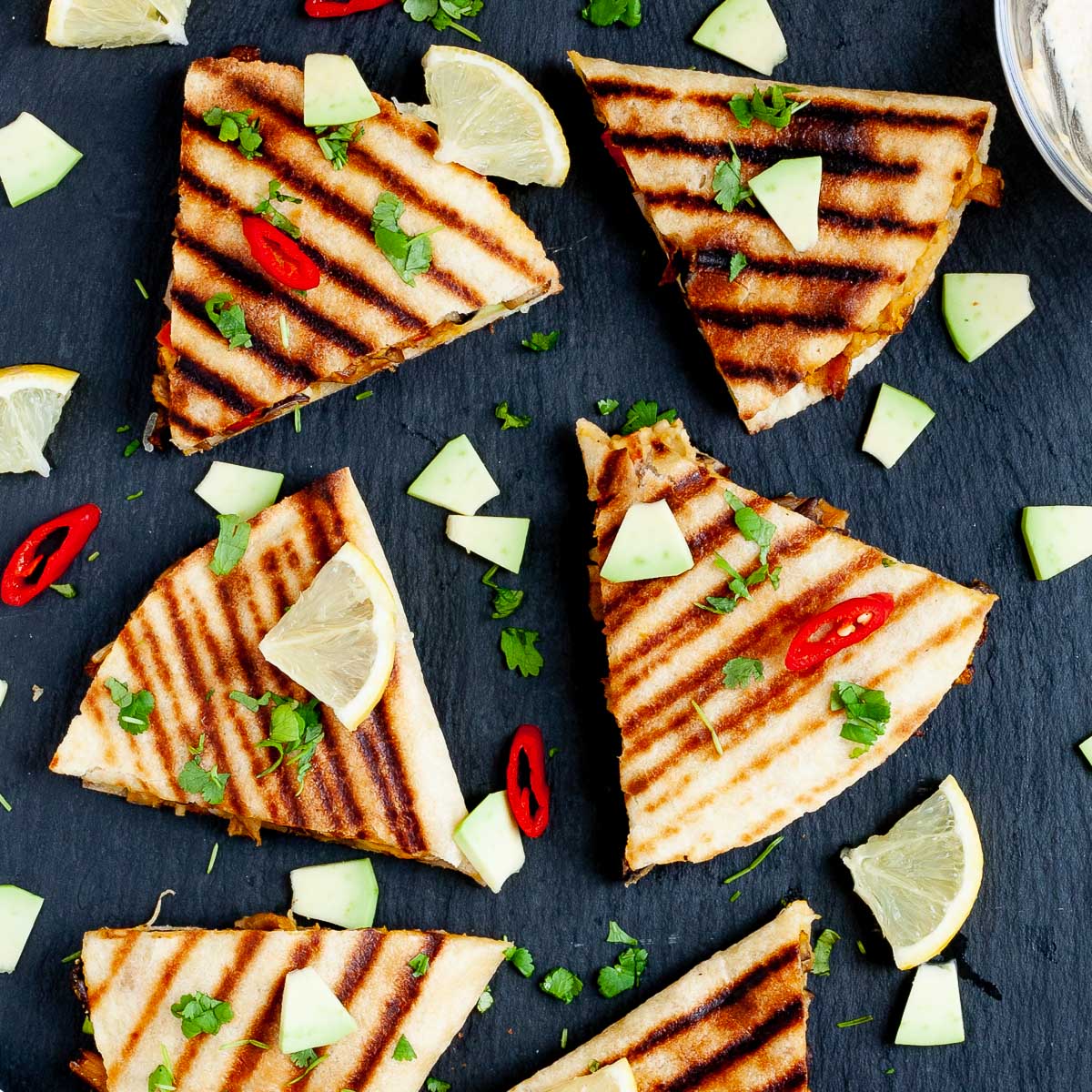 These hummus quesadillas are a delicious and healthy twist on a classic Mexican dish. Packed with flavorful veggies and beans, and bound together with creamy hummus instead of cheese, these quesadillas are a satisfying meal that will leave you feeling satisfied and nourished.
Recipe: hummus quesadillas
Meaty Whopper Style Burger
Ready in just 35 minutes, this juicy tofu burger is full of smoky flavors that taste just like something you would find in a Whopper, but without the meat!
Recipe: tofu burger
Ramen Spring Rolls
Rolled and ready in just under 30 minutes, these ramen spring rolls are sure to be a scrumptious addition to your next dinner party. Serve it up as an appetizer or snack and let your guests enjoy the savory flavors of bok choy, scallion, and wood ear mushroom, cooked in a spicy blend of sriracha and soy sauce!
Recipe: ramen spring rolls
Fajita Veggies
This fajita veggies recipe is easy to make and packed with flavor. Simply sauté onions and bell peppers, season with spices, and voila! Enjoy with your favorite protein and toppings for a delicious meal.
Recipe: fajita veggies
The Best Falafel Sandwich
Fresh lettuce leaves, sweet and tangy tahini sauce, and crispy falafel in pita bread are how to make the best falafel sandwich. We show you how easy it is to make this popular Middle Eastern vegetarian street food from scratch and from the comfort of your home.
Recipe: falafel sandwich
Tofu Bolognese
It is an easy recipe to make the classic Italian delight vegan. Our tofu bolognese is a 30-minute recipe that combines ingredients like rich tomato sauce, crumbled tofu, finely chopped veggies, and aromatic herbs and spices for a wholesome meal.
Recipe: tofu bolognese
Thai Green Curry Fried Rice
This Thai green curry fried rice is a mouth-watering and flavorful dish that makes great use of leftover rice. With a perfect blend of creamy, sweet, and citrusy flavors, it's an easy-to-make and delicious vegan recipe that can be ready in just 30 minutes.
Recipe: green curry fried rice
Copycat IKEA Veggie Balls
If you don't have an Ikea nearby, try our copycat Ikea veggie balls recipe. We added eight different vegetables, the same as in the original, with a tasty mix of spices and herbs to get the flavors just right.
Recipe: ikea veggie balls
Cauliflower Steak in 20 Mins
If you're looking for a new and exciting way to enjoy cauliflower, try making these cauliflower steaks. With their crispy exterior and tender interior, and seasoned to perfection, they make a perfect plant-based main dish or side that doesn't require an oven.
Recipe: cauliflower steak
Lentil Chickpea Curry
Lentil chickpea curry is a popular vegetarian dish that is as nutritious as it is delicious. Hearty and flavorful, this dish is easy to make. It combines lentils and chickpeas with a blend of aromatic spices to create a filling and satisfying meal that will leave you feeling nourished and satisfied.
Recipe: lentil chickpea curry
Spicy Tahini Miso Soba Noodles
If you are looking for the most delicious miso noodles recipe, this spicy tahini miso sauce will surely deliver. It is not only delicious, but it is also an easy, no-cook sauce that you can mix within 5 minutes. Soba noodles are the perfect candidate to elevate these flavors.
Recipe: miso soba noodles
Chicken-less Salad
Give our healthy chicken-less salad a try! It will take less than 20 minutes to make it. You'll love the mix of tender king oyster mushrooms in place of chicken, crunchy celery, and juicy apples, all doused in a creamy dressing. This hearty salad is packed with flavor, and we guarantee you won't be able to stop at just one helping.
Recipe: healthy chicken salad
Pad Woon Sen (Thai Glass Noodles Stir Fry)
This is a classic Pad Woon Sen recipe turned completely meatless. Silky Thai glass noodles in a sweet and salty sauce are stir-fried with carrots, cabbage, tomato, onion, and mung bean sprouts. For added protein, this recipe calls for tofu scramble and marinated oyster mushrooms.
Recipe: pad woon sen
Chipotle Black Bean Burger
This chipotle black bean burger recipe is a delicious and flavorful alternative to traditional burgers. Made with black beans, adobo sauce, and spices such as cumin and smoked paprika, these patties are perfect for grilling or frying and are sure to be a hit with vegans and meat-lovers alike!
Recipe: chipotle black bean burger
Sushi Spring Rolls
Whether you are preparing for an office potluck or hosting friends and family at home, these delicious sushi spring rolls are sure to impress. You can create mouthwatering rolls featuring aromatic, teriyaki tofu, creamy avocado, and crunchy cucumber.
Recipe: sushi spring rolls
Vegan Philly Cheesesteak
To make the best vegan Philly cheesesteak you should pan-fry shredded oyster mushrooms (not cut, but torn apart). They will have the perfect beefy texture and taste. Fill your hoagie roll with a generous amount of mushroom cheesesteak and vegan cheese.
Recipe: vegan Philly cheesesteak
Sushi without Fish
If you thought sushi without fish or seafood was impossible, think again! Not only is it possible, but it is incredibly delicious. This easy sushi rolls recipe takes you step-by-step through how to prepare colorful and flavorful maki sushi in your own kitchen in just an hour!
Recipe: sushi without fish
Tom Yum Fried Rice
Easy to make and packed with flavor and aroma, Tom Yum fried rice is best summed up in one word: Unforgettable. In this simple, easy-to-follow recipe, you'll learn how to make an all-veggie version from the comfort of your own kitchen. The best part? It takes less than 22 minutes to prepare!
Recipe: tom yum fried rice
Smoked Tofu Sushi Rolls
This tofu sushi recipe combines smoked tofu, veggies, and a sriracha mayo to make delicious maki sushi rolls the entire family will love. You do not need to be a professional sushi chef to whip up this recipe.
Recipe: tofu sushi rolls
Big Mac Style Burger
Why is it the meatless beef burger? Because it has a chewy, ground beef-like texture (thank you TVP), and it does not taste like veggies at all.
Recipe: tvp burger
Chipotle Veggie Bowl
This Chipotle-inspired veggie bowl is a tasty and healthy option for a satisfying meal. Filled with fajita veggies, black beans, cilantro brown rice, and tomato and corn salsa, this vegan burrito bowl is completed with crispy fried tofu crumbles in a hot spicy chili sauce known as Sofritas.
Recipe: chipotle veggie bowl
Tikka Masala Sandwich
Veggien strips made of marinated oyster mushrooms smothered in a creamy, rich tikka masala sauce are the perfect filling to make a juicy vegan chicken sandwich. Grab a bun and a handful of fresh salad greens and indulge in a flavorful and satisfying vegan take on a classic dish.
Recipe: chicken sandwich
26 Big-Batch Dishes to Stock Your Freezer
15 Weekend Lunch Recipes on a Dime to Feed The Family
Europe's Finest 25 Recipes You May Not Even Know Of
25 Asian Foods You Absolutely Need to Make At Least Once
Skip The Dreaded Drive-Thru Line With These 15 Fast Food Copycat Recipes