Indulge in the bold and flavorful world of Tex-Mex cuisine with these 20 irresistible dishes that you absolutely need to try before you die. From mouthwatering tacos and cheesy enchiladas to spicy chili con carne and zesty guacamole, these recipes showcase the rich and satisfying flavors of Tex-Mex cooking. Whether you're a die-hard fan of Mexican-American fusion or just looking for dishes that pack a punch, these offerings provide a wide range of tastes and textures that will leave you craving for more. Embrace the Tex-Mex spirit and savor these recipes that are a true celebration of this beloved culinary tradition!
Cheesy Mexican Taco Casserole
This Cheesy Mexican Low Carb Taco Casserole is made with low carb flour tortillas, ground beef, taco seasoning, riced cauliflower, and lots of cheese! It is a comforting and hearty low carb recipe that is sure to fill your belly!
Recipe: taco casserole
Mexican Butternut Squash Enchiladas
Mexican Butternut Squash Enchiladas are a flavorful and satisfying dish that combines the sweetness of roasted butternut squash with the boldness of Mexican spices, wrapped in tortillas and topped with a tangy sauce. The creamy filling and vibrant flavors make these enchiladas a delicious and comforting option for a vegetarian or vegan meal.
Recipe: Mexican Enchiladas
Taco Soup with White Beans
Satisfy your cravings with this quick and easy taco soup. Ready in just 20 minutes, this delicious soup is bursting with taco flavors and perfect for a cozy night in. Top it off with some tortilla chips, avocado slices, and sour cream for an extra kick of flavor.
Recipe: taco soup
Copycat Chipotle Veggie Bowl
This Chipotle-inspired veggie bowl is a tasty and healthy option for a satisfying meal. Filled with fajita veggies, black beans, cilantro brown rice, and tomato and corn salsa, this burrito bowl is completed with crispy fried tofu crumbles in a hot spicy chili sauce known as the famous Sofritas.
Recipe: chipotle veggie bowl
Fish Taco Grain Bowl
Take your favorite fish taco recipe and put it into a bowl. This Fish Taco Grain Bowl is layered with quinoa, flaky white fish, red cabbage, avocado, and tomatoes. It's hearty, satisfying and oh so healthy.
Recipe: fish taco grain bowl
Cheeseless Queso Dip
Indulge in a guilt-free snack with our delicious queso dip made from a veggie-based cheese sauce that is both creamy and healthy. Say goodbye to processed dips and hello to a satisfying snack ready in just 20 minutes!
Recipe: queso dip
Mexican Rice Casserole
This is one of the quickest and easiest Mexican-style vegan rice casserole recipes with lots of black beans and sweet corn in a spicy tomato-based sauce. You can make it in 30 minutes.
Recipe: Mexican rice casserole
Cheesy Ground Turkey Taco Skillet
This ground turkey taco skillet has so much going for it! It's incredibly tasty – we've got classic taco flavors, a healthy dose of cheese, and even a few veggies thrown in there, plus it's ready in just 15 minutes, making this easy taco skillet dinner a great weeknight dinner option.
Recipe: skillet turkey taco
Sheet Pan Portobello Fajitas
The sizzling combination of bell pepper, onion, and portobello mushroom strips in these meatless fajitas is truly mouthwatering. Paired with guacamole, salsa, black beans, and sour cream, this dish is quick and easy to make and sure to be a crowd-pleaser.
Recipe: sheet pan portobello fajitas
Spicy Lentil Mushroom Tacos
These tacos offer a mouthwatering twist on traditional ones with a hearty and flavorful filling. The combination of protein-rich lentils, savory mushrooms, and a kick of spice creates a satisfying plant-based meal that's sure to please taco lovers.
Recipe: spicy lentil tacos
Taco Cake
Taco Cake! Layers upon layers of crispy tortillas, seasoned meat, black beans, corn, spinach, and cheese! Like Mexican Lasagna but bette
Recipe: taco cake
Crispy Oyster Mushroom Tacos
Looking for a meatless taco alternative? Look no further than this Oyster Mushroom Tacos recipe. These mushrooms have a meat-like texture and are packed with flavor, making them the perfect for Tex-Mex night.
Recipe: mushroom tacos
Mexican Sweet Potato Rice Bowl
This flavorful vegan Mexican Rice Bowl recipe swaps traditional rice for fajita-spiced riced sweet potato, complemented by a colorful mix of fajita veggies, guacamole, black beans, and tomato corn salsa. Learn how to make this delicious and healthy dish that's perfect for any occasion!
Recipe: mexican sweet potato rice bowl
Hummus Quesadillas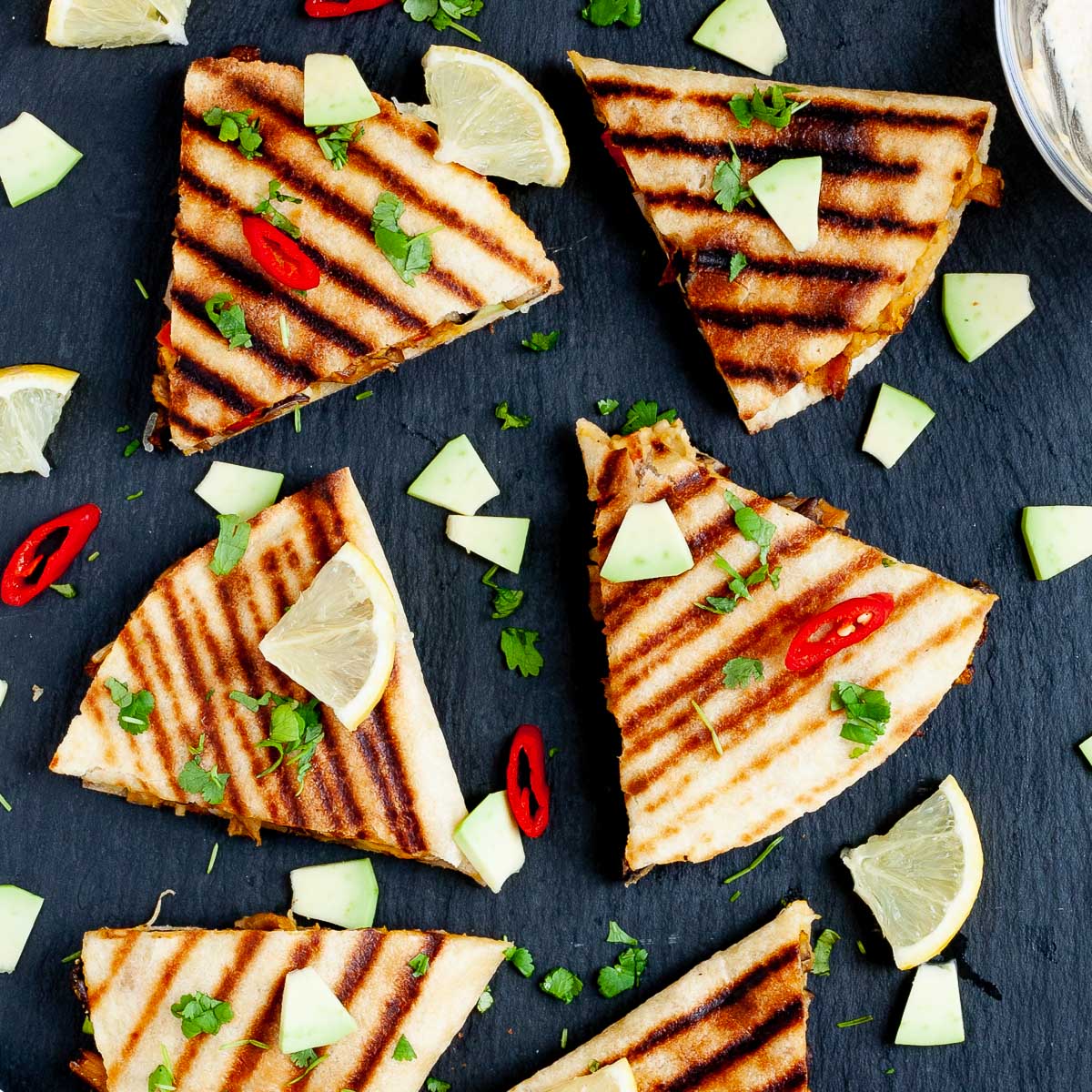 These hummus quesadillas are a delicious and healthy twist on a classic Mexican dish. Packed with flavorful veggies and beans, and bound together with creamy hummus instead of cheese, these quesadillas are a satisfying meal that will leave you feeling satisfied and nourished.
Recipe: hummus quesadillas
Sheet Pan Fajita Veggies
With this simple and convenient recipe, you can easily make fajita veggies that are bursting with flavor. Just bake a variety of vegetables in the oven on a sheet pan, and in no time you'll have delicious and healthy fajita ingredients.
Recipe: fajitas veggies
Copycat Chipotle Fajita Veggies
This fajita veggies recipe is easy to make and packed with flavor. Simply sauté onions and bell peppers, season with spices, and voila! Enjoy with your favorite protein and toppings for a delicious meal.
Recipe: fajita veggies
Chili with Beans and Millet
This chili recipe is packed with flavor and wholesome ingredients like vegetables, legumes, and grains. It's a satisfying and hearty dish that's both easy to make and good for you.
Recipe: chili
Creamy Tortilla Soup
Our Creamy Tortilla Soup is a comforting bowl of goodness, filled with layers of rich flavors and a velvety texture. The combination of hearty vegetables, aromatic spices, and a creamy base creates a soup that is both satisfying and indulgent.
Recipe: tortilla soup
Copycat Chipotle Veggie Burrito
This veggie burrito recipe is a Chipotle lover's dream, with nine different ingredients including cilantro lime rice, fajita veggies, and the famous Sofritas. Easy to make at home, this burrito is sure to satisfy your cravings for a flavorful and filling meal.
Recipe: chipotle veggie burrito
Cauliflower Tacos
Cauliflower tacos offer a creative and vegetarian-friendly twist on the beloved Mexican dish. These tacos are still packed with flavor, thanks to the crispy texture of the cauliflower, zesty toppings, and a squeeze of lime, providing a delightful and satisfying culinary experience.
Recipe: cauliflower tacos
26 Big-Batch Dishes to Stock Your Freezer
15 Weekend Lunch Recipes on a Dime to Feed The Family
Europe's Finest 25 Recipes You May Not Even Know Of
25 Asian Foods You Absolutely Need to Make At Least Once
Skip The Dreaded Drive-Thru Line With These 15 Fast Food Copycat Recipes