When you're struck by hunger and need a satisfying meal in a hurry, turn to our collection of 17 easy and quick dinner ideas. These recipes are designed to save the day when time is of the essence. From speedy stir-fries and one-pot wonders to simple pasta dishes and no-fuss salads, these dishes are your go-to solutions for quick, delicious dinners that won't leave you waiting around. So, keep these ideas in your culinary arsenal for those moments when hunger strikes and you need a tasty and speedy dinner on the table.
Mac and Cheese
Looking for a healthy and delicious mac and cheese recipe? Look no further than this creamy sauce that's ready in just 20 minutes!
Recipe: mac and cheese
Tom Yum Fried Rice
Easy to make and packed with flavor and aroma, Tom Yum fried rice is best summed up in one word: Unforgettable. In this simple, easy-to-follow recipe, you'll learn how to make an all-veggie version from the comfort of your own kitchen. The best part? It takes less than 22 minutes to prepare!
Recipe: tom yum fried rice
Lentil Chickpea Curry
Lentil chickpea curry is a popular vegetarian dish that is as nutritious as it is delicious. Hearty and flavorful, this dish is easy to make. It combines lentils and chickpeas with a blend of aromatic spices to create a filling and satisfying meal that will leave you feeling nourished and satisfied.
Recipe: lentil chickpea curry
Fajita Veggies
This fajita veggies recipe is easy to make and packed with flavor. Simply sauté onions and bell peppers, season with spices, and voila! Enjoy with your favorite protein and toppings for a delicious meal.
Recipe: fajita veggies
Green Pesto Pasta
Indulge in the deliciousness of this green pesto pasta that's bursting with flavors of freshly made basil pesto, juicy cherry tomatoes, and a sprinkle of parmesan. It's a quick and easy meal that's perfect for any time of the day.
Recipe: pesto pasta
Corn Chowder
This Corn Chowder recipe is a special one as it features pan-seared corn kernels and a deglazed pan, resulting in an oil-free soup. The soup is thickened with potatoes making it a delicious and healthy option.
Recipe: Corn Chowder
Alfredo Sauce in 15 minutes
Enjoy a healthy and quick meal with our 5-ingredient alfredo sauce recipe. Creamy, delicious, and ready in just 15 minutes, it's the perfect solution for a fast and easy dinner.
Recipe: alfredo sauce
Tikka Masala
This tikka masala recipe offers a quick and easy way to enjoy a flavorful tomato-based curry sauce that's creamy and aromatic. It can be paired with your choice of ingredients, such as meat, mushrooms, cauliflower, tofu, or chickpeas, to create a delicious and satisfying meal.
Recipe: tikka masala
Lemon Pepper Pasta with Asparagus
This lemon pepper pasta is a simple yet delicious dish that can be made in just 15 minutes with only 5 ingredients. The addition of asparagus makes it a refreshing and satisfying meal.
Recipe: lemon pepper pasta
Taco Soup
Satisfy your cravings with this quick and easy taco soup, complete with the meatiest meatless taco meat. Ready in just 20 minutes, this delicious soup is bursting with taco flavors and perfect for a cozy night in. Top it off with some tortilla chips, avocado slices, and vegan sour cream for an extra kick of flavor.
Recipe: taco soup
Black Bean Burger
This delicious black bean burger from our cookbook is perfect for a quick meal that does not skimp on flavor. With a hearty 5-ingredient black bean patty, fresh lettuce and tomato, and a spicy mayo sauce, this burger will satisfy even the most discerning taste buds. Perfect for those who crave veggie burgers, even on busy weeknights.
Recipe: black bean burger
Cauliflower Steak in 20 Mins
If you're looking for a new and exciting way to enjoy cauliflower, try making these cauliflower steaks. With their crispy exterior and tender interior, and seasoned to perfection, they make a perfect main dish or side that doesn't require an oven.
Recipe: cauliflower steak
Crispy Oyster Mushroom Tacos
Looking for a meatless taco alternative? Look no further than this Oyster Mushroom Tacos recipe. These mushrooms have a meat-like texture and are packed with flavor, making them the perfect substitute for meat strips.
Recipe: mushroom tacos
Quick Broccoli Lentil Stir Fry
This lentil stir-fry recipe is the perfect solution for a quick, easy and healthy meal. With tender lentils, crunchy broccoli florets, and sweet corn, it comes together in just 20 minutes, and is served with flavorful turmeric rice.
Recipe: broccoli lentil stir fry
Hummus Quesadillas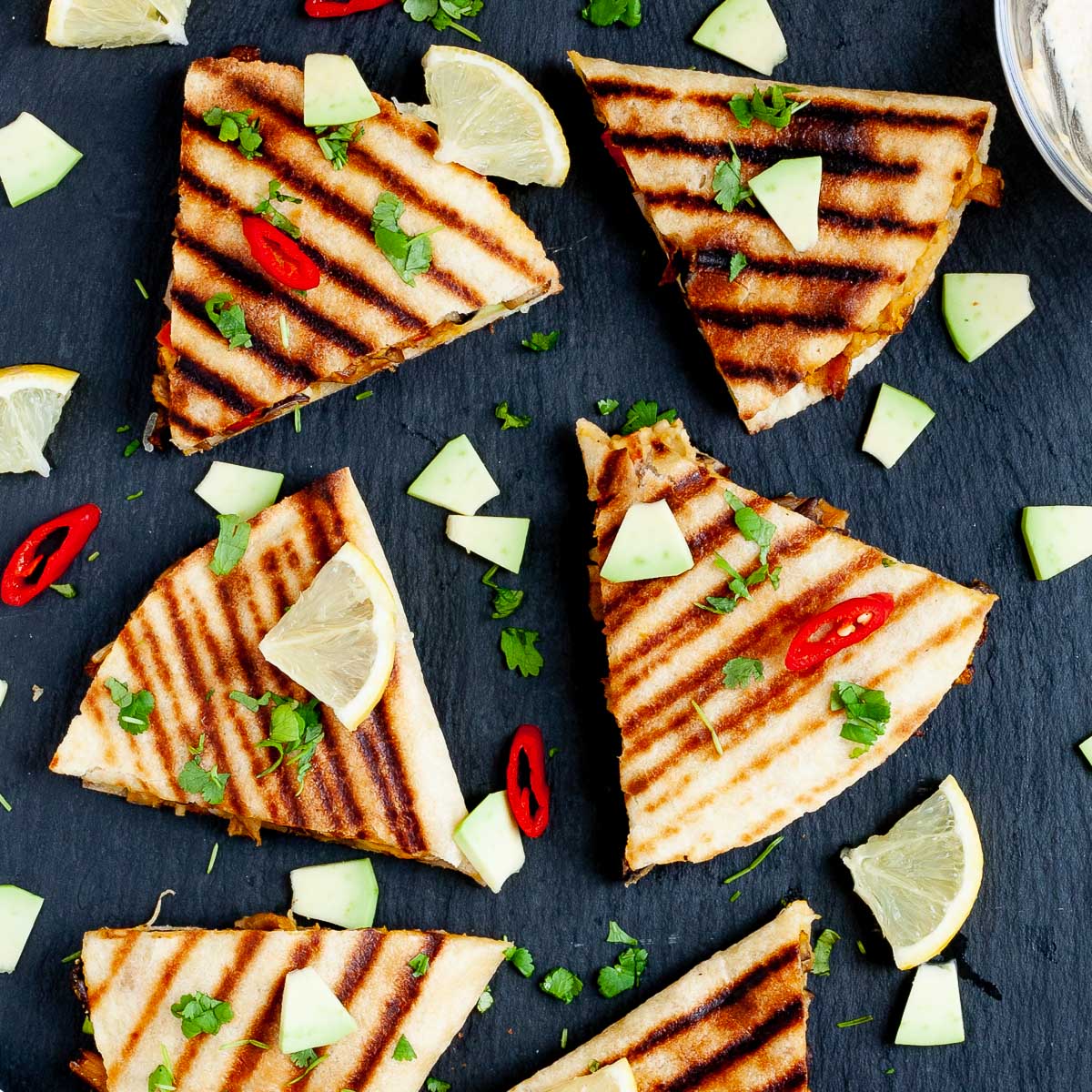 These hummus quesadillas are a delicious and healthy twist on a classic Mexican dish. Packed with flavorful veggies and beans, and bound together with creamy hummus instead of cheese, these quesadillas are a satisfying meal that will leave you feeling satisfied and nourished.
Recipe: hummus quesadillas
Authentic Lecsó (Hungarian Pepper Stew)
Lecsó is sort of the Hungarian version of the French ratatouille. It is a super easy tomato and pepper stew you can stir up in one pot within 30 minutes. If you would like to eat Lecsó exactly how Hungarians eat it, you should try this recipe.
Recipe: lecso
Sun-Dried Tomato Pesto
This sun-dried tomato pesto with rosemary is a flavor-packed condiment that can add a tasty twist to your meals. Use it as a spread on sandwiches, a dip for veggies, or a sauce for pasta to enjoy the delicious taste of sun-dried tomatoes and aromatic rosemary.
Recipe: sun-dried tomato pesto
26 Big-Batch Dishes to Stock Your Freezer
15 Weekend Lunch Recipes on a Dime to Feed The Family
Europe's Finest 25 Recipes You May Not Even Know Of
25 Asian Foods You Absolutely Need to Make At Least Once
Skip The Dreaded Drive-Thru Line With These 15 Fast Food Copycat Recipes