Get ready to elevate your July 4th celebration to new heights with these 17 surprising recipes that bring a twist to traditional dishes. Break free from the usual fare and ignite your taste buds with exciting flavors and unexpected combinations. From innovative appetizers to mouthwatering mains and delectable desserts, these recipes will add an extra dose of excitement and make your July 4th feast a truly unforgettable experience.
Vegan Beet Burger
With just 7 simple and easy-to-find ingredients, this vegan beet burger recipe is perfect for those who want to experience the juicy, flavorful, and downright irresistible taste of this crowd-pleaser. Get your hands on some beets, cannellini beans, and oats, and trust us, this vegan burger will leave you feeling happy, satisfied, and wanting more!
Recipe: vegan beet burger
Falafel Gyros with Tzatziki
Make a delicious Greek-style falafel gyro with crispy homemade falafel balls, paired with chilled, tangy tzatziki salad, as well as some sweet tomatoes and piquant purple onion. Served it with pita bread for a perfect and easy lunch or dinner.
Recipe: falafel gyros
Pesto Vegetables
Experience the delightful combination of vegetables and aromatic pesto sauce in our pesto vegetables recipe. This culinary fusion is sure to satisfy. Prepare to savor the vibrant flavors and enticing aromas as roasted veggies are perfectly paired with a flavorful pesto sauce!
Recipe: pesto vegetables
Mediterranean Grazing Board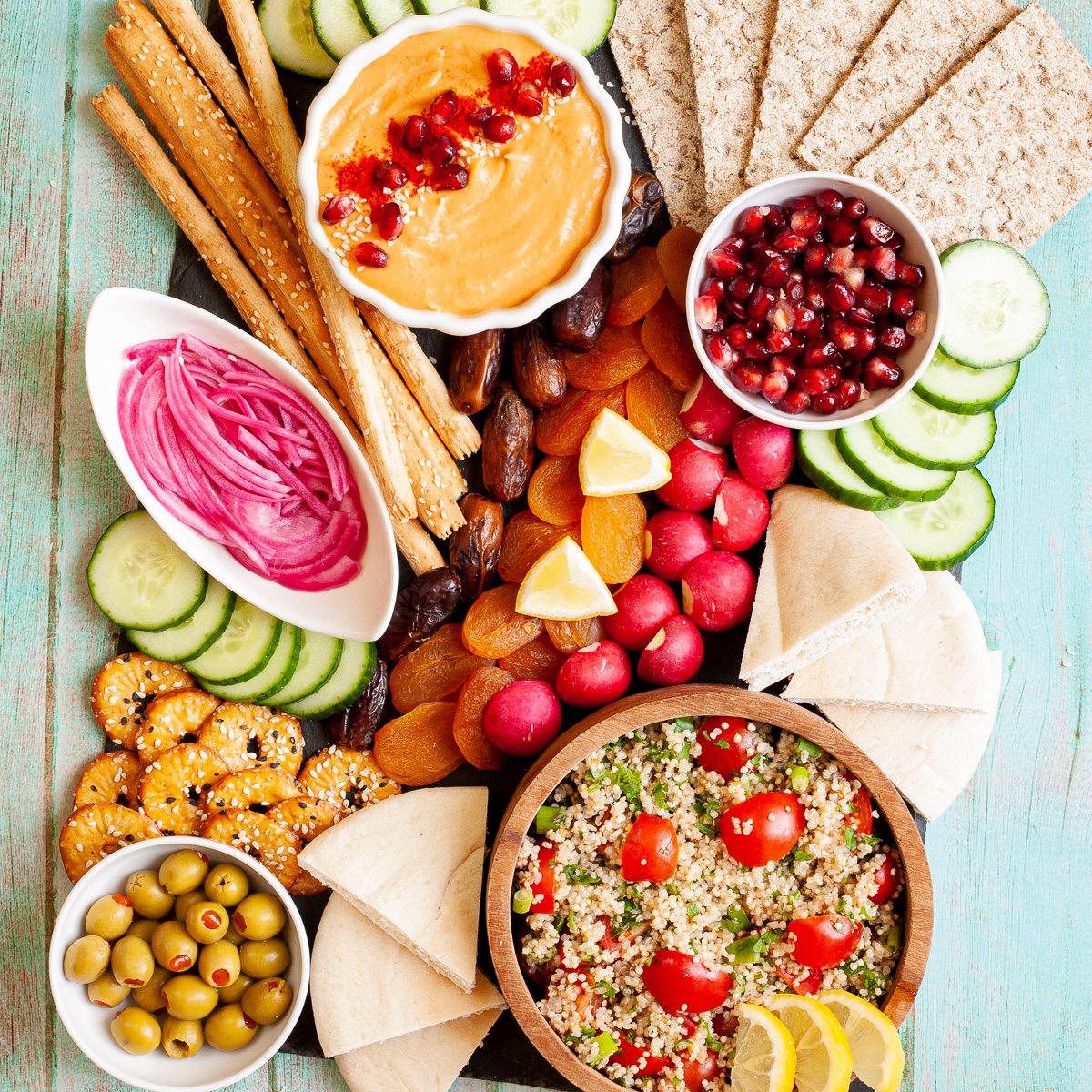 A grazing board is the perfect combination of aesthetics and taste. With a variety of dips, crunchy breadsticks, pickled onions, and soft pita bread, it's a delicious Mediterranean feast that's perfect for sharing with family and friends.
Recipe: Mediterranean Grazing Board
Mushroom Meatballs
These vegan mushroom meatballs are bursting with flavor and easy to make. Spices and cooked rice keep the mushrooms moist, resulting in a delicious and unforgettable vegetarian meal.
Recipe: vegan mushroom meatballs
Buffalo Cauliflower
Tender on the inside and crispy on the outside, this vegan buffalo cauliflower is a mouthwatering addition to your game-day appetizer or dinner table. We use cauliflower florets to mimic the texture of traditional buffalo wings and then toss them in a finger-licking, sweet, spicy buffalo sauce. Whether you use it as a starter or your main course, you will crave more after the first bite!
Recipe: buffalo cauliflower
Portobello Mushroom Burger
This vegan portobello mushroom burger is piquant and scrumptious at the same time. Grilled portobello mushroom caps are seasoned with a fajita spice mix, then layered among guacamole, salsa, vegan nacho cheese sauce, and spicy fajita veggies.
Recipe: vegan portobello mushroom burger
Tofu Steak with Chimichurri Sauce
A perfect tofu steak is a flavorful and satisfying dish that is crispy on the outside and moist on the inside. It is seasoned with a spicy, smoked steak marinade and grilled to perfection, resulting in charcoaled stripes.
Recipe: tofu steak
Vegan Buffalo Chicken Dip
Learn how to make a creamy, cheesy, vegan cream cheese sauce that's both soy and nut-free using cannellini beans. Pair it with oyster mushrooms for the perfect plant-based alternative to shredded chicken in your vegan buffalo chicken dip.
Recipe: vegan buffalo chicken dip
Eggplant Parmesan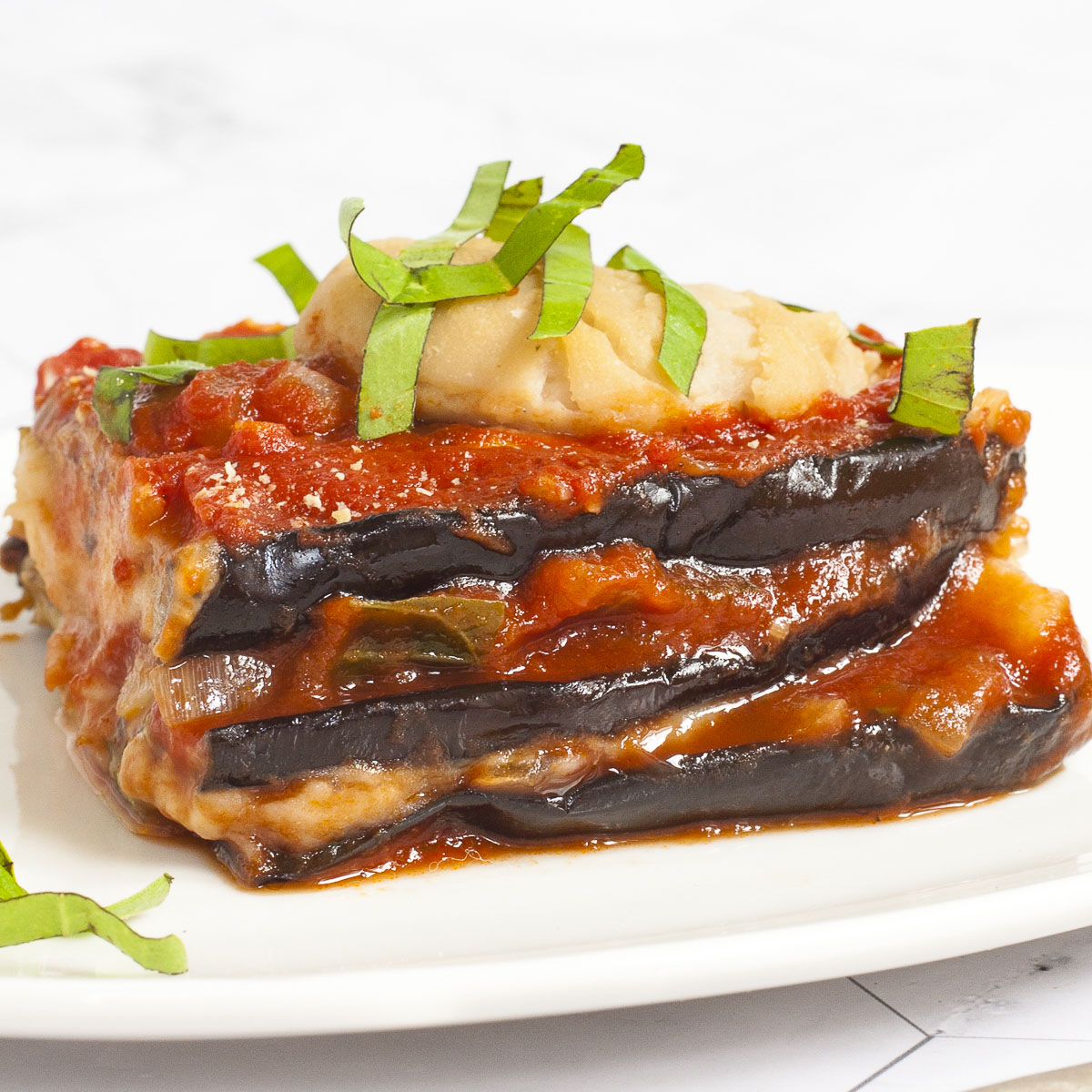 This vegan eggplant parmesan is a delicious and healthy alternative to the traditional Italian dish. With roasted eggplant and a hearty Pomodoro sauce topped with a creamy cannellini bean "cheese" sauce, you won't even miss the breadcrumbs.
Recipe: vegan eggplant parmesan
French Onion Dip
This homemade vegan French onion dip is a perfect party appetizer or savory snack to munch on in between meals. It is sour cream based, easy to make, with less than 10 ingredients and delicious.
Recipe: vegan french onion dip
Vegan Philly Cheesesteak
To make the best vegan Philly cheesesteak you should pan-fry shredded oyster mushrooms (not cut, but torn apart). They will have the perfect beefy texture and taste. Fill your hoagie roll with a generous amount of mushroom cheesesteak and vegan cheese.
Recipe: vegan Philly cheesesteak
BBQ Vegan Pulled Pork Burger
Shredded king oyster mushrooms make the best vegan pulled pork. Their meaty texture is way better to roast, grill, or fry than jackfruit. In 40 minutes, you can have this BBQ pulled mushroom burger with a vegan coleslaw.
Recipe: vegan pulled pork burger
Vegan Queso Dip
Indulge in a guilt-free snack with our delicious vegan queso dip made from a veggie-based cheese sauce that is both creamy and healthy. Say goodbye to processed dips and hello to a satisfying snack ready in just 20 minutes!
Recipe: vegan queso dip
Vegan Sausage
This delicious and flavorful vegan sausage recipe uses minced frozen tofu and a powerful blend of seasonings to create "meaty" sausages that your taste buds will not forget. Try these versatile sausages with veggies, on a sandwich, or over pasta with your favorite sauce for the perfect lunch or dinnertime meal with friends or family!
Recipe: vegan sausage
Jackfruit Stew
The best thing that can happen to canned young jackfruit is to turn it into a hearty and filling vegan beef stew. It is the perfect dinner recipe when you need a warm and steamy bowl of delicious vegan comfort food.
Recipe: jackfruit stew
Vegan Stew with Dumplings
This vegan stew with dumplings is a delicious and comforting dish that will warm you up on a cold night. The flavorful stew, loaded with veggies and lentils, is topped with tender and fluffy dumplings, making it a satisfying and wholesome meal.
Recipe: vegan stew with dumplings
Grilled Vegetable Napoleon
This grilled vegetable Napoleon is a showstopper with vibrant, char-grilled layers of veggies like eggplant, zucchini, bell pepper, portobello mushroom, and more. If you want a visually stunning and flavorful side dish, look no further. Served with aromatic basil pesto, it is stunning and flavorful.
Recipe: vegetable napoleon
Burgers, Stars, and Stripes: 18 Patriotic Creations for Independence Day
Cool Treats, No Oven Required: 13 Refreshing No-Bake Desserts for Hot Summer Days
Skip the Stove: 19 No-Cook Recipes that Are Not Just Salad