Game day is all about the excitement of football, and what's a football party without some delicious food to keep your energy up while you cheer for your favorite team? These 20 game day-ready football party food recipes are guaranteed to be crowd-pleasers. From classic favorites like buffalo wings and nachos to creative twists like loaded potato skins and pulled pork sliders, there's something here to satisfy every fan's appetite. So, invite your friends over, fire up the big screen, and get ready for a touchdown of flavors that will make your game day celebration a winner, no matter which team you're rooting for!
Roasted Asparagus and Mushrooms
Oven-roasted asparagus and mushrooms make a perfect pairing as a side dish, especially during the spring season. With their simple preparation and delightful taste, they are sure to complement any meal.
Recipe: roasted asparagus and mushrooms
Roasted Cauliflower
Roasted cauliflower gets a makeover with this delicious recipe. The mild spiciness of the roasted florets is perfectly complemented by a creamy lemon herb tahini sauce, making it a perfect side dish for any meal.
Recipe: roasted cauliflower
BBQ Vegan Chickpea Meatballs
These chickpea meatballs are a must-try for any food lover! Packed with flavorful spices, they are crispy on the outside, soft and tender on the inside, and perfect for serving as an appetizer or main dish.
Recipe: chickpea meatballs
Baked Chili Miso Tofu Bites
Transform tofu into a flavorful and crispy meal with our 8-ingredient chili miso tofu marinade. Tearing the tofu into uneven bite-size pieces gives this miso tofu a unique texture. The rough edges of the torn pieces will crisp up better in the oven, giving the tofu a more satisfying crunch.
Recipe: chili miso tofu bites
Cream Cheese Veggie Pinwheels
These Veggie Pinwheels with Cream Cheese are a quick and tasty appetizer that are always a hit at parties. The colorful vegetables, creamy cheese, and soft tortilla make for a satisfying and delicious bite.
Recipe: Veggie Pinwheels
Fried Rice Paper Chips
These crispy fried rice paper chips are a simple and delicious snack option that can be made in minutes. Whether fried in oil or microwaved, they puff up quickly and can be seasoned to your liking for a tasty and satisfying crunch.
Recipe: fried rice paper chips
Mediterranean Grazing Board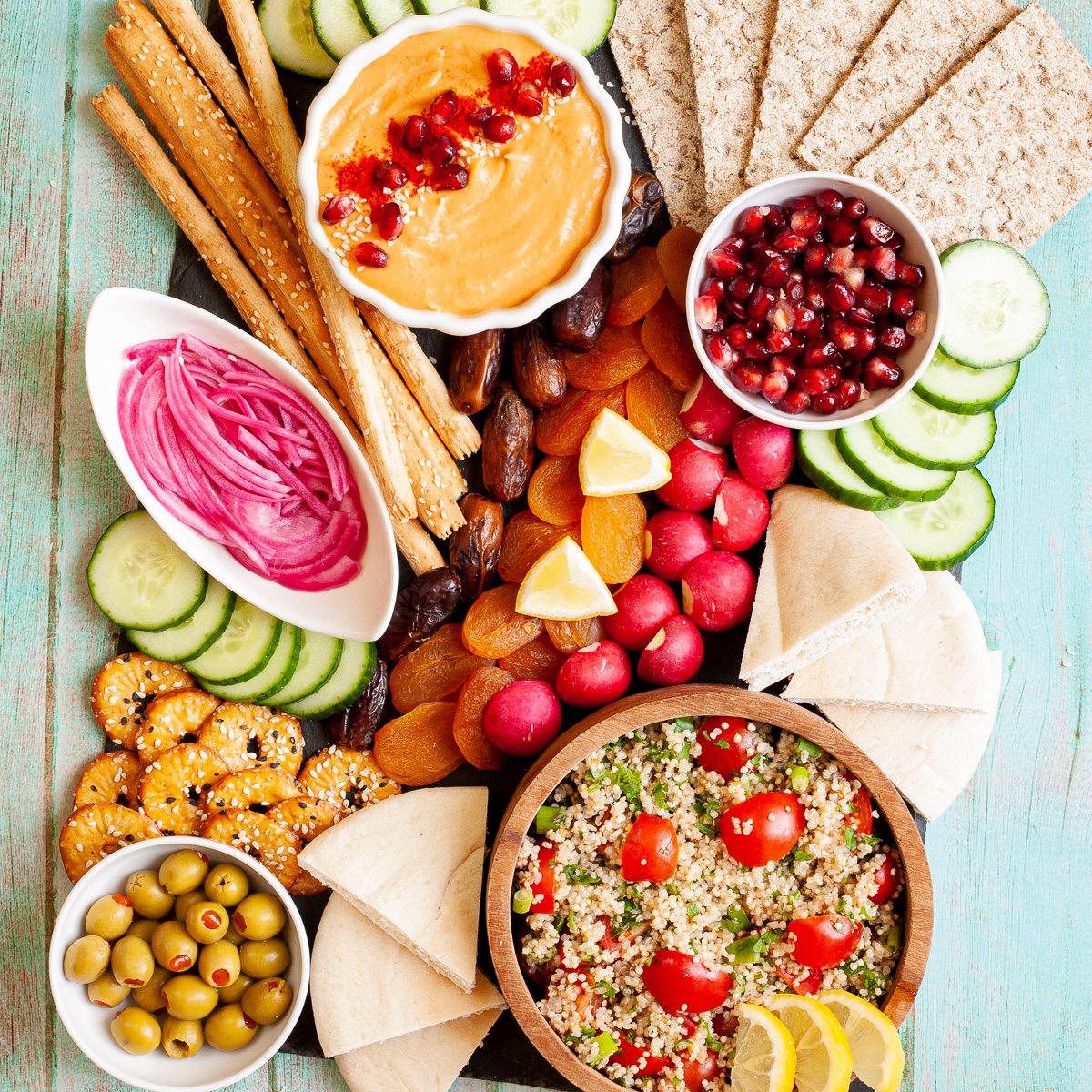 A grazing board is the perfect combination of aesthetics and taste. With a variety of dips, crunchy breadsticks, pickled onions, and soft pita bread, it's a delicious Mediterranean feast that's perfect for sharing with family and friends.
Recipe: Mediterranean Grazing Board
The Ultimate Falafel Platter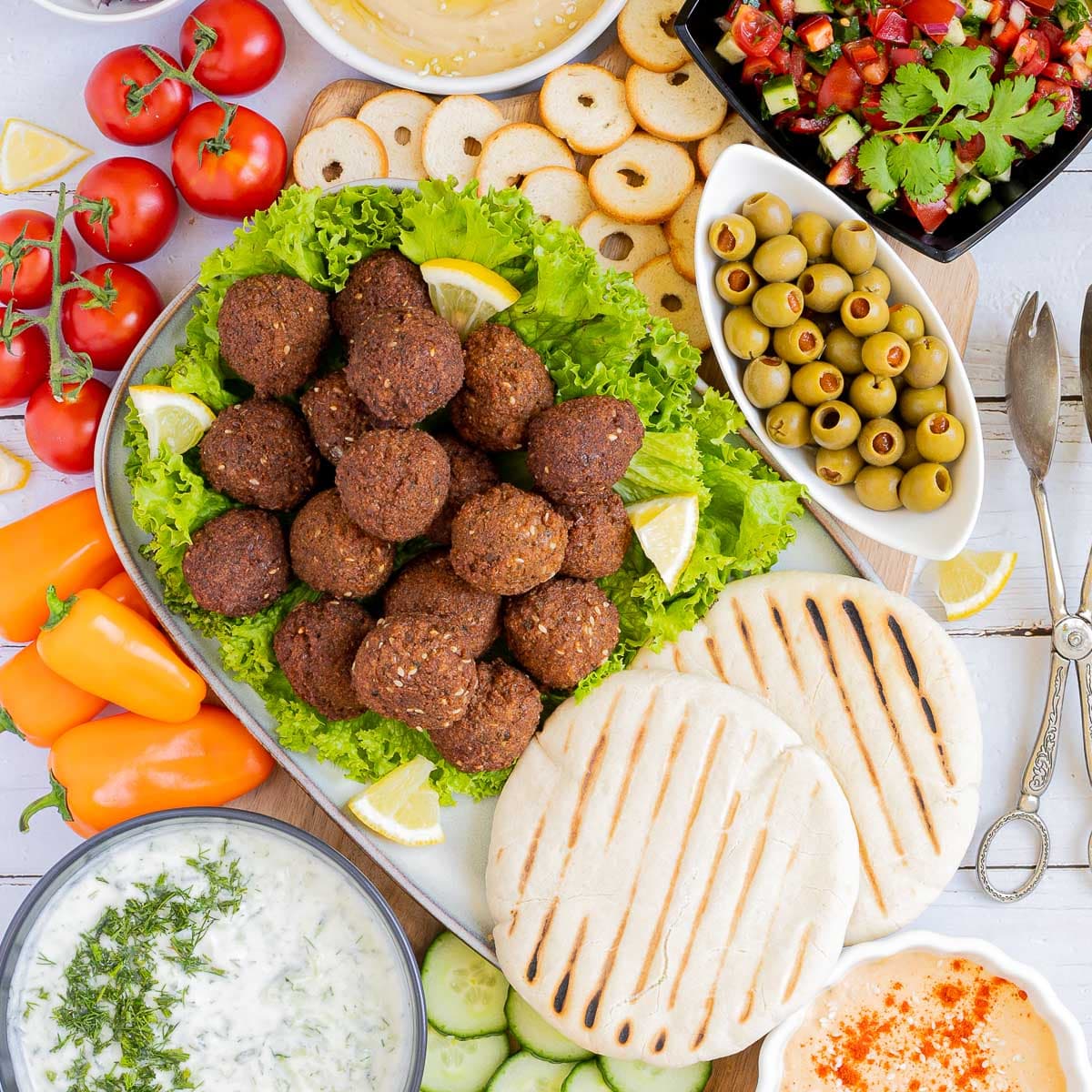 This colorful falafel platter is a feast for both the eyes and the taste buds. Crispy falafel, creamy tzatziki, and flavorful hummus are just some of the highlights of this Middle Eastern-inspired dish that is perfect for any occasion.
Recipe: falafel platter
Creamy Hummus
It is the smoothest and creamiest hummus that you can imagine. Ditch the olive oil for aquafaba. You will not regret it. Once, you taste this hummus, you will make it over and over again.
Recipe: hummus
Grilled Buffalo Tofu Skewers
Indulge in the bold and spicy flavors of buffalo tofu with a crispy caramelized crust that is sure to satisfy your cravings. Try pan-frying or grilling marinated tofu on skewers for an easy but flavorful dish that will leave you wanting more.
Recipe: buffalo tofu skewers
Avocado Spring Rolls
Try our avocado spring rolls for a delicious and easy-to-prepare summer snack or appetizer. They are freshly prepared with a mix of flavorful avocado mango salsa and vermicelli noodles to create a delightful combination of texture and flavor. So refreshing!
Recipe: avocado spring rolls
Copycat IKEA Veggie Balls
If you don't have an Ikea nearby, try our copycat Ikea veggie balls recipe. We added eight different vegetables, the same as in the original, with a tasty mix of spices and herbs to get the flavors just right.
Recipe: ikea veggie balls
Buffalo Chicken Dip
Learn how to make a creamy, cheesy, cream cheese sauce that's both soy and nut-free using cannellini beans. Pair it with oyster mushrooms for the perfect plant-based alternative to shredded chicken in your buffalo chicken dip.
Recipe: buffalo chicken dip
Buffalo Chicken Wings
Are you looking for the tastiest, and easiest Buffalo Wings? The chicken itself is only ONE ingredient! No vital wheat gluten or seitan or any other soy product is needed. It is hot and sticky on the outside, meaty on the inside.
Recipe: buffalo chicken wings
Egg Salad
This egg salad sandwich is a delicious and healthy alternative to traditional egg salad, made with tofu and cashews for a creamy and protein-packed filling. The recipe is made with whole foods, without any processed ingredients or high-fat mayo, making it a nutritious and satisfying brunch option.
Recipe: egg salad
French Onion Dip
This homemade French onion dip is a perfect party appetizer or savory snack to munch on in between meals. It is sour cream based, easy to make, with less than 10 ingredients and delicious.
Recipe: french onion dip
Nacho Cheese Sauce
Looking for a delicious and healthy cheese sauce for your nachos? Try our nut-free and oil-free nacho cheese sauce, made with nutritious ingredients for a creamy and delicious dip. Ready in just 20 minutes, this budget-friendly recipe is perfect for snacking and entertaining.
Recipe: nacho cheese sauce
Queso Dip
Indulge in a guilt-free snack with our delicious queso dip made from a veggie-based cheese sauce that is both creamy and healthy. Say goodbye to processed dips and hello to a satisfying snack ready in just 20 minutes!
Recipe: queso dip
Cheezy & Spicy Spinach Dip
This spinach dip is a creamy and flavorful dip that is perfect for any occasion. Made with whole food ingredients like veggies and spinach leaves, it's a healthier alternative to traditional cheesy dips.
Recipe: spinach dip
Roasted Eggplant Red Pepper Dip
This roasted eggplant and red pepper dip is a smoky, rich, flavorful dip. It is the combination of two popular Middle Eastern classics baba ganoush and muhammara. Serve it with vegetables or with sliced pita bread, but it is especially delicious added to a grilled cheese sandwich.
Recipe: veggie dip
26 Big-Batch Dishes to Stock Your Freezer
15 Weekend Lunch Recipes on a Dime to Feed The Family
Europe's Finest 25 Recipes You May Not Even Know Of
25 Asian Foods You Absolutely Need to Make At Least Once
Skip The Dreaded Drive-Thru Line With These 15 Fast Food Copycat Recipes