Potatoes are a versatile and beloved staple in many cuisines around the world, and they can be transformed into a wide array of delicious dishes. Whether you're craving a comforting bowl of mashed potatoes, crispy and golden fries, or something a bit more adventurous like potato gnocchi or a loaded baked potato casserole, these 24 potato recipes for dinner are sure to satisfy your spud-loving cravings. From simple and classic preparations to innovative and unique twists, there's something here for everyone to enjoy. So, get ready to indulge in the comforting goodness of potatoes with these mouthwatering recipes that you'll eat right up.
Sweet Potato Gnocchi
Making gnocchi is super easy, especially if you make them with sweet potatoes. No special ingredients are needed, only pantry staples.
Recipe: sweet potato gnocchi
Thai Green Curry Fried Rice
This Thai green curry fried rice is a mouth-watering and flavorful dish that makes great use of leftover rice. With a perfect blend of creamy, sweet, and citrusy flavors, it's an easy-to-make and delicious vegan recipe that can be ready in just 30 minutes.
Recipe: green curry fried rice
Roasted Broccoli Sweet Potato Soup
This creamy broccoli sweet potato soup is a perfect comfort food that is also healthy and easy to make. With the veggies roasted in the oven and blended together with ginger seasoning, this soup is a delicious way to enjoy a warm and hearty meal.
Recipe: broccoli sweet potato soup
Mexican Sweet Potato Rice Bowl
This flavorful Mexican Rice Bowl recipe swaps traditional rice for fajita-spiced sweet potato rice, complemented by a colorful mix of fajita veggies, guacamole, black beans, and tomato corn salsa. Learn how to make this delicious and healthy dish that's perfect for any occasion!
Recipe: mexican sweet potato rice bowl
Pot Roast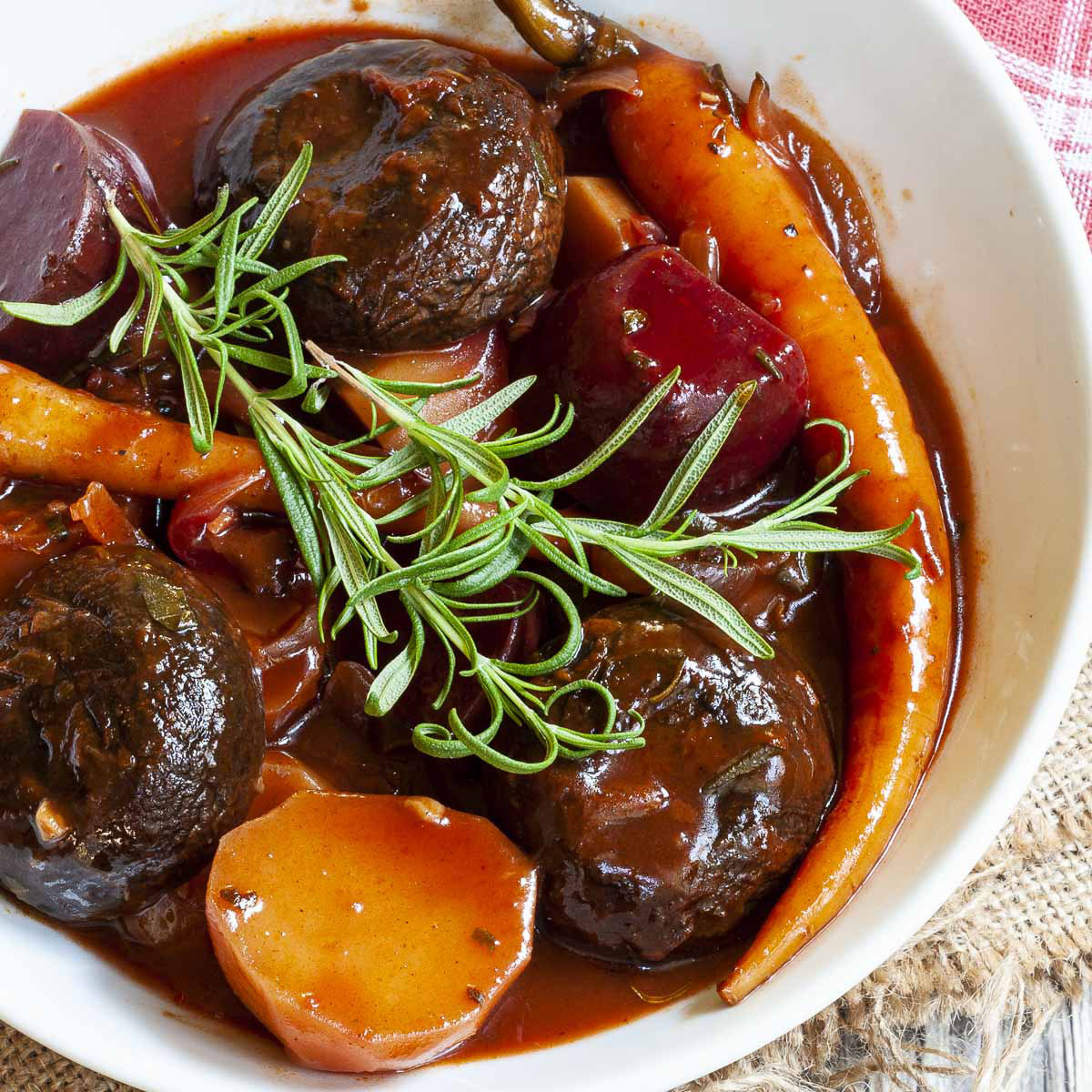 This pot roast is the perfect dish for those looking for a satisfying and flavorful one-pot dinner. With juicy portobello mushroom caps and an array of veggies stewed in a rich red wine gravy, it's a hearty and comforting meal that's also easy to make.
Recipe: pot roast
Roasted Pumpkin Sweet Potato Soup
If you are looking for the easiest Pumpkin and Sweet Potato Soup, this recipe will fit the bill completely. It is literally only 3 steps. Roast the veggies. Sauté the onion and boil the soup. Blend it until creamy. Seasoned with thyme it is a herby, refreshing cream soup.
Recipe: pumpkin sweet potato soup
Mediterranean Cabbage Sweet Potato Soup
This tomato-based soup with crunchy shredded cabbage and tender sweet potatoes is infused with Mediterranean flavors by adding fennel and celery and seasoned with lemon and tarragon. It's a refreshing and light option for those who love veggie-only soups.
Recipe: cabbage sweet potato soup
Rice Paper Samosa Rolls
These rice paper samosas are a healthier twist on the classic fried samosas, filled with a spicy and flavorful potato and pea mixture, and wrapped in a crispy rice paper wrapper. They are easy to make and sure to impress your guests at any gathering.
Recipe: samosas
Quinoa Sweet Potato Chili
This quinoa sweet potato chili is a perfect meatless and hearty meal that can be made in under 30 minutes. With a combination of quinoa, sweet potatoes, beans, and spices, this chili is flavorful, filling, and nutritious.
Recipe: quinoa sweet potato chili
Sweet Potato Tofu Curry
This sweet potato tofu curry recipe is a delicious and wholesome meal that's perfect for chilly nights. With its creamy texture and blend of exotic spices, it's sure to warm you up from the inside out.
Recipe: sweet potato tofu curry
Breakfast Hash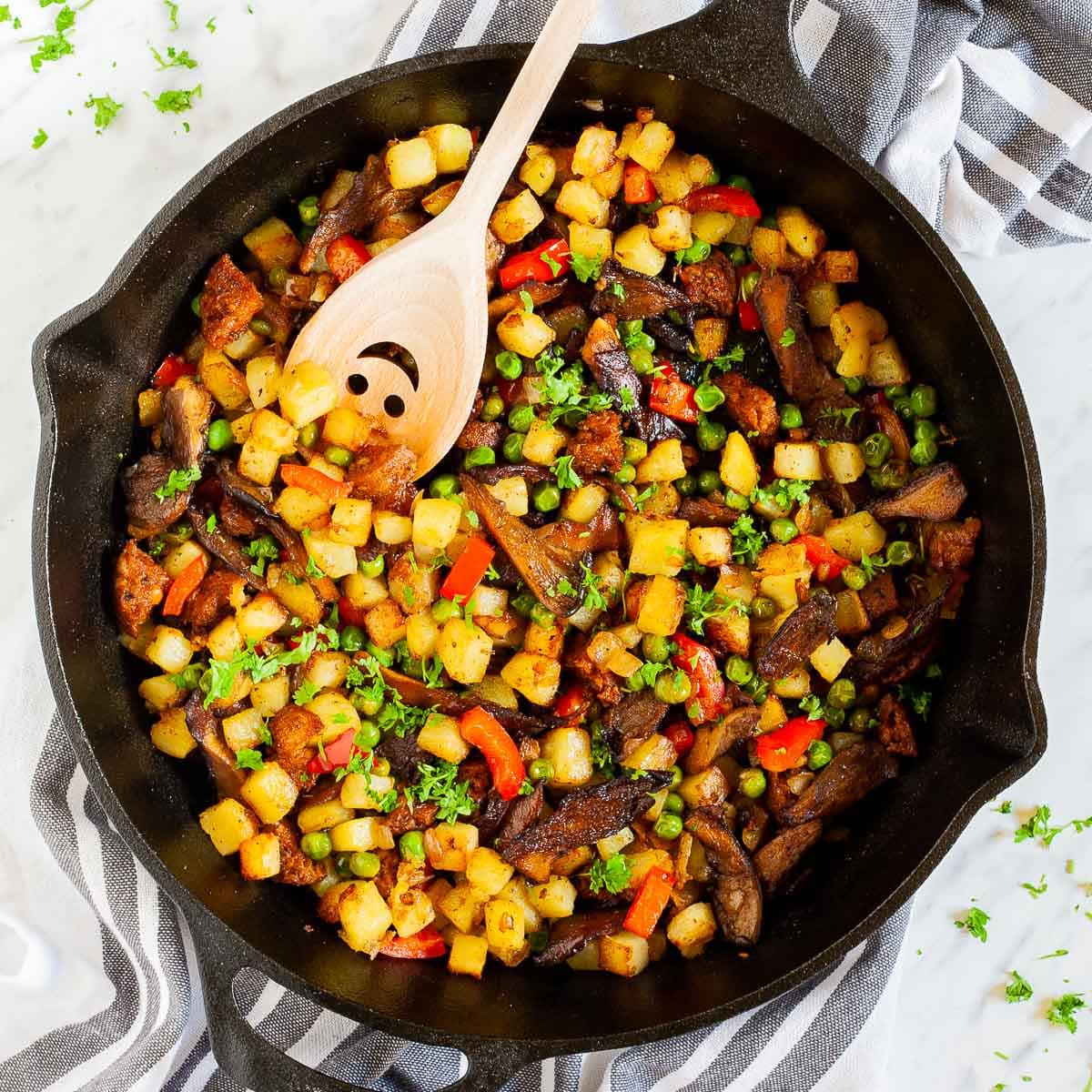 This breakfast hash is a delicious and hearty way to start your day, with fried potatoes and crispy oyster mushrooms mixed with a colorful array of veggies like green peas, onions, and bell peppers. It's easy to make and sure to satisfy any breakfast or brunch cravings.
Recipe: breakfast hash
Corn Chowder
This Corn Chowder recipe is a special one as it features pan-seared corn kernels and a deglazed pan, resulting in an oil-free soup. The soup is thickened with potatoes and made creamy with smooth cashew cream, making it a delicious and healthy option.
Recipe: Corn Chowder
Mashed Potatoes with Celery Root
Mashed potatoes are a must in every household. But when do you say that you made the best mashed potatoes? Well, we say it if it is creamy, fluffy and flavorful. How to do that? A bit of butter, a bit of milk and the addition of other veggies like celery root to make it even more unique.
Recipe: mashed potatoes
Nacho Cheese Sauce
Looking for a delicious and healthy cheese sauce for your nachos? Try our nut-free and oil-free nacho cheese sauce, made with nutritious ingredients for a creamy and delicious dip. Ready in just 20 minutes, this budget-friendly recipe is perfect for snacking and entertaining.
Recipe: nacho cheese sauce
Roasted Mediterranean Potatoes
These Roasted Mediterranean Potatoes are fully loaded with lemony oregano, garlic, and olive oil flavors. Plus, they couldn't be easier to make! No boiling is needed. Try this simple side dish the next time you're craving something fresh, unique, and flavorful.
Recipe: roasted potatoes
Queso Dip
Indulge in a guilt-free snack with our delicious queso dip made from a veggie-based cheese sauce that is both creamy and healthy. Say goodbye to processed dips and hello to a satisfying snack ready in just 20 minutes!
Recipe: queso dip
Creamiest Scalloped Potatoes
This creamy scalloped potatoes recipe is the ultimate comfort food and a perfect side dish for any occasion. With its creamy, garlicky, and savory flavors, it is sure to please everyone at the dinner table.
Recipe: scalloped potatoes
Potato Stew
The best thing that can happen to canned young jackfruit is to turn it into a hearty and filling stew. It is the perfect dinner recipe when you need a warm and steamy bowl of delicious vegan comfort food.
Recipe: stew
Frosted Sweet Potato Brownies
These fudgy, moist, and decadent vegan sweet potato brownies are topped with creamy sweet potato chocolate frosting and sliced almonds.
Recipe: sweet potato brownies
Savory Sweet Potato Casserole
If you are looking for an aromatic, herby, savory sweet potato casserole, you may want to try this recipe. It is an egg-free whipped sweet potato base topped with caramelized onions and flaky grated crumbles seasoned with thyme, sage, and rosemary.
Recipe: sweet potato casserole
Potato Tacos with Mushrooms and Chimichurri Sauce
Looking for a new way to enjoy potatoes? Try these tacos with crispy mushrooms and quick Chimichurri sauce.
Recipe: vegan potato tacos
Potato Salad
If you're looking for a healthy potato salad recipe this is it. The best potato salad! So creamy without any mayo!
Recipe: potato salad
Potato Pancakes
When you don't feel like spending hours cooking, these Potato Pancakes are just the answer. Crisp and golden, these easy savory pancakes are made from mashed potatoes and a few delicious additions.
Recipe: potato pancakes
Baked Potato
This Healthy Baked Potato is stuffed with the tastiest vegetables like spinach and mushrooms. It's easy, healthy and makes the ultimate comfort food. This Healthy Loaded Baked Potato is perfect for any occasion.
Recipe: baked potato
26 Big-Batch Dishes to Stock Your Freezer
15 Weekend Lunch Recipes on a Dime to Feed The Family
20 Easy And Weeknight-Friendly Pasta Recipes You Will Be Obsessed With
25 Asian Foods You Absolutely Need to Make At Least Once
Skip The Dreaded Drive-Thru Line With These 15 Fast Food Copycat Recipes