Welcome to our savory collection of 22 favorite fall side dish recipes that will warm your heart and keep your taste buds delighted during the chilly autumn season. With a rich variety of hearty veggies, comforting carbs, and aromatic herbs and spices, these dishes are perfect for Thanksgiving, family dinners, or just cozy nights by the fire. From classic roasted sweet potatoes and cranberry sauce to creative twists on mash, gratin, and salad ideas, there's something for everyone in this eclectic compilation. You'll find recipes that are quick and easy to make, as well as ones that require a little more time and effort, but are totally worth it. Each recipe is accompanied by mouth-watering pictures that will inspire you to get cooking right away. Whether you're looking for vegan, gluten-free, or traditional dishes, we've got you covered. So, grab your apron, preheat your oven, and let's make some scrumptious side dishes together.
Layered Sweet Potato Casserole
Layered Sweet Potato Casserole is a classic side dish often enjoyed during Thanksgiving and other holiday meals. It features sliced or mashed sweet potatoes layered with a sweet mixture typically made with brown sugar, butter, and spices. The casserole is often topped with marshmallows or a streusel topping, then baked until the sweet potatoes are tender and the top is golden and bubbly, creating a rich and comforting side dish that combines sweetness and warmth.
Crispy Smashed Red Potatoes
So easy and delicious, these Crispy Smashed Red Potatoes With Garlic And Dill are a comfort side dish that never disappoints. Naturally vegan and made with just 4 simple ingredients, these crushed red potatoes are great for any occasion.
Roasted Green Beans And Cherry Tomatoes
Simple recipe for Roasted Green Beans And Cherry Tomatoes is taken to another level with quick Balsamic reduction and a sprinkling of Parmesan cheese. An easy side dish that goes with any meal.
Find All Fall Sides Recipes here: fall sides recipe
Baked Butternut Squash Risotto
If you want to give the risotto a try, you should check out this delicious butternut squash risotto recipe. It is easy to make as part of the job is done by the oven. It is aromatic, creamy, and rich, made with Arborio rice, sweet butternut squash, green peas, and roasted pine nuts.
Recipe: butternut squash risotto
Sauteed Mushrooms in Soy Sauce Glaze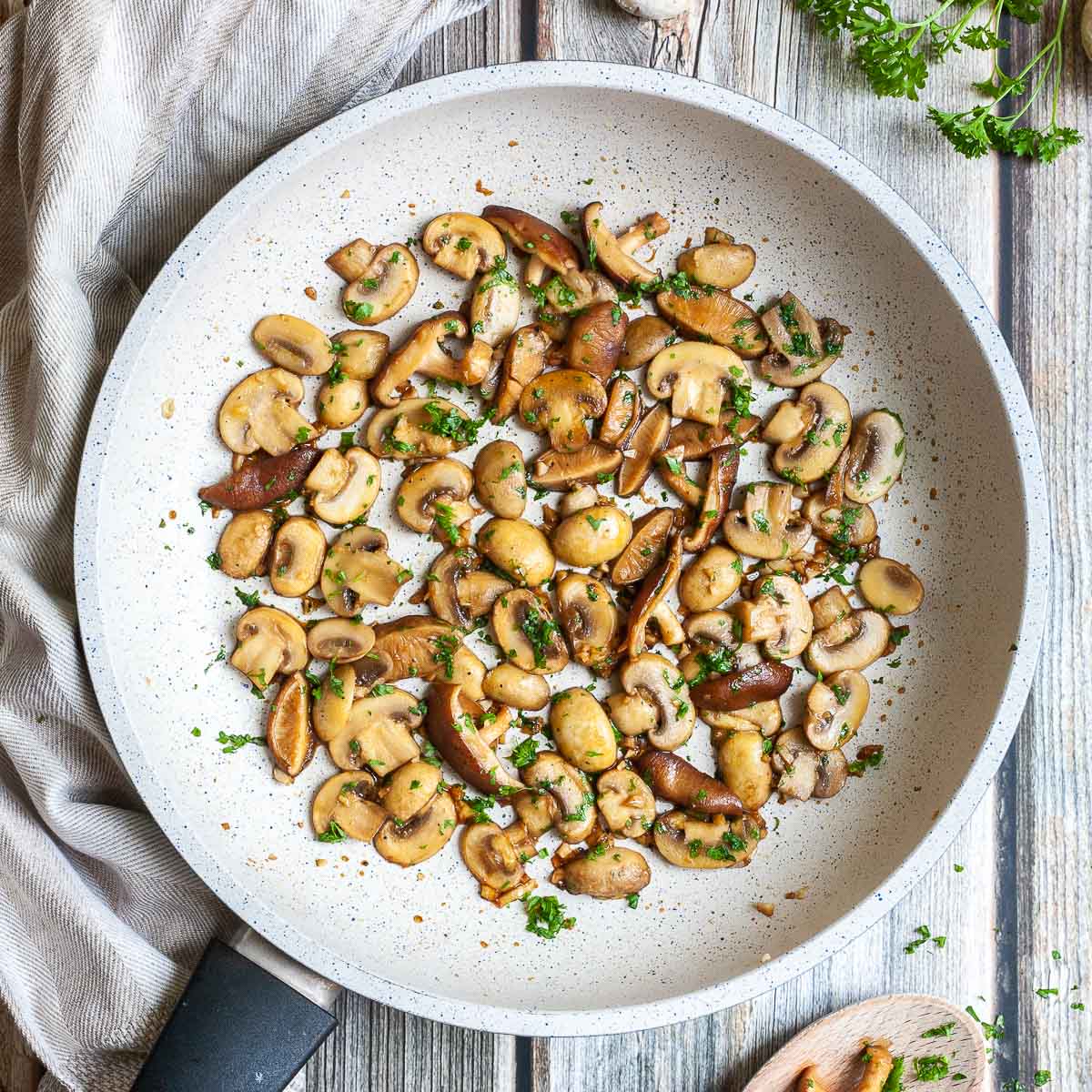 These garlicky soy sauce sauteed mushrooms are a quick and delicious side dish that's perfect for any meal. The umami flavor of the soy sauce and the caramelized garlic make these mushrooms irresistible.
Recipe: sauteed mushrooms
French Onion Dip
This homemade French onion dip is a perfect party appetizer or savory snack to munch on in between meals. It is sour cream based, easy to make, with less than 10 ingredients and delicious.
Recipe: french onion dip
Cheesy Pull-Apart Bread
This pull-apart bread is loaded with garlic butter, herbs and plenty of cheese, all baked together to gooey perfection. The ultimate side dish or appetizer option for a crowd! You can never go wrong with garlic and cheese bread, my favorites include garlic knots, cheese bombs, and this super easy pull apart loaf.
Bacon Green Bean Bundles
These bacon wrapped green bean bundles are the perfect elegant side dish for any meal! Your guests will be so impressed when you serve them these beautiful and delicious bacon wrapped green beans. Skip the green bean casserole this year for Thanksgiving and serve green bean bundles instead!
Loaded Mashed Potato Casserole
This make ahead loaded mashed potato casserole is full of bacon, cheese, sour cream and chives – it's the perfect no-fuss side dish for a holiday meal. These mashed potatoes have all the flavors of a fully loaded baked potato in the form of an easy to make casserole.
Creamiest Scalloped Potatoes
This scalloped potatoes recipe is the ultimate comfort food and a perfect side dish for any occasion. With its creamy, garlicky, and savory flavors, it is sure to please everyone at the dinner table.
Recipe: scalloped potatoes
Sauteed Julienne Carrots in Maple Thyme Glaze
These maple-glazed julienne carrots are a perfect combination of savory and sweet, with a beautiful golden brown color and a caramelized flavor. With only a handful of ingredients, this easy side dish is a great addition to any holiday table or weeknight dinner.
Recipe: sauteed carrots
Cheezy Spicy Spinach Dip
This spinach dip is a creamy and flavorful dip that is perfect for any occasion. Made with whole food ingredients like veggies and spinach leaves, it's a healthier alternative to traditional cheesy dips.
Recipe: spinach dip
Fried Corn with Bacon
This fried corn is cooked with bacon and chives until golden brown and caramelized. The ultimate easy summer side dish that pairs well with grilled meats, fish and hamburgers. A Southern classic that never goes out of style!
Creamed Spinach
This indulgent creamed spinach is rich, packed with flavour and velvety smooth. It can be served with any main meal, simply a meal on its own or as a filling for pies and pastries.
Find All Fall Sides Recipes here: fall sides recipe
Cheesy Spinach Side Dish
Serve this easy cheesy spinach side dish when you're short on time, but want everyone to clean up their dinner plate. Nobody will complain about eating their veggies, not with a flavorful dish of cheesy creamed spinach overflowing with cheesy flavors.
Grilled Vegetable Napoleon
This grilled vegetable Napoleon is a showstopper with vibrant, char-grilled layers of veggies like eggplant, zucchini, bell pepper, portobello mushroom, and more. If you want a visually stunning and flavorful side dish, look no further. Served with aromatic basil pesto, it is stunning and flavorful.
Recipe: vegetable napoleon
Mac and Cheese
Looking for a healthy and delicious mac and cheese recipe? Look no further than this creamy sauce that's ready in just 20 minutes!
Recipe: mac and cheese
Pesto Vegetables
Experience the delightful combination of vegetables and aromatic pesto sauce in our pesto vegetables recipe. This culinary fusion is sure to satisfy. Prepare to savor the vibrant flavors and enticing aromas as roasted veggies are perfectly paired with a flavorful pesto sauce!
Recipe: pesto vegetables
Roasted Fall Vegetables
Enjoying produce that's in season is one of my favorite things, and these roasted fall vegetables do just that! It's the most delicious combination of butternut squash, broccoli, beets, and sweet potatoes, all perfectly roasted to bring out their natural sweetness and flavors. It's a versatile side dish for any occasion this fall!
Sweet Potato Feta Salad
Sweet potato feta salad makes a perfect fall lunch or side dish for your Thanksgiving meal. Spiced, roasted sweet potatoes are tossed with kale, crumbled feta, and pepitas in a simple honey mustard dressing.
Chinese Eggplant Stir Fry
Chinese Eggplant Stir fry (Sichuan Style) recipe is a sweet and sour side dish with a note of heat to it. A quick and simple way to enjoy these firmer and sweeter Chinese eggplants.
Find All Fall Sides Recipes here: fall sides recipe
Risotto with Mushrooms
How to make risotto for two? It is easier than you think. All you need is 6 ingredients and about 30 minutes to cook a delicious creamy risotto. It will look fancy and impressive even if it was effortless and uncomplicated.
Recipe: mushroom risotto
24 Fall Potluck Recipes That'll Win Every Time
20 Dishes Every Home Cook Should Know How to Make
Recipes You Should Know How To Make
Cook Once, Eat All Week with These 20 Easy Batch Cooking Recipes
15 Healthy Sheet Pan Dinners to Simplify Your Weekly Meal Plan
Escape the Cold on a Budget with Costa Rica's Breathtaking Natural Beauty