Get ready to celebrate Independence Day in style with a dazzling array of delectable side dishes. This collection of 22 unforgettable recipes is guaranteed to add patriotic flair and mouthwatering flavors to your 4th of July celebration. From classic favorites with a twist to innovative creations that will impress your guests, these sides are the perfect complement to any BBQ or picnic spread. So, fire up the grill, unfurl the flags, and get ready to savor the stars, stripes, and sides that will make your 4th of July truly memorable.
Creamy Coleslaw
This easy coleslaw recipe is ready in 15 minutes or even less. It is a must-have side dish next to your favorite burger. If you need something quick and light to prepare for a summer potluck or grill party, think of this classic coleslaw salad.
Recipe: vegan coleslaw
Fajita Veggies
This fajita veggies recipe is easy to make and packed with flavor. Simply sauté onions and bell peppers, season with spices, and voila! Enjoy with your favorite protein and toppings for a delicious meal.
Recipe: fajita veggies
Rice Paper Samosa Rolls
These rice paper samosas are a healthier twist on the classic fried samosas, filled with a spicy and flavorful potato and pea mixture, and wrapped in a crispy rice paper wrapper. They are easy to make and sure to impress your guests at any gathering.
Recipe: vegan samosas
Mediterranean Grazing Board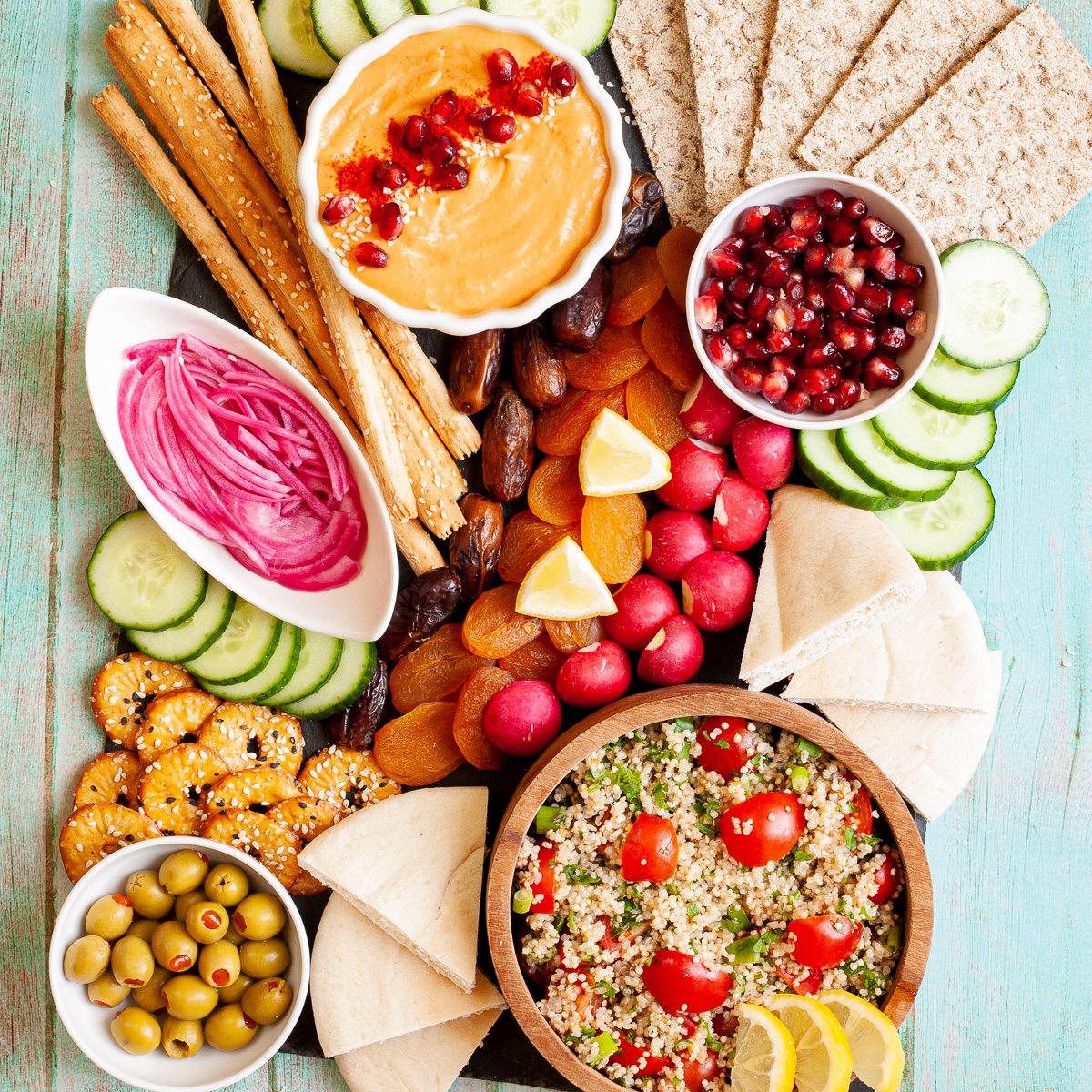 A grazing board is the perfect combination of aesthetics and taste. With a variety of dips, crunchy breadsticks, pickled onions, and soft pita bread, it's a delicious Mediterranean feast that's perfect for sharing with family and friends.
Recipe: Mediterranean Grazing Board
Grilled Vegetable Kabobs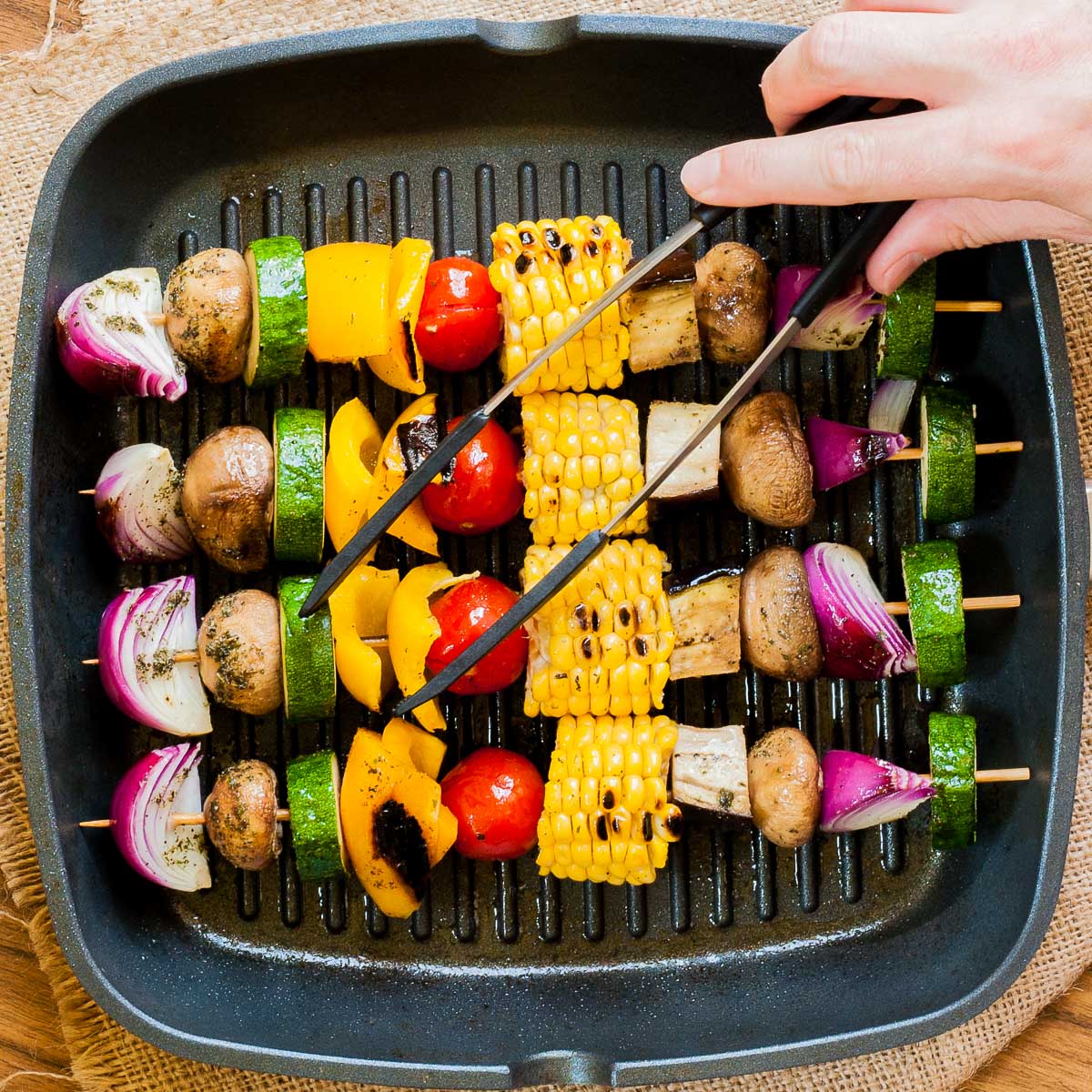 These vegetable kabobs are not only colorful but also incredibly flavorful. They are perfect for grilling and make a great side dish for any BBQ or party. With 3 different ways to make them and 5 delicious marinades to choose from, they are sure to please everyone's taste buds.
Recipe: grilled vegetable kabobs
Mexican Sweet Potato Rice Bowl
This flavorful vegan Mexican Rice Bowl recipe swaps traditional rice for fajita-spiced sweet potato rice, complemented by a colorful mix of fajita veggies, guacamole, black beans, and tomato corn salsa. Learn how to make this delicious and healthy dish that's perfect for any occasion!
Recipe: mexican sweet potato rice bowl
Quinoa Salad with Berries and Nuts
This refreshing berry and nuts quinoa salad is a perfect choice for a healthy and satisfying meal. Packed with protein from quinoa and nuts, and topped with fresh summer berries, it's a delicious and nutritious dish for any occasion.
Recipe: quinoa salad
One-Pot Ratatouille
This is the best French summer vegetable stew that you can stir up in one pot within 30 minutes. I say to stir up because the traditional ratatouille is cooked on a stovetop and not baked.
Recipe: ratatouille
Roasted Asparagus and Mushrooms
Oven-roasted asparagus and mushrooms make a perfect pairing as a side dish, especially during the spring season. With their simple preparation and delightful taste, they are sure to complement any meal.
Recipe: roasted asparagus and mushrooms
Sheet Pan Fajita Veggies
With this simple and convenient recipe, you can easily make fajita veggies that are bursting with flavor. Just bake a variety of vegetables in the oven on a sheet pan, and in no time you'll have delicious and healthy fajita ingredients.
Recipe: fajitas veggies
Vegan Bacon Bits
The best and easiest allergy-friendly fake bacon alternative. We turned cooked buckwheats into delicious, smoky, crispy vegan bacon bits in 15 minutes. They are ideal to add to soups, pasta, salads, or sandwiches.
Recipe: vegan bacon bits
Grilled Vegetable Napoleon
This grilled vegetable Napoleon is a showstopper with vibrant, char-grilled layers of veggies like eggplant, zucchini, bell pepper, portobello mushroom, and more. If you want a visually stunning and flavorful side dish, look no further. Served with aromatic basil pesto, it is stunning and flavorful.
Recipe: vegetable napoleon
Pan-fried Green Herb Oyster Mushroom
If you are looking for THE oyster mushroom recipe you can serve as a side dish, this will surely be your favorite. Green herbs like thyme and parsley with a smidgen of chili peppers and a splash of lemon juice will bring out the natural mushroom flavor that can accompany any main course.
Recipe: oyster mushroom recipe
Sauteed Julienne Carrots in Maple Thyme Glaze
These maple-glazed julienne carrots are a perfect combination of savory and sweet, with a beautiful golden brown color and a caramelized flavor. With only a handful of ingredients, this easy side dish is a great addition to any holiday table or weeknight dinner.
Recipe: sauteed carrots
Sauteed Mushrooms in Soy Sauce Glaze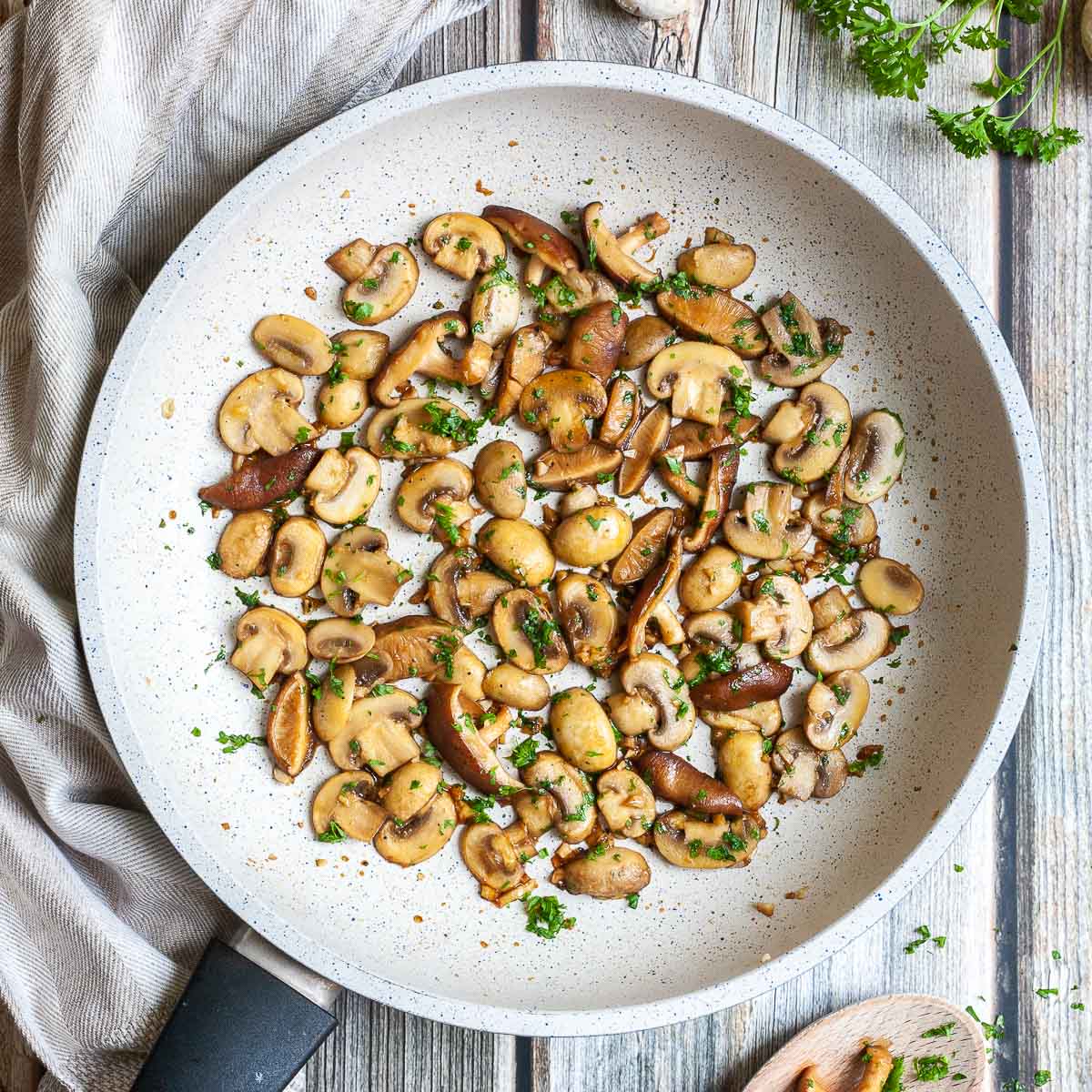 These garlicky soy sauce sauteed mushrooms are a quick and delicious side dish that's perfect for any meal. The umami flavor of the soy sauce and the caramelized garlic make these mushrooms irresistible.
Recipe: sauteed mushrooms
Mashed Potatoes with Celery Root
Mashed potatoes are a must in every household. But when do you say that you made the best mashed potatoes? Well, we say it if it is creamy, fluffy and flavorful. How to do that? A bit of butter, a bit of milk and the addition of other veggies like celery root to make it even more unique.
Recipe: vegan mashed potatoes
Creamiest Vegan Scalloped Potatoes
This vegan scalloped potatoes recipe is the ultimate comfort food and a perfect side dish for any occasion. With its creamy, garlicky, and savory flavors, it is sure to please everyone at the dinner table.
Recipe: vegan scalloped potatoes
Chili Stuffed Portobello Mushrooms
These vegan stuffed portobello mushrooms are a flavorful and filling dish that can be served as an appetizer or main course. Packed with protein-rich beans and topped with melty vegan cheese, they are a delicious and satisfying option for any meal.
Recipe: stuffed portobello mushroom
Corn Kale Salad
This Mexican inspired Elote Street Corn Kale Salad is a delicious and refreshing salad inspired by the flavors of street corn. With a mix of colorful and textured ingredients, and a spicy yogurt lime dressing, this salad is sure to be a hit at your next meal.
Recipe: Corn Kale Salad
Watermelon Feta Cucumber Salad
This refreshing watermelon feta cucumber salad is a colorful and easy-to-make side dish that brings together sweet, savory, and tangy flavors inspired by Greek cuisine. With only 4 ingredients for the salad and 3 for the dressing, this easy salad recipe is quick and easy to make, perfect for a last-minute addition to any meal.
Recipe: Watermelon Feta Cucumber Salad
Greek Lentil and Potato Salad
Greek Lentil and Potato Salad! This side salad is perfect for summer. Lentils, herbed potatoes and vegetables in a lemon dressing. A must-try! Vegetarian, easily vegan.
Recipe: greek lentil potato salad