Elevate your BBQs and picnics with these 22 appetizers that add a burst of flavor and excitement to your outdoor gatherings. From refreshing dips and savory skewers to creative finger foods and delightful spring rolls, these creations offer a variety of options to kick off your event in style. Whether you're hosting a backyard barbecue or enjoying a picnic in the park, these recipes provide a range of flavors and textures that will impress your guests and satisfy your cravings. Embrace the joy of outdoor dining and enjoy these appetizers that are perfect for every BBQ and picnic occasion!
Sushi Spring Rolls
Whether you are preparing for an office potluck or hosting friends and family at home, these delicious sushi spring rolls are sure to impress. You can create mouthwatering rolls featuring aromatic, teriyaki tofu, creamy avocado, and crunchy cucumber.
Recipe: sushi spring rolls
BBQ Meatballs
These meatballs are a must-try for any food lover! Packed with flavorful spices, they are crispy on the outside, soft and tender on the inside, and perfect for serving as an appetizer or main dish.
Recipe: meatballs
Baked Chili Miso Bites
Transform tofu into a flavorful and crispy meal with our 8-ingredient chili miso tofu marinade. Tearing the tofu into uneven bite-size pieces gives this miso tofu a unique texture. The rough edges of the torn pieces will crisp up better in the oven, giving the tofu a more satisfying crunch.
Recipe: chili miso tofu bites
Cream Cheese Veggie Pinwheels
These Veggie Pinwheels with Cream Cheese are a quick and tasty appetizer that are always a hit at parties. The colorful vegetables, creamy cheese, and soft tortilla make for a satisfying and delicious bite.
Recipe: Veggie Pinwheels
Apple Pie Spring Rolls
Try our amazing apple pie spring rolls! Filled with grated apples and cinnamon, these crispy finger foods are easy to make any day of the week. They're sure to become a favorite Friday tradition in no time!
Recipe: apple pie spring rolls
The Ultimate Falafel Platter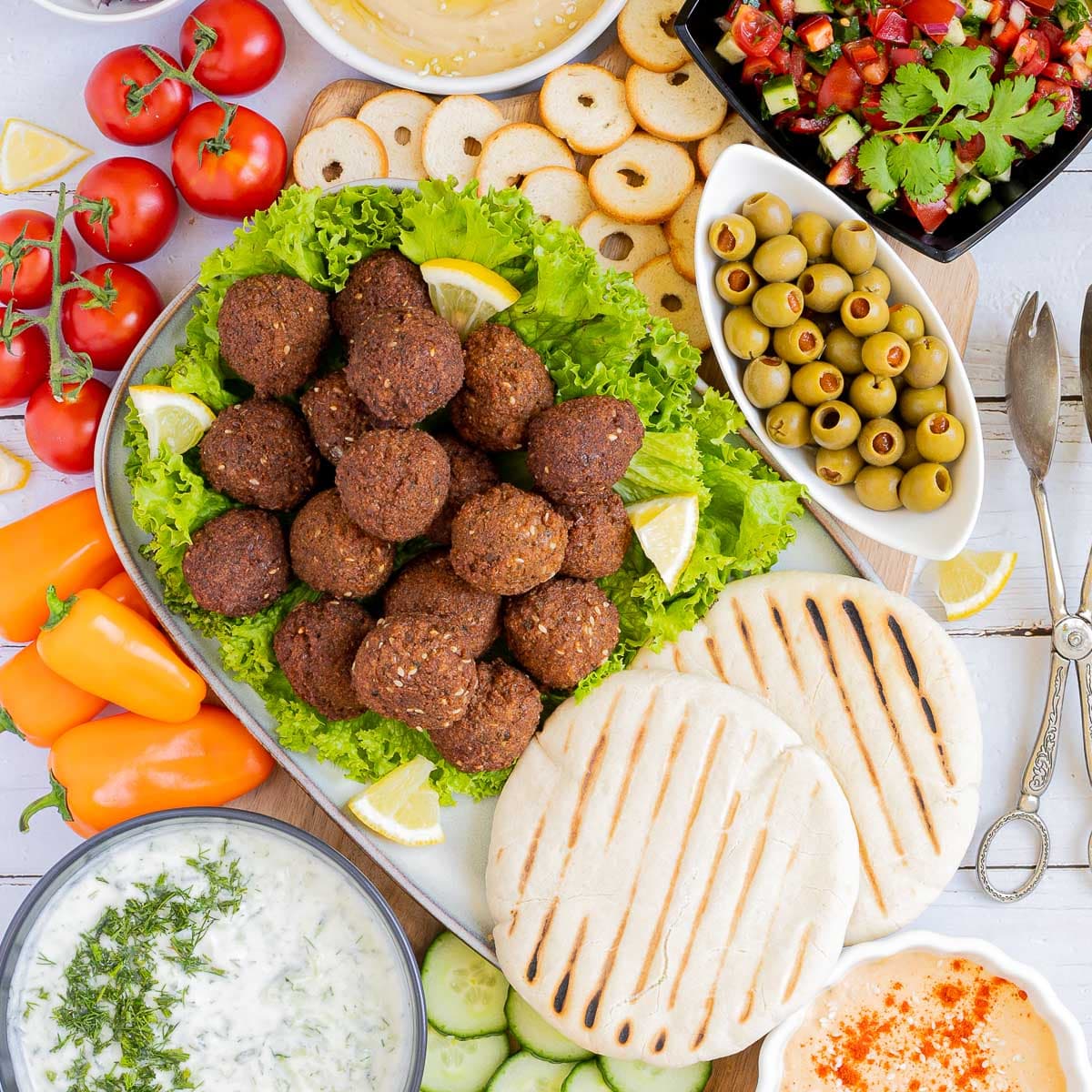 This colorful falafel platter is a feast for both the eyes and the taste buds. Crispy falafel, creamy tzatziki, and flavorful hummus are just some of the highlights of this Middle Eastern-inspired dish that is perfect for any occasion.
Recipe: falafel platter
Copycat IKEA Veggie Balls
If you don't have an Ikea nearby, try our copycat Ikea veggie balls recipe. We added eight different vegetables, the same as in the original, with a tasty mix of spices and herbs to get the flavors just right.
Recipe: ikea veggie balls
Fried Rice Paper Chips
These crispy fried rice paper chips are a simple and delicious snack option that can be made in minutes. Whether fried in oil or microwaved, they puff up quickly and can be seasoned to your liking for a tasty and satisfying crunch.
Recipe: fried rice paper chips
Rice Paper Samosa Rolls
These rice paper samosas are a healthier twist on the classic fried samosas, filled with a spicy and flavorful potato and pea mixture, and wrapped in a crispy rice paper wrapper. They are easy to make and sure to impress your guests at any gathering.
Recipe: samosas
Fried Mushroom Wings
Oyster mushrooms make the tastiest and easiest vegan fried chicken ever! It is perfectly golden brown and crispy on the outside but meaty on the inside. The vegan chicken itself is only ONE ingredient!
Recipe: vegan fried chicken
Mediterranean Grazing Board
A grazing board is the perfect combination of aesthetics and taste. With a variety of dips, crunchy breadsticks, pickled onions, and soft pita bread, it's a delicious Mediterranean feast that's perfect for sharing with family and friends.
Recipe: Mediterranean Grazing Board
Sliceable Pistachio Cheese
Did you know you can make homemade vegan cheese using pistachios in 20 minutes? It will have a beautiful green color, a nutty, cheesy flavor, and a perfectly sliceable texture.
Recipe: pistachio nut cheese
Buffalo Cauliflower
Tender on the inside and crispy on the outside, this vegan buffalo cauliflower is a mouthwatering addition to your game-day appetizer or dinner table. We use cauliflower florets to mimic the texture of traditional buffalo wings and then toss them in a finger-licking, sweet, spicy buffalo sauce. Whether you use it as a starter or your main course, you will crave more after the first bite!
Recipe: buffalo cauliflower
Ramen Spring Rolls
Rolled and ready in just under 30 minutes, these ramen spring rolls are sure to be a scrumptious addition to your next dinner party. Serve it up as an appetizer or snack and let your guests enjoy the savory flavors of bok choy, scallion, and wood ear mushroom, cooked in a spicy blend of sriracha and soy sauce!
Recipe: ramen spring rolls
Crispy Rice Paper Spring Rolls
Enjoy the perfect balance of textures and flavors with these crispy and flavorful rice paper spring rolls. Packed with fresh and colorful veggies, along with marinated tofu, these rolls are a healthy and delicious meal that can be enjoyed as a snack or a light lunch.
Recipe: rice paper spring rolls vegan
Rice Paper Dumplings
These crispy rice paper dumplings are a delicious vegan alternative to traditional dumplings. With a filling of marinated king oyster mushrooms, vegetables, and mung bean sprouts, they are bursting with flavor and texture.
Recipe: rice paper dumplings
Avocado Spring Rolls
Try our avocado spring rolls for a delicious and easy-to-prepare summer snack or appetizer. They are freshly prepared with a mix of flavorful avocado mango salsa and vermicelli noodles to create a delightful combination of texture and flavor. So refreshing!
Recipe: avocado spring rolls
Rice Paper Egg Rolls
These vegan egg rolls are a perfect appetizer or snack, with a savory and crispy texture that will satisfy your cravings. Made with a flavorful mix of vegetables, they are a healthier alternative to traditional egg rolls and can be easily baked, fried or air-fried in just a few minutes.
Recipe: vegan egg rolls
Vietnamese Spring Rolls
These vegan Vietnamese spring rolls are the perfect light and refreshing appetizer or meal, filled with fresh herbs, crunchy vegetables, and savory mushroom shreds wrapped in delicate rice paper. The combination of textures and flavors is truly satisfying and healthy.
Recipe: vegan Vietnamese spring rolls
Loaded Smashed Potatoes
If you are looking for a vegan and gluten-free appetizer, this is it! Smashed potatoes topped with guacamole and corn and bean salsa. A healthy option for football snacks, superbowl and parties.
Recipe loaded smashed potatoes
Cheesy Samosa Jalapeno Poppers
Cheesy Samosa Jalapeno Poppers is an Indian twist to the favorite party appetizer. This is a vegetarian and gluten-free version made in the air fryer for the samosa lovers.
Recipe: samosa jalapeno poppers
Tandoori Aloo Tikka
Tandoori Aloo Tikka is a delicious appetizer perfect to serve at special occasions or have as a side for dinner. Baby potatoes marinated in a delightful combination of yogurt and spices, threaded to skewers and cooked to create this heavenly appetizer.
Recipe: tandoori aloo tikka
26 Big-Batch Dishes to Stock Your Freezer
15 Weekend Lunch Recipes on a Dime to Feed The Family
Europe's Finest 25 Recipes You May Not Even Know Of
25 Asian Foods You Absolutely Need to Make At Least Once
Skip The Dreaded Drive-Thru Line With These 15 Fast Food Copycat Recipes